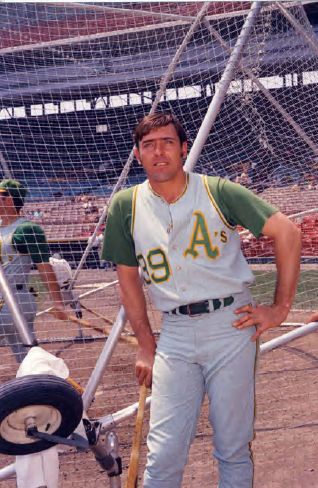 ---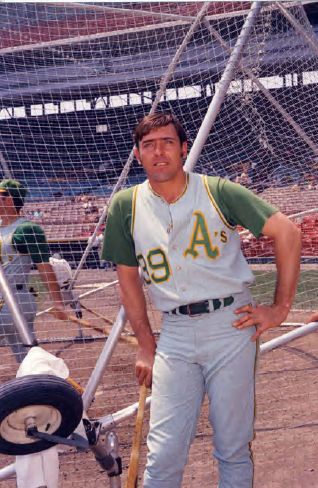 Curtis Le Roy Blefary is best remembered for winning the American League Rookie of the Year award in 1965. He had three productive seasons for the Orioles before his intertwined personal demons, alcohol and anger, overcame his terrific natural ability. Blefary was a key contributor to the Orioles' pennant in 1966. The left-handed hitter was an outfielder during his three solid seasons, then subsequently became a regular catcher and first baseman.
Blefary was born in Brooklyn, New York, on July 5, 1943, and grew up in Mahwah, New Jersey. His father, an AT&T employee, named him after Curt Davis, a pitcher who won 158 major-league games and was pitching for the Brooklyn Dodgers when Blefary was born.
The Bergen Record honored the Mahwah High School ballplayer as a member of its "Best of the Century" team. Blefary was a third baseman until his senior year, when he was converted to catcher. He was also an all-state halfback on the football team. After high school he starred for the Wagner College Seahawks football team in the fall of 1961.
The New York Yankees signed Blefary to a contract in 1962. (The free-agent draft didn't begin until 1965.) Baseball: The Biographical Encyclopedia says that Blefary received a $40,000 bonus,1 but Blefary's high-school classmate Richard E. Robbins said it was $18,000. "His dad let him buy a car for a few thousand and made him invest the rest in AT&T stock," Robbins said, adding, "Apparently he sold the stock somewhere along the way. If he hadn't, he wouldn't have had any money worries later in life." In addition to the bonus, the Yankees agreed to pay Blefary's tuition and expenses at Wagner during the offseasons.
The Yankees sent Blefary to Greensboro (Carolina League) in 1962 and tried him as an outfielder. He hit two home runs in his first full game. His first-year performance (.240 batting average, 13 home runs, 39 RBIs, and 8 eight stolen bases in 66 games) did not earn him a promotion for the 1963 season. His attitude might have concerned the Yankees more than his batting average. He scared everyone by throwing bats and helmets. Joe DiMaggio was bemused by Blefary's intensity in spring training, but expressed confidence in his future.
At Greensboro in 1963 Blefary hit 25 home runs, but was sold to the Baltimore Orioles early in the season on first-year waivers in a transaction that was never adequately explained by the Yankees. The Yankees acquired veteran utilityman Harry Bright from the Reds on April 21. Blefary had been protected on the 40-man roster, but had stitches in his leg at the time Bright was purchased. Blefary was relegated to pinch-hitting duty while his leg healed. Various accounts of why the Yankees risked losing Blefary have been reported. In one version, Yankees general manager Ralph Houk said Blefary was "expendable,"2 an explanation that strains credulity given the Yankees' investment in Blefary. No documentation suggests that the Yankees attributed Blefary's behavioral problems to anything but immaturity, so his behavior wasn't a factor. Another reported theory is that the Yankees made a technical mistake and were surprised when the Orioles claimed Blefary. Sport offered a plausible but convoluted explanation, writing that New York's front office, in an effort to exaggerate the severity of Blefary's injury, told him to sit in the stands while he was on waivers. Blefary defied orders to keep quiet and told a Baltimore scout that he was fine.3 Regardless, the promising slugger was crushed by the deal; he claimed he had turned down more money from other teams because he wanted to play for the Yankees.4
Baltimore initially kept Blefary at Greensboro, where he hit .289 and slugged 25 home runs with 67 RBIs in 88 games. In 40 games with Elmira in the Eastern League he hit .247. Blefary also played first base and had his first professional experience as a catcher. The Elmira trainer nicknamed him "Cadillac Curt" because of his grandstanding home-run trots. Blefary basked in success and fired equipment at the dugout wall when unsuccessful.
Baltimore sent Blefary to the Florida Instructional League in the fall of 1963. Orioles scout Dee Phillips counseled him to control his temper if he wanted to reach the majors. Blefary thought he was ready to jump to the majors in 1964, but the Orioles sent him to Triple-A Rochester. "Nothing depresses me; I will be back," he asserted. Playing first, second, and third base as well as the outfield for Rochester, Blefary batted .287 with 31 homers and led the International League with 102 walks. In January 1964 Curt married his high-school sweetheart, Eileen Fitzgerald.5  
In spite of complaining to the media that manager Hank Bauer didn't play him enough in spring training, the 6-foot-2, 195-pound Blefary made the 1965 Orioles. He explained, "Sometimes my mouth would get into gear before my brain was engaged. I did not get to the big leagues being shy. I got the attitude from my father. He said, 'Do not even try to make it, son, unless you really believe you are the best. Otherwise you are going to be heartbroken.'"  
In each year of his career, Blefary had a chip on his shoulder about something. His issue as a rookie was platooning. Casey Stengel had platooned Bauer, and the Orioles manager was a believer in the merits of the system. Powell and Norm Siebern split first base equally. Blefary and Boog Powell split left field; Blefary and Sam Bowens split right field. Powell had an offyear, and Blefary led the Orioles with 22 home runs and 88 walks. He finished third in the league in on-base percentage (.381) and ninth in slugging percentage (.470). Setting a trend, he batted .367 with six home runs against the Yankees. Bauer loved Blefary's hustle and competitiveness. He earned the Rookie of the Year award.
Blefary wanted to control his temper and improve his statistical performance in 1966. "The so-called sophomore jinx is just a lot of horseradish," he swore. "It's all mental. I don't expect to have any jinx." With the addition of Frank Robinson, the promising Orioles ran away with the American League pennant. Blefary did avoid the jinx and compiled on-base and slugging percentages that were within a few points of his rookie marks, and again ranked in the top 10 in the league. In his only World Series, a sweep of the Los Angeles Dodgers, Blefary went 1-for-13 with a pair of walks.
Blefary hit five more home runs against the Yankees in 1966. He told Sports Illustrated, "Those seats in right field [at Yankee Stadium] … were made for me."6 Eventually he earned a level of respect unwarranted by his performance against other teams: New York pitchers walked him a total of seven times in consecutive games.
Articles about Blefary continued to document his temper tantrums on and off the field. Oddly, he seemed to be a compliant source for those stories. His unusual eating habits were also fodder for celebrity-hungry journalists. He loved the celebrity lifestyle and enjoyed the nightclubs. The unique young man had the capacity to drink at night and get up and have clam chowder and hamburgers for breakfast. At the same time, his cocker spaniel, Long Ball, would be treated to scrambled eggs and Coke.
Blefary was an inexperienced and graceless outfielder when he reached the major leagues. Teammate Frank Robinson nicknamed him Clank, after the sound of the ball rebounding from his glove. When the team bus passed a pile of scrap iron, Robinson told Blefary, "Go get yourself another glove." Although the legend was exaggerated, his range was poor for someone with average speed. His error totals were always close to the league average. He had a strong but not necessarily accurate throwing arm.
While Blefary was a better outfielder than Boog Powell, Baltimore entered 1967 with three left-handed sluggers, none of whom could help the team in the outfield. Mike Epstein, The Sporting News 1966 Minor League Player of the Year, was a poor defensive first baseman. The Orioles sent him to the Florida Instructional League to learn left field. The experiment continued in spring training, but Blefary still got his at-bats. Hank Bauer tried him as a catcher after Powell accidentally stepped on backup catcher Charlie Lau's toe. Blefary also experimented with switch-hitting. He had been a switch-hitter in high school. He asserted that he had more power right-handed. Presumably Bauer wasn't impressed.
Trade rumors, especially in The Sporting News, were rampant. Years later, Jim Palmer said the Cubs were willing to trade Billy Williams for Blefary and Epstein. Palmer claimed that owner Jerry Hoffberger told general manager Harry Dalton, "You can make that trade, but you'd better be right."7 He would have been: Williams outlasted both much younger players and had the seasons that created the mold to cast his Hall of Fame bust in 1970 and 1972. The Sporting News also claimed that Dalton turned down offers from the White Sox for Bruce Howard or Joel Horlen for Blefary.
Blefary's batting average declined to .242 in 1967, but he played a little more and drove in a career-high 81 runs. He ranked in the top 10 in the AL in home runs (22) and RBIs. The Orioles skidded to sixth place with a losing record, primarily due to key injuries to the pitching staff.   
Spring training in 1968 was eventful for Blefary again. In mid-March, Bauer suddenly moved him to catcher. Andy Etchebarren had thrown out 29 percent of would-be stealers in 1967, which was 12 percent below the league average. Bauer said the move was no more than an experiment. The fact that Etchebarren batted right-handed must have entered into his thinking. Blefary noted, "I came to the Yankees as a catcher, but when they sent me to Greensboro the catcher there was off on a hitting tear. So they used me as a first baseman. The next spring I was spiked at home plate and I couldn't squat. So back I went to first again."
The experiment was successful enough to entice Bauer to use Blefary as a catcher, outfielder, and first baseman in much the same way the Yankees used their catchers in the late 1950s and early '60s. He caught in 40 games; one of them was a no-hitter pitched by Tom Phoebus against Boston on April 27. Blefary's batting average plunged to .200 (actually .199556) in "The Year of the Pitcher." He said his hitting suffered from playing too many positions. His batting average had declined in each season, but so had the league's. Blefary still exceeded the league average on-base percentage in 1968 (.301 to .297). However, in the previous three seasons he had exceeded the league average on-base and slugging percentages by huge margins.
Earl Weaver, who had managed Blefary in the minors, took over the Orioles during the 1968 season. The team, which had won just 76 games while finishing a disappointing sixth in 1967, rebounded to win 91 games.
When Weaver told the media that Blefary would have to compete for an outfield job in 1969, that triggered a tirade and a trade. The O's made a deal with Houston that was subsequently regarded as an extremely unbalanced trade. Blefary and minor leaguer John Mason went to the Astros for pitcher Mike Cuellar, prospect Enzo Hernandez, and minor leaguer Elijah Johnson. The trade helped the Orioles become as good as any team ever in 1969. Cuellar was the co-winner of the Cy Young Award (with Denny McLain of the Tigers) and averaged 21 wins per season from 1969 to 1974.
After the trade, The Sporting News reported that Blefary said, "Weaver and I don't see eye-to-eye, period. He was a decent guy in the minors, but now he's speaking out of turn. He's a coach half a year and then he becomes a manager and crucifies me." He added, "So I had a bad year. … I had three good ones before this."8
Blefary became the Astros' first baseman. Pitching kept the team in the National League West race, but eventually Houston dropped to .500 and finished fifth. Although Blefary had hit in the .170s against left-handers in 1967 and 1968, manager Harry Walker played him almost regularly. He hit only .195 against left-handers, but had a decent .253/12/67 season. Remarkably, he didn't hit a home run until the Astros' 44th game. He had career highs of 26 doubles, 7 triples, and 8 stolen bases; and slugged .393. His 77 walks ranked 10th in the NL and contributed to a .347 on-base percentage. He exceeded the league's batting, slugging, and on-base averages, but not by significant margins for a poor-fielding first baseman. However, considering his ballpark, Blefary's numbers were respectable and represented a comeback.
Regardless, Curt was unhappy in Houston. Fortunately for him, the Yankees also had a problematic, controversial player in Joe Pepitone, whom they accused of loving off-the-field excesses more than baseball. Both teams wanted to trade their misfits and loved the potential of the other team's player: An even swap was consummated on December 4, 1969, exactly a year after the Astros acquired Blefary.
After the trade, Houston Chronicle sportswriter John Wilson blasted Blefary in The Sporting News: "Blefary has failed to see eye-to-eye with his last two managers, Harry Walker at Houston and Earl Weaver at Baltimore. He showed a lack of restraint in expressing displeasure with the way he was being handled and asked to be traded from both teams."9 Walker responded that Blefary hurt himself by blaming his troubles on others. "He ought to grow up and take a good look at himself," Walker asserted. Walker claimed he taught Blefary bat control and discipline with high pitches. His philosophy was right for the Astrodome, and Blefary hit to all fields as instructed, but he longed to hit long balls. Trading for a slugger and turning him into a line-drive hitter is somewhat analogous to trading for a player and converting him to a different position: For the strategy to fully succeed, the player has to have right attitude about it. Blefary had a gung-ho attitude and aggressive style of play that any manager could love, but his pride and short temper were unmanageable in his era.
Blefary wore number 13 in Houston. The choice was iconoclastic and controversial in that era. However, his willingness to room with Don Wilson was far more daring. The duo were probably baseball's second pair of interracial roommates. The 1960s were the most volatile period for race relations in American history. Legislation mandated integration, but members of various races were slow to accept each other as peers. In that era, white people who openly embraced members of other races were often victims of covert and overt discrimination, especially in the south. You could argue that Blefary played the most significant role in integrating the game of any white player in baseball history, but the case is hard to make simply because his role has been so minimally documented. 
Blefary felt the trade to New York was the best thing that had happened in his career in a long time. "It was like an early Christmas present," he said. The Yankee Yearbook quoted him as saying, "I know it sounds corny, but I always wanted to play for New York. It's my home and wearing the pinstripes and standing in the same batter's box where Babe Ruth stood do something to me." On Opening Day, he enthused, "This is a lifelong dream come true at last. I'm finally playing at Yankee Stadium as a Yankee."
The Yankees knew they were getting a Yankee-killer who had hit very well in their ballpark. In four years with Baltimore, Blefary hit .299 with a dozen homers against New York. Only half of the homers came in the Bronx, but he hit .324 there. The 1970 Yankees had a deep pitching staff and an exciting nucleus of young talent led by Roy White, Bobby Murcer, and Rookie of the Year Thurman Munson. Veterans Blefary and Danny Cater were expected to solve weaknesses.
Under different circumstances, Yankee Stadium might have been a panacea for Blefary. Ralph Houk's laissez-faire management style gave Curt the same type of release that a student of a repressive teacher might experience with a substitute. He abandoned tying to hit singles and doubles in favor of trying to hit every pitch he swung at out of the park. As a result, he failed to do either. Hickoksports.com quoted Blefary as once saying, "Home runs are the root of all evil. You hit a couple and every time up, you're looking to hit the ball out. Next thing you know, you're in a slump."10 As in 1969, Blefary went an amazingly long stretch before hitting his first home run of the season. He hit it on June 2 against the Kansas City Royals off former Orioles teammate Moe Drabowsky. Afterward, Blefary praised Ralph Houk: "He really has been great all through my long slump. He just kept telling me to hang in there and it would come." But he finished the season at .212 with 9 home runs and 37 RBIs, and lost playing time in right field to Ron Woods, Jim Lyttle, and others. and finished 9-37-.212 (and 43 walks) in 269 at-bats. The Yankees won 93 games, but didn't challenge the Orioles. The Yankees needed a slugger in right field. Former number-one draft choice Ron Blomberg appeared to be a solution for New York. Blefary was 7-for-36, primarily as a pinch-hitter, when the Yankees traded him to the Oakland Athletics for left-hander Rob Gardner May 26. Oakland used him as a pinch-hitter and utilityman. He caught in 14 games (his first experience in that role since 1968), and played second base, third base, and the outfield. Overall, Blefary hit a familiar .212 in just 137 at-bats.
With tough Dick Williams as his manager, Blefary understood that he was in no position to complain. As spring training began in 1972, he told The Sporting News, "I've got three things to do this spring. I'm going to get in shape, take my swings, and keep my mouth shut."11 Instead, as spring training ended, he reprised his "play-me-or-trade-me" refrain. He had 5 hits in 11 at-bats when the A's honored his request on May 17. They shipped Blefary, left-hander Mike Kilkenny, and a player to be named later (minor leaguer Greg Schubert) to San Diego for right fielder Downtown Ollie Brown. Brown, then 28, was off to a horrendous start for the Padres; both teams may have perceived that they were trading problems, and salaries may have been a factor.
Blefary, with his fifth team in five years, was reduced to being a journeyman utilityman. He filled the same role for struggling San Diego as he had for pennant-winning Oakland. He hit .196 in 102 at-bats and was released by the Padres in December. A month later, he was signed by the Atlanta Braves, but  was released by the Braves during spring training of 1973. Just 29 years old, Blefary could not get a job with another team. In 1986 he told John Eisenberg of the Baltimore Sun, "Evidently, I did something to somebody during my career, because there is no way a 29-year-old left-handed-hitting catcher cannot hook up with someone, not even in Japan. No one has ever told me what it was. For me to be through then was ridiculous. I had 10 years left. I have never known what happened. There are several things I can touch on: I was very outspoken; I let my mouth get me into trouble even though I knew I was right. There might be times when you have been partying too much and someone sees you and puts a label on you. It could have been different things. No one will tell me."12
Blefary hit .237 with 112 home runs and 382 RBIs in 974 games in his eight-year career. He was devastated by the abrupt loss of his baseball career. His personal life suffered a similar downward spiral. His marriage ended in divorce. He wore blue collars, white collars, a sheriff's uniform, and a bartender's apron, but couldn't find satisfying work. For years, he and baseball avoided each other. Blefary later sought baseball jobs, but never got one. He returned to New Jersey and tried several occupations. He sold cars and insurance. He served customers in bars and fast-food restaurants. He took a temporary agency job at $4.25 per hour. He drove a truck. Eventually, he and his second wife, Lana, settled in the Virgin Islands and Florida. He owned a nightclub, Curt's Coo Coo Lounge in Dania, Florida.
By the mid-1980s, Blefary found solace in old-timer's games and autograph events. He loved getting together with other former ballplayers. He served as a volunteer coach for the Northeast High School team in Fort Lauderdale, the longtime spring training home of the Yankees. He wrote an instructional booklet, Curt Blefary's "Way to Play," which he hoped to have published, but self-published instead. Even as his health failed in his later years, he hoped to secure a professional coaching job. Lana Blefary said, "He was a lifelong student of the game." Curt reveled in his past glory. He cherished his World Series ring. Lana reflected, "He gloated about it for the rest of his life. He loved Baltimore, and he loved his fans."
Blefary experienced a variety of health and financial problems. He had hip replacement surgery in late 1994 or early 1995. The surgeon performed the work pro bono.
In February 1995 Jennifer Frey of the New York Times conducted a revealing interview with the former player. For the first time, Blefary publicly documented his drinking problem. He admitted that his reputation as a drinker and carouser kept him out of the game. "In the big leagues, I was out of control," he confessed.13
Blefary explained, ''I was a drinker for 33 years. I started when I was 18. By Triple-A, I was drinking hard liquor." Blefary believed that his drinking was encouraged by society, and perhaps his peers as well. "I had a problem," he said, "but nobody ever had the guts to tell me." With financial help from the Baseball Assistance Team, he completed Sam McDowell's alcohol rehabilitation program in 1994. He had regularly attended Alcoholics Anonymous meetings for 11 years, but that didn't work.
In the Times article, Blefary offered prophetic warnings to Dwight Gooden and Darryl Strawberry, who were both dealing with substance-abuse problems and trying to resurrect their careers. ''It seems like everybody is telling them that it's going to be all right, and they believe it,'' Blefary said. ''Well, it ain't going to be all right, not if they're still in denial. I've been there. I know."14 Like Blefary, the former Mets stars let their addictions destroy their careers, even though they played in a more enlightened era.
In the last years of his life, Blefary suffered from chronic pancreatitis. The disease and the problems it caused eventually took his life. According to the National Digestive Diseases Information Clearinghouse, a service of the National Institutes of Health, "Chronic pancreatitis occurs when digestive enzymes attack and destroy the pancreas and nearby tissues, causing scarring and pain. The usual cause of chronic pancreatitis is many years of alcohol abuse, but the chronic form may also be triggered by only one acute attack, especially if the pancreatic ducts are damaged. … Damage from alcohol abuse may not appear for many years, and then a person may have a sudden attack of pancreatitis. In up to 70 percent of adult patients, chronic pancreatitis appears to be caused by alcoholism. This form is more common in men than in women and often develops between the ages of 30 and 40."
Curt Blefary died on January 28, 2001, at his home in Pompano Beach, Florida. "It's good that his suffering is over now," the AP obituary quoted Lana Blefary as saying. He was survived by his wife, two daughters, a son, three grandchildren, and two sisters.
At one time, Blefary expressed a desire to be buried in Baltimore's Memorial Stadium. However, Curt outlived the demolition of most of the ballpark. With help, Lana was able to honor his last wish to scatter his ashes in Memorial Stadium. The ceremony was held on May 24, 2001. The Babe Ruth Museum supplied the home plate used in the last game at the defunct stadium and located it in the precise spot where it had been used. Curt told Eisenberg in 1986, "I am a damn ballplayer, and I will go to my grave that way."15 He did.
Sources (excluding most sources cited in text above)
Angell, Roger, The Summer Game (New York: Viking Penguin, 1972).
Bouton, Jim, Ball Four, (New York: World Publishing, 1970).
Honig, Donald, American League Rookies of the Year (New York: Bantam, 1989).
Brown, Doug, "The Man With the Cadillac Trot," Sport, June 1966, 42-43.
Barker, Barbara, "Comeback Year," Bergen Record (Hackensack, New Jersey), February 12, 1995.
Brown, Doug, "Blefary Has Curt Reply: 'I'm No Peck's Bad Boy,'" The Sporting News, December 21, 1968, 34.
Martindale, David, Biography, October 1998, 24-25.
Drebinger, John, "DiMaggio Has Wonderful Time Teaching at N.Y. Rookie Camp," New York Times, March 22, 1963.
Eisenberg, John, "Building a Life After Baseball," Baltimore Sun, September 1986.
Frey, Jennifer, "I've Walked in Their Shoes," New York Times, February 26, 1995.
Goldstein, Richard, "Curt Blefary, 57, Outfielder and A.L. Rookie of the Year," New York Times, January 30, 2001.
Ogle, Jim, "Trade Winds Puff Out Yank Muscle," The Sporting News, December 20, 1969, 31.
Schneider, Russell, "Indians Stalk New Prey — Phil Slugger Richie Allen," The Sporting News, October 26, 1968, 25.
Schneider, Russell, "Tribe's Bid For Sock Runs Into Roadblock," The Sporting News, December 21, 1968, 28-29.
Wiebusch, John, "Angels Talk Deals, Seek Curt Blefary," The Sporting News, December 7, 1968, 36
Wiebusch, John, "Angels Whiff On Allen Deal, Try Callison," The Sporting News, December 21, 1968, 45.
Wilson, John, "Astros Proud of Off-Season Overhaul Job," The Sporting News, December 21, 1968, 35.
Wilson, John, "Clank, Cuckoo; By Either Name Blefary Can Hit," The Sporting News, January 4, 1969, 44.
Wilson, John, "Hat's Figures Offset Blefary's Blast," The Sporting News, April 4, 1970, 8.
Wilson, John, "Trades Add New Zing to Astro Attack," The Sporting News, February 15, 1969, 39.
Associated Press, November 22, 1965, January 29, 2001.
Bergen Record, various issues.
"Blefary Dies," USA Today Baseball Weekly, January 31, 2001, 14.
New York Times, March 21, 1968.
Sports Illustrated, July, 11, 1966, June 13, 1968.
"The Year of the Rookie," Time, June 4, 1965, 68.
Time, July 22, 1966.
astrosdaily.com
baseball-almanac.com
baseballguru.com
BaseballLibrary.com
Baseball-Reference.com
Biography.com
hickoksports.com
Historicbaseball.com
Retrosheet.org
Brief conversations with Curt Blefary, 1968-1971
Newspaper and magazine clippings with no source documentation.
Notes
1 The same figure was stated as fact by Doug Brown in the June 1966 issue of Sport and by Richard Goldstein in the January 30, 2001, New York Times.
2 New York Times, January 30, 2001.
3 Doug Brown, "The Man With the Cadillac Trot," Sport, June, 1966, 42-43.
4 He once said, "Because I was born in Brooklyn, I always rooted for the Dodgers, but the team I wanted to play for was always the Yankees." New York Times, January 30, 2001.
5 The Sporting News, May 8, 1965.
6 Sports Illustrated, July, 11, 1966.
7 The Sporting News, February 2, 1998.
8 The Sporting News, December 12, 1968.
9 The Sporting News, December 20, 1969.
10 Hickoksports.com (Website no longer functioning).
11 The Sporting News, April 7, 1972.
12 Baltimore Sun, September 1986, date unknown.
13 New York Times, February 26, 1995.
14 New York Times, January 30, 2001.
15 Baltimore Sun, September 1986, date unknown.
Born
July 5, 1943 at Brooklyn, NY (USA)
Died
January 28, 2001 at Pompano Beach, FL (USA)
If you can help us improve this player's biography, contact us.
http://sabr.org/sites/default/files/CurtBlefary.JPG
600
800
admin
/wp-content/uploads/2020/02/sabr_logo.png
admin
2012-01-04 20:19:30
2020-10-07 06:23:45
Curt Blefary