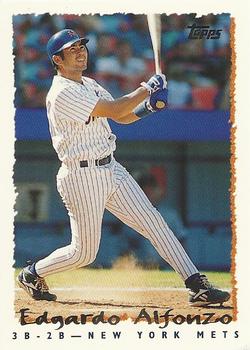 ---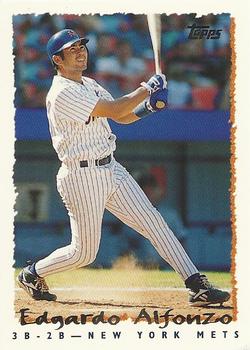 The New York Mets were strong contenders in 1999 and 2000, and one of their core members in those years was Venezuelan infielder Edgardo Alfonzo. "Fonzie" had his two best seasons with the bat and was steady in the field. At his peak, the New York Times described him as "a versatile and dependable player whose combination of a robust batting average, solid power and flawless defense could make him the premier second baseman in the major leagues."1
Alfonzo was mentioned alongside Derek Jeter in 2000: "Cooperstown could be their final stops."2 He was just 27 going into the 2001 season, and it was reasonable to expect several more prime years. Yet he never produced at the same level again, owing in part to a string of injuries. His big-league career ended in 2006, but he played on in the minors, independent ball, Mexico, Japan, and his homeland as late as 2013. Alfonzo then returned to the Mets' minor-league organization, becoming a coach and manager.
Edgardo Antonio Alfonzo Pino was born on November 8, 1973 in Santa Teresa del Tuy, in the state of Miranda, southeast of Venezuela's capital, Caracas. His parents were Edgar Alfonzo, a truck driver for a medical supply company, and Mercedes Pino, a preschool teacher. Edgardo was the youngest of four children, three of whom were sons.
Baseball runs in the Alfonzo family. The oldest brother, Edgar Jr., played in the minors from 1985 through 1996, also becoming a minor-league coach and manager. Middle brother Robert (born in 1972), a Mets farmhand for 70 games in 1993 and 1994, became a scout.3 Three of Alfonzo's nephews — Edgar Alfonzo III, Giovanny Alfonzo, and Javier Betancourt — also played in the minors and the Venezuelan winter league. A second cousin, Eliézer Alfonzo, was a big-league catcher for parts of six seasons from 2006 through 2011.
Alfonzo grew up in Soapire, a tiny town of perhaps 500 people just north of Santa Teresa del Tuy.4 He described his youth simply in 1998: "Go to school, play ball, nothing else." He credited brother Edgar, six years his senior, with teaching him the game.5 By that time Edgar Sr., who did not play baseball himself, had changed his mind about letting his sons do so. Previously, Edgar Jr. had been able to play only when work took his father out of town.6
Around the time Edgardo turned 11 years old, Edgar became a professional ballplayer, joining the winter league's Caracas Leones for the 1984-85 season. Edgardo therefore saw his first pro ballgame.7 That Leones club included various local heroes: Andrés Galarraga, Tony Armas, and Omar Vizquel (like Edgar Alfonzo, then a 17-year-old rookie). Their veteran leader was Gonzalo Márquez, who died in a tragic car accident in December 1984.
Vizquel, one of the finest shortstops ever, was a role model for young Edgardo (who also pitched as a youth). So was another first-rate Venezuelan shortstop, Dave Concepción. Vizquel, Alfonzo, and Ozzie Guillén all chose to wear uniform #13 in Concepción's honor.8
At the age of 16 in 1990, Edgardo got his first big-league tryout, courtesy of Edgar. It was with the Los Angeles Dodgers, in front of scout and former star Twins pitcher Camilo Pascual at Estadio Universitario de Caracas, home field of the Leones. By the end of the workout, Alfonzo had developed swelling in his knee, making Pascual leery about signing him.9
Later that year, Edgar helped his brother again by talking to Gregorio Machado, a Mets scout in Venezuela. Edgardo went to the city of Valencia in November 1990 and tried out before another Mets scout, Julio Román. He made a good impression, and Román wanted to see him again. After the second tryout, Román signed Alfonzo in February 1991 for $10,000.10
It took Alfonzo four seasons to reach the top level. He hit .331 in rookie ball in the Gulf Coast League, earning team MVP honors.11 He followed by batting .350 in 78 games in Class A in 1992. As he rose through the Mets system, his primary position was shortstop, although he also played the other infield spots. As it developed, third base became his primary position in the majors, followed by second. At Double-A Binghamton in 1994, skipper John Tamargo called Alfonzo "a manager's dream" in view of his all-around skills, approach to the game, and how he dealt with other people.12
Meanwhile, starting in the 1992-93 season, Alfonzo was also playing winter ball in Venezuela. His first team was Navegantes de Magallanes. At his brother's suggestion, he went with Magallanes, archrival of Caracas, because it would have been harder to win a spot on the Leones roster.13 Alfonzo had a rough time in the field early on, once committing (by his count) 12 errors at shortstop in one week. Yet the atmosphere at home continued "a hardening process that made him unflappable." John Tamargo, who also managed Magallanes in the 1990s, said, "It makes New York City look like Romper Room."14
Going home also gave Alfonzo time with his sweetheart, Delia Campos, who had grown up down the street from him in Soapire.15 They were married the day after the 1994-95 Venezuelan winter season ended. Alfonzo had pondered for three straight winters, wondering whether the time was right and asking his agent, Peter Greenberg, for advice. He decided to wait until he had gained more stability in baseball. When the Mets placed him on their 40-man roster in November 1994, he felt he really had a future.16
At that time, however, Major League Baseball was in the midst of its most crippling strike. There was a side effect on players who weren't U.S. citizens. When the Labor Department certified the strike, it authorized the Immigration and Naturalization Service to block any foreigner from getting the type of visa (typically the P-1 classification) needed to play in the majors. This kept the owners from importing strikebreakers, but Alfonzo and others couldn't return to the United States until the strike was settled.17
The strike officially ended on April 2, 1995, and Alfonzo jumped from Binghamton to the majors (he didn't play in Triple-A until an injury rehab assignment in 2001). Opening Day for the Mets that year, April 26, was in Colorado against the Rockies. Alfonzo's most vivid memory of that day was the cold. It snowed before the game, and the groundskeepers had to shovel out the field.18
Alfonzo had begun to play second base in 1994 after flashy shortstop Rey Ordóñez was promoted, so he backed up Jeff Kent there. He had also been asked to play third base that winter so Bobby Bonilla could spend more time in left field. Bonilla was traded in late July, opening up more time for the rookie. However, Alfonzo missed most of August with a herniated disc in his back. He returned in early September and finished the year hitting .278 with 4 homers and 41 RBIs in 101 games.
Alfonzo posted very similar numbers (.261-4-40 in 123 games) in 1996. The Mets moved Jeff Kent to third that year and made José Vizcaino the regular second baseman, Alfonzo backing up both of them. On July 29, however, the Mets sent both Kent and Vizcaino to Cleveland in the deal that brought Carlos Baerga to New York. Baerga was a second baseman, but the Mets put him at first base and made Alfonzo the starter at second.
Edgardo and Delia also welcomed their first child, Eduardo Luis, that year. The second Alfonzo son, Daniel Antonio, arrived during the 1999 season.
Alfonzo began to emerge with the bat in 1997. He hit .315 in 518 at-bats, with 10 homers and 72 RBIs. Baerga was back at second base, and Alfonzo shifted to third. Back home in Venezuela that winter, he had become a celebrity, and longtime observers of the game there were already ranking him among the best third basemen in the nation's history. Magallanes shortstop Álvaro Espinoza (a Mets teammate in 1996) said, "Hitting-wise, defense-wise. He's the best player in this league right now." His increased confidence was also visible in a greater role in the clubhouse.19
Alfonzo remained at the hot corner for New York in 1998, and though his average slipped to .278, his home run production climbed to 17. He also came in second in the NL Gold Glove voting for the second straight year.20 The Mets viewed him as a key part of their team and signed him to a four-year contract worth $18.4 million.21
Previously, the team had signed veteran star Robin Ventura to be their new third baseman. They'd also let the disappointing Baerga become a free agent, and Alfonzo moved back to second base. Rey Ordóñez was a Gold Glover at short, and first baseman John Olerud was also a superb fielder. The four of them in total committed just 31 errors in 1999. Tom Verducci of Sports Illustrated called it "an infield that makes up in agility and surehandedness what it lacks in speed."22 The quartet was pictured on the magazine's cover that September 6, with the caption, "The Best Infield Ever?"
Not long before, the New York Times had compared Alfonzo to the other premier second basemen of the day. "Roberto Alomar is slicker, Craig Biggio is grittier. Jeff Kent possesses more power and Jay Bell is having a special season. However, Alfonzo might be the most complete player at his position this year."23
Indeed, Alfonzo's batting had also stepped up markedly. He set career highs in homers (27) and RBIs (108) while batting .304 and slugging .502. He won the NL's Silver Slugger award for second basemen that year. On August 30 at the Houston Astrodome, he had the finest single game of his career, going 6-for-6 with three homers. He added a double and two singles for 16 total bases; he also scored six times.
Alfonzo had earned recognition as a clutch hitter, too. His average with runners on base was significantly higher than with the bases empty. Manager Bobby Valentine said, "He gets in an RBI situation and doesn't worry about it, he just hits."24 Looking back, Alfonzo cited his patience and selectivity at the plate. "My mentality was, try to go the other way…let the ball come to me and explode to it."25
The Mets and Cincinnati Reds finished the 1999 regular season with identical records of 96-66, second in their respective divisions. There was only one wild-card playoff spot at that time, so the teams faced each other in a tiebreaker. Rickey Henderson led off the game at Cinergy Field with a single, and Alfonzo homered off Steve Parris. That was all Mets starter Al Leiter needed, as he threw a two-hit shutout.
New York advanced to the NL Division Series. Alfonzo was the hitting star of Game One with two homers: a first-inning solo shot off Arizona ace Randy Johnson and the game-winning grand slam in the top of the ninth off Bobby Chouinard. He also homered in the decisive Game Four, which sent New York into the NL Championship Series against Atlanta. Alfonzo went 6-for-27 with four doubles as the Mets lost to the Braves in six games.
Alfonzo made his only appearance in the All-Star game in 2000. Although his homer and RBI totals dipped slightly (25 and 94), he hit .324 and set career highs in slugging (.542) and on-base percentage (.425). That June, the New York Post quoted teammate Matt Franco on Alfonzo: "He's just a model of consistency. He is a great teammate. He is on an even keel. He plays immaculate defense [though he never did win a Gold Glove]. He is a tremendous, tremendous hitter. He's just the best player we have."26
During the 2000 playoffs, a New York Times article said that Alfonzo, by clubhouse consensus, was the team's leader in October. He burnished his reputation for clutch hitting that postseason, especially in Game Three of the NL Division Series against San Francisco. The Giants were four outs away from going ahead, two games to one. They brought in closer Robb Nen, who had not blown a save in four months. Alfonzo stroked a game-tying double, and the Mets won five innings later. Teammate Darryl Hamilton said, "When we get in a situation where we need a hit…everybody on this team wants Fonzie at the plate."27
When the Mets defeated the St. Louis Cardinals to win the NL pennant in 2000, Alfonzo insisted that his brother Edgar be in the clubhouse to join in the celebration. They shared a bottle of champagne, hugging and crying joyfully together.28 The New York Yankees beat the Mets in five games in the World Series, though, and Alfonzo managed just 3 hits in 21 at-bats.
Coming off a career year, Alfonzo was shedding his "unheralded" and "underrated" labels. Alas, his batting fell off markedly in 2001. He hit just .243, with 17 homers and 49 RBIs. An injured back landed him on the disabled list from mid-June to early July but troubled him much of the season.29
Despite the down year, in spring 2002 the Mets offered Alfonzo a three-year contract extension worth $18 million, which he turned down.30 His average rebounded (.308), but his homer and RBI totals (16 and 56) were still well below his peak. His left hand bothered him for much of the early season after he dove for a ball.31 He also spent time on the disabled list again, this time with a strained oblique muscle in August. The 2002 season also featured a return to third base, since the Mets had traded Robin Ventura and acquired Roberto Alomar to play second.
Alfonzo became a free agent that fall. He very much wanted to stay in New York, which had become home, and would have for a two-year contract worth $17 million. However, the Mets' best offer was two years for $11 million. As it turned out, he got a longer contract with bigger money from the San Francisco Giants: a four-year, $26 million deal, topping offers from the A's and Padres.32 Meanwhile, the Mets unsuccessfully wooed Japanese third baseman Norihiro Nakamura (who flopped after signing with the Dodgers in 2005).
Alfonzo showed his appreciation of Mets fans by buying ad space on top of 30 New York City cabs for 30 days. The message read, "Fonzie ♥ NY / Edgardo Thanks You!" The ads hit the street on Valentine's Day 2003.33
Alfonzo replaced departed free agent David Bell at third base in San Francisco.34 His first year there was solid but unspectacular: .259 with 13 homers and 81 RBIs in 142 games. He struggled in the first half but picked up as the season progressed. The Giants won the NL West that year but got knocked out in the Division Series by the eventual World Series champs, the Florida Marlins. Alfonzo, however, had an excellent NLDS: 9-for-17 with four doubles.
The 2004 season was fairly similar for Alfonzo, with a .289 average, 11 homers and 77 RBIs. Again he got off to a slow start, this time because of a hamstring pull in spring training.35 He warmed up in May, though, and hit more consistently throughout the year.
Alfonzo started well in his third year with San Francisco. He was hitting .306 when he strained his quadriceps in June. He returned a month later, but by then Pedro Feliz was getting most of the time at third base. Alfonzo hit .240 the rest of the season. He asked to be traded "somewhere where they can trust me, believe in me and have faith in me."36
That December, the Giants granted the wish, trading Alfonzo to the Los Angeles Angels of Anaheim for 40-year-old Steve Finley. In retrospect, both were labeled high-priced disappointments. San Francisco GM Brian Sabean speculated that among other factors, Alfonzo had some "culture shock" after leaving the Mets. He added, "He gave the effort, it's just the performance didn't turn out the way it could have."37
In March 2006, Alfonzo represented his homeland in the World Baseball Classic. He hit 5-for-16 with a homer and two RBIs in five games, but Venezuela was eliminated in the second round.
After Alfonzo joined the Angels in camp, manager Mike Scioscia sought to maximize his playing time, saying, "This guy is a professional hitter when he's right."38 But when the regular season started, Alfonzo went ice-cold, going 5-for-50. He found his reserve role frustrating. Angels GM Bill Stoneman tried to trade Alfonzo but found no takers, even when he offered to absorb the veteran's salary. Thus, the club released Fonzie on May 21. He was thankful, saying, "I didn't want to be stuck here for the whole year."39
Four days later, the Toronto Blue Jays signed Alfonzo to a minor-league contract and assigned him to New Hampshire in the Eastern League (Class AA). Jays manager John Gibbons knew him from his time as an instructor in the Mets farm system and recommended the signing to GM J.P. Ricciardi.40 Alfonzo got just six hits in 37 at-bats for Toronto, though, and was released on June 12. "The guys loved him," said Gibbons, "But he's slowed down a little bit. No question. It's a business."41
Alfonzo's next stop was independent ball. He signed with the Bridgeport Bluefish of the Atlantic League. After just four games with the Bluefish, the Mets gave him another chance, assigning him to their top farm club, Norfolk in the International League. Mets special assistant Tony Bernazard said that Fonzie would play all over the infield and that bringing him back to New York was "part of the equation."42 However, Alfonzo hit just .241 with 3 homers and 19 RBIs in 42 games and was not called up. He was granted free agency that October.
At this juncture in Alfonzo's career, the Venezuelan league gained renewed importance for him. For much of his big-league prime, his action at home was minimal, first because the Mets were concerned about injury risk and later because he stayed in the U.S. for off-season training.43 He appeared in just eight games for Magallanes in the six seasons from 1998-99 through 2003-04, and 33 in the two winters after that. In 2006-07, though, he got into 32 games.
Alfonzo returned to the Atlantic League in the summer of 2007, joining the Long Island Ducks. That June, he noted that "a lot of factors" had led to his decline, even though in his own mind, he was still the player he used to be with the Mets. He added, "Last year, I…began developing some bad habits. I still need to get my timing and confidence back. But I think it's coming around." Ducks manager Dave LaPoint and co-owner/first base coach Bud Harrelson believed that Fonzie would get another shot in the majors. "He's just too good," said LaPoint. "He can help a lot of teams."44
It didn't work out that way, though, since Alfonzo's play was reasonably solid but not eye-catching. He returned to his original position, playing 62 games at shortstop, as well as 25 at third. In 105 games overall, he hit .266 with 5 homers and 56 RBIs.
During the winter of 2007-08, Alfonzo played 54 games for Magallanes. He showed that he could still be productive, hitting .335 with 5 homers and 33 RBIs. That earned him a minor-league contract and an invitation to spring training from the Texas Rangers. However, the Rangers released him in late March. Alfonzo signed with Tigres de Quintana Roo in the Mexican League and played 55 games in that circuit. He returned to the Long Island Ducks in June and hit well (.329 with 8 homers and 27 RBIs in 59 games).
The 2008-09 season was Alfonzo's best at home. He hit .320, and his 8 homers and 42 RBIs were both winter-career highs. As a result, Japan's most prominent franchise, the Yomiuri Giants, gave him a tryout at their spring training camp. It went well enough that he signed a one-year contract for $380,000. Alfonzo called it an honor to be with the Giants and said he'd play his hardest to contribute.45 He remembered playing Opening Day 2000 with the Mets in Tokyo and was happy to return. Although he got into just 21 games for Yomiuri, with merely 6 hits in 41 at-bats, his experience was positive. He said Yomiuri treated him very well and politely, recognizing his work with the Mets.46 The Giants won the Japan Series in 2009, but if Alfonzo made it to the postseason roster, he did not appear in any games.
Alfonzo still thought he had two or three years of baseball left in him, and went back to Venezuela in hopes of getting another invitation to a big-league camp. His strong preference was for another chance with the Mets, since he still felt loyal toward the team and its fans.47 After 18 games with Magallanes in 2009-10, Alfonzo gave it a last shot in the Atlantic League in 2010. The Newark Bears, managed by Tim Raines, signed Alfonzo and his old Mets teammate Armando Benitez that March.48 In 26 games with the Bears, he went 12-for-78.
Following that stint, Alfonzo's remaining playing days came at home. In the winter of 2011-12, after 15 seasons with Magallanes, he moved to a new club, Tigres de Aragua. He played his last 15 games for Aragua in the 2012-13 season. All told, he hit .293 in 594 regular-season games in his homeland, with 28 homers and 244 RBIs. He appeared 13 times in the Venezuelan postseason and was a member of five championship teams. Three of those were with Magallanes (1993-94, 1995-96, and 1996-97). The other two came with Aragua (2007-08, as a playoff reinforcement, and 2011-12).
Alfonzo rejoined the Mets as a club ambassador in 2013. He managed the World team in the All-Star Futures Game at Citi Field in New York on July 14. The following year, he was named to the coaching staff of the Brooklyn Cyclones, a Mets farm team in the NY-Penn League (short season Class A). As bench coach, he learned from manager Tom Gamboa. He was also a minor-league special instructor. In addition, he worked closely with countryman Wilmer Flores (whom his brother Robert had helped sign) in spring training 2014. After Gamboa retired at the end of the 2016 season, Alfonzo became Cyclones skipper in January 2017.49
Not long before the Cyclones' 2017 season began, the Mets selected Daniel Alfonzo with their 38th-round pick in the amateur draft. Daniel had played for Bayside High School in Queens, not far from where his father had starred. The young man went to college at Adelphi rather than turn pro.50
The Cyclones struggled to a 24-52 mark in 2017, the worst in franchise history since its inception in 2001 (when Edgar Alfonzo managed the team).51 That August, Alfonzo talked about learning how to develop young pitchers, especially with limited workloads. He also spoke about mental preparation; he emphasized teaching prospects to learn as much as possible about baseball.52
A few weeks earlier, Alfonzo was asked about becoming a big-league manager someday. He replied that he too was still in the process of learning and getting to know the game more.53 He reiterated in March 2018 that he didn't have the mindset yet and that he needed more experience; coaching in the big leagues was an attractive prospect.54 In his second year, Brooklyn posted a much-improved record of 40-35.
Edgardo Alfonzo was still just 44 at the 2018 season's end, so he should have many years in baseball to come. As for his future roles, he said it best himself: "Who knows? Time will tell."55
Last revised: October 2, 2018
Acknowledgments
This biography was reviewed by Jan Finkel and fact-checked by Alan Cohen.
Sources
Online
http://www.pelotabinaria.com.ve (Venezuelan statistics)
http://npb.jp/eng/ (Nippon Professional Baseball site)
Notes
1 Jack Curry, "The Anonymous Alfonzo," New York Times, August 27, 1999, D3.
2 Andrew Marchand, "Amazin' Alfonzo a Pro's Pro," New York Post, June 8, 2000 (https://nypost.com/2000/06/08/amazin-alfonzo-a-pros-pro/).
3 Buster Olney, "Lessons of a Sibling Rivalry," New York Times, January 14, 1998, C1. The mother's name was shown as "Mercedes Porfiria" in Thomas Hill, "Serious Biz for Fonz," New York Daily News, January 18, 1998 (http://www.nydailynews.com/archives/sports/serious-biz-fonz-mets-alfonzo-homeland-hero-venezuela-article-1.794431). Porfiria is most likely her middle name. The fourth Alfonzo sibling is confirmed to be a sister in Alexander Mendoza, "Javier Betancourt Valora la Experiencia con Leones," LVBP.com, January 12, 2015 (https://www.lvbp.com/2062_javier-betancourt-valora-la-experiencia-con-leones). Research has not yet uncovered her name.
4 Henry Schulman, "Bond of brothers," SFGate.com, March 2, 2003 (https://www.sfgate.com/sports/article/Bond-of-brothers-Giants-Alfonzo-shares-success-2666571.php).
5 Hill, "Serious Biz for Fonz."
6 Olney, "Lessons of a Sibling Rivalry."
7 Hill, "Serious Biz for Fonz."
8 Jon Springer and Matthew Silverman, Mets by the Numbers, New York: Sports Publishing (2008).
9 Matthew Brownstein, "MMO Exclusive: Mets Great, Edgardo Alfonzo," MetsMerizedOnline.com, April 20, 2018 (https://metsmerizedonline.com/2018/04/mmo-exclusive-mets-great-edgardo-alfonzo.html/).
10 Ibid.
11 Schulman, "Bond of brothers."
12 Olney, "Lessons of a Sibling Rivalry."
13 Ibid.
14 Hill, "Serious Biz for Fonz."
15 Ibid.
16 Jennifer Frey, "Mets Prospect Stuck on Long Honeymoon," New York Times, February 22, 1995, B11.
17 Ibid.
18 Brownstein, "MMO Exclusive: Mets Great, Edgardo Alfonzo."
19 Hill, "Serious Biz for Fonz."
20 Marty Noble, "Fonzie: Voters Made Gold Glove Error," Newsday (Melville, New York), November 10, 1999 (https://www.newsday.com/sports/fonzie-voters-made-gold-glove-error-1.314426). Ken Caminiti won the NL Gold Glove at third base in 1997 and Scott Rolen in 1998.
21 "Alfonzo Signs 4-Yrs with Mets," CBSNews.com, February 5, 1999 (https://www.cbsnews.com/news/alfonzo-signs-4-yrs-with-mets/).
22 Tom Verducci, "Glove Affair," Sports Illustrated, September 6, 1999 (https://www.si.com/vault/1999/09/06/8110328/glove-affair-a-new-man-at-third-has-dressed-up-the-mets-infield-turning-a-good-defense-into-a-great-oneand-new-york-into-a-playoff-contender). The Mets gave up just 20 unearned runs overall in 1999.
23 Curry, "The Anonymous Alfonzo."
24 David Waldstein, "Alfonzo Earning Title of 'Mr. Clutch,'" New York Post, July 5, 1999 (https://nypost.com/1999/07/05/alfonzo-earning-title-of-mr-clutch/).
25 Brownstein, "MMO Exclusive: Mets Great, Edgardo Alfonzo."
26 Marchand, "Amazin' Alfonzo a Pro's Pro." Cincinnati's Pokey Reese won the NL Gold Glove at second base in both 1999 and 2000.
27 Tyler Kepner, "When It Matters Most, Alfonzo Is the Mightiest Met," New York Times, October 14, 2000, D1.
28 Schulman, "Bond of brothers."
29 Tom Keegan, "Fonzie: I'll Be a Star Again," New York Post, August 22, 2001 (https://nypost.com/2001/08/22/fonzie-ill-be-a-star-again/).
30 John Harper, "The Art of the Deal," New York Daily News, December 22, 2002 (http://www.nydailynews.com/archives/sports/art-deal-edgardo-alfonzo-new-home-turns-giant-drama-article-1.504215).
31 Michael Morrissey, "Healthy Alfonzo Starting to Find Power," New York Post, June 9, 2002 (https://nypost.com/2002/06/09/healthy-alfonzo-starting-to-find-power/).
32 Murray Chass, "With Sigh of Relief, Mets Trade Ordóñez," New York Times, December 16, 2002, D7. Harper, "The Art of the Deal."
33 "Fonzie's Swan Song," Adweek, February 20, 2003 (https://www.adweek.com/brand-marketing/fonzies-swan-song-61976/).
34 Jeff Kent, San Francisco's star second baseman for the previous six years, had also left as a free agent. But the Giants signed Ray Durham to fill that hole, precluding another position switch for Alfonzo.
35 Glenn Reeves, "Alfonzo's slump is a cause for concern," East Bay Times, April 21, 2004 (https://www.eastbaytimes.com/2004/04/21/alfonzos-slump-is-a-cause-for-concern/).
36 Bill Shaikin, "Alfonzo Wants Regular Playing Time," Los Angeles Times, March 20, 2006 (http://articles.latimes.com/2006/mar/20/sports/sp-angrep20).
37 Susan Slusser, "Giants Get Finley — Alfonzo to Angels," SFGate.com, December 22, 2005 (https://www.sfgate.com/sports/article/Giants-get-Finley-Alfonzo-to-Angels-2556092.php).
38 Shaikin, "Alfonzo Wants Regular Playing Time."
39 Bill Shaikin, "Alfonzo Is Released; Jason] Bulger Is Called Up," Los Angeles Times, May 21, 2006 (http://articles.latimes.com/2006/may/21/sports/sp-angrep21).
40 "Blue Jays recall Alfonzo, place John] McDonald on DL," ESPN.com, May 29, 2006 (http://www.espn.com.au/mlb/news/story?id=2462481)
41 "Blue Jays activate McDonald, recall Russ] Adams, release Alfonzo and outright Luis] Figueroa," ESPN.com, June 12, 2006 (http://webcache.googleusercontent.com/search?q=cache:LvaPnyiIE84J:www.espn.com/espn/wire%3Fsection%3Dmlb%26id%3D2481108+&cd=4&hl=en&ct=clnk&gl=us).
42 Mark Hale, "Happy Days: Mets Welcome Back Fonzie," New York Post, July 16, 2006 (https://nypost.com/2006/07/16/pedro-in-hospital-happy-days-mets-welcome-back-fonzie/).
43 Keegan, "Fonzie: I'll Be a Star Again."
44 Jeff Pearlman, "These Ducks are waiting for 'the call,'" ESPN.com, June 22, 2007 (http://www.espn.com/espn/page2/story?page=pearlman/070621).
45 "Yomiuri Giants give Alfonzo 1-year deal," ESPN.com, February 9, 2009 (http://www.espn.com.au/mlb/news/story?id=3894804).
46 Kevin Kernan, "Alfonzo yearns for one more Amazin' shot," New York Post, November 14, 2009 (https://nypost.com/2009/11/14/alfonzo-yearns-for-one-more-amazin-shot/).
47 Ibid.
48 Josh Levitt, "Armando Benitez and Edgardo Alfonzo Back Together Again," BleacherReport.com, March 26, 2010 (https://bleacherreport.com/articles/369265-armando-benitez-and-edgardo-alfonzo-back-together-again).
49 Anthony DiComo, "Franchise favorite Alfonzo to manage Brooklyn," MLB.com, January 5, 2017 (https://www.mlb.com/news/edgardo-alfonzo-to-manage-brooklyn-cyclones/c-212914644).
50 Laura Amato, "Commodores standout opting for college route," TimesLedger (Queens, NY), June 23, 2017 (https://www.timesledger.com/stories/2017/24/alfonzobase_2017_06_23_q.html).
51 Edgar Alfonzo also managed the Cyclones in 2007 and 2008.
52 Matthew John, "Edgardo Alfonzo making most of first season as Cyclones skipper," TimesLedger, August 19, 2017 (https://www.timesledger.com/stories/2017/33/edgardoalfonzo_2017_08_18_q.html).
53 Jordan Lauterbach, "Ex-Met Edgardo Alfonzo managing Brooklyn Cyclones," Newsday, July 21, 2017 (https://www.newsday.com/sports/baseball/mets/ex-met-edgardo-alfonzo-managing-brooklyn-cyclones-1.13813081).
54 Brownstein, "MMO Exclusive: Mets Great, Edgardo Alfonzo."
55 Ibid.
Full Name
Edgardo Antonio Alfonzo Pino
Born
November 8, 1973 at Santa Teresa del Tuy, Miranda (Venezuela)
If you can help us improve this player's biography, contact us.
https://sabr.org/sites/default/files/Alfonzo%20Edgardo%20Mets.jpg
600
800
admin
/wp-content/uploads/2020/02/sabr_logo.png
admin
2018-10-02 14:21:12
2020-04-09 14:38:41
Edgardo Alfonzo