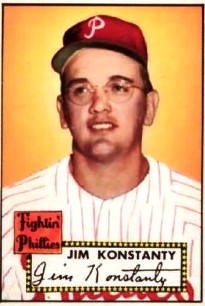 ---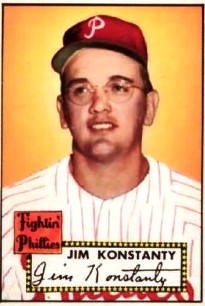 In 1950 Casimir James Konstanty, a sometime gym teacher and baseball nomad, and Edwin Sawyer, a manager who had never played in the big leagues, led the Philadelphia Phillies to their first pennant in 35 years. Eddie Sawyer summoned Konstanty from the bullpen 74 times that season to set a record for appearances. Along the way Konstanty won 16 games against seven losses, logged 22 saves (which were not an official statistic at the time), and compiled a 2.66 earned run average in a remarkable 152 relief innings. After the season he was named the Most Valuable Player in the National League, the first relief pitcher so honored in either league.
Jim Konstanty was born on March 2, 1917, to John and Apolonia Konstanty in Strykersville, New York, a farming community east of Buffalo. Jim was the second oldest of six children. Within a few months of his birth the family moved to Buffalo, where his father worked in a steel mill, and then to Delevan, New York, where his parents ran a small country hotel. His mother, who was a homemaker, died suddenly when he was 11 years old, leaving behind all six children. Afterward his father remarried and moved the family to a farm seven miles from Delevan in Eagle, New York, where Jim learned the rigors of farm work.1 He also attended nearby Arcade High School, where he played basketball and baseball. When his father moved the family back to Buffalo and to a steady paycheck at the steel mills, Jim and his next youngest brother, Johnnie, stayed in Arcade, to finish high school. They rented a room over a store from the town drunk and Jim worked part-time during the school year and full-time in the summer at Borden's milk factory for 25 cents and then 40 cents an hour.2
From 1932 to 1935 Konstanty and his brother were mainstays for Arcade High School's basketball and baseball teams, leading the basketball team to a league championship in 1933-34. His senior year he captained three teams: basketball, baseball, and his high school's first 11-man football team. He pitched when not playing in the field for the baseball team and was named team MVP his junior and senior years. After his junior year as well as after graduation, Konstanty played on the crack Arcade town team in the Suburban League, sponsored by the Buffalo Evening News.3
With the help of William McNair, a local manufacturer and sports fan, and his high-school coach, Dave Collister, Konstanty was awarded a partial scholarship to attend Syracuse University in 1936. He arrived with $160 in savings, but not enough money to live in a dormitory, so he instead lived in a rooming house with no heat.4 He proceeded to work his way through school by waiting on tables in a girls' dorm and other odd jobs. He also managed to become only the second Syracuse athlete to letter in four sports, baseball, basketball, soccer, and boxing.5
Konstanty pitched sparingly in college, starting at third base until his senior year, when he switched to first base. He later described himself in college as "a strong wild arm third baseman with a big chest to knock balls down, fair hitter, but very, very slow on foot."6 After graduating with a degree in physical education in 1939, he played for Malone in the semipro Northern League as a first baseman but was released in late July.7 That fall he took a job teaching at Endwell (New York) High School. He also played some professional basketball in Binghamton and began graduate work at Syracuse before taking a position teaching physical education at St. Regis Falls High School, also in New York state. There he met the love of his life, Mary Burlingame, a young history teacher at the same school. They were married in 19418 and would raise two children together, a son, Jim Jr., and a daughter, Helen Irene.
In the summer of 1940 Konstanty pitched for Massena, New York in the Northern League, where manager George Minor, a former Syracuse University star, converted him to pitcher in midseason. He performed well enough to attract the attention of the Syracuse Chiefs of the International League, who signed him with no bonus and sent him to start his professional career in 1941 with the Springfield (Massachusetts) Nationals of the Eastern League.9 He was already 24 years old; the 21-year-old future Hall of Famer Early Wynn became his roommate on the road.10 Under manager Rabbit Maranville, the team finished in last place and Konstanty did not help much, winning four games and losing 19 in his first professional season. However, 13 of the losses were by one run and he lost five 1-0 games, and so he earned promotion to Syracuse for 1942.11
Konstanty mostly sat on the bench with the Chiefs, appearing in only five games and winning his lone decision. That one victory was crucial, however, as he defeated the Newark Bears to send the Chiefs into the International League playoffs.12 Sitting on the bench, he learned a lot about pitching from teammates Red Barrett, Tom de la Cruz, Ewell Blackwell, and Ben Wade, including, since he had a mediocre fastball, the need to change speeds and use breaking pitches to fool the hitters.13
In the offseasons in 1942, 1943, and 1944 to make ends meet, Konstanty taught health and physical-education classes in Westfield, New York, and coached football, basketball, and baseball.14
Konstanty did not join the Chiefs in 1943 until July 1 because of his teaching duties but pitched a one-hitter in his first start, losing 1-0 after walking the bases full and having a runner steal home.15 That outing won him a job as the fourth starter. Altogether, in 29 games and 166 innings he posted eight wins against 12 losses with a 3.42 earned-run average for a third-place team. He contemplated quitting baseball after the season, in large part because of the poor minor-league pay, but Leo Miller, the Chiefs general manager, raised his salary and convinced him that he had a chance to pitch for the parent Cincinnati Reds in 1944.
As a result, Konstanty quit his teaching job in March 1944 and was able to attend a full spring training. He did not make the Reds to start the season, but after he went 8-6 for the Chiefs in 115 innings, he earned a call-up to the war-depleted Reds in mid-June. Konstanty was 27 when he made his major-league debut on June 18, starting the second game of a doubleheader against the Chicago Cubs in Wrigley Field. He retired the first batter he faced, Roy Hughes, on a fly ball to center field but then gave up a ringing double to Phil Cavarretta and a single to Dom Dallessandro that scored Cavarretta. He then decided to abandon his fastball and struck out Bill Nicholson on four changeups, before getting Andy Pafko to line out to third to close out the inning.16 In total, Konstanty pitched four innings and allowed two runs on five hits before being lifted for a pinch-hitter in a game that ended in a 6-6 tie because of darkness.
In his second start (and fourth overall appearance), on June 24 against the Cubs in Crosley Field, Konstanty scattered seven hits and pitched a 1-0 shutout for his first major-league win. He went on to have a successful rookie campaign, pitching in 20 games, starting 12 and completing five. He compiled a 6-4 record with a fine 2.80 earned-run average in almost 113 innings.
Konstanty then entered the Navy in 1945 and was stationed at the Sampson Naval Training Station in Geneva, New York, where he was able to pitch for the base team.17 He was discharged in February 1946 and was able to participate in the Reds spring training in Tampa.
Konstanty was traded by the Reds, however, two days after Opening Day, to the Boston Braves with cash for outfielder Max West.18 He struggled with the Braves, appearing in 10 games, mostly in relief, with a 0-1 record and an unsightly 5.28 earned-run average. On June 13 the Braves sold him to the Toronto Maple Leafs of the International League to make way for a young left-hander named Warren Spahn.19 Konstanty also labored with Toronto, winning 4 and losing 9 for the balance of the season, although with an improved 3.88 earned-run average.
The Konstantys spent the offseason in Worcester, New York, where they had a neighbor named Andy Skinner who happened to be the local undertaker. Jim was playing some pro basketball for a team in Utica and one day invited Skinner to ride with him to a game in Oneonta, 20 miles away. They began talking about pitching and Konstanty found that Skinner, who had never played baseball, was a good bowler and knew a lot about various twists and spins. Afterward the two started playing catch with immediate results. Over the years, Skinner helped Konstanty improve both his slider and changeup. For the rest of his career, Skinner would appear whenever Konstanty began to struggle during the season and often manage to quickly straighten him out.20 Konstanty always credited Skinner with turning his career around, calling him his "bread and butter."21
Konstanty was back with Toronto in 1947 and improved to 13-13 for a tail-end club, with a 3.47 earned-run average in 197 innings. In 1948 Eddie Sawyer became Toronto's manager and began using the soft-tossing Konstanty in relief as well to start the seven-inning games in doubleheaders.22 Sawyer was then elevated to manage the Phillies in late July. Even though Konstanty was only 10-10 with a 4.06 earned-run average for the Maple Leafs, Sawyer had seen something in him. Near the end of the season, he had the Phillies purchase his contract.23 As a result, at age 31, Konstanty, with the help of Andy Skinner and Sawyer, finally began to realize his potential, appearing in 9⅔ innings in six games with two saves while allowing only a single earned run for a 0.93 earned-run average.24
In 1949 Konstanty became the leader of the Phillies bullpen, pitching in 53 games, all in relief. Although he was 0-3 after a loss on June 3, he won nine of his next 11 decisions to finish 9-5. He captured seven saves in 97 innings and compiled a 3.25 earned-run average.25 He showed his versatility in winning his first game of the season on June 9. He entered a 3-3 tie against the Pirates in the 10th inning and proceeded to throw nine shutout innings as the Phillies won 4-3 in the 19th inning on a sacrifice fly by Jack Mayo.
On June 16 Konstanty even won a game with his bat. He relieved Ken Trinkle in the eighth inning after the Phillies had come back from a 3-0 deficit to tie the game at 3-3. Sawyer let Konstanty bat for himself with one out in the ninth and the pitcher smacked a two-strike single over second baseman Emil Verban's head to drive in the winning run. It was an uncommon occurrence: For his career, he had 33 hits in 202 at-bats for a .163 average.
Konstanty gave many of the top hitters in the league fits in 1949, including Jackie Robinson. In fact, when Robinson got his first hit of the season against Big Jim on August 10, a two-run home run in the top of the ninth to beat the Phillies 7-5, he labeled it his greatest baseball game.26
The Phillies finished fast in 1949 and ended up in third place with the team's most wins in 32 years. In 1950, after playing .500 ball for the first three weeks, the Phillies again caught fire and leapt to first place on May 11. They were in thick of the pennant race thereafter. With his nasty slider and deceiving palmball, Konstanty, who was now 33 years old, was a shutdown reliever out of the bullpen.
Konstanty, with a 7-3 record in 36 appearances at the break, was named to his only All-Star team in 1950, along with teammates Robin Roberts, Willie Jones, and Dick Sisler. The game was played on July 11 in Comiskey Park in Chicago. Konstanty pitched a scoreless sixth inning, striking out Hoot Evers and Jim Hegan and retiring Bobby Doerr on a grounder to shortstop,27 in a game that went 14 innings before Red Schoendienst won it for the National League with a dramatic home run off Ted Gray.
During July Konstanty wasn't quite as effective as he had been earlier in the season. He gave up a grand slam to Sid Gordon to blow a game against the Boston Braves and thought he had lost some bite on his slider. So he called Andy Skinner, who made a beeline to Shibe Park to take a look at Konstanty's delivery.28
Skinner was indeed Konstanty's ace-in-the-hole. After his visit, Konstanty became almost unhittable again. In late July and August Konstanty did not allow a run for 13 games, a span covering 22⅓ innings. His streak ended in Pittsburgh on August 25, in a game in which he turned in a remarkable performance. He relieved Russ Meyer in the bottom of the seventh inning with the score tied 6-6. In the top of the 10th Andy Seminick homered to put the Phillies ahead 7-6. But in the bottom of the inning Ralph Kiner smashed a homer off Konstanty to tie the score and end his shutout streak. The game continued until the 15th inning, when the Phillies cobbled together two runs, the second on a single by Konstanty, to win the game, 9-7. Konstanty had pitched nine innings, the equivalent of a complete game, for the win.29
Two days later, Sawyer brought the rubber-armed Konstanty in to relieve Bob Miller in the eighth inning of a 4-4 tie in Chicago. Jim proceeded to throw 3⅔ scoreless innings before the game was called because of darkness after 11 innings. The very next day, Sawyer again called on Konstanty to relieve, this time in the sixth inning of a 5-5 tie. Konstanty racked up another 3⅔ shutout innings to gain his 12th win of the season.30 In four days he had pitched over 16 innings and allowed only one run. By the end of that stretch, he had appeared in six games in seven days. Altogether he threw 15 more shutout innings after Kiner's home run on August 25, meaning that in 46⅓ innings he had given up just one run.31
A little more than two weeks later, on September 15, Konstanty turned in another ironman performance out of the bullpen, relieving Jack Brittin in the ninth inning of a game the Phils were losing to the Cincinnati Reds, 5-3. The Whiz Kids tied the game in the bottom of the ninth and Konstanty went on to pitch nine more innings before being relieved after the 18th inning.32
Konstanty was not really one of the boys on the Whiz Kids, in part because he was older than most of his teammates. He was a family man who didn't smoke or drink and wasn't that happy with his teammates who did.33 He had worn eyeglasses since he was 15 and had a studious bearing. Teammate Dick Sisler dubbed him "Yimca" because he looked and acted like a YMCA instructor and always kept himself in such good shape.34 Richie Ashburn remembered that he and Konstanty used to talk a lot. "We never agreed on much but we talked a lot."35
Although Eddie Sawyer thought Konstanty "had a difficult personality," he considered him his best-conditioned athlete and admired his work ethic, recalling that he wanted to pitch every day.36 Konstanty was also disciplined off the field, eating a healthy diet and making sure to get his rest.37 His teammates admired his dedication to his workout routine and Bubba Church remembered Konstanty as "a nice person and good guy" who kept a black book in which he recorded who hit what pitch against him and where it went.38
Once he became successful at the big-league level, Konstanty became very confident in his ability to get hitters out. He thrived on offspeed pitches like his palmball and on great control. Teammate Willie "Puddinhead" Jones once said that if they put the speed gun on Konstanty that had been used to measure Bob Feller's fastball, "I don't think it would work."39
The Phils had a 7½-game lead in late September but then faltered. With their lead down to one game on the last day of the season, the Phillies survived by beating the Brooklyn Dodgers, 4-1, on Robin Roberts' pitching, Richie Ashburn's life-saving ninth-inning throw to the plate to get Cal Abrams, and Dick Sisler's three-run homer in the top of the 10th inning.
Heading into the World Series against the New York Yankees, the Phillies pitching staff was depleted by the loss of Curt Simmons to active military duty, and injuries to Bubba Church and Bob Miller. Robin Roberts had started three of the final five regular season games and was unavailable. As a result, Sawyer surprised by naming Konstanty to start the opening game in a move that Sawyer knew was similar to Connie Mack's start of unheralded Howard Ehmke in the 1929 World Series opener against the Chicago Cubs.40
Sawyer believed that Konstanty's offspeed stuff would keep the Yankees off balance, particularly their left-handed hitters like Bobby Brown, Yogi Berra, and Johnny Mize.41 Konstanty did not disappoint, as he scattered four hits in eight innings, allowing only a fourth-inning run on a double by Brown and fly balls by Hank Bauer and Jerry Coleman. But the Phillies could muster only two harmless singles against Vic Raschi and lost 1-0.42
The Yankees won the second game, 2-1, on a 10th-inning home run by Joe DiMaggio off Robin Roberts. In the third game, Konstanty relieved a faltering Ken Heintzelman in the eighth inning after he had walked the bases loaded with two outs as the Phillies clung to a 2-1 lead. It was a pivotal point in the Series. Konstanty induced Bobby Brown to ground to shortstop Granny Hamner for what should have been the third out, but Hamner booted the ball, allowing Coleman to score the tying run. Konstanty then got Johnny Mize to pop out to third baseman Willie Jones in foul ground to end the inning.
Hamner led off the top of the ninth with a ringing double to center and was sacrificed to third by Andy Seminick. After an intentional walk to Mike Goliat, Dick Whitman pinch-hit for Konstanty and, in another pivotal play, grounded sharply to Joe Collins, playing in at first base. Hamner ill-advisedly took off for home and was thrown out at the plate. The Yankees then put together three singles, including the game-winner by Series MVP Coleman, in the bottom of the ninth off Russ Meyer to win the game, 3-2.
Now down three games to none, Eddie Sawyer started Bob Miller in the fourth game. Miller, a rookie, had started the season 8-0 before injuring his back and had struggled since. When Miller gave up two runs, one unearned, in the first inning, Sawyer used a quick hook and brought in Konstanty with one out and a runner on second. Konstanty got out of the inning with no further damage by inducing two groundouts to Goliat at second base.
Although the Phillies' hitting slump continued against Yankees rookie starter Whitey Ford, Konstanty continued to keep the Yankees at bay until the sixth inning, when he was touched for three runs on a leadoff home run by Yogi Berra, a hit-by-pitch by Joe DiMaggio, Bobby Brown's triple to deep center field that scored DiMaggio, and Bauer's line-drive out to left to plate Brown. He then pitched a scoreless seventh before being lifted for pinch-hitter Putsy Caballero in the top of the eighth in a game the Yankees eventually won 5-2 to close out the Series.43 In his three World Series appearances, Konstanty pitched 15 innings, allowing nine hits and four runs for a 2.40 earned-run average.
After the season, the baseball writers voted Konstanty the Most Valuable Player in the National League with a whopping 286 points and 18 out of 24 first-place votes. Stan Musial was a distant second with 158 points. As noted, he was the first relief pitcher to win the award in either league. Then on January 9, 1951, Konstanty was voted the Associated Press Athlete of the Year by a sizable margin over Vic Janowicz (the Heisman Trophy winner from Ohio State), heavyweight champion Ezzard Charles, Phil Rizzuto (the American League MVP), and golfers Ben Hogan and Sam Snead.44
Konstanty's ability to retire many of the top National League hitters in 1950 was nothing short of remarkable. For example, Stan Musial was 0-for-4 with two walks against him, Duke Snider went 1-for-10 (a home run), Andy Pafko was 0-for-9, and Hank Sauer was 1-for-7.45 In his 74 appearances, all in relief, he came in to face runners in scoring position 26 times. He finished 62 games, including 14 against the vaunted Brooklyn Dodgers, and nine against the Cardinals, Giants, and Cubs. The Phillies won a remarkable 30 out of 46 one-run games, with Konstanty racking up wins in seven of those contests.46
After the 1950 season Konstanty toured Japan with a group of major-league players. After the trip he told The Sporting News that he had a terrific new pitch. He said, "It breaks about four inches and I think it is unhittable."47 By New Year's Day Konstanty was making his Madison Square Garden debut as a basketball referee, calling the NYU-Cornell game. It was his second offseason of refereeing college basketball and he credited it with keeping him in great shape.48 In all, he would referee high-school and college basketball for about 15 years.49
Even with his new pitch, Konstanty and the Phillies tailed off considerably in 1951.The team got off to a slow start and never righted itself, finishing below .500 in fifth place, 23½ games off the lead. Although Sawyer called on Konstanty out of the bullpen 58 times, he won only 4 games, lost 11, had only nine saves, and his earned-run average went from 2.66 to 4.05. Batters hit nearly 80 points higher against him than in 1950. He later attributed his poor 1951 season to experimenting with that new pitch to add to his slider and changeup. In doing so, he fouled up his motion, lost the bite on his breaking pitches, and lost his pinpoint control.50
In 1952 Konstanty appeared in 42 games, including two starts, going 5-3 with six saves and an earned-run average of 3.94. Under new manager Steve O'Neill, who took over when Sawyer was fired in midseason, the team improved to an 87-67 record. O'Neill started Konstanty for the first time on August 31 in the second game of a doubleheader against the Boston Braves. He responded with a three-hit, 4-0 victory, his second career shutout and first since 1944.51 In 1953 he went 14-10 with five saves and an ERA of 4.43 in 48 appearances, including 19 starts. He compiled a 10-7 record in those starts, with seven complete games, but was inconsistent, often following a quality game with a rough outing. For the season, Konstanty reached highs in innings pitched (170⅔) and hits allowed (198).
In 1954 Konstanty was again used out of the bullpen, mostly in short relief. He went 2-3 for the Phillies with three saves and an earned-run average of 3.75, but on August 22 was sent to the New York Yankees on waivers. He pitched well for the Yankees, winning one and losing one, but allowing only two runs in nine appearances and 18⅓ innings. His career totals with the Phils were 51 wins, 39 losses, 54 saves and an earned-run average of 3.46.
Konstanty regained his form in 1955 for the pennant-winning Yankees with a 7-2 record, 11 saves, and a 2.32 ERA in 45 relief appearances.52 During one stretch in June he appeared in eight games in nine days. He did not appear in the World Series, which the New Yorkers lost to the Brooklyn Dodgers in seven games.53 In 1956 the 39-year-old Konstanty made the Yankees out of spring training, but struggled early in the season. Shortly after he allowed five hits and two runs in two-thirds of an inning on May 13 the Yankees released him. On June 4 he was signed by the St. Louis Cardinals. He appeared in 27 games for the Cardinals with a 1-1 record, five saves and a 4.58 earned-run average. St. Louis then released him after the season. His last big-league appearance was an inning and a third of mop-up work on September 19 in a 17-2 loss to the Dodgers in Ebbets Field.
Konstanty signed with the San Francisco Seals on the Pacific Coast League for 1957, but on May 1, after surrendering five runs in five innings in four appearances, was again released.54 He then retired as a player.
In his 11 seasons in the major leagues Konstanty won 66 and lost 48 for a .579 winning percentage. He posted an earned-run average of 3.46 and had 76 saves. He later revealed that he had survived in the major leagues with just two pitches, a slider and a changeup that was sometimes called a palmball. He said, "When I threw a fastball I got killed."55
After his retirement as a player Konstanty returned to Oneonta and turned his full attention to running his Jim Konstanty Sporting Goods store, which he had opened in 1947.56 In 1962 he returned to baseball as a minor-league pitching coach in the Yankees' organization,57 then served in the same capacity for the Cardinals beginning in 1963 before returning to the Yankees' minor-league system. While with the Cardinals farm system he helped develop future Hall of Famer Steve Carlton, teaching him a slider and changeup.58
In April 1967 Konstanty was appointed the director of athletics at Hartwick College in Oneonta.59 Under his tutelage, Hartwick became a national power in men's soccer.60 Shortly after his appointment he endured three major surgeries in 1968, including the removal of a large cancerous tumor.61 He held the director-of-athletics position until 1972, when he suddenly resigned in protest of Hartwick's decision to leave the NCAA's college division and apply for membership in its university division.62
From 1960 until 1976 the Konstantys spent two weeks skiing in Vail and Aspen in January after the Christmas rush at the sporting-goods store. They spent their summers at a camp they purchased on Cooperstown Lake, where Konstanty daily fished for Otsego bass.63 In 1970 Konstanty was honored as a Letterman of Distinction by Syracuse University.64 During the summer of 1975 Konstanty attended the 25th Whiz Kids reunion in Philadelphia, where he reportedly enjoyed seeing his old Phillies teammates.65
In January 1976 the Konstantys were visiting Jim's brother in Bradford, Pennsylvania, on their return drive from their annual Colorado ski trip when Jim realized he was experiencing pain. Upon his return home he was diagnosed with cancer of the liver, even though he had never touched alcohol. He began chemotherapy but decided against continuing the treatment after five days.66 He died on June 11, 1976, at the age of 59 at Fox Hospital in Oneonta. He was buried in Maple Grove Cemetery in Worcester, New York.67 His wife, Mary, survived him, along with his son, James Jr., who had become an attorney in Oneonta;68 his daughter, Helen;69 five grandchildren; and two brothers. One grandson, Michael Konstanty, played in the Cincinnati Reds organization from 2008 through 2010.70
The Phillies won exactly one National League pennant between 1915 and 1980, a span of 65 years. One fact is indisputable: The team would not have won that lone pennant but for the brilliant relief pitching of Jim Konstanty.71
This biography appears in "The Whiz Kids Take the Pennant: The 1950 Philadelphia Phillies" (SABR, 2018), edited by C. Paul Rogers III and Bill Nowlin.
Notes
1 Andy Duncan, "Jim Konstanty — The All-Time Fireman, Sport Magazine, May 1951: 18.
2 Frank Yeutter, Jim Konstanty (New York: A.S. Barnes & Company, 1951), 32-35; Stan Baumgartner and Harry T. Paxton, "He Pitched the Phillies to the Pennant," The Saturday Evening Post, January 13, 1951: 98.
3 The summer after graduation, the Arcade team won the Western New York playoffs and went on to capture the New York State title. Yeutter, 37-38.
4 Jim Konstanty notes in 1950, written for Yeutter biography, on file with author.
5 Letter to author from Mary Konstanty dated August 25, 1995, on file with author. Syracuse was noted for its boxing and wrestling teams. The boxing team needed a heavyweight and Konstanty volunteered, although he weighed only 175 pounds. He did pretty well until he boxed George Stella, an All-American football star at West Point. Konstanty later recalled, "When he hit me, I heard the birdies sing. He really carried dynamite." Ed Rumill, "A Reporter Calls on Konstanty," Baseball Magazine, November, 1950: 400.
6 Jim Konstanty notes.
7 Jim Konstanty notes.
8 Barney Nagler, "Pop's in There Pitching," Redbook Magazine, August 1951: 84; Yeutter, 41-47.
9 Robin Roberts and C. Paul Rogers III, The Whiz Kids and the 1950 Pennant (Philadelphia: Temple University Press, 1996), 141; Harry T. Paxton, The Whiz Kids (New York: David McKay Company, 1950), 81; Duncan: 19; Yeutter, 60-61.
10 Mary Konstanty letter.
11 Duncan: 19; Yeutter, 61, 65.
12 Yeutter, 66.
13 Jim Konstanty notes; Mary Konstanty letter.
14 Mary Konstanty letter.
15 Jim Konstanty notes.
16 Konstanty remembered shaking off fastball signs from catcher Ray Mueller after the first three batters smashed fastballs. Jim Konstanty notes.
17 Mary Konstanty letter.
18 Duncan: 19.
19 Mary Konstanty letter; Roberts and Rogers, 142.
20 Roberts and Rogers, 143-45; Duncan: 19, 93; Frederick G. Lieb and Stan Baumgartner, The Philadelphia Phillies (New York: A.S. Barnes & Co., 1953, republished by the Kent State University Press, 2009), 223-224.
21 Jim Konstanty notes.
22 Si Burick, "Page-ing Jim Konstanty," Baseball Digest, August 1950: 75-76.
23 Sawyer recalled that Konstanty did not get along particularly well with Maple Leafs general manager Pete Campbell because "they were both the same." Konstanty was the property of the Maple Leafs and under the Phillies working agreement with them, the Phillies had to pay $25,000 for the first player and $5,000 for any other Toronto players they wanted to purchase. At the end of the International League season, the Phillies wanted to buy Konstanty and left-hander Jocko Thompson. Campbell told Sawyer, "Take [Konstanty] as the second player. Don't make him think he is a $25,000 player. Take Jocko as the $25,000 player and pay $5,000 for Konstanty." Roberts and Rogers, 140.
24 Konstanty thrived under Sawyer's understated managerial style and would call Sawyer his "lifesaver." Yeutter, 80. After his MVP year he wrote that "[w]ithout Sawyer's faith in his own judgment I would still at this date be in the minors." Jim Konstanty notes.
25 Rich Westcott and Frank Bilovsky, The New Phillies Encyclopedia (Philadelphia: Temple University Press, 1993), 274.
26 Don Schiffer, My Greatest Baseball Game (New York: A.S. Barnes & Co., 1950), 145-147.
27 Skip Clayton and Jeff Moeller, 50 Phabulous Phillies (Champaign, Illinois: Sports Publishing Inc., 2000), 107.
28 Andy Seminick remembered warming Konstanty up in the bullpen with Andy Skinner standing behind him. After a pitch, Konstanty would ask, "How was that one, Andy?" Seminick would answer but finally realized Konstanty was talking to Skinner. Roberts and Rogers, 144-145; Paxton, 84; Ed Pollock, "Undertaker Gives Him New Life," Baseball Digest, November 1950: 15, 16.
29 Roberts and Rogers, 275-76.
30 This game and Konstanty's appearance the previous day were both in second games of doubleheaders.
31 Yeutter, 119-120.
32 The Phillies won the game 8-7 in 19 innings as Blix Donnelly got his first win of the year. It was the longest game ever played at Shibe Park.
33 Roberts and Rogers, 277.
34 Roberts and Rogers, 340; Nagler: 84.
35 Roberts and Rogers, 277.
36 Roberts and Rogers, 275, 277.
37 Mary Konstanty letter.
38 Roberts and Rogers, 277.
39 Roberts and Rogers, 276.
40 Roberts and Rogers, 339-340.
41 Roberts and Rogers, 340.
42 Yeutter, 146-152.
43 Roberts and Rogers, 339-345.
44 "Konstanty Named Athlete of the Year," New York Times, January 10, 1951.
45 Only Gil Hodges, who went 4-for-11, was able to get as many as four hits off Konstanty. Yeutter, 114.
46 Yeutter, 115-117.
47 "Gong Finds Firefighter Jim Ready," The Sporting News, March 7, 1951.
48 "Konstanty Impressive as Garden Referee," New York Times, January 2, 1951.
49 "Ex-Baseball Star Jim Konstanty Dies," Oneonta Daily Star, June 12, 1976: 7.
50 Edgar Williams, "Comeback Jim Konstanty," Baseball Digest, September 1955: 22.
51 Konstanty started again on September 5 and pitched a complete-game 5-4 loss to the New York Giants in the Polo Grounds.
52 Joseph M. Sheehan, "Konstanty Quits Doghouse for Yank Firehouse," New York Times, June 19, 1955.
53 Konstanty also spent time in 1955 with the Richmond Virginians of the International League, compiling a 2-2 record in seven appearances.
54 Unidentified clipping titled "Konstanty released by San Francisco," dated May 2, 1957, in the Jim Konstanty clippings file of the National Baseball Library.
55 Paxton, 85. He also recalled that he had given up throwing a curve because it caused a permanent bend in his arm and that, late in his career, he had experimented with a knuckleball but found it too difficult to control. Frank Troha, "From the Sidelines: Lakeside Chat with Jim Konstanty," Little Falls (New York) Evening Times, July 1975.
56 According to Mary Konstanty, her husband opened the sporting-goods store in 1947 because he was not sure he could make a living as a pitcher. Mike Brown, "Mary Konstanty Will Never Forget 1950 Phillies," Oneonta Daily Star, October 18, 1980: 16; Mary Konstanty letter.
57 Moses Crutchfield, "Ex-Rescue Ace Konstanty Tutors Yank Kid Curvers," The Sporting News, May 9, 1962.
58 Mary Konstanty letter; Unidentified clipping titled "Curve ball overrated — Slab Coach Konstanty," dated May 15, 1965, in the Jim Konstanty clippings file of the National Baseball Library.
59 Hartwick College president Fred Binder was a good friend who frequently played handball with Konstanty. Mary Konstanty letter.
60 Hartwick's prominence in soccer was a catalyst to the National Soccer Hall of Fame later locating in Oneonta. Mary Konstanty letter.
61 Mary Konstanty letter.
62 Because of a change in NCAA membership rules and its division of the NCAA men's soccer championships into college and university divisions, Hartwick was faced with having to apply for membership in the university division in order for its nationally ranked men's soccer team to compete at the highest levels. Konstanty disagreed strongly with that decision. "Konstanty Exits Blasting," unidentified clipping dated June 15, 1972, from the Jim Konstanty clippings file of the National Baseball Library; "Konstanty Quits Posts," unidentified clipping dated June 16, 1972, from the Jim Konstanty clippings file of the National Baseball Library.
63 Mary Konstanty letter.
64 "Varsity Club to honor 7 lettermen of distinction," Syracuse Herald-American, August 30, 1970, 69.
65 Rich Ashburn, "Jim Konstanty: He Gave Relief Pitchers Dignity," Baseball Digest, September 1976: 80.
66 Mary Konstanty letter.
67 Bill Lee, The Baseball Necrology (Jefferson, North Carolina: McFarland, 2003), 222.
68 Jim Konstanty Jr. played basketball and baseball at Cornell before attending law school at Syracuse University. Mary Konstanty letter.
69 Helen Konstanty attended Denison University, earned a librarian degree from Syracuse University and became a children's librarian in Oneonta. Mary Konstanty letter.
70 Mike Konstanty was born in 1986, ten years after his grandfather's death. He was drafted in 2008 in the 39th round as a pitcher, outfielder, and first baseman out of the University of Albany.
71 And maybe without the volunteer coaching of an undertaker, Andy Skinner.
Born
March 2, 1917 at Strykersville, NY (USA)
Died
June 11, 1976 at Oneonta, NY (USA)
If you can help us improve this player's biography, contact us.
https://sabr.org/sites/default/files/KonstantyJim.jpg
600
800
admin
/wp-content/uploads/2020/02/sabr_logo.png
admin
2012-01-04 20:38:19
2012-01-04 20:38:19
Jim Konstanty