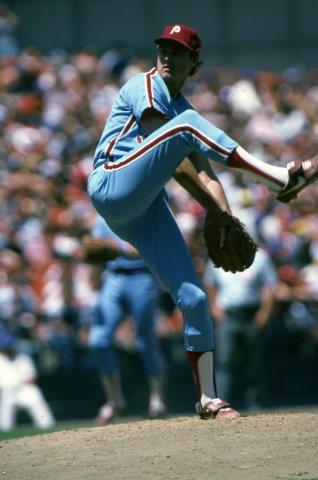 ---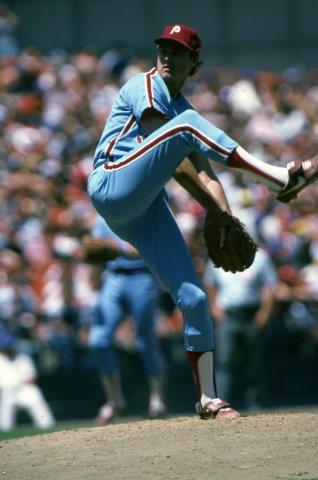 The 1980 season was a banner year for Steve Carlton. Lefty, as he was universally known around the league, led all National League pitchers with 24 wins. He was the major-league leader in strikeouts with 286. He struck out 10 or more batters in 11 games. Carlton led all pitchers in WAR (Wins Above Replacement) with 10.2. Baltimore Orioles pitcher Steve Stone led all pitchers in wins with 25, but Carlton won the 1980 National League Cy Young Award by an overwhelming margin and finished fifth in the NL MVP voting behind his teammate Mike Schmidt. After his historic 1972 campaign (27 victories for a Phillies team that won only 59 games and finished in the NL East basement), Carlton's next three seasons had been marred by mediocrity. But with a renewed focus, he established himself as one of the game's top pitchers during the period 1976-1980. During those seasons he won 20 games or more three times, and won the NL Cy Young Award twice. Carlton was the best left-handed pitcher in the game.
Baseball is an apt metaphor for life. It's incredibly complex, with many facets that make sense. And there are also plenty of maddening aspects that are excruciatingly difficult to wrap your head around. The one tendency that is most striking about the game is how unfair it can be at times. Just imagine that you were a participant in a simple trade to benefit both parties, one solid player for another. Yet, as the years go by, you wind up being another player on the bench, an answer to a trivia question in some seedy bar, and — the final touch — a footnote in history.
This must have been what Rick Wise felt if he watched television on the evening of October 21, 1980, as Steve Carlton was charged with the awesome responsibility of pitching the Philadelphia Phillies to their first-ever World Series title. The journey to the doorstep of immortality was an improbable one. The Phillies established themselves as the top club in the National League East from 1976 to 1978, only to lose in the NLCS all three years. In Game Five of the 1980 National League Championship Series, Philadelphia fought back from a 5-2 deficit to clinch the pennant in front of a raucous Houston Astrodome crowd. In Game Five of the 1980 World Series, the Phillies scored two runs off Kansas City Royals relief ace Dan Quisenberry in the top of the ninth inning to go up 4-3 and win the game, thus sending the Phillies back home up three games to two in the Series, with Carlton ready to go.
Where would the 1972 Phillies have been without Carlton? That question may have been answered on the night of October 21, 1980, when Carlton pitched seven solid innings and Phillies fans finally saw their team win its first World Series. Without Lefty the Philadelphia Phillies of his era would be somewhere between here and parts unknown.
Steve Norman Carlton was born on December 22, 1944, in Miami, Florida, the only son of Joe Carlton, an airline maintenance worker, and his wife, Anne. As a boy Steve liked to hunt. One time, while he was rabbit hunting in the Everglades, his rifle jammed so he picked up a rock and from 90 feet away hit a rabbit in the head. He was also known to knock off a line of birds hanging from telephone wires with just a handful of rocks. Once Carlton flung an ax toward a quail that had taken shelter between the branches of an oak tree. With incredible precision, he sliced the head off the bird.
During his teenage years, Carlton became a big believer of the teachings of Eastern philosophy, in particular the writings of Paramahansa Yogananda, who believed that greatness in life can be achieved through meditation. The teachings of the Yogananda and other philosophers played a crucial role in Carlton's maturation process as a big-league pitcher.
At North Miami High School, Carlton played baseball and basketball. A basketball forward who could outjump most centers, he could also throw a football 75 yards. He had no plans beyond high school and had little to no interest in academia, nor did he have a desire to attend a major university. Even as a young baseball player he showed the signs of the enigmatic superstar that puzzled many throughout his career. His concentration swirled around what was in front of him rather what was around him. In his senior year of high school, Carlton was good enough on the pitching mound that he decided to quit the basketball team and focus solely on baseball.
In October 1963, while attending Miami Dade College, Carlton signed a $5,000 bonus contract with the St. Louis Cardinals. For Rock Hill of the Class-A Western Carolinas League in 1964, he compiled a record of 10-1 with an ERA of 1.03 and struck out 91 batters in 79 innings. In midseason Carlton was promoted to advanced Class-A Winnipeg (Northern League) and then to Double-A Tulsa. Overall, he won 15 games. In 1965 he made the Cardinals roster out of spring training and on April 12, 1965, Carlton made his major-league debut, against the Chicago Cubs at Wrigley Field, facing one batter in a relief role and walking him.
The young left-hander had a very introverted personality, but there was a tinge of brashness to it. One day as catcher Tim McCarver stood shaving in front of a mirror, Carlton walked up behind him, tapped him on the shoulder and said, "You need to call more breaking balls behind in the count."1 With shaving cream halfway around his face, McCarver looked up at his new teammate and was incredulous as he felt that a young nobody would call him out in front of his teammates. "Who are you to tell me to call more breaking balls behind in the count?" McCarver said. "What kind of success have you had to tell me that?"2
The pairing of McCarver and Carlton was quite interesting. McCarver had a knack for getting close to pitchers, but Carlton was a very stubborn pitcher who would make up his mind beforehand. McCarver was also known to be very headstrong, and the two would often butt heads. McCarver would eventually become Carlton's personal catcher for the Phillies during the late 1970s.
Carlton saw little action for the Cardinals in 1965 and spent the early part of the 1966 season at Triple-A Tulsa, going 9-5, with an ERA of 3.59. On July 25, the Cardinals summoned Carlton to pitch in an exhibition game during the Hall of Fame festivities in Cooperstown. Facing the defending American League champion Minnesota Twins, the 21-year-old impressed the Cardinals by pitching a complete game and striking out 10 as the Cardinals won, 7-5. Six days later, on July 31, he was in a Cardinals uniform, starting against the Los Angeles Dodgers. In four innings of work he struck out one, walked two, and gave up two runs. On August 5 Carlton started again and got his first major-league victory, over the New York Mets. He tossed a complete game, striking out one, walking three, and yielding only one run. By the end of the season he had made nine starts and won three games. The next season Carlton became a vital piece of the Cardinals rotation, winning 14 games, losing 9, and posting an ERA of 2.98. On September 20 Carlton struck out 16 batters and pitched a complete game, but wound up the loser as St. Louis lost to Philadelphia, 3-1, at Connie Mack Stadium. The 1967 Cardinals won the pennant and the World Series, beating the Boston Red Sox in seven games. Carlton started Game Five, pitched six innings, giving up three hits and one unearned run, and took the 3-1 loss.
The most dominant force on the successful Cardinals teams of the 1960s was pitcher Bob Gibson. He was the most competitive and most feared pitcher of his era. He saw the battle between a pitcher and batter as a simple act of survival. Sandy Koufax was Picasso, but Bob Gibson was the Terminator. And Steve Carlton wanted to be just like him. Carlton watched Gibson go about his daily business. How he conducted himself on the mound. From Carlton's point of view, the pitching mound was Bob Gibson's office. No one dared to walk into his office. "Steve learned more from Gibson than he did from anybody," said Tim McCarver. "The way he went about his independent selection of pitches. His refusal to listen to meetings because nobody could pitch like he could."3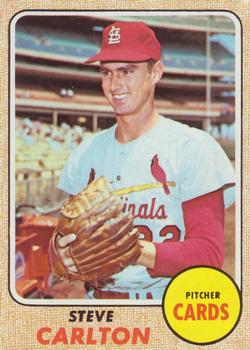 In 1968 Carlton won just 13 games (he lost 11) but was 8-4 at the end of June and was named to his first All-Star team. His mentor, on the other hand, dominated the league with a minuscule ERA of 1.12. In that year's World Series, Carlton pitched four innings in relief, giving up three earned runs and seven hits as the Detroit Tigers came back from a three-games-to-one deficit to beat the Cardinals.
During an exhibition game in Japan after the season, Carlton decided to test the pitch that was an effective part of Gibson's arsenal. He would do so against the greatest player in the history of Japanese baseball, Sadaharu Oh. "I had been fooling with a pitch in Japan, after Sadaharu Oh hit two home runs off me, I figured what the heck," Carlton said. "I threw Oh, a left-handed hitter, the slider. When he backed away and the ball was a strike, I knew I had something."4
With a new pitch added to his repertoire, Carlton's 1969 season was his best so far. He won 17 games, losing 11. He had 210 strikeouts 236⅓ innings. Carlton lowered his ERA from 2.99 the previous season to 2.17. His WAR (Wins Above Replacement) was 6.8. He made his second All-Star team. On September 15 he set a major-league record by striking out 19 in a nine-inning game against the visiting New York Mets. Carlton, however, lost the game, 4-3. After the 1969 season, Carlton believed that he earned his way into the conversation as one of the game's elite pitchers and wanted to be compensated fairly. He asked for a raise in his salary from $26,000 to $50,000 for 1970. The Cardinals had a different view and Carlton missed a significant part of spring training. Then he led the National League with 19 losses (he won 10 games) and his ERA jumped dramatically to 3.73. On May 21 in Philadelphia he struck out 16 Phillies but lost the game, 4-3.
Carlton's mechanics were off in 1970. He had taken a break from the slider, the pitch that brought him to the precipice of superstardom. There are conflicting tales as to why he stepped away from the pitch, but one story that sticks out is that the Cardinals cajoled Carlton into not throwing the slider for fear it might hurt his curveball.5
One of the most important people to enter Carlton's life was a night watchman who was known to people as "Briggs." During the 1970 season, he was sending Carlton four or five letters a week. Briggs was concerned that Carlton's lackluster performance on the mound was due to poor concentration. So he sent him letters that contained snippets of writings from Nietzsche and Schopenhauer. Carlton was aware of the work of the two philosophers but never applied their theories to baseball. One can suggest that for a fan to send his favorite player five letters a week is a strange individual, but Carlton viewed Briggs as anything but strange. He was a spiritual guide who understood that the key to solving the riddle that is a major-league hitter is to develop a mind free from distraction.
With a newfound concentration and focus, Carlton produced his first 20-win season in 1971. A look at the numbers, though, suggests that he had only slightly improved from his mediocre 1970 campaign:
1970: 10-19, 3.73 ERA, 193 strikeouts, 109 walks, 4.2 WAR, 1.372 WHIP, 13 CG
1971: 20-9, 3.56 ERA, 172 strikeouts, 98 walks, 4.1 WAR, 1.365 WHIP, 18 CG
In 1971 Carlton made his third All-Star team. A notable highlight of the season was a 12-strikeout performance against the Los Angeles Dodgers on June 22. Eleven days later he walked 10 batters in a start against the San Francisco Giants. After the season, he again asked for a raise. This time the asking price was for $65,000 per year. Gussie Busch, the Cardinals owner, offered $60,000. Carlton decided to hold out. His holdout, combined with teammate Curt Flood's refusal to accept a trade to the Philadelphia Phillies after the 1969 season, and the ensuing litigation deeply angered Busch, who felt he had no other alternative but to defend his principle — that he was the owner of the club and had the final say on policy, no matter how unpopular it might be. Thus, he ordered that Carlton be traded.
Carlton was traded to the Philadelphia Phillies for right-handed pitcher Rick Wise on February 25, 1972. The trade didn't cause an earthquake around the league. Wise had won 75 games to that point in his big-league career while Carlton had won 77. Wise walked fewer batters while Carlton struck out more. Carlton held the major-league record for strikeouts in a nine-inning affair but Wise also had a notable historic performance on June 23, 1971, when he pitched a no-hitter and slugged two home runs against the Cincinnati Reds. McCarver remarked that the deal was "a real good one for a real good one."6 However, Carlton was incensed that the Cardinals would trade him to Philadelphia. He was so angry that he called the head of the Players Association, Marvin Miller, and asked him what could be done about the deal. Miller gave Carlton two options — accept the deal or retire. Carlton decided to accept the trade.
Carlton set a personal goal of 25 victories that year. He began to throw the slider again. In his second start of the 1972 season, in a battle between student and teacher, Carlton got the best of his former mentor, Bob Gibson, by tossing a three-hit shutout against the Cardinals. He began the season 3-0. On April 25 he had a 14-strikeout performance against the San Francisco Giants, and on May 7 he struck out 13 Giants and upped his record to 5-1. But he then lost five games in a row and on May 30 his record was 5-6. Then Carlton went on a tear, pitching in 19 games with 15 wins and four no-decisions, and on August 17 his record was 20-6. In this stretch, he posted a WHIP of 0.932, and struck out 8.2 batters per nine innings. He hurled five shutouts and tossed 15 complete games.
On October 3 Carlton's complete-game victory against the Chicago Cubs in Wrigley Field made his season record 27-10. The Phillies finished with a record of 59-97, which made them the cellar dwellers in the National League East. Carlton's ERA for his remarkable campaign was 1.97. He tossed 30 complete games and hurled eight shutouts. Carlton struck out 310 batters and walked 87 in 346⅓ innings. His WHIP was 0.993 and his WAR was 12.1. Teammate Don Money, a third baseman, posted the second highest WAR on the club, a paltry 1.9.
The most impressive stat from Carlton's 1972 season was 46 percent — he accounted for 46 percent of the Phillies victories. Carlton was a one-man wrecking crew for the Phillies. Not only was he a maestro on the mound, but he was pretty handy with the stick as well. On April 19 he had two hits off his mentor and former teammate Bob Gibson, as the Phillies beat the Cardinals, 1-0. On July 23 the Phillies beat the Dodgers 2-0 on a two-run triple by Carlton. And on September 28 Carlton had a single and an RBI double as the Phillies defeated the Pittsburgh Pirates, 2-1.
Carlton was the unanimous choice for the 1972 NL Cy Young Award, and he also finished fifth in the MVP voting behind Cincinnati Reds catcher Johnny Bench.
Pittsburgh Pirates slugger Willie Stargell offered the best metaphor to describe Carlton in 1972: "Sometimes I hit him like I used to hit Koufax, and that's like drinking coffee with a fork."7
Historic pitching seasons typically come in the context of a club soaring to championship heights. Lefty Grove, Bob Gibson, Sandy Koufax, and Greg Maddux all had such seasons. Carlton's incredible season was remarkable for many reasons, but the most extraordinary aspect was that while the Phillies were an abysmal failure on a daily basis, he succeeded whenever he got the opportunity. Baseball is a sport centered on the psychology of how players handle failure. Steve Carlton was surrounded by a disastrous Phillies team but he managed extremely well by establishing himself as the best pitcher in the game. He took the ideas put forth by Bob Gibson and turned them into poetry during the summer of '72.
There was hope that Carlton would deliver an encore performance of his record-breaking 1972 campaign. He started the 1973 season 4-2, but by August 26 he was 11-16 with an ERA of 3.90. There were no memorable highlights to speak of in 1973, but there were a number of lowlights. His best game was a four-hit shutout with 12 strikeouts against the San Diego Padres on May 26. Carlton probably was suffering a tired arm. In '72 he pitched in 346⅓ innings, the most in his career. After a mediocre 1973, some wondered if he had been a one-season wonder.
Carlton stopped talking to reporters in 1973. Later he would say that speaking to reporters disrupted his concentration and it affected his performance. He never stopped talking to the Philadelphia radio crew, but when he spoke it was only about subjects other than baseball. The silence was so deafening that Braves announcer Ernie Johnson remarked, "The two best pitchers in the National League don't speak English: Fernando Valenzuela and Steve Carlton."8
In 1976, Carlton finally found the right mental balance on the mound and won 20 games for a Phillies team that won its first of three straight division titles. He collaborated with trainer Gus Hoefling, who believed in the philosophy that your body is your temple. Under Hoefling's guidance, Carlton incorporated a grueling training regimen that included martial arts, meditation, and stretching his left arm in a container of rice. Carlton sought to become devoid of emotion. He believed that emotion was subjective and the training was designed to remove any form of distraction that could disrupt his concentration on the mound. The Phillies organization went so far as to build him a $15,000 "mood behavior" room next to the clubhouse. Carlton would sit in this soundproof room and sit on an easy chair staring at a painting for hours. On days off, his teammates would catch Carlton performing martial arts exercises to keep up with his strength training.
On October 9, 1976, Carlton pitched in his first postseason game since the sixth game of the 1968 World Series, as he took the mound for Game One of the NLCS against the Cincinnati Reds. He gave up five runs, four of them earned, struck out six, and walked five in seven innings of work as the Phillies lost 6-3 to Cincinnati. The Reds swept all three games.
In 1977 Carlton won 23 games, made his sixth All-Star team, and won his second Cy Young Award. On August 21, 1977, he struck out 14 as the Phillies beat the Houston Astros, 7-3. Four starts later, Carlton again struck out 14 as the Phillies defeated the Cardinals, 11-4. However, in the 1977 NLCS he was anything but super. In 11⅔ innings of work, including the loss that clinched it for the Dodgers in Game Four, Carlton gave up nine earned runs and had an ERA of 6.94.
In 1978, Carlton produced a 16-13 record for a Phillies team that won its third straight division crown. In 1979, the Phillies fell to fourth place in a tough National League East, but Carlton had a good year. He posted an 18-11 record and made the All-Star team for the seventh time. He pitched two one-hitters. The second was against the Mets on the Fourth of July. The next start, he struck out 14 in a complete-game victory over the Giants.
In 1980 Carlton finally established himself as one the great pitchers in the game. In a year that saw the Phillies fight their way to a World Series title, Carlton produced many incredible highlights. In his fourth start of the year, he pitched a one-hitter against the Cardinals. In his two consecutive starts against the San Diego Padres he struck out 22 in 16 innings. In the 1980 postseason, Carlton went 3-0 with a 2.30 ERA. In the second game of the World Series, against the Kansas City Royals, he gave up 10 hits but struck out 10 and got the win. Carlton returned for Game Six and handcuffed the Royals, 4-1, to help seal the Phillies' first World Series title.
In the strike-shortened 1981 season Carlton finished third in the Cy Young Award voting behind Dodgers rookie left-hander Fernando Valenzuela.
The next season, 1982, was another banner year for Carlton as he became the first pitcher to win a fourth Cy Young Award. He led all major-league pitchers with 23 wins. He was the leader in strikeouts with 286. He tossed six shutouts and completed 19 games.
In 1983 Carlton posted a record of 15-16 and led the National League in strikeouts with 275 as the Phillies won the National League pennant. In his only World Series appearance, Carlton struck out seven in 6⅔ innings as the Phillies lost Game Three to the Baltimore Orioles, 3-2.
From 1982 to 1984, Carlton competed with Nolan Ryan for the top spot on the all-time strikeout list. The mark to beat was the 3,509 strikeouts of Walter Johnson. Ryan tied the mark on April 27, 1983. With his 3,526th strikeout on June 7, 1983, Carlton surpassed Ryan as the strikeout king. The 1983 season ended with Carlton at the head of the list with 3,709 strikeouts to Ryan's 3,677. (Eventually Ryan caught up to Carlton and took over as the all-time strikeout king by a considerable margin.)
On September 23, 1983, Carlton went eight innings and got victory number 300, defeating the Cardinals, 6-2. He struck out 12 and picked up his 15th win of the season. By 1985, his skills had diminished considerably. He found himself on the disabled list for the first time in his career with a strain in his rotator cuff. When Carlton was released by the Phillies on June 24, 1986, he was 18 strikeouts short of 4,000. Ten days later he signed with the San Francisco Giants. On August 5 Carlton became the second pitcher to record 4,000 strikeouts as he fanned Eric Davis of the Cincinnati Reds. But his brief tenure with the Giants was mostly unsuccessful, and he was released on August 7, two days after the record strikeout. He went 1-3 with the Giants with a 5.10 ERA. In his only win, he pitched seven shutout innings against the Pirates.
Carlton announced his retirement but it was short-lived. He finished the 1986 season with the Chicago White Sox, going 4-3 with a 3.69 ERA. The White Sox did not offer him a contract for 1987, so he signed on with the Cleveland Indians, where he made history with teammate Phil Niekro as they became the first teammates with 300 wins each to appear in the same game.
The combination was broken up on July 31, 1987, when the Indians traded Carlton to the Minnesota Twins. On August 8, 1987, he got his 329th and final victory as the Twins defeated the Oakland A's, 9-2. When the Twins won the World Series that year, the team made a customary visit to the White House to receive congratulations from President Reagan. In the photo that was taken of the occasion, all of Carlton's teammates were listed by name but he was listed as an unidentified Secret Service agent.9
Carlton pitched his final major-league game against the Indians on April 23, 1988. He allowed eight earned runs in five innings of work and was the losing pitcher. Carlton was released by the Twins on April 28 after four games (0-1, 16.76 ERA).
Carlton sought work from another team but found no takers. No one wanted to take a chance on a pitcher who was beyond the twilight of his career. The New York Yankees offered him the use of their training facilities but no spot on their spring-training roster for 1989. He believed that there was a conspiracy by the Twins organization to prevent from ever pitching again. "The Twins set me up to release me by not pitching me and other owners were told to keep their hands off. Other teams wouldn't even talk to me. I don't understand it," Carlton said in a 1994 interview.10 There was no conspiracy. No collusion between teams. Big-league GMs saw what everybody else had seen. Steve Carlton was done.
Carlton retreated to Durango, Colorado, with his wife, Beverly, whom he married in 1965, and spent time riding motorcycles and dirt bikes. He was an avid skier, and devoted hours to poring over his Eastern metaphysical books. His sons Steven and Scott were already grown and living in different states.
And yet, Lefty believed he could still pitch on a major-league level.
In 1994 Carlton was elected to the Baseball Hall of Fame in his first year of eligibility with 96 percent of the vote. For a man who refused to entertain reporters' questions for many years, he called a press conference on the day he was elected. For 45 minutes Carlton spoke at great length on numerous subjects including fear. Prior to his formal enshrinement, Carlton made some controversial comments to writer Pat Jordan in which he declared that the last eight US presidents up to that point were guilty of treason, that AIDS was created by the government to eradicate society of gays and blacks, and that the world was being ruled by the Elders of Zion and Jewish bankers. Carlton's teammate and closest friend Tim McCarver defended him against charges that he was an anti-Semite. "He is a very complicated person and has a hard time being human," said McCarver.11
The psychology of Steve Carlton the big-league pitcher was one of pure determination to perfect his craft. He turned a simple game of toss between catcher and pitcher into a mental game of chess within himself. When Carlton finally ended his freeze-out of the press, many were confused by the bizarre nature of his comments, but it shouldn't have come as a surprise. Because of the flawed nature of his introverted personality, Carlton gave the press what he thought they wanted to hear instead of chatting with them on a more personable level. To the press he was a goofy former big-league pitcher content with living a life of isolation in the mountains. To many baseball fans, he was an artist. No one knew the real Steve Carlton.
Nevertheless, when he delivered his Hall of Fame acceptance speech on July 31, 1994, he was greeted enthusiastically by many Phillies fans who had come to pay homage to a man who had provided them with endless amounts of joy during their summers.
In 1998 Carlton and his wife, Beverly, were divorced after 33 years of marriage. That year he was ranked number 30 by The Sporting News among the 100 Greatest Baseball Players. The next year he was a nominee for the Major League Baseball All-Century Team. With his jersey number 32 already retired by the Phillies in 1989, Carlton received another honor as the club unveiled a statue of him outside Citizens Bank Park in 2004.
As of 2017 Carlton was living in Durango. He had reduced his public appearances to charity golf outings and taking part in ceremonial first pitches at Phillies games, the most notable being in 2008, when he tossed out the traditional first pitch prior to Game Three of the World Series between the Phillies and Tampa Bay Rays.
In his 24 years as a major-league pitcher, Carlton finished with a record of 329-244. His career ERA was 3.22. He struck out 4,136 batters, good enough for fourth place on the all-time list. Carlton is the major-league record holder (as of 2017) for pickoffs with 144. He pitched six one-hitters, and started 69 consecutive games in which he pitched at least six innings.
In an interview with Roy Firestone, Carlton was asked, "Why do you think you were put on this earth?"
"To teach the world how to throw a slider," Carlton replied.12
He was pretty darn good at it.
Last revised: September 1, 2017
This biography is included in "20-Game Losers" (SABR, 2017), edited by Bill Nowlin and Emmet R. Nowlin.

Sources
In addition to the sources cited in the Notes, the author also consulted Baseball-reference.com, Stevecarlton.com, and the following:
Fimrite, Ron. "Eliminator of the Variables," Sports Illustrated, April 9, 1973: 82-89.
Notes
Born
December 22, 1944 at Miami, FL (USA)
If you can help us improve this player's biography, contact us.
https://sabr.org/sites/default/files/CarltonSteve-3704-84_Act_NBL.jpg
600
800
admin
/wp-content/uploads/2020/02/sabr_logo.png
admin
2012-01-04 20:45:55
2022-05-02 20:18:51
Steve Carlton