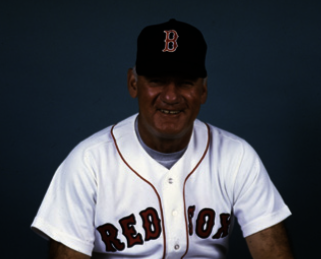 ---
He describes himself as a very easy-going guy, but in the next breath he'll tell you he's a full-blooded German with a hot temper that sometimes explodes." — Earl Lawson, The Sporting News1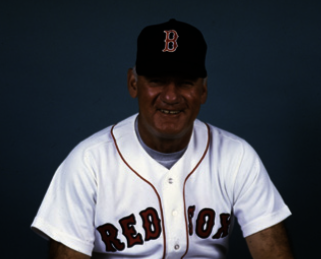 The Kansas City Royals gathered in February 2008 at their spring facility in Surprise, Arizona. One coach, rumbling around on a golf cart, was ironically dubbed "Walking Wisdom" by players a quarter of his age. "Walking wisdom, eh?" said Bill Fischer, the Royals' senior pitching adviser. "Yeah, they should have been there that day when Ol' Walking Wisdom pitched for the Kansas City A's and decided to throw a bleeping fastball to Mickey Mantle. The Mick blasted it off of the bleeping right-field façade at Yankee Stadium. They called it 620 feet. They called it 734 feet. Whatever, it was bleeping far."2
"Grumpy. Crusty. Cantankerous. Gruff. Ornery," wrote Tim Pearrell, "all these things describe Bill Fischer, who will quickly engage you in a 15-minute session that's part argument, part debate."3 Even when he was 29, Fischer was depicted by Bob Addie in Baseball Digest as a man who "looks more like one of those dads who have settled down to suburbia, roll the family jalopy out of the driveway at seven every morning and back again at 4:30 every night."4
A lifetime baseball man, Bill Fischer had a 20-year pitching career followed by 40-plus years as a scout, instructor, coach, and consultant. To nobody's surprise, he also spent two years instructing Marines. Fischer has been a wealth of wisdom about pitching and life, disseminated in a no-nonsense approach and style. Rick Bailey in the Lexington (Kentucky) Herald described Fischer as "heavyset with a weather-beaten face," who "stalks around the ballyard menacingly, possesses a vise-like grip, and growls out his words. He loves baseball, especially his life in the major leagues."5 He also practiced what he preached: He holds (as of 2015) the record for most innings pitched without walking a batter.
William Charles Fischer, the pitching coach of the Red Sox from 1985 to 1991, was born on October 11, 1930, in Wausau, Wisconsin, to William Constantine and Grace (Chizek) Fischer. William worked in steel, construction, and carpentry. Growing up during the Great Depression, the family "never had much fancy stuff," Bill Fischer recalled. "Food was very basic and the family had a big garden. My mother canned all kinds of food. We ate lots of potatoes as they were cheap and we lived in 'potato country.'"6 At the time of the 1940 Census, the family was renting a home in Marathon, Wisconsin, near Wausau. Fischer had two brothers: Thomas, who played in the Chicago White Sox system from 1958 to 1960, and Gary, who played in the Los Angeles Dodgers and California Angels systems from 1964 to 1968. Neither brother made it to the major leagues. Fischer also had a younger sister, Rosemary.
At Marathon High School, Fischer played baseball and basketball.7 Two weeks after graduation in June 1948, Charles "J.C." Gilman, the high-school principal and baseball coach, took him to a White Sox tryout camp at Wisconsin Rapids. White Sox farm director John Rigney, assistant Glenn Miller, and scout Red Ruffing watched Fischer throw for about 10 minutes. "Let's hide this kid in a hotel before someone else sees him," Rigney suggested.8 "At the end of the tryout, they asked me if I'd like to play pro ball," Fischer remembered. "I was a minor at the time, so the next day I had to bring my dad down so I could sign."9 Fischer signed a $150-a-month contract and was sent to the Wisconsin Rapids White Sox of the Class-D team Wisconsin State League. "No bonus, no nothing," Fischer said. "That's not a lot of bleeping money."10
The 17-year-old Fischer won his first 10 starts, the first three being a two-hitter, a three-hit shutout, and a two-hit shutout.11 He had a streak of 26 scoreless innings,12 and finished 14-3 with a 2.63 ERA.
Fischer went 16-15 with Hot Springs (Arkansas) of the Class-C Cotton States League in 1949, including an 11-strikeout performance.13 In 1950 he was 11-7 for Waterloo of the Class-B Illinois-Indiana-Iowa League and 1-1 for Memphis of the Double-A Southern Association. His season included a 10-strikeout, four-hit performance for Waterloo.14 In the offseason, Fischer worked for his father's construction business in Marathon and for a lumber company.15 In his free time, he played on the local "Wee Willys" basketball team.16
Fischer was drafted into the US Marine Corps in 1951, at the height of the Korean War, and served as a drill sergeant. "I hated it, but I had a job to do," he said. "I was in charge of a platoon of 75 men. When I wanted my boots shined, I hollered for my personal shoeshine boy to do it, on the double. Everything was on the double. … I had those platoons sick of looking at me, I guess." Wryly, he recalled that "The only two-year contract I ever had in my life was when I was drafted into the Marines."17 His baseball talents kept him in stateside while the war was waging. His San Diego team won the Marine Corps championship and played in Wichita, Kansas, at the National Baseball Congress Tournament.18
Fischer returned in 1954 and again pitched for Memphis, finishing 14-12 with a 3.86 ERA and throwing a one-hitter.19 At Memphis again in 1955, he struggled, finishing 5-15 with a 4.85 ERA, but with 10 complete games.
Fischer was invited to spring training by the White Sox in 1956, and pitched well. "I never even saw a big-league game until I pitched in one in spring training in Tampa, Florida," he said in 1991.20 He made the major-league roster, but failed to retire a batter in his first game, giving up four runs. After two more appearances, he was optioned on May 16 to Toronto of the Triple-A International League,21 and in July was reassigned to Vancouver of the Pacific Coast League.22
Fischer made the White Sox roster again in 1957. His first major-league win came on May 12 at Detroit when he relieved Jack Harshman in the second inning and finished with 7⅔ innings with four hits and one earned run in a 5-4 win. "It really was a wonderful Mother's Day present," Fischer said, "both for my own mother in Marathon as well as my wife at our home in Schofield, Wisconsin, which is nearby. Our baby daughter was also three months old on May 12. I'll never forget that day as long as I live."23 The performance kept Fischer on the roster. "I realized that what I did out there probably would decide whether I spent the year in the majors or in the bushes," he said. "So I had to do the job."24 Traveling secretary Bernie Snyderworth tore up Fischer's travel ticket, and he stayed the year in Chicago.25
Fischer won his first start, 6-2 over the Red Sox in Boston on May 19, pitching 6⅔ innings. Fischer's roommate, Paul LaPalme, relieved him with Ted Williams at the plate representing the tying run. "I didn't want to let my roommate down," LaPalme said. "Bill has been working awfully hard trying to make good up here. … I gave it everything to save the lead and the victory for him."26 Williams flied out.
Fischer threw a complete-game victory on May 28 against Kansas City, allowing six hits and one earned run. He was 3-1 with a 1.76 ERA at the end of May, but slumped throughout June and July, losing his spot in the rotation. As an emergency starter, he threw his first major-league shutout on September 1 in Kansas City. On the 11th he pitched an 11-inning complete-game victory over the Red Sox, winning 4-1. Fischer finished the season 7-8 with a 3.48 ERA.
Fischer's 1958 season never got on track. In his first start, on April 20, he gave up two home runs, breaking his homerless streak at 101⅔ innings. His record through June 13 was 2-3 with a 6.69 ERA. But a highlight came at Fenway Park, when he was given two calves on Massachusetts Day, recognizing Fischer's work as a farmer in Schofield, Wisconsin.27
On June 15 Fischer was traded with outfielder Tito Francona to Detroit for infielder Ray Boone and pitcher Bob Shaw. He continued to struggle, going 2-4 with a 7.63 ERA. On September 11 Fischer was placed on waivers and was claimed by the Washington Senators for $20,000.28 He started three games at the end of the season, going 0-3 with a 3.86 ERA.
Back with the Senators in 1959, Fischer pitched a classic against Whitey Ford of the New York Yankees on April 22. He shut out the Yankees for 10 innings but Washington lost 1-0 in the 14th. Ford pitched all 14 innings for the victory. Fischer said, "When I held the Yankees scoreless it did wonders for my confidence. You need a lot of luck in this game."29 Fischer pitched a complete-game victory just four days later against Boston, allowing only an unearned run in the ninth inning. His next start was also masterful, a complete-game 9-1 six-hitter against Detroit. Fischer finished April 2-0 with a 1.06 ERA.30
Fischer credited Senators pitching coach Walter "Boom-Boom" Beck and manager Cookie Lavagetto with helping him find rhythm and relax. "I learned more about pitching in three weeks with Washington than I had learned in all my other years in baseball," he said at the time. "Cookie made me feel as if I belong."31 Lavagetto said Fischer's new-found sinker and slider gave him confidence. "I felt all along he could help us because he has the heart," Lavagetto said.32 However, Fischer struggled after being 8-3 on July 16, and didn't win again until September 18, finishing 9-11 with a 4.28 ERA. Besides farming, he spent time in the offseason driving a bus in Chicago.33
Fischer struggled with a 4.91 ERA for the Senators in 1960, and was traded to Detroit on July 22 for pitcher Tom Morgan. He improved his ERA to 3.44 with Detroit and finished 8-8, but slumped again in 1961, going 3-2 with a 5.01 ERA. He was traded to Kansas City with infielder Ozzie Virgil for infielder Reno Bertoia and pitcher Gerry Staley on August 2.34 Fischer spent the early part of the 1962 season at Triple-A Portland (Pacific Coast League). He was recalled at the end of May and was used mostly out of the bullpen, going 1-0 with a 4.22 ERA at the end of July. Then the streak began.
On August 3 Fischer walked Cleveland third baseman Bubba Phillips leading off the bottom of the first inning. Fischer lost the game, 1-0. More significant is that Fischer did not walk another batter until the last game of the season, on September 30. His 84⅓ consecutive innings without allowing a walk shattered Christy Mathewson's record of 68 innings. "Nobody even noticed it until I pitched a game in Chicago," Fischer remarked decades later. "I got taken out of the game in the seventh inning and they put up on the scoreboard, 'Fischer has now gone 60 innings without a walk.' It was the first I knew of it. Then they started blowing it up a little bit."35
The record was broken against Baltimore, as Fischer got Brooks Robinson to ground into a force out at second. The streak ended when Fischer walked Detroit center fielder Bubba Morton, so the streak began and ended with two guys named Bubba. "There are only two reasons a guy is wild. He's got bad mechanics or he's afraid. I had pretty good mechanics, and I was too dumb to be afraid," Fischer remarked 50 years later.36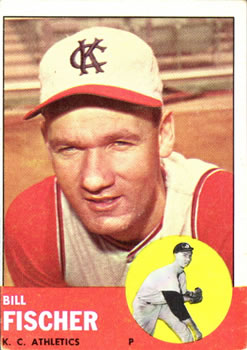 Kansas City owner Charlie O. Finley had promised Fischer a $1,000 bonus if he broke the record, and an extra $100 for every walkless inning thereafter. But Finley claimed he made a mistake with the offer. "You're going to pay me that bleeping money," Fischer insisted. Finley did pay, but months later took the amount out of Fischer's next contract.37 Despite the record, Fischer was winless after August 17, one loss being to Jack Kralick's 1-0 no-hitter for Minnesota. Fischer finished 4-12 with a 3.95 ERA.
Fischer was an effective late-inning reliever in 1963, holding a 7-1 record with a 1.53 ERA at the end of May. "It's nice. It's great," Fischer said modestly. "But I'm just a …what is it they say? … a Humpty Dumpty. I'm 32. I'm not going to be a star. I'm just a mediocre pitcher. Thanks to Eddie Lopat [the Athletics' manager] I have come up with a new pitch, a slow curve. … He taught me his slow curve in five minutes."38
On May 22 the A's and Yankees were tied 7-7. In the 11th inning Fischer faced Mickey Mantle. Lopat fined any pitcher $200 for giving Mantle a good pitch to hit in a win-or-lose situation. "I got this one outside, but a little too high," Fischer recalled.39 Mantle crushed the ball to right field and it nearly became the first fair ball hit out of Yankee Stadium. "The ball struck the façade on the right-field roof approximately 370 feet from home plate and 115 feet above field level," according to an article in a SABR publication.40 Mantle said it was his hardest-hit ball ever. The Yankees bestowed on Fischer a picture of the moment, autographed by Mantle.41
Fischer finished 1963 with a 9-6 record and a 3.57 ERA. His ninth victory came over Boston on July 25 when he pitched six innings of shutout relief. It was his final major-league win; he was sent to Triple-A Portland at the end of the season, leaving him eligible for the Rule 5 Draft. Pat Friday, the A's general manager, told Fischer and said the club wanted to protect some young players and planned to bring him back after the draft. "Well, I was disappointed after the year I had," Fischer said a year later.42 Meanwhile he was drafted by the Minnesota Twins, a move that reunited him with manager Sam Mele, who was on the Washington coaching staff when Fischer was on the team.
Fischer struggled in nine appearances out of the Twins bullpen in 1964, with a bulging 7.36 ERA. On May 22, 1964, exactly a year after the Mantle blast, Fischer threw his last major-league pitch for a walk-off home run by Baltimore's John Orsino. Fischer was returned to Kansas City and then placed on the retirement list.43 Later in the season, the Twins hired Fischer as a scout, but then released him in early 1965.
Fischer contacted Glenn Miller, then the White Sox farm director, seeking a job as a coach or scout. Miller persuaded him to join Triple-A Indianapolis as a pitcher. On May 3 Fischer pitched a 1-0 two-hit shutout over San Diego, in which 70 of his 90 pitches were strikes. He blanked San Diego again on a three-hit shutout on July 20.44 Fischer was 11-10 in 1965 and then 11-6 in 1966 with a league-leading 2.35 ERA.45
Fischer, now 36, went 12-4 with a 2.36 ERA in 1967, while also serving as a player-coach for Indianapolis.46 "I want to pitch as long as my arm can help," he said. "The hitters will let me know when it's time to quit."47 His 20th and final season was with the Triple-A Hawaii Islanders. He finished 8-9 with a 3.11 ERA.
From 1969 to 1974 Fischer was a Kansas City Royals scouting supervisor in Georgia, Alabama, and Florida48 under Lou Gorman, the Royals' director of player development.49 He was minor-league pitching instructor for the Royals from 1975 to 1977. In 1976 Fischer received the Ewing M. Kauffman Award for his outstanding contributions to the Kansas City organization.50 Fischer worked with young pitchers Paul Splittorff, Dennis Leonard, and Dan Quisenberry.51
By this point, the Fischer family was living in Sarasota, Florida. He had three children with his first wife, Joan: Michael, Patti, and Mary Jo. Michael was a catcher on the Riverview High School baseball team in Sarasota. He was drafted by the Reds in the 43rd round of the 1979 amateur draft, but never made it to the major leagues.
In 1979 Fischer became the pitching coach of the Cincinnati Reds under new manager John McNamara. Fischer was elated, saying, "I never dreamed that I'd be back in the majors this year. And I really feel honored when the Reds offered me a job."52
The Reds had several challenges. "We had one starting pitcher – Tom Seaver," Fischer recalled. "We had to bring along the kids."53 Fischer helped the Reds win the 1979 NL West title with an improved pitching staff. "Reds pitching was suddenly aroused from its backside," wrote Russell Manley of the Tampa Times, "nursed along by strong injections of young blood and some expert shuffling of veteran personnel when injuries gummed the works."54
Fischer found a breath of fresh air for his career. "This is my 31st year in pro baseball," he said, "and this one year has made my whole career worthwhile. … Shoot, last year at this time I was down in the Instructional League worrying about this kid pitcher or that guy. Now, I'm in a championship race."55
"I've worked with a lot of excellent pitching coaches in my time," McNamara said, "but Fischer has the best knowledge of mechanics I've seen. He's really helped youngsters like Frank Pastore and Charlie Leibrandt become 'pitchers' at very early stages of their careers."56 Fischer also guided young pitchers Mike LaCoss, Joe Price, and Tom Hume.57 Pastore joked that Fischer could connect well with pitchers, "from making so many mistakes in his career," but seriously added, "He's a mechanics fundamentalist and he has the ability to get his point across in simple language."58 That "simple language" was, wrote Tim Sullivan of the Cincinnati Enquirer, "dominated by compound and profane adjectives. It is punctuated by spurts of tobacco juice which makes his uniform a constant headache for equipment manager Bernie Stowe."59
In 1980 the Reds finished 86-72 in third place. In 1981 Cincinnati had the best record in baseball, although the strike-shortened split season kept them out of the playoffs. Fischer was fired after back-to-back last-place finishes in 1982-1983. He returned to Kansas City in 1984, serving again as a minor-league pitching instructor, working with rookie pitchers Bret Saberhagen and Mark Gubicza.60
On November 24, 1984, Fischer married his second wife, Valeria.61 Fischer's friend Mark Andrews introduced the couple at his bar, the Railway Inn, in Council Bluffs, Iowa, where the Fischers now lived. Andrews was Fischer's best man.62
In 1985 Lou Gorman, now the Red Sox general manager, hired Fischer as Boston's pitching coach, a position he held through 1991. He was reunited with manager John McNamara. "McNamara is very easy to work for," Fischer said. "He'll let you do your own thing. … McNamara is a pitcher's manager."63 Fischer mentored Boston's young ace, Roger Clemens, and on a chilly night in April watched him strike out 20 batters, a major-league record. "I almost had tears in my eyes," Fischer commented. "It was the best game I ever saw pitched."64
Boston's 1986 pennant drive put two legendary pitchers under Fischer's care: the young Clemens and the veteran Seaver, who was reunited with Fischer. "We're all individuals, and he knows that," Clemens said. "Some pitching coaches will try to clone you and make you do the same things as other people. But we all have different capabilities, and he's got us all down."65 "Our relationship is very comfortable," Seaver said. "Fisch might not be the most grammatically correct individual. But you have to listen to what he says, not how he says it."66
Fischer also worked with young Red Sox pitchers Bruce Hurst, Al Nipper, Calvin Schiraldi, and Wes Gardner. He saw Clemens win three Cy Young Awards, and the Red Sox reached the postseason in 1986, 1988, and 1990. Fischer emphasized the same strategy that brought him success on the mound: "I tell them there is no defense for bases on balls. If a pitcher doesn't see that, then he has to be pretty stupid."67
The BoSox Club, the official booster club of the Red Sox, named Fischer the Red Sox Man of the Year in 1988 for his contributions to the team and community, the first nonplayer to win the award. Fischer also coordinated youth clinics and participated in Boston Mayor Ray Flynn's drug education clinics.68 Besides his playing days, Fischer said in 2015, his time coaching in Boston was "the best thing that ever happened to me."69
When McNamara was replaced by Joe Morgan in 1988, Fischer stayed on until both Morgan and he were fired after the 1991 season. "It's the only job in the world where you can't tell the truth," he commented. "If I could tell the truth people would be shocked. But I want to stay in baseball so I'm not saying anything."70
"I'm going to miss Bill Fischer," Clemens said. "I'm pretty loyal to a guy who I know has helped me. He deserves a great deal of credit for what he has done. I think I owe him just as much for the third [Cy Young Award] as I did for the other two."71
Fischer found a new job a month or so later, as the Atlanta Braves' minor-league pitching instructor. In 1994 he became the pitching coach for the Triple-A Richmond Braves under manager Grady Little.72
Fischer celebrated his 50th year in professional baseball in 1997. On August 3 he was honored by the Richmond Braves in a pregame ceremony. Tom Seaver praised Fischer at the gathering, saying, "My induction [into the Baseball Hall of Fame] in 1992 was one of the biggest thrills of my life and all that goes in part to your help and guidance. For that, I thank you very much."73 In a recorded message, Clemens noted how he struck out 20 batters in a game twice without walking anyone and "that's especially a tribute to you, Fisch. Being a power pitcher, you always instilled in me the second part of that, being a pitcher. I thank you."74 The Braves presented Fischer a silver bowl filled with 50 crystal baseballs, one for each year in the game. "That's enough about Bill Fischer. My day is over," Fischer gruffly remarked after the ceremony.75
In April of 2000 Fischer was offered the job of pitching coach of the Tampa Bay Devil Rays. Fischer accepted the position without even asking about a salary, and was on his way back to the major leagues.76 "It's one more challenge for me. A last hurrah," he said.77 Fischer stayed on through the 2001 season.78 "Being around these young guys keeps you young. It's like a little medicine."79 But manager Hal McRae, who had taken over during the season, wanted to make changes in the coaching staff. Fischer learned the morning of the last game of the season that he was being fired. In the spring of 2002, he found himself in the unfamiliar position of nowhere to go for spring training, even though Tampa was still paying him the $100,000 left on his contract. The Atlanta Braves called, however, offering him a job as a part-time scout.
In 2004, Fischer became the Braves' minor-league pitching coordinator,80 and in 2007 became the Kansas City Royals' senior pitching adviser. He still held that position in 2015, his 68th season in professional baseball.81
As "Walking Wisdom" continued zipping around on that golf cart in 2008, he mentioned one of his absolutes that he doesn't share often, one that extends beyond the pitcher's mound: "You've got to help somebody every day. It may just be a couple of words. It might be a kick in the butt. It might be grabbing them by the collar and saying, 'You're better than that.' But you gotta do it. You beat on them but you love them. That's what this game is about."82
While appreciating every pitching coach he ever had, Fischer said in 2015 that he had a special place for Gilman, his high-school principal, who took him to his first tryout in 1948.83
He died on October 30, 2018, at the age of 88.  
An earlier version of this article appeared in "The 1986 Boston Red Sox: There Was More Than Game Six" (SABR, 2016), edited by Bill Nowlin and Leslie Heaphy.
Notes
Born
October 11, 1930 at Wausau, WI (USA)
Died
October 30, 2018 at Council Bluffs, IA (USA)
If you can help us improve this player's biography, contact us.
http://sabr.org/sites/default/files/FischerBill.png
600
800
admin
/wp-content/uploads/2020/02/sabr_logo.png
admin
2012-01-04 20:29:35
2022-01-31 01:53:45
Bill Fischer