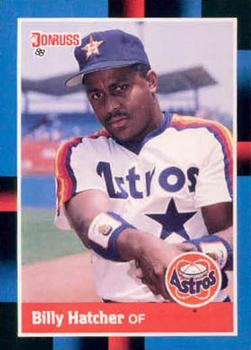 ---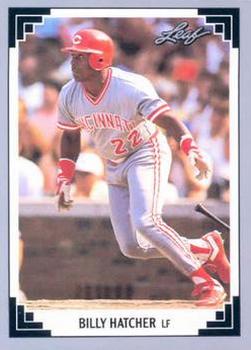 Billy Hatcher had a knack for picking the right moment. A cursory glance at his stats gives the impression of a solid yet unremarkable career, a journeyman right-handed outfielder who hopped around the major leagues for 12 seasons, playing for seven teams. But a closer look reveals a series of highlights that most other big leaguers would envy: stealing home at Fenway Park on two separate occasions, hitting a pivotal home run in a legendary playoff game, and to top it all off, turning in one of the greatest World Series performances of all time.
William Augustus Hatcher was born in the small town of Williams, Arizona, in 1960, the son of Harold (a Korean War veteran turned deacon) and Gracie (a teacher). Hatcher had a light frame (he stood 5-foot-9 and was listed after making the majors at 175 pounds), but that didn't prevent him from excelling athletically. As a student at Williams High School, he achieved all-state status in four sports: football, basketball, track, and baseball1. As a football player, Hatcher juggled multiple roles, serving as punter, kicker, return man, and running back. It was at running back where Hatcher found most of his success, twice running for more than 250 yards in a game.2 In basketball, Hatcher was just as capable, setting a state record with 20 assists in a game in 19783. Hatcher also made a name for himself on the track, setting a school record in the high jump with a jump of 6'8".4
Juggling multiple sports proved challenging, but Hatcher was creative when it came to managing his commitments. Toward the end of his senior year in 1979, the Williams baseball team was having a playoff game on the same day as the state track finals. One of his former teammates recalled how Hatcher was able to navigate this scheduling conflict: "He would get up to bat, play an inning, switch clothes, jump a 6-foot fence and run track in 105-degree heat. He won the state 100. … It was the kind of thing you see on TV."5
Hatcher's achievements ultimately earned him state-wide recognition, as the Arizona Republic named him the Arizona athlete of the year. While his athletic ability was self-evident, what impressed others the most was his character. Football and track coach Rich Hoyt called him "one of the most fantastic human beings I've ever met."6 Added basketball coach Dee Hershey: "When he gets into a situation where a coach tells him he's not doing enough to start, then he's going to do more. And he'll keep doing more until that coach decides that it's enough."7 
Upon graduation, Hatcher could have pursued a career in football, but he always felt baseball was best for him. "I think I was probably more at peace with myself playing baseball," reflected Hatcher. "In football, you have to be up all the time. You have to get yourself so pumped up … it's like you were in a war or something … it was like another Billy inside of Billy when I played football."8 His devotion to the game was clear, and former coach Hoyt recalled, "I can remember driving home in the evenings and seeing Billy and [younger brother] Johnny playing baseball until dark every night on this vacant lot. … They'd play ball until it was too dark to see."9 The results on the diamond spoke for themselves, as he tied a state record his sophomore year with 46 hits. His junior year, Hatcher spent more time on the mound, striking out 107 hitters and throwing an 11-inning no hitter.10 His senior year, he hit .623 and set a state record with 43 runs.11
Hatcher's high school performance was good enough to get him drafted by the Montreal Expos in the 30th round of the 1979 amateur draft. Hatcher went to college instead, a decision he primarily attributed to his mother. "She said I was gonna get my education, and I wasn't old enough to make a decision myself," he said.,12 Hatcher stayed close to home and ended up at Arizona's Yavapai Community College (future college of Curt Schilling). He was drafted again in 1980 (this time by the Houston Astros) in the secondary phase of the January draft, but stuck with Yavapai, ultimately being named a Junior College All-American.13 He stayed for another year and was selected to the 1981 national Junior College All-Star team.14 By that time, Hatcher had been drafted for a third time, selected in the sixth round of the January 1981 draft by the Chicago Cubs. Now old enough to make his own decisions, he rejected an offer to transfer to Arizona State and signed with the Cubs instead.15
Hatcher played 75 games of Short-Season A ball with the Geneva Cubs of the New York-Penn League in 1981, and.held his own, putting up a respectable slash line of .280/.373/.395. In 1982, he played Class-A ball with the Salinas Spurs of the California League, hitting .312/.365/.417 over 138 games (his .312 average and .782 OPS both team bests). But it was on the basepaths where Hatcher was really able to show his value, nabbing 84 stolen bases, second-most in the California League. Hatcher continued to impress in 1983, hitting .299/.383./.455 for the Double-A Midland Cubs of the Texas League, while stealing 56 bases. He turned heads at the All-Star Game with a 450-foot home run, and people in the Cubs organization were starting to take notice. "He's the best player we've got, probably the best prospect in the AA league," said Midland Cubs representative Jeff Grimes.16 The Cubs rewarded Hatcher's performance, promoting him to the Triple-A Iowa Cubs for the 1984 season.
Going into the 1984 season, Baseball America listed the 23-year-old Hatcher as the number three prospect in the Cubs system (behind Shawon Dunston and Joe Carter.)17 Hatcher didn't wilt under the pressure, hitting .276/.340/.427 and establishing himself as one of the best baserunners in the minors (his 56 stolen bases were good for second in the American Association, trailing only Cardinals prospect Vince Coleman). In September, Hatcher was called up to Chicago, achieving his childhood dream of playing in the big leagues.
His debut was on September 11, 1984, when he came in as a pinch runner in the bottom of the eighth in a game against the Phillies. Hatcher promptly stole second and later scored the go-ahead run on a single. The Cubs ultimately lost the game 6-3, but looking back years later, Hatcher singled it out as one of the fondest moments of his career. "I did not call my Mom and Dad until about 15 minutes before the game, because I wanted to make sure," Hatcher said. "I waited until after the national anthem and I called home and my Dad answered the phone. I said, 'Make sure you're watching WGN today, your son just got called up to the big leagues.' … That was a great day, I think that night I probably had 5,000 phone calls. … Everybody in Williams, Arizona, called me that night. I know the operators in the hotel were probably getting pissed off."18
Going into 1985, Hatcher was hoping to begin the season in Chicago, but he narrowly missed making the 25-man roster. Hatcher was disappointed but confident that he could prove his worth. "I'm not sure exactly what they want from me, so I'm going to put up some awesome numbers down here (in Iowa) that will force them to bring me up," Hatcher said. "I stole 56 bases last year, so maybe I'll steal 80 this year. And I'm going to hit more homers this year, too. You watch and see, I'm going to have a great year."19 Hatcher didn't quite live up to his optimistic projections, however, and his season was marred by bad luck, injuries, and inconsistency. After a couple of injuries in the middle of June freed up space on the Cubs roster, the Cubs contacted Iowa in the hopes of calling up Hatcher. However, Hatcher had injured his wrist the day before attempting to steal a base. Once Hatcher recovered, he was finally called up on June 25 in time for a three-game series with the Mets.
Hatcher batted leadoff in his first game and singled off Dwight Gooden on the first pitch he saw.20 But it wasn't until the third game of the series that Hatcher really made his mark, going 3-for-4 with two RBIs, leading the Cubs to a 4-2 victory. His fifth-inning home run off Ron Darling broke a 1-1 tie and led to the first curtain call of his big-league career. Hatcher was thrilled, claiming "that was probably the most exciting thing I ever had happen in my life."21
Hatcher's exhilaration was short-lived, though, as he only lasted a month in Chicago before being sent back down to Des Moines. He was called back up on August 9, but his bad luck continued as a wrist injury sent him to the DL less than a week later. Hatcher was frustrated by the constant setbacks but stayed focused on his recovery. "I just figure there's a reason for all this," he said. "I get down on not being able to help — the frustration just eats away at you — but I know that I have to get myself well, and the only way to do that is rest."22
Although his season in Chicago was not quite what Hatcher had hoped for (he finished with a slash line of .245/.290/.368), there was still reason to be optimistic. When the wrist injuries that plagued him throughout the year proved to be the result of a broken wrist, he underwent surgery to assure he was fully healthy going into 1986.23 The Cubs were high on him and envisioned him as a future leadoff or number two hitter. Larry Cox, Hatcher's manager in Des Moines, articulated what the franchise saw in Hatcher: "He was rated the best base runner and base stealer in the American Association by the managers. He's a legitimate .300 hitter in years to come, stealing 60 to 70 bases with surprising power. He just needs to become a little more disciplined at the plate."24
But when the Cubs wanted to add some veteran depth to their outfield, Hatcher found himself expendable. In December, he was traded to Houston for Jerry Mumphrey, an outfielder with 12 years of major-league experience. Hatcher didn't seem to be joining Houston at a particularly auspicious time. After winning the division in 1980, the rest of the decade had been marred by mediocrity, and the Astros' expectations were low heading into the 1986 season.25
A 14-6 start in April helped improve the mood around the franchise, but Hatcher struggled to adjust to his new environment. By the middle of May, he had only started 12 games (with a paltry .245 average). Hatcher felt the blame partially rested with his new home field. "I'm still trying to get used to playing in this Astrodome," he said. "It's more of an adjustment for me trying to hit here than to field. I see myself constantly swinging down on the ball."26 Hatcher earned more playing time over the course of the season, and Houston ended the year on a 23-9 tear to easily win its division. The stage was set for a legendary NLCS against the New York Mets.
One of Hatcher's career highlights was his pivotal role in Game Six of the series, voted by the MLB Network in 2011 as the fifth greatest major-league game of all time27. The Astros went into Game Six trailing three games to two, but with Mike Scott (coming off a dominant season) scheduled to start the following game for the Astros, it had the feel of a Game Seven. After the Astros blew a 3-0 lead in the ninth inning, the game stayed tied until the 14th inning, when the Mets were able to put across a run in the top half of the inning. In the bottom of the 14th, Hatcher, who had had a quiet series so far, walked up to bat with one out and nobody on and sailed a ball down the left-field line. As he made his way down to first, the ball glanced off the foul pole, sending the sellout Astrodome crowd into bedlam ("shades of Game Six of the '75 Series!," remarked Tim McCarver on the ABC telecast). The homer tied the game, but the Mets were able to put up three runs in the top of the 16th. The Astros rallied in the bottom half of the inning (Hatcher played his part, contributing a one-out RBI single), but ultimately the rally fell one run short and the Mets prevailed. The end result was a disappointment for Hatcher, but his clutch home run was still long remembered by baseball fans. Years later, Hatcher reflected: "It was unreal. Looking back on it, I was running around the bases, and it was so loud you couldn't hear yourself think. It was that loud. I don't think my feet hit the ground. It was a special moment."28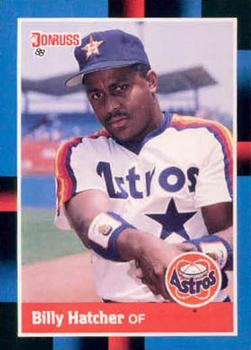 While the 1987 season was a letdown for Houston (a 76-86 season netted them a third-place finish in the NL West), it proved a career year for Hatcher. He had spent extra time over the winter lifting weights and reflecting on his approach at the plate. "[The offseason] was learning all about Billy Hatcher, learning about what he can hit and what he can't hit," he said. "It was learning to stay away from balls up in the strike zone and waiting for them to come down in my strike zone, and then hitting the ball hard."29 The new approach paid immediate dividends, as Hatcher began the season with a 16-game hitting streak and didn't look back. By the All-Star break, he was hitting .316 (sixth in the NL) with 33 stolen bases (tied for second in the majors). Hatcher cooled off in the second half, but his .352 OBP, .415 SLG,.767 OPS, and 53 stolen bases ultimately proved to be career bests.
Hatcher had a quiet 1988 season, and after getting off to a poor start in 1989 he was traded mid-season to Pittsburgh for outfielder Glenn Wilson. The Pirates were excited to bring Hatcher aboard30, with manager Jim Leyland particularly enthusiastic about the move: "I wanted Billy Hatcher for one reason. He's a hard-nosed, winning player who has the potential to make things happen."31 Hatcher was able to fill in at the leadoff spot for the first few weeks (homering in his second game), but a sprained knee left him out of the lineup for most of September.32 It was a disappointing end to a year that ended up being his worst so far statistically. He finished with an overall slash line of .231/.277/.308, and a pedestrian (by his standards) 24 stolen bases.
Hatcher bulked up a little bit before the 1990 season, but when it was announced that Bobby Bonilla would be shifting from third base to right field, he knew his days in Pittsburgh were numbered. "With [Andy] Van Slyke, [Barry] Bonds, and Bonilla in the outfield, there were not going to be too many at-bats left over for you," reasoned Hatcher.33 He requested a trade, and was sent to the Cincinnati Reds before the start of the season.  Hatcher later recalled: "I asked [Pirates GM] Larry Doughty to trade me, and he did. He gave me an opportunity to play every day, and I'm very thankful for that."34
The trade was fortuitous for Hatcher, as the Reds started the season 9-0 and coasted to an NL West title, leading the division from start to finish. Hatcher bounced back from his forgettable 1989 and finished with a slash line of .276/.327/.381 in 139 games (in addition to 30 stolen bases). But it was in the field where Hatcher proved most valuable, leading NL outfielders with a .997 fielding percentage while splitting time between left and center field.35 Hatcher's momentum carried through to the NLCS, and his .933 OPS helped propel the Reds to a 4-2 series victory over the Pirates. His Game Three performance was a particular highlight, as he homered, doubled, and singled in four at-bats, helping the Reds to a crucial 6-3 victory.
Hatcher is probably best remembered today for his performance in the 1990 World Series against Oakland. The A's headed into the Series heavily favored (Las Vegas bookmakers had the Reds as almost 3-to-1 underdogs36), but the Reds swept the series. Hatcher hit .750 (12-for-15) over the course of the Series, setting a record that still holds to this day (the previous record holder was none other than Babe Ruth). Hatcher started off the Series on a tear, going 3-for-3 in Game One and 4-for-4 in Game Two (including a crucial leadoff triple in the eighth inning that helped the Reds tie the game and force extra innings).
His seven consecutive hits to start the series stands as another World Series record, and for a moment Hatcher found himself in the spotlight. Manager Lou Piniella was eager to sing the praises of his journeyman outfielder. "'He's doing just about everything you can expect a player to do," Pinella said. "He's putting some wood on the ball and that's what you expect from him. He's the type of player, with his tools, who can really come to the front and take charge. And he has in the first two ball games."37
Although Hatcher's consecutive hit streak was broken in the first inning of Game Three, his one-out single in the third inning kicked off a seven-run rally that put the Reds on track to an easy victory. He was forced to leave Game Four early (a Dave Stewart HBP in the first inning left him with a severely bruised hand), and it's possible that this missed opportunity to pad his stats cost him the World Series MVP (awarded to José Rijo, who dominated in his own right with a 0.59 ERA over two starts). Hatcher's performance was not overlooked, however, as he won the Babe Ruth Award for outstanding postseason performance. Piniella also recognized the extent of Hatcher's contributions, reflecting later: "I shudder to think where we would have been without Hatcher. We probably wouldn't have been measured for World Series rings. He was the piece that fit snuggest."38 Hatcher himself took everything in stride; he reflected years later: "That was probably one of the most relaxing times in my life, when it probably should have been the most stressful time in my life. Everything that you dream about as a kid, it was all there, so it helped me relax."39
The newfound attention was an adjustment for Hatcher, though. He turned down a number of opportunities to cash in on his new-found fame, choosing to spend a quiet offseason with his family.40 Looking back the following spring, he said, "At the time, I was a little embarrassed. They were saying something about Babe Ruth. I was not comfortable with that."41
After quietly signing a two-year extension with the Reds going into the 1991 season, Hatcher looked to build upon his success of the previous fall. However, his season began with a 2-for-31 slump that he was never able to fully bounce back from. By the end of May, Hatcher found himself out of the starting lineup. He was able to claw his way back to a more regular spot in the lineup (ultimately starting in 106 games), but the season was a disappointment both for himself and for Cincinnati. Hatcher's stats were down across the board from the previous season, and the Reds only won 74 games, a far cry from their dominating 1990.
Hatcher's 1992 season began with him struggling for playing time, and on July 9 he was traded to the Boston Red Sox for reliever Tom Bolton. From Hatcher's perspective, he was looking forward to the chance to play more and prove his worth. "If I get a chance to play, I think I can come over here and put pressure on the defense," he said. "I think I can steal some bases."42 As he turned the page on his time with the Reds, the frustrations with his recent lack of playing time were apparent. "This was the first time in my career that I wasn't playing," Hatcher said. "Yes, it bothers you a little. … It was hurting me inside, but I wouldn't let it out."43
Hatcher immediately made his presence felt on August 3 when he stole home off of the Blue Jays' Juan Guzmán, becoming the first Red Sox to steal home at Fenway since 1968. The steal electrified the Fenway faithful, and Hatcher received both a standing ovation and a curtain call. The Boston Globe wrote that "it brought more life to the dreary old ballpark than a Carl Yastrzemski grand slam."44 Hatcher's speed on the basepaths brought a breath of fresh air to the generally slow-footed Red Sox, and he quickly found himself a fan favorite. His affable clubhouse presence ensured that his popularity also extended to both the local media and his fellow players.45
Hatcher took some time to get acclimated to hitting in the AL, but by the start of 1993 he had learned to adjust. "Over here, they come after you, but they make you hit their pitch more," Hatcher said. "They will not give in. … I think last year I just got into bad habits, started jumping out at the ball a little bit. I was out in front of fastballs, out in front of breaking balls. I was never really comfortable, so they ate me up."46 Although the 1993 season was an underwhelming one for the Red Sox (finishing fifth in the AL East after fading down the stretch), it was Hatcher's second-best statistically (finishing with a .287/.336/.400 slash line).
But after a slow start to the 1994 season, Hatcher was unceremoniously traded to the Phillies.47 Hatcher was surprised by the move, and disappointed. "I wanted to play on this team more than any other team I've ever been on," he said. "I loved playing for the Red Sox. … I've been traded before, but this was the toughest one I ever remember."48 In addition to switching teams, Hatcher also transitioned to a platoon role. Hatcher accepted the diminished role, stating, "Everybody wants to play every day, but you get to the point where you realize that the best thing for you is what's best for the team."49 His struggles continued with the Phillies, for whom Hatcher hit .246 before the 1994 strike prematurely ended the season.
By the time the strike ended in the spring of 1995, it was clear that Hatcher's career was on its last legs. After a brief stretch with the Texas Rangers, as well as a short stint with the Kansas City Royals' AAA affiliate, Hatcher retired. It was an anticlimactic end, but Hatcher was at peace with his decision. "The strike went on so long and it gave me a chance to be around my family and learn what it was like to be a father," Hatcher explained. "When the strike was over, my heart wasn't in it, and I decided to retire."50 Hatcher's career concluded with 54 home runs, 399 RBIs, 218 stolen bases, and a slash line of .264/.312/.364. And, most importantly, one World Series ring.
Although Hatcher's playing days were over, he wanted to remain in major-league baseball. When Chuck LaMar (who knew Hatcher from his time as a scout with the Reds) was putting together coaches for the expansion Tampa Bay Devil Rays, Hatcher was one of the people to whom he reached out. At the end of the 1995 season, he signed a contract to be a roving instructor for the new franchise. Hatcher worked throughout the minor-league system, training the franchise's young prospects as the organization prepared for its entrance to the major leagues. When Tampa made its debut on Opening Day of the 1998 season, Hatcher was on the field as their first-base coach.
Tampa's early teams struggled badly (finishing last place in the AL East each of their first six years), but Hatcher had found a new baseball home. Hatcher moved from first to third base coach in 2000 and when their first manager, Larry Rothschild, was fired at the start of 2001 season, incoming manager Hal McRae moved Hatcher over to bench coach. Hatcher continued to integrate himself into the Rays franchise, and when McRae was let go at the end of the 2002 season, Hatcher was the first candidate interviewed to replace him. Although he was ultimately passed over in favor of his former manager Piniella, Hatcher continued to stick around (now back in his original role as first-base coach). At the end of the 2005 season, with Piniella departing, Hatcher was interviewed yet again, but was once again passed over (this time for Joe Maddon). Maddon proved less welcoming than Piniella, however, and Hatcher was ultimately let go.51
After unsuccessfully interviewing for the Marlins managerial slot, Hatcher found himself jobless until returning to the Reds in 2006 as their first-base coach. Hatcher served in that role for 10 years, before being moved to third-base coach at the end of the 2015 season.52 For the 2019 season, he was transferred to the minors as an outfield/base-running coordinator before leaving the organization entirely at the end of the season.53 He served as Miami's first-base/outfield coach for the COVID-shortened 2020 season, but as of 2023, Hatcher thinks his days of coaching were over. "When I was in Cincinnati, it was fun because I live here so when I came home from the road, my family was here," Hatcher said. "When I was in Miami, when I came home from the road, I was by myself and I told my wife, 'I'm giving it up, I can't do this anymore.'"54
At the time of this writing, in 2023, Hatcher was enjoying his retirement in Ohio with his wife Karen, who was fundraising for the University of Cincinnati. They had two children, Derek and Chelsea, both of whom were successful college athletes (Derek played football at the University of Richmond, Chelsea played soccer at the University of Tennessee).
Last revised: October 30, 2023
Acknowledgments 
This biography was reviewed by Bill Nowlin and David Bilmes and fact-checked by Ray Danner.
Photo credit: Trading Card Database.
Sources
In addition to the sources shown in the notes, the author made use of statistics from baseball-reference.com and retrosheet.org, as well as YouTube clips of MLB telecasts. Archival Boston Globe editions were used to find midseason statistics.
Notes
1 Chris Dufresne, "Gateway to . . . the Majors?," Los Angeles Times, September 16, 1993: C1. https://www.latimes.com/archives/la-xpm-1993-09-16-sp-35724-story.html (last accessed October 19, 2023).
2 Dave Van Ness, "Hatcher Star in Any Sport," Arizona Republic, May 6, 1979: D-6.
3 Ron Clements, Road Trip America A Sports Fan's Guide to Route 66 (Las Vegas: Imbrifex Books, 2021)
4 Van Ness, "Hatcher Star in Any Sport".
5 Dufresne, "Gateway to . . . the Majors?".
6 Dufresne, "Gateway to . . . the Majors?".
7 Dufresne, "Gateway to . . . the Majors?".
8 Billy Hatcher, telephone interview with Justin Nowell, August 2, 2023 (hereafter Hatcher-Nowell interview).
9 Don Rabe, "Hatcher Texas Star with Midland," Arizona Daily Sun, August 14, 1983: 11.
10 Hatcher never really considered sticking with pitching. "I just pitched because we didn't have too many pitchers on our team. … The thing that I love the most in baseball is to hit." Hatcher-Nowell interview.
11 "Williams' Hatcher Drafted," Arizona Daily Sun, January 9, 1980: 11.
12 Hatcher-Nowell interview.
13 "Nago, 4 others earn All-American honors," Arizona Republic, June 7, 1980: 64.
14 "Hatcher on JC all-stars," Arizona Daily Star, May 30, 1981: 59.
15 Bob Moran, "Nine enlist to help Sun Devils defend NCAA baseball title," Arizona Daily Star, July 9, 1981: 46.
16 Rabe, "Hatcher Texas Star with Midland".
17 J.J. Cooper, "1983-2000 Top 10 Prospects Rankings Archive," Baseball America, January 22, 2019, https://www.baseballamerica.com/stories/1983-2000-top-10-prospects-rankings-archive/.
18 Hatcher-Nowell interview.
19 Fred Mitchell, "Cubs lose in 9th, but Dawson sparkles," Chicago Tribune, March 27, 1985: 46.
20 Joseph Durso, "Gooden Adds to Cubs Slide," New York Times, June 26, 1985: B13. https://www.nytimes.com/1985/06/26/sports/gooden-helps-cubs-tie-mark-for-haplessness.html (last accessed October 19, 2023).
21 Lloyd Herberg, "Hatcher waits for opportunity in Cubs' future," Arizona Republic, September 1, 1985: 46.
22 Herberg, "Hatcher waits for opportunity in Cubs' future".
23 Fred Mitchell, "Seaver Still Here, For Now," Chicago Tribune, December 11, 1985: 59.
24 Herberg, "Hatcher waits for opportunity in Cubs' future"..
25 Further adding to the negativity were rumors that controversial owner John J. McMullen was planning to move the team to Washington DC. See Richard Justice, "Critics Say McMullen's to Blame," Washington Post, May 1, 1986, https://www.washingtonpost.com/archive/sports/1986/05/01/critics-say-mcmullens-to-blame/ea00bc09-2f13-410e-9cb5-43ac8e81283d/ (last accessed October 19, 2023).
26 Fred Mitchell, "Hatcher deal gets another extension," Chicago Tribune, May 19, 1986, https://www.chicagotribune.com/news/ct-xpm-1986-05-18-8602060034-story.html (last accessed October 19, 2023).
27 "20 Greatest Games: #5", MLB.com, https://www.mlb.com/video/20-greatest-games-5-c13908577
28 Brian McTaggart, "Game To Remember: Billy Hatcher," MLB.com, https://www.mlb.com/astros/news/game-to-remember-billy-hatcher/c-36451558.
29 Lloyd Herberg, "Astro logical," Arizona Republic, May 10, 1987: 44.
30 The move came as the Pirates were looking to find a replacement for Barry Bonds in the leadoff spot, as they looked to move Bonds lower in the order to better utilize his power. See Paul Meyer, "Bucs deal Wilson for Billy Hatcher," Pittsburgh Post-Gazette, August 19, 1989: 13.
31 Paul Meyer, "Hatcher displays his versatility for Pirates," Pittsburgh Post-Gazette, August 21, 1989: 19.
32 Paul Meyer, "Pirates rally for 3-1 win over Cards," Pittsburgh Post-Gazette, September 12, 1989: 17.
33 Bob Ryan, "Deep regrets about losing Hatcher now," Boston Globe, October 9, 1990: 71.
34 Steve Rushin, "Affair in The Glare," Sports Illustrated, October 15, 1990. https://vault.si.com/vault/1990/10/15/affair-in-the-glare-in-a-sometimes-blinding-sun-courtesy-of-a-ludicrous-schedule-the-reds-and-the-pirates-showed-themselves-to-be-reflections-of-each-other (last accessed October 19, 2023).
35 The other two starting Reds outfielders (Eric Davis and Paul O'Neill) finished second and third among NL outfielders in fielding percentage, respectively. It was the first time in MLB history that a team's starting outfield finished in the top three in fielding percentage.
36 "1990 World Series Odds," SportsOddsHistory.com, https://www.sportsoddshistory.com/mlb-main/?y=1990&sa=mlb&a=ws&o=r.
37 Claire Smith, "April Deal for Hatcher Paying Off in October," New York Times, October 18, 1990: B16. https://www.nytimes.com/1990/10/18/sports/april-deal-for-hatcher-paying-off-in-october.html (last accessed October 19, 2023).
38 Hal McCoy, "Hatcher: Reds will be even better," Dayton Daily News, March 5, 1991: 2-B.
39 Hatcher-Nowell interview.
40 David Jones, "October success doesn't change Reds' Hatcher," Florida Today, April 21, 1991: 6C.
41 "Hatcher faced with living up to new standards," Burlington Free Press, April 4, 1991: 3C.
42 Larry Whiteside, "Hatcher, Bolton trade places," Boston Globe, July 10, 1992: 79.
43 Whiteside, "Hatcher, Bolton trade places."
44 Larry Whiteside, "Brilliantly hatched plan," Boston Globe, August 5, 1992: 81.
45 Josie Karp, "Hatcher heartened by Easler," Boston Globe, July 21, 1993: 36.
46 Steven Krasner, "Hatcher adjusting to life in AL," Dayton Daily News, June 8, 1993: 2D.
47 One sole highlight of his 1994 stint was another steal of home (this one coming on April 22 against the Angels).
48 Nick Cafardo, "To disappointed Hatcher, deal came out of left field," Boston Globe, June 4, 1994: 70.
49 Frank Fitzpatrick, "One of the new Phils knows where he is," Philadelphia Inquirer, June 3, 1994: D4.
50 Dave Schute, "Help from the big leagues," Cincinnati Enquirer, April 23, 1996: D1.
51 Hatcher's departure marked the end of an era for Tampa, as he had proved to be the most consistent presence of the franchise for its first eight years. Of the 1,294 games played by the franchise in that time, Hatcher wore a Rays uniform for 1,293 (missing a single game in order to attend his son's high school graduation). See "Hatcher hopes to extend tenure," Tampa Tribune, October 3, 2005: 36.
52 "Schebler sparkles in Cactus League opener," Cincinnati Enquirer, March 2, 2016: C2.
53 Bobby Nightingale, "Reds still looking at free agents," Cincinnati Enquirer, December 10, 2019: C2.
54 Hatcher-Nowell interview.
Born
October 4, 1960 at Williams, AZ (USA)
If you can help us improve this player's biography, contact us.
https://sabr.org/wp-content/uploads/2012/01/HatcherBilly.jpg
350
251
admin
/wp-content/uploads/2020/02/sabr_logo.png
admin
2023-10-29 12:27:33
2023-10-30 10:53:27
Billy Hatcher