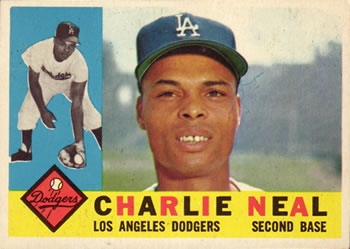 ---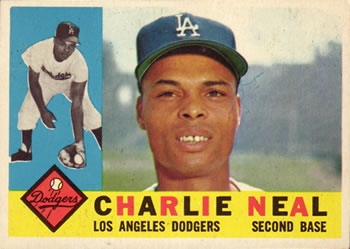 The huge Brooklyn Dodgers farm system grew infield prospects like weeds after World War II. With Jackie Robinson, Pee Wee Reese, and Jim Gilliam impossible to dislodge, most of the prospects wound up on other teams: Chico Carrasquel, Bobby Morgan, Chico Fernandez, Bob Lillis, and Billy Hunter, among others. Charlie Neal was a keeper. But he was the invisible Dodger, overshadowed by a roster of all-stars and six future Hall of Famers.
Neal's game was speed. Sportswriters annually named him the fastest man on the team and praised his lightning double-play pivot at second base. The "spidery speedster," who weighed only around 160 pounds, generated surprising power using a whiplike 30-ounce bat.1
He recorded the first hit in the history of the Los Angeles Dodgers and the first RBI for the New York Mets. He was the batting star of the 1959 World Series, but faded quickly after he turned 30.
Born in the East Texas town of Longview on January 30, 1931, Charles Lenard Neal came from a baseball family. His father, Houston, a carpenter, organized a sandlot team while his mother, Verdell (Smith), took in laundry. Houston's older son, Jim, played for his father, but Charlie was scared of the hard ball. When he joined the team at 13, he was plunked in the elbow in his first game and started crying. His father and brother pitched batting practice to him and aimed some balls at him to cure his fear.2 The Neals manned the outfield with Charlie in left, Dad in center, and Jim in right. Charlie switched to shortstop when that position became vacant. Longview Colored High School had no baseball team, but he was a standout in basketball and as a running back in football.
Charlie was 16 when Robinson joined the Dodgers, opening white baseball to young black players. He began playing on black semipro teams, first in Sweetwater, Texas, where he met his future wife, Annie Lee Willis. The Tigers in Shreveport, Louisiana, offered him a job in the summer before his senior year, but he was afraid he'd be homesick. "My mom took care of that," he said. "She really got on me and told me to get on down there to Shreveport and be a man."3 In later years Neal said he also played for the Atlanta Black Crackers of the Negro Southern League.
After graduating from high school, he married Annie on September 12, 1949. During the winter Charlie was driving a truck for a meat-packing company when the Dodgers signed him. His bonus was a train ticket to spring training in Vero Beach, Florida.
Starting in Class D in 1950, Neal played shortstop and second base. The Dodgers were overloaded with shortstops; coming up through the minors, he played alongside Don Zimmer, Lillis, and Fernandez. He broke out in his second professional season at Class-B Lancaster, Pennsylvania, with a .323 batting average and .955 OPS, 24 triples, 12 home runs, and 22 stolen bases. He led the Interstate League in runs, total bases, triples, and steals.
In 1953 Neal and center fielder John Glenn became the first black players at Newport News, Virginia, in the Class-B Piedmont League. Neal and Lillis turned a league-record 199 double plays. Joining Zimmer at Triple-A St. Paul in 1954, Neal enjoyed another stellar season with 18 homers and a .792 OPS. But Zimmer, who was the same age, was ahead of him on the depth chart. Brooklyn called Zimmer up in July as the designated successor to shortstop Pee Wee Reese.
Not that Neal was being ignored. The Boston Red Sox offered a reported $100,000 or $125,000 for him, but Dodgers farm director Fresco Thompson said he figured in the team's plans for 1955.4 With Jackie Robinson entering his ninth season in Brooklyn, the Red Sox still had no black players. They weren't the only ones; after Elston Howard joined the Yankees that spring, the Tigers in the American League and the Phillies in the National also remained all-white.
The Dodgers' five frontline black players made up a majority of the lineup when Don Newcombe was pitching with Robinson, Roy Campanella, Jim Gilliam, and Sandy Amoros on the field. A sixth, pitcher Joe Black, was trying to recover from a sore arm. Neal and Cuban shortstop Fernandez mounted strong bids to make the team during spring training in 1955. In a magazine article, Robinson had quoted owner Walter O'Malley as saying there was no such thing as a "saturation point" of black players, but New York's most widely read sportswriter, Dick Young of the Daily News, disagreed. "When it comes time to trim the squad down to 25," he wrote, "the retention of eight Negroes would bring about a percentage of 32%. I honestly don't believe major league baseball is ready for that step right now."5
Neal and Fernandez were sent down before Opening Day, and Black was swapped to Cincinnati in June. Neal's new manager with the Triple-A Montreal Royals, Greg Mulleavy, said he was "a better fielder right now than Jackie Robinson was when he broke in with the Royals."6
The younger and quicker Jim Gilliam had pushed Robinson off of second base. Now the younger and quicker Neal forced Gilliam to switch positions. On Opening Day in 1956, Gilliam started in left field with Neal at second. Gilliam became his roommate and mentor, along with Robinson.
Neal broke into the starting lineup of the defending World Series champions; the Dodgers had finally conquered their Yankee hex in 1955. The Sporting News and the Associated Press's Joe Reichler picked him as the leading candidate for National League Rookie of the Year.
After 15 games Neal was batting .269 but had delivered only two extra-base hits. With the Dodgers' powerful lineup having trouble scoring, manager Walter Alston benched him. He played part-time for the rest of the season, hitting .287/.353/.382 in 62 games. He made his World Series debut in Game Three, but went 0-for-4 and committed an error, then sat down for the rest of the Series.
Robinson's retirement and Pee Wee Reese's approaching 39th birthday shook up the Dodgers' infield in 1957. When Robinson's heir apparent at third base, Ransom Jackson, hurt his knee in April, Neal and three others took a turn at the spot. Zimmer replaced Reese at shortstop, but didn't hit. On June 12 Alston unveiled a new look: Neal at short, Reese at third.
The normally quiet Neal became a principal in the Dodgers' beanbrawl of the year. On July 11 Jim Gilliam, another quiet sort, objected to a close pitch, dropped a bunt down the first-base line, and wrestled with Redlegs pitcher Raul Sanchez. Cincinnati third baseman Don Hoak charged into the fray, and Neal, hurrying to protect his buddy, leveled Hoak with a single punch. Hoak tried to get back at him, but Gil Hodges wrapped the red-faced Redleg in a bear hug. When Hoak threatened retaliation, NL President Warren Giles warned him to cool it and fined him, Neal, Gilliam, and Sanchez $100 apiece.
In his first year of almost full-time play, Neal hit .270/.356/.411 with 12 homers, but he was charged with 24 errors in just 100 games at short. Needing his bat, Alston shifted him back to second base in 1958 with Zimmer at shortstop and musical chairs at third. Chief scout Al Campanis gushed, "I say our Charlie Neal is the best ball player in either league, pound for pound."7 He was still invisible; several of his Topps baseball cards printed his name as "Charley" even though his autograph on the same card said "Charlie."
The Dodgers moved to Los Angeles in 1958, a traumatic change for most of the team but not for Neal. He had returned home to Longview at the end of every season, where he and Ann were raising their daughter, Brenda, so he had no strong attachment to Brooklyn after just two summers. He soon bought a house in Southern California, and a second daughter, Debbie, was born there.
The team's new home in the vast, hot, roofless, and beerless Los Angeles Memorial Coliseum was a grotesque excuse for a baseball park shoehorned into a football stadium. The right-field fence appeared to be in another county while left field dead-ended only 251 feet, from home plate, punctuated by a 42-foot screen. The right-handed Neal took full advantage; he hit a career-high 22 home runs, 14 at home, to match Hodges for the team lead. There's no record of how many he lobbed over the screen.
On Alston's advice, he had adopted a more upright batting stance with his feet closer together. "Neal is principally a wrist hitter," Dodgers scout Andy High said, "because he doesn't have the heft of a Hodges or Ted Kluszewski. And he uppercuts the ball just a trifle."8
He also had a big year on defense back at his preferred position, helping the Dodgers set a NL record by turning 198 double plays. The club had all those double-play opportunities because the pitching staff allowed the most baserunners in the league. Dodgers pitchers also gave up the most home runs as they labored in the shadow of the looming screen. The team plunged to seventh place, its worst finish since World War II.
In 1959 Neal was a key man in the Dodgers' unexpected comeback run to a pennant and World Series championship. He, Gilliam, and newly acquired outfielder Wally Moon were the only everyday players as Alston juggled a changing roster filled with over-the-hill Boys of Summer and younger products of the farm system. Los Angeles came from behind to overtake the Giants in September. On the season's final day, Neal hit a two-run homer and tripled and scored another run as the Dodgers beat the Cubs, 7-1, to finish in a tie for first place with Milwaukee.
The Dodgers won two straight in the best-of-three playoff series to bring California its first big-league pennant. Neal went 3-for-5 in the first game and homered in the second.
He finished the regular season with a .287 batting average, 19 homers, and a career-best .802 OPS, 83 RBIs, and 17 stolen bases. He and teammate Moon tied for the league lead with 11 triples, and Neal ranked in the top 10 in runs, hits, doubles, steals, and extra-base hits. He led all second basemen in putouts, double plays, and fielding percentage, won a Gold Glove, and made the All-Star team as a reserve.
He stepped up again in the World Series against the White Sox. Without a day of rest after the playoff, the Dodgers took an 11-0 pounding in the first game at Comiskey Park. In Game Two, Neal, suffering from stomach pains that he thought signaled an ulcer, fumbled a first-inning ground ball that led to two runs. Chicago held the 2-0 lead into the fifth inning, when Neal lofted a long fly ball to left. The Sox' Al Smith retreated to the wall and watched it land a few rows deep in the bleachers as an excited fan spilled a cup of beer on his head.
The Dodgers' Chuck Essegian evened the score with a pinch-hit homer in the seventh. After Gilliam walked, Neal hammered a tremendous drive over the 415-foot sign in center field and into the Chicago bullpen, where pitcher Billy Pierce made the catch. Neal's blast turned out to be the game-winner as Los Angeles held on to even the Series.
At the Coliseum, a record throng of 92,394 greeted the first World Series game west of St. Louis. The Dodgers' Don Drysdale and Chicago's Dick Donovan hung out a string of zeroes until the seventh inning. Neal pinged a line-drive single off the screen in left, and Norm Larker and Hodges walked to fill the bases with two out. Carl Furillo's bad-hop single skipped past shortstop Luis Aparicio to drive home two runs. Neal's single in the eighth brought in an insurance run for a 3-1 Dodger victory.
Los Angeles wrapped up the championship in Game Six as Neal contributed three hits and two RBIs. His 10-for-27 splurge, for a .370 average, made him the hitting star of the Series, but the MVP award went to Dodgers pitcher Larry Sherry, who relieved in four games, winning two and saving two. Sherry's heroics made Neal the invisible man again.
Later that fall, when Chicago's Nellie Fox won the American League MVP award, Sports Illustrated's Roy Terrell said Fox was only the second-best second baseman in the game: "Neal has more speed, more range and vastly more power."9 The Dodgers doubled Neal's salary to $24,000.
His fall from the pinnacle of his career was sudden and unexplained. In 1960 his power disappeared; he dropped to 8 home runs and 2 triples with a .684 OPS. His range in the field diminished to below average. As mystified as anybody, Neal said, "All of a sudden I was missing ground balls before they got to me."10
As he passed his 30th birthday in 1961, injury and illness dragged him down even more. An April knee injury became infected, putting him in a hospital, and an adverse reaction to penicillin was misdiagnosed as chicken pox. His batting average slid to .235, his OPS to .643. By midseason he was joking that he would be in Houston next year, when the expansion team began play.
Years later Dodgers shortstop Maury Wills wrote in his autobiography, "Charlie Neal became ill, psychologically and emotionally."11 If that was so, nobody was talking about it. Some teammates did recall Alston and coach Leo Durocher berating him. Pitcher Roger Craig said Neal was the kind of player who didn't respond well to rough treatment: "If you do yell at them in front of the other guys, they tend to go into a shell."12
The Dodgers held Neal out of the expansion draft, but began shopping him around the league. The Dodger Way called for getting rid of any player over 30 as soon as he showed the first sign of slipping. "I could see where some people could think I was only a shell of my former self," Neal said. "I was going so badly and feeling so down, I must have looked that way."13
It was the expansion New York Mets, not the Houston Colts, who took a chance — an expensive one. The Mets paid $100,000 plus outfielder Lee Walls, who had cost them $125,000 in the expansion draft. "I don't want to knock anybody over there [in LA]," Neal said when he arrived in St. Petersburg for spring training. "But I think that there comes a time in some men's careers when they might be better off by starting again somewhere else."14
He was in familiar company. Original Mets included ex-Brookyn Dodgers Hodges, Zimmer, Roger Craig, Clem Labine, and Joe Pignatano and former Giants Hobie Landrith and Sherman Jones. Never mind the two refugees from the pinstriped dynasty in the Bronx, manager Casey Stengel and president George Weiss.
Fifteen years after Jackie Robinson's debut, all of the Mets stayed together at the Colonial Inn motel in St. Pete, but black players were not allowed in the restaurant or the pool. The team arranged for everyone to eat in a private dining room. Neal, Jones, Al Jackson, and Sammy Drake bought a junk car to take them to the black side of town in their off-hours.15
The Opening Day lineup for the first game in the club's history included Dodgers alumni Neal, Hodges, Zimmer, and Craig. Neal, playing second base and batting third, drove in the first run in the Mets' history with a single in the third. After Hodges hit the first home run, Neal added another in the fifth. But the Mets lost to St. Louis, 11-4.
Stengel's misfits lost their first nine games. Another streak of 17 straight soon followed. Neal was one of the few Mets who looked like a major leaguer. He was batting .285 in mid-June, playing regularly at second and filling in at short and third. The Giants tried to acquire him to boost their pennant run, but the Mets felt obliged to keep him away from the Dodgers' archrivals.16
When he developed a painful cyst on his left hand, the club persuaded him to postpone surgery until after the season. Swinging with one hand, he saw his final average fall to .260, but his 9 triples led the team and his 58 RBIs were third best. The Mets' 120 losses were the most in the majors in the twentieth century.
The 32-year-old Neal moved to third base in 1963 with Larry Burright and then Ron Hunt taking over at second. Stengel praised his defense at third, but he hit only .225 in 72 games. On July 1 the Mets sent Neal and backup catcher Sammy Taylor to Cincinnati in a waiver deal for cash and catcher Jesse Gonder. Stengel later said Neal "had been a terrific ballplayer, but he didn't help me and I had to wonder why."17
The Reds, fighting for first place, wanted Neal as a utility infielder. He appeared in only 34 games with an anemic .156 average. Cincinnati released him the next spring, ending his eight-year major-league career.
Neal went home to Longview and played semipro ball for several years. In 1967 Southern California newspapers brought him into the spotlight, or so they thought. They reported that he was promoting a billiards tournament in Fullerton. But the promoter was a different Charlie Neal who, coincidentally, was a former second baseman in the Dodgers organization and had known his fellow Charlie for years. "Our names have always been a joke between us," the Fullerton Neal said. "But now it's getting ridiculous. People are accusing me of being an imposter."18
At the time the "real" Neal was managing a sporting goods store in Dallas. He later owned a security business there. He returned to Dodger Stadium in 1971 for the club's first old-timers game, a three-day reunion with former teammates. Even his Mets manager, Stengel, showed up; he had played for Brooklyn more than half a century earlier.
Autograph shows provided an easy source of extra income for Neal in the 1980s and 1990s. He and his wife, Ann, had divorced in 1977. He died of heart failure at 65 on November 16, 1996. Neal was invisible to the end; newspapers mistakenly reported that his death occurred two days later.19
Acknowledgments
Photo credit: Topps Co. This biography was reviewed by Rory Costello and Jan Finkel, and fact-checked by Alan Cohen.
Notes
1 Dick Young, "Neal Sews Up 2d Sack Job, Alston Hints," New York Daily News, March 31, 1956: 24.
2 Bill Roeder, "Brooks' Neal Battled Dread of Being Hit," New York World-Telegram, February 28, 1957, in Neal's player file at the National Baseball Hall of Fame library, Cooperstown, New York.
3 United Press, "Rookie Charlie Neal Breaks into Bums' Lineup," Racine (Wisconsin) Sunday Bulletin, April 22, 1956: 40.
4 American Negro Press, "Claim $100,000 offered for Neal," Afro-American (Baltimore), December 25, 1954: 16.
5 Young, "The Sports of Kings and Queens," New York Daily News, February 13, 1955: 31B. Young quoted Robinson's magazine article. When Neal and Fernandez came up in 1956, after Black was traded, the Dodgers had six black players.
6 Dink Carroll, "Playing the Field," Montreal Gazette, April 20, 1955: 22.
7 Joe King, "Neal Best at DP, Insists Campanis Who Knows," New York World-Telegram, March 8, 1958, in HOF file.
8 George Lederer, "Siege Gun Neal Wants HR with 3 Ducks on Pond," Long Beach Independent Press-Telegram, July 20, 1958: 40.
9 Roy Terrell, "New Sights and Sounds," Sports Illustrated, October 19, 1959. https://www.si.com/vault/1959/10/19/602943/new-sights-and-sounds, accessed June 8, 2019.
10 Leonard Schechter, "Can't Anyone Here Use Kanehl?" Sports Illustrated, August 8, 1966: 56.
11 Maury Wills and Mike Celizic, On the Run (New York: Carroll & Graf, 1992), 156.
12 Stan Isaacs, "What's Wrong with Neal? Mets Hope Nothing," Newsday (Long Island, New York), February 28, 1962: 15C
13 Isaacs, "What's Wrong?"
14 Isaacs, "What's Wrong?"
15 Steve Jacobson, Carrying Jackie's Torch: The Players Who Integrated Baseball and America (Chicago: Chicago Review Press, 2007), 93.
16 Young, "Young Ideas," The Sporting News, May 12, 1962: 44.
17 "Early Mets: Lots of Money, But Few Players," The Sporting News, April 3, 1971: 46.
18 Al Carr, "The Name Is the Game to Charlie," Los Angeles Times, September 3, 1967: R-12.
19 The Dodgers announced Neal's death on November 18, and the Associated Press story, carried by papers across the country, reported that he had died that day. His gravestone, the Social Security death index, and his obituary in the local Longview News Journal say he died on the 16th.
Born
January 30, 1931 at Longview, TX (USA)
Died
November 16, 1996 at Dallas, TX (USA)
If you can help us improve this player's biography, contact us.
https://sabr.org/sites/default/files/NealCharlie.jpg
600
800
admin
/wp-content/uploads/2020/02/sabr_logo.png
admin
2019-08-05 14:09:58
2020-04-09 14:37:32
Charlie Neal