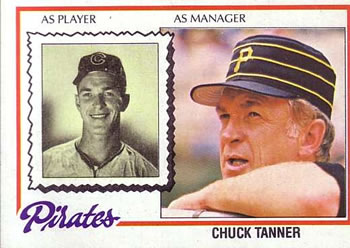 ---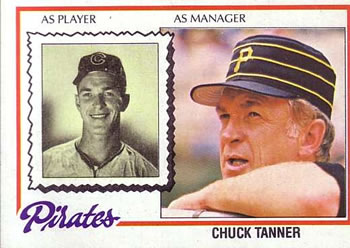 Sometimes nice guys finish first. Chuck Tanner, an eternal optimist who was known as baseball's Mr. Sunshine, managed the Pittsburgh Pirates to a World Series title in 1979. He won more than 1,350 games as a manager of four teams between 1970 and 1988. Tanner also played for eight years in the majors, with the Milwaukee Braves, Chicago Cubs, Cleveland Indians, and Los Angeles Angels. (He spent the first two months of the 1957 season with the Braves before being sent to the Cubs on waivers.) Tanner famously said, "The greatest feeling in the world is to win a major-league game. The second greatest feeling is to lose a major-league game."1
Charles William Tanner, Jr. was born in New Castle, Pennsylvania (about 50 miles north of Pittsburgh), on July 4, 1928. Of German-Slovak descent, Tanner was one of three sons of Charles Tanner, Sr., a Pennsylvania Railroad brakeman and conductor, and Anna (Baka) Tanner. He grew up in modest circumstances: "We didn't have electricity until [I was in] tenth grade. No bathroom. We were better off than some because we had a two-holer out back; some people only had one hole. We had a pot-bellied stove, but there were days I'd wake up with snow in my pockets."2
As a child Tanner joined a group of older boys in pickup baseball games that would last many hours. He joked that he might have starved if his mother had not shown up every afternoon with peanut-butter sandwiches. His grandfather told him, "You'll be a bum. All you want to do is baseball, baseball, baseball."3
Tanner was a ten-letter standout in baseball, basketball, and football while at Shenango High School in New Castle. In June 1946 the Boston Braves signed the 6-foot, 185-pound outfielder, who batted and threw left. In the minors he batted over .300 every year from 1947 through 1954, spending time in Owensboro (Kentucky), Evansville (Indiana), Eau Claire (Wisconsin), Pawtucket (Rhode Island), and Denver. On February 12, 1950, Tanner married Barbara "Babs" Weiss; together, they would have four sons.
In 1954, while playing his fourth year with the Atlanta Crackers in the Double-A Southern Association, Tanner was second in the league in hits (192) and total bases (311). He hit 20 homers and sported a .323 batting average. That year he helped the Crackers win the Southern Association "grand slam": the team won the annual All-Star game, finished first in the regular-season standings, won the league playoffs, and took the Dixie Series over the champions of the Double-A Texas League, the Houston Buffaloes.
In 1955, Tanner's tenth year in professional baseball, he was promoted to the Milwaukee Braves. He made the most of his first appearance: On Opening Day, April 12, he pinch-hit for Warren Spahn in the eighth inning and homered off Gerry Staley on the first major-league pitch he faced to help the Braves defeat the Cincinnati Redlegs, 4-2. Tanner was the seventh player in major-league history to hit a home run on his first pitch and the fifth with a pinch-hit home run in his first at-bat.
In his rookie year, Tanner served as Milwaukee's fourth outfielder. He hit .247, with six home runs and 27 RBIs in 97 games. Tanner was known for his hustle: He would run so hard from left field to the dugout after each inning that he often arrived before the first baseman, Joe Adcock. Tanner saw more limited duty with the Braves in 1956 and 1957, and on June 8, 1957, he was placed on waivers and claimed by the Cubs. In a July 18 game at Forbes Field, both Tanner and Ernie Banks of the Cubs hit inside-the-park home runs, but the Pirates won 6-5. In 95 games with the Cubs that year, Tanner had two four-hit games and six three-hit games. His combined totals for the Braves and Cubs in 1957 were nine home runs and 48 RBIs, with a batting average of .279.
In 1958 with the Cubs, Tanner's 53 pinch-hitting at-bats led the NL. On March 9, 1959, he was traded to the Boston Red Sox for pitcher Bob Smith. Tanner never saw action with Boston and played 152 games that year with a Red Sox Triple-A team, the Minneapolis Millers. On September 9 he was purchased by the Cleveland Indians. Tanner appeared in 14 games with the Indians that month, and he played in 21 games with Cleveland in 1960. Tanner appeared in 70 games during 1961 with the Indians' Triple-A team, the Toronto Maple Leafs, until he was sold in mid-July to the Los Angeles Angels' Triple-A affiliate, the Dallas-Fort Worth Rangers. After he played in 48 games and batted .300 for the Rangers, his contract was purchased by the Angels on September 8.
Tanner played in seven games with the expansion Angels during that team's inaugural season and another seven games in the spring of 1962. He played his final game in the big leagues on May 8, 1962. He spent the rest of the season with Dallas-Fort Worth. During his major-league career, Tanner compiled a .261 batting average, with 21 home runs and 105 RBIs in 396 games. During his 14-season minor-league career, he collected 1,669 hits in 1,454 games.
After the 1962 season Tanner faced a choice. He could play for another year for $18,000, or he could manage a Single-A team in Davenport, Iowa, for $6,000. Tanner made an investment in the future and headed to Iowa. He managed eight years in the Angels' farm system, leading the Quad Cities Angels (1963-1964), El Paso Sun Kings (1965-1966, 1968), Seattle Angels (1967), and Hawaii Islanders (1969-1970). Tanner had a cumulative record of 561-537 (.511), and he won minor-league Manager of the Year honors in 1968 and 1970.
In September 1970 Tanner took over the last-place Chicago White Sox after Don Gutteridge was fired and managed the team for the final 16 games of the season. As the skipper built his players' confidence and got them believing in themselves, the team's fortunes took an upturn. In 1971 the White Sox finished third in the AL West with a record of 79-83, a 23-game improvement over 1970. Tanner moved Wilbur Wood out of the bullpen, and the knuckleball pitcher responded with a breakout year, with 22 wins, an ERA of 1.91, and 210 strikeouts in 42 starts.
In 1972 the White Sox went 87-67 and finished second in their division, and Tanner won the major-league Manager of the Year award from The Sporting News and the AL Manager of the Year Award from the Associated Press. Under Tanner's low-key style of handling ballplayers, moody first baseman Dick Allen thrived, leading the league in home runs (37) and RBIs (113) and winning the MVP award. Wood won 24 games and was named the AL Pitcher of the Year by The Sporting News. He started 49 games (still tied for second-most starts in a season in AL history) and pitched 376⅓ innings, the most by an American League hurler since 1912.
In Chicago, Tanner relied heavily on his top pitchers. In 1972, two other White Sox hurlers started at least 40 games, Stan Bahnsen (41) and Tom Bradley (40). In 1973 Wood (48 starts) and Bahnsen (42) again combined for 90 starts; Wood finished with a 24-20 record and again led the majors with 359⅓ innings pitched. On May 28, 1973, Tanner let Wood complete a game that had been suspended two days earlier against the Cleveland Indians. He worked five innings, giving up only one unearned run, and picked up the win. Wood then pitched a four-hit shutout in the regularly scheduled game. On July 20, 1973, Tanner started Wood in both games of a doubleheader against the New York Yankees; the pitcher was pinned with both losses.
Under Tanner the White Sox finished in fifth place in 1973, fourth in 1974, and fifth in 1975. After the 1975 season, the team was sold, and new owner Bill Veeck replaced Tanner with Paul Richards. Tanner signed a three-year contract with the Oakland Athletics, and the team was off to the races: In 1976 the A's stole an AL-record 341 bases in 464 attempts. Eight players had at least 20 steals, including pinch-runners Matt Alexander and Larry Lintz, who combined for 51 steals despite only 34 plate appearances. The A's finished second in the AL West with a record of 87 wins and 74 losses.
On November 5, 1976, Tanner was involved in an unusual trade. When Danny Murtaugh, who had managed the Pirates to 1,115 wins and two World Series championships, retired at the end of the season, the team wanted local boy Tanner to replace him. But Tanner was still under contract with the A's, and owner Charlie Finley wanted to be compensated if he was going to release his manager. The Pirates offered either All-Star catcher Manny Sanguillen or $100,000. Finley demanded both, and to Tanner's surprise, the Pirates agreed. It was one of the few times in baseball history that a player was traded for a manager. Tanner was delighted to be returning home: "I can't wait for spring training. This is such a thrill. It's like a dream come true."4
With Tanner at the helm, the Pirates won 96 games in 1977 and finished second in the NL East. The team stole 260 bases (the most in a season by the Pirates in 70 years), giving Tanner's teams a total of 601 steals in 1976 and 1977. Dave Parker led the league with a .338 batting average, and 23-year-old John Candelaria sparkled with a major-league-low 2.34 ERA and a 20-5 record.
In 1978 the Pirates were 11½ games behind the Philadelphia Phillies on August 12 after a miserable 4-17 stretch. Ever the optimist, Tanner told his players, "This may not be the end; it may be the beginning."5 Over the remainder of the season, the Pirates had a record of 37-12 (.755), including 24 straight wins at home. The Phillies clinched the division on the second-to-last day of the season, and the Pirates finished just 1½ games back with a record of 88-73. It was Tanner's third consecutive second-place finish. Parker was the National League's Most Valuable Player, with a .334 batting average (tops in the majors), 30 home runs, and 117 RBIs. Willie Stargell, who had played in only 63 games the previous year because of a pinched nerve in his left elbow, contributed 28 home runs and 97 RBIs and was named the NL Comeback Player of the Year.
In 1979 Tanner led the Pirates to 98 wins, the most by Pittsburgh since 1908 and good enough to win the National League East by two games over the Montreal Expos. The Pirates adopted the Sister Sledge hit "We Are Family" as its theme song, and their on-field success was a true team effort: No player had as many as 15 wins or 95 RBIs. Tanner was an innovator for using a platoon of relievers, often for an inning each in the same game. Kent Tekulve (94 games), Enrique Romo (84 games), and Grant Jackson (72 games) finished 1-2-3 in games pitched in the NL. The Pirates swept the best-of-five National League Championship Series in three games over the Cincinnati Reds, with Stargell named the series MVP.
In the World Series, Pittsburgh trailed the favored Baltimore Orioles three games to one when Tanner learned that his mother had died. He told his players, "My mother is a great Pirates fan. She knows we're in trouble, so she went upstairs to get some help."6 The Pirates rallied to win three straight games, including Games Six and Seven on the road. Stargell went 12-for-30, with four doubles and three home runs, and picked up the World Series MVP award. He completed the trifecta by winning the 1979 NL MVP award (along with Keith Hernandez of the St. Louis Cardinals); he was also the third player in eight years to win an MVP award under Tanner. "Having Willie Stargell on your ballclub is like having a diamond ring on your finger," Tanner quipped.7
Tanner managed the Pirates for six more years, with winning records in 1980, 1982, and 1983. On May 29, 1983, he became the 35th manager to win 1,000 games in the majors, against 927 losses (.519). Bill Madlock won batting titles in 1981 (.341) and 1983 (.323).
In 1984 the Pirates dropped to sixth place with a 75-87 record, and in 1985, they slid to 57-104. Several players were involved in what became known as the Pittsburgh drug trials of 1985. According to the Pittsburgh Post-Gazette: "Seven men — all outside the team — were convicted of selling drugs to baseball players, many of whom testified in exchange for immunity. Mr. Tanner testified he had no more than cursory knowledge of such drug issues, but Dale Berra, a shortstop at the time, contradicted that by testifying that Mr. Tanner warned him to stay away from drug dealers."8 Tanner was let go by the Pirates and later said, "I would've fired myself."9 (One bright spot of 1985 was that Tanner's son Bruce pitched ten games for the Chicago White Sox; Tanner's son Mark had pitched in the minor leagues from 1972 through 1975.)
Tanner was hired to manage the Atlanta Braves, who finished last in the NL West in 1986 and fifth in 1987. With a 12-27 record in 1988, Tanner was replaced by Russ Nixon. Tanner had managed a major-league game from September 18, 1970, to May 22, 1988. When he was done, only 18 managers in major-league history had won more games. He finished with a record of 1352-1381 (.495).
But Tanner was not through with baseball. From 1992 to 2002, he served as a special assistant to the general manager of the Milwaukee Brewers. He also scouted for five years for the Cleveland Indians. On July 31, 2004, during the year of the 25th anniversary of the 1979 championship, the baseball field at Shenango High School was dedicated as Chuck Tanner Field. In 2006 Houston Astros manager Phil Garner, an infielder on the 1979 Pirates, honored Tanner by naming him an honorary NL coach in the All-Star Game in Pittsburgh; Tanner also threw out the first pitch. On August 9, 2006, Barbara Tanner, his wife of 56 years, passed away.
In November 2007 the Rotary Club of Pittsburgh presented the first Chuck Tanner Baseball Manager of the Year award to Joe Torre of the Los Angeles Dodgers. Through 2009 the award was given to a major-league manager. In 2010 a second award was presented to the Chuck Tanner Collegiate Baseball Manager of the Year, and the original award was renamed the Chuck Tanner Major League Baseball Manager of the Year award.
In 2008 the Pirates hired Tanner as a senior adviser to the general manager, a job he held until his death on February 11, 2011, in New Castle at the age of 82. He is buried at Castleview Memorial Gardens in New Castle. To honor his passion for teaching baseball, the Pirates created the Chuck Tanner We Are Family Fund, which annually presents an award to the Pirates' minor-league staff person who best exemplifies Tanner's optimism, enthusiasm, work ethic, and leadership. "I've had the greatest life in the world," said Tanner in a 2007 interview. "How many guys can say they won a World Series in their backyard? How can that happen to a kid from Shenango?"10
This biography appears in "When Pops Led the Family: The 1979 Pitttsburgh Pirates" (SABR, 2016), edited by Bill Nowlin and Gregory H. Wolf.
Sources
Baseball-Reference.com
Findagrave.com
Pittsburgh.pirates.mlb.com
Pittsburghrotary.org
Retrosheet.org
Feeney, Charley, "Bucs Give Chuck 1,000th, but It's Not All That Pretty," Pittsburgh Post-Gazette, May 30, 1983.
Fenster, Kenneth R., "The 1954 Dixie Series," The National Pastime, SABR 40 (2010).
Jaffe, Chris, "10 Things I Didn't Know about Chuck Tanner," Hardball Times (hardballtimes.com), February 14, 2011.
Johns, Walter L., "Tanner — With, Without Shoes," New Castle (Pennsylvania) News, April 8, 1971.
Liska, Jerry (Associated Press), "Chuck Tanner Cons His White Sox Into Stars," Tuscaloosa (Alabama) News, August 20, 1972, 3B.
McCollister, John, Tales from the 1979 Pittsburgh Pirates (Champaign, Illinois: Sports Publishing L.L.C., 2005).
Porter, David L.,, ed., Biographical Dictionary of American Sports: Baseball (volume 3) (Westport, Connecticut: Greenwood Press, 2000).
Spatz, Lyle, ed., The SABR Baseball List & Record Book (New York: Scribner, 2007).
Notes
Born
July 4, 1928 at New Castle, PA (USA)
Died
February 11, 2011 at New Castle, PA (USA)
If you can help us improve this player's biography, contact us.
https://sabr.org/sites/default/files/TannerChuck.jpg
600
800
admin
/wp-content/uploads/2020/02/sabr_logo.png
admin
2012-01-04 20:00:25
2021-09-26 10:30:31
Chuck Tanner