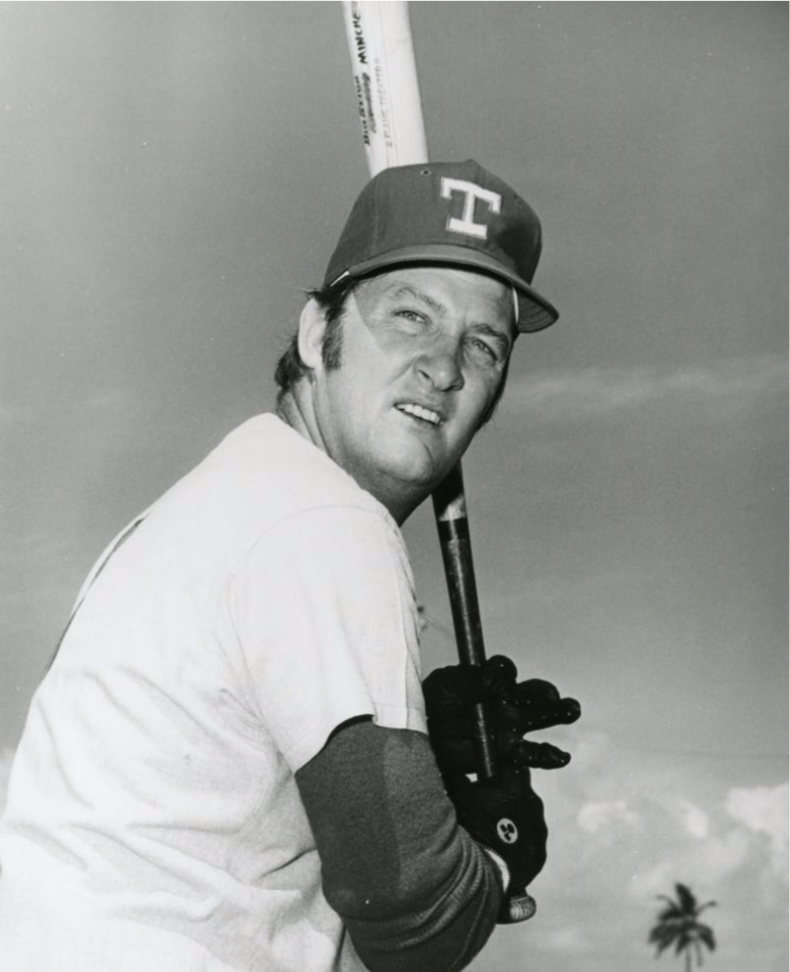 ---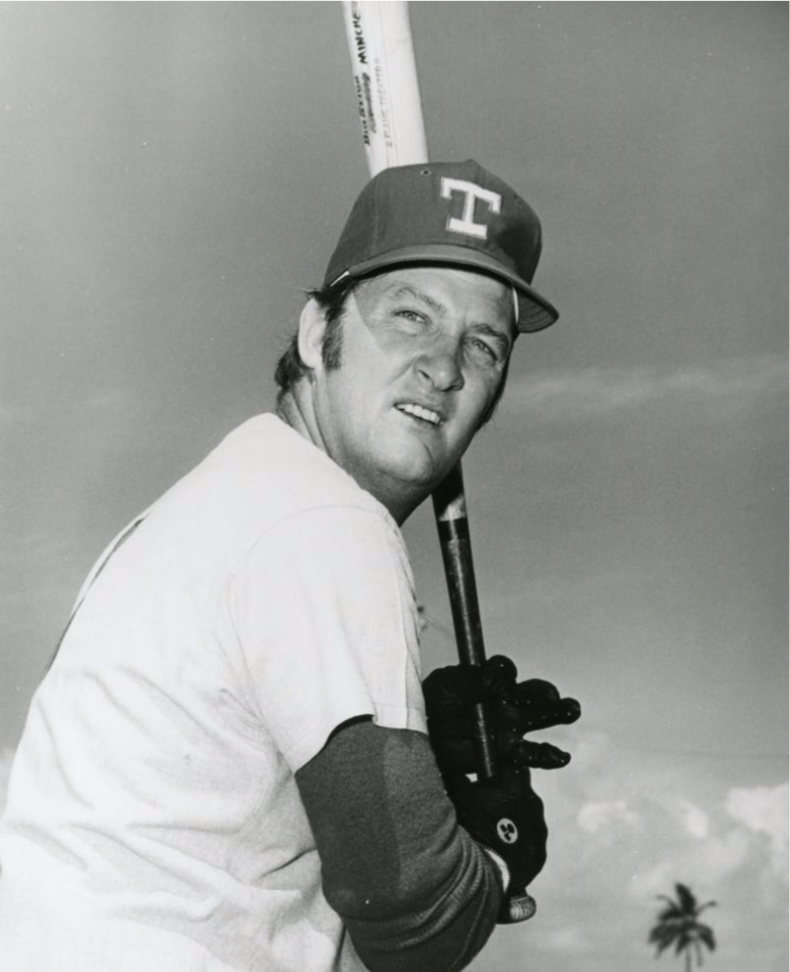 Donald Ray Mincher was a two-time member of the Oakland Athletics. In 1970 he was the team leader in home runs with 27. Before being traded for the second time to the Athletics on July 20, 1972, Mincher homered off Joe Coleman at Detroit on July 10. It was a personal career milestone, his 200th home run. It was also to be his last.
Minch,1 as he was often called, "is the only man who played for both the original Twins and the original Rangers, 11 seasons apart. And, for that matter, he was the only player to see the end of both Senators' runs in Washington."2
Born on June 24, 1938, in Huntsville, Alabama, Mincher was of German-Irish-Indian descent. At Butler High School (Class of 1956) he played baseball, basketball, and football. In his senior year he captained both the baseball and football teams. He was a good enough football player to make both All-State and High School All-American. Mincher turned down a football scholarship at the University of Alabama to pursue his love of baseball.3 At 6-feet-3 and 205 pounds, he was built for the sport. An American Legion baseball player, Mincher was signed by former major leaguer Zack Taylor to a Chicago White Sox contract for $4,000 after high school and was sent to Duluth-Superior of the Class C Northern League.4 That year he married his high-school sweetheart, Patsy Ann Payne.5 Mincher returned to Duluth-Superior in 1957 and led Northern League first basemen in putouts, assists, and double plays. In 1958, playing for Davenport in the Class B three-I League, he finished fourth in batting (.330) and was named to the league All-Star team.6
After spending the 1959 season at Charleston of the Class A Sally League (.272, 22 home runs), Mincher was sent on April 4, 1960, with Earl Battey and $150,000 to the Washington Senators for Roy Sievers. On the 18th, Mincher was in the Opening Day lineup at first base, going hitless in front of the home crowd against the Boston Red Sox. In his third game, at Baltimore on the 20th, Mincher got his first two major-league hits. On the 25th, at home against Baltimore, he hit his first major-league home run, off Milt Pappas, to deep right field. In mid-May, batting .230 with 2 home runs, Mincher was sent to Charleston in the American Association. Recalled in late September, he had two hits in five pinch-hitting appearances.
Before the 1961 season the Senators franchise was moved to Minneapolis-St. Paul, to play as the Minnesota Twins. Mincher hit five home runs for the Twins but spent most of the season at Triple-A Buffalo. In 1962 he was back with the Twins. On April 28, playing at Cleveland, he hit a pinch-hit home run off Ron Taylor, then, remaining in the game at first base, he homered for a second time, off Frank Funk. (Mincher was to finish his career with ten pinch-hit home runs, four of them in 1964.) Mincher had another two-home-run game on July 20, 1963, at Minnesota's Metro Stadium, taking starter Steve Ridzik of the expansion Senators deep twice as the Twins won 11-3. The next day he did it again, homering twice off Senators starter Don Rudolph as the Twins won 3-2. (Mincher, a left-handed batter, had no problem that day off the lefty Rudolph. However, throughout his career he always fared better against right-handers, and was often out of the starting lineup against left-handed starters.) Four days later, on July 24 at Cleveland Stadium, Mincher again hit two home runs, off Pedro Ramos and Jerry Walker.
Mincher made Ridzik a particular target. On August 26, 1963, he homered off the right-hander again, at D.C. Stadium, and on August 18, 1964, homered twice in consecutive at-bats off Ridzik, again in Washington.
Mincher settled in as the Twins' first baseman. He told an interviewer in 2010 that his biggest thrill in baseball came in the first game of the 1965 World Series when he hit a home run of the Los Angeles Dodgers' Don Drysdale. "To bat against Koufax and Drysdale when it really meant something," Mincher said. "I didn't realize what a big thrill it was until I got older and started thinking back on these things."7 His wife, Patsy, knew Mincher was slightly nervous as he was extremely quiet as she drove him to the ballpark. Usually he was talkative.8 In the bottom of the second inning, in his first Series at-bat, Mincher homered to deep right field off Drysdale. Mincher spoke of the feat often, his wife said.9 In Game Two, Mincher tied a World Series record with four assists at first base. (Three of the assists were on groundballs by lefty Willie Davis.)
On June 9, 1966, Mincher was part of baseball history again when he was one of five Twins who hit home runs in one inning, an American League record. The Kansas City Athletics were the victims; the others besides Mincher to go deep in the seventh inning that day were Rich Rollins, Tony Oliva, Zolio Versalles, and Harmon Killebrew.10
After the 1966 season Mincher was traded by the Twins with pitcher Peter Cimino and outfielder Jimmie Hall to the California Angels for infielder Jackie Hernández and pitcher Dean Chance. With the Angels Mincher had his best major league season in 1967. He hit 25 home runs and was selected to the All-Star team for the first time.
On April 11, 1968, in the second game of the season, Mincher was hit on the cheek by a fastball thrown by the Cleveland Indians' Sam McDowell. The blow was a glancing one and Mincher missed only nine games, but he was plagued by headaches and dizziness and struggled at the plate for the rest of the season.11 On September 4, after he reeled backward while swinging at a pitch, he was removed from the game. X-rays and tests were inconclusive, but Mincher was given the rest of the season off.12 Mincher's average for 1968 was .236, down from .273 in 1967; his home run and RBI production suffered likewise.
Though Mincher was cleared after tests at the Mayo Clinic, Angels manager Bill Rigney considered him damaged goods after his struggles during the season, and did not feel that the reports provided positive assurance as to Mincher's full recovery.13 The Angels left Mincher unprotected in the expansion draft after the season and Mincher was selected as the Seattle Pilots number-one pick. He played in 140 games for the Pilots, hit 25 home runs, and was named to the American League All-Star squad. Mincher was the Pilots player representative.14
On January 15, 1970, as the Pilots were becoming the Milwaukee Brewers, Mincher was traded to the Athletics with infielder Ron Clark for outfielder Mike Hershberger, pitchers Lew Krausse and Ken Sanders, and catcher Phil Roof. With Oakland he hit 27 home runs, his career high. His walk-off home run on August 2 off Horacio Piña of Washington with two outs in the ninth inning of a scoreless game in Oakland was one of 27 he hit that season – a career high.
The following season, on May 8, 1971, Mincher was traded by the Athletics along with catcher-outfielder Frank Fernandez, pitcher Paul Lindblad, and cash to the Washington Senators for first baseman Mike Epstein and pitcher Darold Knowles. On July 17 at RFK Stadium in Washington, Mincher, not in the lineup that day against the Twins, was in the outfield bullpen when in the fourth inning home-plate umpire Hank Soar motioned him to move away from the bullpen fence in center field, where he could pick up Minnesota's signs. Mincher's gesture in response 410 feet away was not to Soar's liking. In what could be a distance record for an ejection in baseball, Soar ejected Mincher without hesitation.15 Patsy Mincher said that her husband was only motioning back to mean, "What do you want?," but it was taken differently by Soar.16
After the 1971 season the Senators moved to Texas to become the Rangers. On July 20, 1972, Mincher was traded back to Oakland with infielder Ted Kubiak for utilityman Vic Harris, infielder Marty Martínez, and pitcher Steve Lawson. Mincher was not too happy. "I'm not ready to sit on the bench," he said, noting that Athletics first baseman Mike Epstein was hitting well.17 "I've been around a long time and I've learned to expect almost anything, but this trade knocked me off my feet," Mincher said.18 But Epstein went out with an eye infection, and Mincher was placed at first base and in the cleanup spot. He got off to a poor start, going 2-for-22 with no home runs or RBIs. When Epstein returned, Mincher was relegated to pinch-hitting for the balance of the season.19 He did contribute in the World Series; his pinch-single in Game Four drove in the tying run in the ninth inning against Cincinnati. The next batter, pinch-hitter Ángel Mangual, singled home the game-winning run.
With little hope for his role to change in 1973, Mincher decided to retire. "I just have no desire to play the role I did last year," he said. "I don't care to be that kind of player. I enjoyed being on a world championships club, but I didn't want to sit on the bench watching my more mature years slip by."20 (Patsy Mincher said in 2013 that Don's shoulder at this time hurt so much that he could hardly comb his hair without being in pain.21
During Mincher's two stints with the Athletics he played in 210 games, hit 29 home runs (27 of them in 1970 that led the club), knocked in 87 runs and batted .236. Described by one sportswriter as "intense and introverted,"22 Mincher may have been his own worst enemy. He admitted in 1968 to putting too much pressure on himself both when he was doing well (worrying about keeping it going) and when he was not (staying in the slump). He applauded his supportive wife, Patsy, for spending long nights listening to him spilling his guts out.23
After 13 seasons Mincher's retirement allowed him to spend more time with his wife and three children at home in Huntsville. It also provided Mincher with time to pursue his hobbies, which included fishing and hunting.
Mincher ran a sporting-goods store, specializing in trophies and awards for about ten years before returning to baseball in 1985 as the general manager of the Huntsville Stars of the Southern League.24 The Stars were an Athletics affiliate from 1985 to 1998. When there was a chance in 1994 that the franchise might be moved out of the city, Mincher put together a group of investors to buy the team from owner Larry Schmittou. After the 1998 season the Stars and Athletics parted ways and the Milwaukee Brewers became the Stars affiliate. During Mincher's time with the Stars they won two Southern League championships. During all these years Patsy worked with him at the ballpark. In October 2000 Mincher was elected interim president of the Southern League when Arnold Fielkow left for the NFL. His interim position was made permanent before the start of the 2001 season. Later Mincher and his group sold the Stars to a New York attorney. During his time with the Stars, Mincher was twice elected Executive of the Year and in 2008 was inducted into the Alabama Sports Hall of Fame.
Mincher had a deep interest in the development side of baseball. He made it the mission of the Southern League to promote minor-league baseball as wholesome family fun and entertainment at a reasonable cost.25
In October 2011 Mincher stepped down as president of the Southern League. In January 2012 he felt pain in both arms that proved to be symptoms of serious heart problems. He underwent surgery to take care of blockages. Then pneumonia kicked in. He died on March 4, 2012.26 He is buried in Maple Hill Cemetery, Huntsville, Alabama.
Mincher was preceded in death by his parents, George and Lillian. He was survived by his wife, Patsy; and three children, Mark (head baseball coach for almost 30 years at Huntsville High before becoming principal), Lori Lumpkin, and Mincherna Hopper; and many grandchildren and great-grandchildren. At the 2012 Winter Meetings Patsy was honored as "The First Lady of Southern League Baseball." Not only had she worked at the ballpark during Mincher's tenure with the Huntsville Stars but she also handled the logistics and much of the child-rearing during Mincher's major-league career.27
This article was published in "The Team That Couldn't Hit: The 1972 Texas Rangers" (SABR, 2019), edited by Steve West and Bill Nowlin.
Notes
1 1974 player file fact sheet contained in Mincher's Hall of Fame Library Player file. (Hereafter cited as HOF file).
2 John Branch, "A Twin, a Ranger and, Most of All, a Senator," New York Times, October 6, 2010.
3 Telephone interview with Pat Mincher on December 10, 2013. (Hereafter cited as Pat Mincher interview.)
4 Maury Allen, "Mincher Enjoys HR and Series Chance," New York Post, October 7, 1965.
5 Pat Mincher interview.
6 1974 player file fact sheet.
7 John Branch, "A Twin, a Ranger and, Most of All, a Senator."
8 Pat Mincher interview.
9 Pat Mincher interview; Oakland Athletics Press Release; HOF file.
10 Max Nichols, "Mele's Maulers Tie Mark, Clout Five HRs in Inning" The Sporting News, June 25, 1966.
11 John Branch, "A Twin, a Ranger and, Most of All, a Senator"; Hy Zimmerman, "Pilots Looking Toward Mincher to Get Em over The Sporting News, Choppy Seas," The Sporting News, February 1, 1969; Hy Zimmerman, "Mincher Fired Up to Clip Angel Wings," April 19, 1969.
12 "Mincher Goes to Hospital, Suffers from Dizzy Spells," The Sporting News, September 21, 1968; John Wiebusch, "Mincher Dismayed, Excited on Leaving Angels for Pilots," The Sporting News, November 2, 1968.
13 John Wiebusch, "Mincher Dismayed."
14 Hy Zimmerman, "Krausse Wants to be Starter … Pilots Will Give him a Chance," The Sporting News, January 31, 1970.
15 "Soar's Vision Sharp," The Sporting News, August 7, 1971.
16 Pat Mincher interview.
17 Randy Galloway, "Critics Fault Ranger 'Suicide' Youth Drive," The Sporting News, August 5, 1972.
18 Ibid
19 Ron Bergman, "Mincher Weary of Bench Duty, Retires as 200-Homer Belter," The Sporting News, January 13, 1973.
20 Ron Bergman, "Mincher Weary of Bench Duty."
21 Pat Mincher interview.
22 Ross Newhan, "Mincher Sings Happy Tune With Long Bow to Rigney," The Sporting News, March 30, 1968.
23 Ibid.
24 John Branch, "A Twin, a Ranger and, Most of All, a Senator"; Pat Mincher interview.
25 Southern League website.
26 Mark McCarter, April 13, 2011: al.com/sports/index.sst/2011/04/opening_night_remains_special.html.
27 Mark McCarter, December 5, 2012: al.com/sports/index.ssf/2012/as/pat_mincher_proclaimed_first_l.html
Born
June 24, 1938 at Huntsville, AL (USA)
Died
March 4, 2012 at Huntsville, AL (USA)
If you can help us improve this player's biography, contact us.
https://sabr.org/sites/default/files/MincherDon.jpeg
600
800
admin
/wp-content/uploads/2020/02/sabr_logo.png
admin
2012-01-04 20:35:07
2021-08-11 14:22:06
Don Mincher