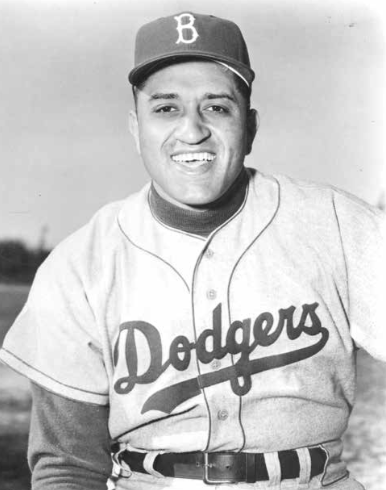 ---
"What I have done after my baseball career and being able to help people with their lives — means more to me than all the things I did in baseball." — Don Newcombe1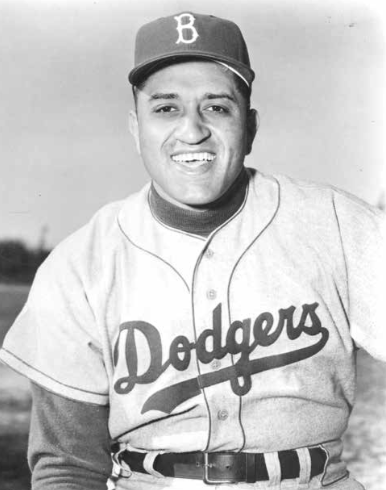 Don Newcombe was the third black pitcher to appear in a major-league game after Dan Bankhead and Satchel Paige. Playing at a height of 6-feet-4 and listed at 220 pounds, the right-hander earned the nickname "Newk" or "Big Newk" as a derivative of his last name and his imposing physical presence on the field. He exploded onto the baseball scene when he was selected to appear in the 1949 All-Star Game during his rookie campaign, becoming the first African-American pitcher to do so. Newcombe would go on to win the Rookie of the Year Award as well as becoming the first recipient of the Cy Young Award in 1956, when he was also named the NL Most Valuable Player. Until Justin Verlander matched him in 2017, Newcombe was the only player to win all three major awards in addition to a World Series ring.
Despite his tremendous ability, however, Newcombe's temper and attitude got him into trouble from his earliest days in Organized Baseball. He could be headstrong, belligerent, and impulsive. His behavior would cost him dearly through his career and his life.2
Newcombe was born in Madison, New Jersey, on June 14, 1926, to Roland and Sadie Newcombe. The Newcombes had three other sons, Harold, Norman, and Roland Jr., as well as a daughter, Dolly, who died at the age of 8. Newcombe's father was employed by a wealthy family as a chauffeur for 28 years. He also became adept at making home-brewed beer, which he shared with his boys around the time Don was 8 years old. Growing up, young Don witnessed several arguments between his parents.3 By the age of 13, he would leave the house to buy his own beer and hang out with his friends.4
During the 1930s Roland Newcombe would often take Don and his three brothers to Ruppert Stadium in Newark, where they would pay 25 cents apiece to sit in the left-field bleachers and watch either the Newark Eagles of the Negro National League or the Newark Bears, the Yankees' Triple-A team, since both teams shared the park. Young Don's favorite player was Bears outfielder Bob Seeds, a well-traveled veteran who played for five major-league teams in a nine-year span. However, as Newcombe later recalled, one player stood out from the rest, "If you were black and a baseball fan, then you knew about Satchel Paige. He was a legend."5
Eventually the Newcombes moved to Elizabeth, New Jersey, where 14-year-old Don excelled at baseball for Lafayette Junior High School, although his coach, Hermie Kaufman, was hesitant to let him pitch, citing a lack of talent. Later on, when Don entered Jefferson High School in Elizabeth, he began playing semipro baseball for the Roselle Stars because his high school did not have a baseball team.
One man who had a tremendous influence on young Don was his next-door neighbor, Johnny Grier. Grier was probably 12 years older than Don, and mentored him during his adolescence. "Johnny kept me out of a lot of trouble … [and] taught me the big wind-mill windup and high kick I would use my entire career," Newcombe said.6
By the age of 15, Newcombe was an even 6 feet and 200 pounds. He was sitting in a barroom having a beer when he heard about the attack on Pearl Harbor.7Already grown up, but underage, Newcombe falsified his date of birth to enlist in the US Army in 1942. When military personnel realized that he was still a minor, they notified his father to come pick him up.8
Because of the segregation that existed in major-league baseball, Roland Newcombe had envisioned his son as possibly being the next Joe Louis, not the next Dizzy Dean. But "Don told me he didn't want to fight because he didn't want to get his face punched," recalled his father.9 On a December afternoon in 1943, while playing checkers at Pryor's Barbershop, the 17-year-old Newcombe met Buddy Holler, an acquaintance of Abe Manley, owner of the Newark Eagles of the Negro National League. Two months later, Holler drove Newcombe to the Manley residence, where he was introduced to Abe's wife, Effa Manley. Effa, who co-owned the team with her husband, was the team's business manager. Impressed by his physical size alone, Abe took Newcombe with him the next morning to the Eagles training camp in Richmond, Virginia.10
Newcombe dropped out of high school during his junior year to pursue baseball as a full-time job, earning $170 per month.11 He made his professional debut on May 14, 1944, at Ruppert Stadium, working in relief.12 In one game Newcombe faced the Baltimore Elite Giants. When Roy Campanella stepped into the batter's box, the fledgling pitcher was ordered by his manager, "Mule" Suttles, to knock him down.13 "So I threw the ball high, but I didn't get it in enough, and Roy hit the ball into the seats," recalled Newcombe.14 It would serve as a dubious beginning to a lifelong friendship.
In October of 1945 Newcombe and Campanella crossed paths again at Ebbets Field, this time as teammates. During an exhibition series that featured white major leaguers versus Negro League players, Newcombe and Campanella were impressive enough to be considered in Branch Rickey's second wave of integration, although they were scouted long before the actual series took place. Campanella was already deemed major-league material, while Newcombe was still seen as a raw talent. "He wasn't by any means the best pitcher in Negro baseball," wrote Wendell Smith, "but Rickey signed him because he's young, big, and has all the natural ability necessary to get him into the big leagues."15 Newcombe's signing embittered Effa Manley, who never received compensation for her young hurler. "(The Dodgers) don't deserve to win for what they did to Negro baseball," Manley retorted years later."16
With the 1946 season months away, the Dodgers were looking for a team within the organization willing to accept Newcombe and Campanella on their all-white roster. The batterymates were slated to report to the Danville Dodgers of the Three-I League but league President Tom Fairweather reportedly stated that he would rather close the league down than to integrate it.17 In a desperate move, Rickey contacted Buzzie Bavasi, the general manager of the Nashua Dodgers in the New England League, who replied, "If they can play ball better than what we have, then we don't care what color they are."18
While Rickey took great measures in bracing Jackie Robinson for the racism he would face, he did not prepare Newcombe and Campanella as stringently for those same challenges. Instead, Robinson met privately with Newcombe and Campanella in New York, where they talked about the trials they would face. Throughout the season, according to Newcombe, he and Campanella kept in contact with Robinson.19 "We're being depended on by black people all over this world," Newcombe remembered Robinson saying. "We can't afford to fail."20
After Newcombe married "Freddie" Cross in 1945, the newlyweds joined Campanella and his wife in Nashua, where they reportedly were the only black people in the New Hampshire town. Rickey failed to inform the newly appointed manager, Walter Alston, of their arrival. Alston took it in stride: "I didn't think too much about it. … When I saw them play a few games I was glad I had them on my club."21
Campanella, a veteran of nine seasons in the Negro leagues, had a calming effect on the young, temperamental, and somewhat insecure Newcombe,22 as he pitched a shutout in his Nashua debut and won his first four starts. In addition to pitching and driving the team bus,23 Newcombe showed enough proficiency with the bat that many wondered if he would switch positions to play every day. Swinging from the left side, he became Alston's most reliable pinch-hitter. Nashua started out slowly. By mid-June the team was 13 games behind the league-leading Lynn Red Sox.
By early August Newcombe's pitching record stood at 8-3 and his batting average was an impressive .349.24 With Newcombe and Campanella paving the way down the stretch, they made the playoffs. Newcombe threw a shutout in Game Three to give the Dodgers a sweep over the Pawtucket Slaters. They went on to beat Lynn in six games for the New England League championship, with Newcombe nailing down the Game Five win.25
In preparation for Robinson's major-league debut in 1947, Rickey moved the Dodgers' spring training site to Havana to avoid the Jim Crow laws in Florida. It proved to be a disaster in regard to the travel expenses, hotel accommodations, and costs of flying in other major-league teams from the mainland. However, those were just the monetary expenses. When Rickey made reservations for the Brooklyn Dodgers to stay at the luxurious Hotel Nacional and housed the Triple-A Montreal Royals at the new Havana Military Academy, he segregated Robinson, Newcombe, Campanella, and Roy Partlow to a "musty, third rate hotel" to avoid any racial tension. Robinson was furious. To make matters worse, the four black ballplayers were given meal tickets to use in Havana's less-than-sanitary restaurants. "One night I sat in the restaurant next to the hotel eating a bowl of soup," recalled Newcombe, "and I stirred the soup and a cockroach came up out of it. I threw up everything I had in me all over the counter."26
Weakened by the deplorable living conditions, a dejected Newcombe lost 35 pounds and was sent back to Nashua for another year to work on his control.27 Meanwhile Robinson went on to debut for the Brooklyn Dodgers while Campanella moved up to the Montreal Royals.
In 1948, Campanella accompanied Robinson to Brooklyn, while Newcombe earned a promotion to Montreal. Poised with an explosive fastball, a slow, looping curve, and a slider, Newcombe improved considerably at the Triple-A level. He tossed his only no-hitter as a professional, en route to posting a 17-6 record. Manager Clay Hopper would often refer to him as the next Dizzy Dean.
In the postseason, Newcombe eked out a win in the first game of the opening round against the Rochester Red Wings. After he was staked to a 4-0 lead with two outs in the top of the ninth, he gave up a three-run triple to Rocky Nelson before getting the final out. In the fourth game, Newcombe took the loss, 1-0. The only run scored on a fielder's choice by first baseman Chuck Connors in the first inning.
In the seventh game, Newcombe continued his dominance. Locked up in a 0-0 pitchers' duel in the bottom of the ninth, the Royals got a three-run homer from league MVP Jimmy Bloodworth to advance them to the Governor's Cup against the Syracuse Chiefs, as fans carried both Bloodworth and Newcombe off the field. The Royals went on to win the Governor's Cup in five games as Newcombe notched a 2-1 win in Game Three.
When the St. Paul Saints defeated the Columbus Red Birds, the stage was set for a Junior World Series that would feature two Triple-A clubs within the Dodgers organization. Saints manager Walter Alston was quite familiar with Newcombe, having managed him the previous two seasons at Nashua. More importantly, Alston and Hopper were vying for the vacancy created by the firing of Brooklyn's manager, Leo Durocher, as both Rickey and Dodgers co-owner Walter O'Malley were in attendance.
Newcombe was unimpressive in his Game One start, which the Saints won 4-0. The Royals came back to win Games Two and Three. In Game Four, Newcombe delivered a no-hit performance through six innings before settling on an 8-3 win in his last start at Montreal's Delorimier Downs. The Royals won Game Five, 7-2, which secured their second Junior World Series title in three years.28
When the 1949 season arrived, Newcombe was certain that he would be heading north with the Brooklyn Dodgers. Although he pitched well during spring training, the Dodgers returned Newcombe to the minors at the beginning of the year, claiming he had not matured enough. Newcombe, upset with his demotion, went home instead and had to be persuaded by his wife to return to Montreal.29 Provisional manager Burt Shotton branded the pitcher as a fire-eater who "couldn't keep his mouth shut." Shotton patronizingly added that he didn't want Newcombe "spoiling it for the other two [black] fellows." By May the Dodgers were floundering, and Shotton had no choice but to accept Newcombe's promotion.30
Newcombe made his big-league debut on May 20, 1949, against the St. Louis Cardinals, as a reliever. He struck out the first batter he faced, Chuck Diering, on three straight pitches, but then got knocked around. Two days later against the Cincinnati Reds he threw a shutout in his first start. By July he was selected to play in the only All-Star Game held at Ebbets Field. He went on to finish the season with 17 wins while leading the league in shutouts. He nearly led the league in strikeouts, but finished two behind the league leader, Warren Spahn, who pitched 58 more innings. He was named the National League Rookie of the Year, becoming the second African-American in three years to capture the award after Jackie Robinson was initially honored in 1947.
Newcombe was encouraged by having Robinson and Campanella there to support him during his rookie campaign. "Jackie always knew that getting inside Newk's head and rattling his cage a bit made him pitch better," explained Carl Erskine. "But Campy was just the opposite. He would soothe Don in his own way. Cool and easy, Campy soothed Newk every time and emotionally stroked his confidence, like a balm on a wound."31 Conversely, both Robinson and Campanella benefited greatly from Newcombe's presence as word got around that he would retaliate if their pitchers continued to take aim at the Dodgers' two black hitting stars.32 Coincidently, Robinson had his best season and was named the National League MVP that year.
With the 1949 season coming down the stretch, the Dodgers and Cardinals were locked in a tight race. During August and September, Newcombe went 8-5. Four of those eight wins were shutouts, while two of his losses were by 2-1 and 1-0 scores.33 From August 16 through September 6, Newcombe threw six complete games in six starts, including three consecutive shutouts, and had a 31-inning scoreless streak. On October 2, the final day of the regular season, the Dodgers needed to defeat the Phillies at Shibe Park to secure the pennant, so they turned to Newcombe, who was given a 5-0 lead heading into the bottom of the fourth, when he surrendered a three-run home run to Puddin' Head Jones. A single and a double later, Newcombe was removed in favor of Rex Barney. Although the Phillies eventually tied it up, the Dodgers went on to win the game in 10 innings, 9-7, to secure the National League pennant. When the New York Yankees eliminated the Boston Red Sox that afternoon by a score of 5-3 to capture the American League championship, it marked the first time in major-league history that both pennant races were decided on the final day of the regular season.
Game One featured Allie Reynolds of the Yankees against Newcombe, on two days' rest, who became the first African-American to start a World Series game. They were locked in a 0-0 pitchers' duel heading into the bottom of the ninth at Yankee Stadium when leadoff hitter Tommy Henrich delivered a game-winning home run off Newcombe over the right-field wall. After the game, it was discovered that Newcombe had pitched with an ingrown toenail.34 He recovered well enough to start Game Four but was ineffective, allowing three runs in the fourth inning before he departed. Even though the Dodgers went on to lose the Series in five games, Newcombe found enough comfort in his World Series earnings ($4,272.74) to put a down payment on a house in Colonia, New Jersey. He also joined the local volunteer fire department and took to refereeing wrestling matches during the offseason.35
The 1950 season marked the second year in a row that Newcombe was selected for the All-Star team as the Dodgers continually chased the Phillies throughout the campaign. Once again Newcombe carried quite a workload. He threw five consecutive complete-game victories beginning on August 21 through the first game of a September 6 doubleheader against the Phillies. He also started the second game of that doubleheader before he left in the seventh inning with a 2-0 deficit. Nevertheless, the Dodgers came back with three runs in the top of the ninth to take both ends of the twin bill. On September 18, 1950, the Phillies held a nine-game lead over the Dodgers with less than two weeks left in the season. When the Phillies came into Ebbets Field on September 30, the Dodgers had closed the gap to two games. If they could win those final two games, they would finish even and force a playoff.36The Dodgers won that Saturday, 7-3. On Sunday, October 1, the Phillies held a one-game lead as Robin Roberts took the mound for the Phillies to face Newcombe. Not only were both pitching for the National League pennant, but they were each looking to become a 20-game winner for the first time.
The Dodgers had their chance to win it in the bottom of the ninth, when Cal Abrams led off with a walk, followed by single from Pee Wee Reese. With nobody out, Duke Snider singled sharply to center field as the slow-footed Abrams was waved on home but was thrown out at the plate. Reese advanced to third while Snider took second on the throw to home. With first base open, Robinson was walked intentionally to load the bases. With only one out, Carl Furillo fouled out to first for the second out before Gil Hodges flied out to right to strand the runners and end the inning. With the game knotted at one run apiece heading into the top of the 10th inning, Newcombe was still on the mound. He gave up back-to-back singles to Robin Roberts and Eddie Waitkus to start the inning, before Dick Sisler hit a three-run homer that would hold up to give the Phillies the pennant while making Roberts a 20-game winner.
Once again Newcombe pitched brilliantly in a crucial, must-win game only to surrender a walk-off home run in the late innings. After the game, Newcombe was especially hard on himself. Ralph Branca tried to cheer him by reminding him that they came this far because of his pitching down the stretch. Branca, for one, questioned Shotton's managerial decisions for leaving Newcombe in there for the 10th.37 Walter O'Malley, who had recently become the majority owner of the Dodgers, may have also questioned Shotton's decision-making process. When O'Malley refused to renew Rickey's contract for the 1951 season, Shotton was relieved of his managerial duties as well. O'Malley took over as team president and hired Charlie Dressen as his new manager for the 1951 season. Meanwhile, in an effort to earn some extra cash, Newcombe spent his offseason working at a men's clothing store in New York.38
Dressen was a former coach under Leo Durocher and his one goal for the 1951 season was to beat his former mentor, now managing the New York Giants, in their head-to-head games and in the standings.39 Beginning in the middle of May, the Dodgers began to distance themselves from the rest of the league. By Sunday, August 12, when Newcombe defeated Johnny Sain and the Boston Braves, the Dodgers were up by 12½ games over the second-place Giants.
Heading down the stretch, the Giants miraculously pulled into a first-place tie with the Dodgers on September 28. For the third straight year, the pennant would be decided in a season-ending series between the Dodgers and the Phillies. On September 29, Newcombe outdueled Robin Roberts with a 5-0 shutout, making him a 20-game winner for the first time in his major-league career. However, the Giants also won, defeating the Boston Braves, 3-0, to keep pace with Brooklyn. Once again, the season came down to the final game.
On September 30, the Dodgers were trailing the Phillies, 8-5, heading into the top of the eighth inning when they tied it up. Dressen brought in Newcombe to relieve the bottom of the frame. He held the Phillies scoreless for 5⅔ innings before he was removed in the bottom of the 13th. With the score still tied, 8-8, in the top of the 14th, Jackie Robinson lifted a solo homer into the left-field seats that proved to be the difference as the Dodgers held on to win, 9-8. However the Giants kept pace by beating the Braves in Boston to force a three-game playoff series against Brooklyn.
After the Dodgers lost Game One at Ebbets Field on October 1, the series shifted to the Polo Grounds, where they won a 10-0 blowout. Newcombe was the starter for the decisive Game Three, pitching six more shutout innings before allowing a run in the bottom of the seventh. When Willie Mays grounded into a 6-4-3 double play to end the inning, Newcombe returned to the dugout and told Dressen "that his arm was dead."40 Nevertheless Newcombe went out to pitch the bottom of the eighth and retired the Giants in order. Because of Newcombe's propensity to make contact, Dressen allowed him to bat rather than waste a pinch-hitter for him. He grounded out second to first. In the bottom of the ninth, with a 4-2 lead, Newcombe departed after allowing an RBI double to Whitey Lockman. Ralph Branca came in to relieve Newcombe with runners on second and third when he surrendered a pennant-winning home run to Bobby Thomson. Magnified by the fact that it was the first sporting event that was televised coast to coast,41 the Daily News headlined it "The Shot Heard 'Round the World,"42 and the moment has been forever etched in baseball lore.
That game would be Newcombe's last major-league appearance for the next two years as he was inducted into the military on February 26, 1952.43 When he returned to the rotation in 1954 he showed some rust with a 9-8 record. Under rookie manager Walter Alston, the Dodgers finished 30 games above .500, but were still five games behind the World Series-winning Giants.
When the 1955 season got under way, Alston became more reliant on Carl Erskine, Billy Loes, Russ Meyer, and Johnny Podres. Newcombe was in the rotation, but he wasn't the dominant pitcher that Alston remembered from their days at Nashua. Out of frustration, Newcombe went to Alston with an ultimatum: Pitch me or trade me. Alston reached in his pocket to pull out a schedule and told Newcombe he would start on Friday, May 6, against the Phillies. However, on May 5, coach Joe Becker told Newcombe to throw batting practice. Infuriated, Newcombe stormed into Alston's office, where he was told to take off his uniform and go home if he didn't like it. Against the advice of Campanella and Robinson, that's exactly what he did.
When Newcombe got home he received a telegram from GM Buzzie Bavasi informing him that he was suspended and fined. Newcombe called Bavasi and the two agreed to lift the suspension, but Newcombe was still fined $350 for leaving the team. Newcombe did not start that May 6 game in Philadelphia, but pitched two innings in relief to pick up his third win of the season.44
All was forgiven in his next start, on May 10 at Wrigley Field, when Newcombe faced the minimum 27 batters as he threw a one-hit shutout against the Cubs. That seemed to jump-start his season, as he reclaimed his role as the team ace, leading the staff in virtually every category by season's end. He also led the team with a .359 batting average and a .632 slugging percentage by collecting 42 hits in 117 at-bats. Nine of those hits were doubles, one was a triple, but more significantly seven were home runs, which set the National League record for pitchers.
On the Fourth of July Newcombe pitched a complete game to push his record to 14-1, which earned him a spot on the All-Star team. After the break he threw back-to-back complete games to push his record to 16-1, and another one on July 31 to move his record to 18-1. It would be a month before he won another game as he lost three complete games by one run. On September 5 Newcombe pitched his last complete game of the season to notch his 20th win. He contracted a virus that limited him to two innings of work over the next two weeks.
The Dodgers won the pennant by 13½ games, taking over first place on April 16 and never relinquishing it. In his only World Series appearance that year, Newcombe was the Game One starter against Whitey Ford at Yankee Stadium. After the Dodgers staked Newcombe to a 2-0 lead, he gave up a two-run homer to Elston Howard in the second inning. Duke Snider led off the third with a solo home run to put the Dodgers back in front, 3-2, before the Yanks tied it again in their half of the inning. Newcombe eventually gave up two more home runs to Joe Collins and left the game after 5⅔ innings pitched, trailing 6-3. The Yanks held on to win the game, but the Dodgers came back to win the Series in seven games. It marked the first and only time that the Dodgers won the World Series while in Brooklyn.
Newcombe claimed that he did something to damage his arm when he came back in September, "The whole night before the opening game of that World Series my wife sat up putting hot compresses to my arm," he said. "Alston knew it, although nobody else did, and that's why he didn't use me again after I got beat in the first game."45
Coming off that World Series championship, the Newcombes adopted two children, Gregory and Evit, during the offseason. Newcombe enjoyed his finest year as a professional in 1956, leading the majors in victories and winning percentage by posting a 27-7 record. So dominant was Newk's presence on the mound that year that beginning on September 19, he was pitching regularly on two days' rest to keep pace with the Milwaukee Braves. On September 26, in a loss to the Phillies, Dodgers left fielder Sandy Amoros dropped a fly ball that started a three-run rally. When Newcombe got back to the dugout, tension was running high when he yelled at Alston to "get somebody out there who can catch a fly ball."46 Right fielder Carl Furillo took exception and stood up for the diminutive outfielder. The following day, Robinson corralled Newcombe into apologizing to Amoros. The Dodgers won the pennant on the final day of the season when Newcombe threw 7⅓ innings in a win over the Pittsburgh Pirates, but it was Amoros's two home runs that made the difference.47
For the second year in a row, the Dodgers faced the Yankees in the World Series. In Game Two, a Yogi Berra grand slam drove Newcombe from the game in the top of the second inning. Newcombe left the ballpark while the game was still underway and assaulted Michael Brown, a parking-lot attendant outside Ebbets Field.48 After Don Larsen threw a perfect game in the fifth game, the Dodgers won Game Six, 1-0, to force a Game Seven. Newcombe got the start and gave up a two-run homer to Yogi Berra in the top of the first inning. He gave up another two-run homer to Berra in the top of the third, and a solo home run to Elston Howard to lead off the fourth inning before he was mercifully removed. As he did in Game Two, Newcombe left the ballpark before the game was over. The Yankees went on to win by a score of 9-0 to capture their 17th World Series title.
Immediately after the World Series, the Dodgers departed on a 19-game barnstorming tour through Japan. When they returned, Newcombe was named the Most Valuable Player in the National League. A week later he was recognized as the first recipient of the Cy Young Award for his brilliance during the regular season. In other news, an aging Jackie Robinson announced his retirement from baseball and took a position with Chock Full O'Nuts as the vice president and director of personnel.
The 1957 season marked the end of an era for the Dodgers as it was their last year in Brooklyn. At 84-70, they finished in third place, 14 games behind the Milwaukee Braves. Newcombe finished with an 11-12 record, and was making more headlines off the field than on it. On August 21, after pitching a five-hit shutout over the Cincinnati Reds, Newcombe was driving his father home to Colonia when he struck 4-year-old John Chase Jr. with his car.49 In December, Newcombe and two of his brothers were accused of assaulting Ulysses Ross, a former East Orange (New Jersey) policeman, at Newcombe's Newark tavern.50
However, the most shocking news affecting the Dodgers during the offseason was a car accident that left Roy Campanella paralyzed. With the legal matters surrounding the parking-lot attendant, the 4-year-old boy, and the former policeman, Newcombe's marriage was starting to crumble.51 In 1957 he left his wife and two adopted children.52 Without Robinson and Campanella as chaperones, Newcombe began the 1958 season with a 0-6 record. He also began dating Billie Roberts, a statuesque, well-educated (UCLA) woman, when the team moved to Los Angeles.53
With the Dodgers now calling Los Angeles their home, air travel became the new standard for road trips back east. That presented another problem for Newcombe, who developed a fear of flying in the early 1950s when he witnessed an airplane crash in Elizabeth, New Jersey.54 Through hypnotherapy he eventually overcame his fears to earn a pilot's license,55 although some reports indicate that he relied more on whiskey and vodka to quiet his nerves.56
By now Bavasi and the Dodgers were running out of patience with Newcombe's behavior. On June 15, 1958, he was traded to the Cincinnati Reds in exchange for right-handed pitcher Johnny Klippstein and first baseman Steve Bilko, along with two players to be named later. "When you're a winner, they don't give a damn. When you're a loser, they release you," Newcombe lamented years later.57 In 18 starts for the Reds that year, Newcombe went 7-7 with a 3.85 ERA.
Newcombe had a resurgent year in 1959 while pitching for the Reds. Posting a 13-8 record for a team that finished in fifth place, six games below.500, Newcombe led the team in wins, strikeouts, ERA, innings pitched, and complete games.
During spring training of 1960, the Newcombes were granted a divorce in Juarez, Mexico.58 Freddie was given custody of their two children as part of the settlement.59 A week later, Newcombe married Billie Roberts.60
Around this time, the 240-pound Newcombe pulled a muscle in his right thigh.61 As a precautionary measure, manager Fred Hutchinson ordered him to stay off his feet for a couple of days. While he was recovering from his leg injury, Newcombe began taking diet pills in an effort to take some weight off the injured leg.62
By Opening Day of 1960 Newcombe was well enough to pinch-hit for pitcher Jim O'Toole as the Reds won 9-4 over the Phillies. He made his first start on April 17, shutting out the Pirates through four innings when he was struck in the right wrist by a Bill Virdon line drive that forced him from the game.63 The rest of season was dismal as Newcombe failed to live up to the expectations he had shown in the previous year. He won only four games in 15 starts.
The frustration reached a climax on July 17 at Forbes Field while Newcombe was preparing for game two of a Sunday doubleheader. Prior to his warm-up tosses, the Pirates protested that Newcombe's sweatshirt had one sleeve longer than the other. When umpire Dusty Boggess ordered him to change his sweatshirt, Newcombe sarcastically replied, "Supposing Pete Gray came out on the mound? What would you do then?" After a few words were exchanged, Newcombe was ejected.64
On July 29, Newcombe was sold to the Cleveland Indians, for whom he was used almost exclusively out of the bullpen. He played his last major-league game on October 1, 1960.
When the Indians released Newcombe prior to the 1961 season, Bavasi signed him to a minor-league contract to play in the Pacific Coast League for the Dodgers' affiliate in Spokane. In 1962, he joined Larry Doby to play for the Chunichi Dragons in Japan, where he was used primarily as a first baseman for his hitting prowess.
Throughout his career Newcombe was known to have a few drinks, but it wasn't until after his playing days were over that he revealed the true nature of his alcoholism. Some of his former teammates were astonished by his admission, but those who were closest to him took the brunt of it. Newcombe "confessed publicly that, for many years, he was a stupefied, wife-abusing, child-frightening, falling-down drunk."65 It may also help to explain the lack of prudence that seems to have plagued him throughout his career.
By 1965 Newcombe was forced to declare bankruptcy.66 At one time, he became so desperate to pay for his drinking habit that he pawned his 1955 World Series ring and an expensive watch. The jewelry was later bought and returned to him by Peter O'Malley, who was then Dodgers vice president.67 It wasn't until his second wife threatened to take their 4-year-old son, Don Jr., and leave him in 1966, that he quit drinking. The Newcombes went on to have two more children, Kelley and Tony, as Newcombe continued to straighten out his life.68
Newcombe became a staunch advocate of recognizing alcohol abuse, and began Don Newcombe Enterprises, a personal-services company, in 1976. He was named director of community relations for the Los Angeles Dodgers in 1970 and still held the post in 2017. As a recovering alcoholic, he created the Dodger Drug and Alcoholic Awareness Program in 1980 and became a consultant for the National Institute on Alcohol Abuse and Alcoholism, as well as director for special projects for the New Beginning Alcohol and Drug Treatment Program.69
After 30 years of marriage, Billie and Don divorced.70 In 1990, a very recognizable Don Newcombe appeared as himself onscreen in Pastime, which resembles the more celebrated Bull Durham as a depiction of life in the minors and a portrait of a veteran minor leaguer. The year is 1957 and the central character is a 40-year-old hurler (played by William Russ) who pitched in one major-league game (in which he surrendered a grand slam to Stan Musial) and who mentors a shy, well-mannered 17-year-old black kid (Glenn Plummer). Pastime is of note for the ever-so-brief cameo appearances of Newcombe, as well as Duke Snider, Ernie Banks, Bill Mazeroski, Harmon Killebrew, and Bob Feller.71
All these ex-ballplayers but Newcombe became Hall of Famers. In retrospect, Newcombe shared his thoughts on what may have been a Hall of Fame career cut short by his own transgressions: "I was only 34, but the alcohol had taken its toll. I think it shortened my major-league career by about six or seven years. I regret that I didn't take better care of myself in the latter part of my career because I would like to have made the Hall of Fame, where I think I belong."72
Postscript
Don Newcombe died at the age of 92 on February 19, 2019.

An earlier version of this biography appeared in "From Spring Training to Screen Test: Baseball Players Turned Actors" (SABR, 2018), edited by Rob Edelman and Bill Nowlin.
Notes
1 Don Newcombe website: https://donnewcombe.com/.
2 Rick Swaine, The Black Stars Who Made Baseball Whole (Jefferson, North Carolina: McFarland & Company, Inc., 2006), 54.
3 A.S. Doc Young, "Don Newcombe, Baseball Great Wins Fight Against Alcoholism," Ebony, April 1976: 55.
4 Dan Coughlin, "Second Chance Saves Newcombe," Cleveland Plain Dealer, January 30, 1976: 6.
5 Danny Peary, We Played the Game (New York: Tess Press, 1994), 8.
6 Peary, 150, 151.
7 Young, 56.
8 Tom Cohane, "Newcombe Meets All the Demands," Look magazine, April 11, 1950: 100.
9 Bard Lindeman, "Don's Fight Hits Top of League," November 21, 1956. Unidentified newspaper clipping in the Don Newcombe player file, National Baseball Hall of Fame Library.
10 Bob Luke, The Most Famous Woman in Baseball: Effa Manley and the Negro Leagues (Dulles, Virginia: Potomac Books Inc., 2011), 103.
11 Luke, 109.
12 Luke, 104, 105.
13 Neil Lanctot, Campy, the Two Lives of Roy Campanella (New York: Simon and Schuster, 2011), 101.
14 Peter Golenbock, Bums: An Oral History of the Brooklyn Dodgers (New York: Putnam's, 1984), 235.
15 Jules Tygiel, Baseball's Great Experiment: Jackie Robinson and His Legacy (New York: Oxford University Press, 2008), 68.
16 Tygiel, 147.
17 Peary, 9.
18 William C. Kashatus, Jackie & Campy: The Untold Story of Their Rocky Relationship and the Breaking of Baseball's Color Line (Lincoln: University of Nebraska Press, 2014), 85.
19 Ibid.
20 "A Task That Was Too Important to Fail," Kansas City Star, January 25, 2007.
21 Tygiel, 148.
22 Kashatus, 87.
23 Tygiel. 150.
24 Tygiel, 149.
25 Tygiel, 151, 152.
26 Tygiel, 165, 166.
27 Don Newcombe as told to Milton Gross, "I'm No Quitter," Saturday Evening Post, March 9, 1957: 91.
28 William Brown, Baseball's Fabulous Montreal Royals (Montreal: Robert Davies Publishing, 1996), 118-126.
29 William Marshall, Baseball's Pivotal Era, 1945-1951 (Lexington: The University Press of Kentucky, 1999), 284.
30 Carl E. Prince, Brooklyn's Dodgers: The Bums, The Borough, and The Best of Baseball (New York: Oxford University Press, 1996), 71. Both quotations come from the same source.
31 Kashatus, 130.
32 Swaine, 54.
33 Prince, 72.
34 Golenbock, 247.
35 Look magazine, April 11, 1950: 98.
36 Ralph Branca with David Ritz, A Moment in Time (New York: Scribner Publishing, 2011), 113, 114.
37 Branca, 115, 116.
38 Marshall, 301.
39 Branca, 118.
40 Joshua Prager, The Echoing Green, the Untold Story of Bobby Thomson, Ralph Branca, and the Shot Heard Round the World (New York: Pantheon Books, 2006), 202.
41 Marshall, 423.
42 Prager, 251.
43 "Newcombe Reassigned to Camp in Texas," Brooklyn Daily Eagle, February 17, 1953.
44 Saturday Evening Post, March 9, 1957: 92.
45 Saturday Evening Post, March 9, 1957: 91.
46 Saturday Evening Post, March 9, 1957: 92.
47 Ibid.
48 The Sporting News, October 7, 1956: 8.
49 "Newcombe to Settle, New York Times, September 24, 1959. The suit claimed that the boy suffered a fractured skull and shoulder and multiple abrasions. A settlement of $5,000 was approved by Union County Judge Carrol W. Hopkins.
50 "Three Newcombes Freed," New York Times, February 3, 1959. A year later the three brothers were acquitted by an Essex County jury.
51 "Marriage on Rocks, Newcombe Reveals," New York Journal American, January 27, 1960.
52 Ebony: April 1976: 58.
53 Ibid.
54 Associated Press, "Newcombe Conquers Fear of Flying," December 15, 1957.
55 Associated Press, "Now Newk's Flying His Own," February 23, 1959.
56 Dan Coughlin.
57 Ibid.
58 Ebony, April 1976: 54.
59 "Mexico Divorce to Newk; Wife Awarded Two Children," March 27, 1960, unidentified newspaper clipping in the Newcombe player file, National Baseball Hall of Fame Library.
60 "Newcombe Takes Bride," Cincinnati Enquirer, March 22, 1960.
61 "'Newk' Set Back Month by Injury," Cincinnati Enquirer, April 9, 1960.
62 Cincinnati Post, April 6, 1960.
63 The Sporting News, April 27, 1960: 25.
64 The Sporting News, July 27, 1960: 7.
65 Ebony: 54.
66 Ebony: 60.
67 Sean Waters, "Former Ace Delivers a Timely Pitch: Ex-Dodger Don Newcombe Fought Alcoholism to Build a Career After Baseball. He Warns Students Not to Repeat His Mistakes," Los Angeles Times, February 6, 1994.
68 Ebony: 55.
69 William J. Serow, Biographical Dictionary of American Sports, Baseball Revised and Expanded Edition: G-P, edited by David L. Porter (Westport, Connecticut: Greenwood Publishing, 2000), 1118.
70 Los Angeles Times, February 6, 1994.
71 Across the years, Newcombe has appeared as himself in a number of TV series and made-for-TV movies and documentaries, from Simon & Simon (1988) and Hank Aaron: Chasing the Dream (1995) to Rome Is Burning (2007) and Pride Against Prejudice: The Larry Doby Story (2007). He and umpire Art Passarella had cameo roles in "Peanuts and Crackerjacks," an episode of Nichols, James Garner's short-lived NBC-TV series. "Peanuts and Crackerjacks" was broadcast on November 4, 1971.
72 Peary, 480, 481.
Born
June 14, 1926 at Madison, NJ (USA)
Died
February 19, 2019 at Sherman Oaks, CA (USA)
If you can help us improve this player's biography, contact us.
https://sabr.org/sites/default/files/NewcombeDon.png
600
800
admin
/wp-content/uploads/2020/02/sabr_logo.png
admin
2012-01-04 20:37:39
2022-04-04 13:52:32
Don Newcombe