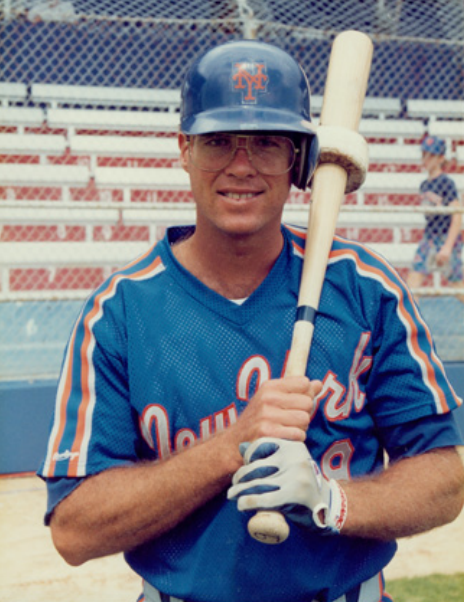 ---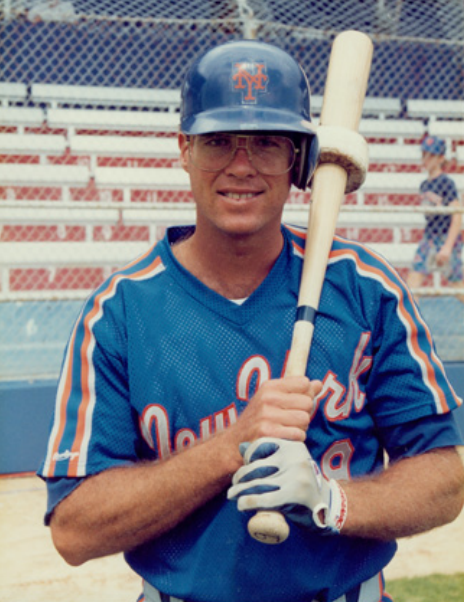 "What I was meant to do was impact people's lives." — Ed Hearn (2015)
"You never know what you are truly capable of until situations or circumstances force you to strive beyond what you ever thought possible. When we come face to face with our own mortality, often we begin to see life in a whole new perspective. We begin to see the value of little things. Money can buy a house, a bed, a companion, and a good time. But it cannot buy a home, a good night's sleep, friends, and memories." — Ed Hearn (1999)1
Backup catcher Ed Hearn played in 49 games for the New York Mets in 1986. He would never play in that many games again in his three-season career in the major leagues. Nevertheless he was a presence on a New York Mets team that won it all in 1986. In 10 of his appearances he had multiple-hit games, and the Mets won 34 of his 49 games. Before the next season he was traded for David Cone. But in actuality, baseball, for Ed Hearn was just a prelude.
Born on August 23, 1960, in Stuart, Florida, Hearn grew up in nearby Fort Pierce, the first of Bill and Jeanne Hearn's two sons. There was also an adopted daughter, Debbie. The parents operated a print shop. In 1973 Ed, Debbie, and younger brother Tommy all won awards in local golf competition. Tommy joined the PGA tour in 1995, and went on to work as a rules official for the PGA. Debbie worked with IBM before raising a family.
For six years, starting at age 8, Ed won the local punt, pass, and kick competition.  As a 10-year-old he won the regional competition at the Orange Bowl in Miami and went on to represent Florida at the Punt, Pass, and Kick finals during the AFC championship game in San Diego, finishing fourth in a field of 13 contestants. He was the high scorer for his Lakers team in the YMCA basketball league in 1973. Excelling as well in the classroom, he won St. Anastasia Elementary School's science fair competition in 1971, and finished third in his class at Fort Pierce Central High School.
On the baseball field, Ed was coached for many years by his father, Bill, and combined with a teammate to pitch a no-hitter in Little League. When not pitching, he was behind the plate and an offensive force, leading his league in batting. He was a standout catcher for the Fort Pierce Central High School Cobras.
In his senior year Hearn was the football quarterback, but suffered a shoulder injury in midseason, an injury that would come back to haunt him several years later.
In his last season of high-school baseball, Hearn got off to a slow start at the plate, and began wearing eyeglasses after a trip to the eye doctor. His hitting improved, and his average for the season climbed to .342. On June 6, 1978, he, on the recommendation of former Phillie Andy Seminick, was drafted by Philadelphia in the fourth round of the amateur draft. (He had an opportunity to go to West Point, but elected to play baseball.)
Hearn toiled in the Phillies' farm system for four years, putting up some good numbers. In 1978 with Helena, Montana, in the Pioneer League (Rookie), he was chosen as the team MVP by the fans on a team that included Ryne Sandberg. After Helena, he played with the Phillies team in the Florida Instructional League, but the pain from his football injury required surgery and he was forced to sit out the 1979 season. Before the 1980 season he injured his ankle while working out at home in Florida, went under the knife again, and missed spring training. 
Hearn was able to play first base and DH with Spartanburg in the Class A Sally League in 1980. He batted .300 in 66 games, but it looked as though his catching days were over. In 1981 he again split his time between first base and DH, and had a solid season at Peninsula (Hampton, Virginia) in the High-A Carolina League, batting .303 with 10 homers in 101 games, and hitting a home run in the Carolina League All-Star Game.2
Hearn was reassigned to Peninsula in 1982, but was promoted to Double-A Reading (Eastern League) after 21 games in which he batted .329. He did little catching, getting into only five games behind the plate with Peninsula and five with Reading in 1982. He hoped to be released by the Phillies so he could take his chances elsewhere.
Hearn got his wish. Released after the 1982 season, he signed with the New York Mets. He spent most of the 1983 season back in the Carolina League, with Lynchburg. He got off to a poor start, but got hot late in the season, batting .272 and earning a late-season call-up to Double-A Jackson (Texas League). With Lynchburg, he won the first of four consecutive championships in his years in the Mets organization, as the team went 96-43.
After the season Hearn spent time in the Florida Instructional League and played winter ball in Colombia. It was, as he recounted in his book Conquering Life's Curves, "absolutely one of the most horrifying experiences of (my) life. The place was just wall-to-wall poverty. Everywhere you looked was a negative picture. There were no phones in the apartment. You had to go to the hotel, and getting calls through (to the people back home) was a nightmare. Just getting out of that place was a challenge."3
The following season with Jackson, Hearn shared catching duties with Greg Olson and in 86 games, had 11 homers and 51 RBIs, batting a team-leading .312, as the team finished 83-53 to lead its division and won the Texas League championship in the playoffs.
In the spring of 1985, Hearn went to spring training with the Mets and was one of the last players cut when the team headed north. He spent the season at Triple-A Tidewater in the International League. He batted .263 for the Tides and became one of the team's top pranksters. Everyone was fair game, but he had particular fun with Kevin Mitchell and pitching coach John Cumberland. The only downer that season came when Hearn suffered a knee injury that forced him to miss the end of the season as Tidewater won the International league title. During that season, he shared an apartment with Calvin Schiraldi and Billy Beane, who called him "Ward" for Ward Cleaver of the Leave It to Beaver TV show.
Hearn's resourcefulness as a prankster reached a climax of sorts in the offseason. Schiraldi, who was traded to Boston later that offseason, was getting married. Before the wedding Hearn sneaked into the groom's apartment and found his wedding shoes. On the heel of the left shoe, he painted the letters H and E. On the heel of the right shoe, he painted the letters L and P. During the ceremony, as Calvin and his bride knelt before the altar, backs to the onlookers, everyone could see HELP.4 Schiraldi would pay back the "favor" when Hearn got married two years later.
After spring training in 1986, the Mets went with Barry Lyons as their backup catcher behind Gary Carter, and once again Hearn was sent to Tidewater. Through 22 games, he was batting .265, and on May 8 Hearn, almost eight years after signing his first professional contract, was called up to the Mets.
Hearn saw his first action on May 17, starting behind the plate and going 2-for-3 in a 6-2 loss to the Dodgers at Los Angeles. In his first two major-league at-bats, with his parents in the crowd applauding him, he singled to right and doubled to left field off Bob Welch.
In his second game, a 7-3 loss to the Giants at Shea Stadium, after making a couple of errors and allowing four stolen bases, Hearn made no excuses. "I've been through a lot to get to this point in my career, a lot of adversity," he said after the game. "I know that if I face difficult times and get something out of it, I know I'm going to be a lot better for it."5
On June 15 Hearn had what he would go on to remember as his career highlight. He smacked his first major-league homer, a three-run shot off Pittsburgh's Cecilio Guante in the bottom of the sixth inning that stretched the Mets' 4-3 lead to 7-3. His teammates pushed him up the dugout steps to take a curtain call. His parents were there, and Hearn presented the ball to his father as a Father's Day gift.
On July 3 Hearn once again provided some power. His second-inning homer cut an early Houston lead to 2-1 and the Mets went on to win 6-5 in 10 innings.
Stories abound about the 1986 Mets, but amid a gang of boozers, Hearn was an abstainer. Nevertheless there is an interesting story about his off-the-field activities during that wondrous season. On a summer evening he found himself stranded on a fishing boat in Long Island Sound, out of gas. He radioed for help, and a couple of people in Connecticut, who intercepted the mayday call, would not at first believe him. They questioned him about his batting average, home runs, and even the identity of the Mets' third-base coach. He answered the questions and a call was placed to the Coast Guard. Hearn signed autographs for his rescuers.6
The Mets were also brawlers and their most celebrated on-field brawl resulted in Hearn's entering a game against Cincinnati on July 22. The Mets had a comfortable lead in the standings.  The game was tied at 3-3 in the bottom of the 10th. Eric Davis of the Reds singled and stole second base. He then stole third. sliding hard into Ray Knight of the Mets. Punches were exchanged, the dugouts emptied and a brawl ensued. Knight and Kevin Mitchell were ejected from the game. Hearn took over behind the plate and Gary Carter was moved to third base. Hearn led off the top of the 14th with a double and scored on a three-run-homer by Howard Johnson as the Mets won 6-3.
In August Hearn saw quite a bit of action as Gary Carter suffered a partial ligament tear in his left thumb that kept him on the disabled list for a couple of weeks. Hearn said, "I think John (Gibbons) and I can handle it for two weeks. We've got a good lead. Nobody's going to fill Gary's shoes but I think two weeks (off) will be good for him. It will give him a rest and let him come back in September."7 During Carter's absence, Hearn started 11 games, and the Mets went 8-3 as Hearn batted .275 and played errorless ball. In the last of those games, on August 31, at Shea Stadium, Fernando Valenzuela was pitching for the Los Angeles Dodgers and took a 7-3 lead into the bottom of the ninth inning. With one out, Hearn stepped to the plate. Hearn had singled and scored in the third inning, but had struck out in the fifth and popped out to the catcher in the sixth. Hearn was determined to "bust him" if he threw an inside pitch. The first pitch was, indeed, inside and Hearn slammed it over the left-field wall. There was no further scoring and the Mets lost, 7-4. Hearn didn't realize it at the time, but his fourth major-league homer was to be his last.8
Actually, the highlight of Hearn's time with the Mets came in early September and it was off the field. Teammate Randy Niemann had been trying to fix Hearn up with a young nurse Niemann and his wife knew. Hearn turned down the offer. On September 9 Hearn attended a luncheon given by the local chapter of the cystic fibrosis society. The mother of a 5-year-old girl who had cystic fibrosis asked Hearn to sign a ticket stub for a nurse friend of hers. As it turned out, the nurse was Tricia Trienens, Randy Niemann's friend. Ed gave Tricia a call and the two were married on November 28, 1987.9
In the World Series, after the Mets lost the first two games, they traveled to Boston and won two of three and returned the series to New York for the historic Game Six. Rain postponed Game Seven to Monday night and the Mets once again came from behind to win the World Series. It was Hearn's fourth championship in as many years. 
"Sometimes you think slumps are the worst thing that can happen to you, but this has slumps beat to death," Hearn said as April 1987 came to a close.10 On March 27, 1987, Joe McIlvane had informed Hearn that the Mets had traded him to the Kansas City Royals as part of a package that brought David Cone to the Mets. Shortly thereafter, the Royals traded catcher Jim Sundberg, and Hearn became the first-string catcher. He was batting .294 in his first six games with the Royals. However, in his haste to impress his new mates, he had overworked his shoulder and was experiencing pain.
On April 18 Hearn had the highest of highs followed by the lowest of lows. The Royals were in New York to play the Yankees. Early in the day, Steve Schryver, the Mets' former farm director, presented Hearn with his World Series ring. In that day's game, with Yankees on second and third in the third inning, Gary Ward singled to right field. Don Mattingly scored from third and Dave Winfield came in behind him to find Hearn guarding home plate. In the ensuing collision, Winfield scored. Hearn finished the game, but the pain in his shoulder, which had already caused him to miss three of his team's first nine games, was unbearable. It would be his last game played for close to two years.
Hearn was sidelined by what was thought to be bursitis in his right shoulder. It was later diagnosed as a partial rotator-cuff tear. He missed the rest of the season, undergoing surgery by Dr. Frank Jobe on June 30. Hearn was in rehabilitation for the balance of 1987 and the bulk of the 1988 season before being activated at the beginning of September 1988. Playing for Baseball City in the Class A Florida State League, he batted.304 in 17 games. On September 2 Hearn was recalled by the Royals and played in seven games at the end of the season, going 4-for-18. In his first major-league at-bat in almost 17 months, he doubled down the left-field line against Chuck Finley of the Angels. On September 29 his pinch-hit single in the 10th inning was the decisive hit in the Royals' 7-6 win over the Chicago White Sox. Afterward, Hearn said, "It's been so long. … To win the game is just super. Contribution is just the biggest word I can say. That means the most to me, just to say I contributed."11 Three days later, on October 2, 1988, Hearn played his last major-league game.
Sent to Triple-A Omaha in 1989, Hearn batted .281 in 67 games, and was selected to play in the Triple-A all-star game. However, he did not get near the playing time he needed to show that he was ready to play in the major leagues. Despite a good spring training, the Royals released Hearn before the 1990 season and he signed with the Double-A Canton-Akron Indians  He got off to a good start, but an expected call-up, at least to Triple-A, was not immediately in the offing. Hearn was batting .270 through 29 games and after one excruciatingly long 11½-hour minor-league bus ride, he was ready to call it quits. He went home to Kansas City and, in mid-July, he got word of a promotion to Triple-A Colorado Springs, where he batted .288 in 17 games. But he was injured shortly before the end of the season, and was not called up to the Indians.
When there were no major-league offers in 1991, Hearn retired from baseball and took a job selling insurance with New York Life. He did not want to take a job as a minor-league coach or manager.
Ed and his wife, Tricia, faced far more serious challenges in the years ahead. In a high-school physical, he had been told that he had abnormal creatinine levels in his blood and urine. This eventually led to kidney problems, which surfaced in July 1991. He was diagnosed with Focal Segmental Glomerulusclerosis (FSGS), and dialysis and a kidney transplant were on the horizon. It was not his only problem. He also suffered from hypoglammaglobulinemia. His gamma globulin levels were not normal and he had difficulty fighting off infection.
Hearn kept working at his new job, but was feeling weaker and weaker. And as if his kidney and gamma globulin problems weren't enough, he was diagnosed with sleep apnea, a condition where, during the night, the body gasps for oxygen, depriving victims of sleep. Victims spend their nights in bed hooked up to a machine with a mask over their face. In early 1992 Hearn had begun dialysis, was hooked up to his C-pap machine at night, and getting monthly injections of gamma globulin.
Shortly after beginning dialysis in April 1992, Hearn received a kidney transplant from a young man who had died in an accident. It was the first of what would ultimately be three kidney transplants. Four weeks after the first surgery, his body began to reject the kidney, and he had to take more than 30 pills a day and go through dialysis to prevent the rejection and save his failing kidney. The anti-rejection medicines he was taking had the side effect of attacking his immune system, making him susceptible to viruses.  Ed was not well and he grew despondent.
As he said, "One day, I'm sitting on top of the world —and then before I really know what is happening, it's all over. It seemed so fast, and it seemed like such a long fall, like a sad movie."12 From the depths of despair in early 1993, when he even contemplated suicide, he began a physical and emotional rally that propelled him to a new career. 
A man of faith, he reached deep inside and found the strength to continue. "When everything else around me was crumbling, I sensed the Hand of God reaching out to comfort me."13 And then came a life-changing moment. In the fall of 1993, he was asked to give a talk at a Rotary Club. He told his story, recounting his highs and lows. The Rotary Club president, Brad Plumb, encouraged Hearn to share his message with corporate groups. The vibes were positive for the first time in a long time, and even better news came when Tricia told him that they were going to be parents. Cody Carter Hearn was born on August 29, 1994. (The baby's middle name was for Gary Carter.)
In 1994 Hearn committed to telling his story through motivational talks, and came "to the realization that I actually looked forward to speaking more than I used to look forward to playing in a major league game."14 He sought to instill in others the values that not only helped him cope with adversity and illness, but also enabled him to grow and make the best of the worst circumstances. He has been awarded the Certified Speaking Professional designation, and he was inducted into the St. Lucie County Sports Hall of Fame in 1997.
Hearn works with the NephCure Foundation, which funds research into the causes of FSGS and Nephrotic Syndrome, diseases of the kidney for which there is no cure. He also has had bouts with skin, head, and neck cancer. He had his second kidney transplant in 2000, and his third transplant, in 2002, came from a childhood friend, Chuck Satterwhite. That transplant has proved successful.
Hearn has had more than 20 surgeries to remove growths from his head, but has kept his sense of humor about it. After a surgery in early 2015, he posted a picture showing before and after results and blamed it on being hit by a ping-pong ball by his son Cody.
He has sought to help others through his Bottom of the Ninth Foundation. The foundation's website quotes him: "The bottom of the ninth in baseball doesn't happen unless the home team, the good guys are tied or behind. I believe in our country today that we're losing the battle and losing the game. I say that very loosely but we're losing in the character and moral value department. That is the essence of what made our country strong. I say that it's the bottom of the ninth and we have to step up, swing and make a comeback or else we're going to lose."15
In November 2011 Cody Hearn was diagnosed with Burkitt's lymphoma, a rare form of aggressive non-Hodgkin's lymphoma. Cody went through chemotherapy and the following summer traveled with his parents to his grandparents' home in Fort Pierce, where he showed himself to be a great fisherman just like his dad and role model—Ed Hearn.
Sources
Baseball-Reference.com.
Hearn's file at the National Baseball Hall of Fame library.
Smith, Curt, ed. What Baseball Means to Me: A Celebration of Our National Pastime (New York: Warner Books, 2002)
Associated Press. "Former Royal Ed Hearn Makes Comeback Despite Mistake Label," Iola (Kansas) Register, July 22, 2000: 4.
McEntire, Gwen. "Former Major League Catcher, Ed Hearn, to Speak on Handling Life's Curves," Frederick (Maryland) News Post, June 4, 1999: B-13, 14.
Mazenko, Mary Ann. "Ex-Catcher Catching on to a New Life," Alton (Illinois) Telegraph, July 31, 1995: A-6.
Del Rio (Texas) News Herald.
Fort Pierce (Florida) News Tribune.
Email correspondence with Ed Hearn and telephone interview with Ed Hearn, July 10, 2015.
Notes
1 Gwen McEntire, Frederick News Post, June 4, 1999: B-14.
2 Washington Star, July 8, 1981: E-4.
3 Ed Hearn with Gene Frenette, Conquering Life's Curves: Baseball, Battles, and Beyond (Indianapolis: Masters Press, 1996), 113-115.
4 Hearn and Frenette, 125.
5 Helene Elliot, Newsday, June 3, 1986.
6 Jeff Pearlman, The Bad Guys Won (New York: Harper Collins, 2004), 110.
7 George Vecsey, "It's My Team Now," New York Times, August 18, 1986: C3.
8 Hearn and Frenette, 139.
9 Hearn and Frenette, 140.
10 Salina (Kansas) Journal, April 30, 1987: 13.
11 Salina (Kansas) Journal, September 30, 1987: 15.
12 Associated Press, Iola Register, July 22, 2000: 4.
13 Hearn and Frenette, 225.
14 Hearn and Frenette, 226.
15 Bottom of the Ninth Foundation website.
Born
August 23, 1960 at Stuart, FL (USA)
If you can help us improve this player's biography, contact us.
http://sabr.org/sites/default/files/Hearn-Ed.png
600
800
admin
/wp-content/uploads/2020/02/sabr_logo.png
admin
2012-01-04 20:38:16
2021-03-16 15:14:33
Ed Hearn