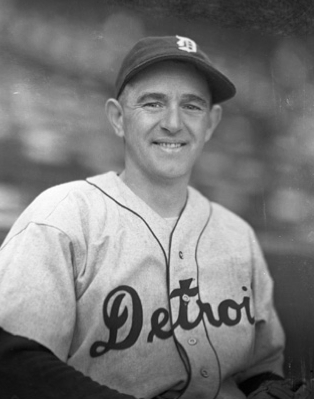 ---
General Crowder was a durable right-handed pitcher who won more games (124) than any big-league pitcher other than the immortal Lefty Grove in a six-year span from 1928 to 1933.  A three-time 20-game winner, Crowder led the American League in victories in 1932 and 1933 as a member of the Washington Senators. "If you'd let him," said Walter Johnson, who managed Crowder with the Senators, "he'd pitch every day. His arm is made of rubber, and he doesn't know the meaning of fatigue."1 After leading Washington to the World Series in 1933, Crowder appeared washed up in 1934, but a late-season waiver transaction took him to Detroit, where he briefly revived his career. Playing in his third consecutive World Series in 1935, Crowder notched his only postseason victory, a five-hitter over the Chicago Cubs in Game Four, to help the Tigers capture their first World Series championship.
Alvin Floyd Crowder was born on January 11, 1899, in Winston-Salem, North Carolina, to George and Emma (Munke) Crowder. Alvin, as his parents called him, grew up in Broadbay, about eight miles southeast of Winston-Salem in the heart of tobacco and cotton country. His father was a blacksmith and his mother tended to Alvin and his older sister, Maggie. He attended Eden Chapel grade school, where he played shortstop on the school team; he quit school after the fifth grade to help on the family's farm. By the age of 14 Alvin was working at the South Side Cotton Mills and playing on their amateur baseball team. He later worked as a mechanic at the R.J. Reynolds tobacco company and as a riveter in the shipyards in Alexandria, Virginia. Though he continued playing amateur and semipro baseball, it wasn't his passion. Limited by his education and restless from his prosaic surroundings, Crowder enlisted in the Army in 1919, hoping to travel the world.2
Assigned to the 27th Infantry, Crowder was stationed in the Russian seaport of Vladivostok and Lake Baikal in Siberia. When his division was transferred to the Philippines in 1920, he reluctantly volunteered for the baseball team in order to avoid the menial, mundane tasks of an enlisted soldier. The team recognized that the hesitant ballplayer had a strong arm. They asked him to pitch, and his new career was born. By 1922, when Crowder was assigned to the Letterman Army Hospital in San Francisco, he had already established his reputation as a hard-throwing right-hander. He supposedly won 19 consecutive games in a military league, and moonlighted with Bay Area semipro teams, making more money than he did in the service. When Crowder was discharged in June 1922, scouts from the Pacific Coast League were hot on his trail. Spike Hennessee, a freelance scout, signed him with the San Francisco Seals. But the inexperienced, 23-year-old Crowder had no chance to break into the rotation of the eventual league champions, making just one one-inning appearance.3
Released by the Seals in the offseason, Crowder signed with Bill Leard, manager of his hometown Winston-Salem Twins, of the Class C Piedmont League.4  He won 10 of 17 decisions and logged 146 innings in his first full professional season. He was purchased by the Rochester Tribe of the International League before the 1924 campaign. Still a green pitching prospect, Crowder struggled (8.36 ERA in 14 innings), and was farmed out to the Waterbury (Connecticut) Brasscos of the Class A Eastern League, where he went 11-13 in 208 innings. Described as a pitcher with "considerable promise," Crowder was purchased by Birmingham of the Class A Southern Association.5 With the Barons in 1925, he proved to be a durable, rubber-armed pitcher, and led the league with 59 appearances, logged 226 innings, and won 13 times. Because he reported to service whenever called, teammates began calling him "General" after General Enoch Crowder, the provost marshal of the US Army who instituted the draft lottery during World War I.6
The "General" got his chance to realize his dream when the Pittsburgh Pirates purchased his contract in the offseason. At to the Pirates' spring training site in Paso Robles, California, in 1926, it appeared as though he would make the team. However, Pirates owner Barney Dreyfuss unexpectedly returned Crowder to Birmingham when the two teams could not agree on the terms of his option price. The Sporting News described Crowder's situation as a "pity," and added, "It remains to be seen whether Dreyfuss cut off his own nose, or some other person's."7
It did not take long for the 27-year-old to get another shot in the big leagues. After returning to Birmingham, Crowder showcased his talents as the "pitching ace of the Southern League," winning 17 of 21 decisions and logging 178 innings in less than three months.8 The Washington Senators purchased his contract for an estimated $10,000 and sent two players (Curley Ogden and Emilio Palmero) to the Barons to complete the deal.9
Crowder reported to the reigning American League pennant winners in mid-July with the team fighting to remain above .500. At 5-feet-10 and about 170 pounds, Crowder did not possess an intimidating presence on the mound (though his tattoo of a naked woman draped over his shoulders and arms was often described as risqué). On July 24 the General made his big-league debut, tossing a complete-game eight-hitter against the Tigers in Griffith Stadium. A victim of two infielder errors leading to two unearned runs, Crowder picked up the 3-2 loss. Five days later, he earned his first big-league win by pitching ten innings (and also walking a career-high 10 batters) against the White Sox at Comiskey Park.  Crowder hurled a career-high 11-inning complete game to defeat the eventual pennant-winning New York Yankees, 5-4, on August 11. He finished the season with 12 starts in 19 appearances, compiling a 7-4 record in 100 innings.
Crowder's sophomore season was as disappointing as his rookie year was promising. Senators manager Bucky Harris praised the General as "one of the best minor-league prospects to join [the team] in years," and The Sporting News raved about the pitcher's speed and physical condition.10 However, Crowder's spring training was interrupted by an "ulcerated stomach" and a sore right arm.11 Reports surfaced that he had suffered from arm troubles in the minor leagues, and that he used a house recipe from an "old Negro washwoman" (in the insensitive parlance of the era) of applying a "gasoline-camphor gum mixture" to his arm to ease the pain.12 After tossing a complete game to win his first start of the year, Crowder was rocked in his next three starts (all losses), after which he was relegated to the bullpen. His losing streak reached five games before he won three of four starts in June, including a pair of impressive shutouts (a three-hitter against the White Sox and a two-hitter against the Red Sox). Crowder was "not always reliable," reported The Sporting News.13 His feast or famine approach to pitching frustrated Senators owner Clark Griffith, who, in a surprising waiver deal on July 7, traded him to the St. Louis Browns for workhorse Tom Zachary. Crowder struggled after the trade, posting a 5.01 ERA in 21 appearances for the seventh-place Browns. He won only one of his eight starts, but it was a dominating two-hit shutout of the Philadelphia Athletics.
In his first full season with the Browns, Crowder unexpectedly transformed from a reliever assigned to mop-up duty to the hottest and one of the best starters in the American League. Inconsistent and wild in three starts in April, he was relegated to the bullpen in May. In his first start in four weeks, Crowder tossed a five-hitter over 6⅓ innings and worked his way back into the rotation. Commencing with a complete-game win over the White Sox on May 30, Crowder reeled off ten consecutive wins (nine by complete game). Often pitching on short rest, the General improved his record to 11-1 with a ten-inning complete game against his former team at Griffith Stadium on July 16. Described as the "mound star of the league," he derived his success from improved control.14  The General suffered from poor control his first two seasons (144 walks in 241 innings) and it was one of the reasons he was traded to the Browns. Crowder worked closely with manager Dan Howley and his trusted coach Bill Killefer (both former catchers and respected developers of pitchers) to hone his control.15 En route to walking just 91 batters in 244 innings, Crowder concluded the 1928 season by winning 10 of 11 decisions, including his last eight in a row, and finished his "sensational" campaign with 21 wins against just five losses for a league-leading .808 winning percentage.16  The Sporting News described Crowder and right-handed teammate Sam Gray, himself a 20-game winner acquired from the Philadelphia Athletics in the offseason, as the "greatest pair of 'discard' pitchers" in baseball as they led the Browns to a surprising third-place finish.17
Crowder and Gray were the Browns' workhorses for a second consecutive season in 1929. Crowder pitched better than his 17-15 record suggested. In ten of his losses, the Browns scored three runs or fewer (a total of 22 runs). The General pitched his best during the last two months of the season, completing 12 of his 14 starts (many on short rest) and logging 121 innings. In a six-week period, he tossed three complete-game victories over the eventual World Series champion Athletics (including a two- and a four-hitter) and shut out the second-place New York Yankees twice. The first shutout was a masterful two-hitter that took just 1:38 to play. Crowder amassed 266⅔ innings for the fourth-place Browns, completed 19 games for the second consecutive season, and led the junior circuit with four shutouts.
Two consecutive winning seasons gave fans of the perpetually cash-strapped Browns hope for 1930. However, in the season often remembered as the "Year of the Hitter," when the AL hit a collective .288 and set numerous offensive records, the Browns hitters and pitchers struggled. Crowder lost six of his first seven starts (the only win was a six-hit shutout) and was shunted to the bullpen by new manager Killefer. But with no viable replacements (the team boasted a league-worst 5.07 ERA), Crowder regained his spot in the rotation and won two of three starts. Then, on June 13, in a startling move, Browns owner Phil Ball sent Crowder, along with outfielder and future Hall of Famer Heinie Manush, to the Washington Senators for another future Hall of Famer, outfielder Goose Goslin. The trade was universally considered a coup for Clark Griffith, who provided manager Walter Johnson with yet another arm for the most consistent and best staff in the AL. Given a new lease on life with a contender, Crowder responded by becoming the workhorse of the Senators staff. After the trade, he hurled nine consecutive complete games, winning six of them, while the Senators battled the Athletics for the lead. Philadelphia pulled away in late July and early August to win its second consecutive pennant, but Crowder proved to be a rubber-armed starter. Concluding the season with nine consecutive complete games for the second-place Nationals, Crowder was one of five Washington pitchers with at least 15 victories. The 31-year-old finished with an 18-16 record (15-9 with the Senators), completed a career-high 25 of 35 starts, and logged 279⅔ innings.
A notorious late starter, Crowder annually struggled to find his form in April and May. As if on cue, the General got off to a particularly brutal start with the Senators in 1931, posting a 0-4 record and 9.64 ERA five weeks into the season, prompting The Sporting News to call him "the biggest disappointment" in baseball.18 Crowder claimed that his woes stemmed from his fastball's lacking its normal speed, but inconsistencies were the hallmark of his frustrating season. On two different occasions, manager Walter Johnson removed Crowder from the starting rotation for extended periods. However, the Big Train also recognized that any attempt to overtake the Athletics and Yankees required the General to be at his best. Crowder tossed a complete-game seven-hitter in a spot start against Philadelphia on August 30 to turn his season around. He won seven consecutive starts, including three complete-game victories against the Athletics. "[Crowder] cannot win until the weather gets warm," noted The Sporting News, while other sportswriters sarcastically suggested that Crowder should start the season in June or get paid only in the summer.19 Despite his troubles, Crowder notched a team-high 18 wins and logged 234⅓ innings.
Contemporary sportswriters like Dan Daniel noted that Crowder had a pitching arsenal that included a fastball, a "corking change of pace," a "baffling" curve, and a screwball, all of which made it difficult for hitters to predict what he would throw.20 From his lazy, slow, three-quarters-to-overhand delivery, his fastball had surprising movement (often called a "sneak").21 He also possessed a deceptive throw to first base which discouraged base runners from taking large leads.
Named Opening Day starter in 1932, Crowder pitched a ten-inning, 1-0 shutout of the Red Sox. It set the tone for his career year, arguably the best season for a Senators pitcher not named Walter Johnson. On May 13 he tossed his seventh and final career two-hitter, shutting out the Tigers, 7-0. The General also went 2-for-3 at the plate with a triple, scored once, and knocked in a run. A capable hitter, Crowder batted .221 in 1932 and finished with a career .194 average (164-for-847). He followed his best start in the big leagues with one of his worst slumps, dropping 11 of his next 16 decisions. But after surrendering nine hits and six runs in an ugly five-inning loss to the lowly Browns on July 28, Crowder did not lose again all season. Typically starting on three days' rest, he reeled off 15 consecutive victories, completed 10 of 15 starts, and proved to be the most durable pitcher in the major leagues, leading both leagues in wins (26), innings (327), and starts (39). Only teammate Firpo Marberry appeared in more games (54), though he relieved in 39 of them.
Despite winning more than 90 games for three consecutive seasons, Clark Griffith demanded more. Consequently, he made the controversial decision to replace manager Walter Johnson, the greatest player in the franchise's history, with an unproven boy wonder, shortstop Joe Cronin. Just 26 years old, Cronin was a fiery, natural leader, who instilled confidence in his players. Once again the club's Opening Day starter, Crowder held the Philadelphia Athletics to six hits over seven innings to earn the 4-1 win. It was his 16th consecutive victory to tie Smoky Joe Wood and Walter Johnson (both in 1912) and Lefty Grove (1931) for the longest winning streak in AL history, though the others accomplished the feat during one season. With the trade of rubber-armed Marberry for dependable lefty starter Earl Whitehill, Cronin relied on Crowder as a starter and regular reliever. The General led the majors with 52 appearances (35 starts).
Since the Senators' two-year reign as the American League champions (1924-25), the Yankees and Athletics had captured every AL crown, and it appeared to be the same by June 1933. But the Senators overcame a six-game deficit to tie the Yankees behind Crowder's tenth win in a slugfest against the White Sox on June 22. Washington went 62-30 after that to cruise to the pennant. Crowder and Whitehill formed the best pitching duo in the league. The General pitched consistently all season, won a league-high 24 games, and logged 299⅓ innings, second most in the league; Whitehill won a career-high 22 games. Respected by his fellow players and managers, Crowder was one of five pitchers (Crowder, Wes Ferrell, Lefty Gomez, Lefty Grove, and Oral Hildebrand) chosen by Connie Mack to represent the American League in the inaugural All-Star Game, held at Comiskey Park. The General pitched three innings, surrendering three hits and two runs in the junior circuit's 4-2 victory.
The winningest pitcher in baseball from the previous two seasons struggled in the World Series against the New York Giants, "appear[ing] to be pitched out."22 Crowder breezed through the first five innings of Game Two, but then yielded seven hits leading to six runs in the sixth inning and was tagged with the loss. Facing elimination in Game Five, Crowder failed to make it out of the sixth inning once again and was rocked for seven hits and three runs in 5⅓ innings. The Giants won the game and the World Series on Mel Ott's tenth-inning home run.
Notwithstanding Crowder's enormous success, he was the object of trade rumors throughout the offseason as owner Clark Griffith sought a solution to his mounting financial woes. Crowder appeared to be in good physical shape, but suffered through a dismal spring training. "His control has been off and he has not flashed the fastball he must have to make him a successful hurler," said Griffith.23 Crowder began the season in the bullpen, was pummeled in his first start of the season, and never regained his form. Furthermore, The Sporting News reported that Crowder, along with other veterans, clashed with manager Cronin, ostensibly because of the benching of third baseman Ossie Bluege, but pointing at a deeper dissatisfaction with his managerial style. Described as the "mystery man" because of his sudden and unexpected pitching problems, the 35-year-old Crowder seemed washed up with a 4-10 record and an ERA approaching 7.00.24 Floundering in fifth place, well under .500, the Senators placed the General on waivers and ultimately sent him to Detroit on August 4. For the first-place Tigers, en route to their first pennant since 1909, Crowder transformed himself into a cagey veteran for player-manager Mickey Cochrane. Given extra time between outings, Crowder made nine starts and compiled a 5-1 record with a better-than-average 4.19 ERA.
Despite Detroit's two 20-game winners (Schoolboy Rowe and Tommy Bridges), Crowder started Game One of the World Series against 30-game winner Dizzy Dean and the St. Louis Cardinals. In an especially sloppy game (the Tigers committed five errors) at Navin Field, Crowder surrendered six hits and four runs (only one earned) before he was lifted for a pinch-hitter in the fifth inning with the Tigers down 4-1, in an eventual 8-3 loss. His next appearance, a 1-2-3 ninth inning in the Cardinals' crushing 11-0 defeat of the Tigers in Game Seven, offered no solace for his second consecutive World Series loss.
At the age of 36 and preparing for what eventually turned out to be his tenth and final full season in the big leagues, Crowder in 1935 relied on his pitching instincts, sliders, sinkers, and offspeed pitches, as well as his "cunning and methodical precision" for his success.25  With Bridges, Rowe, and submariner Elden Auker, the General formed the "Big Four Staff," which accounted for 74 of the Tigers' 93 wins and logged almost 1,000 innings. The reigning pennant winners got off to a slow start, but Crowder supplied "inspirational" pitching by overcoming a stomach virus that sidelined him for the first half of May to toss three complete-game victories (two of them against the Yankees) in two weeks.26 He seemingly turned back the clock in June, winning five of eight starts to help keep the team in contention. On July 24 at Yankee Stadium, Crowder cemented his reputation as a "Yankee-Stopper" by blanking New York on four hits for the last of his 16 career shutouts. "My success against them," said Crowder, "came from … studying the pitchers around the league. I tried to see what type of pitch each Yankee hit well, especially what they didn't pull, and used it against them."27 More importantly, the victory gave the Tigers sole possession of first place for the first time that year, and they never looked back. Crowder won all five of his decisions in August, including a masterful ten-inning win over the Yankees, to push his record to 14-7, but experienced a reoccurrence of his lifelong battle with stomach ulcers. Physically drained, Crowder lost all three decisions in September while the Tigers limped to their second consecutive pennant with a 12-14 record in the final month of the season.
In search of an elusive first win in the World Series, the General took the mound in Game Four against the Chicago Cubs on October 5. On a chilly, windy afternoon at Wrigley Field, Crowder tossed the most important game of his life, limiting the North Siders to just five hits and one run (on Gabby Hartnett's home run) en route to a complete-game victory to give Detroit a commanding three-games-to-one lead in the series. Two days later, Goose Goslin knocked in Mickey Cochrane in the bottom of the ninth inning for a dramatic, series-clinching 4-3 victory.
Crowder had little time to celebrate the crowning achievement of his baseball career, as his wife was gravely ill at their home in North Carolina. Crowder had married Ruth Livernash, originally of Rochester, New York, in 1924. The childless couple made their home near Crowder's birthplace in Winston-Salem, where they owned a large farm. Since the early 1930s, Ruth had been in poor health (one paper referred to her as an invalid), needing constant medical attention.
Crowder's big-league career came to a sudden and frustrating close in 1936. He developed ligament problems in his right shoulder in spring training and was a shell of his former self (8.39 ERA in 44 innings) in limited duty through June 22. Suffering from shoulder and stomach pain, Crowder was placed on the voluntarily retired list and returned to North Carolina and his ill wife in late June. She died several weeks later. Crowder was widely expected to return to the Tigers in 1937, but in the offseason he announced his intention to retire and was granted his unconditional release before spring training, signaling the end of his big-league career. He finished with a 167-115 record and 2,344⅓ innings.
Immediately after his playing career, Crowder led efforts to bring professional baseball back to Winston-Salem, which had been without a team since 1933. The General put together an independent team that was granted membership in the Class B Piedmont League as an unaffiliated team in 1937. The Winston-Salem Twins lost their first 28 games, but Crowder, who was the owner, coach, and even broadcaster, was not deterred. He secured an affiliation with the Dodgers the following season, and sold his majority stake in the team in 1939. He continued to play an active and leading role in team operations throughout the 1940s.
A lifelong resident of the Winston-Salem area, Crowder and his second wife, Joan Brockwell, a nurse from Chapel Hill, were involved in a number of business pursuits, including real estate, grocery stores, and a bowling alley. They had two children, Kathryn and Alvin Jr.  In 1967 Crowder was inducted into the North Carolina Sports Hall of Fame. Self-described as "semi-retired" the last two decades of his life, Crowder died of heart disease in his hometown on April 3, 1972, at the age of 73. He was laid to rest at the Forsyth Memorial Park Cemetery.
Sources
Newspapers
New York Times
The Sporting News
Online sources
Ancestry.com
BaseballLibrary.com
Baseball-Reference.com
Retrosheet.com
Other
General Crowder player file, Baseball Hall of Fame, Cooperstown, New York.
1] Dan Daniel, "Daniel's Dope," New York World Telegram, August 24, 1934. Player's Hall of Fame file
2 A number of sources were used to sketch Crowder's life: Ancestry.com; Al Nickerson, "Al's Sport Sermonette," Boston First Sunday Advertiser, April 7, 1929; "He Learned His Trade in the Philippines," Baseball Magazine, January 1929, 359; The Sporting News, October 25, 1934, 8.
3 The Sporting News, October 25, 1934, 8.
4 The Sporting News, February 8, 1923, 6
5 The Sporting News, December 11, 1924, 6.
6 "He Learned His Trade in the Philippines," Baseball Magazine, January 1929, 359.
7 The Sporting News, April 22, 1926, 3.
8 The Sporting News, July 22, 1926, 2.
9 The Sporting News, November 11, 1926; New York Times, July 19, 1926, 10.
10 The Sporting News, March 3, 1927, 1.
11 "Crowder Forced to Disabled Squad of Senators by Illness," Evening Independent, St. Petersburg, Florida, March 31, 1927, 5A.
12 The Sporting News, April 7, 1927.
13 The Sporting News, June 30, 1927, 3.
14 The Sporting News, July 19, 1928, 1.
15 The Sporting News, August 2, 1928, 1.
16 The Sporting News, November 1, 1928, 5.
17 The Sporting News, August 2, 1928, 1.
18 The Sporting News, May 14, 1931, 3.
19 The Sporting News, October 29, 1931, 1.
20 Dan Daniel, "Daniel's Dope," New York World Telegram, [Undated], 1934. Player's Hall of Fame file.
21 Shirley Povich, Washington Senators, quoted from Bill James and Rob Neyer, Neyer/James Guide to Pitching (New York: Foreside, 2004), 175.
22 The Sporting News, October 12, 1933, 1.
23 The Sporting News, April 12, 1934, 1.
24 The Sporting News, June 28, 1934, 1.
25 The Sporting News, October 10, 1935, 1.
26 The Sporting News, May 23, 1935, 1.
27 Al Laney, "He punched '3-Year Hole" in N.Y. Domination. Yanks 'Terrified' Crowder but General Had Their Number," New York Herald Tribune, January, 29, 1961, 3.
Born
January 11, 1899 at Winston-Salem, NC (USA)
Died
April 3, 1972 at Winston-Salem, NC (USA)
If you can help us improve this player's biography, contact us.
http://sabr.org/sites/default/files/Crowder-General.png
600
800
admin
/wp-content/uploads/2020/02/sabr_logo.png
admin
2012-01-04 20:38:04
2020-10-07 14:05:03
General Crowder