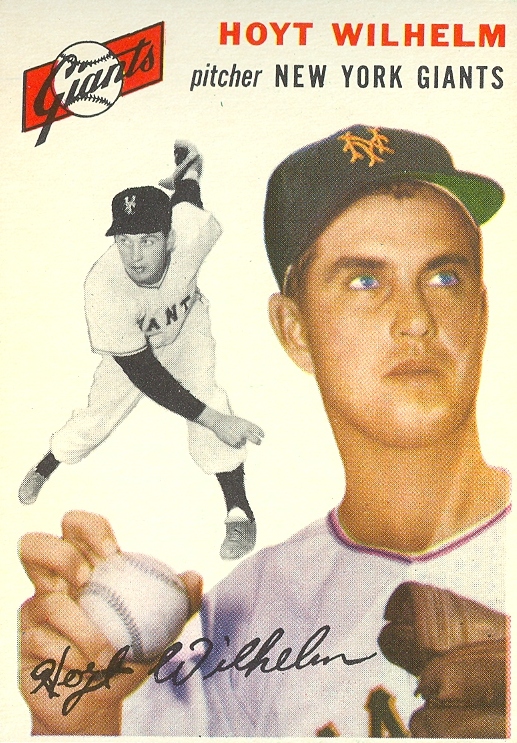 ---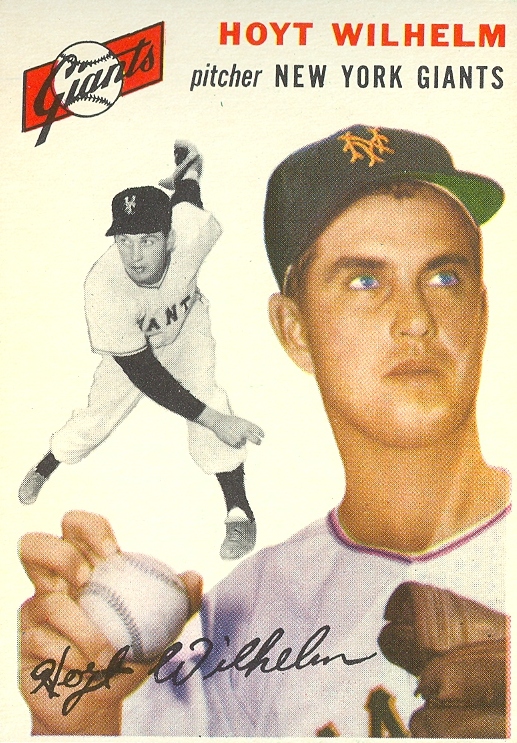 During the first half of Hoyt Wilhelm's major-league career, the attention he received usually focused on his freak pitch — a knuckleball — which he likely threw better than any man in history. In the latter half of his career, he was equally renowned for his advanced age — he had become an "old" knuckleballer.
Wilhelm was called "Old Folks" when his career had more than a decade to run. Nearly every story written about Wilhelm in the 1960s speculated on how much longer he could get batters out. Could he throw the knuckleball until he was 42? How about 45? Wilhelm patiently gave variations of the same answer: "I am pitching as well as I ever have. I have never felt better. I see no reason why I can't pitch a few more years."1 Every July 26, his birthday, a cake would appear, and Hoyt would be asked again about how it felt to be 43, or 47. In his Carolina drawl, Wilhelm would bring the subject back to how he was pitching, how he was feeling.
When Wilhelm died in 2002, his death certificate revealed something unexpected. His birth date was discovered to have been July 26, 1922, one year earlier than had been presumed for his entire career. It is not uncommon for a baseball player to have lied about his birth date — in fact, it is somewhat of an honored tradition. It was nonetheless startling to discover that Hoyt Wilhelm, probably the most famous "old" player in history, was actually older than we had thought.
James Hoyt Wilhelm was born in Huntersville, North Carolina, a farming town just north of Charlotte. His parents, John and the former Ethel Stanley, were tenant farmers, and raised 11 children. Wilhelm never liked talking about himself, but we know that his family was very poor.
Wilhelm was asked thousands of times how he learned to throw a knuckleball, and usually claimed that he taught himself in high school after seeing a picture of Dutch Leonard gripping a baseball. Emil "Dutch" Leonard was then pitching for the Washington Senators, who were the closest major league team to North Carolina. Leonard dug his index and middle fingers into the ball's seam — he did not use his knuckles. Wilhelm began experimenting with the pitch and soon could throw it pretty well. After horsing around with it amongst his friends, Wilhelm began to throw the knuckler for his high school team (Cornelius High School, about five miles from home).
Before Wilhelm, the knuckleball was an old pitcher's pitch, something a veteran might turn to at the end of his career to eke out another year or two. A pitcher who threw it would do so along with his usual assortment of pitches-its slower speed and unusual movement made it a fine "changeup."
Wilhelm broke both molds — he threw it as a teenager, and he threw it nearly every pitch. Most young kids give up on the knuckleball quickly because the pitch cannot be thrown to a location, which is how a pitcher is taught to throw. Wilhelm soon discovered that he could just aim the ball right down the middle of the plate, knowing full well that it would end up somewhere else, but maximizing his chances of keeping it in the strike zone.
After high school, Hoyt passed up the chance to attend Davidson University and signed a contract to play ball 12 miles from home in Mooresville, a team in the Class-D North Carolina State League. Wilhelm was not a prospect–he was a big guy who had some success in high school, which got him a chance to pitch for the local pro team.
In 1942, he managed a 10-3 record for Moorseville, before being drafted into the Army. He spent three years in the service, seeing a lot of combat in Europe and receiving the Purple Heart for wounds he received at the Battle of the Bulge. We do not know a lot about his war experience because, as with everything else, Wilhelm never made a big deal of it.
Returning stateside, he pitched two more seasons at Mooresville, compiling records of 21-8 and 20-7. Although these were fine years, he was still a 25-year-old, pitching in the lowest level of the minor leagues. Scouts were looking for big guys who threw hard, and as a Charlotte newspaper famously reported, "Wilhelm is never going any place. He throws like a washer-woman."2 The New York Giants finally drafted him after the 1947 season and he spent the next two seasons at Jacksonville (Sally League) and Knoxville (Tri-State League).
During his stay in the Sally League, at a game in Columbus, Georgia, he spotted Peggy Reeves sitting in the stands. Wilhelm asked a vendor to get her phone number, and he asked her for a date. For the next three years, Hoyt and Peggy corresponded faithfully and saw each other whenever he got back to Columbus. In September 1951, they were married.
Meanwhile, after winning 17 games for Jacksonville in 1949, he was finally promoted to Minneapolis (American Association), the highest rung in the Giants minor-league chain. Over the next two years, Wilhelm finished 15-11 and 11-14, mainly as a starter. He spent the winters of 1950-51 and 1951-52 playing winter ball in Cuba. In July 1951, still a minor leaguer, he turned 29 (although everyone thought he was 28).
Wilhelm went to his first big-league training camp in 1952 and impressed his manager, Leo Durocher, enough to make the roster. The Giants were the defending league champions, and featured a strong starting rotation, so Durocher sent his new knuckleballer to the bullpen, reasoning, "The knuckler can fool 'em for four or five innings, even if Wilhelm doesn't have the hard stuff to go nine."3 After waiting 10 years to get a shot, Hoyt was in no position to complain.
In his first season, Wilhelm pitched 71 games (a rookie record at the time) and 159 innings, all in relief. He finished 15-3 with 11 saves and won the league's ERA title (2.43), the first and only time a full-time relief pitcher has done so. In Wilhelm's first major-league at-bat, against the Braves' Dick Hoover at the Polo Grounds, he hit a home run–the only one he ever hit. For all this, he finished fourth in the league's MVP voting.
His fabulous knuckleball began to attract attention for how difficult it was to catch. After selecting Wilhelm to the 1953 All-Star team, National League manager Charlie Dressen expressed concern whether Roy Campanella would be able to catch him, and Hoyt did not pitch.
The next season saw Wilhelm involved in a couple of run-ins with the police in Westchester County, north of New York city. In June, he was cited for driving 60 miles per hour in a 25-mile-per-hour zone in Tarrytown, and was further charged with disorderly conduct for using "abusive language" to the desk sergeant who tried to book him at the station. The very next day, on the Sawmill River Parkway, a patrol car was turning into a gas station with sirens on and red light flashing, when Wilhelm drove into the cop car broadside. Hoyt suffered a bruised right arm and hurt his back, and his wife Peggy, another passenger, and the police officer, all suffered minor injuries as well.4
These incidents did not hurt Wilhelm's pitching, as he had a great 1954 season (12-4, 2.10 ERA in 111 innings) to play a key role in the Giants pennant. In the World Series, Hoyt pitched 2 1/3 innings over two games, allowing a single hit and no runs during the Giants' sweep of the Indians.
Over the next two years, 1955 and 1956, Wilhelm's ERA rose to 3.93 and 3.83 amid concern that he had been overused in his first few years. For his part, Wilhelm believed that his struggles were related to pitching less frequently.
In February 1957 the Giants traded Wilhelm to the Cardinals in order to reacquire first baseman Whitey Lockman. New York needed a first sacker because Jackie Robinson, acquired from the Dodgers after the 1956 season, chose to retire, and Bill White was drafted into the army. Hoyt wasn't particularly effective in 1957 (4.25 ERA in 40 games), but the reason he was let go in September, according to general manager Frank Lane, was that the team's catchers were having difficulties catching Wilhelm's knuckleball.
The Indians picked Wilhelm up and kept him most of the next season (2.49 ERA in 90 innings), before they waived him in August 1958. Wilhelm was still pitching effectively, but now in his mid-thirties, he seemed to be nearing the end of his career. A 35-year-old knuckleballer, even one with a 2.49 ERA, is not allowed many bad outings before being sent on his way.
Catching his knuckleball was a continual problem. In Wilhelm's first 16 seasons (1952-1967), his team led its league in passed balls in every year but one (1953). The Giants' Ray Katt was charged with four passed balls in a single inning catching Wilhelm in 1954. The catchers of the 1958 Indians (mainly Russ Nixon and Dick Brown) allowed a league-leading 35 passed balls. The next year, without Wilhelm, the same catching corps was charged with six.
The Orioles claimed him on waivers in August 1958. Orioles' manager Paul Richards thought Wilhelm might make a good starter, reasoning: "I'd always wondered why he'd been used in relief, coming in with men on base where one passed ball could hurt him. I thought that perhaps, if Hoyt started, the runners wouldn't get on base to begin with."5 In September, Wilhelm started four times, and in the last start tossed a 1-0 no-hitter against the Yankees. The final batter, Hank Bauer, laid down two bunts that rolled foul before eventually popping to second base.
In 1959, Wilhelm started the season 9-0 with an ERA under 1.00, prompting former manager Leo Durocher to express some regrets: "If I ever had any idea he could go the distance like that I'd have used him as a starter when I had him on the Giants. Maybe I made a big mistake."6 On May 22, he took a no-hitter into the eighth against New York, settling for a one-hitter. He shut out the Yankees again six days later. Hoyt came back to earth in the second half, but still finished 15-11 with a 2.19 ERA, good enough for his second ERA crown.
Richards still occasionally went to his star in the middle of a game: on August 6, Wilhelm came into a 1-1 game in the ninth inning against the White Sox, and proceeded to throw 8 2/3 innings of no-hit ball before finally allowing a safety. The game ended in a tie after 18 innings.
The Orioles of this era had a promising collection of young starting pitchers, dubbed "The Kiddie Corps": Milt Pappas, Chuck Estrada, Steve Barber, Jack Fisher, and Jerry Walker. The oldest (Estrada) was 22 in 1960, and all of them were above average or better major-league pitchers in their early 20s. When Wilhelm struggled a bit early in the 1960 season, Richards moved him back to the bullpen. The Orioles' reasoning–going with the young guns–appears sensible. After all, Wilhelm turned 38 years old that summer, and had proven flexible enough to excel in relief. How could Richards have known that Hoyt had more than a decade of great pitching ahead of him, and that he would outlast most of the Orioles' vaunted young guns?
Wilhelm successfully returned to full-time relieving and was named to the All-Star team in each of the next two seasons for the Orioles. In the 1961 All-Star Game, Wilhelm entered a tie game in the eighth inning in San Francisco. After retiring the first two hitters in the ninth, he walked Ken Boyer. Paul Richards, managing the American League team, came to the mound and, in an unusual move, relieved catcher Yogi Berra, who was uncomfortable catching Hoyt with a man on base. New catcher Elston Howard's passed ball in the 10th contributed to Wilhelm's loss.
During the 1962 offseason the Orioles traded the 40-year-old Wilhelm to the White Sox in a six-player swap in which the Orioles landed shortstop Luis Aparicio. The Orioles had acquired Hoyt for the waiver price back in 1958, and had wrung four great years out of him. Now approaching 40, few could have imagined that Wilhelm had more than a year or two left. In fact, he was just hitting his stride.
Many of the stories surrounding the trade concerned whether the White Sox catching corps, primarily Camilo Carreon, J. C. Martin, and Sherm Lollar, would be able to handle Wilhelm's knuckler. Gus Triandos, who had had some success with Wilhelm early on in Baltimore, was vocally celebratory when the Orioles dealt him away prior to the 1963 season. Hoyt was typically nonchalant: "I don't believe the catchers here will have any trouble if they just stay loose and relaxed."7
In 1963, major-league baseball deployed a new strike zone, which extended from the bottom of the knees to the top of the shoulders (formerly it reached from the top of the knees to the armpits). During the next six years, run scoring in both leagues dropped to levels not seen since 1919 (with the exception of the American League during World War II). A larger strike zone helps all pitchers, but especially those, like Wilhelm, that have little idea where the ball is going.
Over the next six years, while with the White Sox, Wilhelm put together one of the best sustained stretches of relief pitching ever. In 1963, his ERA "soared" to 2.64 in over 136 innings (he had three starts). Thereafter his ERA decreased for four consecutive years (1.99, 1.81, 1.66, and 1.33) before finally inching up to 1.73 in 1968-still not a bad year for a pitcher turning 46. More than a situational pitcher, Wilhelm averaged well over 100 innings a season, throwing 144 in 1965. Run production was historically low, but no one else consistently pitched as well. His ERA in the 1960s was 2.18.
Wilhelm did not have to do much to stay in shape, other than a little walking. He was an avid fisherman and hunter, but claimed that seven weeks in spring training was time enough for exercise. He was also apparently a fairly prodigious eater. Hoyt and Peggy spent a lot of time together, going to a movie, or dinner, and were often referred to as good, plain folks. Hoyt never talked much, even with his friends, and seemed uncomfortable with the increased attention as he continued to beat back Father Time.
During spring training in 1966, Wilhelm sustained the only significant injury of his career when a pitching machine broke the middle finger of his pitching hand while he was taking bunting practice. At the time, the White Sox had the best pitching staff in the league and an excellent bullpen. Accordingly, on his return Wilhelm began to share the late-inning situations that resulted in saves. The White Sox usually produced very high team save totals, but spread them around among an excellent relief corps that also included, at various times, Jim Brosnan, Bob Locker, and fellow knuckleballers Eddie Fisher and Wilbur Wood.
Throughout the 1960s, the fame of Wilhelm's phenomenal knuckleball, and its effect on catchers, continued to spread. When Wilhelm came to the American League in 1958, the league record for passed balls in a game was four, set by John Henry of the Washington Senators in 1911. Over the next five years, Wilhelm's team tied this record seven times while he was pitching. The 1959 Orioles were charged with 49 passed balls, 30 more than any other team. The 49 were split between Gus Triandos with 28 and Joe Ginsberg with 21, the two highest totals for any catcher in the 1950s.
Catchers did not particularly enjoy being on the receiving end of Wilhelm's deliveries. Wes Westrum, his primary receiver with the Giants, later said that the night after catching Wilhelm he would wake up shaking. Catching him so baffled J. W. Porter that the catcher used a first baseman's mitt. In 1960, the Orioles began using a specially designed catcher's mitt (designed by manager Paul Richards) for Wilhelm that measured 42 inches in circumference. When the rules were changed in 1965 to prohibit gloves larger than 38 inches, the White Sox designed a new one with a hinged thumb, one of the first of its kind.
There were several other excellent knuckleball pitchers whose careers overlapped Wilhelm's, including Eddie Fisher, Phil Niekro, and Wilbur Wood. None of them had the consistent problems with catchers that Wilhelm had, an indication that Wilhelm's knuckleball moved much more than theirs did. Ted Williams, who knew a thing or two about pitchers, once stated categorically: "Don't let anybody tell you they saw a better knuckleball than Wilhelm's."8 Sportswriter Jim Murray described the difficulty in hitting Wilhelm: "Part of the trouble is, the ball comes to the plate like a kid on the way to a bath."9
Wilhelm began to draw more and more attention for his age. When asked by Edgar Munzel of The Sporting News his secrets of longevity, Hoyt mentioned his knuckleball, which does not wear the arm, his being a relief pitcher, the oversized mitt, and his durable body.10
In 1968, as Wilhelm approached Cy Young's record of 906 games pitched, manager Eddie Stanky decided that he would start Wilhelm in game number 907. Unfortunately, Stanky was fired on July 12, and Hoyt broke the record against the Athletics in relief on July 24. Even then, Hoyt refused to consider his accomplishment special. "The next 900 won't be so tough," he allowed.11
The White Sox left Wilhelm unprotected in the 1968 expansion draft, most likely reasoning that no one would want a 45-year old knuckleballing reliever. However, the Kansas City Royals drafted Hoyt and traded him to the Angels for outfielder Ed Kirkpatrick and catcher Dennis Paepke. Despite the newly-reduced strike zone, Wilhelm had another excellent season in Anaheim, throwing 65 innings with a 2.47 ERA.
In September 1969, Wilhelm was traded (for farmhand Mickey Rivers) to the Atlanta Braves, who were trying to win the NL West and needed help in the bullpen. He provided it brilliantly, with two wins, four saves and a 0.73 ERA in eight games. When the Braves won the division by three games, Wilhelm received much of the credit. He arrived too late to be eligible for the NL playoffs, which the Braves lost in three straight to the Miracle Mets.
Wilhelm continued his excellent pitching for the Braves in 1970 (6-4, 3.10) and was selected to another All-Star Game (he did not play). On May 10, Wilhelm pitched in his 1,000th game against the Cardinals, which received a lot of attention. With the Braves out of the race this time around, they sold Hoyt to the Chicago Cubs with only 10 days left in the season. Wilhelm was ineffective this time (four runs in 3 2/3 innings), and was traded back to the Braves after the season. The "rental" was suspicious enough that Commissioner Bowie Kuhn investigated the matter, but he let the trade stand.12
In 1971, the Braves gave Wilhelm just 2 1/3 innings of work in April before releasing him. Hoyt hooked on with Tommy Lasorda's Spokane Indians of the Pacific Coast League, hoping for a recall to the Dodgers. After eight games, including six starts (his first since 1963), Hoyt went to Los Angeles in the midst of the 1971 pennant race. In 17 2/3 innings, he gave up just two runs and logged three saves, but the Dodgers fell a game short of the San Francisco Giants.
The next season he threw just 25 innings for the Dodgers (4.62 ERA) before drawing his release on July 21, just five days before his 50th birthday (which everyone thought was his 49th). One wonders whether the Dodgers, or another team, would have let him pitch a while longer had they known his true age. The story of a 50-year-old man pitching in the major leagues would have garnered quite a bit of publicity. Nevertheless, his pitching career was over.
Hoyt managed in the Atlanta Braves system for two years, spending 1973 with Greenwood of the Western Carolinas League and 1974 with Kingsport of the Appalachian League. He then spent 22 years coaching in the minors, most of them as a roving instructor for the Yankees.
Hoyt and Peggy settled after his playing career in Sarasota, Florida, and they lived there the rest of his life. The Wilhelms raised three children: Patti, Pam, and Jim.
In 1985, Wilhelm became the first relief pitcher to be inducted into the Hall of Fame. It took him eight tries to be voted in, and his omission became an annual opportunity for many celebrated writers (Leonard Koppett, Tom Boswell, and Jim Murray, among others) to take up his cause.
One can speculate on what Wilhelm's career might have been like had he been a starter. He threw in a regular rotation only once in his career and led the league in ERA. Over all, he pitched 384 lifetime innings as a starter, with an ERA of 2.36. He finished his career with a record of 143-122, and 227 saves (the most ever until the 1980s).
Could he have had a Phil Niekro-type career? Might it have been better? Wilhelm may have been a better pitcher than Niekro, albeit in many fewer innings. It seems reasonable to conclude that had he stayed as healthy and effective as a starter for as long as he did as a reliever Wilhelm could have won well over 300 games. Either way, he had a unique and wonderful career.
This biography appeared in "Time for Expansion Baseball" (SABR, 2018), edited by Maxwell Kates and Bill Nowlin.
Sources
In addition to the sources cited in the Notes, the author also consulted:
Armour, Mark L. and Daniel R. Levitt, Paths to Glory. Brassey's, 2003.
Cairns, Bob. Pen Men. St. Martin's Press, 1992.
Greene, Lee. "Suddenly, Wilhelm's A Mystery," Sport, September, 1959.
National Baseball Hall of Fame. File on Hoyt Wilhelm.
Shaap, Dick. "Hoyt Wilhelm, Nothing But Knucklers," Baseball Stars of 1960. Pyramid, 1960.
Porter, David L., Biographical Dictionary of American Sports, Greenwood Press, 2000.
Shapiro, Milton. Heroes of The Bullpen. Messner, 1967.
The Sporting News. One For the Book. The Sporting News Publishing Company, 1970.
Thorn, John. Relief Pitcher. Dutton, 1979.
Vincent, David, Lyle Spatz and David W. Smith. The Midsummer Classic. Bison Books, 2001.
Young, Dick. "Can A Relief Pitcher Last," Sport. July 1960.
Notes
1 Edgar Munzel, "Wilhelm Fires Duster at Father Time," The Sporting News, March 18, 1967: 3.
2 Lee Greene, "Suddenly, Wilhelm's a Mystery," SPORT. September 1959: 32.
3 Dick Schaap, "Hoyt Wilhelm: Nothing But Knucklers," (Ray Robinson, ed.) Baseball Stars of 1960 (New York: Pyramid, 1960), 57.
4 "Wilhelm Loses One Traffic Case, Gains Delay on Other," The Sporting News, June 30, 1954: 20.
5 Schaap, 58.
6 Greene, 30.
7 Edgar Munzel, "White Sox Mittmen Pass Exam—Handle Hoyt Without a Hitch," The Sporting News, March 30, 1963.
8 John Steadman, "Wilhelm's Knuckler Best Ever," Baltimore News-Post, 1962. (from Wilhelm's Hall of Fame file, specific date unknown.)
9 Jim Murray, "Wilhelm is Wonder Man as Pitcher," The Sporting News, April 5, 1969: 62.
10 Munzel, 3.
11 Bill Furlong, "The Next 900 Won't Be So Tough," SPORT, November 1968: 98.
12 Jerome Holtzman, "Wilhelm Deals Were on Up-and-Up, Kuhn Says," The Sporting News, December 19, 1970: 37
Born
July 26, 1922 at Huntersville, NC (USA)
Died
August 23, 2002 at Sarasota, FL (USA)
If you can help us improve this player's biography, contact us.
http://bioproj.sabr.org/bp_ftp/images/WilhelmHoyt1954.jpg
600
800
admin
/wp-content/uploads/2020/02/sabr_logo.png
admin
2013-01-04 20:27:17
2022-10-11 11:56:24
Hoyt Wilhelm