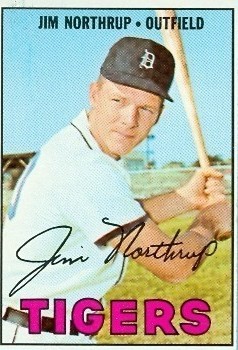 ---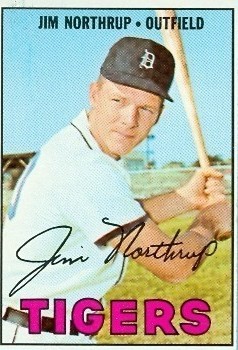 James Thomas "Jim" Northrup, who was born and raised in a small town in Michigan, starred in several sports, including baseball and football, at Alma College, also in Michigan. Later, he made it to the major leagues and enjoyed a fine career as an outfielder with the Detroit Tigers. Highlighting his fourth full season with Detroit, Jim was one of several Tigers heroes when the Motor City ball club won the 1968 World Series over the St. Louis Cardinals.
In 12 big league seasons, more than ten of which he played for Detroit, the lefthanded-hitting fly chaser averaged .267 lifetime, connected for 153 home runs, scored 603 runs, drove in 610 runs, and played in 1,392 games, mostly in the outfield. However, the down side of Northrup's career is that he played in an outfield that often featured a later Hall of Famer, right fielder Al Kaline, Mickey Stanley, an excellent athlete and four-time Gold Glove center fielder, and Willie Horton, a solid left fielder with great power.
A clutch hitter and a good run producer, Northrup belted 21 home runs — including four grand slams — during the 1968 regular season. The lefty hit two slams in consecutive at-bats against the Cleveland Indians on Monday, June 24, and three in the same week — blasting his third against the Chicago White Sox at Detroit's Tiger Stadium on Saturday, June 29. The Tigers right fielder had five opportunities for slams in the last week of June 1968. But in addition to his three four-baggers, he struck out swinging with the bases loaded once each against the Indians and the Chisox.
Also, Northrup is remembered by Tigers fans for his World Series heroics in 1968. His two biggest hits were a grand slam home run in Game 6, which the Tigers won 13-1, and a two-run triple in the seventh inning of climatic Game 7, which Detroit won 4-1.
Born November 24, 1939, Northrup grew up in Breckenridge, located in the heart of the Great Lake State. His father taught Jim and younger brothers Jerry and Mickey (who died of leukemia at age 15) to love team sports as well as hunting and fishing. After developing into an excellent athlete at St. Louis High, Jim became a five-sport star at nearby Alma College.
Northrup was a standout in every sport young men could play at Alma. As a junior he started at quarterback in football (he made small college All-American) and forward in basketball. In baseball he was a righthanded pitcher (he once hurled a no-hitter) who often played center field or first base. Jim also ran track and golfed, a sport he still plays. Further, he was a good student, although his graduation was delayed 40 years because he signed with the Tigers in 1961.
"You're born with talent, not made," Northrup explained in a 2003 interview. "I was born to play baseball, and I did. I grew up being a Tiger fan, and I'll always be a Tiger fan. But my hero was Ted Williams. I'm a left-hander, so I admired Ted. But I grew up knowing I would make the major leagues. I'm fortunate that I had that opportunity, and it worked out well for me."
Witty and down-to-earth, the personable Northrup has a disarming sense of humor. On the field, however, he was an intense competitor who worked hard to focus his talent and his emotions and to make the most of his first-rate athletic skills. Jim had offers from the New York Titans (renamed the Jets in 1963) of the American Football League, and also from the Chicago Bears of the National Football League. But the Titans offered a contract only if he made the team. The Tigers guaranteed the money, so he decided on baseball.
In the spring of 1961 Northrup began his pro career with Duluth-Superior of the Class C Northern League. Calling the circuit "over my head," he hit only .222 with one homer and eight runs batted in. Detroit sent him to sixth-place Decatur of the Class D Midwest League. In Iowa, the former Alma star finished the 1961 season hitting .291 with 13 home runs and 73 RBI. He also married his college sweetheart, Jean, and later the couple had three children: James Thomas II (born in 1961), Paige Leigh (born 1963), and Maria Kate (born 1969).
Northrup steadily improved in three more seasons of minor league ball. In 1962 the Tigers sent him to Knoxville of the Class A South Atlantic League, but he batted .244 and again found himself "over my head." Jim finished the season at Class C Duluth-Superior, where he averaged .324 and produced 11 homers and 61 RBI. The .324 mark tied the Michigan standout for the league's batting title with Donald Wallace of Aberdeen.
In 1963, the year the major leagues began player development contracts with minor league affiliates and the minors were reorganized into different levels of Class A ball, Jim spent the season with Knoxville of the Double-A Sally League. Hitting .309 with 10 homers and 66 RBI, he won the circuit's Rookie of the Year award.
Playing for second-place Syracuse of the Triple-A International League in 1964, Northrup again won Rookie of the Year honors with a .312 season that included 18 homers and a career-best 92 RBI. The former Breckenridge star had produced three straight .300-plus seasons, and the Tigers called him up near the end of the year.
Making his major league debut September 30, 1964, the 6-foot-3 190-pounder had an inauspicious beginning, going 1-for-12 and making two outfield starts in five games.
In 2003 Northrup recalled, "After the playoffs in Triple-A, a group of us came out of Syracuse and met the Tigers in New York. There were 10 days left in the season. But my first full year was 1965. They took most of our pitching, which is why Syracuse didn't win the playoffs. The players Detroit called up included Ray Oyler, our shortstop, and Bill Roman, a very good first baseman, but the Tigers had Norm Cash. We had two catchers, John Sullivan and Jackie Moore. Mack Jones went to the Braves. Willie Horton came up with me, and George Smith, a second baseman, came up."
Northrup started in left field in 1965, until Willie Horton got hot and took over the job. Thereafter, Jim was platooned in the outfield. "Willie pretty much played every day, and I filled in where I could in 1965," Northrup said. "If [Al] Kaline got tired, I'd give him a rest. When Cash didn't want to face a tough lefty, they threw me out there to the dogs. I didn't get to play a whole lot." Reflecting his lack of regular playing time in 1965, Northrup got into 80 games, 54 in the outfield, and he averaged .205 with two homers and 16 RBI. Never a standout when coming off the bench, Jim went 3-for-24 as a pinch-hitter.
But the Tigers were building a fine young team. In 1966 Detroit, although lacking in depth, finished third in the American League with an 88-74 record. But the club suffered emotional turmoil due to playing for three managers under tragic circumstances. Chuck Dressen suffered a heart attack early in the season (his second in fourteen months) and died after the All-Star break. Coach Bob Swift succeeded him, but he had to leave the team after cancer was diagnosed, leaving third base coach Frank Skaff (40-39) to work on holding the Tigers together.
Detroit's usual lineup in 1966 featured these players, who were mostly under age 26:
Northrup in right field hitting .265 with 16 HR and 58 RBI

Al Kaline, Detroit's longtime superstar, now playing center hit .288, 29 HR, 68 RBI

Willie Horton playing left and showing good power hit .262, 27 HR, 100 RBI

Norm Cash, the AL's batting champ in 1961, at first base hit .279, 32 HR, 93 RBI

Jerry Lumpe, a veteran of the Yankees and the Athletics, at second base hit .231 in 113 games

Dick McAuliffe, a hustling lefthanded slugger, at shortstop hit .274, 23 HR, 56 RBI

Don Wert, a fine fielder, at third base hit .268, 11 HR, 70 RBI

Bill Freehan, the five-time Gold Glover, behind the plate hit .234, 12 HR, 36 RBI
But two more young stars were waiting to play: Ray Oyler, soon to be a fine fielding shortstop, and Mickey Stanley, the fleet center fielder of the future. Outfielder Gates Brown, who hit .272 with 15 homer runs as the Tiger's left fielder in 1964, became a dependable reserve and valuable pinch-hitter when Horton took over the position in 1965.
Detroit's mound staff featured right-hander Denny McLain, who was 20-14 with a 3.92 ERA in 1966, his third season as starter; southpaw Mickey Lolich, who went 14-14 with a 4.77 ERA in his fourth year as a starter; Earl Wilson, a veteran righthander obtained from the Boston Red Sox who was 13-6 for Detroit with a 2.59 ERA; righty Dave Wickersham, who made the majors with the Kansas City Athletics in 1960 and went 8-3 with a 3.20 ERA in 1966; former Red Sox 20-game winner Bill Monbouquette, a veteran righthander who was 7-8 and 4.72; and longtime Dodgers bullpen ace Larry Sherry, a hard-throwing righthander who finished at 8-5 with a 3.82 ERA and 20 saves.
Northrup said he got more playing time in 1966 because he had played for Bob Swift in winter ball and at Duluth and for Frank Skaff in Knoxville: "Swifty knew I could play center field, so I got an opportunity there." Beginning in 1966, Northrup played at least 130 games a year for Detroit until the 1973 season, when, due partly to differences with manager Billy Martin, Jim played 119 games–even though he batted a career-best .307.
Finishing at 91-71 under new pilot Mayo Smith in 1967, the Tigers missed the pennant by one game on the last day of the season. Playing the team's second doubleheader in two days, Detroit, at the friendly confines of Tiger Stadium, beat the California Angels in the first game, 6-4, behind the slants of Joe Sparma and Fred Gladding. But the Angels won the nightcap, 8-5, recording the final outs when McAuliffe (who hit a two-run single in the seventh, cutting Detroit's deficit to 8-5) grounded into only his second double play of the season. The Tigers could have tied the Red Sox for first by sweeping both games. Instead, Detroit's bullpen failed to hold the lead and the Tigers fell to second place when the Red Sox, behind the pitching of Jim Lonborg and the hitting of Carl Yastrzemski, eliminated the Minnesota Twins, 5-3.
"We were all young, except we had Norm Cash and Al Kaline. Don Wert and Dick McAuliffe came out of Triple-A ball in Denver, along with Bill Freehan and Gator Brown, a couple of years before us. Myself, Stanley, Horton, and Oyler were just out of the minor leagues. We came within one game of winning it in 1967, and we won it all in 1968. We were still competitive after 1968, but Baltimore won three straight pennants, and then Oakland won three straight. But Baltimore had Brooks Robinson and Frank Robinson, 20-game winners like Mike Cuellar and Dave McNally and Jim Palmer, and Gold Glovers all over the place. Who was gonna beat 'em?"
In 1967 Northrup gave Detroit another good season, going .271 with 10 homers and 61 RBI. A supremely confident but streaky clutch hitter who used an inside-out swing to hit explosively to all fields, Jim didn't often go for the fences. But his career totals of 218 doubles, 42 triples, and 153 home runs show that he could hit with power. The Vietnam war raged, race riots swept Detroit and other major cities, campus revolts occurred at more and more colleges and universities, and the youth counterculture spread across America. But the national pastime continued. Reflecting on baseball in 1967, Northrup said all the breaks went against the Tigers:
"With a week and a half or so to go, we had three teams left. We had to win three out of four in two doubleheaders on the last weekend of the season to tie, and win all four to win. Minnesota had to win one game to win, and they couldn't do it. Boston had to win two, and they did. I say Boston 'backed into it' because it rained and we had to win two doubleheaders, and we didn't do it. We had a 6-2 lead against the California Angels on Saturday night. We blew it and lost, 8-6. On Sunday we won the first game against the Angels, 6-4, but we lost the nightcap, 8-5. If you believe in destiny, we were not destined to win in 1967. Everything that could go wrong, did. But it was a great, great pennant race, and we learned from it. We knew when we went to spring training in 1968 there was nobody who could stop us. And they didn't."
Commenting on the club's best pitchers in 1968, Northrup said, "We had Denny McLain, Mickey Lolich, Earl Wilson, and Joe Sparma. Then we had 'bullpen by committee.' We picked up Elroy Face and John Wyatt and Don McMahon. We had Fred Lasher, Daryl Patterson, John Hiller and Pat Dobson. So we handled relief pitching and spot starting by 'committee.' In those days, there was no one 'stopper.' Pitchers who had a bad go ended up in the bullpen. You had to pitch your way out of the bullpen to get back in the lineup by doing spot starting and long relief. Then you might get a chance, say, in a doubleheader."
In 1968 the pennant-tested Tigers got off to a good start and kept on winning. The Baltimore Orioles finished a distant second, 12 games behind Detroit — the biggest AL margin since the Red Sox topped the Tigers by the same margin in 1946. Even when Al Kaline suffered a forearm injury in late May and sat out two months, it made little difference. Detroit led the league in homers with 185 and in runs scored with 671.
McLain led the league with a sparkling 31-6 record and a remarkable 1.96 ERA. Lolich went 17-9 with a good 3.19 ERA. Earl Wilson was 13-12 and Joe Sparma finished at 10-10. But relief hurlers, notably John Hiller (9-6), Don McMahon (5-2), Fred Lasher (5-1), and Pat Dobson (5-8), added more than two dozen wins to the club's 103-49 record.
In his book Tiger S.T.A.T.S. (1991), Fred T. Smith wrote, "For heroes, Tiger fans had plenty of players to choose from: Willie Horton for all of his clutch runners batted in; Gates Brown for all of his record-setting pinch hits; Bill Freehan for his 25 home runs and 84 RBI; Jim Northrup for his grand slam home runs; Norm Cash for his late-season surge; Mickey Stanley for his excellent defense and much improved hitting; Mickey Lolich for his 10-2 effort during the final two months; and Dick McAuliffe for his inspiration as well as his contribution at second base. And, of course, 31-game winner Denny McLain."
Northrup remembers well Detroit's two ace pitchers: "Denny McLain won 31 games in 1968 and came back with 24-9 the next year. That's absolutely amazing. For two years he was the best pitcher I ever saw. Mickey Lolich had better stuff, but Denny McLain was just a magician on the mound. His mental attitude was superior. Denny was one of a kind. He had a little larceny in him, but that's another story. Mickey Lolich had great stuff. If you didn't get him in the first inning, you could forget it. He had a wicked curve ball and a great fast ball. Johnny Sain, our pitching coach, taught Lolich and McLain ball movement and the psychology of pitching."
Northrup, already dubbed the "Gray Fox" by his teammates (due to the flecks of premature gray in his hair), made a major contribution to Detroit's excellent team effort in 1968. Hitting .264 with 21 homers, Jim led the Bengals with 153 hits and 90 RBI. Close behind came Horton with 85 RBI and Freehan with 84 RBI, and Willie led the club with 36 four-baggers.
But Northrup bunched 16 of his 90 RBI in four at-bats! On Friday, May 17, 1968, Sparma, working on a one-hitter against the Washington Senators, yielded a ninth-inning homer to slugger Frank Howard — his record-breaking eighth four-bagger in five games — that gave the Senators a 3-2 lead. In the bottom of the inning, Northrup connected for his first grand slam of the year to cap a five-run rally and give the Tigers a 7-3 victory.
Five weeks later, on Monday, June 24, against Cleveland, Northrup hit two grand slams in two consecutive at-bats, and the Tigers beat the Indians, 14-3. Jim shares the distinction for two slams in consecutive innings with Jim Gentile of the Orioles in 1961.
Five days later, on June 29, against Chicago, the Breckenridge native hit another bases-loaded homer to beat the White Sox, 5-2, and help McLain notch win number 14. Northrup's heroics tied the major league record for three slams in a month set by Detroit's Rudy York in May 1938. But Jim set a new major league mark for slams in a week with three.
Regarding the two grand slams against Cleveland, Northrup recalled, "In the first inning I struck out with the bases loaded on a pitch right down the middle. The next time I came up, the bases were loaded in the fifth inning. Eddie Fisher threw me a nothing knuckleball, and I hit it about four miles! The third time I came up, Billy Rohr threw me a fastball and I hit that one out of the ballpark. So I got two out of three with the bases were loaded. Five days later I hit one in the upper deck in left field off Cisco Carlos of the White Sox. And I came up two innings later with the bases loaded and nobody out, swung at two in the dirt, and took one right down the middle! So I had an opportunity to hit five grand slams in a week, and I didn't do too well on a couple of 'em."
Chuckling, Northrup added, "But I got three out of five, and that's not too bad."
Detroit won the American League pennant — the last season before Major League Baseball began divisions and playoffs — and faced the St. Louis Cardinals in the World Series. Mayo Smith made a seemingly bold move by putting Al Kaline back into right field. By September the longtime star had recovered fully from a fractured forearm suffered in early May. When Kaline was able to return to the lineup on July 1, Smith used him at first base (the first time in Al's career), where he played 22 games. The regular, Norm Cash — who hit .263 with 25 homers and 63 RBI in 1968 — was a notorious streak hitter who was then more than 20 points below his final season average.
Earlier Smith had moved Northrup from center field to right, and Jim was showing his penchant for grand slams. Mickey Stanley was enjoying a good season in center, hitting .259 with 11 homers and 60 RBI. Willie Horton, the burly 210-pound slugger, was challenging Washington's Frank Howard for the home run title. A native Virginian who grew up in Detroit, Horton became the franchise's first African-American star. He belted 36 round-trippers, second only to Howard's 44. Willie also batted .285 and produced 85 RBI, ranking second on the Tigers behind Northrup's 90.
The Tigers clinched the pennant with a 2-1 victory over the Yankees on Tuesday, September 17. Don Wert, who suffered an off-year with a .200 mark, singled with the bases loaded and two outs in the ninth, lifting the Tigers into the team's first World Series since 1945. By then rumors had it that Mayo Smith might use Kaline at third base, due to Wert's weak hitting. But Wert fielded the "hot corner" second only to the great Brooks Robinson, and Kaline, who already had learned to play first base, was reluctant to try another infield position.
Smith, thinking about his winning lineup, knew his biggest weakness was at shortstop, where Ray Oyler, who played the most games there, batted only .135. Oyler produced only one four-bagger and 12 RBI. The subs fared little better. Veteran Dick Tracewski, playing his third season for the Tigers and his seventh in the majors, averaged .156. Rookie Tom Matchick, playing his first full season, hit .203 with three homers and 14 RBI. Oyler was the regular early in the season, while Tracewski and Matchick alternated at short after the All-Star game.
On Thursday, September 19, against the Yankees at Tiger Stadium, Smith made his move. He returned Kaline to right field, moved Stanley to shortstop (Mickey went 1-for-3), played Northrup in center, and used Gates Brown in left field (Horton was suffering a sinus infection). McLain stopped the Yankees on eight hits, one of which was a down-the-middle fastball he served up in the eighth inning to Mickey Mantle, who clubbed his 535th four-bagger to pass Jimmie Foxx on the all-time home run list. Kaline went 2-for-4, and Cash slammed two homers, one a two-run shot, while Stanley fielded his position flawlessly.
Mayo continued the Stanley experiment for the remainder of the season. Mickey played well and continued to hit. Therefore, Detroit's pilot had another good bat in the infield, and best of all, he had Kaline, the 13-time All-Star and longtime Tiger fan favorite, back in the lineup at his accustomed position. The Baltimore native provided such superb fielding in the outer gardens that broadcasters, sportswriters, and fans called his section of the stadium "Kaline's Korner."
When Kaline hit .375 with two homers and eight RBI and Stanley hit .214 and made just two harmless errors against the Cardinals, Mayo Smith looked like a genius. Actually, he was a genial, shrewd, sensible manager who considered his options, tested them out, and made the best use of his available talent when it counted — in October.
Northrup later observed, "Everyone except our players thought it was a terrible risk to move Mickey Stanley to shortstop, but none of us did, because he was a damn good athlete. I always told Mickey, 'If you'd have been a shortstop instead of a center fielder, you'd have made a hell of a lot more money!' Mickey was about a .250 hitter, and in those years shortstops never used to hit .250."
For the World Series the Redbirds, led by right-hander Bob Gibson's excellent 22-9 mark and his major league-leading 1.12 ERA, opened in St. Louis against McLain. Gibson hurled a five-hit shutout and won, 4-0. After yielding a leadoff single to Stanley in the ninth, the Cardinal ace set a World Series record with 17 strikeouts by fanning Kaline, Cash, and Horton to end the game.
"Bob Gibson was the toughest pitcher I ever faced for one game," Northrup observed in 2003. "He was throwing hard, and the ball moved all over. I don't know how we got any hits. He struck out 17 of us, and we were fastball hitters. But he blew the ball right by us. And he had a nasty slider that was jumping all over the place."
Detroit won Game 2, 8-1, when the weak-hitting Lolich spaced six singles and hit a two-run homer, the only home run of his big league career. Horton and Cash added solo homers for Detroit. The Cardinals pitched 19-game winner Nelson Briles, followed by three relievers. "When Mickey hit that home run," Northrup quipped, "it was the only extra base hit he got in his life. When he got to first, he had to ask Wally Moses, our first base coach, where to go. Mickey was in uncharted waters! He was a bloop hitter to right field, but he got around on a high fast ball, and it jumped out of the ballpark. None of us in the dugout could believe it!"
St. Louis won Game 3, 7-3, behind Ray Washburn and Joe Hoerner. Earl Wilson started and lost, as Kaline's two-run home run and McAuliffe's solo blast couldn't overcome a three-run homer by Tim McCarver and a two-run shot by Orlando Cepeda.
In Game 4, Gibson fired a five-hitter and won, 10-1, giving St. Louis the Series lead, three games to one. While Gibson hurled a complete game, McLain gave up six hits and four runs in two and two-thirds innings. Sparma, Patterson, Lasher, Hiller, and Dobson all pitched in relief. "Denny was tired," Northrup remembered. "He'd pitched over 330 innings in 1968. Denny's arm was sore and tired, and he didn't have any heat left, no speed. He started 41 games, and he completed 28 of those. Denny struggled, but he won the sixth game when we got 13 runs for him."
Facing elimination in Detroit, the Tigers responded with a 5-3 win, keyed by Al Kaline's bases-loaded two-run single in the seventh inning. Before that, Willie Horton threw out fleet Lou Brock at home on Julian Javier's single to left. Freehan's foot blocked the plate, and Brock chose to try and score standing up. "If Willie doesn't throw him out," Northrup said, "and if Brock slides, we probably lose that ball game. But Brock didn't slide, and Freehan had the plate covered. They gave us a chance to come back, and we did. We came back about 37 times in 1968, where we were behind in the seventh inning or later but won the game. We always figured that if we were within two runs with an inning or two to go, we'd catch 'em. And we did — all year long."
Through the first five games, Northrup had produced three singles in 19 trips to the plate (he hit .250 for the seven games). But rising to the occasion in Game 6, Jim belted a grand slam in Detroit's 10-run third inning — matching the single inning scoring mark set by the Philadelphia Athletics in game four of the 1929 World Series against the Chicago Cubs. McLain scattered nine hits and Detroit won easily, 13-1.
In the decisive seventh game, Lolich, pitching on two days rest, and Gibson both hurled shutout ball into the seventh inning. With two outs in the top of the frame, Cash and Horton singled. Northrup then smashed a terrific shot to center, and the ball carried over the head of Curt Flood — who first took a step in, then pivoted and ran back — for a two-run triple. Freehan doubled home Northrup, Lolich gave up a ninth inning two-out solo homer to Mike Shannon, and the Tigers won the world championship. Commented Northrup, "We saw the film afterwards, and Curt Flood did slip on that ball I hit to center field, because it was wet out there. But that ball went 20 or 30 feet over his head. He wasn't going to catch it, no matter what.
"You can call that a misplay if you want. I call it a triple that won the World Series. I don't fault Flood, but he was playing me too much to pull. I wasn't a pull hitter, especially with Gibson on the mound. Flood probably didn't see the ball at first. It was a low stadium with a lot of white shirts behind home plate. I played out there, and you had to break where you thought the ball was going, because you could not see the ball for the first second or two. Flood broke the right way, and he slipped. But we got the opportunity to win the World Series, and we won it."
Detroit's club had good camaraderie and enjoyed a good run for eight seasons, including 1967's second place finish and 1968's world championship. Continuing in 1969, the year each major league was divided into an East and West Division and played a League Championship Series preceding the World Series, the Tigers performed well. Northrup consistently made good contributions to his team, hitting .295 with 25 homers and 66 RBI as Detroit finished second in the AL East with a 92-70 record in 1969. He averaged .262 with 24 homers and 80 RBI as Detroit ranked fourth in the division with a 79-83 mark in 1970. Jim hit .270 with 16 homers and 71 RBI as the Tigers placed second with a 91-71 mark in 1971. And he batted .261 but produced only eight homers and 42 RBI in 1972, when Detroit won the East with an 86-70 finish. Still, while his offensive production fell, the Alma star rose to the occasion and batted .357 in the 1972 playoffs against Oakland.
Thinking about Mayo Smith, Northrup observed, "What Mayo did was not attempt to over-manage. He put our names on the lineup, put the lineup out on the field, and said, 'Go get 'em.' He left us alone and let us win. Managers and coaches don't win. Players do. Anyone managing who thinks he makes the difference is crazy. He can't play. He can't hit. He can't field." But after the Tigers slipped to fourth in the AL East in 1970, Detroit's front office fired Smith and hired Billy Martin, the former New York Yankee All-Star infielder. Martin, a sparkplug pilot who often soured a team's management with his caustic and aggressive style as well as his off-the-field problems, helped turn the Tigers around. The club rose to second in the East in 1971. In 1972 Detroit won the division, finishing half a game ahead of the Boston Red Sox.
The Tigers' starting lineup had changed since 1968, partly because the talented but fun-loving Denny McLain was no longer present. After enjoying his super season of 31-6 in 1968, McLain, who spent a great deal of money enjoying the good life, had his pay doubled to $60,000 in 1969. The brash ace posted a 24-9 record with a 2.80 ERA and again won the AL's Cy Young Award, this time sharing it with Baltimore southpaw Mike Cuellar. But McLain angered Mayo Smith when he showed up in the fourth inning of the All-Star game — which Smith was managing — because Mayo wanted Denny to start. In the end, Detroit finished 19 games behind the rising Baltimore Orioles in the AL East.
During the off-season, McLain was suspended for the first three months of the 1970 season by Commissioner Bowie Kuhn for associating with known gamblers three years earlier. Upon his return on July 1, McLain seemed to have lost his form. He struggled through the season with a 3-5 mark and a 4.63 ERA. The popular World Series hero was suspended twice in early September, first by the Tigers for throwing a bucket of ice water on two Detroit sportswriters, and then by Baseball Commissioner Bowie Kuhn for a possession of a gun. The talented but seemingly troubled Tigers finished in fourth place with a 79-83 record — leading to Smith's firing.
By 1972 Detroit featured a veteran nonpitching lineup, including many of the 1968 World Series regulars:
First baseman Norm Cash hit .259 with 22 HR and a team-high 61 RBI

Second baseman Dick McAuliffe, injured for part of the season, hit .240 with 8 HR and 30 RBI

Shortstop Eddie Brinkman, a solid veteran who came to Detroit in the seven-player McLain trade of October 9, 1970, after 10 seasons with Washington, hit .203 with 6 HR and 49 RBI

Third baseman Aurelio Rodriguez, a fifth-year Mexican-born standout who also came to Detroit in the McLain trade, hit .236 with 13 HR and 56 RBI, making him one of three Tigers who batted in 56 runs

Northrup, playing mainly right field, hit .261 but slipped to 8 HR and 42 RBI

Left fielder Willie Norton hit only .231 with 11 HR and 36 RBI

Center fielder Mickey Stanley hit .234 with 14 HR and 56 RBI, ranking second to Cash in homers and RBI

Catcher Bill Freehan hit .262 with 10 HR and 56 RBI, tying him with Stanley and Rodriguez in run production

Outfielder Gates Brown, the lefthanded-batting clutch hitter, averaged only .230 but connected for 10 homers and contributed 31 RBI in a reserve role
The pitching staff featured the hard-throwing Lolich, who enjoyed an outstanding season with a 22-14 ledger and a 2.50 ERA. Joe Coleman, a righthander in his second season with Detroit, arrived in the McLain trade after six years with the Senators. He went 19-14 with a 2.80 ERA. Fourth-year Tiger Tom Timmerman, a 6-foot-4 righthander, compiled an 8-9 record and a 2.89 ERA in 25 starts. Lefty Woodie Fryman, a seventh-year starter purchased from the Philadelphia Phillies on August 2, 1972, fashioned a surprising 10-3 record and 2.05 ERA for Detroit. Martin's other hurlers were 6-foot righthanded reliever Chuck Seelbach (9-8, 14 saves, 2.89 ERA); Fred Scherman (7-3, 12 saves, 3.64 ERA), a 6-foot-1 southpaw reliever in his fourth season with Detroit; and rookie Bill Slayback, who posted a 5-6 mark with a 3.18 ERA in 13 starts.
Northrup, as any fan could read in the newspapers in the early 1970s, did not respect Martin: "We got sick and tired of reading Martin say in the papers, 'I manage good, and they play bad.' 'I'd like to bunt, but my players can't do it.' 'I'd like to hit and run, but my players can't do it.' It was all, 'I, I, I,' and 'Me, me, me.' I did not respect him in any way, but I had to play. So I ignored what he said and played ball."
To win the competitive East Division, the Tigers had to beat out the Orioles, the Yankees, and the Red Sox. By September newspaper reports were calling Detroit the "over the hill gang," led by "granddaddy" Al Kaline, now thirty-seven (Cash was also thirty-seven). The average age of Detroit's position players was thirty-two, compared with an average of twenty-eight for the Red Sox. While Detroit's pitchers were younger than non-pitchers, Mickey Lolich, one of the most underrated left-handers in baseball history, and Woodie Fryman, both thirty-two, led the moundsmen. Lolich won 22 games for the Tigers, and Fryman won 10 times after arriving in August.
With two weeks left in the regular season, the Tigers, stung by reports they were "ageless," moved into Cleveland to play four games. The Indians won the first two. But the Tigers won the last two and continued to streak, winning seven of the club's remaining ten games. Meanwhile, the Red Sox won eight of the last fourteen games, the Orioles three of their final 11, and the Yankees four the their last 11.
A key player in Detroit's late-season surge was catcher-first baseman-outfielder Duke Sims, a versatile athlete who came up through the Cleveland system, spent 11 years in the majors, and hit .239 lifetime. But Sims showed power, slugging 100 career homers and knocking in 310 runs. Purchased from the Los Angeles Dodgers on August 4, 1972, Sims averaged .316 in 38 games as a Tiger.
Kaline, the greatest hero of the Tigers faithful, was playing his 20th major league season. Al injured his wrist but played 84 games in right and another 11 at first base. After reading how baling wire and adhesive tape supposedly connected his wrist bones to his fingers, the 15-time All Star roared into Boston and got hot, going 22-for-44 in the season's last 11 games and raising his average 35 points to .313.
In the decisive win over the Red Sox on Tuesday, October 3, Kaline singled off Luis Tiant in the seventh to drive in Dick McAuliffe, who had doubled, with the go-ahead run. Nine outs later, Detroit clinched the East with a 3-1 victory. On October 5, 1972, Murray Chass of the New York Times summarized Detroit's celebration after the drive into first place: "Tigers Living It Up in Old Folks Home."
Later, in the League Championship Series, the Tigers lost to the Oakland Athletics in five games. Oakland won the first two contests by scores of 3-2 and 5-0, but Detroit won the third and fourth games, 3-0 and 4-3. Northrup singled to score the winning run in the tenth inning of Game 4.
Jim believed Detroit had a chance to make the World Series again: "I thought we should have won the playoffs in 1972, but we got some bad breaks. In Game 3, Billy Martin put Freehan behind the plate with a broken thumb. He put our backup catcher, Duke Sims, who hit .316 after he came over from the Dodgers, in left field. Both positions cost us a run. The A's scored on a double steal, which should have been an out at home. In the last game the first base umpire called [George] Hendrick safe who was out by two steps at first base. That ended up being the winning run. Duke Sims got a ground ball where he could have thrown the guy out at home, but he didn't. He shouldn't have been out there, but Billy played him. It's not the player's fault. It's the manager's fault. Should have, would have, could have, whatever. But if we had Duke behind the plate where he belonged and Willie out in left field, I believe we'd have won Game 5, 1-0."
In Game 5 at Detroit on Thursday, October 12, Woodie Fryman pitched eight innings and gave up four hits and both Oakland runs. The A's scored the first run in the second on a walk, a hit batter, and a double steal, with Reggie Jackson sliding between Freehan's legs and scoring from third on the front end of the steal. The disputed play at first base came when McAuliffe fielded Hendrick's grounder and fired to first, but umpire John Rice called Hendrick safe. According to newspaper accounts, Rice ruled that Cash pulled his foot off the bag. Replays and photos, however, show that Cash did not pull his foot, and Hendrick was out by a couple of steps. Writing in 1998, Tigers broadcaster George Kell remembered it this way: "The winning run scored after the umpire ruled that Norm Cash pulled his foot off the bag on a throw to first base. That same play is made a dozen times a game. This time, though, the umpire decided to call it."
Down 2-1 in the ninth inning, Cash singled with one out. Martin used Stanley to pinch-hit for Northrup, and Stanley forced Cash at second. Tony Taylor lined out to deep center to end the game and the last hurrah of the Tigers who had played together since the mid-1960s.
Northrup said, "In the fifth game I had one hit already off Vida Blue, a lefthander. But Martin pitch-hit for me in the ninth. Who knows why Martin did what he did? I will say this: Billy Martin put most of us in a frame of mind where he took the fun out of the game. And when there's no fun, it's not worth playing. That's what I didn't like."
Asked in 2003 about the fifth game of the 1972 ALCS, Duke Sims replied, "Earlier in the game, I believe inning five, I hit a ball down the right field line that the first base umpire, John Rice, called foul. I was standing on first base right on the line and believe the ball was fair. I told him, and his comment is something less than should be published. That would have put us up 2-1. In all probability, if it had been fair, Billy [Martin] would have replaced me in left field and I wouldn't have been involved in the play at home plate. It would make a good movie scenario."
Concluded Fred T. Smith in Tiger S.T.A.T.S., "The frustrated Tiger fans, realizing their team had put up a gallant fight to come so close, stopped play several times during the final few innings when they littered the field with toilet paper, smoke bombs, fire crackers and other debris.
"It was a sad ending to what had otherwise been a very satisfying season."
In any event, Northrup produced another good season in 1973, hitting .307 with 12 homers and 44 RBI while playing 116 games in the outfield. Jim's final Detroit season came in 1974. On August 7, when it was clear the Tigers would finish last, Detroit sold the Michigan native to the Montreal Expos. On September 16, after the Expos lost any shot at the playoffs, the club sold him to Baltimore: "The Tigers dumped me because if I had finished the season, I would have had 10 years in the majors, and I could have negated a trade. The club didn't want that."
Northrup enjoyed playing the 1975 season for Baltimore's Earl Weaver, calling Weaver "the very best major league manager I ever played for." Jim hit .273 with five homers and 29 RBI, but he decided to call it quits after the season. "I'd had enough. I'd been away from home too much, and I wasn't with my kids enough. So that was the end of it. You have to quit sometime, and I did. I was making $76,000 with Detroit in 1973. But I was mainly going to pinch-hit in 1974, so they dropped me to $67,000. Baltimore paid me the same, $67,000. In 1975, the major league average was $35,000. I made $418,000 altogether in baseball, counting my bonus and winter ball. But we were owned and controlled by the team. That was a different era — before free agents."
Later, in the mid-1980s, Northrup became a broadcaster for the Tigers, serving for nine years. He worked as an analyst with play-by-play man Larry Osterman, on the Detroit area's regional sports cable channel PASS (Pro-Am Sports System). Today he is in the insurance business. Jim was inducted in the Michigan Sports Hall of Fame in 2000.
"I enjoyed the challenge of hitting," Northrup said recently. "I wanted to see what the Hall of Famers were like. Who knows? If I got a hit or two off them, maybe I was as good as they were. I never accepted failure. You have to believe you can hit anyone, and I did. I can hit anybody out there at certain times, if you give me enough shots. And that's the way you have to believe. Guys like McLain and Lolich and Gibson feel the same about hitters: 'I can get anyone out.' They have the same positive attitude. It's a challenge. That's what makes the game so much fun. I enjoyed the challenge every day. I felt like I was born to play the game, and I did."
A first-rate big leaguer, an exciting clutch hitter, and a likable fellow, the Gray Fox was an important part of an outstanding Tiger team that missed the American League pennant by one game in 1967, won the 1968 World Series, remained a pennant contender for several years, and made a good run at the World Series again in the 1972 playoffs. Jim Northrup was the kind of quality athlete who makes fans remember not only the glory years of the Tigers but also the national pastime during the 1960s and the 1970s.
Sources
This article is a revision of my profile of Jim Northrup that appeared in the February 2004 issue of Baseball Digest. This article is based on: an interview with Jim Northrup, February 2003, and letter from Northrup, November 2006; Baseball Encyclopedia, Macmillan Publishing, 1990 edition; Pat Doyle's Professional Baseball Player Database, version 5.0; clippings in Northrup File at National Baseball Hall of Fame's Library; letter from Duke Sims, February 2003; New York Times and Washington Post stories from ProQuest database about 1968 World Series and 1972 ALCS; Murray Chass, "Tigers Living It Up In Old folks Home," New York Times, Oct. 5, 1972; Watson Spolestra, "Bengals' Northrup Knows He Can Hit," Sporting News, April 15, 1967; Ross Forman, "Northup's Collection is Now Just a Memory," Sports Collectors Digest, Jan. 21, 2000.
Born
November 24, 1939 at Breckenridge, MI (USA)
Died
June 8, 2011 at Grand Blanc, MI (USA)
If you can help us improve this player's biography, contact us.
http://bioproj.sabr.org/bp_ftp/images3/NorthrupJim.jpg
600
800
admin
/wp-content/uploads/2020/02/sabr_logo.png
admin
2012-01-04 20:31:37
2012-01-04 20:31:37
Jim Northrup