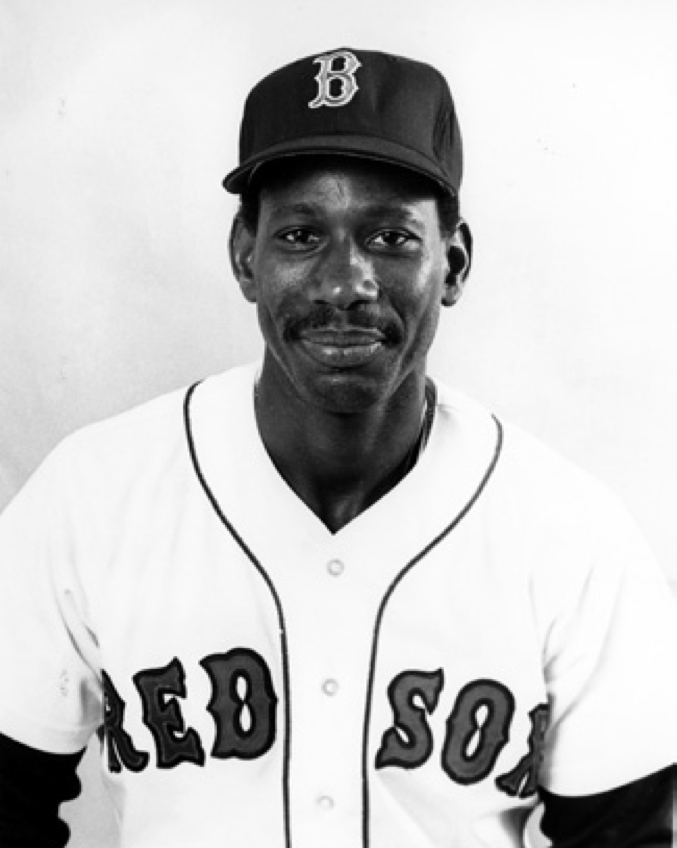 ---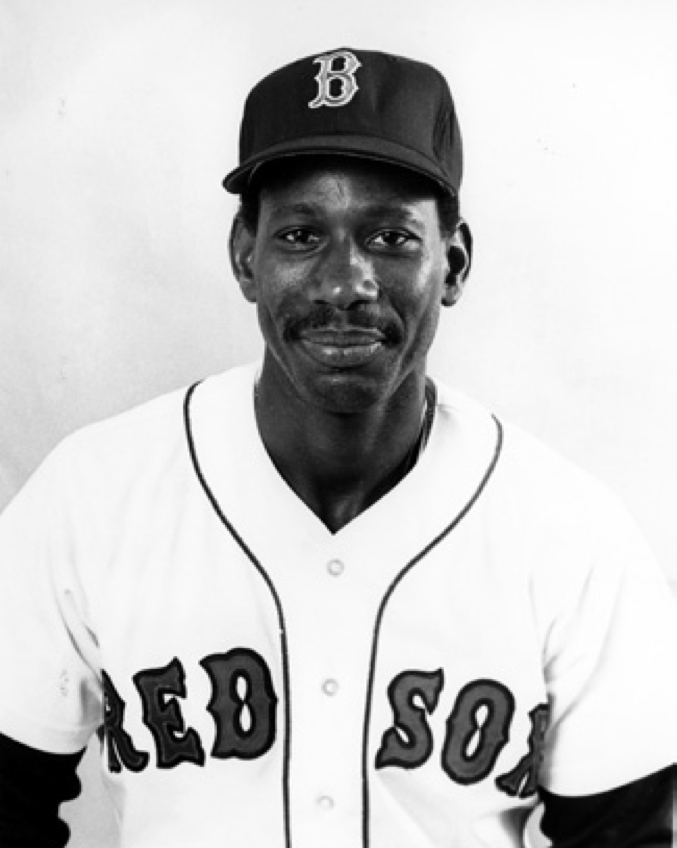 Over the years, the Red Sox have had players on their roster who were perhaps better known for the uniqueness of their name than for anything they did on the playing field.
You may recall Jennings Poindexter, Carmen Fanzone, Creighton Gubanich, Gar Finnvold, Izzy Alcantara, Win Remmerswaal, Osee Schrecongost, Hipolito Pichardo, and Arquimedez Pozo, to name a few.
You could add La Schelle Tarver to that list.
As a matter of fact, one night in Baltimore the P.A. announcer mistakenly introduced him as "Tarver La Schelle."
In a one-season major-league career that lasted only 13 games, Tarver was a .120 hitter (3-for-25), scoring three runs and driving in one during the summer of 1986 for the Red Sox. He did not produce an extra-base hit or steal a base although it was for his speed in the outfield and on the base paths that he was initially valued.
Tarver simply came on the scene at the wrong time — the Red Sox had proven veterans starting in their outfield that season.
Future Hall of Famer Jim Rice patrolled left field, Golden Glover Dwight Evans was in right, and former American League Player of the Year (The Sporting News, 1981) Tony Armas was their center fielder. In addition, Kevin Romine and Steve Lyons saw a good deal of reserve play that year before a late-season blockbuster deal brought playoff hero Dave Henderson on the scene.
La Schelle Tarver was born on January 30, 1959 in Modesto, California, the son of James Tarver and Mary L. Jackson. While he never met his father, he was the fourth of six sons born to his mother, who was a nurse. He noted that he was the baby of the family for 11 years before his two younger brothers, Rodney and Ken Jackson, were born. His older brothers were Paul, Anthony, and Tyrone Brice.
Shortly after La Schelle was born, the family moved to Madera, California, where he grew up.
Born with a weak heart, Tarver was not allowed to play any organized sports when he was real young, but by the time he was 10 years old his mother acquiesced.
"I was always crying, because my friends would play baseball and football. My older brother Paul played Little League baseball and I wanted to be just like him," said Tarver.1
He was allowed to sign up for Little League baseball in 1968, but showed up for practice without a baseball glove.
"One of the coaches gave me a glove and it was the old kind, three fingers, a web and thumb," he recalled. "All the kids laughed, but it worked."
He was picked for the team Duncan and Shine and admitted he was not very good at first, but "by the time I was 12 I was on every all-star team and was always MVP of my team."
When he was 13, the varsity coach at Madera High School, Stan Bledsoe, coached the Babe Ruth all-star team. Tarver was later named the most valuable player of the all-star tournament.
"Coach Bledsoe would become my role model on the baseball field from that time on and was my coach all through high school," Tarver said. "He was a baseball guru and took me under his wing and worked with me to be fundamentally sound on the field."        
The 5-foot-11, 165-pound outfielder, who batted and threw left-handed, was a Northern California All-American first baseman when he played at Madera High School. He was scouted by Fibber Harioma of the California Angels and after his 1977 high-school graduation was drafted by the Angels in the 42nd round of the major leagues' amateur draft. He opted instead to attend college.
Tarver played two years for Reedley (California) Junior College in 1978-79, then moved on to Cal State University-Sacramento in 1980.
"(Cal State) coach John Smith told me, 'I don't have a scholarship, but I have a big old pasture that you can roam out in center field,'" Tarver recalled. "He showed an interest in me, so I went there."
Cal State had produced several other major leaguers including infielder Mike Fischlin and pitcher Keith Brown.
"I never hit under .360 all through high school and college, and my speed was a big part of my game," Tarver said. "That was my separation from everybody else, I guess you could say."
After spending the summer of 1980 playing for the Humboldt Crabs in the Humboldt County baseball league for college players, Tarver was drafted by the New York Mets on August 18, 1980. He spent 1981 through 1985 in the Mets' minor-league system, where he hit .313 with 2 home runs, 174 RBIs, and 217 stolen bases in 599 games.
After a spring-training injury in 1981, Tarver spent his first minor-league season with the Shelby Mets of the South Atlantic League. The team also featured future major leaguers Lenny Dykstra, John Gibbons, Randy Milligan, and DeWayne Vaughn.
Tarver was the team MVP, leading Shelby in stolen bases with 57 while batting .314 and driving in 27 runs. He also played five games with the Lynchburg (Virginia) Mets of the Carolina League.
Tarver started the 1982 season with Lynchburg, where he was the one of the team's regular outfielders along with Herm Winningham and Milligan. Tarver hit .308 and stole 56 bases. He wound up the season with Double-A Jacksonville and Triple-A Tidewater.
"I started out (1982) in Lynchburg and was having a good season, and then there were injuries in certain places," Tarver said. "They didn't want to move some of their top draft picks like Darryl Strawberry and Billy Beane, so I guess I was doing well enough that they would send me up or down as they needed somebody."
Tarver made the jump full-time to the Double-A Jacksonville (Mississippi) Mets of the Texas League in 1983, joining an outfield that included Beane, Winningham, and John Christensen. There he batted .316 with 36 RBIs. At the end of the season he played in three games for Triple-A Tidewater Tides, managed by future Mets skipper Davey Johnson. That team featured several Mets players who would comprise the 1986 World Series championship team, including Wally Backman, Darryl Strawberry, Rick Anderson, and Ron Darling.
For the next two seasons, Tarver continued with Tidewater, batting .326 with 36 stolen bases in 1984 and .311 with 35 stolen bases in 1985. On November 13, 1985, the Mets sent Tarver, outfielder John Christensen, and pitchers Wes Gardner and Calvin Schiraldi to the Red Sox in exchange for pitchers Tom McCarthy, Bob Ojeda, and minor leaguers John Mitchell and Chris Bayer.
"I was playing winter ball in San Juan (Puerto Rico) and my agent at the time called me," Tarver recalled. "He said, 'I have some good news and some bad news.' He said, 'Well, you got traded,' so I asked what's the bad news was and he said, 'Well, it's not really bad news, you've been traded to the Red Sox.'"
Tarver looked it as an opportunity to perhaps play for a team that didn't put a lot of emphasis on speed, which had long been his calling card.
"When I got to Boston, speed wasn't something they were known for," he said, "but for me, it was just an opportunity to play and I felt I may have a chance. At the time, the Mets were stacked and they had Mookie Wilson in center, they had Dykstra coming up, they had Herm Winningham coming up, they had Terry Blocker coming up and all playing center field. So it was a good opportunity for me (in Boston) and I was excited."
In a rather auspicious debut in his first spring-training at-bat with the Red Sox, on March 7, 1986, against the Tigers, Tarver ended the game by lining into a triple play. It was reportedly the first triple play hit into by a Red Sox player in 21 years.2
With Mike Stenhouse and Mike Greenwell on first and second, respectively, with singles, Tarver pinch-hit for Mike Easler. His liner was caught by shortstop Doug Baker, who stepped on second to put Stenhouse out and threw out Greenwell before he could retreat to first.
Tarver began the 1986 season with Triple-A Pawtucket, spending time in the outfield with Boston prospects Mike Greenwell and Todd Benzinger.
"The Boston Herald and Globe sportswriters were always down in Pawtucket and they would come over and talk to me," Tarver said. "I was just tickled pink because with the Mets I never had anybody from the New York sportswriters come and talk to me. It was just amazing to me."
Boston Globe writer Sean O'Sullivan wrote on June 29, 1986, that "Tarver, currently Pawtucket's starting right fielder, is one of those 'other guys' involved in the eight-man deal, but he hasn't been just any other guy on the field."3
At the time, Tarver was leading the International League in batting with a .359 average. He was in the midst of a stretch where he had hit in 16 of his last 17 games, going 31-for-70 (.443). He was also tops on the team in stolen bases with 20, despite having missed the first three weeks of the season with a groin pull.
When center fielder Tony Armas pulled a thigh muscle and went on the 15-day disabled list in mid-July, the Red Sox purchased Tarver's contract from Pawtucket. He became the eighth player at that point to make the jump from Triple-A to the parent club in 1986.
"I had no idea what Fenway even looked like. So I got in my car in Pawtucket and drove up (Route) 95 to Boston," Tarver recalled. "I got a block away from Fenway out on Yawkey Way and looking for the park. I guess I was looking for a stadium like Dodger Stadium or Candlestick."
"I called the office asking where the park was and whoever answered the phone said, in their Boston accent, 'You see that brick building that looks like a warehouse? Well, that's Fenway Park, just come to that gate,'" Tarver continued, with a laugh. "It was a heck of an experience for my first time in Boston."
In his major-league debut, on July 12, Tarver struck out against California's Mike Witt in his first at-bat and was somewhat taken aback by the loud ovation he received while trotting back to the bench after being retired on a 2-and-2 pitch.
"Perhaps Tarver was cheered because the 32,932 Fenway faithful were trying to be polite — after all, it was his first major league appearance," wrote the Boston Globe's Michael Vega. "Or maybe it was the manner in which Tarver went down — he protected the plate and made Witt work for the out by tossing 11 pitches — that elicited the response."4
"I do remember an ovation, but you're just so tunneled in. I was disappointed I struck out, but I do remember it was a long at-bat," Tarver said. "What I also remember about Fenway and playing center field were the fans almost right on top of you. It was a warm welcome; they were really good to me."
The Red Sox embarked on a 13-game late-July Western road trip and Tarver played center field in his first three games. He didn't get his first hit until his third game, on July 19 in Seattle. He went 1-for-5, driving in a run and scoring a pair to help Roger Clemens to a 9-4 victory.
Armas rejoined the team on July 20 but was unable to come off the disabled list for another week. That evening Tarver picked up a hit in a 9-5 loss to Seattle and then had one more hit as the Red Sox fell in Oakland, 4-2, on July 22.
While the Red Sox were in Seattle, the Globe reported that trade talks were in the air but they apparently "fell apart after Seattle manager Dick Williams termed Boston's offer for outfielder Dave Henderson 'insulting.' The Red Sox were offering outfielder La Schelle Tarver and a minor league pitcher, probably Mike Brown."5
Once Armas returned to the lineup in early August, Tarver was sent back to Pawtucket, where he finished the season.
Henderson joined the Red Sox on August 19, 1986, along with shortstop Spike Owen, for pitcher Mike Trujillo and shortstop Rey Quiñones. Henderson became the regular center fielder for the stretch run and the playoffs. 
At the conclusion of the International League season, Tarver was called up along with pitchers Steve Crawford, Jeff Sellers, and Rob Woodward, first baseman Paul Dodson, and catcher Dave Sax as the rosters expanded for the end of the regular season.
In his first game back, on September 3, Tarver came on in the ninth inning in a game at Texas to pinch-run for Mike Greenwell. Spike Owen tried to move him to second on a bunt but struck out on three pitches. Rangers reliever Dale Mohorcic began working Wade Boggs low and away, but Boggs found a pitch to his liking and slashed it to the gap in left-center.
Tarver, off on the 3-and-2 pitch, never hesitated from first and came all the way around to score the eventual winning run in Boston's fifth straight victory.
"I was running with the pitch," Tarver told the Globe, "and I got a good jump. I was coming all the way after I saw the sign to go."6
For the remainder of the season, Tarver's role on the team seemed to be exclusively as either a pinch-runner or pinch-hitter, except in for a start in left field a September 30 loss to Baltimore, after Boston had clinched the American League East.
Tarver would not be with the team as it moved on to the playoffs, it had been announced on September 25 in the Boston Globe.
"Jeff Sellers, Rob Woodward, Dave Sax, La Schelle Tarver and Kevin Romine can participate in the clinch party, but none will be on Boston's postseason roster," it was noted.7
"They had set the roster and told us we weren't going to be part of the postseason," said Tarver. "I understood. and I wasn't surprised at that. But it would have been nice to play the Mets and all the players I came up with."
Tarver was named to the International League All-Star team in 1986, He hit .320 in 81 games with 19 doubles, 2 triples, 2 home runs, and 31 stolen bases.
When spring training in 1987 rolled around, Tarver was one of the young outfield candidates along with Benzinger, Greenwell, and Romine. However, the return of highly-touted Ellis Burks, who was coming back from shoulder surgery that caused him to miss the 1986 season, spelled the end for Tarver.
Early in the 1987 season at Pawtucket, Tarver made a sliding catch in left field and felt his right knee lock up. He had torn the cartilage in the knee. That game, his 13th of the season, was his last in Organized Baseball. "I had the surgery, but I didn't know it at the time it was a career-ending injury," he said. "No one told me at the time that there was a chance of me not playing again, but I never played another game after that."
Tarver began working with at-risk youth in poverty-stricken areas of Fresno, California, under a grant program for nearly a dozen years. He later went back to school for his business-administration degree and as of 2015 had worked for the sheriff's department for 15 years.
He returned to Boston for the 20th-anniversary reunion of the 1986 American League champions in 2006, and the 100th anniversary of Fenway Park in 2012.
As of 2015, Tarver had a 38-year-old daughter, Shontel Michelle Sumler, and four grandchildren, Kiah 18, Amira 17, Zarria 7, and newborn Suraya Sumler.
He was married for the first time on May 3, 2014. While he and his wife, Debra, were engaged, in 2012, she accompanied him to Boston for the Fenway Park 100th-anniversary celebration.
"It was great to see Fenway once again and share that experience with my daughter and wife," said Tarver. "Boston always does everything first-rate, the ownership and the people are just tremendous how they treat you when you do come back."
Notes
1 All quotations from La Schelle Tarver come from interviews with the author on January 29 and February 5, 2015.
2 Boston Globe, March 8, 1986.
3 Boston Globe, June 29, 1986.
4 Boston Globe, July 13, 1986.
5 Boston Globe, July 22, 1986.
6 Boston Globe, September 4, 1986.
7 Boston Globe, September 25, 1986.
Born
January 30, 1959 at Modesto, CA (USA)
If you can help us improve this player's biography, contact us.
http://sabr.org/sites/default/files/LaSchelle%20Tarver.png
600
800
admin
/wp-content/uploads/2020/02/sabr_logo.png
admin
2012-01-04 20:38:55
2021-02-18 06:59:30
La Schelle Tarver