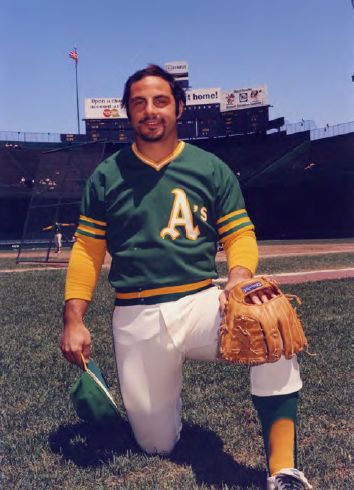 ---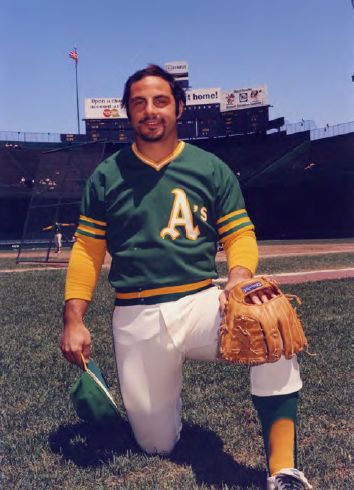 Team captain Sal Bando was the glue that held the volatile Oakland A's together during their three-year run as World Series champions (1972-1974). Respected by teammates, peers, and his managers, Bando was Oakland's unequivocal leader, a durable, rough-and-tumble third baseman who averaged 23 home runs and 90 runs batted in over an eight-year span in an offensively depressed era (1969-1976). Often overlooked while playing in the shadows of teammate Reggie Jackson and arguably the best third baseman in big-league history, Brooks Robinson, the four-time All-Star Bando finished second, third, and fourth in the AL Most Valuable Player voting from 1971 to 1974, and clouted 242 home runs in his 16-year big-league career (1966-1981)
Salvatore Leonard Bando was born on February 13, 1944, in Cleveland. His parents were both athletic; Ben Bando, a self-employed carpenter, was an accomplished infielder in slow- and fast-pitch softball leagues. Mother Angela Bando, a homemaker and admitted tomboy, played softball and basketball. Sal and his younger siblings, Victoria and future big-league catcher Chris, grew up in middle-class Warrensville Heights, located about 16 miles southeast of Cleveland. Sal was an athletic youngster whose parents encouraged him to pursue his passions. "As soon as Sal was old enough to throw a ball," said father Ben. "He'd say, 'C'mon, dad, let's play catch.' I didn't teach him. I just played with him and let him do what came naturally."1 Sal was a star athlete at Warrensville Heights High School, where he was an All-City quarterback with aspirations of playing in the Big Ten Conference; he also played shortstop in baseball and forward in basketball, and ran track. During the summer Sal played baseball in the Connie Mack League, where he came under the tutelage of Rick Leskovec, a math instructor at Arizona State University and coach of the Go team. Lescovec moved Bando to third base and later recommended him to ASU head baseball coach Bobby Winkles who offered Bando a scholarship upon graduation in 1962.
Bando's two-year baseball career at Arizona State signaled even greater things to come. As a sophomore in 1964 the strong-armed third baseman batted .347 and led the Sun Devils to the Western Athletic Conference Championship and the institution's first berth in the College World Series. In 1965 the right-hander hit at a .317 clip, was named all-conference, and helped lead a talent-heavy team (nine players were drafted by the big leagues) to the WAC title and College World Series Championship. He batted .480 (12-for-25) with nine runs batted in the CWS and was named the tournament's most outstanding player. (Bando was inducted into the College Baseball Hall of Fame in 2013.) The Kansas City Athletics drafted Bando in the sixth round in the inaugural major-league draft. He was signed by Athletics scout Henry Peters and received a reported $35,000 bonus.2
Bando progressed quickly through the Athletics farm system. In 1965 he was assigned to the Burlington (Iowa) Bees in the Class A Midwest League. In a half-season with the team, he was named to the league's all-star team and batted .262. Bando was a nonroster invitee at the A's spring training in 1966, but was among those cut early, and assigned to Mobile of the Double-A Southern League. The A's praised Bando for his "truly spectacular arm" at third base, but were also concerned about his hitting.3 A spray hitter in college with little power, Bando improved his average to .277 at Mobile and showed some pop in his bat with 12 home runs. With the A's en route to their 14th consecutive losing season, Bando was a September call-up, and went 0-for-3 against Jim Lonborg in a 7-0 loss to the Boston Red Sox in his major-league debut on September 3 at Kansas City's Municipal Stadium. As a pinch-hitter, Bando collected his first hit (a single) off Clyde Wright of the California Angels on September 7. It was clear that Bando was the club's third baseman of the future; the question was when the future began.
After another abbreviated spring training, Bando was assigned to the Vancouver Mounties of the Triple-A Pacific Coast League. On May 10 the A's traded third baseman Ed Charles (who had occupied the hot corner since 1962), paving the way for Bando. Sal impressed with his defense, but struggled at the plate, hitting only .143 (9-for-63) in four weeks, and was sent back to Vancouver to iron out his hitting woes. "That was the first blow I'd ever had in baseball," recalled Bando. "I was hurt that they thought I couldn't play in the majors."4 A's manager Al Dark had instructed Bando to crouch in his batting stance, but Mounties manager Mickey Vernon suggested that the 24-year-old take a more natural approach and stand straighter to help extend his arms and open up his swing.5 Responding to Vernon's mentorship, Bando batted. 291 and showed a discerning eye at the plate (.392 on-base percentage). He was named to the PCL All-Star second team and voted best defensive third baseman in a poll of league managers. Bando earned another September call-up and batted a more respectable. 239 (16-for-67), and finished with a .192 average and only five extra-base hits (no home runs) in 130 at-bats for both his stints in the majors. In preparation of a full season at third base, Bando was sent to Arecibo in the Puerto Rican winter league, where he was among the league's hottest hitters, batting well over .300.
The A's 13-year experiment in Kansas City came to a conclusion with the club's move to Oakland in 1968. Excitement was palpable during spring training when "slugging sensation" Bando surprisingly walloped ten home runs.6 "Tabbed for greatness" (in the words of The Sporting News), Bando launched his first big-league home run in the second game of the season (a two-run shot off Phil Ortega in a 9-6 win over the Washington Senators), but didn't hit another one until the 30th game. In the "Year of the Pitcher," when AL batters hit a composite .230, Bando finished the season with a solid .251 batting average and nine home runs, and was second on the team with 67 runs batted in. More importantly, the A's notched their first winning season since 1952.
Bando's first full season revealed his durability (he played in 162 games) and aggressive, hard-nosed defensive play, which invited comparisons to the best third-sacker in the game. "He's got his body moving forward," said Bando of the difference between him and the Baltimore Orioles' Brooks Robinson. "He keeps his hands up. I keep mine down. My glove's webbing is touching the ground because I can bring my hands up [easier] instead of down."7 Often described as stocky, the 6-foot-tall, 200-pound Bando may not have appeared as lithe and graceful as Robinson, and did not cover as much ground, but he made up for it with his quick release and hard throw to second and first base; and the ball typically had a low trajectory. "Bando has such a strong arm," raved A's beat reporter Ron Bergman writing for The Sporting News, "that he can run down the ball after taking it in the chest and get the runner out."8 Although he never won a Gold Glove, Bando annually ranked in the top five in putouts, assists, and double plays.
Bando took full advantage of Major League Baseball's decision to lower the pitching mound to ten inches in 1969 in an effort to stimulate offense by belting five home runs and driving in 17 runs in 19 games in April, including his career day at the plate (3-for-4 with two home runs, seven knocked in). Bando credited Joe DiMaggio (an A's executive vice president and occasional bench coach in 1968 and 1969) for his improvement. Bando had a wide stance with his right foot placed at the back of the batter's box; the Yankee Clipper suggested that he close his stance and keep his head down to generate more power.9 The results were immediate: by the All-Star break Bando had 18 home runs and 64 RBIs.
In what was described as the "biggest upset of the American League players' voting," Bando's peers chose him over Robinson to start the Midsummer Classic in Washington.10 In the AL's 9-3 loss, Bando smacked a single off Bob Gibson for his only hit in three at-bats. Bando slumped after the All-Star Game, but enjoyed the most productive month in his career in September (9 HRs and 29 RBIs in 30 games) to set career highs in home runs (31), runs batted in (113), hits (171), and runs (106). He also played in every inning of every game.
Pressure and increasingly high expectations came with the A's new-found success. Manager Hank Bauer named Bando team captain in May 1969 to help the young team forge an identity, and he held the title throughout his tenure with the A's. "[Bando] has capabilities of being a leader out there on the field," said Bauer. "He deserves the job on the basis of baseball instinct and knowledge."11 Just 25 years old, Bando got along with his teammates well, had earned their respect for his hustle and willingness to play through injuries, and put winning above personal statistics and fame, but was not a rah-rah type. "I was a leader by example not by talking," said Bando later in his career. "You don't tell a (Reggie) Jackson, a (Jim) Hunter, or a (Joe) Rudi what to do. You lead by example, by giving 100 percent, by giving a continuous effort. A successful individual is one who is dedicated, on and off the field."12
With their fourth different Opening Day manager in four years, the A's began the 1970 season edgy after Bando's harsh contract negotiations with owner Charlie Finley and Reggie Jackson's holdout. The poor start under John McNamara made clubhouse tensions even worse. Bando was the team's hottest hitter through the All-Star break, almost replicating his numbers from the previous year (17 HRs and 56 RBIs), but the team languished in third place, 9½ games behind the Minnesota Twins. For the first time since 1957 fans voted for the position players at the All-Star Game. Bando was neither selected nor named by the coaching staff as a substitute. His "lack of recognition," suggested The Sporting News, was a product of playing in Oakland and not in a traditional bastion of baseball.13 Despite Bando's horrendous second half (just three home runs and 19 runs batted in 75 games), the A's finished in second place.
The A's had played sloppy, uninspired ball under McNamara; consequently, it was no surprise that he was replaced at the end of the season. The choice of his successor raised eyebrows and hopes: Dick Williams, who had transformed the hapless Boston Red Sox into the AL pennant winners in 1967. "We need a guy to kick us in the rear every now and then," said Bando. "[Mac] said he just wasn't the type to jump all over guys and we liked that. We knew if we made a mistake, it wouldn't be too bad. But we didn't learn from our mistakes; we didn't take them seriously. I think that hurt us as the season wore on."14 Williams arrived with a reputation as a tough-as-nails disciplinarian; players hoped he would stand up to Finley and his constant meddling.
In 1971 the A's captured their first of five consecutive AL West crowns behind a nucleus of players who came up through the team's farm system: Bando, Bert Campaneris, Joe Rudi, and Jackson, and pitchers Catfish Hunter, Vida Blue, and Rollie Fingers. Avoiding the Jekyll-and-Hyde act of the previous year, Bando had a consistent if not spectacular year, clouting 24 home runs and leading the team with 94 runs batted in. He finished second in MVP voting, behind teammate Blue. In their first postseason series since the franchise's World Series loss in 1931 when they were still located in Philadelphia, the A's lost three consecutive games to the Orioles in the ALCS. Bando was one of Oakland's lone highlights, going 4-for-11 with a home run off Jim Palmer in Game Three, and scored three of the club's seven runs.
Dick Williams and Bando developed a mutual trust and respect during the manager's tumultuous three-year tenure (1971-1973) with the team. Bando often claimed that the A's could win without the star players (Jackson, Hunter, and Blue), but not without Williams, who struck a visceral chord with the players. His intensity for winning, fundamentally sound baseball, and a team-first attitude matched Bando's. In his autobiography, No More Mr. Nice Guy, Williams wrote, "[Bando was] the only player I ever socialized with. I'd invite him to my hotel suite after games or during an offday, and we'd just talk baseball. The rest of the team saw this and figured I must be all right."15
Player salaries and pensions dominated offseason discussion and led to the first major-league-wide players strike in baseball history in 1972, the cancellation of 86 games, and a 13-day delay for Opening Day. While the A's got off to a torrid start, Bando unexpectedly struggled offensively for most of the season, reaching bottom over a 25-game stretch in late August through mid-September when he hit just .141 (11-for-78); however, Williams considered Bando's value to the team more than just with the bat and refused to bench him. "We can't afford not to play Sal," said Williams, whose team was in a fierce division race with the upstart Chicago White Sox in September.16 Bando finished with 15 home runs and led the team with 77 runs batted in, but his batting average dipped to .236.
The A's defeated the Detroit Tigers in five games in the ALCS to set the stage for a World Series of polar opposites, dubbed the "Hairs vs. the Squares." The outsized personalities of the "Swinging A's" shunned baseball tradition by proudly sporting mustaches and beards ("We got a $300 bonus for growing a mustache," said Bando)17 and faced the more traditional, clean-shaven, staid, and favorite Cincinnati Reds. The A's overcame the absence of Jackson (who injured his hamstring in the ALCS) with the slugging of Gene Tenace (four HRs) and pitching brilliance. Bando (7-for-26 in the series) knocked in only one run, but it gave the A's their third and final run in their 3-1 Game Seven victory.
Bando was an outspoken critic of Finley's constant meddling in players' matters and lives, the lack of a television contract to broadcast A's games in the Bay area, and general fan apathy. "In another town, someplace back East, we might be heroes," said Bando in May 1973. "Here we're not even something special."18 The A's ranked eighth and 11th (among 12 AL teams) in attendance in 1973 and 1974 despite the championships while the Coliseum was derided as the "mausoleum" for its mortuary-like atmosphere. "The Oakland Coliseum is the worst park in baseball," Bando said. "The weather is terrible, there's too much room beyond the foul lines, the ball doesn't travel well, the players lack good parking facilities, and the security for our families and ourselves is poor."19
The A's encountered a difficult adversary in the Kansas City Royals en route to their third consecutive AL West crown in 1973. They fell into second early in August, but the team's sluggers and three 20-game winners (Ken Holtzman, Hunter, and Blue) proved too much for the inexperienced Royals. Bando was at his best during the last month of the season, batting .390 (39-for-100), scoring 26 times, and driving in 29 runs in 29 games. For the third of four times in his career, Bando led the league in games played (162), and also belted 29 home runs, knocked in 98 runs, and batted .287 to finish fourth in MVP voting. Bando socked two home runs and drove in three in Game Two of the ALCS against the Baltimore Orioles, but was otherwise quiet with the bat (3-for-18) in Oakland's five-game victory.
The A's exciting, yet emotionally draining World Series triumph over the New York Mets in seven games was overshadowed by Finley's stifling control culminating with his attempt to have second baseman Mike Andrews declared medically unfit to play after he committed two costly errors in Oakland's loss in Game Two, at home. Even before that incident Dick Williams informed the team of his plan to resign at the end of the season. Upon the team's arrival in Game Three at Shea Stadium, Bando led an open revolt against Finley by suggesting that the team wear black armbands in Andrews' honor. As the brouhaha escalated, Commissioner Bowie Kuhn intervened and denied Finley's request to replace Andrews with Manny Trillo. "It's been a long season," said a depressed and mentally exhausted Bando after the A's lost two of three in New York. "Guys are looking forward for it to end."20 The A's rode on the back of regular season and Series MVP Reggie Jackson to win Games Six and Seven and capture the title.
Bando's offseason was marred by rumors of his impending trade and a bitter salary dispute ultimately settled by an arbitrator. "As the success of the team developed," Bando said years later, "[Finley] became more difficult to deal with. He became an adversary of the players."21 Reports that Bando would succeed Williams as manager incensed Finley, who named former A's skipper Al Dark to pilot the team. Bando (and many teammates) were displeased with the choice, especially in light of Williams's success and support of the players. Dark was seen as a company man, much like McNamara. Bando's displeasure with Dark came to a head on June 19 when he said. "Dark couldn't manage a flipping meat market" with his skipper standing behind him.22 They ultimately reconciled their relationship, and Bando accepted and respected Dark's new-found sedate approach.23
While internal struggles threatened to consume the team, the A's cruised to yet another AL West crown. "On a team in which trouble bubbles like a live volcano" wrote A's beat writer Ron Bergman, "Bando, more than anyone else, keeps teammates relaxed and thinking about baseball."24 Bando led the team with 103 runs batted in and belted 22 home runs. He was named to the All-Star Game for the third consecutive year, but did not play due to a foot injury. The star of the ALCS against the Orioles, Bando hit a home run off Jim Palmer in Game Three that accounted for the only run in a 1-0 victory; and he scored both of Oakland's two runs in the deciding Game Four victory. The A's defeated the prohibitive favorite Los Angeles Dodgers in five games in the World Series, but Bando's bat was silent (1-for-16) though he scored a team-high three runs and drove in two. Bando was one of 13 A's players who participated on all three championship teams.25
Bando's relationship with Finley hit its nadir in the offseason when he filed for arbitration seeking a salary increase to $125,000. "[Bando is] a popoff and one of the worst fielding third baseman in baseball," said Finley, taking his fight with Bando public."26 After winning the arbitration hearing, Finley triumphantly announced, "There are too many players in baseball who want unjustified, astronomical salaries. It is my obligation to … stop these shenanigans."27 Dark guided the A's to their fifth consecutive AL crown, but Bando struggled all season at the plate. Batting just .198 with a month left on the season, Bando hit .354 in his final 29 games with 29 runs batted in to salvage his year. The A's dynasty ended at the hands of the Boston Red Sox, who swept them in the best-of-five ALCS.
In his final season in Oakland, Bando was one of seven players (the others were Blue, Rudi, Don Baylor, Campanaris, Tenace, and Fingers) who refused to sign a contract in order to be declared free agents at the end of the season. Finley summarily cut their salary by the maximum 20 percent allowed, and declared his willingness to sell any of his unsigned players for one million dollars.28 Tempers came to a boil after Bowie Kuhn voided Finley's sale of Rudi and Fingers to Boston and Blue to the Yankees at the June 15 trading deadline. Finley subsequently filed a lawsuit against Kuhn and refused to permit new skipper Chuck Tanner to play the three. "We went about ten days in June without them," said Bando. "Finally I had to tell [Finley] that we were striking if he didn't start using them. Marvin Miller (then executive director of the Players Association) called me and said, 'Don't walk out.' But still we voted to walk out just before a game against Minnesota [on June 27] and were ready to forfeit it."29 Sensing the gravity of the players' threat, Finley acquiesced. Bando rebounded in 1976 to belt a team-high 27 home runs (second most in the AL) and knocked in 84 runs, but the A's finished in second place.
Bando's "value to the team transcends what he does on the field," wrote Ron Bergman of the Oakland Tribune.30 In an offensively depressed era, Bando was extremely durable, averaging 156 games played, 23 home runs, and 90 runs batted in for the A's from 1969 through 1976. Though he batted just .257, his on-base percentage (a statistic not as valued at the time) was .366. Advanced sabermetric statistical analysis may help shed light on just how valuable Bando was. In a five-year period (1969-1973), Bando's WAR (33.6) was the highest in all of baseball, besting Joe Morgan, Johnny Bench, Reggie Jackson, and Pete Rose.31
Bando was granted free agency at the end of the 1976 season and signed a five-year contract worth a reported $1.5 million with the Milwaukee Brewers. Team president Bud Selig saw Bando as a veteran leader who could serve as a mentor to the young players and in the words of Milwaukee Sentinel writer Lou Chapman end the "loser image" of the team.32 After a sixth-place finish in Bando's first season, the Brewers slugged their way to 93 wins in 1978 for the first of a franchise-record six consecutive winning seasons.
Bando contributed with 17 home runs and about 80 runs batted in each of his first two seasons while playing in excess of 150 games each year. After playing in 130 games and hitting just nine home runs in 1979, Bando was named player-coach for his last two seasons (1980 and 1981) while still occasionally playing third base and serving as designated hitter, but batted just .197 and .200 respectively. Bando enjoyed a last hurrah of sorts when the Brewers faced the New York Yankees in the 1981 League Division Series following the strike-shortened season. Starting at third base in all five games, Bando went 5-for-17 with three doubles in the team's first-ever postseason appearance. He declined an invitation to return to the team in 1982 and concluded his 16-year big-league career with 242 home runs, 1,039 RBIs, and a .254 batting average in 2,019 games. In 44 postseason games he hit .245 (39-for-159) with five round-trippers and 13 runs batted in.
Bando was well-prepared to transition to life after his playing days were over. A constant source of support and grounding was his wife, the former Sandy Fortunato, a New Jersey resident he met while playing in the Puerto Rican winter league, and married in 1969. They had three sons, Sal Jr., Sonny, and Stefano. During his playing days, Sal had invested shrewdly, lived within his means, and regularly had offseason jobs, most notably as a sports radio host and in banking. In retirement he founded a successful investment company with former Milwaukee Bucks player Jon McGlocklin.
Financially secure, Bando served as special assistant to Brewers GM Harry Dalton from 1982 to 1991. It was a part-time position that allowed Bando to maintain his close ties to baseball and remain living in the Milwaukee area, where he had established firm roots. His primary responsibilities were to serve as a liaison between players and management, periodically visit minor-league affiliates, and offer insights about players and teams.
Bando was named the Brewers GM in October 1991 and served in that position until August 1999. During his eight years as GM, the team had only one winning season (1992). Operating in the smallest market in baseball, Bando and the Brewers struggled to field competitive teams as salaries skyrocketed throughout the decade, especially before Major League Baseball instituted revenue sharing in 1996 to stimulate competiveness. In a public-relations nightmare evoking memories of Charley Finley, Bando allowed fan favorite Paul Molitor to depart via free agency after the 1992 season. Robin Yount retired the following season leaving a void in team leadership. Dale Hoffmann of the Milwaukee Journal-Sentinel wrote, "When mediocrity becomes not so much a goal, as a dream, it takes more than a stern lecture from a new voice to correct the problem."33 Bando was replaced by Dean Taylor, but the Brewers waited eight more years before their next winning season, in 2007.
As of 2013 Bando lived with his wife in the Milwaukee and Phoenix areas. He was the CEO of Middletown Doll Company, which had a host of investment businesses associated with it. Though he no longer had formal ties to any professional baseball team, the 69-year old Bando remained close to the game as a fan.
Bando died on January 20, 2023 at his home in Oconomowoc, Wisconsin, after a battle with cancer. He was 78 years old. 
Sources
Newspapers
Chicago Tribune
Cleveland Plain Dealer
Milwaukee Journal
Milwaukee Sentinel
Milwaukee Journal-Sentinel
New York Times
Oakland Tribune
The Sporting News
Radio Interviews
With John Lund and Greg Papa on July 15, 2013, for 95.7 FM (San Francisco): media.957thegame.com/a/78170288/sal-bando-looks-back-on-his-time-with-the-a-s-in-the-70s.htm
With Jimmy Scott for Jimmy Scott's High and Tight: http://www.jimmyscottshighandtight.com/node/118
With Thetford and Ashby for 104.3 FM (Lubbock, Texas): doublet1043.com/content/thetfordashby/story/Sportstalk-Interview-Sal-Bando/KGBGqfQsP0C_Vf3DwcI5Qg.cspx
Other
Sal Bando player file, National Baseball Hall of Fame, Cooperstown, New York
Notes
1 Hal Lebovitz, "Hal asks: What's behind a big leaguer?," The Plain Dealer (Cleveland), April 4, 1982, [no page]. Player's Hall of Fame file.
2 Ed Leavitt, "The Year of the Mule," Oakland Tribune, August 30, 1971, 58.
3 The Sporting News, September 24, 1966, 16.
4 The Sporting News, March 30, 1968, 6.
5 Ibid.
6 The Sporting News, April 13, 1968, 44.
7 The Sporting News, July 27, 1968, 5
8 The Sporting News, July 27, 1968, 5.
9 The Sporting News, June 14, 1969, 4.
10 Ron Bergman, "Stars Will Gaze at Reggie, Sal," Oakland Tribune, July 10, 1969, 37.
11 "Capt. Bando Takes Duty in Stride," Oakland Tribune, June 1, 1969, 3C.
12 "Bando. Looking Forward to '78 Season Following Hectic First Year With Club," Brewers Scorebook, 1978, 11.
13 The Sporting News, July 11, 1970, 19.
14 The Sporting News, December 12, 1970, 56.
15 Dick Williams, No More Mr. Nice Guy quoted from Bill James, The New Bill James Historical Baseball Abstract (New York: Free Press, 2001), 548.
16 The Sporting News, September 23, 1972, 7.
17 The Sporting News, February 24, 1973, 41.
18 The Sporting News, May 26, 1973, 20.
19 Ibid.
20 Ron Bergman, "Depressed A's Face Met 'Believers,'," Oakland Tribune, October 10, 1973, 13E.
21 Interview with Jimmy Scott for Jimmy Scott's High and Tight. jimmyscottshighandtight.com/node/118.
22 Ron Bergman, "Sal Says Dick Can't Manage," Oakland Tribune, June 20, 1974, E37.
23 Dark was a hot-headed manager with the A's in the late 1960s; however, when he returned to the club in 1974 his personality had changed radically. A self-described born-again Christian, Dark was no longer the screaming, tantrum-throwing firebrand. He openly talked about Christianity. Bando credited Dark with leading him to his religious awakening (Sal Bando, "The Big Slump," Guideposts, July 1980).
24 The Sporting News, May 18, 1974, 23.
25 The 13 players who were on all three World Series teams are Sal Bando, Vida Blue, Bert Campaneris, Rollie Fingers, Dick Green, Ken Holtzman, Catfish Hunter, Reggie Jackson, Darold Knowles, Angel Mangual, Blue Moon Odom, Joe Rudi, and Gene Tenace; Knowles did not pitch in the 1972 or 1974 World Series, and Jackson did not play in the 1972 World Series.
26 "Bando is Worst Fielding 3rd Baseman in Baseball," (Associated Press) Sarasota Herald-Times, February 17, 1975, 2-C.
27 "Charley's Happy to Beat the Band-o," (Associated Press), Binghamton (New York) Press, February 20, 1975, 9-B.
28 The Sporting News, July 3, 1976, 8.
29 Sid Bordman, "Sal Bando says A's glory days should have been even better," Kansas City Star [no date]. Player's Hall of fame file.
30 The Sporting News, September 14, 1974, 21.
31 Wins Above Replacement, an advanced sabermetric statistic, presents, in the form of a single number, the number of wins the player added to the team above what a replacement player (e.g., Triple-A player) would add.
32 The Sporting News, March 5, 1977, 20.
33 Dale Hofmann, "Hold the door open for Bando," Milwaukee Journal-Sentinel, August 12, 1999 [no page]. Player's Hall of Fame file.
Born
February 13, 1944 at Cleveland, OH (USA)
Died
January 20, 2023 at Oconomowoc, WI (US)
If you can help us improve this player's biography, contact us.
http://sabr.org/sites/default/files/SalBando.JPG
600
800
admin
/wp-content/uploads/2020/02/sabr_logo.png
admin
2012-01-04 20:49:07
2023-11-20 14:00:40
Sal Bando