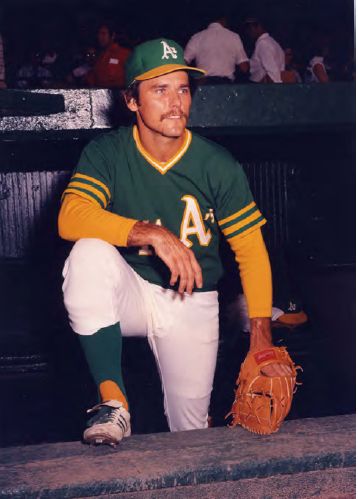 ---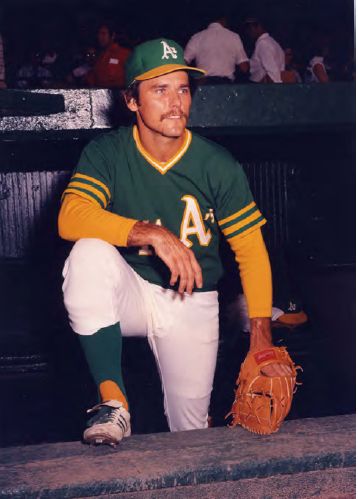 "Being a utility player wasn't a pleasant way to spend your time in the major leagues," said Ted Kubiak in 1987. "But it was a living."1 Twenty years later, he said, "There's no doubt in my mind that my ten-year major-league career was because of my defensive ability."2 In 2011 he expanded further. "It took quite a while for me to be comfortable with the role and I don't think I ever really did. I hit enough to keep a job but it was my glove that made my career."
The infielder hit a mild .231 with just 13 homers from 1967 to 1976. Even so, he made a useful contribution to the Oakland A's dynasty that won three straight World Series from 1972 through 1974. The highest praise came from a former teammate in Oakland. In 1980 Tony La Russa said, "I always thought Kubiak was the most valuable player on that team because he could fill in for Dick Green at second or Campy Campaneris at short or Sal Bando at third and the team would go on winning."3
Starting in 1989, Kubiak began molding young players as a minor-league manager and instructor. "When I quit [in 1977], I wasn't interested in staying in the game," he said in 2011.  "I'd had enough of the contractual battle in San Diego and having my salary cut the full 20 percent after being told I'd done a great job for them was the last straw. When they refused to even talk to me about it, that was all I needed to end it. I was 34 years old, wasn't happy with how I was playing and was struggling with being able to keep my abilities sharp, something that used to be so easy for me. But after being away from the game for 12 years I decided it was still something I loved. I made a couple of phone calls and was hired by my old Oakland club. It was a good decision because I enjoy managing and working with and developing the young players."
Theodore Rodger Kubiak was born on May 12, 1942, in New Brunswick, New Jersey. His family lived in nearby Highland Park, a small borough that provided a great place in which to grow up.4 "I don't know how old I was when I would play catch with my dad when he got home from work, but at the age of 7 I was invited to play on an unofficial Little League team in Highland Park." Growing up an hour from New York, he was a fan of the Yankees. In 2011 he said, "Even with the Dodgers and Giants in New York, the Yankees got all the media coverage, plus they won the World Series every year, so I naturally gravitated to them and Mantle in particular. He was an amazing player and though I got to know a little of his personal life, reading the latest biography of him revealed just how hard it was for him to play the game every day because of his leg problems. That made everything he accomplished so much more amazing. It was eventually incredible to play against him in the major leagues."
"I was on our high-school basketball team but didn't play much. As a shortstop at Highland Park High, I didn't think I was anything special, just one of the guys, trying to do the best I could. Somehow I hurt my back as a junior and had a terrible year, but my senior year saw me chosen as the MVP of the team. When my name was called for that honor in our school assembly, I was shocked and the cheers from the audience a complete surprise."
Kubiak was invited to a tryout camp by the Kansas City Athletics while playing in a tournament game his final year. While on the bench between innings, he was tapped on the shoulder and turned around to face Ray Sanders, a Kansas City scout, who issued the invitation. He was shocked and couldn't believe what he'd just heard. Sanders worked with scout Tom "T-Bone" Giordano, who played 11 games in the majors for the Athletics in 1953, when they were still in Philadelphia. "Tom was active with the Indians organization at the same time I was and I still keep in touch with him." After his pro career ended, Tom was a high-school teacher in Copiague (Long Island), New York, but baseball proved to be his enduring livelihood. Fifty years after he signed Kubiak, Giordano was still active, in the Texas Rangers organization.
"I would have signed for nothing, but when I hesitated Tom offered a modest bonus of $500. I was going to Pratt Institute to become an architect but with Instructional League and winter ball, I never did get back, which I regret." Even without a college degree, though, this man's flair for language was apparent. He embarked on a book about his life in baseball, its changes over his 40-plus years in the game, and its effect on him as a person and a man. The format of the book centers on the 300-page infield manual he developed for the Cleveland organization when he was their defensive coordinator for five years.
Kubiak's apprenticeship in the minors lasted six seasons. While with the Sarasota Sun Sox, he made the Florida State League All-Star team during his first year, leading the league in putouts, assists, chances accepted, and double plays. His batting was solid enough too at .253, and though he did not hit any home runs, he had 53 RBIs. He went to spring training with the Athletics in 1962, which was quite a thrill, and jumped to Binghamton in the Double-A Eastern League.
Against the higher competition, the young pro's batting slipped to .203. "Kansas City jumped me three levels in 1962 and I was way over my head. At the end of the season I began switch-hitting, hoping to lessen the effect of the breaking ball, and it was a good decision. In 1963 they sent me to Lewiston, where I hit .295. Switch-hitting complemented my glove work enough to help me stay in the major leagues for ten years."
Kubiak was a Northwest League All-Star in 1963, but he was still developing. During each of his first three years, he made more than 40 errors at short. In a 2007 interview with David Laurila of Baseball Prospectus, Kubiak said, "I received one suggestion — the smallest amount of instruction — in my first spring training, and after that, everything I learned, I taught myself. In order to make myself into a good defensive player, I had to dissect what I was doing and make changes on my own. I had to determine how to maximize my talents while judging what my talents were."5 He did so successfully, cutting his errors down to the high 20s from 1964 through 1966.
He also showed just enough with the bat to keep advancing. The 1964 season was another step back (.214 in 105 games in the Texas League and .171 in 16 games in the Pacific Coast League). But he stepped forward in 1965 (.281/7/38 with Birmingham in the Southern League) and held his own when he returned to Triple-A in 1966 (.260/2/38 with Vancouver). He was one of four PCL players to appear in every one of his team's games that year. Vancouver manager Mickey Vernon said, "He is an excellent competitor. He has great hustle and is a major league shortstop all the way. I think he can hit quite well in the majors."6  
In the spring of 1967 Kubiak made the Kansas City roster, and he never appeared in another minor-league game. He played sparingly (hitting just .157 in 117 plate appearances in 53 games) behind Bert Campaneris at shortstop and John Donaldson at second base. Occasionally he filled in at third, where Sal Bando was trying to unseat Danny Cater. "When I got to the majors I had to learn how to play second and third base," Kubiak said in 1987. "A more important thing I had to learn was how to sit on the bench and keep myself mentally prepared to come into a game if I was needed. That was something to which I really had to adjust." 7
The following winter Ted went back to the Dominican Republic. It was his third taste of winter ball; he had played 14 games in Venezuela for Tigres de Aragua in 1965-66 and was with the Dominican club Estrellas Orientales in 1966-67. "In Venezuela, I dislocated my thumb tagging a runner in a rundown," Kubiak recalled in 2011. "So I was only there about a month. The Venezuelan and Dominican Leagues are very good — the competition is on a major-league level. I was a rookie just trying to get along and did well enough to get invited back, which tells you something."
The return to San Pedro de Macorís, cradle of shortstops, was very satisfying. Estrellas won the league championship in 1967-68. The team's biggest local star was Rico Carty. The pitching staff was led by Cuban Mike Cuéllar — who faced just 28 men as he threw a one-hitter in Game Six of the finals versus Escogido — and Larry Dierker.8
"The Dominican was great," said Kubiak. "The people down there are great. I've gone back in recent years for work. The league has blown up so much, although there is still the poverty. But the people are still as nice and friendly as can be. One of my good friends now is Minnie Mendoza, who also works for Cleveland and was the third baseman on our Estrellas team. We gloat over the team never having won again for the past 40 years."
Kubiak continued in his reserve role for the A's, who had moved to Oakland, during 1968. Campaneris remained a fixture at short — he held the position for 12 straight years with the A's — but for three games in April, manager Bob Kennedy experimented with the Cuban in left field because he wanted to get Kubiak in the lineup. Campy hated the change, though, and was soon back at his familiar spot. Kubiak was often the subject of trade talks. That year the Baltimore Orioles were interested in acquiring him because they were worried that Mark Belanger's unit might be called into service in Vietnam. Ted himself was serving in the National Guard, which he had joined in 1967.9
A natural shortstop, Kubiak didn't play second base until he got to the big leagues. "Everything was backwards at second base, and it took time to separate the two positions, but second base was so much easier." One rival pitcher said, "Ted Kubiak is the best shortstop OR second baseman in either league."10 In 1969, however, smooth-fielding Dick Green reclaimed his natural second-base position. Kubiak's starting opportunities typically came when either Campaneris or Green was injured. His hitting had picked up to .250 in 1968 and remained at .249 in '69. On June 22, 1969, he hit his first big-league homer, off Minnesota's Jim Kaat.
On December 7, 1969, Oakland traded Kubiak and pitcher George Lauzerique to the Seattle Pilots for Ray Oyler and Diego Seguí. "I knew when I was traded from Oakland the first time the team was eventually going to do well," Ted said in 1987.11 Seguí had been the Pilots' best pitcher, but "the weeping need was for a shortstop who can play every day. Kubiak can; Oyler could not. Ted is 27, Oyler is 31. Ted batted .249, Oyler hit .165."12
The 1970 season marked Kubiak's career highs in just about every category and it was that year that convinced him he was a major-league player; nothing more than an average player but one nonetheless. After the Pilots moved to Milwaukee, he played in 158 games for the Brewers — but he started 88 times at second base and just 68 times at short. In June manager Dave Bristol decided that he needed a new second baseman. Kubiak got the call, and in 2011 he said, "I hated the change at first. I'd lost much of the edge I had in 1967, my first year in the majors, because I had to sit on the bench and did so for three years before the trade to Seattle. I was never as good as I was after my Triple-A season. The year in Milwaukee was giving me a chance to maybe regain some of my ability, but then I was moved to second. It was a battle." In August 1970 he had said, "I suppose I should be grateful for the change because at least I'm a regular in the big leagues."13
Given regular duty, Kubiak hit 4 homers, drove in 41 runs, and hit .252. He also enjoyed his finest day at the plate in the majors on July 18, 1970,  at Fenway Park. He was 4-for-5, driving in seven of the Brewers' runs (and tying the club's single-game record) in a 10-5 win over the Red Sox. The highlight was a ninth-inning grand slam off Ed Phillips, a righty whose big-league career consisted of 18 games with Boston that year. Kubiak had also reached him for a homer at County Stadium on May 6. In 2011 Ted quipped, "Phillips was unfortunately sent down; I guess they figured if I could hit home runs off him, he didn't have quite enough."
Ted played much the same role for the Brewers during the first four months of the 1971 season — except in reverse. Dave Bristol switched him back to short in June. On July 29 Milwaukee traded Kubiak and minor leaguer Charlie Loseth to the St. Louis Cardinals for José Cardenal, Bob Reynolds, and Dick Schofield. "I was glad to be going to a good club," said Kubiak after the trade. "Here they don't let you play — there's too much pressure on you. I knew I was going to be traded, but I didn't expect it now at this stage in the season."14 Ted didn't stay long in St. Louis, though, as the Cardinals sent him to the Texas Rangers on November 3 for pitcher Joe Grzenda. Ted Williams, then the Rangers manager, liked Kubiak as a second baseman and inquired with St. Louis. Cardinals general manager Bing Devine said, "You know, we had tried for a couple of years to get Kubiak. He did his job with us, but it was just one of those things — we needed an experienced left-handed reliever so badly." But before they could spare Kubiak, they obtained another utilityman, Marty Martínez, from the Astros.15
Ted was in Texas for only a few months as well. On July 20, 1972, the Rangers dealt Don Mincher and him to Oakland for Vic Harris, Marty Martínez, and a player to be named later (Steve Lawson). "I could see a big change when I returned," Kubiak said in 1987. "I was pleasantly surprised to see some of the guys I had come through the minors with had matured so much and at the right time."16
Dick Green missed nearly all the season with a herniated disc before coming back in mid-August. He was replaced by Larry Brown, who hurt his back. Tim Cullen played more second base than anyone for Oakland that year, but when he pulled a hamstring, the A's needed depth. Kubiak stepped in and started 15 straight games at second. At the end of August Dal Maxvill came in through the revolving door. Seven different men started at the position for the team that year.
Kubiak offered interesting insights into the A's contentious clubhouse atmosphere and owner Charles O. Finley. Author Bruce Markusen, who has chronicled the A's dynasty in a book and many articles, quoted Ted. "A lot had to do with the intensity of the ballclub and the fact that the players were there to win games. I think Charlie Finley had something to do with that because he was so outspoken. I don't know whether it was his design or whether it was just his method or just his personality, but he allowed the players to speak out also. There were guys who'd get pissed off at him, get angry and say things in the papers."17
The manager of the A's, Dick Williams, was another forceful personality. "I really liked playing for Dick," said Kubiak in 2011. "I can't say I had much contact with him, but I thought he managed extremely well. I always liked playing for someone like Dick was. He was hardnosed and commanded respect. I had questions about some of my other managers — although Ted Williams was a great guy — but on the A's, everybody knew their job and did what it took to get the job done."
Kubiak made it to the postseason for the first time in 1972. In the AL Championship Series against Detroit, he appeared in four games and went 2-for-4. He added a single in three at-bats against Cincinnati during the World Series.
Mainly backing up Dick Green, Kubiak got into 106 games during the 1973 season, though he came to the plate just 198 times (.220-3-17).18 During the postseason, Kubiak got into three games in the ALCS against Baltimore, going 0-for-2. In the World Series, he appeared in four games versus the New York Mets, going hitless in three at-bats. However, he scored the winning run in Game Three at Shea Stadium. He drew a one-out walk off Harry Parker in the top of the 11th inning, advanced on a dropped third strike by Jerry Grote, and scored on a single by Campaneris.
The most notorious moment in the Series was Finley's scapegoating of another second baseman, Mike Andrews, whose errors helped lose Game Two after he had replaced Kubiak in the eighth inning. In 2011 Kubiak still remembered well how Finley tried to remove Andrews from the roster and replace him with Manny Trillo. "I was in shock. We were on the plane getting ready to fly to New York and we realized Mike wasn't with us. We eventually heard what was happening but eventually Mike made the plane. The next day during our workout in New York, we wore black armbands with Mike's number as a show of support." The Mets fans gave Andrews a standing ovation in Game Four when the reinstated player entered as a pinch-hitter.
In between the 1973 and 1974 seasons, Kubiak was part of a pioneering group: the first 29 major-leaguers who went to salary arbitration with the owners. The amounts were peanuts by today's standards. The biggest demand came from Reggie Jackson, who asked for (and got) $135,000 instead of Charlie Finley's offer of $100,000. Ted, who had made $30,000 in 1973, asked for $42,500. He had to settle for $37,000.19
Kubiak remained a frequent fill-in for Dick Green in 1974, also spelling Campaneris on occasion. He said, "Sure it bothers me, but over the years, I've become accustomed to being a utilityman and I contribute as best I can." He added, "As soon as Greenie is ready, even on one leg, he's in there. There are times when I get ticked off, but if I go out there and try to play like that, I can't do as good a job. Maybe it's maturity, but I can separate my play now from my feelings."20 In part because of some long idle stretches, his hitting languished (.209/0/18 in 220 at-bats).
Ted "sat out the [1974] playoff with a swollen left ankle and hurt feelings. Although he was in uniform in both Oakland and Baltimore, he said back then that the A's wouldn't allow him to be introduced with his teammates before the game."21 "I have no recollection of that," said Kubiak in 2011. "But I was hurt. I was upended trying to turn a double play in Chicago about three weeks before the playoffs [on September 22]. My leg was all swollen; it took a long time for the blood to get out of it and I was on crutches for a while. I was (on the active roster) in the World Series, I just didn't get in the games because of the way they went." Dick Green, though he went hitless in the Series, was outstanding in the field. Dal Maxvill, who had returned to Oakland, subbed briefly for Green in the first two games.
On May 16, 1975, Oakland traded Kubiak to the San Diego Padres for pitcher Sonny Siebert. He joined the Padres when their infield was a shambles as a result of illness and injuries. "Ted will do a good job for us at third or second and he can fill in at short if we need him," said San Diego manager John McNamara, who had managed Kubiak at Binghamton, Dallas, and Oakland.22 "Why they figured I was going to be a regular third baseman with no home-run power, I couldn't figure," Ted said in 2011. "Once again, I was asked to play a position on a daily basis that I really never played before and it was not easy." He played mainly third for the remainder of the year, since 22-year-old Mike Ivie really wasn't suited for the hot corner.
In 1976 Kubiak filled in behind the Padres' new third baseman, Doug Rader, and behind Tito Fuentes at second. Both years in San Diego, his hitting numbers were right around his career average: .224 and .236. The Sporting News commented, "Kubiak has been a first-rate fill-in for the Padres, but they don't feel he could play every day for any length of time."23 Heading into the 1977 season, he and the Padres could not come to terms by the March 10 deadline, so the Padres renewed his $38,000 contract at the maximum pay cut. He "walked out of the Yuma spring training camp on March 30 … was never heard from again and was placed on the disqualified list."24
That was it: Ted Kubiak never played another game in the majors. In 2011 he commented, "I didn't like the experience. They treated me exactly the way they treated most of us in those years. They wouldn't say anything — take it or leave it. But I was 34 then, it was probably time to go."
In the 1978 season, Kubiak returned to the A's, doing some color work on TV broadcasts along with Hank Greenwald. "That was just spot appearances, fill-in color jobs. Finley called me up." He was then involved in various other businesses before returning to real estate, renovating houses and apartment buildings. Back in 1971, he had taught real estate in Milwaukee; he went into that business in Oakland in 1973. But he hoped to get back into baseball, perhaps as a scout.25
In 1989 he returned to the field, again with the Oakland organization. It's tempting to think that Tony La Russa (then managing the A's) might have had a hand in this, as he had previously with Joe Rudi's return to the team as a coach. But Kubiak said, "No. I sent out two résumés and made two calls: one to the Giants and one to the A's, because I was living in the Bay Area. The A's sounded like they were going somewhere with Sandy Alderson. I also still had some friends in the organization, like Wes Stock. He called up Karl Kuehl, the farm director, they interviewed me and offered me a position."
Kubiak started with Southern Oregon in the Northwest League (rookie ball) and then took over in midseason for Lenn Sakata at Modesto, an A's affiliate in the California League. After four more seasons with Modesto, he moved to the Cleveland Indians organization in 1994, managing at the Double-A and A levels through 2003.
When asked if he had ambitions of becoming a big-league manager, Kubiak responded, "Because I'd left the game for 12 years, the game was not being run any more by my contemporaries. So often in the game you need a friend to take you along with him, so I was a very new face to the new people. I had a lot to learn when I first began managing and don't think I even presented myself as managerial material. As the years have gone by, I've learned a lot more and it would be interesting to do so — but the game has changed so much, I wouldn't fit in with the new technology and computerized look everyone seems to think is so important now. The game is very different."
From 2004 through 2008, Ted served as the minor-league defensive coordinator for the Indians. Each of his infielders and staff members received the 300-page personalized infield manual that he wrote. 26 In the interview with David Laurila, he offered many intriguing observations — notably on how well-conditioned legs are the foundation of a good infielder, influencing all other parts of body positioning. He called Omar Vizquel "the consummate infielder of these times."27
In 2011 he added, "There are some very acrobatic players in the major leagues these days. I see things that would be helpful to many of them, but there's no doubt today's player is a better athlete than we were. Not smarter but better athletes, and that doesn't mean their fundamental play is better. Look at the mistakes made in the game today. I played in an era when there were many of the best players of all time. It's hard for me to comment on anyone specific because I just don't see them enough. I did get to watch Vizquel when he was with us in Cleveland, and he and Roberto Alomar were as good as they were said to be."
Kubiak returned to managing in 2009 with Cleveland's rookie-ball club in Arizona. In 2010 and 2011 he managed the Lake County Captains in the Midwest League; they won the league championship his first year. "There's not as much pressure as when I was a player. It wasn't easy at first because there is so much you have to be aware of, but everything has fallen into place and I love it," he said in 2011. "I love the puzzle of the game, battling the other teams. Winning is a huge part of development, and playing for our Oakland club and the St Louis Cardinals taught me a lot about winning." In 2012 the Indians made him the manager of the Mahoning Valley (Niles, Ohio) Scrappers of the short-season New York-Penn League, and he was still at the helm in 2014.
At 70-plus, Ted Kubiak was still filled with energy and desire. "It's not really a job. Baseball is still the game I enjoyed when I was a kid. It's a great game. In many other ways it's changed a lot, but it's still the same game on the field. I work out every day, I keep in shape, and hearing from the people who've been under my tutelage and gone on — that's an energy boost. They're going to have to take the uniform off me."
Grateful acknowledgment to Ted Kubiak for his memories (telephone interview, September 12, 2011, plus extra input via e-mail, October 11, 2011). Thanks also to Tom Barthel for the introduction.
Sources
baseball-reference.com
retrosheet.org
Notes
1 Randy Schultz, "Where Are They Now?" Baseball Digest, March 1987: 83.
2 David Laurila, "Prospectus Q&A: Ted Kubiak." Baseball Prospectus website, April 22, 2007 (baseballprospectus.com/article.php?articleid=6131)
3 Bob Markus, "Pryor Waxing Hot Over His Utility Billing," The Sporting News, August 16, 1980: 27.
4 Ted was the only child of Theodore Kubiak (no middle name), a traffic manager for Gerber Plumbing, and Margaret "Marge" Pochinski.
5 Laurila.
6 Joe McGuff, "A's Offer Swap Bait In Spare DP Duo-Kubiak, Donaldson," The Sporting News, December 24, 1966: 32.
7 Schultz.
8 Juan Carlos Musa, "Recuerdan la conquista de la corona de las EO en 1968," Hoy (Santo Domingo, Dominican Republic), February 2, 2011.
9 Ron Bergman, "Kubiak Leads Rising A's," The Sporting News, June 15, 1968: 17.
10 Ibid.
11 Schultz.
12 Hy Zimmerman, "Milkes Gambles to fix Pilots' Defense," The Sporting News, December 27, 1969: 36.
13 Larry Whiteside, "Heise a Blue-Chip Shortstop, Brewers Will Drink to That," The Sporting News, August 21, 1971: 10.
14 "Kubiak Sent to St. Louis by Brewers," Associated Press, July 30, 1971.
15 Neal Russo, "Bird Bullpen Lists Sharply to Portside," The Sporting News, November 20, 1971: 47.
16 Schultz.
17 Bruce Markusen, Baseball's Last Dynasty: Charlie Finley's A's (Indianapolis: Masters Press, 1998), 139.
18 That year, he also married the daughter of former big leaguer Irv Noren, who was one of the Oakland coaches. Bruce Markusen, "Here's What Happened to '73 World Champion Oakland A's," Baseball Digest, October 1998: 69. Kubiak's two children, Justin and Kristi, are from a prior marriage.
19 Jerome Holtzman, "Arbitration a Success, Players and Owners Agree," The Sporting News, March 16, 1974: 53.
20 Ron Bergman, "Kubiak, Gilt-Edged Utilityman, Pays Handsome Dividend to A's," The Sporting News, August 10, 1974: 22.
21 Ron Bergman, "Player Barbs and Pressure Fail to Jar A's Pilot Dark," The Sporting News, October 26, 1974: 11.
22 Phil Collier, "Kubiak Plugs Big Hole at Padres' Hot Corner," The Sporting News, June 14, 1975: 13.
23 Phil Collier, "Padres Back Off on Talk About Metzger Deal," The Sporting News, January 1, 1977: 36.
24 Phil Collier, "Padres Give Blessing to 'Reborn' Hendrick," The Sporting News, April 16, 1977: 11; Collier, "Novice Gives Padres the Look of a Champion," The Sporting News, April 23, 1977: 9.
25 Schultz.
26 David Hall, "The Sleeper," Kinston (North Carolina) Free Press, April 6, 2008. Subject: Carlos Rivero, then an Indians prospect.
27 Laurila.
Born
May 12, 1942 at New Brunswick, NJ (USA)
If you can help us improve this player's biography, contact us.
http://sabr.org/sites/default/files/TedKubiak.JPG
600
800
admin
/wp-content/uploads/2020/02/sabr_logo.png
admin
2012-01-04 20:33:13
2020-11-11 18:22:03
Ted Kubiak