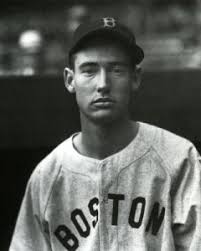 August 19, 1939: Ted Williams hits first grand slam, his second game-winner in a row for Red Sox
---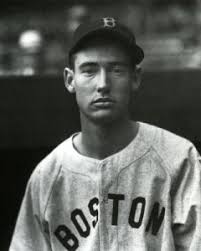 As the games were played through August 1939, the Boston Red Sox still held out some hope of catching the first-place New York Yankees (77-33) in the American League standings. Both teams won on August 18, and the Red Sox (68-39) remained 7½ games behind. Boston had a Saturday doubleheader at Washington's Griffith Stadium on August 19, due to the need to make up a rainout on May 13. The Washington Senators were in sixth place with a record of 48-64, a full 30 games out of first.
The pitchers for the first game were right-hander Joe Haynes for the Senators and Lefty Lefebvre (as one might intuit, a left-hander) for the Red Sox. Haynes was a rookie; he came into the game with a record of 5-9.1 Lefebvre was a rookie as well. He had pitched four innings in 1938 and spent most of 1939 with the Double-A Louisville Colonels. This was his first big-league appearance of the year.2
Neither team scored in the first three innings. Joe Cronin (shortstop-manager) had doubled into the left-field corner for the Red Sox in the second inning. For the Senators, third baseman Buddy Lewis had singled in the first and catcher Rick Ferrell had singled in the third.
Jimmie Foxx, Boston's first baseman, hit a solo homer "high into the centerfield bleachers" to kick off the fourth.3 The Boston Globe said it went about 450 feet, about halfway up in the left-center seats.4
Second baseman Jimmy Bloodworth hit a two-out single off Lefebvre in the bottom of the inning, but was forced at second by Mickey Vernon's grounder. Vernon was Washington's first baseman.
Second baseman Bobby Doerr singled for the Red Sox in the top of the fifth but was their only batter to reach base in that inning. The Senators took a 2-1 lead in the bottom of the inning. Ferrell singled to lead off but was forced at second on Haynes's grounder. Right fielder George Case then dropped a single into right field, with Haynes going to second. Buddy Lewis hit a single to shortstop, loading the bases. Center fielder Johnny Welaj singled to left field, driving in Haynes and Case.
The Senators added another run in the sixth when shortstop Charlie Gelbert doubled to left and then scored on Bloodworth's single. Washington's lead was 3-1.
Boston tied it up in the top of the seventh. Third baseman Jim Tabor drew a base on balls. Catcher Johnny Peacock popped up to second.
Lefebvre was due up, but Cronin assigned Lou Finney to pinch-hit for him and it paid off. Finney doubled down the right-field line, driving in Tabor and cutting Washington's lead to 3-2.
Doerr stepped in. Haynes let loose a wild pitch and Finney took third. Haynes let loose another wild pitch and Finney scored. Doerr walked, but was forced at second base on center fielder Doc Cramer's grounder. Foxx flied out to first baseman Vernon, but the game was now tied, 3-3.
The new Red Sox pitcher was Joe Heving; he set down the Senators in order in the bottom of the seventh. The score remained tied.
Leading off the eighth for the Red Sox was Ted Williams. He grounded out to first base, unassisted. The next two batters made outs, too.
Washington took a 5-3 lead in the bottom of the eighth. With one out, left fielder Bobby Estalella and Gelbert walked. Then it was apparently time for a Red Sox pitcher to throw a wild pitch, and Heving did just that while Bloodworth was batting. Both runners advanced, and Heving intentionally walked Bloodworth to load the bases.
Another pinch-hitter came through, this time for the Senators. Taft Wright pinch-hit for Vernon and doubled down the right-field line, scoring two runners.
Three outs from defeat, Red Sox came to bat in the top of the ninth. Tabor singled to center and Peacock singled to right. Senators manager Bucky Harris brought on Pete Appleton in relief. The 35-year-old Appleton had over 1,000 innings of major-league experience.5
Heving batted for himself and attempted a sacrifice bunt, but it was too hard and right at the first baseman. Rather than both runners moving up 90 feet, Bob Prichard's throw across the diamond to third base — in his first chance since coming into the game for the ninth — forced Tabor for the first out.
Red Nonnenkamp ran out to first base to run for Heving. Bobby Doerr surprised the Senators by laying down a bunt on the third-base line for a single. The bases were loaded.
Doc Cramer hit a fly ball to center field, but it wasn't deep enough for Peacock to tag and score. The Red Sox were down to their last out.
Jimmie Foxx was up and he walked, forcing in a run to narrow the Senators' lead to 5-4.
Williams came up. In his first four plate appearances, the rookie phenom had fouled out to first base, flied out to center, singled to right field, and grounded out to first base.
Williams was still a little more than a week from turning 21 years old. The stage was set. Arthur Sampson of the Boston Herald wrote, "Young Ted was born for the sensational and here he found the situation tailor made for his vanity. To win a game on a home run with two out in the ninth is a feat to thrill any drama-loving soul, and such a climax has been glamorous Ted's ambition ever since joining the Red Sox.
"He strode to the plate with the swagger of Mickey Rooney playing a serious part in an Andy Hardy movie. It was easy to see he had his heart on the thing, a home run over the right-field wall."6
The first pitch was an outside fastball. "The Kid" pounced on Appleton's second pitch — a slow curve — and hit a grand slam over Griffith Stadium's 35-foot-high right-field wall, clearing it by several yards. The wall was about 350 feet from the plate, cleared by what Shirley Povich of the Washington Post called "an enormous clout."7 Right fielder George Case didn't even bother to turn around.8 The Boston Globe's sportswriter said the ball landed "in a lone tree whose top is just visible above the fence."9 Boston had rallied to an 8-5 lead.
Joe Cronin struck out to end the Red Sox half of the inning.
Emerson Dickman took the mound for the Red Sox, now three outs from victory. He walked Case. Lewis singled and Case ran to third. The tying run came to the plate in the person of pinch-hitter Sam West (batting for Welaj). West grounded out, with Lewis scoring to make it 8-6.
Estalella then grounded into a 5-4-3 double play, ending the 2-hour, 9-minute game. Heving got the win, improving his record to 10-3.
The Senators won the day's second game, 2-1, thanks in large part to a four-hitter thrown by Ken Chase. The attendance was 7,000.
Williams's first career grand slam got him into triple digits in RBIs for the season, on his way to a major-league rookie record of 145. He went on to hit 17 grand slams as a major leaguer, but few were more instrumental to a Red Sox win than his first — when one swing transformed defeat into victory on a Saturday afternoon in Washington, DC, in 1939.10
Sources
In addition to the sources cited in the Notes, the author consulted Baseball-Reference.com and Retrosheet.org. Thanks to Evan Katz for additional information.
https://www.baseball-reference.com/boxes/WS1/WS1193908191.shtml
https://www.retrosheet.org/boxesetc/1939/B08191WS11939.htm
Notes
1 Haynes finished the 1939 season 8-12 (5.36 ERA). He wrapped up his career in 1952, with a career mark of 76-82 and an improved ERA of 4.01.
2 Lefebvre was not used much. In five appearances, his record was 1-1 (5.81). He was back in the minors for the next three seasons, and then returned in the war years of 1943 and 1944 with Washington, winning four games and losing four. Notable about Lefebvre was that during his one game in 1938, he hit a home run in his one and only at-bat — all before he had played even one game in the minor leagues.
3 Shirley Povich, "Nats and Red Sox Split Two," Washington Post, August 20, 1939: X1.
4 Gerry Moore, "Titanic Ted Williams Hits a Four-Run Homer," Boston Globe, August 20, 1939: B23.
5 Appleton was the Senators' closer. He led the team in saves in 1938 and was in the league's top five in both games finished and saves. He was leading the team again in 1939. He had been born Peter William Jablonowski but changed his name in 1933 after five seasons in the majors. He had pitched for the Red Sox (with a record of 0-3) in 1932. This was Ted Williams's 18th career home run, and he'd already homered off two pitchers who had changed their names –Appleton and Ed Cole (born Edward William Kisleauskas).
6 Arthur Sampson, "Williams Homer Gives Sox Split," Boston Herald, August 20, 1939: 31.
7 Povich.
8 Moore.
9 Moore.
10 The first grand slam Ted Williams hit in a Red Sox uniform came during his first at-bat in New England. It was at Fitton Field in Worcester, Massachusetts, on April 14, 1939, in front of some 6,000 fans who came out in the cold. The team had just barnstormed north from spring training, playing 10 exhibition games against the Cincinnati Reds in Georgia, South Carolina, North Carolina, and Virginia, and on arrival in Massachusetts played the Holy Cross College team at Fitton Field on the college campus. In the first inning, Williams came to bat with Foxx, Cronin, and Tabor on base, facing Holy Cross pitcher Mike Klarnick. He homered, and it was "no towering, wind-blown fly. On the contrary, Ted's thump … sailed over the head of Hank Ouelette, playing a deep center field, and carried to the reaches of the football gridiron." J. Earl Chevalier, "Red Sox Beat Holy Cross, 14-2, in Exhibition," Springfield (Massachusetts) Republican, April 15, 1939: 9. The grand slam was the game-winning hit.
Additional Stats
Boston Red Sox 8
Washington Senators 6
Game 1, DH
---
Griffith Stadium
Washington, DC
Box Score + PBP:
Corrections? Additions?
If you can help us improve this game story, contact us.
Tags
https://sabr.org/sites/default/files/Williams-Ted-1939.jpg
600
800
sabr
/wp-content/uploads/2020/02/sabr_logo.png
sabr
2021-02-19 01:57:25
2021-02-19 01:58:30
August 19, 1939: Ted Williams hits first grand slam, his second game-winner in a row for Red Sox