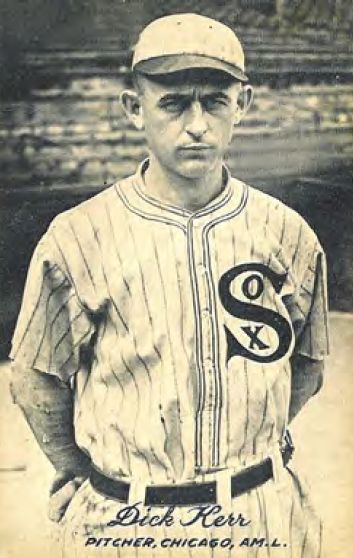 October 7, 1919: Rookie Dickey Kerr keeps White Sox alive in Game 6
---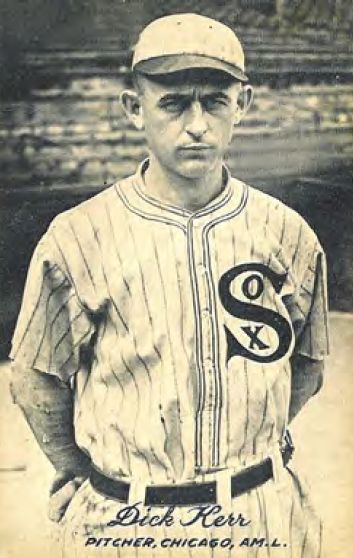 The Cincinnati Reds could be forgiven for celebrating too hard after beating the Chicago White Sox in four of the first five games of the 1919 World Series. After all, no one had expected them to dominate Chicago's ace pitchers, Eddie Cicotte and Lefty Williams, in back-to-back starts — let alone to do it twice.
But this was a best-of-nine World Series, an experimental format approved by the National Commission just weeks before the regular season ended. And the Reds still had to win one more game to finally capture their first championship.
They would have to do it against White Sox rookie left-hander Dickey Kerr, who had surprised everyone — even some of his own teammates — with a three-hit shutout to beat the Reds in Game Three at Comiskey Park. With Cicotte and Williams struggling in mysterious ways, and future Hall of Famer Red Faber sidelined due to injuries and the lingering effects of influenza, Kerr was the only pitcher manager Kid Gleason felt he could depend on.
After the loss in Game Five, a frustrated Gleason wrote in his syndicated newspaper column, "I'm going to send Dick Kerr to the slab tomorrow. Maybe if he wins, I shall send him back the next day, and if he wins that one I might send him back again!"1
Kerr's opponent on the mound was Dutch Ruether, the young left-hander whose batting exploits had overshadowed his strong pitching in Game One. His bat would again make a difference in Game Six. An overflow crowd of 32,006 was in attendance at Redland Field, the largest crowd ever recorded in Cincinnati at the time.2
The fans were in a festive mood. When the White Sox took the field for batting practice, the grandstand band serenaded the visitors with a hit vaudeville song called "Please Go Away and Let Me Sleep."3 The Reds players were already beginning to discuss how they would spend their World Series bonuses; based on the gate receipts, the individual winning shares would surpass $5,000 for the first time ever.4
---
---
It took the Reds just three innings to break through against Dickey Kerr, who struggled from the start. With two outs and two runners on, rookie Pat Duncan doubled home Jake Daubert and Edd Roush. In the fourth inning the Reds scored again on an RBI double by Ruether. On the next play, Morrie Rath's grounder to shortstop Swede Risberg gifted the Reds their fourth run when Risberg decided to try for the lead runner at third base and plunked Ruether in the back instead. It was Risberg's second error of the day. Chicago was spared further damage when Shoeless Joe Jackson threw out Rath at the plate for an inning-ending double play.
Cincinnati's 4-0 lead must have "looked as good as a million" to the hometown fans who were already beginning to celebrate.5 The Reds had blown a four-run lead only once all season.6 Meanwhile, the White Sox' vaunted offense, the best in the American League, hadn't scored a run in 26 innings dating back to Game Three.
The White Sox looked "so hopelessly beaten," the Chicago Tribune reported, "that stakeholders began paying off the wagers held and some spectators even left the grounds to look for railroad reservations home."7 One of those stakeholders could have been John O. Seys, a Chicago Cubs executive who later testified that he held bets placed on the Reds during the World Series by Abe Attell — an associate of gambling kingpin Arnold Rothstein.8
But the White Sox players who had agreed to throw the World Series for Rothstein, Attell, and a consortium of underworld figures were unhappy that their bribe money hadn't been delivered as promised.9 And some of them weren't ready to end the season just yet.
In the fifth, Ruether walked Risberg and Ray Schalk to lead off the inning. Then Risberg made a "suicidal" baserunning blunder that nearly cost Chicago a run.10 Kerr hit a grounder into the hole at short, which was knocked down by Larry Kopf. Risberg sprinted around third and began heading for home before reversing himself. Kopf threw behind him, but Reds third baseman Heinie Groh wasn't expecting there to be a play and Risberg dove back safely.
One batter later, Eddie Collins lofted a fly ball to deep center field to send Risberg home with the first Chicago run. But then Kerr made his own mental error that brought back memories of his teammate Red Faber in the 1917 World Series. With Roush's throw coming in to third base, Kerr decided to tag up and advance to second — where his teammate Schalk was still standing. Groh ran over and tagged a bewildered Kerr for the third out. It was the first of three double plays caused by White Sox baserunning mistakes, a sign that not everyone was at the top of his game.
The White Sox offense finally came alive with three runs in the sixth, knocking out Reds starter Ruether. Buck Weaver began the game-tying rally by hustling for a double on a short pop fly to left field that Duncan and Kopf allowed to fall between them. Jackson's single up the middle scored Weaver and Happy Felsch's double to left-center scored Jackson. In came right-hander Jimmy Ring, who had pitched a three-hit shutout in Game Four. He got out of the inning but not before Schalk's RBI single tied it at 4-4.
The score stayed that way until the 10th. Weaver, batting left-handed this time, again started the rally with a double, his third hit of the day. Jackson's bunt single moved him to third, but Felsch struck out. Manager Gleason watched anxiously from the dugout instead of his usual spot on the third-base line. "I let some others do the coaching and watched every move the fellow at bat made," he said. "I didn't mind it when [he] failed just as long as I was satisfied that fellow gave his best effort."11
It's impossible to know whether veteran first baseman Chick Gandil was giving his best effort; he was the acknowledged ringleader of the plot to fix the World Series and was 0-for-3 so far. But he pushed through a single to center field to send a jubilant Weaver home with the go-ahead run.
Kerr went back out for the bottom of the 10th, having thrown 123 pitches, according to an analysis by the Cincinnati Enquirer.12 He needed just five more to retire Roush, Duncan, and Kopf in order to clinch the White Sox' 5-4 victory in Game Six.
The Reds' lead was now four games to two. The American League champions were still alive — barely. Their win was "an exhibition of sheer bulldog grit and fight, with apparently everything conceivable conspiring against them," wrote the Tribune's Irving Sanborn. "Their work in this battle silenced all the dangerous gossip that had been circulated by disgruntled gamblers."13
At least for one more day.
This article was published in "Cincinnati's Crosley Field: A Gem in the Queen City" (SABR, 2018), edited by Gregory H. Wolf. To read more articles from this book at the SABR Games Project, click here.
Sources
In addition to the sources listed in the Notes, the author also consulted Baseball-Reference.com and Retrosheet.org.
Notes
1 Kid Gleason, " 'Something Is Wrong; I Do Not Know What It Is,' Says Gleason," St. Louis Star, October 7, 1919.
2 Retrosheet shows the Reds-Giants game of August 3, 1919, with a slightly higher attendance (32,121) than Game Six. However, the Cincinnati Enquirer reported that the paid attendance for the August 3 game was 31,363. Either way, these were the two largest crowds of the season — and in Redland Field history — up to that point.
3 George S. Robbins, "Gleason's Men Add Another Victory to Their List in Series," Chicago Daily News, October 7, 1919.
4 "World Series Gate Receipts," Baseball-Almanac.com. Accessed at baseball-almanac.com/ws/wsshares.shtml on January 13, 2017.
5 Jack Ryder, "Carelessness by Reds Gives Sox Game, Cincinnati Blowing Four-Run Lead," Cincinnati Enquirer, October 8, 1919.
6 On May 5 the Chicago Cubs shocked the Reds by scoring six runs off Hod Eller in the ninth inning to tie the game. The Cubs went on to win 7-6 in 12 innings.
7 I.E. Sanborn, "Sox Fight to Victory in Tenth, 5-4," Chicago Tribune, October 8, 1919.
8 William F. Lamb, Black Sox in the Courtroom: The Grand Jury, Criminal Trial, and Civil Litigation (Jefferson, North Carolina: McFarland & Co., 2013), 78.
9 Philadelphia North American, September 27, 1920. One of the gamblers associated with the fix, Billy Maharg, claimed "Attell and his gang cleaned up a fortune and the Sox players were double crossed out of $90,000 that was coming to them."
10 Ryder, "Carelessness by Reds."
11 James Crusinberry, "Sudden Change in Sox Causes Woe in Cincy," Chicago Tribune, October 8, 1919.
12 Cincinnati Enquirer, October 8, 1919.
13 Sanborn, "Sox Fight to Victory."
Additional Stats
Chicago White Sox 5
Cincinnati Reds 4
10 innings
Game 6, WS
---
Redland Field
Cincinnati, OH
Box Score + PBP:
Corrections? Additions?
If you can help us improve this game story, contact us.
Tags
https://sabr.org/sites/default/files/DickeyKerr.JPG
600
800
admin
/wp-content/uploads/2020/02/sabr_logo.png
admin
2019-09-17 14:00:43
2020-04-17 13:33:57
October 7, 1919: Rookie Dickey Kerr keeps White Sox alive in Game 6