This Week in SABR: April 25, 2014

Welcome to "This Week in SABR!" Here's what we've been up to as of April 25, 2014:
---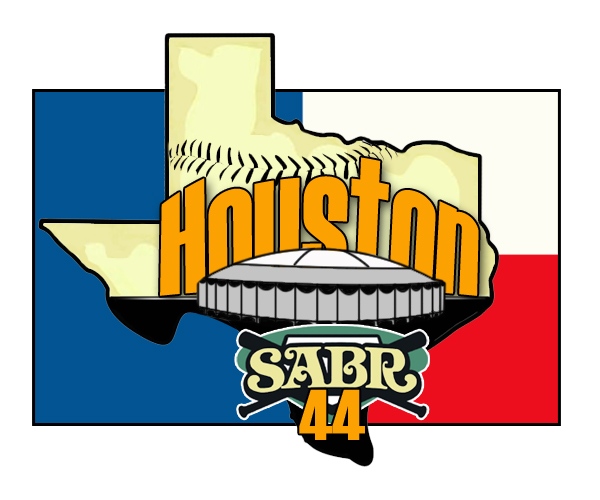 We hope you'll join us for what promises to be a spectacular SABR 44 convention in the summer of 2014 in Houston, Texas. The 44th annual SABR convention, which is open to all baseball fans, is scheduled for July 30-August 3, 2014, at the Royal Sonesta Houston.
Hotel: Click here to book your room at the Royal Sonesta online. The deadline to book your room at the SABR group rate of $129/night (plus tax) is Monday, July 14, 2014. The Royal Sonesta is at 2222 W Loop S Fwy., Houston, TX 77027, in the heart of the Galleria, just minutes from downtown and Minute Maid Park. If you have any questions about your reservation, please call the hotel at (713) 627-7600.
Conference registration: Click here for complete information on SABR 44 registration rates. Once again, we're offering an all-inclusive rate for the annual SABR convention. SABR members can pay $234 for an all-inclusive package with a Field Box ticket to the Astros game (and access to the special SABR 44 ballpark panels) on Saturday evening or $214 for an all-inclusive package with a Mezzanine Level ticket — each package is a savings of $30 off the regular rate. Non-members can pay $299 (Field Box) or $279 (Mezzanine Level) for the all-inclusive rate.

SABR 44 will include top featured speakers from around the baseball world — front office executives, players, managers, scouts, writers and analysts — innovative panel discussions, groundbreaking research presentations, major and minor league games, tours of historic ballparks, the SABR Trivia Contest, the Awards Luncheon, and most of all, the opportunity to make and renew baseball friendships over the course of this spectacular and memorable event.
We'll attend a game at the downtown Minute Maid Ballpark, which is one of the best in the majors, and we'll visit a brand-new independent league park in nearby Sugar Land, too.
More featured speakers at SABR 44 were announced this week. Speakers are expected to include:
Jeff Luhnow, General Manager for the Houston Astros
Dr. Bobby Brown, former American League President
Buck Martinez, former player and current Toronto Blue Jays broadcaster
Bob Watson, former player and general manager for the Astros
Bill Virdon, former player and manager for the Astros
Marie "Red" Mahoney, alumnus of All-American Girls Professional Baseball League
Jim Gilligan, Lamar University baseball coach with more than 1,000 career wins
They'll be joined by Reid Ryan, the Astros' President of Business Operations; Tal Smith, former Astros President and former SABR Director; Jimmy Wynn, original Colt .45 and Astros legend; Larry Dierker, longtime Astros player, broadcaster and manager; Bill Brown, Astros TV broadcaster; Pam Gardner, former Astros President of Business Operations; Eddie Robinson, longtime player, general manager and baseball executive; Bob Aspromonte, original Colt .45 and former Brooklyn Dodger; Mickey Herskowitz, noted baseball author and sportswriter; and more to be announced soon!
Oh, and did we mention that SABR 44 attendees will get to attend an exclusive ballpark session with Astros executives and players at Minute Maid Park's Champions Pavilion on Saturday, August 2? All convention attendees will also receive complimentary copies of Houston Baseball: The Early Years 1861-1961, edited by Mike Vance and produced by SABR's Larry Dierker Chapter; and The National Pastime, our annual convention journal focusing on baseball in the Houston area. And you might even get to see former NBA All-Star Tracy McGrady pitch for the Sugar Land Skeeters at our SABR 44 minor league game on Thursday, July 31, too.
You can register online for SABR 44 at SABR.org/convention or by phone at (602) 343-6450.
Please note: The special all-inclusive rate for SABR 44 will expire at 11:59 p.m. MST on Friday, May 30. Our block of Astros ballgame tickets will not be available after that date and the early registration rate will increase to $199. You can still register for the convention, the Awards Luncheon and other off-site events at SABR.org/convention, but the discounted all-inclusive rate and our block of Astros ballgame tickets will no longer be available after Friday, May 30.
We hope to see you in Houston this summer!
---
SABR is pleased to announce that Ebbets Field: Essays and Memories of Brooklyn's Historic Ballpark, 1913-1960, edited by John G. Zinn and Paul G. Zinn and published by McFarland & Co., has been selected as the winner of the Ron Gabriel Award in 2014.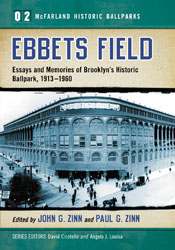 John G. Zinn is the chairman of the board of the New Jersey Historical Society. A SABR member since 1996, he lives in Verona, New Jersey. His blog on early baseball in New Jersey can be found at amanlypastime.blogspot.com.
Paul G. Zinn is a sales manager for a virtual communications software company and was a sportswriter at three daily newspapers. He lives in Acton, Massachusetts.
The winners will be honored at the SABR 44 convention, July 30-August 3, 2014, in Houston, Texas. Click here to register!
Ebbets Field is part of McFarland's series on Historic Ballparks; the series editors are SABR members David Cicotello and Angelo J. Louisa. Essays in Ebbets Field were also contributed by Ellen M. Snyder-Grenier, James Overmyer, and Ronald M. Selter.
The Ron Gabriel Award annually honors the author(s) of the best research, published or unpublished, on the subject of the Brooklyn Dodgers completed during the preceding calendar year. Eligible works include but are not limited to magazine and journal articles, previously unpublished chapters or articles in anthologies or other books with multiple authors, unpublished research papers, written versions of oral presentations, books, databases and websites.
Ron Gabriel (1941-2009), a native of Brooklyn, New York, and longtime resident of Bethesda, Maryland, was a former Vice President of SABR and instrumental in establishing the Bob Davids Chapter, which serves the Washington-Baltimore region. He was founder and president of the Brooklyn Dodger Fan Club, and a charter elected member of the Brooklyn Dodger Hall of Fame. Gabriel, who earned his Ph.D. in Human Resource Management from American University, was a retired U.S. Government executive, having served with the Postal Service Management Institute, the Department of Defense and the General Services Administration.
For a list of past award winners, click here.
---
SABR members, the 2014 Board of Directors election beginning on Thursday, May 1 will include five ballot items: the election of the SABR Vice President, Treasurer, one Director's position, and two By-Laws amendment changes.
The candidates up for election are:
For Vice President
For Treasurer

For Director
Chris Dial
Mike Dugan
Emily Hawks (incumbent)
George R. Skornickel
Bryan Soderholm-Difatte
You can read the proposed By-Laws changes, candidate biographies, along with full descriptions of the positions and responses the candidates made to a series of questions, in the 2014 SABR Election Guide below:
You will receive an e-mail on Thursday, May 1 with a link to vote online in the 2014 SABR Board of Directors election. The poll will close at 11:59 p.m. Mountain Standard Time on Thursday, May 15, 2014. The only way to vote online is through the link you will receive by e-mail. All e-mails will come from the address tellers@sabr.org; if you wish to add it to a whitelist in your e-mail client, that may help ensure that you will receive the e-mails.
For more information on the 2014 SABR election, click here.
---
"It's quite possible that you've never heard of Conrado Marrero, SABR member Rob Neyer writes at FoxSports.com, "which is a tremendous accident of history and politics. He died on Wednesday, and he should have been one of the more famous old baseball players in America."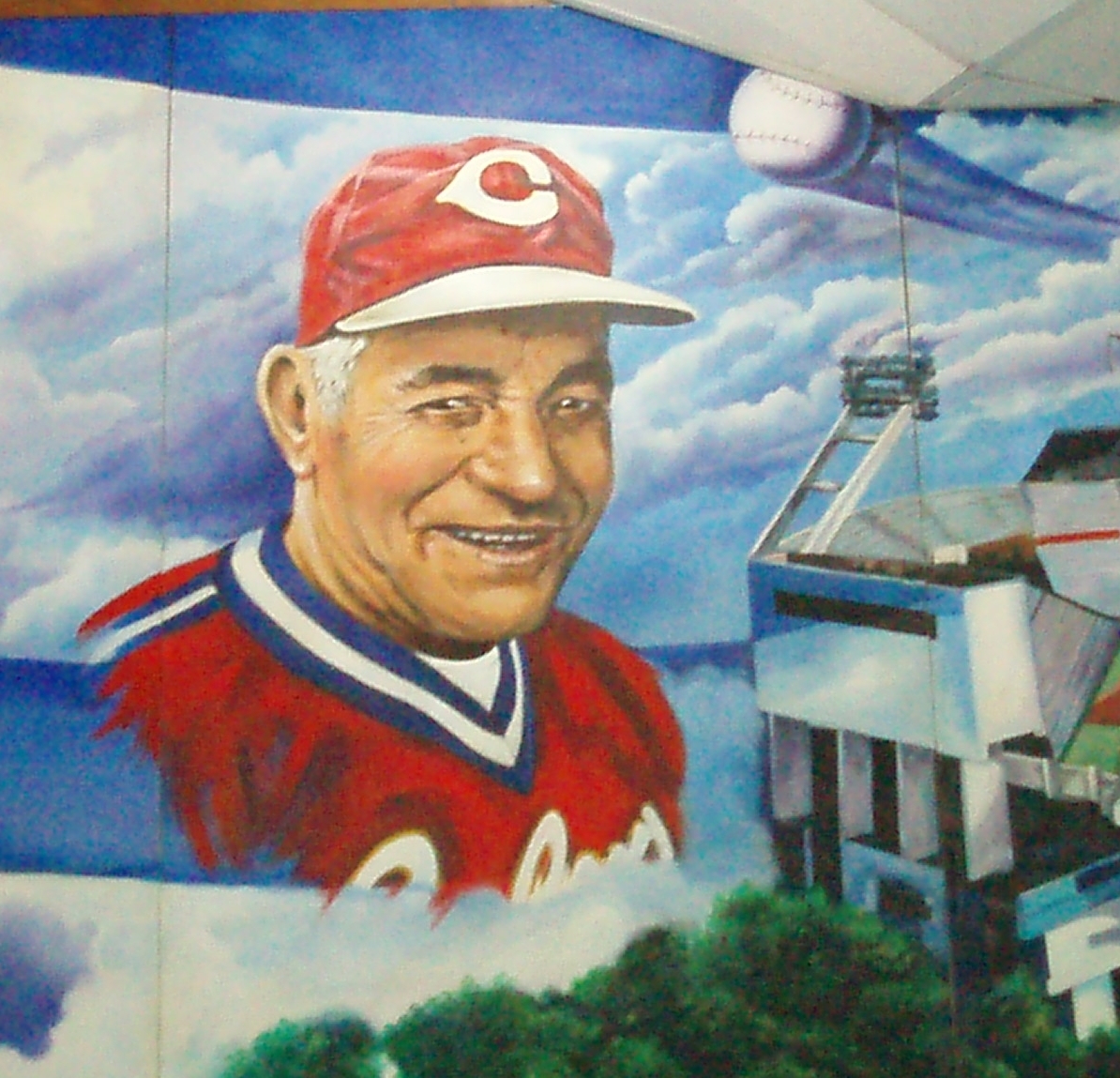 A star in Cuba's amateur leagues and on pre-revolution professional teams — he was the first Cuban pitcher to ever defeat the USA in world amateur play during the 1939 IBAF world championships — Marrero joined the Washington Senators as a rookie at the ripe old age of 39 in 1950. He pitched parts of five seasons in the American League and made the All-Star team in 1951.
Marrero died Wednesday, April 23 in Havana, just two days shy of his 103rd birthday. In 2011, he became one of just a handful of big-leaguers to ever celebrate his centennial birthday, an occasion we commemorated at SABR.org. He was the oldest living former major leaguer
Many SABR members have traveled to Cuba in recent years as part of Kit Krieger's annual "Cubaball" trips, where one of the highlights has been a visit to Marrero's modest apartment in Havana. "He was a remarkable individual with great gifts of intelligence and humor," Krieger said. "He was much appreciative of the contributions of many SABR members to his well-being over the last ten years. Particular thanks is owed to his former teammates, Eddie Robinson and Camilo Pascual, sportswriter Bill Madden, Ian Penny, Steve Rogers and others at the MLBPA, who were particularly attentive to ensure that baseball's most senior citizen reveived his due."
SABR member Peter C. Bjarkman payid tribute to "one of Cuba's grandest baseball legends" in his definitive SABR BioProject essay about Marrero:
To aging North American fans, Marrero is remembered exclusively for his five brief seasons with the American League also-ran Washington Senators, the team he joined in 1950 as a grizzled 39-year-old rookie. It has often been reported that Washington owner-manager Clark Griffith erroneously believed Marrero was born in 1919 instead of 1911 when he signed him on, but that part of the legend is probably only apocryphal. Marrero was nonetheless anything but a novelty act during his Washington years, featuring one of the league's most devastating curves and claimed repeatedly by manager Bucky Harris to be the most valuable "stopper" on an otherwise lamentable Washington mound corps. "Connie Marrero had a windup that looked like a cross between a windmill gone berserk and a mallard duck trying to fly backwards," once noted Dominican slugger Felipe Alou. But it was always the issue of his age (more even than his huge cigars or funky delivery) that remained the Cuban's most notable calling card.
Related links:
---
Want to write about the Wizard of Oz, the Big Hurt or Doctor K? SABR is looking for your help!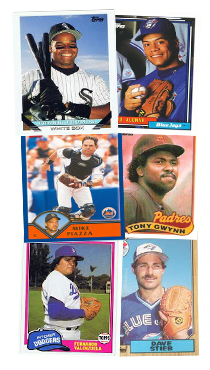 SABR Director Emily Hawks is spearheading an effort to write SABR biographies on baseball stars from the 1980s and '90s as part of the Baseball Biography Project.
You can write about your favorite players from the final seasons of the 20th century: Ozzie Smith, Frank Thomas, Dwight Gooden, Fernando Valenzuela, Mike Schmidt, Darryl Strawberry, Tony Gwynn, Mike Piazza, Roberto Alomar, or many more.
Or write about the memorable figures who helped make that era special: Tom Browning, Dave Stieb, Karl "Tuffy" Rhodes, the San Diego Chicken, or some 6-foot-6 minor league outfielder for the Birmingham Barons.
Your subject can be anyone who played in the major leagues; any manager, executive, umpire, scout, or broadcaster; or anyone else who had an impact on the game. To see a list of which baseball biographies have already been published or assigned, visit SABR.org/BioProject. (Please note: SABR biographies are assigned on a first-come, first-serve basis.)
High school or college students can also use the BioProject as an opportunity to write a research paper on a particular player and use their SABR bio as a published clip. Your paper would go through the full BioProject editing process and should conform to SABR's formatting and style guidelines.
Writing a biography for the BioProject is an easy way to get involved as a SABR member. Find out how by visiting our BioProject Resources page or reading the FAQs section.
If you are already a SABR member, you are fully qualified to participate in the Biography Project. (If you're not yet a SABR member, click here to join. Any baseball fan can sign up for a SABR membership.) Some of our writers are seasoned pros, but many are first-timers. We can work with you to help you turn your research into a worthy biography. Most authors enjoy the process and come back to write another one.
Sign up for a SABR biography today! To learn more, contact SABR Director Emily Hawks at emilyhawks@gmail.com or BioProject Director Mark Armour at markarmour04@gmail.com.
---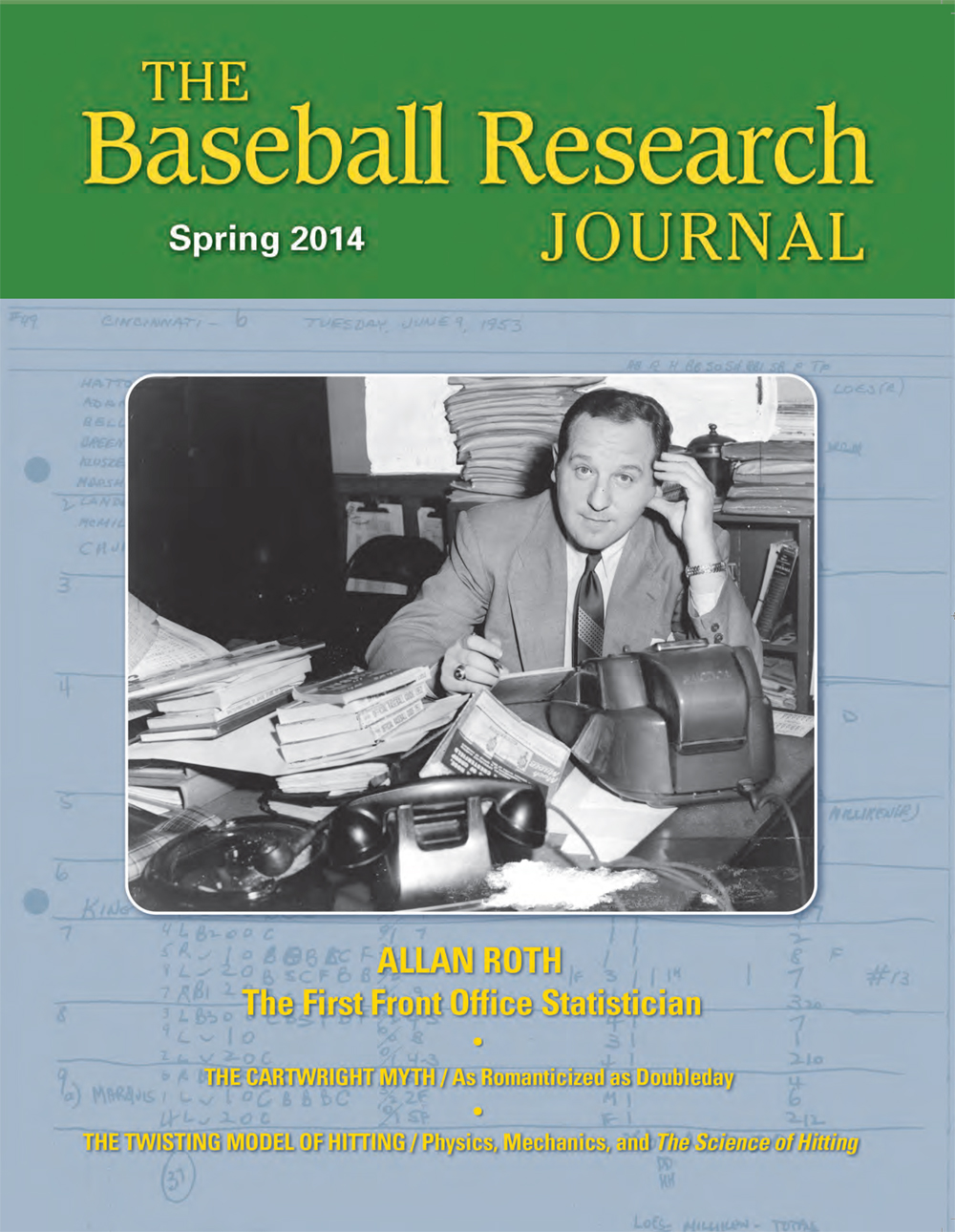 SABR members, you can now read articles from the Spring 2014 edition of the Baseball Research Journal online at SABR.org:
http://sabr.org/research/spring-2014-baseball-research-journal
Those of you who receive the print edition should find your BRJ arriving in the next two to three weeks. For digital subscribers, the e-book edition was delivered to your inboxes last week.
Here's a note from Publications Editor Cecilia Tan about the Spring 2014 BRJ:
I often hear baseball called "the most individual of team sports." Each player's interactions with the ball are largely discrete, and yet it is the sum of these interactions that makes up the team effort. Each batter in the lineup takes a turn, no fielder can turn to a teammate for help except in a few specific situations. And yet team chemistry is cited as a crucial element in success. Baseball, for all its emphasis on the individual, is still a team sport.

It struck me while editing this issue of the journal that SABR is a bit like that, too. It's teamwork that creates the fantastic book projects we've seen coming from committees and chapters recently. Every team has — and needs — its stars, workhorses, and utility players. So if you've been thinking about joining one of these efforts, I encourage you to do so. You might just have a cup of coffee, or you might end up in a long and varied career.

In my lineup card this time around, I get to write in the names of veterans like Pete Palmer and Andy McCue, and newcomers making their rookie debuts like Paul Hertz and Russell Ormiston. Every team needs a hot prospect from Japan: meet Takeyuki Inohiza from our Tokyo Chapter. This issue has history, sociology, physiology, memorabilia, major leagues, minor leagues, and good-ol'-fashioned stats. I also note several stories with a New York connection of one kind or another, which is not uncommon. But I would like to encourage diversity, both among the contributors and the topics of study. Open tryouts are always on, you know: submit your queries and ideas to me at PubDir@sabr.org and I'll send you the details.
To learn more about contributing to a future SABR publication, click here.
We hope you enjoy reading the Spring 2014 Baseball Research Journal!
---
With generous funding from The Anthony A. Yoseloff Foundation, Inc., SABR will award up to four scholarships to high school or college students to attend SABR 44 on July 30-August 3, 2014, in Houston, Texas. This scholarship will pay for registration, transportation and lodging up to a total value of $1,250.
The objective of this scholarship fund is to encourage high school and college-level student engagement with baseball research and to engender an active interest in baseball and SABR. The Yoseloff scholarship is to assist young researchers who want to attend SABR's annual convention and to introduce them to fellow SABR members. Through this fund, SABR hopes to inspire future baseball research, expose students to high-quality research and build the research capability of interested students.
Students must be currently enrolled in a high school, college undergraduate or graduate program, and be between 18 and 29 years of age at the time of the conference. All applications must be postmarked or e-mailed to Jeff Schatzki at jschatzki@sabr.org no later than June 6, 2014.
For more information on the SABR 44 Yoseloff Scholarships, along with eligibility requirements, click here.
---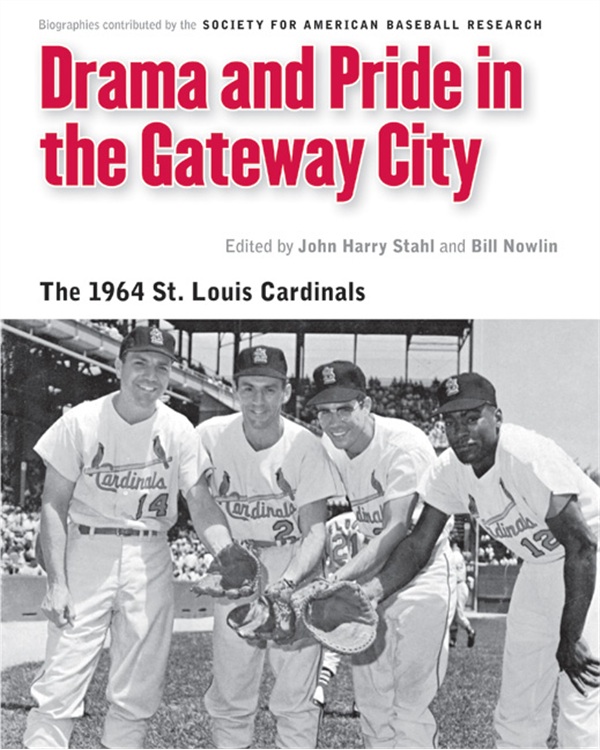 By 1964, the storied St. Louis Cardinals had gone 17 years without so much as a pennant. Things began to turn around in 1953, when August A. Busch Jr. bought the team and famously asked where all the black players were. Under the leadership of men like Bing Devine and Johnny Keane, the Cardinals began signing talented players regardless of color, and slowly their star started to rise again.
Drama and Pride in the Gateway City: The 1964 St. Louis Cardinals, edited by John Harry Stahl and Bill Nowlin and published as part of SABR's "Memorable Teams" series with the University of Nebraska Press, commemorates the team that Devine built, the 1964 team that prevailed in one of the tightest three-way pennant races of all time and then went on to win the World Series, beating the New York Yankees in the full seven games.
All the players, executives, coaches, and broadcasters from that special Redbirds team come alive in these pages — from Bob Gibson to Curt Flood, from Lou Brock to Ernie Broglio, from Harry Caray to Bob Uecker — along with the dramatic events that made the 1964 Cardinals such a memorable club in a memorable year.
Most of the SABR BioProject biographies that appeared in that book can now be read online at:
http://sabr.org/category/completed-book-projects/1964-st-louis-cardinals
(Note: The rest of the '64 Cardinals bios will be added in the coming days.)
You can find other team pages from our completed book projects — 23 and counting! — by going to SABR.org/BioProject and clicking the Browse button (http://sabr.org/bioproj/browse).
---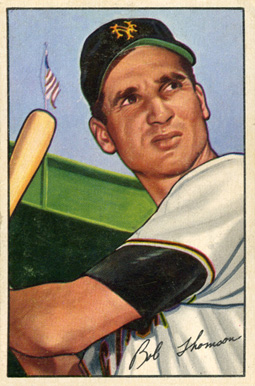 Five new biographies were posted as part of the SABR Baseball Biography Project, which brings us to a total of 2,775 published biographies. Here are the new bios:
All new biographies can be found here: http://sabr.org/bioproj/recent
You can find the SABR BioProject at SABR.org/BioProject.
Bios on more than just ballplayers: The ambitious goal of the SABR Baseball Biography Project is to publish a full-life biography of every major league player in history. But SABR members write about a lot more than just ballplayers. In addition, we have pages for Ballparks, Broadcasters, Executives, Games, Managers, Scouts, Spouses, Umpires and a lot more on the BioProject website. You can browse all of these categories at http://sabr.org/bioproj/browse. So if you've ever thought, "Hey, that person (or ballpark) should get the full BioProject treatment" — write the story and we'll publish it!
Get involved! If you'd like to help contribute to the SABR BioProject, visit our BioProject Resources page or read the FAQs section to get started. We're also looking to expand the BioProject to include all "encyclopedic" articles on baseball-related subjects from past SABR publications or committee newsletters. If you come across an article you think should be included in the SABR "baseball repository" at the BioProject, send a copy or link to markarmour04@gmail.com or jpomrenke@sabr.org.
---
Editor's note: This game summary is from the Retroactive All-Star Game Project. Voting was conducted to select retroactive MLB All-Star teams from the 1931 season and the games were simulated using Out of the Park 14.
The 1931 American League All-Stars overcame a monstrous drive by Wally Berger and held on for a 5-3 win at Navin Field in Detroit, thanks mostly to the perfect pitching of Lefty Grove and the hitting of Red Kress and Joe Cronin.
Grove needed only 31 pitches to mow down the nine batters he faced; Kress rapped out two hits, including a homer, and scored twice; and Cronin reached base three times, scored once and drove in a run.
On the Nationals' side Berger awed the crowd with a blast that was estimated to have traveled 474 feet, bettering the shot he hit out of Baker Bowl in May.
The series leans in the AL's favor at 8-7 and is heading to Shibe Park in Philadelphia in 1932. Shibe was also host to the 1925 Midsummer Classic and the Athletics have graciously loaned their stadium to the Phillies rather than force them to expand seating capacity at Baker Bowl.
Other highlights and outstanding players from this year's game include:
Ski Melillo driving in two runs with a double, and scoring a run.
Rick and Wes Ferrell forming the first all-brother battery in All-Star Game history, and combing to go 2 for 2 at the plate.
Bill Terry scoring two of the NL's three runs.
Babe Ruth reaching base three times on a hit and two walks.
Dazzy Vance and Firpo Marberry each tossing a scoreless inning in relief.
You can find a full account of the game, box score, game log and stats here.
Learn more about the Retroactive All-Star Game Project by clicking here.
— Mike Lynch
---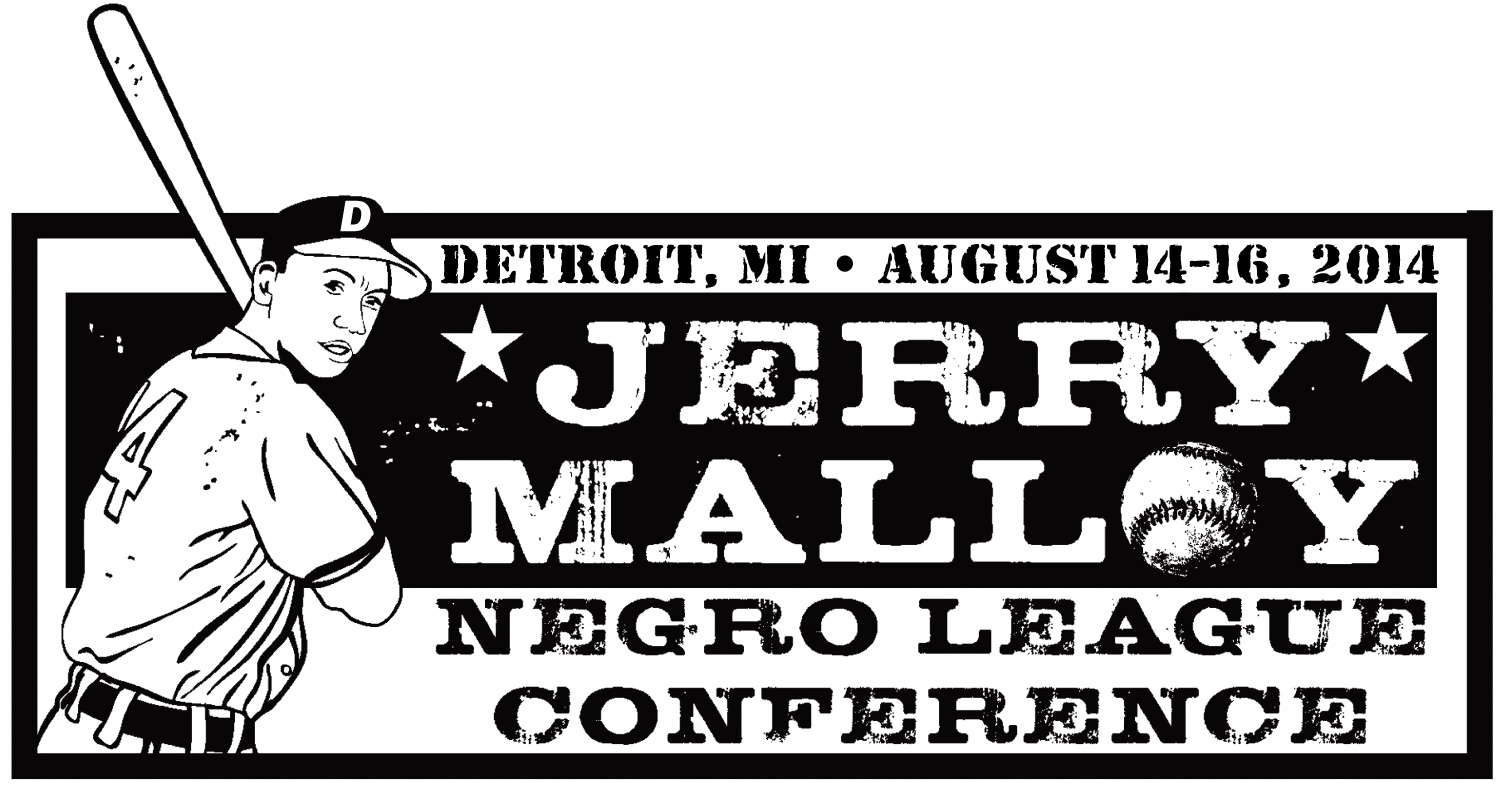 The 2014 Jerry Malloy Negro League Conference will be held August 14-16, 2014, at the Marriott Courtyard Downtown (333 E. Jefferson Avenue) in Detroit, Michigan. The conference is open to all baseball, history and sports fans of all ages.
The conference theme is "Turkey Stearnes and Black Baseball in Michigan." Black baseball has a long history in Michigan, especially centered in the Motor City. Among the original entrants to the Negro National League in 1920 was Tenny Blount's Detroit Stars, managed by Pete Hill and anchored by Big Bill Gatewood on the mound. The Detroit Wolves and Motor City Giants also played in Mack Park and Hamtramck stadium. In addition to the well-known Turkey Stearnes other star players included catcher Bruce Petway, the speedy Jimmie Lyons and the powerful Edgar Wesley.
The 17th annual Jerry Malloy Negro League Conference will celebrate this rich baseball history. In addition to two days of research presentations and player/author panels, attendees will also enjoy special presentations about local parks as well as a Tigers game against the Seattle Mariners.
To learn more, visit SABR.org/malloy.
---
We've heard your feedback: Some of you have said you look forward to "This Week in SABR" every Friday, but sometimes there are just too many compelling articles and announcements to read every week. We're not complaining — hey, keep up the great work! — but we know the feeling. So in an effort to make the length of this newsletter more manageable to read, we'll summarize some of the repeating/recurring announcements in a special "In Case You Missed It (ICYMI)" section of "This Week in SABR".
Here are some major headlines from recent weeks that we don't want you to miss:
All previous editions of This Week in SABR can be found here: http://sabr.org/content/this-week-in-sabr-archives.
---
We'd like to welcome all of our new SABR members who have joined this week. You can find all Members-Only resources at members.sabr.org and the New Member Handbook can be downloaded here.
Please give these new members a warm welcome and help them make the most of their membership by giving them the opportunity to get involved in their local chapter or a research committee.
| Name | Hometown | | | Name | Hometown |
| --- | --- | --- | --- | --- | --- |
| Jesse Brouillard | Santa Barbara, CA | | | Jeffrey Pasnik | Medina, NY |
| Rick Day | Deer Park, WA | | | Nicholas Paulenich | South Lyon, MI |
| Sean Deveney | Marblehead, MA | | | Thomas Salvner | Ann Arbor, MI |
| Charles Frame | Herndon, VA | | | Laura Salvner | Ann Arbor, MI |
| Evan Hammonds | McDonough, GA | | | Jule Sigall | Redmond, WA |
| Takao Hanyu | Tokyo, JP | | | Sam Stehle | State College, PA |
| Michael Hosier | Lodi, NJ | | | Nobuyori Takizawa | Yokohama, JP |
| Chris Ivy | Dallas, TX | | | Jeremy Tigan | Wilmington, DE |
| Susan Lantz | Bloomingdale, IL | | | Ross Turteltaub | Encino, CA |
| Rachel MaKarrall | Duluth, MN | | | Jim Willison | Cincinnati, OH |
| Greg Papillon | Vienna, VA | | | | |
---
There were no new SABR research committee newsletters published this week.
Find all SABR research committee newsletters at SABR.org/research.
---
Here were the new chapter meeting recaps published this week:
Visit SABR.org/chapters for more information on SABR regional chapters.
---
Here is a list of upcoming SABR events:
All SABR meetings and events are open to the public. Feel free to bring a baseball-loving friend … and make many new ones! Check out the SABR Events Calendar at SABR.org/events.
---
Here are some recent articles published by and about SABR members:
Read these articles and more at SABR.org/latest.
---
This Week in SABR is compiled by Jacob Pomrenke. If you would like us to include an upcoming event, article or any other information in "This Week in SABR," e-mail jpomrenke@sabr.org.
Are you receiving our e-mails? "This Week in SABR" goes out by e-mail to all members on Friday afternoons. If they're not showing up, try adding "sabr.notes@sabr.org" to your contact list to ensure they show up in your inbox (and not the spam folder.)
---
Originally published: April 25, 2014. Last Updated: April 3, 2020.
https://sabr.org/wp-content/uploads/2020/03/research-collection4_350x300.jpg
300
350
jpomrenke
/wp-content/uploads/2020/02/sabr_logo.png
jpomrenke
2014-04-25 13:00:18
2020-04-03 14:39:36
This Week in SABR: April 25, 2014