This Week in SABR: April 4, 2014

Welcome to "This Week in SABR!" Here's what we've been up to as of April 4, 2014:
---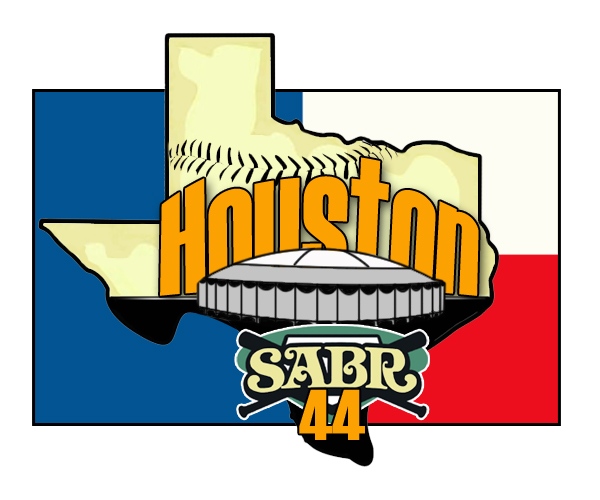 We hope you'll join us for what promises to be a spectacular SABR 44 convention in the summer of 2014 in Houston, Texas. The 44th annual SABR convention, which is open to all baseball fans, is scheduled for July 30-August 3, 2014, at the Royal Sonesta Houston.
Hotel: Click here to book your room at the Royal Sonesta online. The deadline to book your room at the SABR group rate of $129/night (plus tax) is Monday, July 14, 2014. The Royal Sonesta is at 2222 W Loop S Fwy., Houston, TX 77027, in the heart of the Galleria, just minutes from downtown and Minute Maid Park. If you have any questions about your reservation, please call the hotel at (713) 627-7600.
Conference registration: Click here for complete information on SABR 44 registration rates. Once again, we're offering an all-inclusive rate for the annual SABR convention. SABR members can pay $234 for an all-inclusive package with a Field Box ticket to the Astros game (and access to the special SABR 44 ballpark panels) on Saturday evening or $214 for an all-inclusive package with a Mezzanine Level ticket — each package is a savings of $30 off the regular rate. Non-members can pay $299 (Field Box) or $279 (Mezzanine Level) for the all-inclusive rate.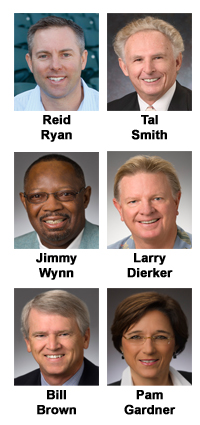 SABR 44 will include top featured speakers from around the baseball world — front office executives, players, managers, scouts, writers and analysts — innovative panel discussions, groundbreaking research presentations, major and minor league games, tours of historic ballparks, the SABR Trivia Contest, the Awards Luncheon, and most of all, the opportunity to make and renew baseball friendships over the course of this spectacular and memorable event.
We'll attend a game at the downtown Minute Maid Ballpark, which is one of the best in the majors, and we'll visit a brand-new independent league park in nearby Sugar Land, too.
Guest speakers at SABR 44 are expected to include:
Reid Ryan, President of Business Operations for the Houston Astros
Tal Smith, former Astros President and former SABR Director
Jimmy Wynn, original Colt .45 whose number has been retired by the Astros
Larry Dierker, longtime Astros player, broadcaster and manager
Bill Brown, current Astros television broadcaster
Pam Gardner, former Astros President of Business Operations
Eddie Robinson, longtime player, general manager and baseball executive
Bob Aspromonte, original Colt .45 and former Brooklyn Dodger
Mickey Herskowitz, noted baseball author and sportswriter
Experience SABR 44 at the ballpark: A special treat is in store for SABR 44 attendees this summer. On Saturday, August 2, SABR convention attendees will have the opportunity to visit Minute Maid Park for an exclusive ballpark session with Houston Astros executives and players. Before the Astros' 6:05 p.m. game against the Toronto Blue Jays, two SABR 44 panel discussions will take place inside the ballpark's Champions Pavilion, just above center field on the Mezzanine Level at Minute Maid Park.
Get your copy of Houston Baseball: The Early Years 1861-1961: All SABR 44 convention attendees will receive a free copy of Houston Baseball: The Early Years 1861-1961, edited by Mike Vance and produced by SABR's Larry Dierker Chapter, as part of their registration goody bag. Richly illustrated and expertly told, Houston Baseball: The Early Years 1861-1961 is a story for all fans of Houston baseball and Houston history. Learn more about the book at houstonbaseball.org.
Souvenir edition of The National Pastime: SABR 44 attendees will also receive a souvenir print edition of The National Pastime, our annual convention journal, focusing on baseball teams, players and events in the Houston area. All SABR members, whether you attend the convention or not, will receive the expanded e-book edition of The National Pastime in their inboxes later this summer.
We hope to see you in Houston this summer! For more information or to register, visit SABR.org/convention.
---
With generous funding from The Anthony A. Yoseloff Foundation, Inc., SABR will award up to four scholarships to high school or college students to attend SABR 44 on July 30-August 3, 2014, in Houston, Texas. This scholarship will pay for registration, transportation and lodging up to a total value of $1,250.
The objective of this scholarship fund is to encourage high school and college-level student engagement with baseball research and to engender an active interest in baseball and SABR. The Yoseloff scholarship is to assist young researchers who want to attend SABR's annual convention and to introduce them to fellow SABR members. Through this fund, SABR hopes to inspire future baseball research, expose students to high-quality research and build the research capability of interested students.
Students must be currently enrolled in a high school, college undergraduate or graduate program, and be between 18 and 29 years of age at the time of the conference. All applications must be postmarked or e-mailed to Jeff Schatzki at jschatzki@sabr.org no later than June 6, 2014.
For more information on the SABR 44 Yoseloff Scholarships, along with eligibility requirements, click here.
---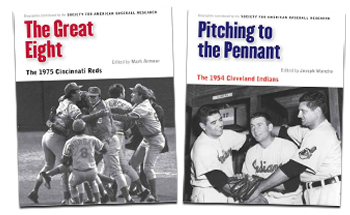 SABR continues its longstanding partnership with the University of Nebraska Press in 2014 with two new titles in the "Memorable Teams in Baseball History" series, which focuses on iconic teams with an unquestionable legacy in baseball history.
Each book focuses on a team's memorable single season and collects essays detailing the players, moments, and games that define these teams. The essays bring together contributions of many SABR writers and devoted fans who share passions for these teams and wish to relive those exceptional seasons.
You can now order our two new "Memorable Teams" books, which were published on Tuesday, April 1:
In 2012, SABR and UNP published the first two books in the "Memorable Teams in Baseball History" series: The Team That Forever Changed Baseball and America: The 1947 Brooklyn Dodgers (ed. Lyle Spatz); and Pitching, Defense, and Three-Run Homers: The 1970 Baltimore Orioles (eds. Mark Armour and Malcolm Allen.) Last year saw the release of Bridging Two Dynasties: The 1947 New York Yankees (ed. Lyle Spatz); and Drama and Pride in the Gateway City: The 1964 St. Louis Cardinals (eds. John Harry Stahl and Bill Nowlin.) For more information on the series, or to order a book, click here.
---
SABR members, the 2014 Board of Directors election beginning on May 1 will include five ballot items: the election of the SABR Vice President, Treasurer, one Director's position, and two By-Laws amendment changes.
The candidates up for election are:
For Vice President
For Treasurer

For Director
Chris Dial
Mike Dugan
Emily Hawks (incumbent)
George R. Skornickel
Bryan Soderholm-Difatte
You can read the proposed By-Laws changes, candidate biographies, along with full descriptions of the positions and responses the candidates made to a series of questions, in the 2014 SABR Election Guide below:
You will receive an e-mail on Thursday, May 1 with a link to vote online in the 2014 SABR Board of Directors election. The poll will close at 11:59 p.m. Mountain Standard Time on Thursday, May 15, 2014. The only way to vote online is through the link you will receive by e-mail. All e-mails will come from the address tellers@sabr.org; if you wish to add it to a whitelist in your e-mail client, that may help ensure that you will receive the e-mails.
For more information on the 2014 SABR election, click here.
---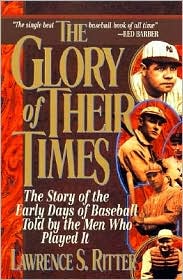 The groundbreaking oral history interviews of Deadball Era baseball stars conducted by late SABR member Lawrence Ritter have been selected for induction into the Library of Congress National Recording Registry.
This week, Librarian of Congress James H. Billington announced the selection of 25 sound recordings to the registry that will be preserved as cultural, artistic and/or historical treasures, representing the richness and diversity of the American soundscape.
"These recordings represent an important part of America's culture and history," Billington said in a press release. "As technology continually changes and formats become obsolete, we must ensure that our nation's aural legacy is protected. The National Recording Registry is at the core of this effort."
Ritter (1922-2004), a professor of economics and finance at New York University, traveled around the country in the early 1960s interviewing the likes of Sam Crawford, Smoky Joe Wood, and Stanley Coveleski, standout players from the first decades of the 20th century. He turned their colorful stories into The Glory of Their Times: The Story of The Early Days of Baseball Told By The Men Who Played It, the 1966 book that has inspired millions of baseball fans to become interested in the history of the game.
Reissued many times in expanded editions and also available in a four-CD set, the book has sold nearly a half-million copies and deepened the appreciation of baseball fans everywhere for the players of the past.
Ritter wrote that he got the idea from the 1961 death of Ty Cobb — the great players from the turn of the century were old men, and he wanted to hear their stories before they died. Before Ritter, no one had undertaken the effort to interview old ballplayers on such a grand scale, and his efforts led to dozens of oral history collections in the ensuing decades. Ritter did not ask probing questions or delve into the details of their careers — instead he turned his tape recorder on and stayed out of the way, allowing his subjects to go where their memories would take them.
As Lee Lowenfish wrote in his Summer 2010 Baseball Research Journal profile of Ritter:
Every chapter in Ritter's classic revealed a vivid human personality, all of them united by a love of baseball. John Tortes Meyers, Christy Mathewson's favorite catcher on the New York Giants of the early twentieth century, expressed his sorrow at the stereotyping of players of American Indian ancestry, who were routinely given the nickname "Chief." He said he cringed at the killing of Indians in the TV westerns that inundated the airwaves. Hall of Famer Wahoo Sam Crawford from Wahoo, Nebraska, similarly did not like to watch TV, preferring to read the novels of Balzac. He didn't attend old-timers games because he wanted fans to remember him in his youth. He vividly described the poor reputations of the players of his day. "We were considered pretty crude," he told Ritter. "Couldn't get into the best hotels and all that."
Ritter was part of the inaugural class of recipients for SABR's Henry Chadwick Award in 2010, honoring the game's greatest researchers. Each year, SABR's Deadball Era Research Committee presents the Larry Ritter Book Award for the best book set primarily in the Deadball Era.
For more information on the Library of Congress National Recording Registry, click here.
---
The 2014 Frederick Ivor-Campbell 19th Century Base Ball Conference will be held on Friday, April 11 and Saturday, April 12 at the Baseball Hall of Fame in Cooperstown, New York. Click here to download the full program and schedule details (PDF).
Registration for the Ivor-Campbell Conference is now closed; we have reached our conference venue capacity. Those wishing to be placed on a waiting list for the 2014 conference in the event of a registrant's cancellation, please contact Peter Mancuso at peterplus4@earthlink.net.
The 2014 conference will be highlighted by a keynote address from baseball historian Dorothy Seymour Mills, a SABR Henry Chadwick Award recipient and co-author of the legendary three-volume Baseball series. The conference will also feature special presentations by Hall of Fame librarian Jim Gates and Bob Mayer; a 19th Century "Outsider Baseball" panel discussion with Scott Simkus, Gary Ashwill, James E. Brunson III and moderator John Thorn; a Member Spotlight interview of Alma Ivor-Campbell by Tom Simon; book signings, research presentations, and a lot more.
For more information, visit SABR.org/ivor-campbell19c.
---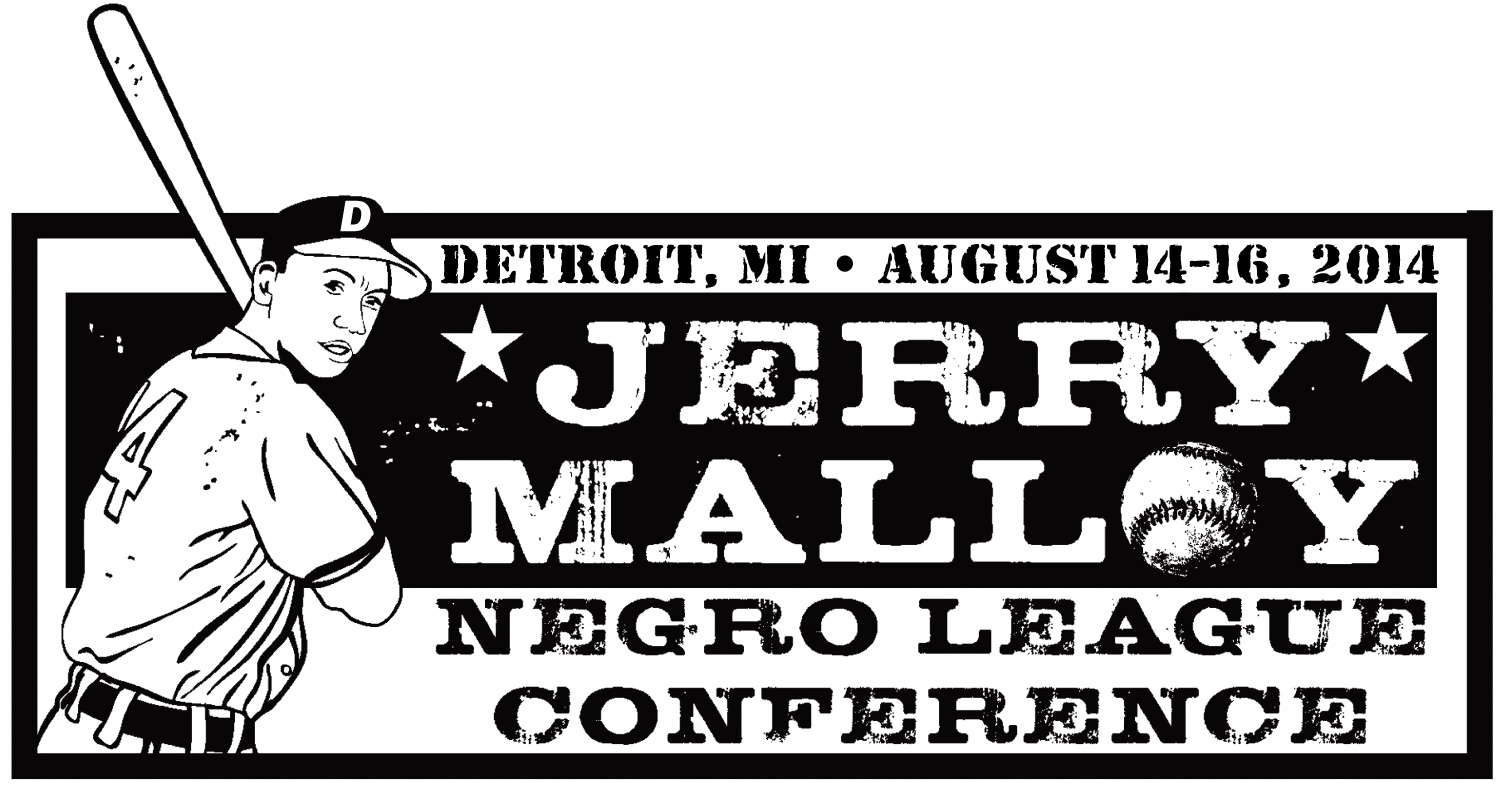 The 2014 Jerry Malloy Negro League Conference will be held August 14-16, 2014, at the Marriott Courtyard Downtown (333 E. Jefferson Avenue) in Detroit, Michigan. The conference is open to all baseball, history and sports fans of all ages.
The conference theme is "Turkey Stearnes and Black Baseball in Michigan." Black baseball has a long history in Michigan, especially centered in the Motor City. Among the original entrants to the Negro National League in 1920 was Tenny Blount's Detroit Stars, managed by Pete Hill and anchored by Big Bill Gatewood on the mound. The Detroit Wolves and Motor City Giants also played in Mack Park and Hamtramck stadium. In addition to the well-known Turkey Stearnes other star players included catcher Bruce Petway, the speedy Jimmie Lyons and the powerful Edgar Wesley.
The 17th annual Jerry Malloy Negro League Conference will celebrate this rich baseball history. In addition to two days of research presentations and player/author panels, attendees will also enjoy special presentations about local parks as well as a Tigers game against the Seattle Mariners.
To learn more, visit SABR.org/malloy.
---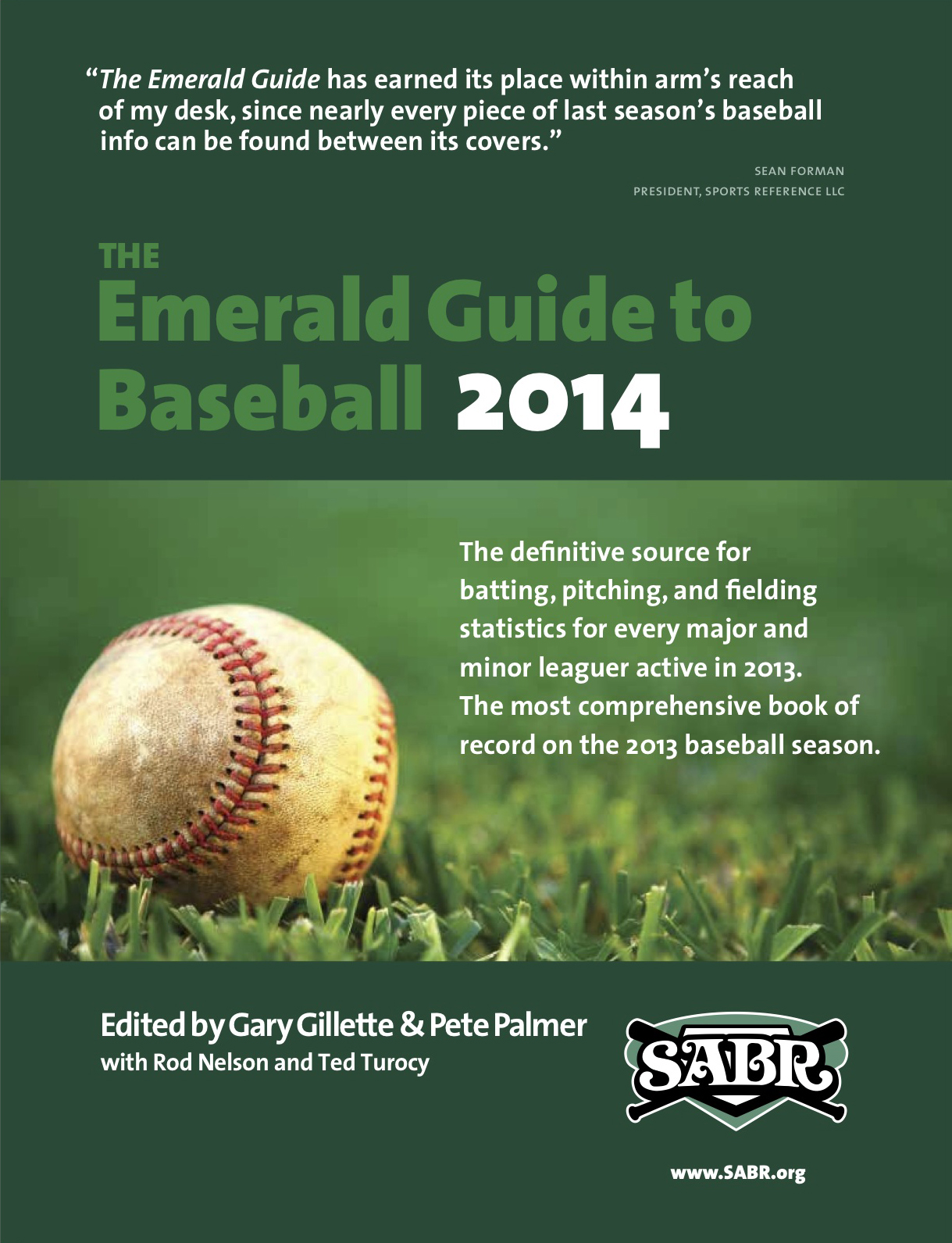 The Emerald Guide to Baseball, edited by Gary Gillette and Pete Palmer with Rod Nelson and Ted Turocy, is the most comprehensive record of the previous baseball season.
Historically, the primary purpose of annual baseball guides has been the publication of the official league standings plus the official team and individual statistics for both Major League Baseball and Minor League Baseball. Our new Emerald Guide follows faithfully in that tradition, containing the official batting, pitching, and fielding statistics for every team and every player in the Major Leagues plus extensive lists of league leaders.
The Emerald Guide to Baseball is our attempt to fill the gap in the historical record created by the recent demise of The Sporting News Baseball Guide. First published in 1942, The Sporting News Guide was truly the annual book of record for our National Pastime. It is our great privilege to document for posterity a slice of recent baseball history in our new book.
The 2014 edition of the Emerald Guide runs more than 600 pages and covers the 2013 season; it also includes a 2014 Major League Season Preview with Franchise Directories, Schedules, Spring Training Rosters, Minor League Affiliates, Broadcasting Information, and Career Leaders in 26 Categories for All Major League Teams.
The Emerald Guide is available in both a printed version and in a downloadable PDF format. The printed version will be available after Opening Day of the 2014 season.
To learn more about other SABR research resources, visit SABR.org/research.
---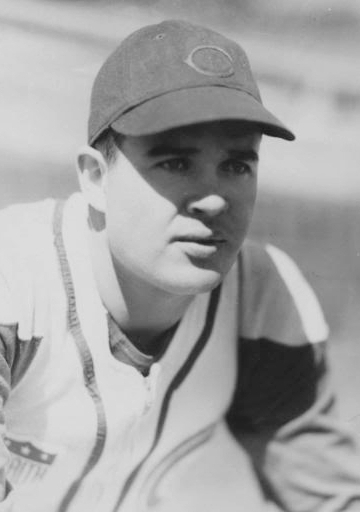 One new biography was posted as part of the SABR Baseball Biography Project, which brings us to a total of 2,753 published biographies. Here is the new bio:
All new biographies can be found here: http://sabr.org/bioproj/recent
You can find the SABR BioProject at SABR.org/BioProject.
Bios on more than just ballplayers: The ambitious goal of the SABR Baseball Biography Project is to publish a full-life biography of every major league player in history. But SABR members write about a lot more than just ballplayers. In addition, we have pages for Ballparks, Broadcasters, Executives, Games, Managers, Scouts, Spouses, Umpires and a lot more on the BioProject website. You can browse all of these categories at http://sabr.org/bioproj/browse. So if you've ever thought, "Hey, that person (or ballpark) should get the full BioProject treatment" — write the story and we'll publish it!
Get involved! If you'd like to help contribute to the SABR BioProject, visit our BioProject Resources page or read the FAQs section to get started. We're also looking to expand the BioProject to include all "encyclopedic" articles on baseball-related subjects from past SABR publications or committee newsletters. If you come across an article you think should be included in the SABR "baseball repository" at the BioProject, send a copy or link to markarmour04@gmail.com or jpomrenke@sabr.org.
---
Editor's note: This game summary is from the Retroactive All-Star Game Project. Voting was conducted to select retroactive MLB All-Star teams from the 1929 season and the games were simulated using Out of the Park 14.
The Americans and Nationals battled to a 5 to 5 tie through four-and-a-half frames in the 1929 Retroactive All-Star Game before the juniors pushed four more across the dish in the bottom of the fifth inning, and then held on for a 10 to 7 victory at Sportsman's Park in St. Louis, giving them two straight wins over the senior circuit and a one-game edge in the Midsummer Classic series.
Yankees center fielder Earle Combs almost single-handedly defeated Bill McKechnie's impermanent club, rapping out four hits in five trips to the plate and banging the game's only home run, a drive off Chicago's Guy Bush that cleared the wall in right-center field in the bottom of the fourth.
Jimmie Foxx, the Philadelphia Athletics' powerful young slugger, enjoyed a perfect day at the plate, going 4 for 4 with a run and an RBI. On the senior side, Lefty O'Doul and Travis Jackson recorded three hits apiece and Jackson added a walk to his ledger. Jackson also scored and drove in a run apiece and O'Doul came plateward twice. The less said about the pitching corps, the better. Only Firpo Marberry stood out and he had one solitary inning to display his wares.
For a full box score, game log and stats, visit Seamheads.com.
Learn more about the Retroactive All-Star Game Project by clicking here.
— Mike Lynch
---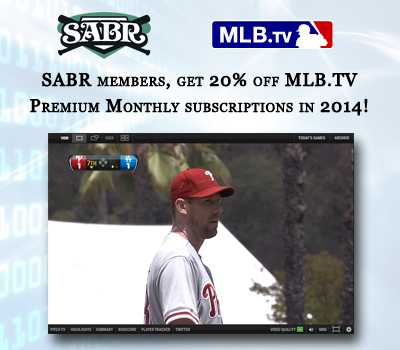 SABR members, you have the opportunity to take advantage of a special offer from MLB Advanced Media for the 2014 season:
The link above allows you access to purchase a 2014 MLB.TV monthly subscription at a special price for SABR members only.

This 20% discount is valid for each month of the 2014 season. Please note: This subscription DOES NOT automatically renew each month.

If you already have an MLB.com account, please click the link above to sign in at MLB.com. If you do not, you will create a new MLB.com account as you purchase.
Watch every 2014 Regular Season out-of-market game LIVE or on-demand in HD Quality. Choose home or away broadcasts. MLB.TV is on your favorite devices, including iPhone, iPad, Android phones, Xbox 360, Sony PlayStation and more. Watch up to four games at once with Mosaic. DVR functionality lets you pause or rewind live games. PLUS, watch select 2014 Spring Training games LIVE online.
For any questions about your subscription, please contact MLB.TV Customer Service.
---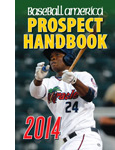 We're glad to pass along this special offer for SABR members from our friends at Baseball America:
The Baseball America Prospect Handbook is the definitive source on prospects. Order it directly from Baseball America and you will also get an exclusive supplement with 30 more scouting reports — one for every team — absolutely FREE!
Click here to order or call (800) 845-2726, Mon-Fri from 9 a.m.-5 p.m. ET.
---
We've heard your feedback: Some of you have said you look forward to "This Week in SABR" every Friday, but sometimes there are just too many compelling articles and announcements to read every week. We're not complaining — hey, keep up the great work! — but we know the feeling. So in an effort to make the length of this newsletter more manageable to read, we'll summarize some of the repeating/recurring announcements in a special "In Case You Missed It (ICYMI)" section of "This Week in SABR".
Here are some major headlines from recent weeks that we don't want you to miss:
All previous editions of This Week in SABR can be found here: http://sabr.org/content/this-week-in-sabr-archives.
---
We'd like to welcome all of our new SABR members who have joined this week. You can find all Members-Only resources at members.sabr.org and the New Member Handbook can be downloaded here.
Please give these new members a warm welcome and help them make the most of their membership by giving them the opportunity to get involved in their local chapter or a research committee.
| Name | Hometown | | | Name | Hometown |
| --- | --- | --- | --- | --- | --- |
| Dan Abraham | Boston, MA | | | Chris Joyce | Williamsburg, VA |
| Joel Barnhart | Midland, MI | | | John Kokoska | Fair Oaks, CA |
| Douglas Branson | Pittsburgh, PA | | | Osbourne McConathy | Brookline, MA |
| Matt Chaney | Eastlake, OH | | | Sean Rowsome | Ajman, UAE |
| Colby Conetta | Roslyn, NY | | | Brian Schnack | Capitola, CA |
| Stephen Cooper | North Salem, NY | | | Kathy Taylor | Acton, MA |
| Anthony Drane | Carnegie, PA | | | Craig Thighe | Centennial, CO |
| Victor Duda | Lansing, IL | | | Michael Thurmon | Nashville, TN |
| Simon Dukes | Toronto, ON | | | Christopher Williams | Valley Stream, NY |
| Joe Feldman | Alexandria, VA | | | Thomas Woods | Dayton, NV |
| Stephen Forsha | Washington Court House, OH | | | Greg Wych | Irmo, SC |
| Robert High | Alexandria, VA | | | | |
---
Here are the new SABR research committee newsletters published this week:
Find all SABR research committee newsletters at SABR.org/research.
---
Here are the new chapter meeting recaps published this week:
Visit SABR.org/chapters for more information on SABR regional chapters.
---
Here is a list of upcoming SABR events:
All SABR meetings and events are open to the public. Feel free to bring a baseball-loving friend … and make many new ones! Check out the SABR Events Calendar at SABR.org/events.
---
Here are some recent articles published by and about SABR members:
Read these articles and more at SABR.org/latest.
---
This Week in SABR is compiled by Jacob Pomrenke. If you would like us to include an upcoming event, article or any other information in "This Week in SABR," e-mail jpomrenke@sabr.org.
Are you receiving our e-mails? "This Week in SABR" goes out by e-mail to all members on Friday afternoons. If they're not showing up, try adding "sabr.notes@sabr.org" to your contact list to ensure they show up in your inbox (and not the spam folder.)
---
Originally published: April 4, 2014. Last Updated: April 3, 2020.
https://sabr.org/wp-content/uploads/2020/03/research-collection4_350x300.jpg
300
350
jpomrenke
/wp-content/uploads/2020/02/sabr_logo.png
jpomrenke
2014-04-04 14:00:00
2020-04-03 14:39:36
This Week in SABR: April 4, 2014