This Week in SABR: April 8, 2016

Welcome to "This Week in SABR!" Click here to view this week's newsletter on the web. Here's what we've been up to as of April 8, 2016:
---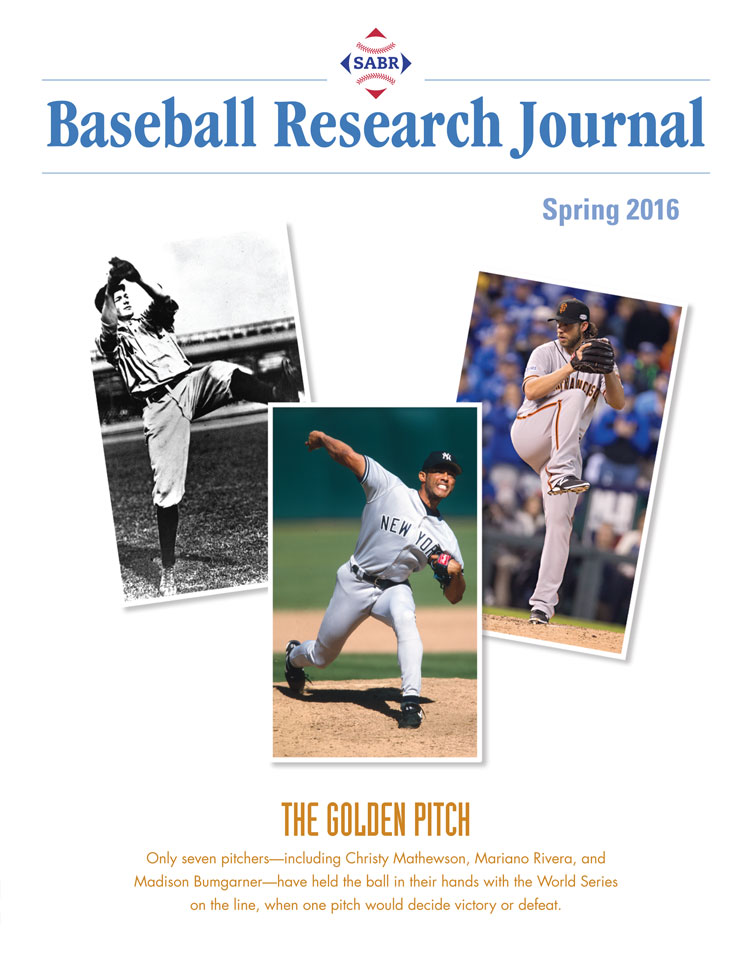 Good news! The Spring 2016 edition of the Baseball Research Journal has been mailed out to all SABR members.
Those of you who receive the print edition should find your BRJ arriving in the next two to four weeks, although we hear some have already arrived. For digital subscribers, the e-book edition was delivered to your inboxes on Thursday, April 7.
Click here to download the e-book edition of the Spring 2016 Baseball Research Journal.
All articles from the Spring 2016 Baseball Research Journal will be available soon to read online at SABR.org.
The print edition of the Spring 2016 Baseball Research Journal will be available soon for purchase at the SABR Bookstore.
To learn more about contributing to a future SABR publication, click here.
Having trouble downloading our e-books? To view PDF files on your computer, click here to download the free Adobe Reader software. Having trouble downloading e-books to your Kindle, Nook, Sony Reader or iPad? Click here for additional help.
We hope you enjoy reading the Spring 2016 Baseball Research Journal!
---
SABR members, the 2016 Board of Directors election beginning on April 12 will include two ballot items: the election of the SABR Vice President and two (2) open Director positions — you must rank the Director candidates in order of preference. The candidates for election are:
For Vice President
For Director (2)

Barry Bloom
Dennis Degenhardt
Barry Deutsch
Chris Dial (incumbent)
Bill Nowlin
George Skornickel
You can read the candidate biographies, along with full descriptions of the positions and responses the candidates made to a series of questions, in the 2016 SABR Election Guide which is available for download below:
Download the 2016 SABR Election Guide here (PDF)
All members with an e-mail address on file with SABR as of Friday, April 1, 2016, will receive a message on Tuesday, April 12 with a link to vote online in the 2016 SABR Board of Directors election. The poll will close at 11:59 p.m. Mountain Standard Time on Tuesday, April 26. The only way to vote online is through the link you will receive by e-mail. All e-mails will come from the address tellers@sabr.org; if you wish to add it to a whitelist in your e-mail client, that may help ensure that you will receive the e-mails.
For more information on the 2016 SABR election, click here.
---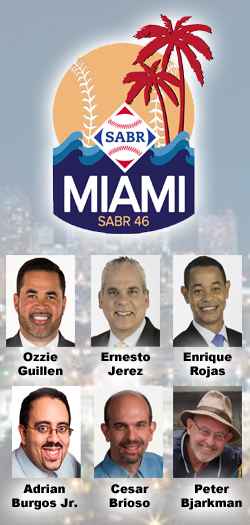 We're excited to announce two of our featured panels for the SABR 46 convention this summer in Miami, Florida.
SABR 46 will be held July 27-31, 2016, at the Hyatt Regency Miami. Discounted early registration rates are available now at SABR.org/convention. All baseball fans are welcome to attend.
Our convention in South Florida will feature a distinct Latin flavor, with panels on Latin-American baseball history and covering baseball for Spanish-speaking audiences.
Our Perspectivas del Béisbol: Covering Baseball for Hispanic Fans On ESPN Deportes panel is expected to include these special guests:
Ozzie Guillen, the outspoken former major-league shortstop and manager who led the Chicago White Sox to the 2005 World Series championship
Ernesto Jerez, an Emmy Award-winning play-by-play announcer for ESPN Deportes' "Sunday Night Baseball" since 1995
Enrique Rojas, an ESPN Deportes reporter who has covered MLB and the winter leagues for more than 20 years
Moderator: Leonte Landino, the chairman of SABR's Luis Castro/Latin America Chapter who produces all baseball properties on ESPN Deportes and writes for ESPNDeportes.com
We'll also have a special Latino Baseball Authors Panel, which will feature the following SABR members and historians:
César Brioso, a digital producer for USA Today and the author of Havana Hardball: Spring Training, Jackie Robinson, and the Cuban League
Peter C. Bjarkman, who is considered to be one of the foremost authorities on Cuban baseball history; he is the author of Cuba's Baseball Defectors: The Inside Story and A History of Cuban Baseball, 1864-2006
Adrian Burgos Jr., a professor of history at the University of Illinois and the author of Cuban Star: How One Negro League Owner Changed the Face of Baseball and Playing America's Game: Baseball, Latinos, and the Color Line
Moderator: Anthony Salazar, chairman of SABR's Latino Baseball Research Committee and editor of its newsletter, La Prensa del Béisbol Latino
More details and the complete schedule will be announced in the coming months. Find more information on SABR 46 at SABR.org/convention.
---

We hope you'll join us for what promises to be a spectacular SABR 46 convention, July 27-31, 2016, at the Hyatt Regency Miami in downtown Miami, Florida.
Registration: Click here for complete information on SABR 46 registration rates, all-inclusive packages, and optional sessions. Or click here to register for SABR 46! More details on guest speakers, panelists, and presenters will be announced soon. We're again offering a special all-inclusive rate for the annual SABR convention. SABR members can pay $269 for an all-inclusive package that includes full registration to SABR 46, a premium Home Plate Box ticket to the Miami Marlins game on Friday, July 29 (includes special pregame ballpark session/tour and roundtrip bus transportation), and one ticket to the Awards Luncheon — the package is a savings of $40 off the regular rate. Non-members can pay $299 for the all-inclusive rate. The deadline to register at the all-inclusive rate is Monday, June 13, 2016.
Hotel: Don't forget to book your hotel room at the Hyatt Regency Miami; our room block usually goes quickly. Click here to book your room online. The deadline to book your room at the SABR group rate of $129/night (plus tax) is Monday, June 13, 2016. If you have any questions about your reservation, please call the hotel at (305) 358-1234.
Pregame ballpark session/tour: SABR 46 attendees will have a special opportunity to visit Marlins Park for an exclusive pregame ballpark session with Miami Marlins executives and players. Before the Marlins 7:10 p.m. game against the St. Louis Cardinals on Friday, July 29, a special SABR 46 panel discussion will take place at Marlins Park followed by a ballpark tour for convention attendees. Guest speakers and more details will be announced soon. Purchase of SABR 46 conference registration AND a game ticket will be required to attend this special session. A SABR 46 Marlins game ticket also includes roundtrip bus transportation. Click here to learn more.
Pre-order your SABR logo shirts, caps, or souvenir baseballs: Avoid the rush at registration, and pre-order your SABR logo polo shirt, T-shirt, baseball caps, or souvenir crystal baseball online when you register for SABR 46

. Please indicate shirt size (adult S to XXXL) when you register. Caps are one-size-fit-most. Your items will be available to be picked up when you arrive at the SABR convention.

The souvenir baseballs are crystal paperweights measuring about 3 inches around, with an embossed SABR logo in the center.

Deadline to pre-order: Monday, June 13, 2016.
All SABR 46 attendees will also receive a souvenir print edition of The National Pastime, our annual convention journal, focusing on baseball teams, players and events in the Miami area. All SABR members, whether you attend the convention or not, will receive the expanded e-book edition of The National Pastime in their inboxes later this summer. Click here to register for SABR 46.
---
With generous funding from The Anthony A. Yoseloff Foundation, Inc., SABR will award up to four scholarships to high school or college students to attend SABR 46 in Miami. This scholarship will pay for registration, transportation and lodging (double occupancy) up to a total value of $1,250. Students must be currently enrolled in a high school, college undergraduate or graduate program, and be between 18 and 29 years of age at the time of the conference. Some form of age verification (photocopy of driver's license, passport, etc.) must be attached to your application.
Submissions must include a written essay and a letter of recommendation from a current high school/college teacher, guidance counselor or a school administrator. The deadline to apply is May 1, 2016.
For full details on how to apply, or to download an application, click here.
---
SABR's Board of Directors has approved the formation of two new research committees.
The new Official Scoring Research Committee, led by Stew Thornley, is intended to document the history and evolution of scoring rules and changes in them; the history of who has done the scoring; stories about official scoring and noteworthy incidents like no-hitters and batting championships in which official scorers have been involved; the history of the rights of teams and players to appeal a scoring decision; and more. To sign up for e-mail announcements from this committee, click here and select the "Join Group" button at the top of the committee page.
Launched in 2014 as an offshoot of the popular BioProject, the SABR Baseball Games Project, led by Greg Erion, Bruce Slutsky, and Chad Osborne, is a collaborative initiative to research and write articles on major-league and Negro League regular, postseason, and All-Star Games. These game accounts will complement Retrosheet and Baseball-Reference box scores as well as BioProject essays on the players involved. The articles are not intended to be mere play-by-play summaries, nor should they be first-person narratives. Rather the goal is to put each game in historical context — whether that history is of a particular player, team, season, or something even broader.
To read all stories from the Games Project, visit sabr.org/gamesproject. To sign up for e-mail announcements from this committee, click here and select the "Join Group" button at the top of the committee page.
SABR's 31 research committees comprise a diverse variety of interests and many members are devoted to the study of a specific area related to the game — from Baseball and the Arts to Statistical Analysis to the Deadball Era to Women in Baseball. Learn more about SABR's research committees by clicking here.
---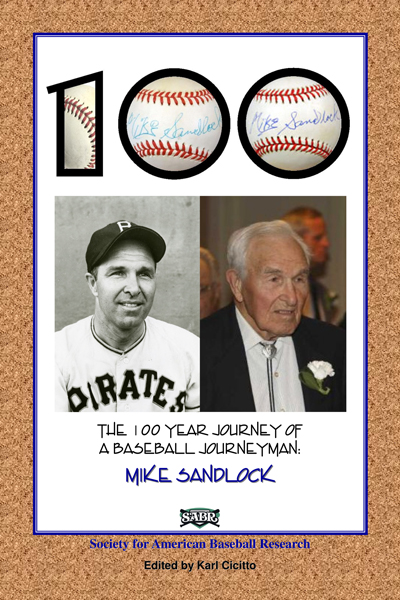 Mike Sandlock, the oldest living former major-league player, a switch-hitting catcher and infielder who spent parts of five seasons with the Boston Braves, Brooklyn Dodgers, and Pittsburgh Pirates, died after a battle with bone cancer on Monday, April 4, nearly six months after celebrating his 100th birthday.
Sandlock, born October 17, 1915, was one of just a handful of players to have reached the centennial milestone. He was honored last month by SABR's Connecticut Smoky Joe Wood Chapter, which produced a book celebrating his life, 100: The 100 Year Journey of a Baseball Journeyman, Mike Sandlock, and shared the completed book with him at a private gathering on March 19. Sandlock spent his final years in his home state, living with his youngest son Damon and their family in the Cos Cob section of Greenwich, regaling visitors and friends with stories about his 16-year pro baseball career.
As Don Harrison wrote in Sandlock's SABR biography, he "wasn't a star at the major-league level, but he played with many who were." He was a teammate of six Hall of Famers, including Warren Spahn and Ralph Kiner, and was managed by the legendary Casey Stengel and Leo Durocher. As a minor-leaguer in the Dodgers organization, Sandlock befriended many of Brooklyn's fabled "Boys of Summer," including Jackie Robinson, Pee Wee Reese, and Duke Snider, and he played a role in the development of fellow catcher Roy Campanella.
The title of oldest living former major-leaguer was passed on to Sandlock after Conrado Marrero died at age 103 in 2014. Sandlock and Marrero — who were once teammates on a winter-league championship team in Cuba that included Monte Irvin and Sam Jethroe — were two of the 17 former major-league players who have reached the age of 100.
Sandlock was feted by the Los Angeles Dodgers in 2012 as the franchise's oldest living player and he was inducted into the Brooklyn Dodgers Hall of Fame. In a 2013 interview with the New York Times, Sandlock expressed a low-key approach to life and longevity: "Win some, walk off. Go in, have a beer. That's it."
Sandlock is survived by his sons Mike and Damon, daughter-in-law Allie; and six grandchildren. His wife, Vicki, died in 1982. Memorial services are pending.
---
The eighth annual Frederick Ivor-Campbell 19th Century Base Ball Conference is coming up next weekend, April 15-16, 2016, at the National Baseball Hall of Fame and Museum in Cooperstown, New York.
The 2016 conference will be highlighted by a keynote address from baseball historian Bill Humber, along with a panel discussion, "Baseball's 19th Century Movers and Shakers" with Bob Bailey, Ralph Carhart, Jerry Casway, and John Thorn; a special presentation by Henry Chadwick Award winner David Nemec ("Evolution of 'Hit by Pitch' and other Research Findings"); a Member Spotlight interview of Eric Miklich by Tom Simon; plus book signings, more research presentations, a welcome dinner, and more.
"What really happens here is we get to hear some presentations of people who really, really are great researchers and great baseball history personalities. That combination, I think, really resonates," conference organizer Peter Mancuso said. "In terms of the Nineteenth Century Research Committee at SABR, baseball history is not just baseball history. It really is part of history."
To learn more, visit sabr.org/ivor-campbell19c.
---
The 19th annual Jerry Malloy Negro League Conference will be held July 7-9, 2016, in Kansas City. The conference is open to all baseball, history and sports fans of all ages. Registration is now available.
To register: Click here to register online at the SABR Store. Or click here to download a printable registration form and information packet (PDF); you can mail your check or money order before June 20 to SABR Malloy Conference, Cronkite School at ASU, 555 N. Central Ave. #416, Phoenix, AZ 85004. The early registration rate for SABR members is $165 for adults (includes all activities) or $120 for students. (Non-members: $200 adults/$150 students). Single-day registration for Friday or Saturday is $75 for SABR members, $95 non-members. The Thursday education forum only is $15 for SABR members, $30 non-members. Optional sessions or guest tickets are also available. Please note: The early registration rate expires on May 10, 2016.

Book your hotel room: The Malloy Conference will be held at the Sheraton Overland Park Hotel at the Convention Center, 6100 College Boulevard, Overland Park, KS 66211. Limited rooms are available at a special discounted rate of $119/night (plus tax) for singles/doubles or $129/night (plus tax) for triples. Click here to reserve your room today or call (866) 837-4214 and mention the Jerry Malloy Conference. Please note: The cutoff date to book your room at the SABR discounted rate is June 13, 2016.
The 2016 Jerry Malloy Negro League Conference will celebrate "Barnstorming in the Negro Baseball Leagues." Barnstorming has always been a central part of the life of Negro League ballplayers. All Negro Leaguers took part in barnstorming games across the country and in cities like Kansas City. Monarchs great Satchel Paige, whose 110th birthday is being celebrated during this conference, did his fair share of barnstorming. Presentations may focus on any topic related to the theme, or other Negro Leagues issues.
Visit SABR.org/malloy for information on the 2016 Call for Papers, Essay Contest, Art Contest, and Library Grant Program.
---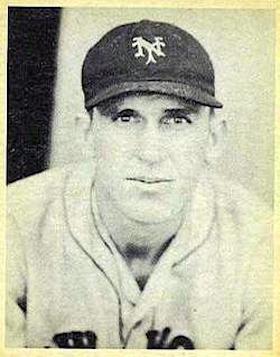 Seven new biographies were posted this week as part of the SABR Baseball Biography Project, which brings us to a total of 3,722 published biographies. Here are the new bios published this week:
All new biographies can be found here: http://sabr.org/bioproj/recent
Search for any SABR biography: You can now visit sabr.org/bioproj_search to search for any player — or manager, executive, scout, spouse, broadcaster, or umpire — who appears in the SABR BioProject. You can also browse all of these BioProject categories and a lot more, including 300-game winners, Hall of Famers, 1960s All-Stars, or Negro Leaguers, at our Browse page: sabr.org/bioproj/browse.
---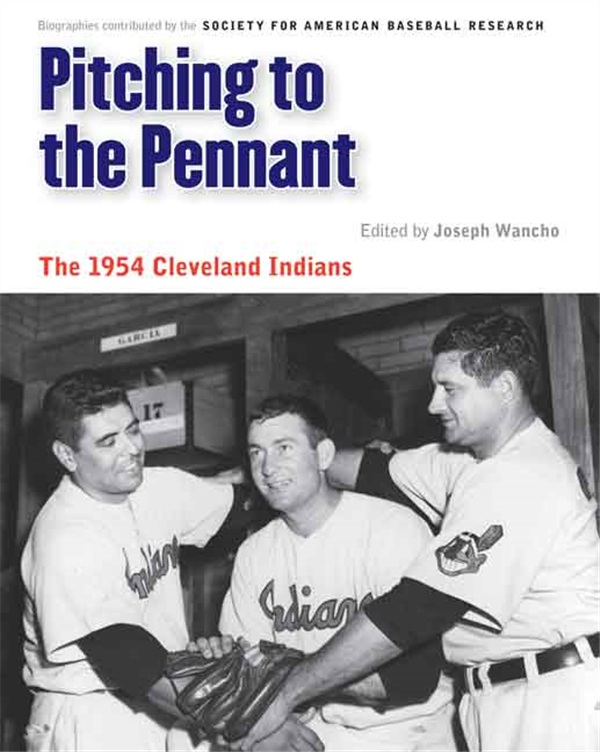 In SABR's Pitching to the Pennant: The 1954 Cleveland Indians, edited by Joseph Wancho and published by University of Nebraska Press in 2014, we celebrated the record-setting Tribe, one of the most memorable teams in baseball history. Their mark for most wins (111) fell only when the baseball schedule expanded, and their winning percentage, an astounding .721, is still unsurpassed in the American League. Though the season ended with a heartbreaking loss to the New York Giants in the World Series, the 1954 team remains a favorite among Cleveland fans and beyond.
This book includes biographies of the "Big Three" pitching staff (Mike Garcia and future Hall of Famers Bob Lemon and Early Wynn), notable players such as Bobby Avila, Bob Feller, Larry Doby, and Al Rosen, to manager Al Lopez, his coaches, and the Indians' broadcast team.
The SABR BioProject biographies that appeared in Pitching to the Pennant can now be read online at:
http://sabr.org/category/completed-book-projects/1954-cleveland-indians
You can also purchase the book from University of Nebraska Press by clicking here.
---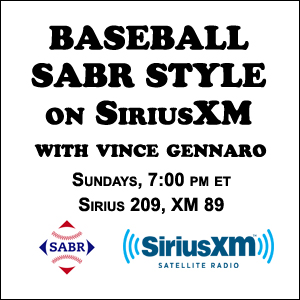 Behind the Numbers: Baseball SABR Style on SiriusXM, a radio show hosted by SABR President Vince Gennaro, will air this weekend at its regular time, 7:00-8:00 p.m. ET on Sundays, on MLB Network Radio.
Now, you can watch video highlights of Behind the Numbers: Baseball SABR Style on SiriusXM on MLB.com and you can also listen to all recent episodes on-demand on the SiriusXM Internet Radio App.
Behind the Numbers: Baseball SABR Style on SiriusXM focuses on examining and interpreting the statistical analysis that plays a critical role in baseball today. It airs weekly throughout the year on MLB Network Radio, available to subscribers nationwide on XM channel 89, Sirius channel 209, and on the SiriusXM Internet Radio App.
For more information, click here.
---
Each year, the SABR Board of Directors appoints more than a dozen members to small committees that choose our research award winners.
Now is the time to let us know if you would like to be considered for one of these positions. To apply, please send an e-mail to SABR Director Ty Waterman indicating which award you would like to judge, and providing answers to these questions: (1) why you are interested in serving (2) any relevant experience (3) what your research interests are. If you choose to weave these questions into one answer, you may do so.
For a complete list of SABR research awards, click here.
---
Calling all User Interaction and Big Data Geeks
Perhaps a camel is a horse designed by committee, but small groups can deliver outstanding apps in short order with the right combination of people. Imagine you could sit in front of the 120,000 index cards The Sporting News kept on every player who signed a professional baseball contract during the 20th century and use them to complete the information missing from the master database of major and minor league players.
Soon, SABR members will be able to do this — if we build them a great app. In conjunction with the LA84 Foundation, SABR is imaging the cards and digitizing the contents into full text records with integrated image mapping in XML files.
If this intrigues you and you think you may have expertise to bring to the table, please contact SABR Treasurer F.X. Flinn, who is coordinating the project.
---
Minutes from the Board of Directors conference call on February 21, 2016, have now been posted on the SABR website.
You can view all past minutes of SABR Board meetings by going to the page below:
http://sabr.org/content/sabr-board-minutes
Or you can go to the Members' Info page and click on "Org. files", then "Board Minutes" to view the minutes.
---
We've heard your feedback: Some of you have said you look forward to "This Week in SABR" every Friday, but sometimes there are just too many compelling articles and announcements to read every week. We're not complaining — hey, keep up the great work! — but we know the feeling. So in an effort to make the length of this newsletter more manageable to read, we'll summarize some of the repeating/recurring announcements in a special "In Case You Missed It (ICYMI)" section of "This Week in SABR".
Here are some major headlines from recent weeks that we don't want you to miss:
All previous editions of This Week in SABR can be found here: http://sabr.org/content/this-week-in-sabr-archives.
---
We'd like to welcome all of our new SABR members who have joined this week. You can find all Members-Only resources at members.sabr.org and the Membership Handbook can be downloaded here.
Please give these new members a warm welcome and help them make the most of their membership by giving them the opportunity to get involved in their local chapter or a research committee.
You can find contact information for any SABR member in the online membership directory (SABR.org/directory).
| Name | Hometown | | | Name | Hometown |
| --- | --- | --- | --- | --- | --- |
| Blane Baker | Liberty, MO | | | Jerry Jerome | Brightwaters, NY |
| Matthew Brenzikofer | Pomona, KS | | | Jeffrey Klein | Los Angeles, CA |
| James Burns | Germantown, NY | | | Scott Maurer | Blaclick, OH |
| Lauren Case | Washington, DC | | | Philip McNulty | Chicago, IL |
| Jim Cleary | Bay Village, OH | | | Paul Plaine | Bronxville, NY |
| John D'Addona | Ann Arbor, MI | | | Michael Power | Albuquerque, NM |
| Tim Garling | Ft. Lauderdale, FL | | | Nick Ratliff | Prairie Village, KS |
| Steven Hachigian | Newport Beach, CA | | | Lonnie Wheeler | New Richmond, OH |
| Alan Henry | Deerfield, IL | | | James Whetstone | Millersport, OH |
| Scott Hollander | Amherst, NY | | | | |
---
Here are the new SABR research committee updates this week:
Find all SABR research committee newsletters at SABR.org/research.
---
Here are the new regional chapter updates this week:
Hank Gowdy Chapter meeting recap (April 2; Westerville, OH)
New Best Practices handbook: Chapter leaders, download the new Chapter Leaders Best Practices Handbook, compiled by SABR staffer Marisa Elliot, on the Admin Tools page at admin.sabr.org. The handbook offers suggestions and guidelines for meetings, speakers, revitalizing a chapter, and getting publicity for SABR and chapter events.
Visit SABR.org/chapters for more information on SABR regional chapters.
---
Here is a list of upcoming SABR events:
All SABR meetings and events are open to the public. Feel free to bring a baseball-loving friend … and make many new ones! Check out the SABR Events Calendar at SABR.org/events.
---
Here are some recent articles published by and about SABR members:
Read these articles and more at SABR.org/latest.
---
This Week in SABR is compiled by Jacob Pomrenke. If you would like us to include an upcoming event, article or any other information in "This Week in SABR," e-mail jpomrenke@sabr.org.
Have trouble reading this e-mail? Click here to view this week's newsletter on the web.
Are you receiving our e-mails? "This Week in SABR" goes out by e-mail to all members on Friday afternoons. If they're not showing up, try adding "sabr.notes@sabr.org" to your contact list to ensure they show up in your inbox (and not the spam folder.)
---
Originally published: April 8, 2016. Last Updated: April 3, 2020.
https://sabr.org/wp-content/uploads/2020/03/research-collection4_350x300.jpg
300
350
admin
/wp-content/uploads/2020/02/sabr_logo.png
admin
2016-04-08 15:50:00
2020-04-03 14:39:13
This Week in SABR: April 8, 2016