This Week in SABR: August 8, 2014

Live from Houston, welcome to "This Week in SABR!" Here's what we've been up to as of August 8, 2014:
---
Couldn't make it to Houston? Check out complete coverage of SABR 44 online at SABR.org/convention!
The Society for American Baseball Research held its 44th annual convention on July 30-August 3, 2014, at the Royal Sonesta Houston, in the heart of the Galleria, just minutes from downtown and Minute Maid Park.
Click on a link below for more stories, photos, and multimedia clips from the SABR 44 convention in Houston. We'll post more stories, photos and clips online at SABR.org/convention next week.
Wednesday, July 30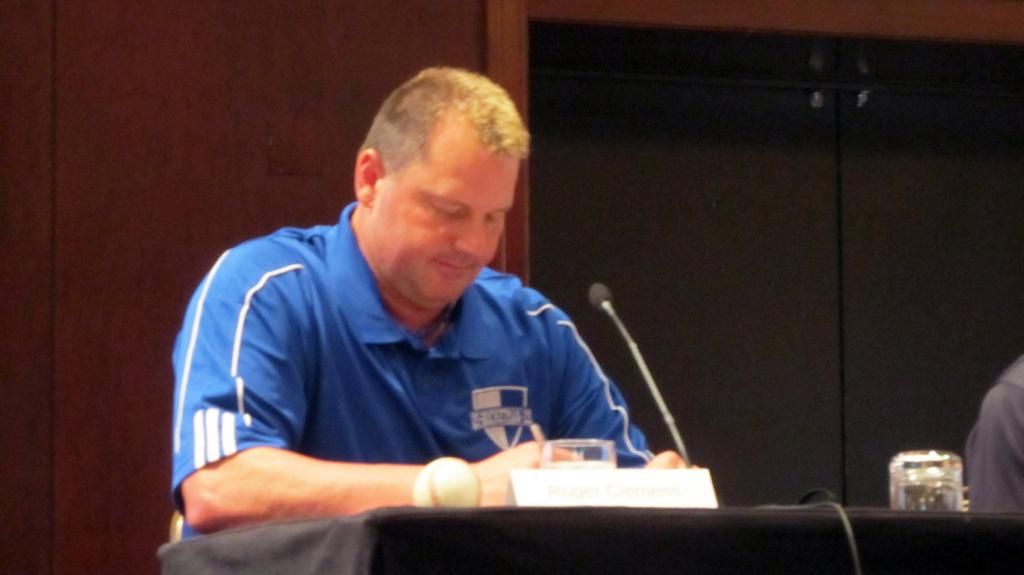 Thursday, July 31

Watch/listen to Houston Astros executive Reid Ryan deliver the opening remarks at SABR 44 (video/audio)
Watch/listen to the Houston Colt .45s Panel with Jimmy Wynn, Bob Aspromonte, Carl Warwick, Hal Smith, Mickey Herskowitz and Greg Lucas (video/audio)
Watch/listen to the College Baseball Panel with Roger Clemens, Mike Gustafson, Jim Gilligan and Mike Vance (video/audio)
Cecilia Tan: SABR 44 research presentations: Injuries, Surgery and Drugs (Why I Like Baseball)
Max Mannis: Day 1, Baseball, Houston, and Clemens (SI For Kids)
Rick Gosselin: While HOF snub continues, Clemens comfortable talking baseball at SABR (Dallas Morning News)
Graham Womack: An interview with Jimmy Wynn (Baseball Past and Present)
Clemson study: MLB teams should grow their own left fielders (Greenville News)
Bill McCurdy: Recapping Thursday at the SABR 44 convention (Pecan Park Eagle)
More clips and stories coming soon!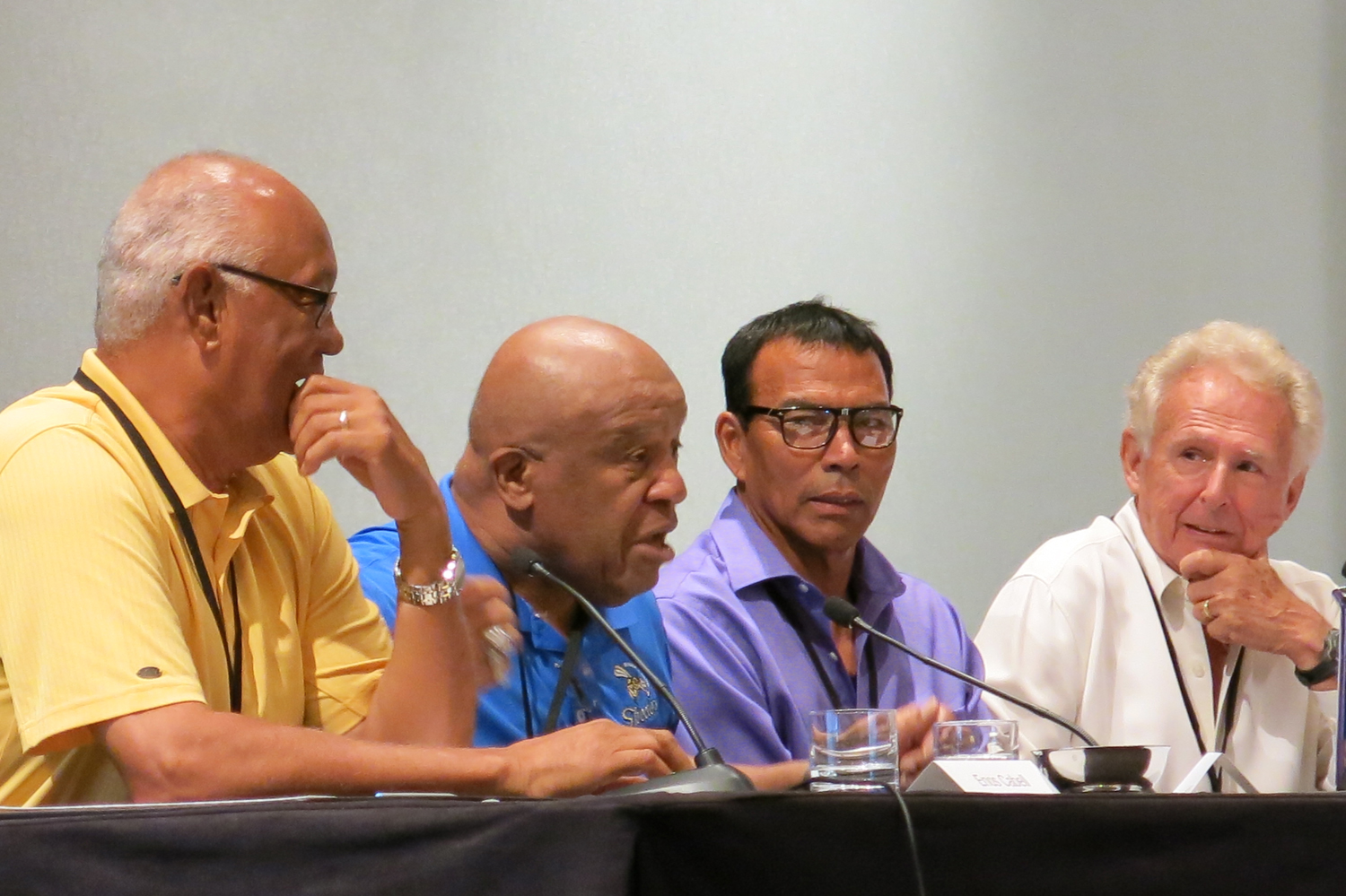 Friday, August 1

Saturday, August 2

Around the Web
---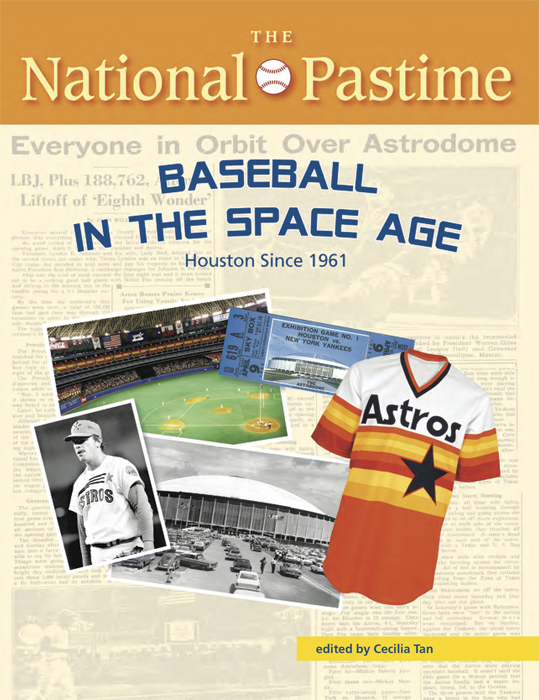 Since 2009, The National Pastime has served as SABR's convention-focused publication. Published annually, this research journal provides in-depth articles focused on the respective geographic region where the national convention is taking place in a given year. All SABR members receive a free e-book copy of The National Pastime as part of their membership benefits, while attendees of the national convention also receive a souvenir print edition in their goody bags.
Click here to download your free e-book copy of the 2014 convention journal, The National Pastime: Baseball in the Space Age:
http://sabr.org/research/download-2014-tnp-e-book
Having trouble downloading our e-books? To view PDF files on your computer, click here to download the free Adobe Reader software. Having trouble downloading e-books to your Kindle, Nook, Sony Reader or iPad? Click here for additional help.
This issue of The National Pastime is dedicated to baseball in Houston since 1961. For the past several years, each annual issue of TNP has centered on the geographic area of SABR's summer convention site. Since the convention moves around, that has given us great range: Philadelphia, Minnesota, Southern California have hosted recent conventions and corresponding issues of TNP have been produced. But this is the first one that will have a time-limited component as well as a geographic one. Why? SABR's Houston chapter is releasing a book for the convention, too: Houston Baseball: The Early Years, 1861–1961. (Visit HoustonBaseball.org to order your copy of that book.)
Houston Baseball is a gorgeous hardcover book and was given to each attendee of the convention. With the first hundred years of Houston baseball covered so thoroughly in that publication, it made sense to focus The National Pastime for this summer on the space age and the arrival of Major League Baseball in the region. So here we have a special issue centered almost entirely on the Houston Astros (née Colt .45s) and their two influential and iconic homes, short-lived Colt Stadium and the Astrodome.
The Houston MLB franchise has been around only slightly longer than I have, but the Colts/Astros have amassed more than their share of history in the five-plus decades since their launch. Friends in Texas always tell me that "everything is bigger in Texas," and that certainly applies to the role of the Astrodome in pop culture, and to the outsize personality of team owner Roy Hofheinz, who was one part P.T. Barnum, two parts George Steinbrenner, and all Texan.
If you weren't able to attend the convention in Houston, please enjoy reading this issue of The National Pastime as your virtual trip to "Space City" in the Lone Star State. Seventeen SABR members will be your tour guides. Happy reading!
To learn more about contributing to a future SABR publication, click here.
— Cecilia M. Tan, editor
Articles from The National Pastime: Baseball in the Space Age will be available online soon at SABR.org/research.
---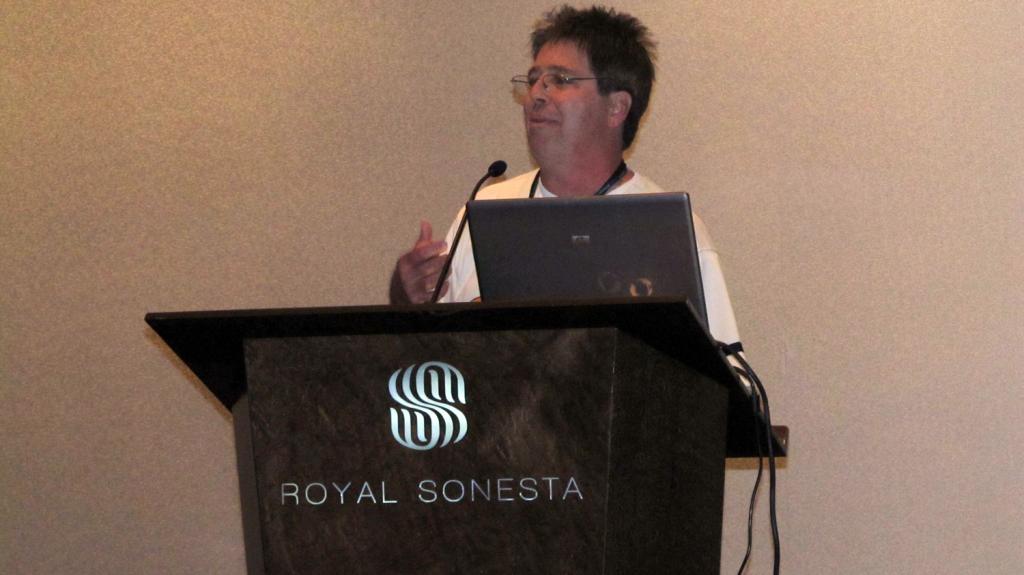 Michael Haupert has won the 2014 Doug Pappas Award for the best oral research presentation and Jimmy Sanderson and Matthew Crownover have won the USA Today Sports Weekly Award for the best poster presentation at SABR 44 in Houston, Texas.
Haupert, a professor of economics at the University of Wisconsin-La Crosse and the co-chair of SABR's Business of Baseball Research Committee, won the Pappas Award for his presentation, "William Hulbert and the Birth of the Business of Professional Baseball," which he delivered Friday during SABR 44 at the Royal Sonesta Houston.
To learn more about William Hulbert, read Haupert's SABR biography of the National League founder.
The Doug Pappas Award — originally established as the USA Today Sports Weekly Award in 1992 and renamed in 2004 to honor the late baseball researcher — includes a $250 cash prize with a matching amount donated to SABR.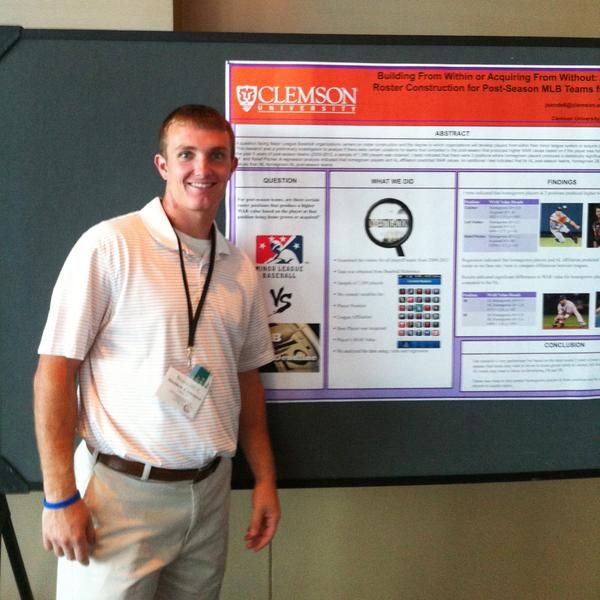 Sanderson, an Assistant Professor in the Department of Communication Studies at Clemson University, and Crownover, a rising junior at Clemson, won the USA Today Sports Weekly Award for their poster presentation, "Building From Within or Acquiring from Without: An Analysis of Roster Construction for Post-Season MLB Teams from 2009-2013."
The USA Today Sports Weekly Award — first presented in 1990 as the John W. Cox Award — includes a $125 cash prize with a matching donation to SABR.
Honorable mentions for the oral presentation were:
David W. Smith, "Why Does the Home Team Score So Much in the First Inning?"
Chuck Hildebrandt and Mike Lynch, "The Retroactive All-Star Game Project"
Herm Krabbenhoft, "The Definitive Resolution of the 1912 NL Triple Crown Discrepancy"
For more coverage of SABR 44, visit SABR.org/convention.
---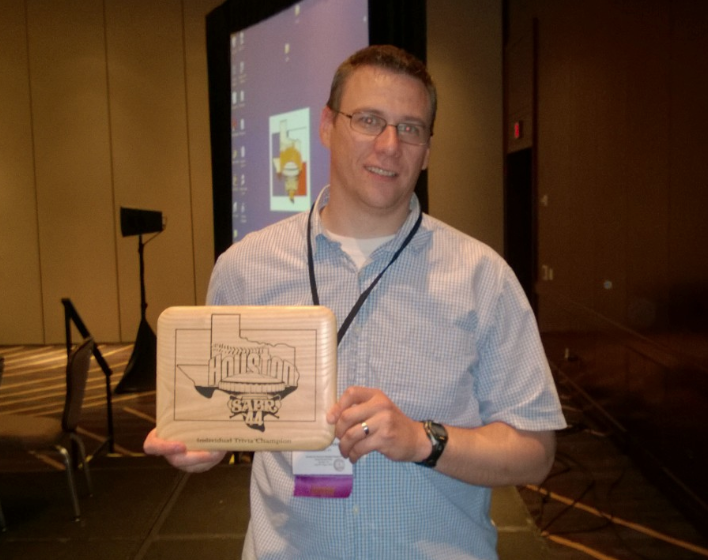 The third time was a charm for Dan Massey of Lancaster, Pennsylvania, who won the individual SABR Trivia Contest on his third career attempt, besting three-time champion David Fleitz in the final on Friday night at SABR 44 in Houston.
Massey, a certified public accountant who first joined SABR in 2003, had reached the individual semifinals twice before (in 2010 and 2013) but came out on top for the first time Friday. He dominated the early questions about the 500-home run club and 300-game winners and then withstood a late charge from Fleitz, of Pleasant Ridge, Michigan.
Two-time defending champion Mike Caragliano was not in attendance at the Houston convention, which gave Massey hope that he would break through.
"I saw that he wasn't coming, and I got excited that I might have a chance," Massey said. "My wife and I drove down from Pennsylvania, and I read through some baseball almanacs in the car. Other than that, I didn't do much studying this time, just brushing up on some Astros history."
Fleitz won three consecutive individual titles in 2006-08 before voluntarily retiring as the all-time individual leader. Caragliano set a record with his fourth title last year, prompting Fleitz to return. (Bill Carle has also won three individual titles, in 2000, '10-11.)
In the team final, Mark Kanter of Portsmouth, Rhode Island, tied Caragliano for the all-time lead with his ninth overall championship on a New England-based team called The Misspelled Tulowitskis. Kanter; Steve Krevisky of Middletown, Connecticut (seven team titles); Ty Waterman of Attleboro, Massachusetts (four team titles); and Rob Rafal of Douglaston, New York (three team titles), narrowly edged out the Hornsby + 1 team in a dramatic match that went down to the wire.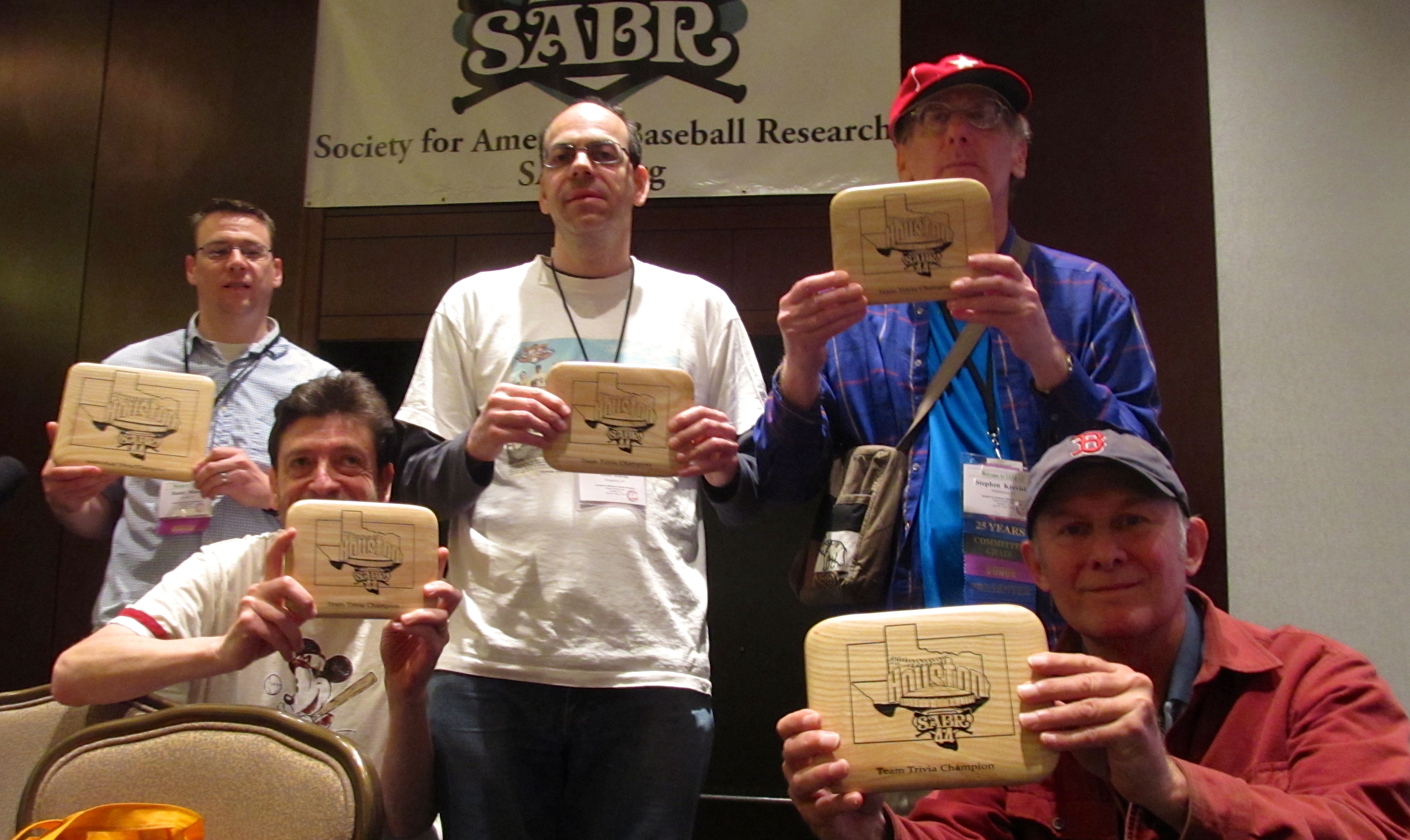 On the final question, Rafal correctly demonstrated Washington Nationals closer Rafael Soriano's trademark "untuck" celebration to clinch the 25-20 victory for The Misspelled Tulowitskis. Hornsby + 1 staged a late comeback in the category asking for physical demonstrations of Hunter Pence's and Stan Musial's batting stances, Luis Tiant's pitching delivery, and Ichiro Suzuki's batter's box routine, which entertained a large crowd at the Royal Sonesta Houston.
The Hornsby + 1 team consisted of Thomas Thayer, Jan Larson and Bill Gilbert — all members of SABR's Rogers Hornsby Chapter in Austin, Texas — and David Kaiser of Watertown, Massachusetts.
The SABR Trivia Contest was moderated by D. Bruce Brown, co-chair of Horsehide Trivia with T. Scott Brandon and president of the Bob Davids Chapter in Washington/Baltimore. The questions were written and edited by Brown and Brandon, and the contest was proctored by Barb Mantegani with assistance from Diane Firstman, Damian Begley, Stephanie Weiss, and Gregg Gaylord. Brandon also assembled the game boards, illustration and animation of the semifinal and final rounds.
To view a list of previous SABR Trivia Contest winners, click here.
For more coverage of SABR 44, visit SABR.org/convention.
---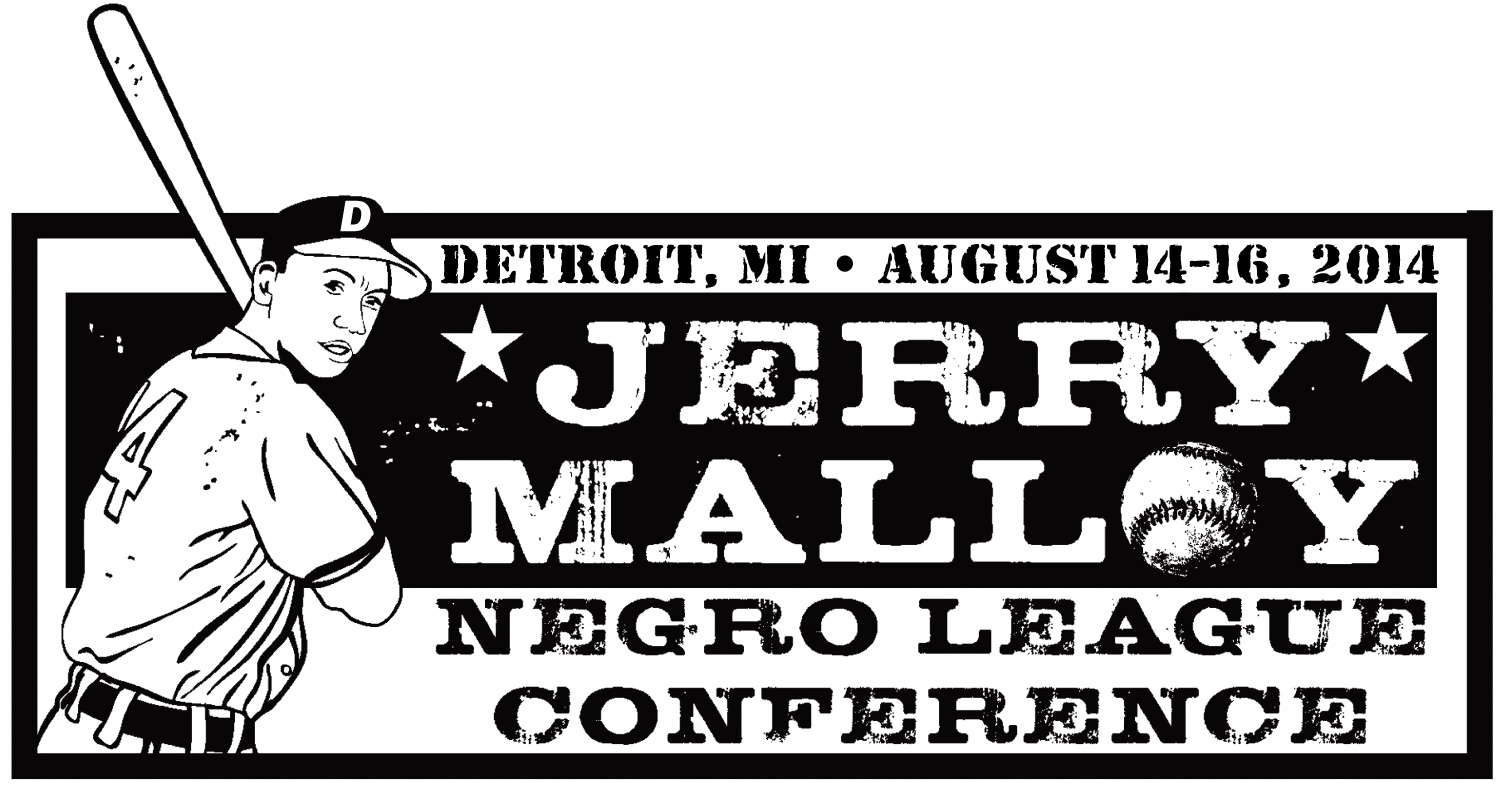 The 2014 Jerry Malloy Negro League Conference will be held in downtown Detroit from August 14-16. As the only national conference devoted to the history of the Negro Leagues, the Malloy is coming to Detroit for the first time. This year's theme is "Turkey Stearnes and Black Baseball in Michigan."
In addition to great research presentations and an education program a few highlights for the conference include a visit to location of the old Hamtramck Stadium, a discussion with Robert Paige and the family of Turkey Stearnes, a Tigers-Mariners game on Friday night, and a panel with former Negro League players. Come and join us for the full conference or even just a day.
Registration is open to all baseball fans; single-day rates are available. Click here to learn more about the schedule and speakers:
http://sabr.org/latest/2014-malloy-conference-includes-visit-hamtramck-stadium-detroit
For questions, visit SABR.org/malloy or contact Tom Salvner at (734) 730-0081 or tsalvner@gmail.com, or Rick Meister at (734) 397-3692 or fjmeister@sbcglobal.net.
---
The 19th annual celebration of Christy Mathewson Days will take place in the Hall of Fame pitcher's hometown of Factoryville, Pennsylvania, on August 8-9, 2014.
Scheduled events include an exhibition of Christy Mathewson artifacts and the sale of tickets to the nearby Scranton/Wilkes-Barre Railroaders vs. Columbus Clippers game on Friday, August 8; and a parade followed by celebration at Christy Mathewson Park on Saturday, August 9.
Factoryville is located in northeast Pennsylvania, about 15 miles north of Scranton. Further information about the festivities can be viewed at Factoryville.org.
If you would like to join other SABR Deadball Era Committee members there, please contact Mark Dugo.
To learn more about SABR's Deadball Era Committee, click here.
---
The Society for American Baseball Research is seeking Fall 2014 interns to work in our office in Phoenix, Arizona.
An internship with SABR will involve responsibilities across a variety of disciplines, possibly including:
Working on-site at a local SABR conference, such as the SABR Arizona Fall League Conference
Working with our Membership Director or Director of Operations on organizational duties, membership renewal drives, customer service
Working with our Web Editor to help publish and/or produce content for our website at SABR.org
Interested candidates should be able to demonstrate basic office-related computer skills. HTML knowledge is a plus.
A working knowledge of baseball — and an awareness of the game's general history and basic statistics — is required.
The internship is an educational opportunity that may count toward college credit, covering 15-20 hours per week (flexible schedule), at the SABR office in Phoenix, Arizona. The internship will be for a fixed period of time and is designed to provide the intern with skills and training that may be applicable to working in a nonprofit research environment or in other research-based organizations. No housing assistance will be provided.
Please send a resume and cover letter in PDF form to mappleman@sabr.org or jpomrenke@sabr.org by 5:00 p.m. MST Friday, September 5, 2014.
---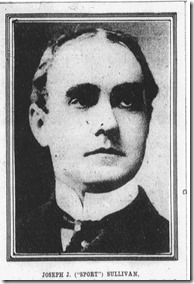 Six new biographies were posted as part of the SABR Baseball Biography Project, which brings us to a total of 2,867 published biographies. Here are the new bios:
All new biographies can be found here: http://sabr.org/bioproj/recent
You can find the SABR BioProject at SABR.org/BioProject.
Bios on more than just ballplayers: The ambitious goal of the SABR Baseball Biography Project is to publish a full-life biography of every major league player in history. But SABR members write about a lot more than just ballplayers. In addition, we have pages for Ballparks, Broadcasters, Executives, Managers, Scouts, Spouses, Umpires and a lot more on the BioProject website. You can browse all of these categories at http://sabr.org/bioproj/browse. So if you've ever thought, "Hey, that person (or ballpark) should get the full BioProject treatment" — write the story and we'll publish it!
Get involved! If you'd like to help contribute to the SABR BioProject, visit our BioProject Resources page or read the FAQs section to get started. We're also looking to expand the BioProject to include all "encyclopedic" articles on baseball-related subjects from past SABR publications or committee newsletters. If you come across an article you think should be included in the SABR "baseball repository" at the BioProject, send a copy or link to markarmour04@gmail.com or jpomrenke@sabr.org.
---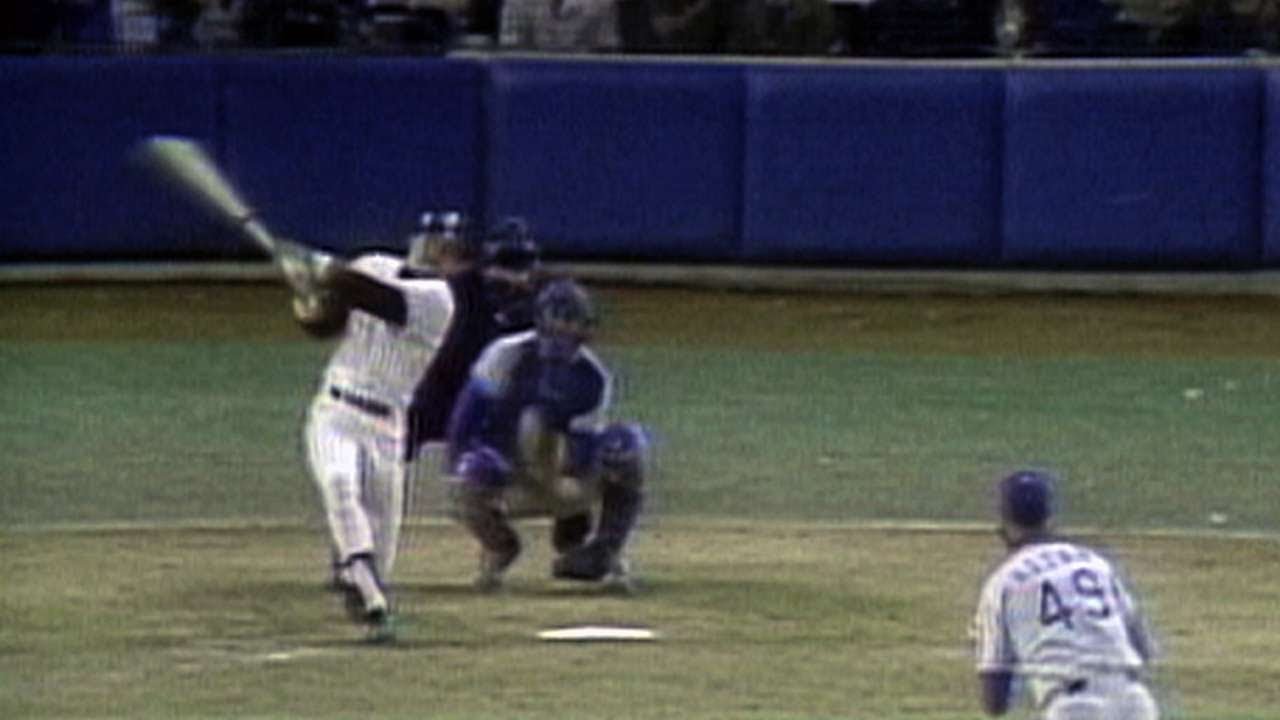 One new game story was posted this week as part of the SABR Games Project. Here is the new game story:
The SABR Baseball Games Project was launched in January 2014 to research and write articles on major-league and Negro League regular, postseason, and All-Star Games. These game accounts will complement Retrosheet and Baseball-Reference box scores as well as BioProject essays on the players involved.
The articles are not intended to be mere play-by-play summaries, nor should they be first-person narratives. Rather the goal is to put each game in historical context — whether that history is of a particular player, team, season, or something even broader.
Visit the new Games Project website at SABR.org/gamesproject.
"Fifty Greatest Games at the Corner of Michigan and Trumbull": We are pleased to announce the launch of a new SABR book project. This will be similar to previous SABR team books, but with a twist. This new book will be called "The Fifty Greatest Games at the Corner of Michigan and Trumbull." It will incorporate articles written for the SABR Games Project. Scott Ferkovich is the senior editor of this project. From Bennett Park's first game in 1896, to the final game at Tiger Stadium in 1999, this book promises to be a wonderful read, and a great addition to the SABR library. We are seeking serious, dedicated SABR members interested in contributing game biographies for this book. Writers will need to be able to complete their work on a deadline. Also, having access to old Detroit newspaper game accounts is strongly recommended. Serious inquiries should e-mail Scott at scottferk@gmail.com.
Get involved: Writing for the Games Project is an easy way to get involved as a SABR member. Find out how by reading the Games Project FAQs section or checking out the Authors' Guidelines.
Questions: Contact Greg Erion for more information about the Games Project, James Forr to request an assignment, or Chip Greene to submit your draft article.
---
What are the best baseball analytics articles you've read in 2014?
We're seeking nominations for the 2015 SABR Analytics Conference Research Awards, which recognize baseball researchers who have completed the best work of original analysis or commentary during the preceding calendar year in the following categories:
Contemporary Baseball Analysis: Honoring the best analysis focusing on a subject related to the modern game(s), team(s) or player(s).
Contemporary Baseball Commentary: Honoring the best commentary focusing on a subject related to the modern game(s), team(s) or player(s).
Historical Baseball Analysis/Commentary: Honoring the best original analysis or commentary focusing on a subject related to a game(s), team(s) or player(s) throughout baseball history.
Please send all nominations via e-mail to this address: 2015-analytics-awards@sabr.org no later than January 15, 2015. Include author, title, date of publication and a URL link (if applicable).
For more information about the criteria, click here.
Voting for the winners will be conducted online in January-February 2015 at SABR.org, BaseballProspectus.com, FanGraphs.com, HardballTimes.com and BeyondtheBoxScore.com, with results weighted equally at 20%.
Results will be announced and presented at the fourth annual SABR Analytics Conference, March 12-14, 2015, at the Hyatt Regency Phoenix in Phoenix, Arizona. Learn more at SABR.org/analytics.
To view past award winners and finalists, click here.

---
Pete Van Wieren, 69, died of complications from B-cell lymphoma on August 2, 2014, in Alpharetta, Georgia. He joined SABR in 2002 when he spoke at our 32nd national convention in Boston and remained a member ever since. He subsequently moderated a panel at the 2010 convention (SABR 40) in Atlanta, authored an article about his close friend and broadcast partner Skip Caray for the 2010 The National Pastime, and was active in the Magnolia Chapter. Van Wieren retired after the 2008 season following a 33-year career as a Braves television and radio broadcaster. Along with partners Caray and Ernie Johnson Sr., Van Wieren developed a nationwide following when the Braves' telecasts were broadcast across the country on Superstation WTBS in the early days of cable television. For years, local radio listeners waited eagerly for his "Diamond Notes" segment prior to Braves' games. He was inducted into the Braves Hall of Fame in 2004. A native of Rochester, New York, Van Wieren had been calling games for the Triple-A Tidewater Tides when the Braves hired him before the 1976 season to join a new three-man broadcast team with Caray and Johnson. He also called NBA games on TBS and TNT, in addition to stints with the NBA's Atlanta Hawks, NHL's Atlanta Flames and Big Ten Conference football. In 2010, he released a memoir of his long career, Of Mikes and Men: A Lifetime of Braves Baseball. Van Wieren is survived by his wife of 50 years, Elaine, sons Jon and Steve, a daughter-in-law and three granddaughters. A private funeral will be held.
Dr. James David Gordon, 71, died after a long, courageous battle with metastatic colon cancer on July 25, 2014, in Los Angeles, California. He joined SABR in 2002, was active in the Los Angeles-based Allan Roth Chapter, and co-chair of SABR's Ballparks Research Committee. Jim was the beloved husband of Sheila, devoted father of Judy (Barry) Posner and David (Anne) Gordon, outstanding grandfather of Jacob and Audrey Posner and Jeremy and Danielle Gordon. He is predeceased by his loving parents, Ann and Sidney Gordon. Jim was born December 22, 1941, in Brooklyn, New York, arriving two weeks early, as his mother said, because she was anxious about the war and the attack on Pearl Harbor. His family moved to Los Angeles in January 1943, after he had just turned 1 year old, and settled in Westwood, where he grew up and attended local elementary and junior high schools and University High School. Living in Westwood put him close to UCLA and set in motion his devotion to the school. He received his Bachelor of Science, Master's and Ph.D. in engineering from UCLA. He worked as an aerospace engineer for 35 years at TRW, where he designed satellites, working to improve the field of science and technology, which he loved deeply. Jim was an avid sports fan and loved UCLA athletics and professional baseball, especially the Dodgers. He analyzed statistics of everything, kept score at every game and cheered until he lost his voice, even if that meant telling a referee or umpire what he felt about a call. He visited almost every Major League Baseball park (old and new) and considered attending UCLA sporting events as major occasions. He participated in many activities at UCLA, including recently chairing the selection committee for the UCLA Athletics Hall of Fame. He also loved collecting coins, stamps and baseball memorabilia and participating in baseball organizations. He spent his retirement years traveling with Sheila and rooting for his grandchildren at their special events. Jim will be deeply missed by his friends and family, but in their hearts forever. Services for Jim were held July 28 at Hillside Memorial Park Cemetery. In lieu of flowers, donations in Jim's memory may be made to benefit the UCLA Athletics Department. Contributions may be made to "The UCLA Foundation" at UCLA Athletics, Attn: Emily Lerner, P.O. Box 24044, Los Angeles, CA 90024-0044.
Warren Vaughn Garrison died on July 30, 2014, in Mountain View, California. He was a SABR member since 1992, active in the Lefty O'Doul Bay Area Chapter. He was an avid Oakland A's fanand a member of the Pacific Coast League Historical Society. He traveled to many minor league ballparks and almost all of the major league ballparks, as well. It was on one of those baseball tours eight years ago that he met his loving girlfriend, Carol Guanella of Santa Rosa, who was by his side when he died. Born February 3, 1941, in Long Branch, New Jersey, Warren attended the University of California at Berkeley and graduated with a BA degree in Mathematics in 1963. He earned his Master's in Applied Mathematics in 1969 from Santa Clara University. He worked at Lockheed-Martin in Sunnyvale from 1963-98, then retired and taught graduate math at Santa Clara and De Anza Community College. Private graveside services have been held in Santa Rosa. In lieu of flowers, memorial contributions may be made to Daniels Chapel of the Roses, (707) 525-3730.
---
We've heard your feedback: Some of you have said you look forward to "This Week in SABR" every Friday, but sometimes there are just too many compelling articles and announcements to read every week. We're not complaining — hey, keep up the great work! — but we know the feeling. So in an effort to make the length of this newsletter more manageable to read, we'll summarize some of the repeating/recurring announcements in a special "In Case You Missed It (ICYMI)" section of "This Week in SABR".
Here are some major headlines from recent weeks that we don't want you to miss:
All previous editions of This Week in SABR can be found here: http://sabr.org/content/this-week-in-sabr-archives.
---
We'd like to welcome all of our new SABR members who have joined this week. You can find all Members-Only resources at members.sabr.org and the New Member Handbook can be downloaded here.
Please give these new members a warm welcome and help them make the most of their membership by giving them the opportunity to get involved in their local chapter or a research committee.
| Name | Hometown | | | Name | Hometown |
| --- | --- | --- | --- | --- | --- |
| Scott Bendis | Rancho Santa Margarita, CA | | | Charles Outhier | East Fallowfield, PA |
| Ben Brink | Houston, TX | | | Harman Pinkerton | Houston, TX |
| John Calhoun | Santa Rosa, CA | | | Chris Rankin | Oakland, CA |
| Miguel Garcia | Santa Isabel, PR | | | Kris Rutherford | Maumelle, AR |
| Doug Kauffman | Centerville, OH | | | Yehuda Sarao | Bronx, NY |
| You-Sin Kim | Amherst, MA | | | Kevin Struss | Laguna Beach, CA |
| David King | Louisville, KY | | | Adriana Taylor | Oakland, CA |
| Michael Newman | Fairfield, CT | | | Bill Tiedeman | Burlingame, CA |
| Akihiko Noda | Wakayama, JP | | | Alexander Vetter | Omaha, NE |
| Mark O'Connor | Gloucester, MA | | | Christopher White | The Woodlands, TX |
| Justin Oeltze | Atlanta, GA | | | Harry Zelkin | Forest Hills, NY |
| John Ortega | La Crescenta, CA | | | | |
---
Here are the new SABR research committee newsletters published this week.
Find all SABR research committee newsletters at SABR.org/research.
---
Here are the new regional chapter updates for this week:
Carolina Chapter: The Board of Directors has approved the selection of Chris Dial as president of the Carolina Chapter, replacing Mike Emeigh. Chris was recently appointed to the Board of Directors and also serves on the SABR Defensive Committee, which helps provide input for the Rawlings Gold Glove Award. For more information on the Carolina Chapter, click here.
Northwest Chapter: The Board of Directors has also approved the selection of Bob Russon as vice president of the Northwest Chapter, with Rick Solomon remaining as president. For more information on the Northwest Chapter — which serves Washington, Oregon, Idaho, and British Columbia — click here.
Visit SABR.org/chapters for more information on SABR regional chapters.
---
Here is a list of upcoming SABR events:
All SABR meetings and events are open to the public. Feel free to bring a baseball-loving friend … and make many new ones! Check out the SABR Events Calendar at SABR.org/events.
---
Here are some recent articles published by and about SABR members:
Read these articles and more at SABR.org/latest.
---
This Week in SABR is compiled by Jacob Pomrenke. If you would like us to include an upcoming event, article or any other information in "This Week in SABR," e-mail jpomrenke@sabr.org.
Are you receiving our e-mails? "This Week in SABR" goes out by e-mail to all members on Friday afternoons. If they're not showing up, try adding "sabr.notes@sabr.org" to your contact list to ensure they show up in your inbox (and not the spam folder.)
---
Originally published: August 8, 2014. Last Updated: April 3, 2020.
https://sabr.org/wp-content/uploads/2020/03/research-collection4_350x300.jpg
300
350
jpomrenke
/wp-content/uploads/2020/02/sabr_logo.png
jpomrenke
2014-08-08 14:06:59
2020-04-03 14:39:16
This Week in SABR: August 8, 2014