This Week in SABR: December 19, 2014

Welcome to "This Week in SABR!" Please note: The SABR office will be closed on Thursday, December 25 and Thursday, January 1. The next "This Week in SABR" newsletter will be sent on Friday, January 2, 2015.
Here's what we've been up to as of December 19, 2014:
---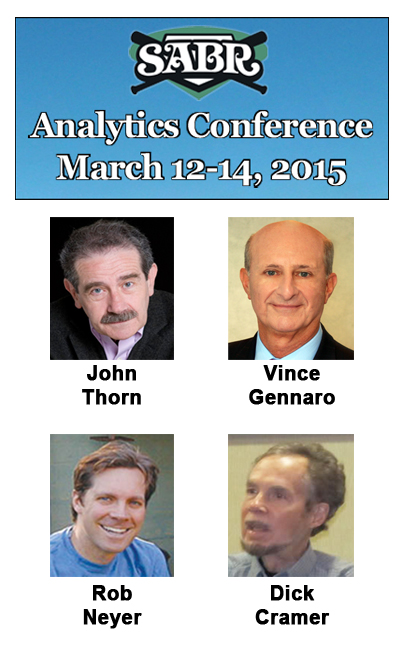 We're pleased to welcome more featured speakers for the fourth annual SABR Analytics Conference, which will be held March 12-14, 2015, at the Hyatt Regency Phoenix in downtown Phoenix, Arizona.
Conference registration is available now at the SABR Store. Click here to register. The conference is open to all baseball fans. Stay tuned as more featured speakers will be announced soon!
John Thorn, Official Historian, Major League Baseball
Vince Gennaro, SABR President
Rob Neyer, Senior Baseball Editor, FoxSports.com
Dick Cramer, sabermetrics pioneer and co-founder of STATS, LLC
They will join Larry Baer, President and CEO of the San Francisco Giants; Curt Schilling, ESPN analyst and former major league pitcher; Brian Kenny, MLB Network host; John Kruk, ESPN analyst and former major league first baseman; Jon "Boog" Sciambi, ESPN announcer; Karl Ravech, host of ESPN's "Baseball Tonight"; Len Kasper, Chicago Cubs broadcaster; Buster Olney, ESPN.com senior writer and author; Eduardo Perez, ESPN analyst and former major league first baseman; Steve Berthiaume, Arizona Diamondbacks broadcaster; Joe Block, Milwaukee Brewers broadcaster; Jim Callis, MLBPipeline.com senior writer; and Jonathan Mayo, MLB.com senior writer, as featured speakers at the 2015 SABR Analytics Conference.
Visit SABR.org/analytics/speakers for full biographies of our featured speakers.
SABR has a long and storied history with baseball statistical analysis, evidenced by the link between our name and sabermetrics. While SABR is a multi-faceted organization involved in virtually every aspect of baseball, we have taken a major step to re-connect with our beginnings by producing and hosting the fourth annual:
SABR Analytics Conference
March 12-14, 2015
Hyatt Regency Phoenix
Phoenix, Arizona
Once again, we're bringing together the top minds of the baseball analytic community under one roof to discuss, debate and share insightful ways to analyze and examine the great game of baseball.
The schedule will consist of a combination of Guest Speakers, Panels and Research Presentations — plus the unique Diamond Dollars Case Competition, in which undergraduate, graduate, and law school students from across the country analyze and present a real baseball operations decision.
Conference registration is available now at the SABR Store. Click here to register. The conference is open to all baseball fans. The early registration rate is $395 for SABR members and $495 for nonmembers, or $350 for currently enrolled high school or college students (includes one-year membership to SABR).
The 2015 SABR Analytics Conference will be held Thursday, March 12 through Saturday, March 14 at the Hyatt Regency Phoenix, 122 N. 2nd St., Phoenix, AZ 85004. Click here to book your hotel room at the special SABR group rate of $174/night (plus tax) for double occupancy. Or call (602) 252-1234 and mention that you're with the SABR Analytics Conference.
Check back soon at SABR.org/analytics as we announce more featured speakers, panels and presentations!
For complete coverage of the 2014 SABR Analytics Conference, visit SABR.org/analytics/2014.
Related links:
---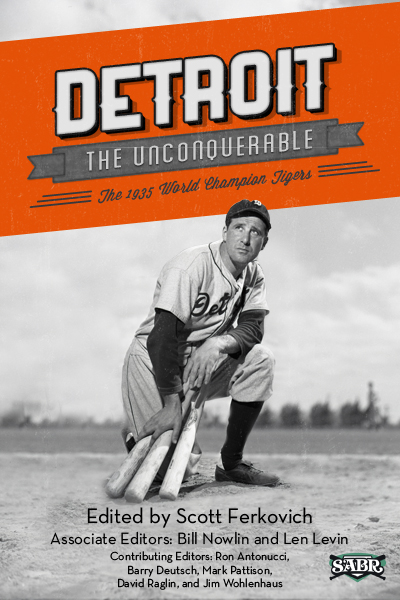 Add a championship book to your collection with the newest e-book from SABR Digital Library:
Detroit the Unconquerable: The 1935 World Champion Tigers
Edited by Scott Ferkovich
ISBN (paperback): 978-1-933599-78-6
ISBN (e-book) 978-1-933599-79-3
226 pages, 8.5″ x 11″
It had taken three and a half decades, but the Detroit Tigers were finally crowned the best team in baseball in 1935. Coming on the heels of their hugely disappointing loss in the World Series to the St. Louis Cardinals the year before, the Tigers emerged victorious in a thrilling six-game October showdown against a talented Chicago Cubs team.
It was Detroit's first World Series championship. For a city suffering from the Great Depression, it couldn't have come at a better time.
The team was led by player-manager Mickey Cochrane, and featured an offense fueled by Hank Greenberg, Charlie Gehringer, and Goose Goslin (dubbed the "G-Men"). On the mound were Lynwood Thomas "Schoolboy" Rowe, Tommy Bridges, Elden Auker, and General Crowder. With 93 victories that summer, the Tigers outpaced the New York Yankees by three games, taking their fifth American League title in club history.
To commemorate the 80th anniversary of this great team, the Society for American Baseball Research is proud to present the 1935 Detroit Tigers in all their glory. With contributions from over 35 members of the SABR BioProject, this book is a delightful account of one of the most significant teams in sports history.
"Navin Field was packed, and when we won Detroit really came alive. As a team we were like a bunch of brothers. Hank, Charlie, Billy, Goose, Schoolboy, Tommy…all of them. I think of those guys often. It was a wonderful time of my life." — Elden Auker
SABR members, get this e-book for FREE!
For more SABR Digital Library publications that are free to all members, visit SABR.org/ebooks.
Having trouble downloading our e-books? To view PDF files on your computer, click here to download the free Adobe Reader software. Having trouble downloading e-books to your Kindle, Nook, Sony Reader or iPad? Click here for additional help.
---
A SABR membership makes a great gift for the baseball fan in your life! All baseball fans are welcome to join SABR. Gift memberships are $65/year (with discounts available for anyone under 30 or over 65), and members receive all the benefits of a standard membership.
Here are some benefits of membership:
Two issues of the Baseball Research Journal, which includes articles on history, biography, statistics, personalities, book reviews, and other aspects of the game.
Expanded e-book edition of The National Pastime, our convention journal which focuses on baseball in the region where that year's national convention is held (in 2015, it's Chicago)
"This Week in SABR" e-newsletters every Fridays, with the latest goings-on in SABR and highlighting SABR members' research
New e-books we publish through the SABR Digital Library — free to all SABR members
Regional chapter meetings, which can include guest speakers, presentations and trips to ballgames
Online access to back issues of The Sporting News and other periodicals through Paper of Record
Access to SABR's lending library and other research resources
Online member directory to connect you with an international network of passionate baseball experts and fans
Discount on registration to our annual conferences and National Convention
Access to SABR-L, an e-mail discussion list of baseball questions and answers that many feel is worth the cost of membership itself
The opportunity to be part of a passionate international community of baseball fans
Click here for a complete list of Member Benefits and what you receive for your annual dues. Want more details? Click here for Frequently Asked Questions about getting the most out of your SABR membership.
SABR membership is on a "rolling" calendar system; that means your membership lasts 365 days no matter when you sign up!
Please note: If you are an active SABR member and wish to purchase a gift membership for someone else, you must log out of the website first before you can proceed with your order. If you have any questions, please call (602) 343-6455 for details.
---
For those of you whose SABR memberships expire on December 31 — you can check your current membership status here — it's almost time for you to renew! We're excited about the upcoming year ahead of us and we hope you'll take advantage of all the great membership benefits offered to SABR members in 2015. Here's a short list:
You can renew your membership for 1 year or 3 years online at the SABR Store; by phone at (602) 343-6450; or by mailing this downloadable PDF form and your payment to the SABR office at 4455 E. Camelback Road, Ste. D-140, Phoenix, AZ 85018.
Dues are the same as they have been in recent years: for this, you get two editions of the Baseball Research Journal, the expanded e-book edition of The National Pastime; 8-10 free e-books published by the SABR Digital Library; "This Week in SABR" every Friday; access to research resources such as Paper of Record (with complete archives of The Sporting News); discounts to all SABR conferences such as the National Convention (Chicago 2015), the SABR Analytics Conference, the Jerry Malloy Negro League Conference, and the Frederick Ivor-Campbell 19th Century Conference; discounts to MLB.TV; and much, much more.
We believe SABR has something for everyone, from the active researcher to someone passionate about baseball. We hope you'll invite your friends, colleagues and family members to join at http://store.sabr.org.
---
In my 31 years as a member of the Society for American Baseball Research, I have seen SABR evolve greatly as an organization, offering unparalleled opportunities and benefits for members and commanding respect throughout the baseball community. And I have seen that first-hand: In 1983, I attended my first SABR Convention in my hometown of Milwaukee, where I was thrilled to meet some of the organization's founders. This past year, I attended both the 2014 Analytics Conference and the 44th annual convention in Houston — and I'm equally thrilled for SABR's future after getting to know the staff and volunteer leadership now in place.
To continue to grow as an organization, and to seize the great opportunities now within reach, SABR is in need of charitable gifts. Many members have already become donors, and you can join them right now by making your gift online at SABR.org/donate.
SABR is a 501(c)3 organization, which means your donation is tax deductible in the U.S. to the fullest extent of the law.
While the incentives are attractive, the real benefit is the satisfaction received from contributing to the continuing knowledge and appreciation of our national pastime.
Please join me in supporting SABR and send your donation by check to SABR Donor Program, 4455 E. Camelback Road, Ste. D-140, Phoenix, AZ 85018 — or by visiting SABR.org and pressing the convenient DONATE button at the top of the page. By doing so you help SABR fulfill its mission and increase the impact of our baseball analysis and historical study.
Many companies offer matching gift programs to encourage employees to contribute to charitable organizations. Please check with your company to see if it offers a matching gift program that will match your gift or volunteer hours to the Society for American Baseball Research. If you have questions regarding your gift, e-mail me at pbolda@sabr.org.
— Phillip Bolda, Chair, SABR Fundraising and Development Committee
---
With generous funding from The Anthony A. Yoseloff Foundation, Inc., SABR will award up to four scholarships to high school and college students who wish to attend the 2015 SABR Analytics Conference on March 12-14, 2015, in Phoenix, Arizona. This scholarship will pay for registration, air transportation and lodging up to a total value of $1,250.
The objective of this scholarship fund is to encourage student engagement with baseball analytics, and to engender an active interest in baseball research and SABR. The Yoseloff scholarship is to assist young researchers who want to attend SABR's Analytics Conference and to introduce them to fellow SABR members and professionals within the baseball community. Through this fund, SABR hopes to inspire future baseball research, expose students to high-quality research and build the research capability of interested students.
Click here for more information on submission guidelines and eligibility requirements.
All applications must be postmarked or e-mailed to Jeff Schatzki at jschatzki@sabr.org no later than December 31, 2014.
---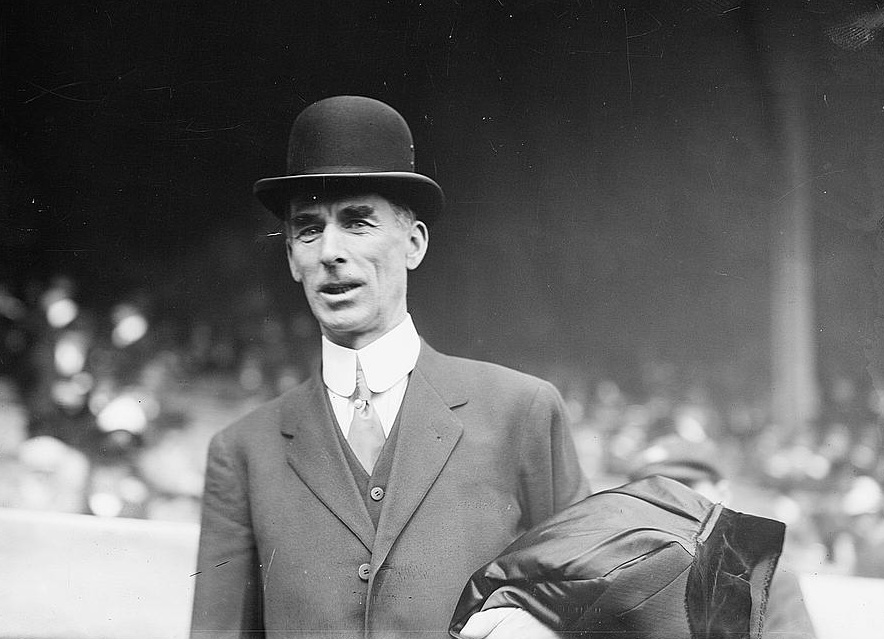 Future baseball researchers will have a chance to view archival materials from SABR member Norman Macht's award-winning, three-volume Connie Mack biography at Southern Methodist University's DeGolyer Library in Dallas, Texas.
Macht, the author of more than 30 books, said his research collection was acquired by SMU in 2013 and opened to researchers earlier this year. Much of the material at the library covers Macht's three-part biography of Philadelphia A's Hall of Fame manager and owner Connie Mack, published between 2007 and 2015. The final volume, covering Mack's life and career from 1932 until his death, is due to be published next fall by the University of Nebraska Press.
His first volume, Connie Mack and the Early Years of Baseball (2007), won the SABR Deadball Era Committee's Larry Ritter Book Award and was a finalist for Spitball's CASEY Award, as was the second volume from 2012, Connie Mack: The Turbulent and Triumphant Years, 1915-1931.
Macht's collection at the DeGolyer Library contains 43 boxes of notes, drafts, clippings, scrapbooks, baseballs, oral histories, audio cassette tapes, sound reels, posters, and photographs related to his baseball research. A finding guide was prepared by Cynthia Franco and is available online by clicking here.
Macht, a former SABR Director and minor-league general manager, said he was impressed by SMU's facilities and the speed at which the library staff organized and processed his collection.
"They've done an enormous job of collating all the material," said Macht, who lived in San Marcos, Texas, before moving recently to California. "They even drove down from Dallas to my home to pick it up.
"I heard from (SABR member and former dean of the SMU law school) Paul Rogers about the library's special sports collection … this seemed like a good home for it. They had the money, the space, and the people to deal with it, and they were willing to make it available to the public."
Macht said his third Connie Mack book will shed new light on the Philadelphia Athletics' demise after the 1954 season.
"It's the first revelation of the actual circumstances of the sale of the team and the transfer to Kansas City," he said. "It's not uncommon in any family-owned business … when the founder dies or retires, and the children fight. There was a lot of that. The (Mack) family was torn apart. That's why Connie Jr. didn't wind up with the team. He had the money to keep it in Philadelphia. It was the Phillies who would have moved because the A's had the ballpark (Shibe Park/Connie Mack Stadium)."
Visit SABR.org/research/resources to view other baseball research collections in our comprehensive members-only Research Resources page.
Preserve your baseball research: If you have a special collection of research materials or artifacts that you are interested in donating to SABR, please contact the SABR office. Please note: Due to limitations of space and resources, not all materials can be accepted.
---
I am happy to announce that semiannual update of the Retrosheet website (Retrosheet.org). Here is a summary of what is new:
The 2014 season with all postseason games and the All-Star game
1936 (both leagues), a total of 678 of the 1,238 games played (55%).
1925 (both leagues), a total of 999 of the 1,228 games played (81%)
Deduced games to complete the 1948 season
Many new games have been added to previously released seasons
All related player pages have been updated as well, including transactions, ejections, and replays.
The 2014 season saw the initiation of the challenge system in the Major Leagues. David Vincent monitored these on a daily basis and all of them are in the new event files (see http://www.retrosheet.org/ReplayHR.htm and http://www.retrosheet.org/Replay.htm for complete listings). A detailed description of the codes has been written by David and is part of the webpage describing our file structure (http://www.retrosheet.org/eventfile.htm) which he has recently updated. Also included are details on ejection codes and other recently implemented modifiers that provide extra information in play strings.
The 1936 season is the last one that the late Clem Comly worked on. He did a great amount of work in documenting precise differences between our files and the official records, making many edits and improvements to our files. I took his comments and created appropriate discrepancies which appear on the site.
Wayne Townsend completed a project of many years on the 1925 season. He consulted an amazing number of newspapers and other sources and produced one of the most thoroughly documented sets of data we have ever released. The differences he found number over 1,500 and I have incorporated them into the updated discrepancy files.
For full details on Retrosheet's December 2014 update, click here.
— David W. Smith
---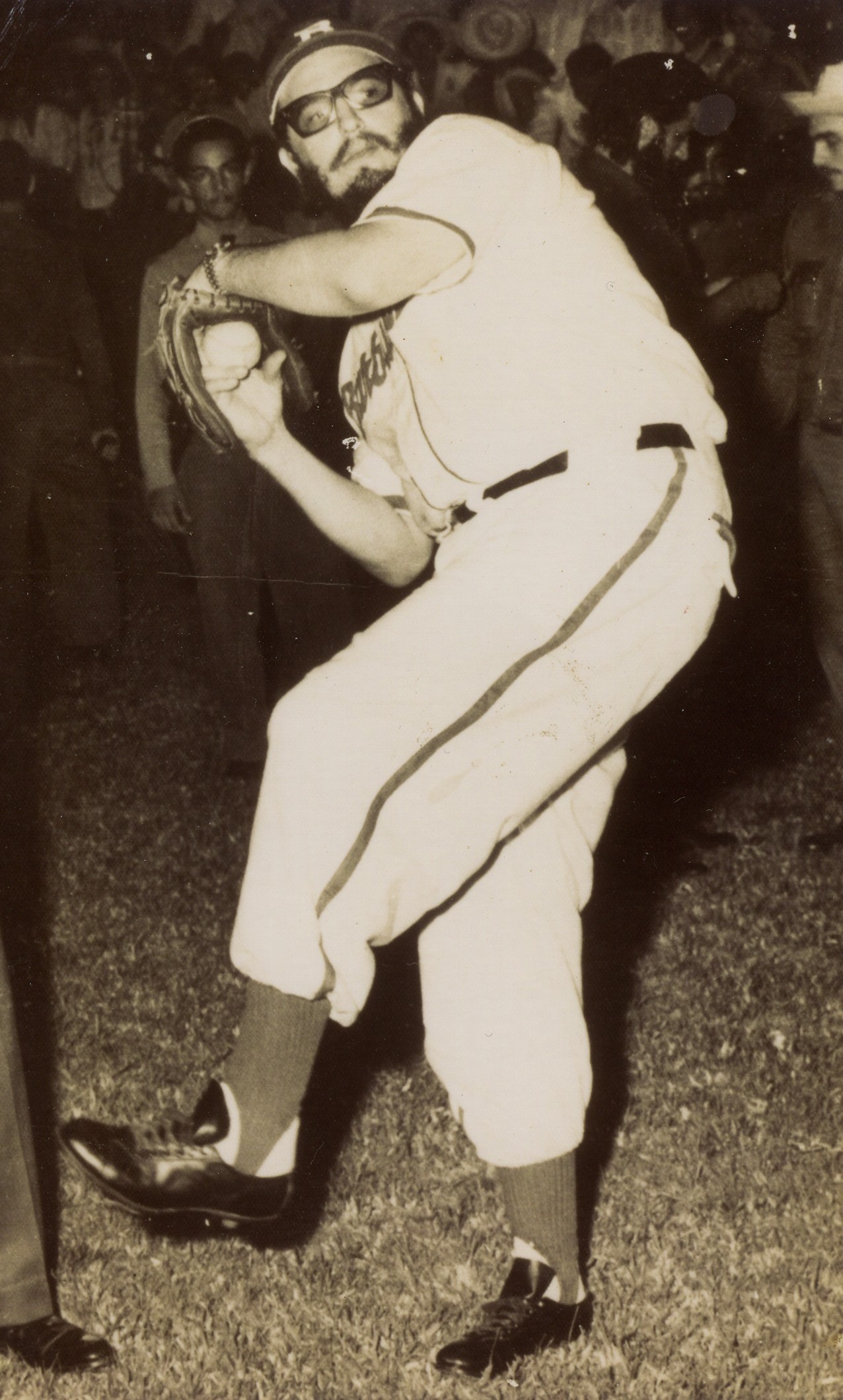 With this week's news that the U.S. will seek to normalize relations with Cuba for the first time in a half-century, many baseball fans are wondering how this will affect the island nation's many talented players and their futures in professional baseball.
SABR member Peter C. Bjarkman, an expert and author on Cuban baseball history, has been busy this week answering questions (from USA Today, NPR, the New York Times, and the Wall Street Journal, among others) on the possible impact of the move on Cuban baseball and its players.
Peter has written many articles for the SABR BioProject on Cuban ballplayers like Conrado Marrero, Aquino Abreu, his newest bio on Tommy de la Cruz, and even the Serie Nacional de Béisbol itself. But his article on Fidel Castro's history as a baseball prospect (or lack thereof), originally published at SABR.org in August 2013, is well worth reading again for those who missed it the first time around:
Fidel Castro remains the most dominant self-perpetuating myth of the second half of the 20th century, and this claim is equally valid when it comes to the Cuban leader's longtime personal association with North America's self-proclaimed national game. Rare indeed is the ball fan who has not heard some version of the well-worn Castro baseball tale: that Fidel once owned a blazing fastball as a teenage prospect and was once offered big-league contracts by several eager scouts, slipshod bird dogs (especially one named Joe Cambria working for Clark Griffith's Washington Senators) whose failures to ink the young Cuban prospect unleashed a coming half-century of Cold War political and economic intrigue. …

It turns out that Fidel the ballplayer is even more of a marvelous propaganda creation (a too-good to be scoffed at fantasy) than Fidel the lionized revolutionary hero. But this is only a small part of the fascinating and mostly — if not entirely — fictionalized Fidel Castro baseball story.
You can read Peter Bjarkman's full story on "Fidel Castro and Baseball" here: /bioproj/topic/fidel-castro-and-baseball
Related links:
---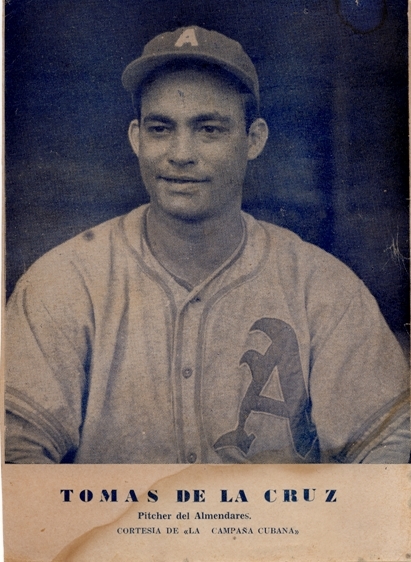 Six new biographies were posted as part of the SABR Baseball Biography Project which, along with the publication of the 1935 Detroit Tigers book, brings us to a total of 2,988 published biographies. Here are the new bios:
All new biographies can be found here: /bioproj/recent
You can find the SABR BioProject at SABR.org/BioProject.
Bios on more than just ballplayers: The ambitious goal of the SABR Baseball Biography Project is to publish a full-life biography of every major league player in history. But SABR members write about a lot more than just ballplayers. In addition, we have pages for Ballparks, Broadcasters, Executives, Managers, Scouts, Spouses, Umpires and a lot more on the BioProject website. You can browse all of these categories at /bioproj/browse. So if you've ever thought, "Hey, that person (or ballpark) should get the full BioProject treatment" — write the story and we'll publish it!
Get involved! If you'd like to help contribute to the SABR BioProject, visit our BioProject Resources page or read the FAQs section to get started. We're also looking to expand the BioProject to include all "encyclopedic" articles on baseball-related subjects from past SABR publications or committee newsletters. If you come across an article you think should be included in the SABR "baseball repository" at the BioProject, send a copy or link to markarmour04@gmail.com or jpomrenke@sabr.org.
---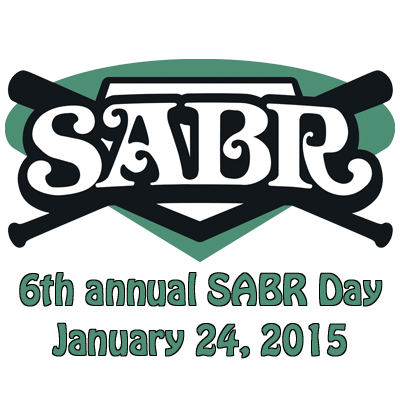 Just a reminder to all that the sixth annual SABR Day will be held Saturday, January 24, 2015. We're starting to compile details now on 2015 SABR Day chapter meetings around the country. So far, we've heard about events scheduled in:
Cincinnati, OH (Hoyt-Allen Chapter)
Cooperstown, NY (Cliff Kachline Chapter)

Denver, CO (Rocky Mountain Chapter)

Little Rock, AR (Robinson-Kell Chapter)

Louisville, KY (Pee Wee Reese Chapter)

Middletown, CT (Smoky Joe Wood Chapter)

Nashville, TN (Rice-Russell Chapter)

New York, NY (Casey Stengel Chapter)
Pittsburgh, PA (Forbes Field Chapter)
Rochester, NY (Luke Easter Chapter)
San Francisco, CA (Lefty O'Doul Chapter)
Seattle, WA (Northwest Chapter)
To add your SABR Day event to the calendar, please send details to jpomrenke@sabr.org. We'll post more information soon on each of these meetings at SABR.org/sabrday.
In addition, some chapters are holding their SABR Day meetings on a different day, due to venue or schedule availability. Check the SABR Day schedule or Events Calendar for details soon on each of these meetings, as well:
January 10: San Marcos, TX (Rogers Hornsby Chapter)
January 10: Philadelphia, PA (Connie Mack Chapter)
January 19: Boston, MA (Boston Chapter)
January 31: Kenosha, WI (joint meeting of Emil Rothe/Chicago Chapter and Ken Keltner Badger State Chapter)
January 31: Los Angeles, CA (Allan Roth Chapter)
January 31: Arlington, VA (Bob Davids Chapter)
January 31: Columbus, OH (Hank Gowdy Chapter)
Regional SABR meetings are open to all baseball fans and are usually free to attend, so bring a friend! Guest speakers often include current and former baseball players, managers, umpires, executives, scouts, writers and authors.
Check back soon at SABR.org/sabrday for more information on a SABR Day meeting close to you.
For a complete recap of 2014 SABR Day activities, visit SABR.org/sabrday/2014.
---
The Society for American Baseball Research is seeking Spring 2015 interns to work in our office in Phoenix, Arizona.
An internship with SABR will involve responsibilities across a variety of disciplines, possibly including:
Working on-site at a local SABR conference, such as the SABR Analytics Conference
Working with our Membership Director or Director of Operations on organizational duties, membership renewal drives, customer service
Working with our Web Editor to help publish and/or produce content for our website at SABR.org
Interested candidates should be able to demonstrate basic office-related computer skills. HTML knowledge is a plus.
A working knowledge of baseball — and an awareness of the game's general history and basic statistics — is required.
The internship is an educational opportunity that may count toward college credit, covering 15-20 hours per week (flexible schedule), at the SABR office in Phoenix, Arizona. The internship will be for a fixed period of time and is designed to provide the intern with skills and training that may be applicable to working in a nonprofit research environment or in other research-based organizations. No housing assistance will be provided.
Please send a resume and cover letter in PDF form to mappleman@sabr.org or jpomrenke@sabr.org by 5:00 p.m. MST Friday, January 9, 2015.
---
From Richard Goldstein at the New York Times on longtime SABR member Sy Berger:
Sy Berger, who transformed a boys' hobby into a high-stakes pop culture niche as the father of the modern-day baseball trading card, died on Sunday, December 14, 2014, at his home in Rockville Centre, N.Y., on Long Island. He was 91.

His death was announced by his family.

Baseball cards date to the 19th century, but for Mr. Berger, the decade after World War II was the perfect time to revitalize them. The Yankees, the Brooklyn Dodgers and the New York Giants dominated baseball, providing a fertile marketing climate aimed at youngsters in the New York metropolitan area who had been born in the immediate postwar years. And throughout America, the arrival of television made it possible for youngsters to watch their baseball heroes in action.

In the 1950s, Mr. Berger turned the Brooklyn-based Topps company into a name synonymous with those pieces of cardboard that children could flip (calling out front or back), pitch (nearest to a wall wins), trade or simply admire and store in a shoe box.

Mr. Berger introduced Topps cards in 1951. They came with taffy, rather than chewing gum, since a competitor seemed to have exclusive rights to market baseball cards with gum. But the taffy wound up picking up the flavor of varnish on the cards.

"You wouldn't dare put that taffy near your mouth," Mr. Berger said, adding, "that '51 series was really a disaster."

A year later, after switching to gum, he conceived the prototype for the modern baseball card, supplanting the unimaginative, smallish and often black-and-white offerings of the existing card companies.

"We came out in 1952 with a card in color, beautiful color, and a card that was large," Mr. Berger told the Society for American Baseball Research in 2004. "For the first time, we had a team logo. We had the 1951 line statistics and their lifetime statistics. No one else did it."
Read the full article here: http://www.nytimes.com/2014/12/15/sports/baseball/sy-berger-91-dies-created-the-modern-baseball-trading-card.html
Related links:
---
SABR Negro Leagues Committee co-chair Larry Lester is seeking your memories, stories, and tributes about the late Dick Clark to share with his family.
If you would like to share your story, please send it to Larry at larrylester42@gmail.com.
Dick, who served as co-chair of the Negro Leagues Committee and was a great supporter of the annual Jerry Malloy Negro Leagues Conference and the Negro Leagues Grave Marker Project, died at age 68 on December 8. Read Larry Lester's tribute to "my mentor, my buddy, my homey, my roomy, uncle to my daughters, even ate my wife's cooking, and an inspirational leader to many" here: /latest/memoriam-dick-clark-negro-leagues-historian
---
Please note: Only ONE entry per nomination will be considered (do not submit multiple nominations for the same award). For more information on SABR Awards, click here.
---
Minutes from the Board of Directors Fall 2014 meeting on November 1-2, 2014, in Rye, New York, have now been posted on the SABR website.
You can view all past minutes of SABR Board meetings by going to the page below:
Or you can go to the Members' Info page and click on "Org. files", then "Board Minutes" to view the minutes.
---
We've heard your feedback: Some of you have said you look forward to "This Week in SABR" every Friday, but sometimes there are just too many compelling articles and announcements to read every week. We're not complaining — hey, keep up the great work! — but we know the feeling. So in an effort to make the length of this newsletter more manageable to read, we'll summarize some of the repeating/recurring announcements in a special "In Case You Missed It (ICYMI)" section of "This Week in SABR".
Here are some major headlines from recent weeks that we don't want you to miss:
All previous editions of This Week in SABR can be found here: /content/this-week-in-sabr-archives.
---
We'd like to welcome all of our new SABR members who have joined this week. You can find all Members-Only resources at members.sabr.org and the New Member Handbook can be downloaded here.
Please give these new members a warm welcome and help them make the most of their membership by giving them the opportunity to get involved in their local chapter or a research committee.
| Name | Hometown | | | Name | Hometown |
| --- | --- | --- | --- | --- | --- |
| Cliff Beiser | Kissimmee, FL | | | Brandy Merritt | Houston, TX |
| Joe Boger | Winston-Salem, NC | | | Chet Morgan | El Paso, TX |
| James Borgstede | Colorado Springs, CO | | | Darin Price | San Diego, CA |
| George Bozeka | Akron, OH | | | Bill Rainey | Peoria, AZ |
| Mark Cox | Spokane, WA | | | Bryan Rainey | Indianapolis, IN |
| Christopher Gaffney | Matawan, NJ | | | Randy Rogers | Allen, TX |
| John W. Hawes | Evanston, IL | | | Jesus Salcedo | Encinitas, CA |
| John Heiselman | Lancaster, PA | | | Larry Smithers | Dundas, ON |
| Henry Lindstrom | Tacoma, WA | | | Joe Streng | Pleasanton, CA |
| Mark Littell | Gilbert, AZ | | | Donna Walters | Show Low, AZ |
| Brandon Luckham | Anaheim, CA | | | Larry Whitlock | Mesquite, TX |
| Michael Mattingly | Brookeville, MD | | | | |
In addition, please welcome our new Student Group Affiliate Members from Fordham University (adviser: Tony Morante) in New York, NY:
| Name | | | Name |
| --- | --- | --- | --- |
| Nicholas Sette | | | Eric Connor |
| Richard W. McClintock III | | | Sal Cocchiaro |
| Robert Jones | | | Aniello DeVita |
| Brendan Bowers | | | Nicholas Appenzeller |
| Ali Gostanian | | | Anthony Romanelli |
| George Kernochan | | | Kosta Demopoulos |
| Caroline Bulger | | | Andrew Kelly |
| Lauren Chu | | | Corina Tse |
| Jack Donnelly | | | Matthew Michaels |
| Sanjay Pothula | | | |
Teachers, click here to learn more about signing up your group/class for a SABR Student Group Affiliate Membership.
---
There were no new SABR research committee newsletters published this week.
Find all SABR research committee newsletters at SABR.org/research.
---
Here are the new regional chapter updates published this week:
Bob Broeg St. Louis Chapter meeting recap (December 15; St. Louis, MO)
Northwest Chapter: We'd like to extend a warm welcome to new Northwest Chapter officers Bob Russon (President) of Portland, Oregon, and Tip Wonhoff (Vice President) of Tacoma, Washington. Bob is taking over for Rick Solomon of Seattle, Washington, who has served as Vice President then President of the chapter for the past four years; we'd like to thank Rick for his service and dedication to SABR. The Northwest Chapter serves the Pacific Northwest, including Washington, Oregon, Idaho, and British Columbia. For more information, click here.
Visit SABR.org/chapters for more information on SABR regional chapters.
---
Here is a list of upcoming SABR events:
All SABR meetings and events are open to the public. Feel free to bring a baseball-loving friend … and make many new ones! Check out the SABR Events Calendar at SABR.org/events.
---
Here are some recent articles published by and about SABR members:
Read these articles and more at SABR.org/latest.
---
This Week in SABR is compiled by Jacob Pomrenke. If you would like us to include an upcoming event, article or any other information in "This Week in SABR," e-mail jpomrenke@sabr.org.
Are you receiving our e-mails? "This Week in SABR" goes out by e-mail to all members on Friday afternoons. If they're not showing up, try adding "sabr.notes@sabr.org" to your contact list to ensure they show up in your inbox (and not the spam folder.)
---
Originally published: December 19, 2014. Last Updated: April 3, 2020.
https://h2j7w4j4.stackpathcdn.com/wp-content/uploads/2020/03/research-collection4_350x300.jpg
300
350
jpomrenke
/wp-content/uploads/2020/02/sabr_logo.png
jpomrenke
2014-12-19 15:00:00
2020-04-03 14:39:16
This Week in SABR: December 19, 2014