This Week in SABR: February 27, 2015

Welcome to the 200th edition of "This Week in SABR!" You can find all archived editions of TWIS here. Here's what we've been up to as of February 27, 2015:
---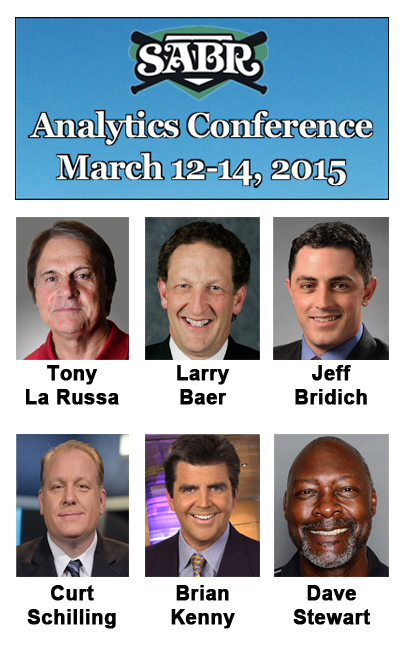 We're less than two weeks away from the fourth annual SABR Analytics Conference, which will be held March 12-14, 2015, at the Hyatt Regency Phoenix in downtown Phoenix, Arizona.
Click here to view the full conference schedule or click here to register online.
The SABR Analytics Conference will consist of a combination of Guest Speakers, Panels, and Research Presentations — plus the unique Diamond Dollars Case Competition, in which undergraduate, graduate, and law school students from across the country analyze and present a real baseball operations decision.
Click here to learn more about our featured panels:
Thursday, March 12
Opening Remarks: Brian Kenny – the MLB Network host will open the conference with a talk on the state of baseball analytics.
Player Panel – with former major-leaguers Curt Schilling, John Kruk, and Doug Glanville of ESPN. Moderator: Brian Kenny, MLB Network.
Analytics in the Broadcast Booth – with Jon Sciambi, ESPN; and Steve Berthiaume, Arizona Diamondbacks. Moderator: Joe Block, Milwaukee Brewers.
Friday, March 13
One on One: Larry Baer – an exclusive interview with the President/CEO of the World Series champion San Francisco Giants. Moderator: Vince Gennaro, SABR President.
One on One: Tony La Russa – an exclusive interview with the Hall of Fame manager who is now Chief Baseball Officer of the Arizona Diamondbacks. Moderator: Ken Rosenthal, MLB Network/FoxSports.com.
General Managers Panel – with Dave Stewart, Arizona Diamondbacks; and Jeff Bridich, Colorado Rockies. Moderator: Brian Kenny, MLB Network.
Origins of Baseball Analytics – with John Thorn, Major League Baseball's Official Historian; Pete Palmer, co-editor of Total Baseball; John Dewan, owner of Baseball Info Solutions; Dick Cramer, co-founder of STATS LLC. Moderator: John Walsh, former Executive Vice President and Executive Editor, ESPN.
Impact of Analytics on the Field – with ESPN analysts Eric Wedge and Eduardo Perez. Moderator: Buster Olney, ESPN.com.
Saturday, March 14
Baseball Operations Panel – with front-office executives Sam Grossman, Cincinnati Reds; T.J. Barra, New York Mets; Zack Rosenthal, Colorado Rockies. Moderator: Jon Sciambi, ESPN.
Business of Baseball Panel – with Kenny Farrell, Vice President of Business Analytics, Arizona Diamondbacks; and Ryan Gustafson, Senior Director of Business Strategy and Innovation, San Diego Padres. Moderator: Dan Migala, Founding Partner, Property Consulting Group.
The Future of International Prospects – with Jonathan Mayo, Jim Callis, Jesse Sanchez of MLB.com; and John Barr, Vice President/Assistant GM, San Francisco Giants. Moderator: Rob Neyer, FoxSports.com.
The SABR Analytics Conference is open to all baseball fans. Once again, we're bringing together the top minds of the baseball analytic community under one roof at the SABR Analytics Conference to discuss, debate and share insightful ways to analyze and examine the great game of baseball.
Find more information on the 2015 SABR Analytics Conference below:
Visit SABR.org/analytics for more information or to register.
---
For those of you whose memberships expired recently, there's still ONE day left to renew and be a part of the SABR community again in 2015. If you've already renewed, we thank you for your support and look forward to another exciting year ahead.
Renew now to receive the Spring 2015 edition of the Baseball Research Journal, plus discounts on registration to the 2015 SABR Analytics Conference and SABR 45 in Chicago, MLB.TV subscriptions, and a lot more! Please note: We MUST receive your dues by 11:59 p.m. EST on Saturday, February 28, 2015, in order for you to receive the upcoming BRJ.
Here's how to renew: You can renew your membership for 1 year or 3 years online at the SABR Store; by phone at (602) 343-6450; or by mailing this downloadable PDF form and your payment to the SABR office at 4455 E. Camelback Road, Ste. D-140, Phoenix, AZ 85018.
Dues are the same as they have been in recent years: for this, you get two editions of the Baseball Research Journal, the expanded e-book edition of The National Pastime; 8-10 free e-books published by the SABR Digital Library; "This Week in SABR" every Friday; access to research resources such as Paper of Record (with complete archives of The Sporting News); discounts to all SABR conferences such as the National Convention (Chicago 2015), the SABR Analytics Conference, the Jerry Malloy Negro League Conference, and the Frederick Ivor-Campbell 19th Century Conference; discounts to MLB.TV; and much, much more.
We believe SABR has something for everyone, from the active researcher to someone passionate about baseball. We hope you'll invite your friends, colleagues and family members to join at store.sabr.org.
---
Once again, SABR is offering its members the opportunity to opt out of receiving the printed version of the Spring 2015 Baseball Research Journal. We'll deliver the e-book version of the BRJ in the format of your choice (EPUB, MOBI/Kindle or PDF) straight to your inbox around Opening Day 2015. Click here to learn more about receiving the e-book edition of the BRJ.
Opt out of receiving the printed edition by 11:59 p.m. EST on Saturday, February 28, 2015, in order to get early access to all the great content in the BRJ in e-book format and online at SABR.org.
To opt out of receiving the printed version of the Baseball Research Journal: Click here to edit your membership profile. Scroll to the bottom and select "Receive publications electronically." Then save your changes.
Please note: If you do nothing, you will continue to receive two print editions of the Baseball Research Journal every year by mail.
If you've never read a Baseball Research Journal in e-book form, click here to try it out with the Fall 2014 edition. The Baseball Research Journal, and all SABR e-books, are available in EPUB, MOBI/Kindle or PDF formats.
---

You now have the opportunity to take advantage of a special offer from MLB Advanced Media for the 2015 season.
All SABR members can get a 20% discount off a MLB.TV Premium Monthly subscription. This discount is valid for each month of the 2015 season, so you can use it all year long:
With MLB.TV, you can watch every 2015 Regular Season out-of-market game LIVE or on-demand in HD Quality. Choose home or away broadcasts. MLB.TV is on your favorite devices, including iPhone, iPad, Android phones, Xbox 360, Sony PlayStation and more. Watch up to four games at once with Mosaic. DVR functionality lets you pause or rewind live games. PLUS, watch select 2015 Spring Training games LIVE online.
For any questions about your subscription, please contact MLB.TV Customer Service.
---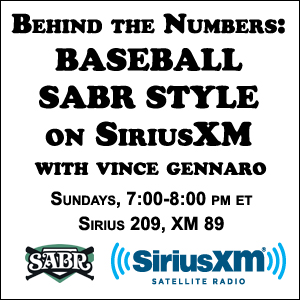 This week's episode of Behind the Numbers: Baseball SABR Style on SiriusXM, a new radio show hosted by SABR President Vince Gennaro, will focus on "Today's Top 10 Starting Pitchers."
Baseball SABR Style made its debut on February 15. The show — focused on examining and interpreting the statistical analysis that plays a critical role in baseball today — will air weekly throughout the year on MLB Network Radio, available to subscribers nationwide on XM channel 89, Sirius channel 209, and on the SiriusXM Internet Radio App. (The show will also be available afterward in the "on-demand" section of the app.)
For more information, click here.
---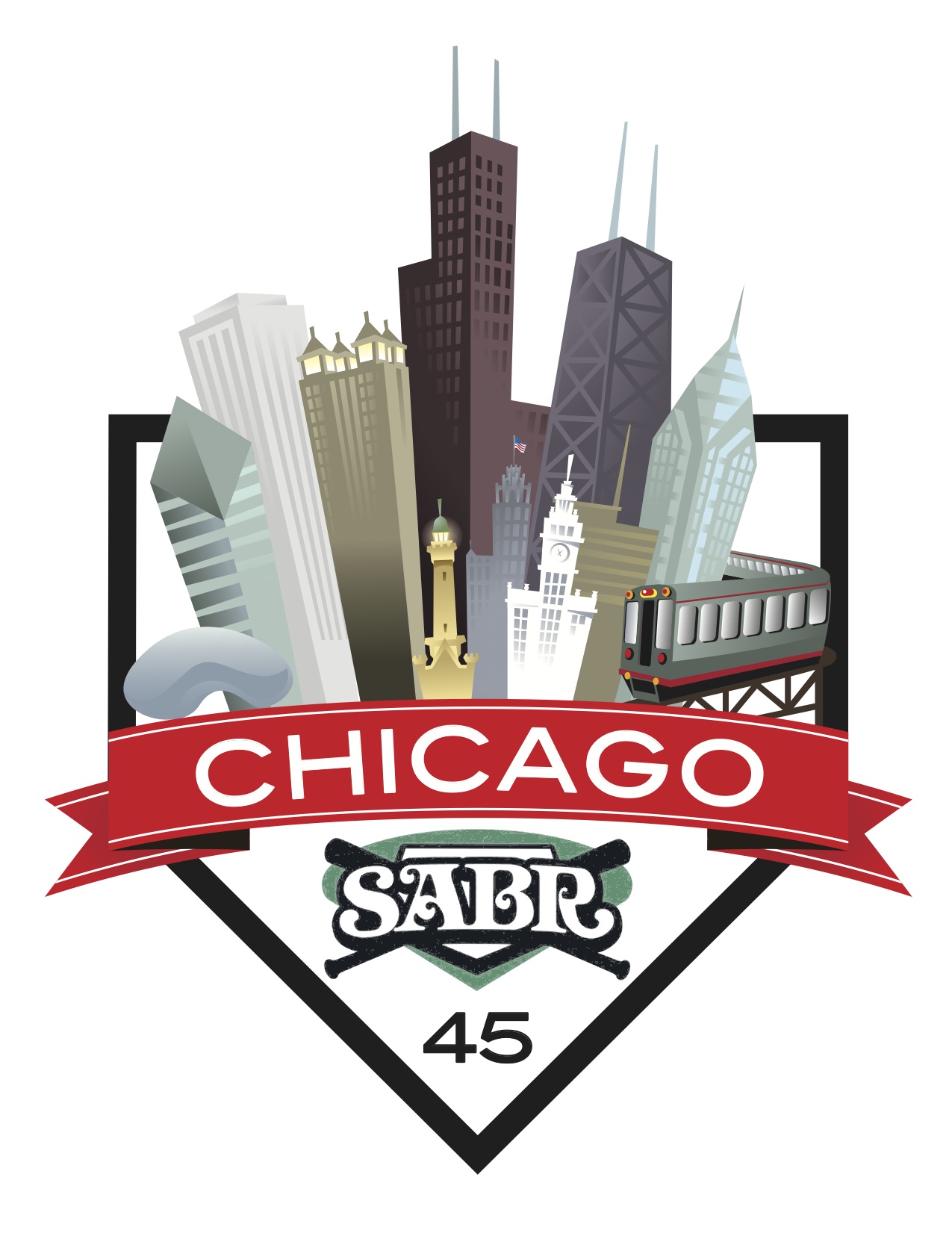 We hope you'll join us for what promises to be a spectacular SABR 45 convention, June 24-28, 2015, at the Palmer House Hilton in Chicago, Illinois.
Hotel and conference registration for the 2015 convention is now available. Click here for complete information on SABR 45 registration rates, all-inclusive packages, and optional sessions. Or click here to register for SABR 45. More details on guest speakers, panelists, and presenters will be announced soon.
Please note: The SABR 45 all-inclusive package includes 1 full conference registration; 1 ticket to the Cubs game on Thursday, June 25; 1 round-trip ticket on the CTA Red Line train; and 1 ticket to the Awards Luncheon on Friday, June 26. It does NOT include any other optional events such as the Downtown Baseball Walking Tour on Wednesday, June 24, The Baseball Project concert on Thursday, June 25, or the Historical Ballpark Sites Bus Tour on Sunday, June 28. Those tickets must be purchased separately.
All SABR 45 attendees will also receive a souvenir print edition of The National Pastime, our annual convention journal, focusing on baseball teams, players and events in the Chicago area. All SABR members, whether you attend the convention or not, will receive the expanded e-book edition of The National Pastime in their inboxes later this summer. Click here to register for SABR 45.
For more information on SABR 45, visit SABR.org/convention.
---
The SABR Nominating Committee seeks nominations for candidates for the Spring 2015 elections. All candidates for the Board of Directors must have been members of the Society for at least the preceding four years to be eligible for election. Deadline for nominations is February 28, 2015. Nominees must prepare a Candidate Statement Form following guidelines that will be available from any Nominating Committee member.
The Candidate Statement Form must be received by the Nominating Committee chair no later than March 15, 2015.
The offices to be filled:
President (2-year term; currently Vince Gennaro)
Secretary (3-year term; currently Todd Lebowitz)
Director (3-year term; currently Ty Waterman)
The Nominating Committee also seeks your input. Members are asked to submit office-specific questions for each of the offices open in this election. We also seek input on general questions for every nominee. Candidates will answer selected questions on the Candidate Statement Form. Regional Chapter leaders and Research Committee Chairs are especially encouraged to pass on this request to their respective members to better address member needs.
Self-nominations are welcome. If you would like to nominate yourself or another candidate or suggest a question for the candidates, contact a member of the Nominating Committee: chair R.J. Lesch (rjlofiowa@gmail.com), Rick Schabowski (rickiu76@aol.com), or Barry Deutsch (barryid@pobox.com).
---
The Spring 2015 issue of the Baseball Research Journal is in typesetting now, and I thought this might be a good moment to remind folks that the BRJ is open to research by all SABR members.
The BRJ is interdisciplinary, meaning that we define "baseball research" very broadly. So everything from physics to physiology might find its way into our pages. Economics, history, sociology, game theory, etymology, architecture, psychology, records, biomechanics, meteorology: if it's "research" we are open to being queried about it.
If you're interested in writing for the Fall 2015 edition of the BRJ, a query is the simplest way to start: send me an email at ctan@sabr.org describing your idea for an article, a few sentences about your topic, a rough idea of where you expect the investigation or analysis to go, and if possible give a guess as to the length. (BRJ articles are typically 2,000 to 6,000 words long, but this is not a hard limit by any means.) Please also include in your query how you became interested in the topic and any qualifications you have to research it, and what sources you might draw on to complete the research.
If you have a completed paper or near-completed manuscript, please write me for the writers guidelines which will give you more information on how to format the submission and where to email it (hint: JournalSubs@sabr.org).
The peer review process can take months to complete, so the sooner we receive a paper, the sooner we can start the process. There is no single firm "deadline" but I would expect most papers received before April 1 have a good chance to make it into the fall issue, whereas those arriving in May might be cutting it close, and by June the issue will likely be full or only have a few slots left.
— Cecilia M. Tan
SABR Publications Editor
---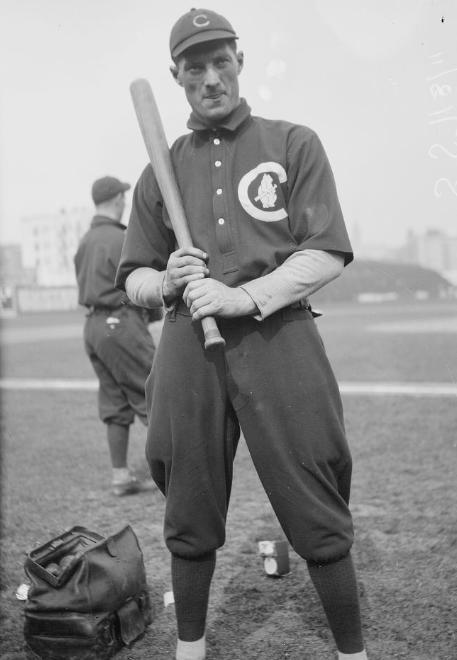 Who won the first Triple Crown in the National League in the twentieth century?
Was it Heinie Zimmerman, a Deadball Era infielder who had only one superstar campaign during his career?
Or was it Rogers Hornsby, a Hall of Famer during the live-ball era with ten superstar seasons to his credit?
For many years, according to several prestigious sources, Zimmerman was shown as having achieved the Triple Crown in 1912 while playing with the Chicago Cubs — ten years before Hornsby earned the honor in 1922 while with the St. Louis Cardinals. However, since 1969, other prominent sources have shown that Zimmerman did not win the Triple Crown in 1912, thereby making Hornsby the answer to the opening question. What happened?
Read the full article here: http://sabr.org/latest/krabbenhoft-solving-mystery-heinie-zimmermans-1912-national-league-triple-crown
— Herm Krabbenhoft
---

SABR's Negro Leagues Committee will award two $2,500 scholarships to high school seniors in its seventh annual essay contest in 2014-15. Students are asked to write a 1,200-word essay answering one of the following questions: "Choose one figure from the Negro Leagues and explain why you believe they are significant" or "Explain who Effa Manley was and her significance to the Negro Leagues."
Click here to download the PDF application to learn more about eligibility requirements, submission criteria and style guidelines. All applications must be postmarked no later than March 23, 2015.
Questions can be directed to Leslie Heaphy (lheaphy@kent.edu), Stephanie Liscio (stephanieliscio@yahoo.com) Mel May (mel.may@tri-c.edu), or Joshua Salvner (jsalvner@emich.edu).
Click here to learn more about the 2014 winners, Tiffany Bowman of Troy High School in California, and Abraham Griesbauer from Troy, Missouri.
For more information about the Jerry Malloy Negro League Conference, visit SABR.org/malloy.
---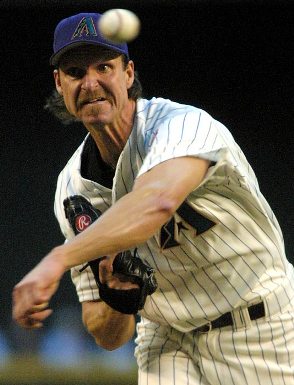 Four new biographies were posted as part of the SABR Baseball Biography Project, which brings us to a total of 3,072 published biographies. Here are the new bios:
All new biographies can be found here: http://sabr.org/bioproj/recent
You can find the SABR BioProject at SABR.org/BioProject.
Bios on more than just ballplayers: The ambitious goal of the SABR Baseball Biography Project is to publish a full-life biography of every major league player in history. But SABR members write about a lot more than just ballplayers. In addition, we have pages for Ballparks, Broadcasters, Executives, Managers, Scouts, Spouses, Umpires and a lot more on the BioProject website. You can browse all of these categories at http://sabr.org/bioproj/browse. So if you've ever thought, "Hey, that person (or ballpark) should get the full BioProject treatment" — write the story and we'll publish it!
Get involved! If you'd like to help contribute to the SABR BioProject, visit our BioProject Resources page or read the FAQs section to get started. We're also looking to expand the BioProject to include all "encyclopedic" articles on baseball-related subjects from past SABR publications or committee newsletters. If you come across an article you think should be included in the SABR "baseball repository" at the BioProject, send a copy or link to markarmour04@gmail.com or jpomrenke@sabr.org.
---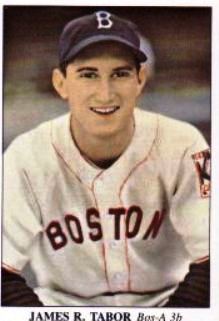 One new game story was posted this week as part of the SABR Games Project. Here is the new game story:
The SABR Baseball Games Project was launched in January 2014 to research and write articles on major-league and Negro League regular, postseason, and All-Star Games. These game accounts will complement Retrosheet and Baseball-Reference box scores as well as BioProject essays on the players involved.
The articles are not intended to be mere play-by-play summaries, nor should they be first-person narratives. Rather the goal is to put each game in historical context — whether that history is of a particular player, team, season, or something even broader.
Visit the new Games Project website at SABR.org/gamesproject.
---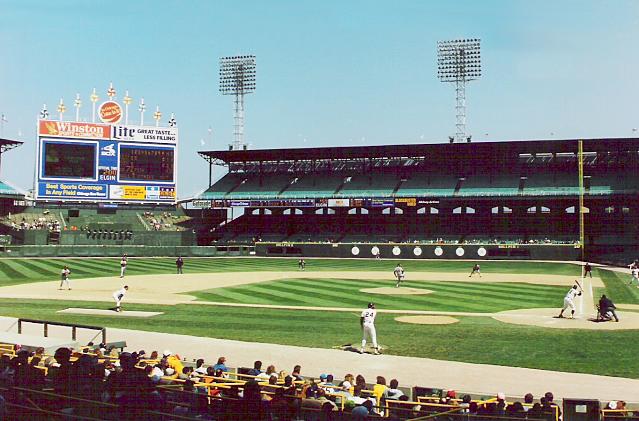 Our friends at Seamheads.com are proud to announce another update of the Seamheads.com Ballparks Database, created by SABR members Kevin Johnson and Dan Hirsch.
The database includes the following updates through the 2014 season:
Descriptive data that includes location, date of first and last game (if applicable), number of seasons and games played, seating capacity, field dimensions, wall heights, playing surfaces, area of fair and foul ground, distance from the plate to the backstop, latitude, longitude, altitude, comments about structural or rules changes and current and historic aerial views.
Ballpark factors for Runs for every year since 1871.
Home run splits for every year since 1876.
Full ballpark factors and splits for home runs, hits, singles, doubles, triples, walks and strikeouts for every year since 1914.
Partial ballpark factors for years prior to 1914.
Park events for 45 defunct ballparks, including First and Last games, starting pitchers, batters and their results, hits, runs, RBIs, home runs, strikeouts, winning and losing pitchers, grand slams, inside-the-park home runs, no-hitters, and trivia. (Note: Not all venues are 100% complete and some information is missing until further review and future updates).
Thanks to an update at Retrosheet.org, data for our 1925 and 1936 seasons have been updated to reflect more accurate splits. (Note: sometimes bat hand is unknown for switch-hitters and for some other batters).
Also, thanks to SABR member Ron Selter, numerous configuration data updates for 1890-1919 "Park Configurations" have been added.
To view the Seamheads Ballparks Database, visit http://www.seamheads.com/ballparks/index.php.
---
Ron Gabriel Award, due 3/1/2015: The Ron Gabriel Award annually honors the author(s) of the best research, published or unpublished, on the subject of the Brooklyn Dodgers completed during the preceding calendar year. Eligible works include but are not limited to magazine and journal articles, previously unpublished chapters or articles in anthologies or other books with multiple authors, unpublished research papers, written versions of oral presentations, books, databases and websites. To submit a nomination for the 2015 awards, please contact Craig Murden at hncsports@optonline.net. LAST CALL!

Jack Kavanagh Memorial Youth Baseball Research Award, due 6/1/2015: Students have until June 1, 2015, to submit entries for this year's Jack Kavanagh Memorial Youth Baseball Research Award, which offers a prize of up to $200 and a one-year SABR membership for researcher in grades 6-8 (middle school category), grades 9-12 (high school category), or undergraduates 22 and under (college category). All entries must have to do with baseball history and cannot be fictional pieces. Submission and formatting guidelines are available by clicking here. For more information, contact Leslie Heaphy at Lheaphy@kent.edu.
Please note: Only ONE entry per nomination will be considered (do not submit multiple nominations for the same award). For more information on SABR Awards, click here.
---
We've heard your feedback: Some of you have said you look forward to "This Week in SABR" every Friday, but sometimes there are just too many compelling articles and announcements to read every week. We're not complaining — hey, keep up the great work! — but we know the feeling. So in an effort to make the length of this newsletter more manageable to read, we'll summarize some of the repeating/recurring announcements in a special "In Case You Missed It (ICYMI)" section of "This Week in SABR".
Here are some major headlines from recent weeks that we don't want you to miss:
All previous editions of This Week in SABR can be found here: http://sabr.org/content/this-week-in-sabr-archives.
---
We'd like to welcome all of our new SABR members who have joined this week. You can find all Members-Only resources at members.sabr.org and the New Member Handbook can be downloaded here.
Please give these new members a warm welcome and help them make the most of their membership by giving them the opportunity to get involved in their local chapter or a research committee.
You can find contact information for any SABR member in the online membership directory (SABR.org/directory).
| Name | Hometown | | | Name | Hometown |
| --- | --- | --- | --- | --- | --- |
| Jon Abrams | Whitefish, MT | | | John Humenik | Madison, WI |
| Secundra Beasley | East Cleveland, OH | | | David Jean | Palm Harbor, FL |
| Jeremy Beer | Phoenix, AZ | | | Brandon Keys | Moline, IL |
| Ryan Broad | Coorparoo, AUS | | | Larry Kirven | Pacific Palisades, CA |
| Nancy Broden | Red Oak, TX | | | Dave Marshall | Kansas City, MO |
| Darin Buhr | Brooklyn Park, MN | | | Stan Okenka | Toledo, OH |
| John Burbidge Jr. | Royal Oak, AL | | | Andrew Phillips | Dry Prong, LA |
| Darrell Donaldson | Miramar, FL | | | Ken Reed | Littleton, CO |
| J.D. Elliby | Mansfield, TX | | | John Strohbusch | Greendale, WI |
| Paul Gardner | Brockton, MA | | | Tim Teddy | Columbia, MO |
| Jane Gideon | San Francisco, CA | | | Jason Tores | Severn, MD |
| Daniel Hauck | Watchung, NJ | | | Chuck Wharton | Houston, TX |
| Steven Hill | Scarborough, ME | | | | |
---
There were no new SABR research committee newsletters published this week.
Find all SABR research committee newsletters at SABR.org/research.
---
Here are the new regional chapter updates published this week:
Visit SABR.org/chapters for more information on SABR regional chapters.
---
Here is a list of upcoming SABR events:
All SABR meetings and events are open to the public. Feel free to bring a baseball-loving friend … and make many new ones! Check out the SABR Events Calendar at SABR.org/events.
---
Here are some recent articles published by and about SABR members:
Read these articles and more at SABR.org/latest.
---
This Week in SABR is compiled by Jacob Pomrenke. If you would like us to include an upcoming event, article or any other information in "This Week in SABR," e-mail jpomrenke@sabr.org.
Have trouble reading this e-mail? Click here to view this week's newsletter on the web.
Are you receiving our e-mails? "This Week in SABR" goes out by e-mail to all members on Friday afternoons. If they're not showing up, try adding "sabr.notes@sabr.org" to your contact list to ensure they show up in your inbox (and not the spam folder.)
---
Originally published: February 27, 2015. Last Updated: April 3, 2020.
https://sabr.org/wp-content/uploads/2020/03/research-collection4_350x300.jpg
300
350
jpomrenke
/wp-content/uploads/2020/02/sabr_logo.png
jpomrenke
2015-02-27 15:00:00
2020-04-03 14:39:15
This Week in SABR: February 27, 2015