This Week in SABR: February 7, 2014
Welcome to "This Week in SABR!" Here's what we've been up to as of February 7, 2014:
---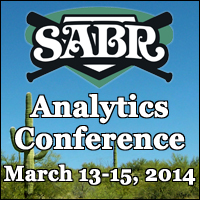 Just a reminder: Early registration rates for the 2014 SABR Analytics Conference will expire at 12:00 a.m. MST on Monday, February 10, so reserve your spot today.
Early registration rates are $395 for SABR members, $495 for non-members. Students who are currently enrolled in high school or college can register for $350. Click here to register for the 2014 SABR Analytics Conference.
The third annual SABR Analytics Conference will be held March 13-15, 2014, at the Hyatt Regency Phoenix, 122 N. 2nd St., Phoenix, AZ 85004. Click here to book your hotel room at the special SABR group rate of $169/night (plus tax.) Or call (602) 252-1234 and mention that you're with the SABR Analytics Conference.
Complimentary wireless Internet is available in all rooms booked under the SABR block. The cutoff date to book your room is February 18, 2014. The SABR group rate is only available for the nights of March 12 to March 15, 2014, based on availability. (The nights of March 10-11 and March 16-18 are now sold out.) Book your room today!
The schedule will consist of a combination of Guest Speakers, Panels and Research Presentations — plus the unique Diamond Dollars Case Competition, in which undergraduate, graduate and law school students from across the country analyze and present a real baseball operations decision.
Visit SABR.org/analytics for the full schedule, along with more information on speakers, panels and presentations!
---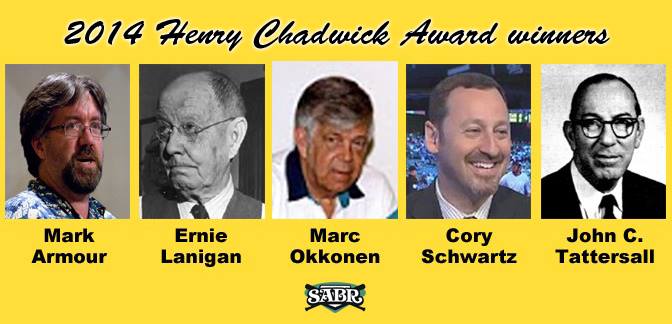 The Society for American Baseball Research is pleased to announce the 2014 recipients of the Henry Chadwick Award, established to honor the game's great researchers—historians, statisticians, annalists, and archivists—for their invaluable contributions to making baseball the game that links America's present with its past.
The 2014 recipients of the Henry Chadwick Award are:
For more information on the 2014 Henry Chadwick Award winners, click here.
By honoring individuals for the length and breadth of their contribution to the study and enjoyment of baseball, the Chadwick Award will educate the baseball community about sometimes little known but vastly important contributions from the game's past and thus encourage the next generation of researchers.
The criteria for the award reads in part: The contributions of nominees must have had public impact. This may be demonstrated by publication of research in any of a variety of formats: books, magazine articles, websites, etc. The compilation of a significant database or archive that has facilitated the published research of others will also be considered in the realm of public impact.
---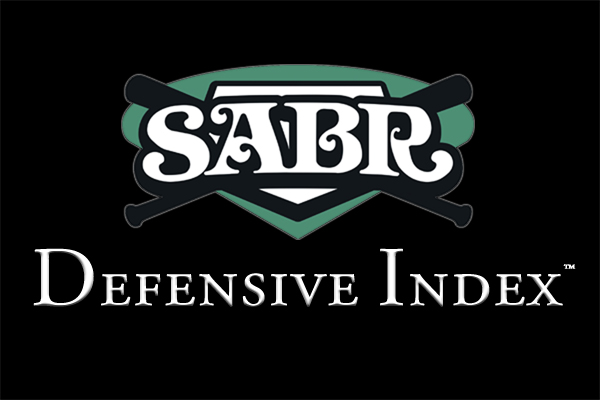 We are pleased to introduce the SABR Defensive Index Panel at the third annual SABR Analytics Conference, March 13-15, 2014 at the Hyatt Regency Phoenix in Phoenix, Arizona.
This panel, which is scheduled for 1:45 p.m. on Friday, March 14, will discuss developments with the SABR Defensive Index, which beginning in 2013 is used to help select the winners of the Rawlings Gold Glove Award and Rawlings Platinum Glove Award, presented by SABR.
Here are the expected speakers for the SABR Defensive Index Panel:
John Dewan, Owner, Baseball Info Solutions:
Sean Forman, President, Sports Reference, LLC
Vince Gennaro, President, SABR
Kurt Hunzeker, Senior Director of Brand Marketing, Rawlings
Moderator: Jon "Boog" Sciambi, Announcer, ESPN
Please note: All speakers are subject to change due to availability.
For more information or to register for the 2014 SABR Analytics Conference, visit SABR.org/analytics.
---

Due to his recent diagnosis with cancer, former All-Star pitcher and ESPN baseball analyst Curt Schilling will not be able to appear at the 2014 SABR Analytics Conference next month.
Schilling, who was scheduled to appear on the Which Numbers Athletes Love, Which Numbers Athletes Hate panel at SABR Analytics with ESPN's Aaron Boone and John Walsh, issued a public statement on Wednesday at ESPN.com:
"I've always believed life is about embracing the gifts and rising up to meet the challenges. We've been presented with another challenge, as I've recently been diagnosed with cancer. Shonda and I want to send a sincere thank you and our appreciation to those who have called and sent prayers, and we ask that if you are so inclined, to keep the Schilling family in your prayers.

"My father left me with a saying that I've carried my entire life and tried to pass on to our kids: 'Tough times don't last, tough people do.' Over the years in Boston, the kids at the Dana-Farber Cancer Institute have shown us what that means. With my incredibly talented medical team I'm ready to try and win another big game. I've been so very blessed and I feel grateful for what God has allowed my family to have and experience, and I'll embrace this fight just like the rest of them, with resolute faith and head on."
Our thoughts are with Curt and his family, and we wish him all the best in his recovery.
Former major league first baseman Eduardo Perez, an analyst for ESPN's "Baseball Tonight," will replace Schilling on the panel. Perez was the Houston Astros' bench coach in 2013 after two seasons as the Miami Marlins' hitting coach. He has served as manager of the Colombian national team and as manager and general manager of the Puerto Rican national team. In 2008, he earned Manager of the Year honors in the Puerto Rican Winter League and in 2009 he led the Ponce Lions to the Caribbean Series.
From 1993-2006, Perez played parts of 13 seasons in the Major Leagues, primarily as a first baseman, for the Angels, Cardinals, Reds, Devil Rays, Indians and Mariners. He joined ESPN as an analyst for the 2006 postseason and worked full-time for the network for the next four seasons.
For more information, visit SABR.org/analytics.
---
Here's your chance to vote for the 2014 SABR Analytics Conference Research Awards winners:
http://sabr.org/latest/vote-2014-sabr-analytics-conference-research-award-winners
The SABR Analytics Conference Research Awards will recognize baseball researchers who have completed the best work of original analysis or commentary during the preceding calendar year. Nominations were solicited by representatives from SABR, Baseball Prospectus, FanGraphs, The Hardball Times, and Beyond the Box Score.
To read any of the 2014 finalists in the Historical Analysis/Commentary, Contemporary Commentary, or Contemporary Analysis categories, click here. Then cast your vote for the winners!
Voting will remain open until 12:00 a.m. MST on Monday, February 17, 2014. Details and criteria for each category can be found here. Only one work per author was considered as a finalist.
Results will be announced and presented at the third annual SABR Analytics Conference, March 13-15, 2014, at the Hyatt Regency Phoenix in Phoenix, Arizona. Learn more or register for the conference at SABR.org/analytics.
---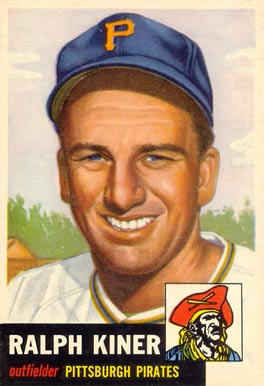 The Baseball Hall of Fame reported Thursday morning that Hall of Famer Ralph Kiner, 91, passed away at his home in Rancho Mirage, California. He died of natural causes, passing peacefully with his family at his side.
During his 10-year career, Kiner hit 369 home runs, winning or sharing the National League home run title in each of his first seven seasons with the Pittsburgh Pirates. He twice topped 50 home runs, with 51 in 1947 and 54 in 1949. He averaged more than 100 RBI per season. Following his playing career, which was cut short by continuing back ailments, Kiner transitioned to the broadcast booth starting in 1962, where he would become a New York broadcast icon for the Mets.
"As one of baseball's most prolific power hitters for a decade, Ralph struck fear into the hearts of the best pitchers of Baseball's Golden Era despite his easy-going nature, disarming humility and movie-star smile," said SABR member Jeff Idelson, President of the National Baseball Hall of Fame and Museum. "His engaging personality and profound knowledge of the game turned him into a living room companion for millions of New York Mets fans who adored his game broadcasts and later 'Kiner's Korner' for more than half a century. He was as comfortable hanging out in Palm Springs with his friend Bob Hope as he was hitting in front of Hank Greenberg at Forbes Field."
As SABR member Joe Posnanski writes at NBC's Hardball Talk, "There are countless Mets fans who probably have no idea just how good a hitter Ralph Kiner was in his prime. In a way, there can be no greater tribute. … He was a broadcaster for the New York Mets for 53 years. And he rarely let on that there was a time when he was one of the great sluggers in the history of baseball."
SABR member Howard Megdal, in a tribute published by Sports on Earth, added that Kiner spent his post-playing days connecting the present with the past: "His staying power gave him decades of interacting with nearly every important baseball figure of the 20th century (plus a good chunk of the 21st), but he also had the intelligence to glean what mattered in the lives of those people, the significance of major events in those lives."
But for millions of baseball fans, as SABR member Jayson Stark notes at ESPN.com, Kiner's greatest trait was his sense of humor: "He had a story for every occasion. He saw the game on levels a lot of people didn't. And he had one of life's special gifts — the ability to laugh at himself. I'm especially grateful for that last gift because, as anyone who read my old Week in Review column in the Philadelphia Inquirer could tell you, I somehow became America's foremost collector of Ralph Kiner malapropism classics. It became, after a while, a weekly feature of that column, because, let's just say, there was never a shortage of those pearls to choose from. Collecting them was a labor of love, and it didn't require much labor. I heard many of them myself. And Kiner fans sent them to me by the hundreds. They were true treasures of American broadcasting. And the reason I felt free to relay them to the world was simple: Ralph didn't mind. Not one bit."
Rest in peace, Ralph Kiner. You will be missed.
---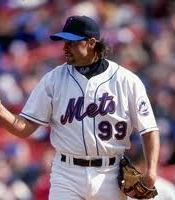 Five new biographies were posted as part of the SABR Baseball Biography Project, which brings us to a total of 2,635 published biographies. Here are the new bios:
All new biographies can be found here: http://sabr.org/bioproj/recent
You can find the SABR BioProject at SABR.org/BioProject.
Bios on more than just ballplayers: The ambitious goal of the SABR Baseball Biography Project is to publish a full-life biography of every major league player in history. But SABR members write about a lot more than just ballplayers. In addition, we have pages for Ballparks, Broadcasters, Executives, Games, Managers, Scouts, Spouses, Umpires and a lot more on the BioProject website. You can browse all of these categories at http://sabr.org/bioproj/browse. So if you've ever thought, "Hey, that person (or ballpark) should get the full BioProject treatment" — write the story and we'll publish it!
Get involved! If you'd like to help contribute to the SABR BioProject, visit our BioProject Resources page or read the FAQs section to get started. We're also looking to expand the BioProject to include all "encyclopedic" articles on baseball-related subjects from past SABR publications or committee newsletters. If you come across an article you think should be included in the SABR "baseball repository" at the BioProject, send a copy or link to markarmour04@gmail.com or jpomrenke@sabr.org.
---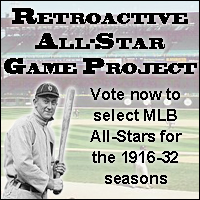 Editor's note: This game summary is from the Retroactive All-Star Game Project. Voting was conducted to select retroactive MLB All-Star teams from the 1926 season and the games were simulated using Out of the Park 14.
The National League fell behind early to the American League at St. Louis' Sportsman's Park, but staged a rally in the middle innings, then pulled away for an 11-5 win to even the All-Star series yet again. Four errors and eight free passes marred the event, but Babe Herman, Ray Blades and the NL's bullpen gave fans plenty to cheer about. Thanks mostly to Goose Goslin's three-run homer off Charlie Root in the third inning, the junior circuit jumped out to a 5-0 lead.
The seniors answered with one in the third and six in the fourth, and effectively ended the contest, as the AL failed to cash in over the final six innings. Herman and Blades, both making their All-Star Game debut, combined to go 4 for 7 with five RBIs and four runs scored to pace the National League. And except for Root, Bill McKechnie's mound corps was exceptional, combining for seven scoreless innings against a lineup that boasted Eddie Collins, Babe Ruth and Lou Gehrig.
The series is tied at 5-5 heading to spacious Griffith Stadium, home of the Washington Senators, next season. If fans turn out the way they did for the 1925 Fall Classic, baseball officials will be swimming in gate receipts.
Highlights and outstanding players from this year's game include:
Babe Herman going 2 for 3 with four RBIs, two walks a double and a run.
Ray Blades going 2 for 4 with three runs, a double an RBI and a walk.
Paul Waner going 2 for 4 with a triple, a run an RBI and a walk, and robbing Babe Ruth of extra-base hits with a spectacular diving catch in the first inning.
Walter Johnson fanning three of the six batters he faced, including Pirates Glenn Wright and Pie Traynor back-to-back in the fifth.
Eddie Collins reaching base twice and scoring both times, giving him 11 in All-Star play, and putting him atop the Retroactive All-Star Game runs scored list.
39-year-old Grover Cleveland Alexander becoming the first pitcher to make 10 Retroactive All-Star Game appearances and closing out the victory on a bases loaded double play.
You can find a full account of the game, box score, game log and stats here.
Learn more about the Retroactive All-Star Game Project by clicking here.
— Mike Lynch
---
The SABR Nominating Committee seeks nominations for candidates for the Spring 2014 elections. All candidates for the Board of Directors must have been members of the Society for at least the preceding four years to be eligible for election. Deadline for nominations is February 28, 2014. Nominees must prepare a Candidate Statement Form following guidelines that will be available from any Nominating Committee member.
The Candidate Statement Form must be received by the Nominating Committee chair no later than March 15, 2014.
The offices to be filled:
Vice-President (2-year term; currently Bill Nowlin)
Treasurer (3-year term; currently F.X. Flinn)
Director (3-year term; currently Emily Hawks)
The Nominating Committee also seeks your input. Members are asked to submit office-specific questions for each of the offices open in this election. We also seek input on general questions for every nominee. Candidates will answer selected questions on the Candidate Statement Form. Regional Chapter leaders and Research Committee Chairs are especially encouraged to pass on this request to their respective members to better address member needs.
Self-nominations are welcome. If you would like to nominate yourself or another candidate or suggest a question for the candidates, contact a member of the Nominating Committee: chair R.J. Lesch (rjlofiowa@gmail.com), Rick Schabowski (rickiu76@aol.com), or Barry Deutsch (barryid@pobox.com).
---
For those of you whose memberships expired recently, there's still a little time left to renew and be a part of the SABR community again in 2014. If you've already renewed, we thank you for your support and look forward to another exciting year ahead.
Renew now to receive the Spring 2014 edition of the Baseball Research Journal, plus discounts on registration to the 2014 SABR Analytics Conference and SABR 44 in Houston, and a lot more!
We MUST receive your dues by February 28, 2014, in order for you to receive the upcoming Spring 2014 BRJ.
Renew your membership for 1 year or 3 years online — or select our new 5-year, digital-only membership rate — at the SABR Store; by phone at (602) 343-6450; or by mailing this downloadable PDF form and your payment to the SABR office at 4455 E. Camelback Road, Ste. D-140, Phoenix, AZ 85018.
We're excited about the upcoming year ahead of us and we hope you'll take advantage of all the membership benefits offered to SABR members in 2014 and beyond.
---
McFarland-SABR Baseball Research Award, due 2/15/2014: The McFarland-SABR Baseball Research Award honors the authors of the best articles on baseball history or biography completed or published during the preceding calendar year. To submit a nomination for the 2013 awards, please contact Len Levin at lenlevin5@hotmail.com.
Ron Gabriel Award, due 3/1/2014: The Ron Gabriel Award honors the author(s) of the best research, published or unpublished, on the subject of the Brooklyn Dodgers completed during the preceding calendar year. Nominations should be sent to a member of the nominating candidate no later than March 1, 2014: Paul Hirsch (chair), Craig Murden, or Gary Sarnoff.
Larry Ritter Award update: Nominations are no longer being accepted for the 2014 Larry Ritter Award, which honors the best new baseball book primarily set in the Deadball Era that was published during the previous calendar year. Books currently under consideration for the 2014 Larry Ritter Book Award include

David Anderson's You Can't Beat the Hours: Umpires in the Deadball Era from 1901 – 1909 (Create Space Independent Publishers), David Fleitz's Napoleon Lajoie: King of Ballplayers (McFarland), David King's Ross Youngs: In Search of a San Antonio Baseball Legend (The History Press), Ken Krsolovic's and Bryan Fritz's League Park: Historic Home of Cleveland Baseball, 1891-1946 (McFarland), Mike Lackey's Spitballing: The Baseball Days of Long Bob Ewing (Orange Frazier Press), William Lamb's Black Sox in the Courtroom: The Grand Jury, Criminal Trial and Civil Litigation (McFarland), Jim Leeke's Ballplayers in the Great War: Newspaper Accounts of Major Leaguers in World War I Military Service (McFarland), Gerald Wood's Smoky Joe Wood: The Biography of a Baseball Legend (University of Nebraska Press), and John and Paul Zinn's Ebbets Field: Essays and Memories of Brooklyn's Historic Ballpark, 1913 – 1960 (McFarland).

Finalists will be announced on March 1, the winner on March 15. — Gail Rowe
---
We've heard your feedback: Some of you have said you look forward to "This Week in SABR" every Friday, but sometimes there are just too many compelling articles and announcements to read every week. We're not complaining — hey, keep up the great work! — but we know the feeling. So in an effort to make the length of this newsletter more manageable to read, we'll summarize some of the repeating/recurring announcements in a special "In Case You Missed It (ICYMI)" section of "This Week in SABR".
Here are some major headlines from recent weeks that we don't want you to miss:
All previous editions of This Week in SABR can be found here: http://sabr.org/content/this-week-in-sabr-archives.
---
We'd like to welcome all of our new SABR members who have joined this week. You can find all Members-Only resources at members.sabr.org and the New Member Handbook can be downloaded here.
Please give these new members a warm welcome and help them make the most of their membership by giving them the opportunity to get involved in their local chapter or a research committee.
| Name | Hometown | | | Name | Hometown |
| --- | --- | --- | --- | --- | --- |
| Gunter Angermayr | Denver, CO | | | Pearce Lockwood | Gladwyne, PA |
| Rick Beam | Treynor, IA | | | Mike Mergenthaler | Richmond, VA |
| Dickson Benesh | Richmond, VA | | | Barry Naymark | Toronto, ON |
| James Bigham | N. Riverside, IL | | | Michael Parisi | Nokesville, VA |
| W. Coleman Bitting | St. Louis, MO | | | Rodney Pelletier | Wilton, CT |
| Gillan Borum | Pittsburgh, PA | | | John Piersol | Richmond, VA |
| Adam Cohen | Palm Springs, CA | | | Jamie Pridmore | Calgary, AB |
| Mark Cryan | Elon, NC | | | Justin Redekop | Saskatoon, SK |
| Brian Davenport | Lewiston, ME | | | Virgilio Rodriguez | Dortmund, GER |
| Michael DeBartolo | Washington, DC | | | Serg Saradjian | Poughkeepsie, NY |
| David Eisenberg | Royal Palm Beach, FL | | | Nicholas Schluterman | Baltimore, MD |
| Tony Gutormson | Fargo, ND | | | Audrey Simmons | Gwynn Oak, MD |
| Gil Imber | Sherman Oaks, CA | | | Gary Simpson | Newport Beach, CA |
| Darrell Jarvis | Royal Oak, MI | | | Danielle Stiritz | Poway, CA |
| Dean Kloner | New York, NY | | | Bud Welsh | Union Mills, IN |
| Thomas Komar | Chicago, IL | | | John Zarrella | Fitchburg, MA |
| Aaron Kulhanek | Highland Village, TX | | | | |
---
There were no new SABR research committee newsletters published this week.
Update on Origins Committee leadership: You will recall that Bill Johnson recently volunteered to replace me as the Origin Committee's chair. He and I had a number of creative conversations, and it was clear to me that he had better tools, and better ideas, for leading our group than I did. Sadly, Bill later discovered that assuming the chairmanship would not be possible for him after all. Several current members have since indicated that they can contribute to a new interim leadership group to cover essential Committee duties, including two new special projects. If you can join them, or have an interest in learning more, please contact me at Lmccray@mit.edu. The

Origins

Era is one of our community's most vibrant current topics, not least because search technologies are placing so much relevant new data at our fingertips. We're not a massive group, but there's a lot we can do. — Larry McCray
Find all SABR research committee newsletters at SABR.org/research.
---
Here are the new chapter meeting recaps published this week:
Visit SABR.org/chapters for more information on SABR regional chapters.
---
Here is a list of upcoming SABR events:
All SABR meetings and events are open to the public. Feel free to bring a baseball-loving friend … and make many new ones! Check out the SABR Events Calendar at SABR.org/events.
---
Here are some recent articles published by and about SABR members:
Read these articles and more at SABR.org/latest.
---
This Week in SABR is compiled by Jacob Pomrenke, and sent out to all SABR members on Fridays. All previous editions of This Week in SABR can be found here: http://sabr.org/content/this-week-in-sabr-archives. If you would like us to include an upcoming event, article or any other information in "This Week in SABR", e-mail jpomrenke@sabr.org.
Find exclusive Members' Only resources and information here: http://members.sabr.org
Did you know you can renew your membership at any time? 1- and 3-year SABR memberships are available by clicking "Renew" at http://members.sabr.org. Please also consider a donation to SABR to support baseball research at SABR.org/donate.

Are you following us on Twitter or Facebook? Get SABR updates every day at @SABR or by searching "SABR" on Facebook.

Replying to this e-mail goes to an undeliverable address. If you would like to contact the SABR office, please visit: http://sabr.org/about/contact-sabr
---
Originally published: February 6, 2014. Last Updated: April 3, 2020.
https://sabr.org/wp-content/uploads/2020/03/research-collection4_350x300.jpg
300
350
jpomrenke
/wp-content/uploads/2020/02/sabr_logo.png
jpomrenke
2014-02-06 15:00:00
2020-04-03 14:39:36
This Week in SABR: February 7, 2014