This Week in SABR: July 3, 2014

Welcome to "This Week in SABR!" Please note that the SABR office will be closed on Friday, July 4 for Independence Day. Here's what we've been up to as of July 3, 2014:
---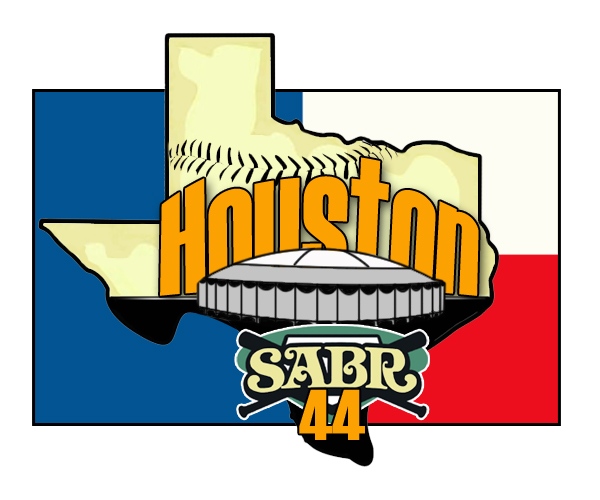 We hope you'll join us for SABR 44 on July 30-August 3 at the Royal Sonesta Houston. We have an All-Star lineup of guest speakers, panelists and presentations, so register today for a full week of baseball fun.
---

You won't want to miss any of our featured panels at SABR 44 in Houston. The annual SABR Convention is a great opportunity to hear from current and former front office executives, players, managers, scouts, writers, and analysts.
Click here to learn more about the featured panels at SABR 44. All panels to be held in the Legends Ballroom IV/VII at the Royal Sonesta hotel, except where otherwise noted. Please note that all speakers are subject to change depending on availability.
Thursday, July 31
9:30-10:30 a.m.: Opening Remarks: Reid Ryan
10:30-11:30 a.m.: Houston Colt .45s Panel: Bob Aspromonte, Mickey Herskowitz, Hal Smith, Carl Warwick, Jimmy Wynn, moderator: Greg Lucas
2:00-3:00 p.m.: College Baseball Panel: Roger Clemens, Jim Gilligan, moderator: Mike Vance
Friday, August 1
10:00-11:00 a.m.: 1980 Houston Astros Panel: Enos Cabell, Jose Cruz, Deacon Jones, Tal Smith, moderator: Kenny Hand
12:00-1:00 p.m.: Keynote speech: Larry Dierker
2:30-3:30 p.m.: Media Panel: Bill Brown, Evan Drellich, Alyson Footer, Buck Martinez, moderator: Brett Dolan
4:30-5:30 p.m.: Women in Baseball Panel: Alyson Footer, Pam Gardner, Jana Howser, Marie "Red" Mahoney, moderator: Leslie Heaphy
Saturday, August 2
10:00-11:00 a.m.: From the Playing Field to Front Office: Dr. Bobby Brown, Eddie Robinson, Bob Watson, moderator: C. Paul Rogers III
*2:30-3:30 p.m.: Astros Player Panel: Kevin Bass, Art Howe, moderator: Bill Brown
*3:30-4:30 p.m.: Decision Sciences Panel: Jeff Luhnow, Sig Mejdal, David Stearns
* These panels will be held as part of the SABR 44 ballpark sessions in the Champions Pavilion at Minute Maid Park before the Astros-Blue Jays game. You must register for the conference AND purchase an Astros game ticket in order to attend these panels. Click here for complete information on SABR 44 registration rates, game tickets, and optional events.

For more information on SABR 44, visit SABR.org/convention.
---
We want to offer a special thanks to all of our vendors at SABR 44 for their support. We invite you to visit our digital Vendors Room at SABR.org/convention/sabr44-vendors and check out these groups, both online and at the convention in Houston this summer:
Please stop by the first-floor Founders Ballroom at SABR 44 — July 30-August 3, 2014, at the Royal Sonesta Houston, 2222 W Loop S Fwy., Houston, TX 77027 — and purchase an item to remind you of your experience at the 2014 SABR convention.
If you would like to reserve a table in the Vendors Room at SABR 44, please contact Jeff Schatzki. Space is limited.
Visit SABR.org/convention for more information.
---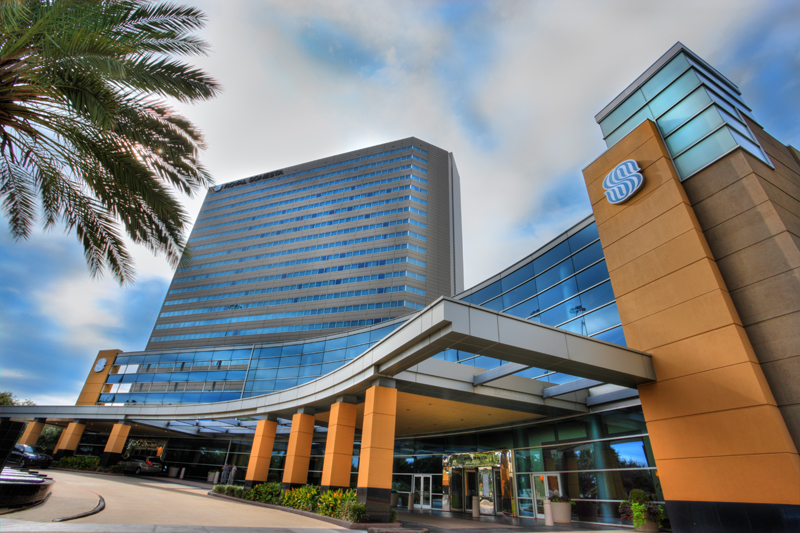 SABR 44 will be held July 30-August 3, 2014, at the Royal Sonesta Houston, in the heart of the Galleria, just minutes from downtown and Minute Maid Park.
We hope you'll join us for what promises to be a spectacular SABR 44 convention in the summer of 2014.
Members of the host Larry Dierker Chapter have compiled a list of transportation tips to help visitors and convention attendees enjoy their stay in the Bayou City, including directions to the hotel from both of Houston's major airports (IAH and Hobby), along with a special SABR 44 SuperShuttle discount.
If you have any questions during your stay, please don't hesitate to ask a friendly SABR 44 volunteer for assistance.
To view the SABR 44 Transportation Tips page, click here.
---
Three of the optional off-site events scheduled for SABR 44 are now sold out.
If you wish to be placed on a waiting list for the Sugar Land Skeeters ballgame, the Houston City History Tour, or the Historical Ballparks Site Tour, please please e-mail djayne@sabr.org. Requests will be handled on a first-come, first-serve basis if a spot opens up for any of these events.
On Wednesday, the combination bus/walking City History Tour will leave from the Royal Sonesta and head to Minute Maid Park, where we'll walk around Downtown Houston and give tour-goers a taste of Bayou City history. Tour guide Mike Vance, a SABR member and Executive Director of Houston Arts and Media, is one of the top historians and storytellers in Houston. He will have dozens of stories to share along the walk. Participants will see the site of an early capitol of the Republic of Texas, now a historic hotel where JFK stayed the day before he was assassinated. There will be stops to see stellar art deco architecture and gleaming modern skyscrapers mixed in with tales of dueling, Civil War murder and oil barons.
On Thursday, we'll visit Constellation Park, home of the Atlantic League's Sugar Land Skeeters, about 20 miles southwest of downtown Houston for a game between the Skeeters and the Bridgeport Bluefish. Before the game, former Houston Astros president and SABR member Tal Smith, a special advisor to the president of the Skeeters, will welcome SABR 44 attendees, along with Ira Liebman, voice of the Skeeters and also a SABR member. An optional all-you-can-eat buffet also will be served. Buses will leave the hotel beginning promptly at 4:00 p.m. The game begins at 7:05 p.m.
On Sunday, the Historical Ballparks Site bus tour, led by SABR member Mike Vance, will include stops at the sites of the three minor league and two former major league ballparks that hosted professional baseball in Houston from the 1870s until 1999. There will also be drive-bys of a few semi-pro baseball locations where former major leaguers stayed in the game after their days in the majors had ended. The tour culminates with a visit to the Astrodome, the most architecturally significant stadium in America.
For more information on SABR 44, visit SABR.org/convention.
---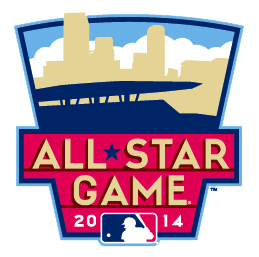 SABR will be in Minnesota for the 2014 MLB All-Star FanFest!
Stop by the MLB.com booth all week, as SABR members are scheduled to participate in a variety of panels throughout All-Star Weekend. For details on attending the All-Star FanFest, July 11-15, 2014, at the Minneapolis Convention Center (1301 Second Avenue South Minneapolis, MN 55403), visit http://mlb.mlb.com/mlb/events/all_star/y2014/index.jsp?content=asg_fanfest.
We'll be hosting five panels at the MLB.com booth during 2014 All-Star FanFest at the Minneapolis Convention Center:
The History of the Twins and Baseball in Minnesota
2:00-3:00 p.m., Friday, July 11
John Bonnes: Managing partner and co-owner of Twins Daily, a local website devoted to the Minnesota Twins, and co-host of the popular "Gleeman and the Geek" podcast.
Joel Rippel: Minneapolis Star-Tribune writer and editor who has written several sports books on Minnesota sports history.
John Swol: Author of Twins Trivia and founder of a website under the same name.
Moderator: Doug Skipper: President of SABR's Halsey Hall Chapter in Minnesota; he has also written numerous biographies for the SABR BioProject.
SABR Statistical Analysis Panel
2:30-3:30 p.m., Saturday, July 12
Toni Stone Panel
1:30-2:30 p.m., Sunday, July 13
Peter Gorton: Negro Leagues historian, founder of the John Donaldson Network, co-author of "John Donaldson and Black Baseball in Minnesota" (The National Pastime, 2012).
Stew Thornley: Editor of Baseball in Minnesota and other Minnesota baseball history books, author of Toni Stone biography for the SABR BioProject, official scorer for the Minnesota Twins.
Frank White: Founder of Respect Sports, coordinator for the Minnesota Twins RBI program, and helped with the renaming of Toni Stone Field in St. Paul.
Moderator: Leslie Heaphy: SABR Director, Negro Leagues historian and author, chair of SABR's Women in Baseball Committee.
Official Scorers Panel
4:30-5:30 p.m., Monday, July 14
Ron Roth: Official scorer, Cincinnati Reds.
Stew Thornley: Official scorer, Minnesota Twins; member of MLB Official Scoring Advisory Committee.
Gregg Wong: Official scorer, Minnesota Twins.
Moderator: Dan Levitt: Author of Ed Barrow: The Bulldog who Built the Yankees' First Dynasty and the award-winning The Battle that Forged Modern Baseball: The Federal League Challenge and Its Legacy, co-author of Paths to Glory: How Great Baseball Teams Got That Way, editor of SABR's The National Pastime 2012 convention journal.
The Twin City Stadiums—Yesterday and Today
3:00-4:00 p.m., Tuesday, July 15
Kristin Anderson: SABR member, Professor of Art History at Augsburg College, president of the Minnesota Chapter of the Society of Architectural Historians who is co-authoring a book on the history of sports facilities in the Twin Cities.
Logan Gerken: Director of Architecture at Ryan Companies, co-author of Sustainable Buildings for the Public Realm, and ballpark architect who is working on the new St. Paul Saints stadium.
Joe O'Connell: Charter member of the Halsey Hall Chapter who has done extensive research on the American Association's St. Paul Saints from before the arrival of the Twins.
Moderator: Chris Kimball: President of California Lutheran University and a historian who specializes in American urban history; he has taught courses on the history of baseball. Co-author of an upcoming book on the history of sports facilities in the Twin Cities.
To learn more about the 2014 MLB All-Star FanFest, click here.
Related links:
---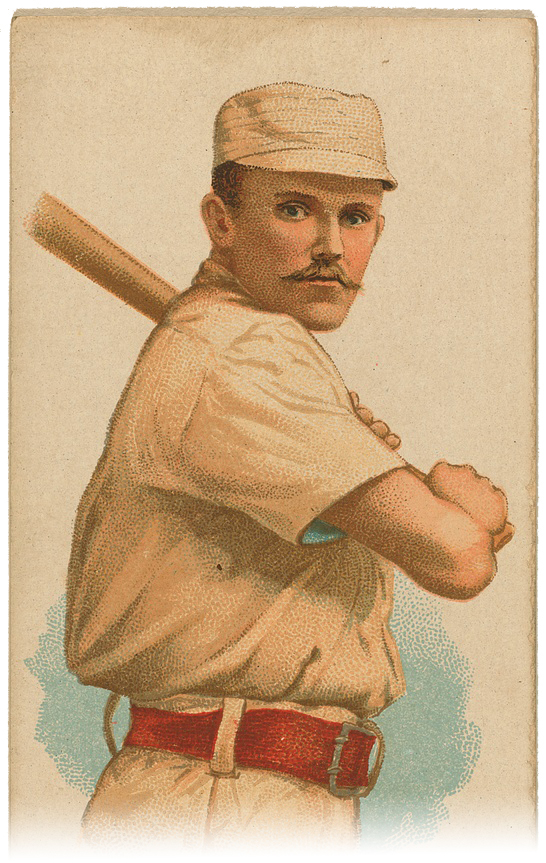 Baseball history is not just baseball history. No aspect of baseball history, not even sheer statistics, occurs within a historical vacuum. There have always been forces — social, financial, technological, etc. — that drove the collection, development, and understanding of baseball history. And thus, we can always derive a wider understanding of history from baseball history.
To help us derive a greater understanding of baseball's early days, SABR's Nineteenth Century and Origins Committees have established the inaugural NYC 19th Century Baseball Interdisciplinary Symposium, scheduled for 9:00 a.m.-5:00 p.m. on Saturday, November 15, 2014, at John Jay College in New York.
Our panelists and presenters will include a distinguished lineup of experts on baseball and life in the 19th century, including SABR members John Thorn, William Ryczek, George Thompson, Gary O'Maxfield, Peter Mancuso, Bob Bailey, William Lamb, David Nemec, Donald Jensen, and John Zinn.
In addition, we have elicited three dedicated and talented historians whose devotion to their respective studies goes well beyond the letters following their names:
Dr. David Hochfelder, Associate Professor of History, State University of New York at Albany, who will speak on "How the Telegraph Helped Make Baseball the National Pastime"
Dr. Ann Fabian, Distinguished Professor of History, Rutgers University, who will speak on "Gambling in 19th Century America"
Keynote speaker Dr. Steven H. Jaffe, historian, author of New York at War: Four Centuries of Combat, Fear, and Intrigue in Gotham, and guest curator of the "Activist New York" exhibition at the Museum of the City of New York.
To download the application for your passport to 19th-century New York City and a front-row seat to baseball being played there, please click here to download the registration form and information packet. (PDF)
John Jay College is at 524 West 59th Street (between 10th and 11th Avenues) in midtown Manhattan. Driving directions and public transit options are included in the information packet above.
We hope you will take this historical journey with us. Please do not delay in registering, as space is limited. Conference registration is open to both SABR members and the general public.
Deadline to register: November 1, 2014, or until space is full. See the registration form for fees and payment information.
Questions: Please contact Peter Mancuso or John Zinn.
---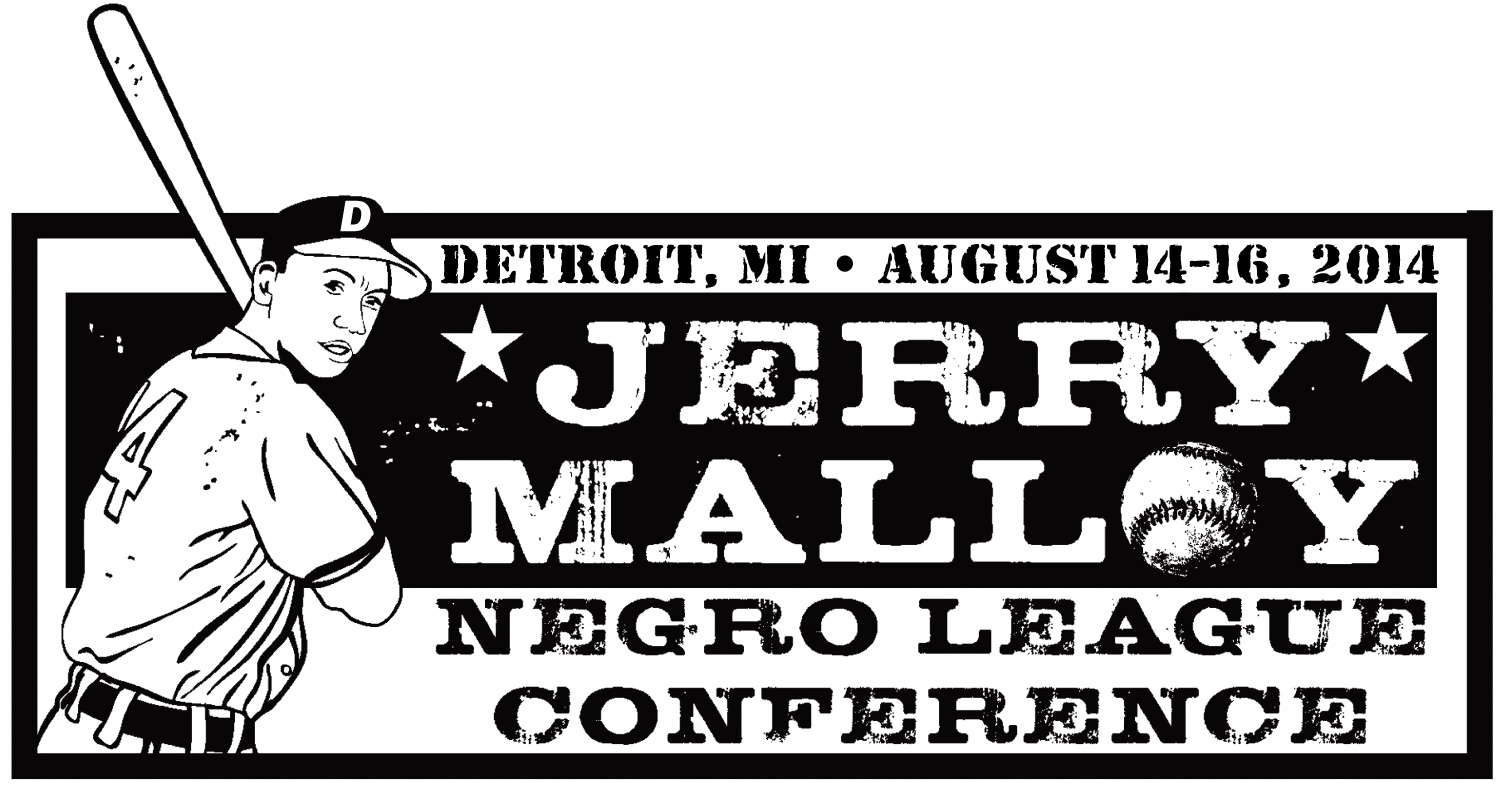 The 2014 Jerry Malloy Negro League Conference will be held August 14-16, 2014, at the Marriott Courtyard Downtown (333 E. Jefferson Avenue) in Detroit, Michigan. The conference is open to all baseball, history and sports fans of all ages.
The conference theme is "Turkey Stearnes and Black Baseball in Michigan." Black baseball has a long history in Michigan, especially centered in the Motor City. Among the original entrants to the Negro National League in 1920 was Tenny Blount's Detroit Stars, managed by Pete Hill and anchored by Big Bill Gatewood on the mound. The Detroit Wolves and Motor City Giants also played in Mack Park and Hamtramck stadium. In addition to the well-known Turkey Stearnes other star players included catcher Bruce Petway, the speedy Jimmie Lyons and the powerful Edgar Wesley.
The 17th annual Jerry Malloy Negro League Conference will celebrate this rich baseball history. In addition to two days of research presentations and player/author panels, attendees will also enjoy special presentations about local parks as well as a Tigers game against the Seattle Mariners.
To learn more, visit SABR.org/malloy.
---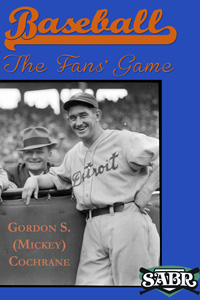 Add a classic baseball book to your collection with the newest title in the SABR Digital Library:
Baseball: The Fans' Game
By Gordon S. (Mickey) Cochrane
$5.99 e-book
ISBN (e-book): 978-1-933599-57-1
244 pages
In 1939, John Kieran, a famous sportswriter for The New York Times, said of Baseball: The Fans' Game: "Frankly, this is the best book on baseball that I ever read." It remains one of the best and the SABR is proud to have made it available. SABR first published a paperback replica of the original Funk & Wagnalls 1939 edition in 1992, adding an introduction by Mark Alvarez at that time. Now, an e-book edition has been made available for for all in digital formats.
Cochrane's book is wonderful for two reasons. First, its tone is real, a true rarity among player-written tomes. Although it's not an autobiography, you'll get a real sense of Mickey Cochrane's personality here, with remarkably little piffle. Second, it's full of nuggets that any baseball fan will treasure.
SABR members, get this e-book for FREE!
Stay tuned throughout the year for new (and old!) titles that we'll be adding to the SABR Digital Library. SABR members will get discounted rates for all Digital Library publications. If you're not a member, click here to join SABR.
To view all books in the SABR Digital Library, visit SABR.org/ebooks.
Having trouble downloading our e-books? To view PDF files on your computer, click here to download the free Adobe Reader software. Having trouble downloading e-books to your Kindle, Nook, Sony Reader or iPad? Click here for additional help.
---
I am pleased to announce Retrosheet's annual June release and upgrade to our website (Retrosheet.org).
We now have posted event files for the 1937 season with complete coverage of 949 of the 1,239 games played that year (76.6%), thanks to the proofing efforts of Clem Comly. As usual, there have been many additions and some corrections to individual games and discrepancy files, as our volunteers work continuously to enhance the site. Many people have contributed to these enhancements, but Clem Comly, David Vincent, Dick Cramer, Pete Cottrell, Bob Kapla, and Cliff Blau did the greatest portion.
In addition, we have completed the "deduced games" for 1949. These are games for which we have been unable to locate play by play coverage, but have pieced together accounts from newspaper stories, usually three or four stories for each game. These accounts are in separate files so that users can keep them separate or merge them with event files as they see fit. Richard Weston, Mark Pankin and John Gabcik continue their work with these deductions and they have been joined by two newcomers: Javier Anderson and Tom Thress. Tom has been nothing short of extraordinary as he completed 74 of the game for 1949 (and has done another 50 for 1948!), knocking out an average of one per day high quality deductions.
Thanks also to the many readers of our site who identify concerns and communicate them to us, often via the RetroList; this grass-roots involvement is a hallmark of Retrosheet and it is greatly appreciated.
— David W. Smith
---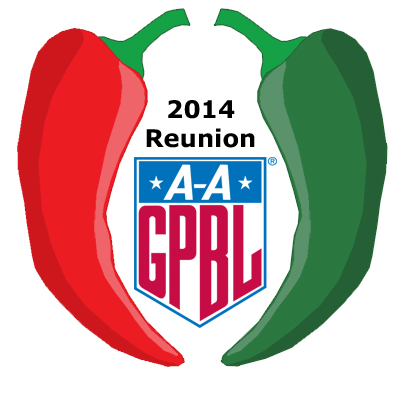 All SABR members are invited to the Land of Enchantment to meet the legendary ladies of the All-American Girls Professional Baseball League who will be gathering for a reunion July 19-22, 2014, in Albuquerque, New Mexico.
You can be a part of all reunion events and mingle with the players by becoming an Associate Member of the AAGPBL players association. Check the website at aagpbl.org to learn more about Associate Membership privileges. In addition, you will be supporting this event and the All American Pioneer Women who inspired the nationally acclaimed movie, "A League of Their Own." The four-day gathering promises to be as educational and heartwarming for all who attend.
Several events and autograph sessions include but are not limited to the following:
"Women in Baseball Victory Ride Celebration" from Albuquerque to Santa Fe on the New Mexico RailRunner on Sunday, July 20
Pacific Coast League baseball game as the Fresno Grizzlies take on the Albuquerque Isotopes (followed by a showing of "A League of Their Own" on the Isotopes new HD videoboard) on Monday, July 21
A day of celebration, sharing and recognition that includes a reenactment game at the New Mexico Veterans' Memorial on Tuesday, July 22
Reunion banquet at the Albuquerque Marriott featuring two live musical performances, a great meal, special presentations and a keynote address by former Major Leaguer Bill "Spaceman" Lee on Tuesday, July 22
AAGPBL memorabilia will be sold at a silent auction at the hotel and other merchandise will be sold on-site to commemorate this gala event. (Donations are still being accepted for the silent auction for those who want to support this reunion in that manner.)
As if meeting members of the Rio Grande SABR chapter isn't enough to make you call your travel agent, this reunion will provide amazing interview opportunities for anyone wishing to contribute to the SABR Baseball Biography Project (aka, BioProject): http://sabr.org/category/ongoing-group-projects/all-american-girls-professional-baseball-league
For more information on registration, schedule or hotel reservations, visit aagpbl.org or contact Kris Shepard (kshepard@abqisotopes.com).
---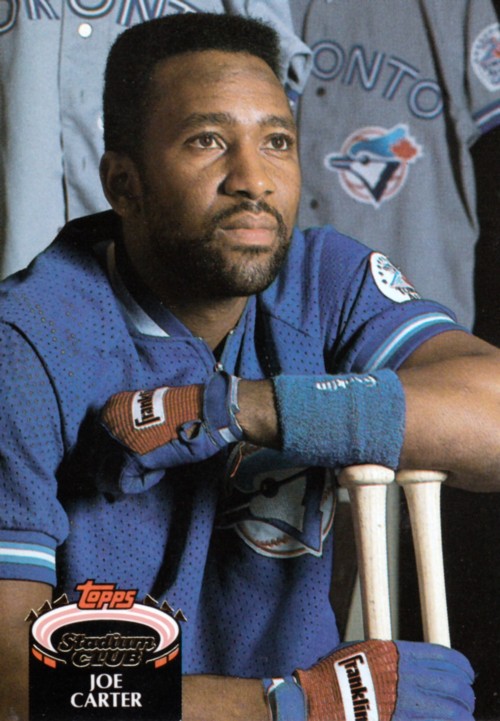 Four new biographies were posted as part of the SABR Baseball Biography Project, which brings us to a total of 2,863 published biographies. Here are the new bios:
All new biographies can be found here: http://sabr.org/bioproj/recent
You can find the SABR BioProject at SABR.org/BioProject.
1947 New York Yankees biographies now posted online: Bridging Two Dynasties: The 1947 New York Yankees, edited by Lyle Spatz and published as part of SABR's "Memorable Teams" series with the University of Nebraska Press, commemorates this historic club — the players, on the field and off, and the events surrounding their remarkable season. The book features player biographies, including those of future Hall of Famers Yogi Berra and Phil Rizzuto, plus Tommy Henrich, Allie Reynolds, and more, along with a seasonal timeline and pertinent topics such as the winning streak, the Yankees' involvement in Leo Durocher's suspension, and the thrilling World Series. The SABR BioProject biographies that appeared in that book can now be read online at: http://sabr.org/category/completed-book-projects/1947-new-york-yankees.
Bios on more than just ballplayers: The ambitious goal of the SABR Baseball Biography Project is to publish a full-life biography of every major league player in history. But SABR members write about a lot more than just ballplayers. In addition, we have pages for Ballparks, Broadcasters, Executives, Games, Managers, Scouts, Spouses, Umpires and a lot more on the BioProject website. You can browse all of these categories at http://sabr.org/bioproj/browse. So if you've ever thought, "Hey, that person (or ballpark) should get the full BioProject treatment" — write the story and we'll publish it!
Get involved! If you'd like to help contribute to the SABR BioProject, visit our BioProject Resources page or read the FAQs section to get started. We're also looking to expand the BioProject to include all "encyclopedic" articles on baseball-related subjects from past SABR publications or committee newsletters. If you come across an article you think should be included in the SABR "baseball repository" at the BioProject, send a copy or link to markarmour04@gmail.com or jpomrenke@sabr.org.
---
Minutes from the Board of Directors conference call on June 8, 2014, have now been posted on the SABR website.
You can view all past minutes of SABR Board meetings by going to the page below:
http://sabr.org/content/sabr-board-minutes
Or you can go to the Members' Info page and click on "Org. files", then "Board Minutes" to view the minutes.
---
We've heard your feedback: Some of you have said you look forward to "This Week in SABR" every Friday, but sometimes there are just too many compelling articles and announcements to read every week. We're not complaining — hey, keep up the great work! — but we know the feeling. So in an effort to make the length of this newsletter more manageable to read, we'll summarize some of the repeating/recurring announcements in a special "In Case You Missed It (ICYMI)" section of "This Week in SABR".
Here are some major headlines from recent weeks that we don't want you to miss:
All previous editions of This Week in SABR can be found here: http://sabr.org/content/this-week-in-sabr-archives.
---
We'd like to welcome all of our new SABR members who have joined this week. You can find all Members-Only resources at members.sabr.org and the New Member Handbook can be downloaded here.
Please give these new members a warm welcome and help them make the most of their membership by giving them the opportunity to get involved in their local chapter or a research committee.
| Name | Hometown | | | Name | Hometown |
| --- | --- | --- | --- | --- | --- |
| Conrad Anderson-Dollhopf | New Haven, CT | | | JP McLaughlin | Denver, OR |
| Tom DeMichael | Arlington Heights, IL | | | Eric Meyer | Rochester, NY |
| David Fantin | The Woodlands, TX | | | David Migoya | Greenwood Village, CO |
| Stuart Farber | Hollywood, FL | | | Toshiya Ono | Zushi, JP |
| Walter Los | Natick, MA | | | Bernie Schaeffer | Greenlawn, NY |
| James Matthews | Oklahoma City, OK | | | Joshua Vadeboncoeur | Saint Cloud, FL |
---
Here are the new SABR research committee newsletters published this week:
Nineteenth Century: Summer 2014
We'd like to welcome Kevin Johnson as the new chair of the Ballparks Committee; Gary Gillette and Jim Gordon will remain as vice-chairs.
Please also welcome John McMurray as the new chair of the Oral History Committee. He will be joined by vice-chairs Paul Ringel, C. Paul Rogers III, and Mark Pattison, along with newsletter editor Mark Ruckhaus.
Find all SABR research committee newsletters at SABR.org/research.
---
Here are the new regional chapter updates for this week:
Visit SABR.org/chapters for more information on SABR regional chapters.
---
Here is a list of upcoming SABR events:
All SABR meetings and events are open to the public. Feel free to bring a baseball-loving friend … and make many new ones! Check out the SABR Events Calendar at SABR.org/events.
---
Here are some recent articles published by and about SABR members:
Read these articles and more at SABR.org/latest.
---
This Week in SABR is compiled by Jacob Pomrenke. If you would like us to include an upcoming event, article or any other information in "This Week in SABR," e-mail jpomrenke@sabr.org.
Are you receiving our e-mails? "This Week in SABR" goes out by e-mail to all members on Friday afternoons. If they're not showing up, try adding "sabr.notes@sabr.org" to your contact list to ensure they show up in your inbox (and not the spam folder.)
---
Originally published: July 3, 2014. Last Updated: April 3, 2020.
https://sabr.org/wp-content/uploads/2020/03/research-collection4_350x300.jpg
300
350
jpomrenke
/wp-content/uploads/2020/02/sabr_logo.png
jpomrenke
2014-07-03 15:26:39
2020-04-03 14:39:17
This Week in SABR: July 3, 2014