This Week in SABR: March 21, 2014

Welcome to "This Week in SABR!" Here's what we've been up to as of March 21, 2014:
---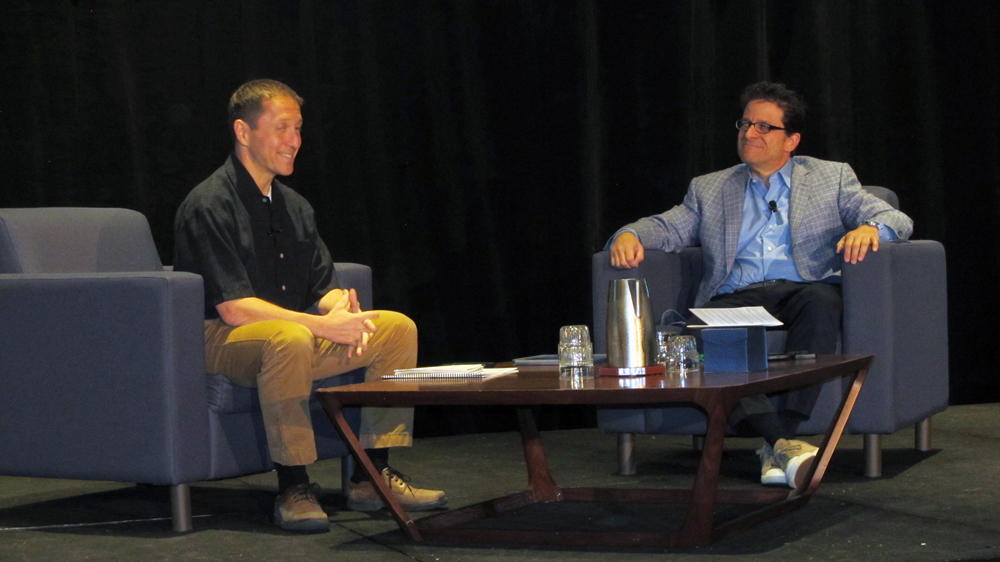 Couldn't make it to Arizona for the third annual SABR Analytics Conference? Visit SABR.org/analytics for full coverage of this exciting event that brought together the top minds in the baseball analytics community on March 13-15, 2014. You'll feel like you were wandering through the Hyatt Regency Phoenix with stories and multimedia clips from the great panel discussions and research presentations on our schedule, photo galleries, and much more.
During the conference, you could follow along on Twitter by searching for the hashtag #SABRanalytics or by reading tweets from our account (@SABR) and from other conference attendees.
View our photo galleries from each day of the conference at SABR.org/analytics/photos.
Save the date! The 2015 SABR Analytics Conference will return to the Hyatt Regency Phoenix on March 12-14, 2015. Registration and schedule information will be available beginning in Fall 2014.
Check out highlights from the 2014 conference below:
Thursday, March 13
Listen to the Medical Analysis and Injury Prevention panel with Dr. Stan Conte, Dr. Glenn Fleisig, Chris Marinak and Buster Olney (audio)
Listen to the Which Numbers Athletes Love, Which Numbers Athletes Hate panel with Aaron Boone, Manny Acta, Eduardo Perez, Kirk Goldsberry and John Walsh (audio)
Listen to Analytics From the Players' View with Brandon McCarthy, Brian Bannister and Jon Sciambi (audio)
Diamond Dollars Case Competition winners: Duke University's Fuqua School of Business, Cornell University, Loras College
More stories, clips and photos coming soon!
Friday, March 14
Listen to the Decision Making in the Front Office panel with Jack Zduriencik, Bill Geivett, Bobby Evans and Ken Rosenthal (audio)
Listen to Milwaukee Brewers owner Mark Attanasio's exclusive one-on-one session with Ken Rosenthal (audio)
Listen to the Inside the Defensive Index Panel with Sean Forman, Vince Gennaro, Kurt Hunzeker, Ben Jedlovec and Jon Sciambi (audio)
Listen to the Clubhouse Confidential Panel with Vince Gennaro, Rob Neyer, Dave Cameron and Ben Lindbergh (audio)
Listen to research presentations from Graham Goldbeck, Kevin Tenenbaum/Dave Allen, Ben Jedlovec and Jeff Zimmerman (audio)
More stories, clips and photos coming soon!
Saturday, March 15
Listen to How Fans Consume Baseball in the Digital Age with Lewie Pollis, Olivia Wyatt, Jake Sotir, Hunter Gilbertson and Vince Gennaro (audio)
Listen to The International Baseball Landscape with Leonte Landino, Tyrone Brooks, Josh Rawitch and Rob Neyer (audio)
Listen to Prospect Analysis and Evaluation with Bernie Pleskoff, Jim Callis, Jonathan Mayo and Barry M. Bloom (audio)
Listen to Telling Stories in the Age of Sabermetrics with Emma Span, Howard Megdal, Mike Tanier and Steve Madden (audio)
More stories, clips and photos coming soon!
Around the Web

---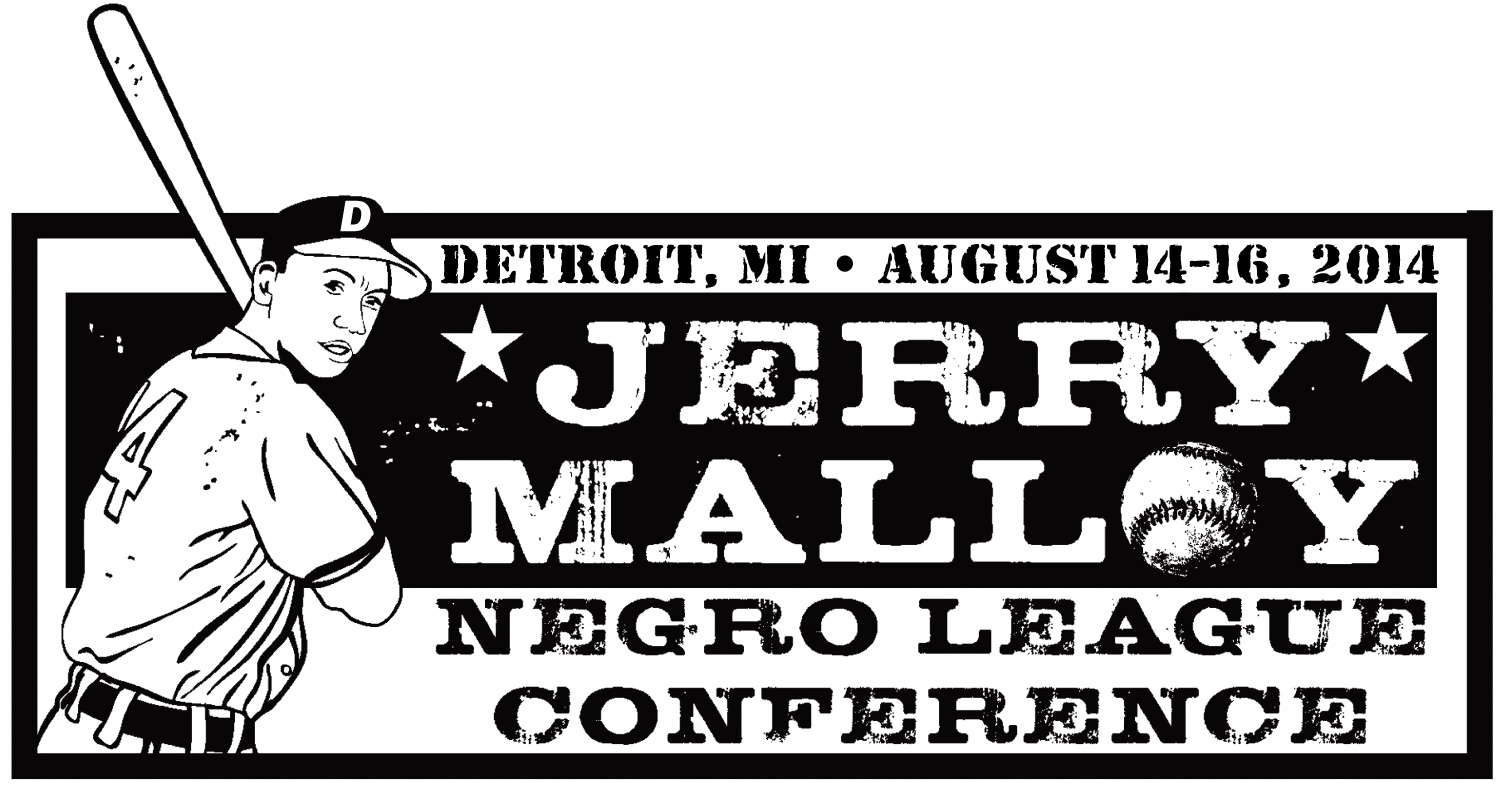 The 2014 Jerry Malloy Negro League Conference will be held August 14-16, 2014, at the Marriott Courtyard Downtown (333 E. Jefferson Avenue) in Detroit, Michigan. The conference is open to all baseball, history and sports fans of all ages.
The conference theme is "Turkey Stearnes and Black Baseball in Michigan." Black baseball has a long history in Michigan, especially centered in the Motor City. Among the original entrants to the Negro National League in 1920 was Tenny Blount's Detroit Stars, managed by Pete Hill and anchored by Big Bill Gatewood on the mound. The Detroit Wolves and Motor City Giants also played in Mack Park and Hamtramck stadium. In addition to the well-known Turkey Stearnes other star players included catcher Bruce Petway, the speedy Jimmie Lyons and the powerful Edgar Wesley.
The 17th annual Jerry Malloy Negro League Conference will celebrate this rich baseball history. In addition to two days of research presentations and player/author panels, attendees will also enjoy special presentations about local parks as well as a Tigers game against the Seattle Mariners.
To learn more, visit SABR.org/malloy.
---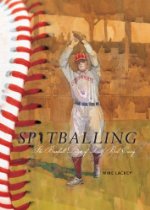 In a hotly contested competition, the 2014 winner of the Larry Ritter Book Award is Mike Lackey's Spitballing: The Baseball Days of Long Bob Ewing (Orange Frazer Press).
The Ritter Award is given by SABR's Deadball Era Research Committee for the best book related to the Deadball Era published in the previous year.
Lackey's work was chosen from a group of four finalists which included David L. Fleitz's Napoleon Lajoie: King of Ballplayers (McFarland); William F. Lamb's Black Sox in the Courtroom: The Grand Jury, Criminal Trial and Civil Litigation (McFarland); and Gerald C. Wood's Smoky Joe Wood: The Biography of a Baseball Legend (University of Nebraska Press).
The subcommittee that is charged annually with selecting the best book published on baseball's Deadball Era (1901-19) consists of Jack Carlson, Mark Dugo, Craig Lammers, John McMurray, Mark Pattison, Gail Rowe (chair), Doug Skipper, and Trey Strecker.
The Larry Ritter Book Award Subcommittee released the following statement about Lackey's Spitballing:
Lackey's scrupulously researched work is special in several respects. First, it focuses on Bob Ewing, a little known player, who during most of his career was not even the best player on his team. Also, Lackey's interest in, and treatment of, Ewing's long-time wife and partner is unusual in baseball biographies, demonstrating his wife's strong influence upon Ewing and those around him. Impressive, too, is Lackey's resistance to the usual author's tendency to claim more for his subject than his subject deserves.

Lackey understands that Ewing was not a superstar or even a star; Lackey makes no effort to exaggerate Ewing's role or his successes in baseball, while simultaneously giving Ewing the praise he deserves. Lackey thus offers his readers a superbly drawn portrait of one of early baseball's grinders and his era. In addition, Lackey provides his readers imposing and informative endnotes as well as an impressive bibliography.

Finally, Lackey writes well and argues his conclusions persuasively and clearly. It should be noted that of all the books in the Ritter Book Award competition this year, Lackey's was clearly the best designed and most attractive. The publishers and its editors took care with this production, serving its author and his readers spectacularly.
The award will be presented during the Deadball Era Committee's meeting at the SABR 44 convention, July 30-August 3, 2014, in Houston, Texas.
For more information on the Larry Ritter Award, including a list of previous winners, click here.
---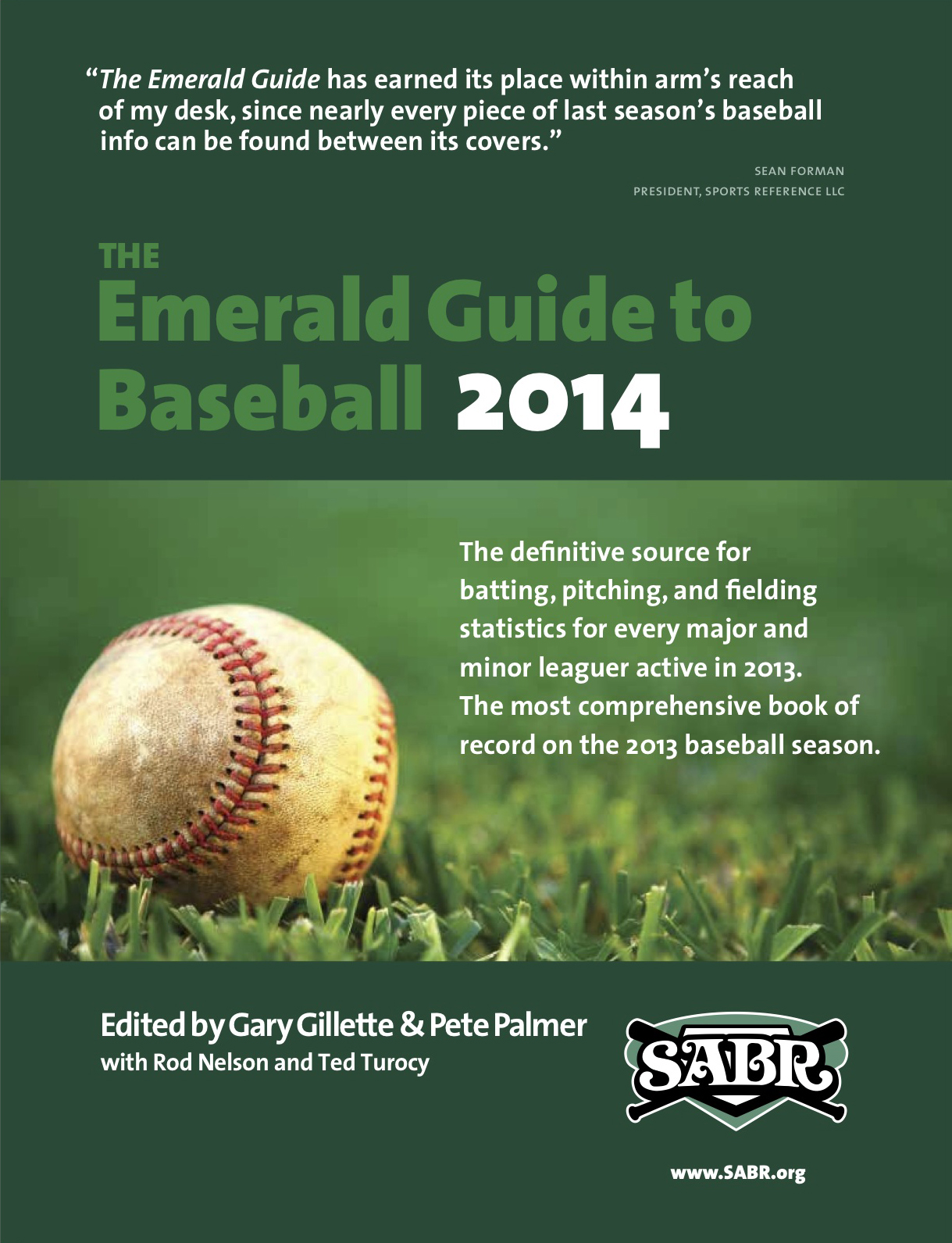 The Emerald Guide to Baseball, edited by Gary Gillette and Pete Palmer with Rod Nelson and Ted Turocy, is the most comprehensive record of the previous baseball season.
Historically, the primary purpose of annual baseball guides has been the publication of the official league standings plus the official team and individual statistics for both Major League Baseball and Minor League Baseball. Our new Emerald Guide follows faithfully in that tradition, containing the official batting, pitching, and fielding statistics for every team and every player in the Major Leagues plus extensive lists of league leaders.
The Emerald Guide to Baseball is our attempt to fill the gap in the historical record created by the recent demise of The Sporting News Baseball Guide. First published in 1942, The Sporting News Guide was truly the annual book of record for our National Pastime. It is our great privilege to document for posterity a slice of recent baseball history in our new book.
The 2014 edition of the Emerald Guide runs more than 600 pages and covers the 2013 season; it also includes a 2014 Major League Season Preview with Franchise Directories, Schedules, Spring Training Rosters, Minor League Affiliates, Broadcasting Information, and Career Leaders in 26 Categories for All Major League Teams.
The Emerald Guide is available in both a printed version and in a downloadable PDF format. The printed version will be available after Opening Day of the 2014 season.
To learn more about other SABR research resources, visit SABR.org/research.
---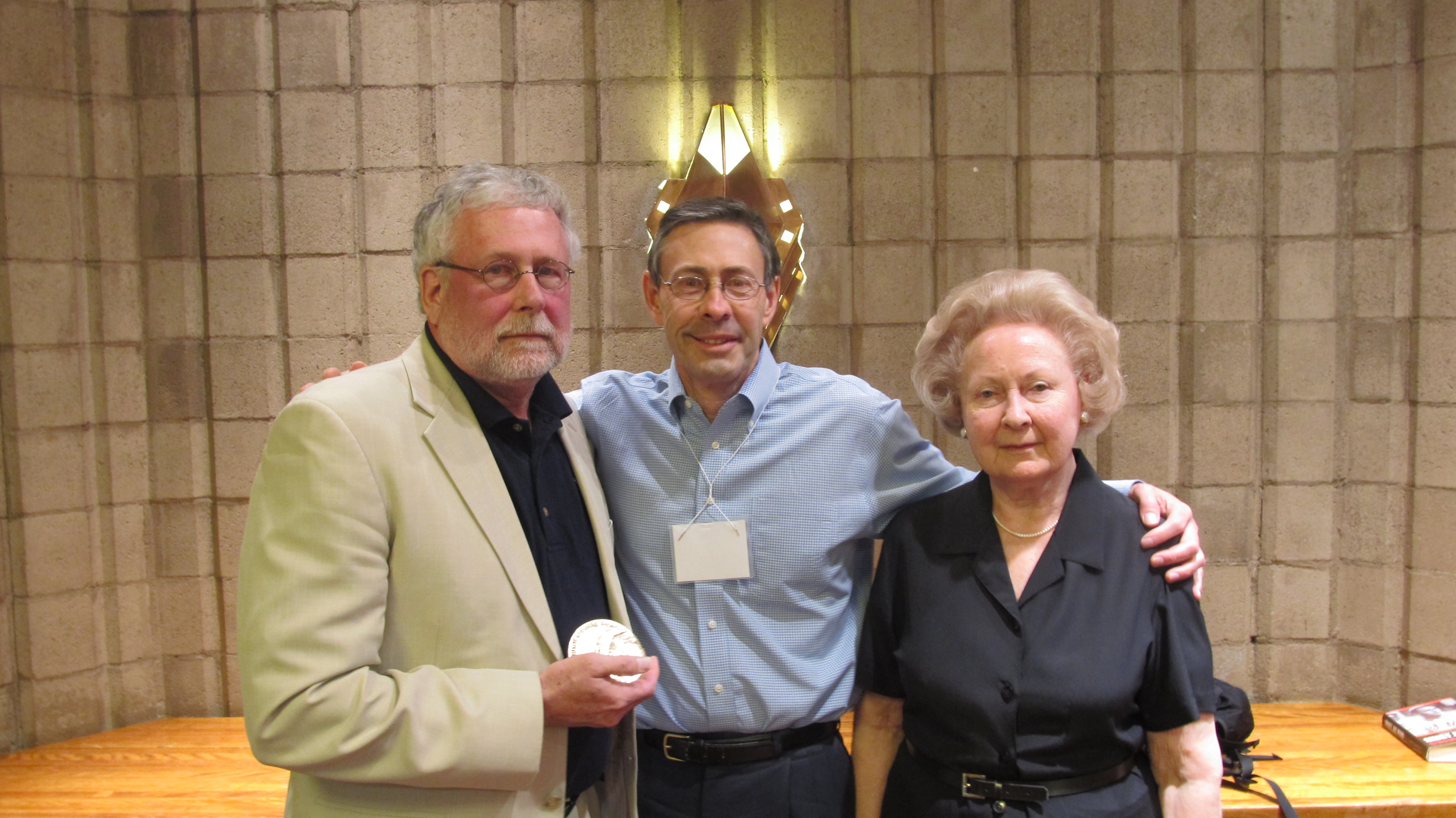 Author Gerald C. Wood accepted his 2014 Dr. Harold and Dorothy Seymour Medal for Smoky Joe Wood: The Biography of a Baseball Legend, on Saturday, March 15, 2014, at the NINE Conference banquet in Tempe, Arizona.
"I'm very honored. Thank you to all who enjoyed and supported my book," said Gerald Wood, a retired English professor from New Market, Tennessee, and no relation to Smoky Joe. "I was fascinated by (Joe) Wood's riveting life, his passion for the game, and his engaging voice."
The Seymour Medal honors the best book of baseball history or biography published during the preceding calendar year.
Wood is a Distinguished Professor of English Emeritus at Carson-Newman College and co-author of Northsiders: Essays on the History and Culture of the Chicago Cubs. His research took him to Smoky Joe's far-flung old haunts in Ness City, Kansas, and Ouray, Colorado. He was able to befriend Joe Wood's son, the late Robert K. Wood, who was the caretaker of his father's legacy, and Dr. Leo Cooney, the Yale University doctor who treated Joe Wood in his later years.
"Decades later, Dr. Cooney was able to finally diagnose the old rotator cuff injury that had prematurely ended Smoky Joe's pitching career," Gerald Wood said. "I didn't ask him how that related to treating Joe for dementia. … He's a huge Red Sox fan."
Wood concluded his acceptance speech by offering tips to aspiring authors:
"Here's my formula for writing a baseball biography: Pick a subject with a compelling life — then get lucky. I got really lucky."
Click here to view more photos from the 2014 NINE Conference banquet.
---
The 2014 Frederick Ivor-Campbell 19th Century Base Ball Conference will be held April 11-12 at the Baseball Hall of Fame in Cooperstown, New York. Click here to download the full program and schedule details (PDF).
Registration for the Ivor-Campbell Conference is now closed; we have reached our conference venue capacity. Those wishing to be placed on a waiting list for the 2014 conference in the event of a registrant's cancellation, please contact Peter Mancuso at peterplus4@earthlink.net.
The 2014 conference will be highlighted by a keynote address from baseball historian Dorothy Seymour Mills, a SABR Henry Chadwick Award recipient and co-author of the legendary three-volume Baseball series. The conference will also feature special presentations by Hall of Fame librarian Jim Gates and Bob Mayer; a 19th Century "Outsider Baseball" panel discussion with Scott Simkus, Gary Ashwill, James E. Brunson III and moderator John Thorn; a Member Spotlight interview of Alma Ivor-Campbell by Tom Simon; book signings, research presentations, and a lot more.
For more information, visit SABR.org/ivor-campbell19c.
---
James Creighton was baseball's first megastar. Revolutionizing the pitcher's role and changing the game forever, his shocking death at the age of 21 made him baseball's first martyr. Buried at Brooklyn's historic Green-Wood Cemetery in 1862, Creighton's grave quickly took its place in the pantheon of baseball meccas — his obelisk, topped with an iconic lemon-peel baseball (in marble), became a place of pilgrimage. However, that charming marble baseball disappeared long ago.
Now, thanks to the work of Green-Wood historian Jeff Richman, baseball historian and SABR member Tom Gilbert and an impressive lineup of loyal baseball fans, the marble top is back. Join us from 1-4 p.m. on Tuesday, April 15, 2014, on our trolley as we drive out to Jim Creighton's final resting place — with a guided tour by Richman and Gilbert of baseball sites along the way — for a celebration of this 19th-century phenom and the rededication of his monument.
This is a free event, but registration is required. We encourage you to consider making an optional donation with your reservation, to ensure our ability to continue to offer these events free of charge.
For more information or to register, click here.
---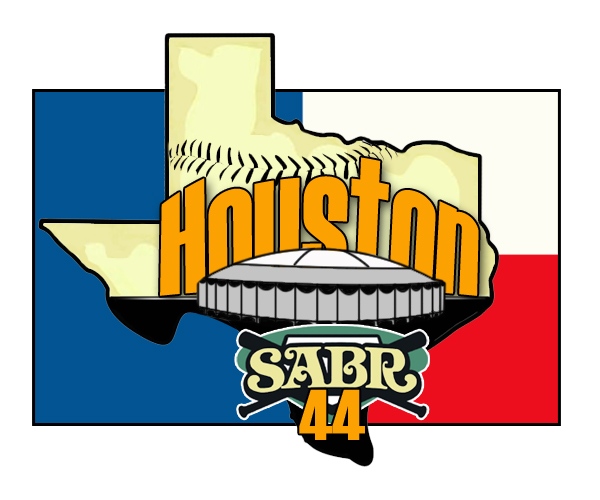 We hope you'll join us for what promises to be a spectacular SABR 44 convention in the summer of 2014 in Houston, Texas. The 44th annual SABR convention, which is open to all baseball fans, is scheduled for July 30-August 3, 2014, at the Royal Sonesta Houston.
Hotel: Click here to book your room at the Royal Sonesta online. The deadline to book your room at the SABR group rate of $129/night (plus tax) is Monday, July 14, 2014. The Royal Sonesta is at 2222 W Loop S Fwy., Houston, TX 77027, in the heart of the Galleria, just minutes from downtown and Minute Maid Park. If you have any questions about your reservation, please call the hotel at (713) 627-7600.
Conference registration: Click here for complete information on SABR 44 registration rates. Once again, we're offering an all-inclusive rate for the annual SABR convention. SABR members can pay $234 for an all-inclusive package with a Field Box ticket to the Astros game (and access to the special SABR 44 ballpark panels) on Saturday evening or $214 for an all-inclusive package with a Mezzanine Level ticket — each package is a savings of $30 off the regular rate. Non-members can pay $299 (Field Box) or $279 (Mezzanine Level) for the all-inclusive rate.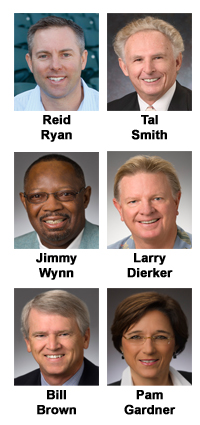 SABR 44 will include top featured speakers from around the baseball world — front office executives, players, managers, scouts, writers and analysts — innovative panel discussions, groundbreaking research presentations, major and minor league games, tours of historic ballparks, the SABR Trivia Contest, the Awards Luncheon, and most of all, the opportunity to make and renew baseball friendships over the course of this spectacular and memorable event.
We'll attend a game at the downtown Minute Maid Ballpark, which is one of the best in the majors, and we'll visit a brand-new independent league park in nearby Sugar Land, too.
Guest speakers at SABR 44 are expected to include:
Reid Ryan, President of Business Operations for the Houston Astros
Tal Smith, former Astros President and former SABR Director
Jimmy Wynn, original Colt .45 whose number has been retired by the Astros
Larry Dierker, longtime Astros player, broadcaster and manager
Bill Brown, current Astros television broadcaster
Pam Gardner, former Astros President of Business Operations
Eddie Robinson, longtime player, general manager and baseball executive
Bob Aspromonte, original Colt .45 and former Brooklyn Dodger
Mickey Herskowitz, noted baseball author and sportswriter
Experience SABR 44 at the ballpark: A special treat is in store for SABR 44 attendees this summer. On Saturday, August 2, SABR convention attendees will have the opportunity to visit Minute Maid Park for an exclusive ballpark session with Houston Astros executives and players. Before the Astros' 6:05 p.m. game against the Toronto Blue Jays, two SABR 44 panel discussions will take place inside the ballpark's Champions Pavilion, just above center field on the Mezzanine Level at Minute Maid Park.
Get your copy of Houston Baseball: The Early Years 1861-1961: All SABR 44 convention attendees will receive a free copy of Houston Baseball: The Early Years 1861-1961, edited by Mike Vance and produced by SABR's Larry Dierker Chapter, as part of their registration goody bag. Richly illustrated and expertly told, Houston Baseball: The Early Years 1861-1961 is a story for all fans of Houston baseball and Houston history. Learn more about the book at houstonbaseball.org.
Souvenir edition of The National Pastime: SABR 44 attendees will also receive a souvenir print edition of The National Pastime, our annual convention journal, focusing on baseball teams, players and events in the Houston area. All SABR members, whether you attend the convention or not, will receive the expanded e-book edition of The National Pastime in their inboxes later this summer.
We hope to see you in Houston this summer! For more information or to register, visit SABR.org/convention.
---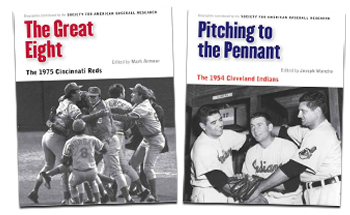 SABR continues its longstanding partnership with the University of Nebraska Press in 2014 with two new titles in the "Memorable Teams in Baseball History" series, which focuses on iconic teams with an unquestionable legacy in baseball history.
Each book focuses on a team's memorable single season and collects essays detailing the players, moments, and games that define these teams. The essays bring together contributions of many SABR writers and devoted fans who share passions for these teams and wish to relive those exceptional seasons.
You can now pre-order our two new books, to be published on April 1, 2014:
In 2012, SABR and UNP published the first two books in the "Memorable Teams in Baseball History" series: The Team That Forever Changed Baseball and America: The 1947 Brooklyn Dodgers (ed. Lyle Spatz); and Pitching, Defense, and Three-Run Homers: The 1970 Baltimore Orioles (eds. Mark Armour and Malcolm Allen.) Last year saw the release of Bridging Two Dynasties: The 1947 New York Yankees (ed. Lyle Spatz); and Drama and Pride in the Gateway City: The 1964 St. Louis Cardinals (eds. John Harry Stahl and Bill Nowlin.) For more information on the series, or to order a book, click here.
---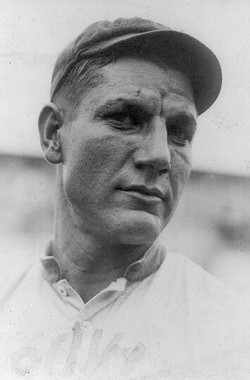 Three new biographies were posted as part of the SABR Baseball Biography Project, which brings us to a total of 2,745 published biographies. Here are the new bios:
All new biographies can be found here: http://sabr.org/bioproj/recent
You can find the SABR BioProject at SABR.org/BioProject.
Bios on more than just ballplayers: The ambitious goal of the SABR Baseball Biography Project is to publish a full-life biography of every major league player in history. But SABR members write about a lot more than just ballplayers. In addition, we have pages for Ballparks, Broadcasters, Executives, Games, Managers, Scouts, Spouses, Umpires and a lot more on the BioProject website. You can browse all of these categories at http://sabr.org/bioproj/browse. So if you've ever thought, "Hey, that person (or ballpark) should get the full BioProject treatment" — write the story and we'll publish it!
Get involved! If you'd like to help contribute to the SABR BioProject, visit our BioProject Resources page or read the FAQs section to get started. We're also looking to expand the BioProject to include all "encyclopedic" articles on baseball-related subjects from past SABR publications or committee newsletters. If you come across an article you think should be included in the SABR "baseball repository" at the BioProject, send a copy or link to markarmour04@gmail.com or jpomrenke@sabr.org.
---
We are pleased to pass along this update from our friends at Seamheads.com:
Seamheads.com is proud to announce another new update of the Seamheads.com MLB Ballparks Database, created by Seamheads.com co-founder and SABR member Kevin Johnson and designed for the Internet by SABR member Dan Hirsch, fellow Seamhead and founder of TheBaseballGauge.com. And this year's version includes fantastic new data!

The database includes the following through the 2013 season:

Descriptive data that includes location, date of first and last game (if applicable), number of seasons and games played, seating capacity, field dimensions, wall heights, playing surfaces, area of fair and foul ground, distance from the plate to the backstop, latitude, longitude, altitude, comments about structural or rules changes and current and historic aerial views.
Ballpark factors for Runs for every year since 1871.
Home run splits for every year since 1876.
Full ballpark factors and splits for home runs, hits, singles, doubles, triples, walks and strikeouts for every year since 1914.
Partial ballpark factors for years prior to 1914.

NEW FEATURE: Park Events: Park events have been added to 45 defunct ballparks, ranging from St. Louis' Sportsman's Park III, which hosted 7,022 games from 1909-1966, to Los Angeles' Memorial Coliseum, host to only 309 games over four seasons. If a park opened in the 20th century and hosted more than 300 games, chances are it has park events listed on its page! If not, they're coming soon, as are park events for all 30 current venues! So what's included in the park events section?

First and Last games, including teams involved, the scores and attendances.
First and Last starting pitchers.
First and Last batters and the results of their at-bats.
First and Last hits, runs and RBIs.
First and Last home runs, the pitchers who surrendered them and the innings in which they were hit.
First and Last strikeouts by pitchers and the batters who whiffed.
First and Last winning and losing pitchers.
First and Last grand slams, the pitchers who surrendered them and the innings in which they were hit.
First and Last inside-the-park homers, the pitchers who surrendered them and the innings in which they were hit.
First and Last no-hitters (where applicable).
Trivia pertaining to First/Last events. For example, the first homer ever hit at Tiger Stadium was also the first of Del Pratt's career, and Robert Fick's grand slam in Tiger Stadium's final game is the only grand slam to close a stadium.
(Note: Not all venues are 100% complete and some information is missing until further review and future updates).

— Mike Lynch
For more information, visit the Seamheads.com MLB Ballparks Database.
---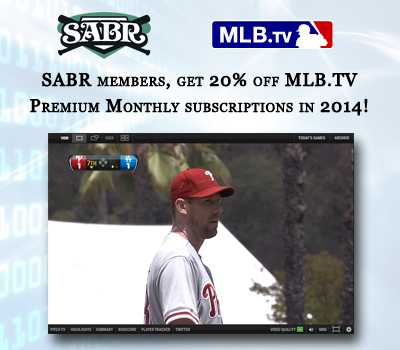 SABR members, you have the opportunity to take advantage of a special offer from MLB Advanced Media for the 2014 season:
The link above allows you access to purchase a 2014 MLB.TV monthly subscription at a special price for SABR members only.

This 20% discount is valid for each month of the 2014 season. Please note: This subscription DOES NOT automatically renew each month.

If you already have an MLB.com account, please click the link above to sign in at MLB.com. If you do not, you will create a new MLB.com account as you purchase.
Watch every 2014 Regular Season out-of-market game LIVE or on-demand in HD Quality. Choose home or away broadcasts. MLB.TV is on your favorite devices, including iPhone, iPad, Android phones, Xbox 360, Sony PlayStation and more. Watch up to four games at once with Mosaic. DVR functionality lets you pause or rewind live games. PLUS, watch select 2014 Spring Training games LIVE online.
For any questions about your subscription, please contact MLB.TV Customer Service.
---
We are saddened to report that SABR member David B. Evans, 56, of Pasadena, Maryland, died on March 8, 2014, at the University of Maryland Hospital in College Park, Maryland. Evans was a SABR member since 1993 and a season-ticket holder for the Baltimore Orioles for 25 years.
Born in Texas on June 6, 1957, to George and Mary Jane Evans, David Evans was employed with the State Farm insurance company for 17 years. He was a member of the Maryland Bar Association and the Anne Arundel County Bar Association, and a member of the Our Lady of the Chesapeake Church, where he served as an usher for more than 10 years. His hobbies included baseball, music, traveling and spending time with his wife, Julia J. Evans, and children, Molly R. and Laura V. Evans. He enjoyed going to Laura's field hockey and lacrosse games, and Molly's art shows.
In addition, he was the dear brother of Terri Evans and John Evans, both of Virginia, Beth Evans and Janet Evans-Kuveikis and her husband Bobbo, both of Florida. He is also survived by his beloved dog, Duke, and many relatives and friends.
Relatives and friends are invited to call at the family owned and operated McCully-Polyniak Funeral Home, P.A. 3204 Mountain Road in Pasadena, Maryland, from 3-5 and 7-9 p.m. Tuesday, March 18. A funeral Mass will be held on Wednesday, March 19 at 11 a.m. in the Our Lady of the Chesapeake Church (Ventnor Road, Pasadena.) Cremation services to follow. Online condolences may be sent to www.mcullyfuneral.com.
---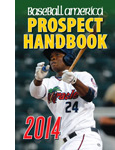 We're glad to pass along this special offer for SABR members from our friends at Baseball America:
The Baseball America Prospect Handbook is the definitive source on prospects. Order it directly from Baseball America and you will also get an exclusive supplement with 30 more scouting reports — one for every team — absolutely FREE!
Click here to order or call (800) 845-2726, Mon-Fri from 9 a.m.-5 p.m. ET.
---
We've heard your feedback: Some of you have said you look forward to "This Week in SABR" every Friday, but sometimes there are just too many compelling articles and announcements to read every week. We're not complaining — hey, keep up the great work! — but we know the feeling. So in an effort to make the length of this newsletter more manageable to read, we'll summarize some of the repeating/recurring announcements in a special "In Case You Missed It (ICYMI)" section of "This Week in SABR".
Here are some major headlines from recent weeks that we don't want you to miss:
All previous editions of This Week in SABR can be found here: http://sabr.org/content/this-week-in-sabr-archives.
---
We'd like to welcome all of our new SABR members who have joined this week. You can find all Members-Only resources at members.sabr.org and the New Member Handbook can be downloaded here.
Please give these new members a warm welcome and help them make the most of their membership by giving them the opportunity to get involved in their local chapter or a research committee.
| Name | Hometown | | | Name | Hometown |
| --- | --- | --- | --- | --- | --- |
| George Adams | Liberty, MO | | | Graig Kreindler | Brooklyn, NY |
| Lisa Brown | Rochester, NY | | | Jeffrey Lenz | Monticello, MN |
| Michael Cascarano | Meridian, ID | | | Doug Maddux | Kingwood, TX |
| Parker Dixon | Princeton, TX | | | Andrea Maestri | Santa Maria del Piano, PR |
| Sharif Elgamal | Redwood City, CA | | | Gerald Nigro | Tenafly, NJ |
| Christopher Gachko | West Orange, NJ | | | Steve Patchett | Hockley, TX |
| Robert Ghizzoni | Schenectady, NY | | | Ryan Pollack | Austin, TX |
| Rick Groves | Chicago, IL | | | Jay Sesnon | Covington, WA |
| Jeff Hastings | Sugar Land, TX | | | Wendy Shotsky | Albany, NY |
| Steve Hobbs | Edina, MN | | | Andrew Tompkins | Northport, AL |
| Carl Hudson | Atlanta, GA | | | | |
---
There were no new SABR research committee newsletters published this week.
Find all SABR research committee newsletters at SABR.org/research.
---
Here are the new chapter meeting recaps published this week:
Visit SABR.org/chapters for more information on SABR regional chapters.
---
Here is a list of upcoming SABR events:
All SABR meetings and events are open to the public. Feel free to bring a baseball-loving friend … and make many new ones! Check out the SABR Events Calendar at SABR.org/events.
---
Here are some recent articles published by and about SABR members:
Read these articles and more at SABR.org/latest.
---
This Week in SABR is compiled by Jacob Pomrenke. If you would like us to include an upcoming event, article or any other information in "This Week in SABR," e-mail jpomrenke@sabr.org.
Are you receiving our e-mails? "This Week in SABR" goes out by e-mail to all members on Friday afternoons. If they're not showing up, try adding "sabr.notes@sabr.org" to your contact list to ensure they show up in your inbox (and not the spam folder.)
---
Originally published: March 21, 2014. Last Updated: April 3, 2020.
https://sabr.org/wp-content/uploads/2020/03/research-collection4_350x300.jpg
300
350
jpomrenke
/wp-content/uploads/2020/02/sabr_logo.png
jpomrenke
2014-03-21 14:00:00
2020-04-03 14:39:36
This Week in SABR: March 21, 2014