This Week in SABR: November 26, 2014
Welcome to "This Week in SABR!" Please note that the SABR office will be closed on November 27-28. Here's what we've been up to as of November 26, 2014:
---
For those of you whose SABR memberships expire on December 31 — you can check your current membership status here — it's almost time for you to renew! We're excited about the upcoming year ahead of us and we hope you'll take advantage of all the great membership benefits offered to SABR members in 2015. Here's a short list:
http://sabr.org/member-benefits
You can renew your membership for 1 year or 3 years online at the SABR Store; by phone at (602) 343-6450; or by mailing this downloadable PDF form and your payment to the SABR office at 4455 E. Camelback Road, Ste. D-140, Phoenix, AZ 85018.
Dues are the same as they have been in recent years: for this, you get two editions of the Baseball Research Journal, the expanded e-book edition of The National Pastime; 8-10 free e-books published by the SABR Digital Library; "This Week in SABR" every Friday; access to research resources such as Paper of Record (with complete archives of The Sporting News); discounts to all SABR conferences such as the National Convention (Chicago 2015), the SABR Analytics Conference, the Jerry Malloy Negro League Conference, and the Frederick Ivor-Campbell 19th Century Conference; discounts to MLB.TV; and much, much more.
We believe SABR has something for everyone, from the active researcher to someone passionate about baseball. We hope you'll invite your friends, colleagues and family members to join at http://store.sabr.org.
---
In my 31 years as a member of the Society for American Baseball Research, I have seen SABR evolve greatly as an organization, offering unparalleled opportunities and benefits for members and commanding respect throughout the baseball community. And I have seen that first-hand: In 1983, I attended my first SABR Convention in my hometown of Milwaukee, where I was thrilled to meet some of the organization's founders. This past year, I attended both the 2014 Analytics Conference and the 44th annual convention in Houston — and I'm equally thrilled for SABR's future after getting to know the staff and volunteer leadership now in place.
To continue to grow as an organization, and to seize the great opportunities now within reach, SABR is in need of charitable gifts. Many members have already become donors, and you can join them right now by making your gift online at SABR.org/donate.
SABR is a 501(c)3 organization, which means your donation is tax deductible in the U.S. to the fullest extent of the law.
While the incentives are attractive, the real benefit is the satisfaction received from contributing to the continuing knowledge and appreciation of our national pastime.
Please join me in supporting SABR and send your donation by check to SABR Donor Program, 4455 E. Camelback Road, Ste. D-140, Phoenix, AZ 85018 — or by visiting SABR.org and pressing the convenient DONATE button at the top of the page. By doing so you help SABR fulfill its mission and increase the impact of our baseball analysis and historical study.
Many companies offer matching gift programs to encourage employees to contribute to charitable organizations. Please check with your company to see if it offers a matching gift program that will match your gift or volunteer hours to the Society for American Baseball Research. If you have questions regarding your gift, e-mail me at pbolda@sabr.org.
— Phillip Bolda, Chair, SABR Fundraising and Development Committee
---

Add a new baseball book to your library! Periodically throughout the year, SABR.org publishes listings of new books that are received at the SABR office. This feature is called The SABR Bookshelf, continuing a popular section from the old SABR Bulletin.
Here are The SABR Bookshelf listings for Fall 2014:
http://sabr.org/content/sabr-bookshelf-fall-2014
Click the link above for more detailed information on each of these books:
Houston Baseball: The Early Years 1861-1961, edited by Mike Vance
The First Yankees Dynasty: Babe Ruth, Miller Huggins and the Bronx Bombers of the 1920s, by Gary A. Sarnoff
Black Ball and the Boardwalk: The Bachrach Giants of Atlantic City, 1916-1929, by James E. Overmyer
The Millers and the Saints: Baseball Championships of the Twin Cities Rivals, 1903-1955, by Rex D. Hamann
Frank Robinson: A Baseball Biography, by John C. Skipper
The Catcher's Handbook, by Conor Kelley
Baseball's Great Hispanic Pitchers: Seventeen Aces from the Major, Negro and Latin American Leagues, by Lou Hernandez
Joe Quinn among the Rowdies: The Life of Baseball's Honest Australian, by Rochelle Llewelyn Nichols
More Than a Pastime: An Oral History of Baseball Fans, by William Freedman
The Days of Wee Willie, Old Cy and Baseball War: Scenes from the Dawn of the Deadball Era, 1900-1903, by Chuck Kimberly
Tom Candiotti: A Life of Knuckleballs, by K.P. Wee
Kammie on First: Baseball's Dottie Kamenshek, by Michelle Houts
Joe Black: More than a Dodger, by Martha Jo Black and Chuck Schoffner
The Lost Decade: Players of the 1970s Cardinals, by Gary W. Abbott
Brooks: The Biography of Brooks Robinson, by Doug Wilson
The Cooperstown Chronicles: Baseball's Colorful Characters, Unusual Lives, and Strange Demises, by Frank Russo
The Valley Baseball League: A History of Baseball In the Shenandoah Valley, by Chaz Weaver
Baseball: A Special Gift from God, by Bryan Steverson
Lon Warneke, by Don Duren
Baseball: It's More Than Just a Game, by Greg Lucas
Van Lingle Mungo: The Man, The Song, The Players, edited by Bill Nowlin
Fastball Fari: A Novel, by Michael John Cruit
Protection: A fading baseball career and the Great Depression, by Kevin Nielsen
Ecstasy to Agony: The 1994 Montreal Expos: How the Best Team in Baseball Ended Up in Washington Ten Years Later, by Danny Gallagher and Bill Young
To get your NEW book listed on The SABR Bookshelf, make sure a review copy is sent to: The SABR Bookshelf, Society for American Baseball Research, 4455 E. Camelback Rd., Ste. D-140, Phoenix, AZ 85018. An e-book file will also suffice; please send the e-book in PDF, EPUB or Kindle/MOBI format to jpomrenke@sabr.org.
To ensure a listing in The Baseball Index — SABR's online catalog of baseball research materials at www.baseballindex.org — make sure a review copy is sent to The Baseball Index, 4025 Beechwood Pl., Riverside, CA 92506.
Bolded names indicates that the author(s) is a SABR member. Click here for a list of publishers found in the SABR Bookshelf, along with their contact information.
All new SABR Bookshelf listings can be purchased at the SABR Bookstore, powered by Amazon.com. In addition, check out new books published by SABR at SABR.org/ebooks (free for SABR members!)
To see previous listings in the SABR Bookshelf, click here.
---
By now, many of you should have received your copy of the Fall 2014 edition of the Baseball Research Journal, which was mailed out in mid-November. It usually takes about two to four weeks for delivery, so if it hasn't arrived yet, it should be coming shortly. For digital subscribers, the e-book edition was delivered to your inboxes on November 13. There are many ways to read the great research articles in the new BRJ:
To learn more about contributing to a future SABR publication, click here.
Having trouble downloading our e-books? To view PDF files on your computer, click here to download the free Adobe Reader software. Having trouble downloading e-books to your Kindle, Nook, Sony Reader or iPad? Click here for additional help.
We hope you enjoy reading the Fall 2014 Baseball Research Journal!
---
SABR has a long and storied history with baseball statistical analysis, evidenced by the link between our name and sabermetrics. While SABR is a multi-faceted organization involved in virtually every aspect of baseball, we have taken a major step to re-connect with our beginnings by producing and hosting the fourth annual:
SABR Analytics Conference
March 12-14, 2015
Hyatt Regency Phoenix
Phoenix, Arizona
Once again, we're bringing together the top minds of the baseball analytic community under one roof to discuss, debate and share insightful ways to analyze and examine the great game of baseball.
The schedule will consist of a combination of Guest Speakers, Panels and Research Presentations — plus the unique Diamond Dollars Case Competition, in which undergraduate, graduate, and law school students from across the country analyze and present a real baseball operations decision.
Conference registration is available now at the SABR Store. Click here to register. The conference is open to all baseball fans. The early registration rate is $395 for SABR members and $495 for nonmembers, or $350 for currently enrolled high school or college students (includes one-year membership to SABR).
The 2015 SABR Analytics Conference will be held Thursday, March 12 through Saturday, March 14 at the Hyatt Regency Phoenix, 122 N. 2nd St., Phoenix, AZ 85004. Click here to book your hotel room at the special SABR group rate of $174/night (plus tax) for double occupancy. Or call (602) 252-1234 and mention that you're with the SABR Analytics Conference.
Check back soon as we announce some of our featured speakers, panels and presentations!
SABR's long history in this area of baseball research, coupled with our mission of advancing the understanding and knowledge of baseball, makes us the perfect choice to coordinate and host this ground-breaking event.
For complete details and information, visit SABR.org/analytics.
The third annual SABR Analytics Conference was held March 13-15, 2014, in Phoenix, Arizona. Check out highlights at SABR.org/analytics/2014.
Related links:
---
With generous funding from The Anthony A. Yoseloff Foundation, Inc., SABR will award up to four scholarships to high school and college students who wish to attend the 2015 SABR Analytics Conference on March 12-14, 2015, in Phoenix, Arizona. This scholarship will pay for registration, air transportation and lodging up to a total value of $1,250.
The objective of this scholarship fund is to encourage student engagement with baseball analytics, and to engender an active interest in baseball research and SABR. The Yoseloff scholarship is to assist young researchers who want to attend SABR's Analytics Conference and to introduce them to fellow SABR members and professionals within the baseball community. Through this fund, SABR hopes to inspire future baseball research, expose students to high-quality research and build the research capability of interested students.
Click here for more information on submission guidelines and eligibility requirements.
All applications must be postmarked or e-mailed to Jeff Schatzki at jschatzki@sabr.org no later than December 31, 2014.
---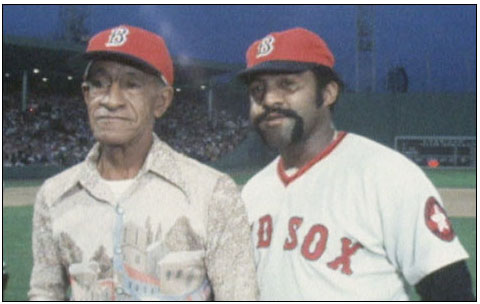 Four new biographies were posted as part of the SABR Baseball Biography Project, which brings us to a total of 2,957 published biographies. Here are the new bios:
All new biographies can be found here: http://sabr.org/bioproj/recent
You can find the SABR BioProject at SABR.org/BioProject.
Bios on more than just ballplayers: The ambitious goal of the SABR Baseball Biography Project is to publish a full-life biography of every major league player in history. But SABR members write about a lot more than just ballplayers. In addition, we have pages for Ballparks, Broadcasters, Executives, Managers, Scouts, Spouses, Umpires and a lot more on the BioProject website. You can browse all of these categories at http://sabr.org/bioproj/browse. So if you've ever thought, "Hey, that person (or ballpark) should get the full BioProject treatment" — write the story and we'll publish it!
Get involved! If you'd like to help contribute to the SABR BioProject, visit our BioProject Resources page or read the FAQs section to get started. We're also looking to expand the BioProject to include all "encyclopedic" articles on baseball-related subjects from past SABR publications or committee newsletters. If you come across an article you think should be included in the SABR "baseball repository" at the BioProject, send a copy or link to markarmour04@gmail.com or jpomrenke@sabr.org.
---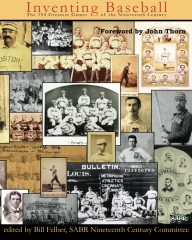 Articles from SABR's groundbreaking book Inventing Baseball: The 100 Greatest Games of the 19th Century are now available to read online at the SABR Games Project: SABR.org/gamesproject.
Published in 2013 as a project of SABR's Nineteenth Century Committee and edited by Bill Felber, Inventing Baseball brings to life the greatest games played in the sport's early years. From the "prisoner of war" game that took place among captive Union soldiers during the Civil War, to the first intercollegiate game (Amherst versus Williams), to the Cincinnati Red Stockings' first defeat, the games in this volume span the years 1833 to 1900 and detail the athletic exploits of such players as Cap Anson, Moses "Fleetwood" Walker, Charlie Comiskey, Mike "King" Kelly, and John Montgomery Ward.
SABR members can download the Inventing Baseball e-book for free or get a 50% discount off the paperback version by clicking here.
Here is a sampling of stories available from Inventing Baseball at the SABR Games Project (more articles from the book will be added soon):
The SABR Baseball Games Project was launched in January 2014 to research and write articles on major-league and Negro League regular, postseason, and All-Star Games. These game accounts will complement Retrosheet and Baseball-Reference box scores as well as BioProject essays on the players involved.
The articles are not intended to be mere play-by-play summaries, nor should they be first-person narratives. Rather the goal is to put each game in historical context — whether that history is of a particular player, team, season, or something even broader.
Visit the new Games Project website at SABR.org/gamesproject.
---
Please note: Only ONE entry per nomination will be considered (do not submit multiple nominations for the same award). For more information on SABR Awards, click here.
---
We've heard your feedback: Some of you have said you look forward to "This Week in SABR" every Friday, but sometimes there are just too many compelling articles and announcements to read every week. We're not complaining — hey, keep up the great work! — but we know the feeling. So in an effort to make the length of this newsletter more manageable to read, we'll summarize some of the repeating/recurring announcements in a special "In Case You Missed It (ICYMI)" section of "This Week in SABR".
Here are some major headlines from recent weeks that we don't want you to miss:
All previous editions of This Week in SABR can be found here: http://sabr.org/content/this-week-in-sabr-archives.
---
We'd like to welcome all of our new SABR members who have joined this week. You can find all Members-Only resources at members.sabr.org and the New Member Handbook can be downloaded here.
Please give these new members a warm welcome and help them make the most of their membership by giving them the opportunity to get involved in their local chapter or a research committee.
| Name | Hometown | | | Name | Hometown |
| --- | --- | --- | --- | --- | --- |
| Michael Marletto | Fallbrook, CA | | | Dorothy Tomazic | Mentor, OH |
| Sam Goldstein | Creve Coeur, MO | | | Alexander Zuckerman | Meriden, NH |
| Joseph Towalski | Sartell, MN | | | Bonnie Crosby | Phoenix, AZ |
| Daniel Solomon | Woodcliff Lake, NJ | | | Jon Endsley | Pleasant Hill, CA |
| Mike Pfeifer | Gladstone, NJ | | | Justin Thomas | Great Lakes, IL |
| Steve Webb | St. Louis, MO | | | | |
---
There were no new SABR research committee newsletters published this week.
Find all SABR research committee newsletters at SABR.org/research.
---
Here are the new regional chapter updates published this week:
Visit SABR.org/chapters for more information on SABR regional chapters.
---
Here is a list of upcoming SABR events:
All SABR meetings and events are open to the public. Feel free to bring a baseball-loving friend … and make many new ones! Check out the SABR Events Calendar at SABR.org/events.
---
Here are some recent articles published by and about SABR members:
Read these articles and more at SABR.org/latest.
---
This Week in SABR is compiled by Jacob Pomrenke. If you would like us to include an upcoming event, article or any other information in "This Week in SABR," e-mail jpomrenke@sabr.org.
Are you receiving our e-mails? "This Week in SABR" goes out by e-mail to all members on Friday afternoons. If they're not showing up, try adding "sabr.notes@sabr.org" to your contact list to ensure they show up in your inbox (and not the spam folder.)
---
Originally published: November 26, 2014. Last Updated: April 3, 2020.
https://h2j7w4j4.stackpathcdn.com/wp-content/uploads/2020/03/research-collection4_350x300.jpg
300
350
jpomrenke
/wp-content/uploads/2020/02/sabr_logo.png
jpomrenke
2014-11-26 13:00:36
2020-04-03 14:39:16
This Week in SABR: November 26, 2014