This Week in SABR: September 16, 2016

Welcome to "This Week in SABR!" Click here to view this week's newsletter on the web. Here's what we've been up to as of September 16, 2016:
---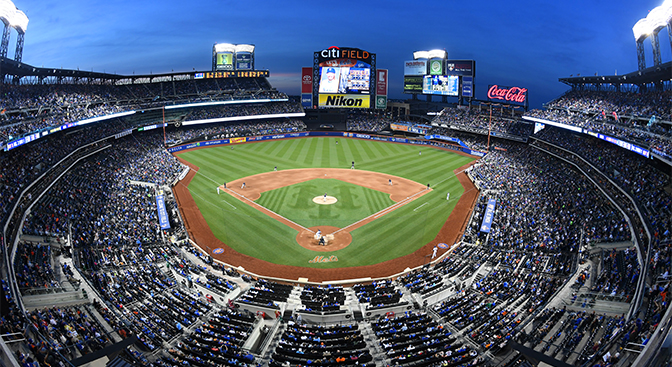 Save the date! SABR will be returning to the Big Apple for our 47th national convention on June 28-July 2, 2017, at the Grand Hyatt New York. Registration information will be available at SABR.org/convention in early 2017. The MLB schedule was released this week and New York Mets are scheduled to play the Philadelphia Phillies in a three-game series at Citi Field during SABR 47.
The Grand Hyatt New York, one of the city's most historic and luxurious hotels, is conveniently located in Midtown Manhattan just steps from Grand Central Terminal and within walking distance of many major attractions, including Times Square, the Empire State Building, and the New York Public Library.
SABR 47 will be our first convention held in New York City since 1991 and third in the New York metropolitan area. At SABR 21, famed Yankees announcer Mel Allen was the keynote speaker, while singer Terry Cashman performed a rendition of "Talkin' Baseball" and the famous Brooklyn Dodgers Sym-phony also performed. SABR's eighth convention in 1978 was highlighted by the release of the groundbreaking book Minor League Stars, the first major compilation of seasonal and career records for players, teams, and leagues at that level. The keynote speaker was longtime Dartmouth College coach and former major-leaguer Tony Lupien, and the convention ballgame at Yankee Stadium was on Old-Timers' Day when Billy Martin shocked baseball with the announcement that he had been "rehired" by George Steinbrenner after his firing just days earlier.
SABR's 2017 national convention will be our 47th annual gathering; the organization's founding in Cooperstown in 1971 is counted as the first. Learn more about SABR's convention history by clicking here.
For more information on the SABR convention, visit SABR.org/convention.
---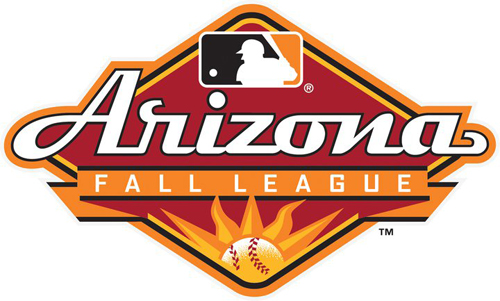 We hope you'll join us for the eighth annual SABR Arizona Fall League Experience, which will be held Thursday, November 3 to Saturday, November 5, 2016. All baseball fans are welcome to attend.
The event will feature four AFL games — at four different ballparks — showcasing baseball's top prospects. We'll also have a ballpark dinner at Scottsdale Stadium with a special guest speaker and the Arizona Major League Alumni auction on Friday evening.
On Saturday, November 5, attendees will join members of SABR's Flame Delhi Chapter for their regional fall meeting, with research presentations and guest speakers. We'll conclude the conference with the nationally televised Fall Stars Game on Saturday evening at Surprise Stadium. All of this, including transportation, is included in one low registration price.
Your registration fee includes all game tickets; an AFL Media Guide; a special evening with Arizona Major League Alumni; and transportation to and from all events.
The Arizona Fall League (mlbfallball.com) is baseball's premier player development league. In the first seven years of the conference, attendees were treated to sneak peeks at Mike Trout, Bryce Harper, Buster Posey, Stephen Strasburg, Nolan Arenado, Gerrit Cole, Billy Hamilton, and Gary Sanchez before they hit the big leagues.
All baseball fans are welcome to attend, so join us in November for the SABR Arizona Fall League Experience!
---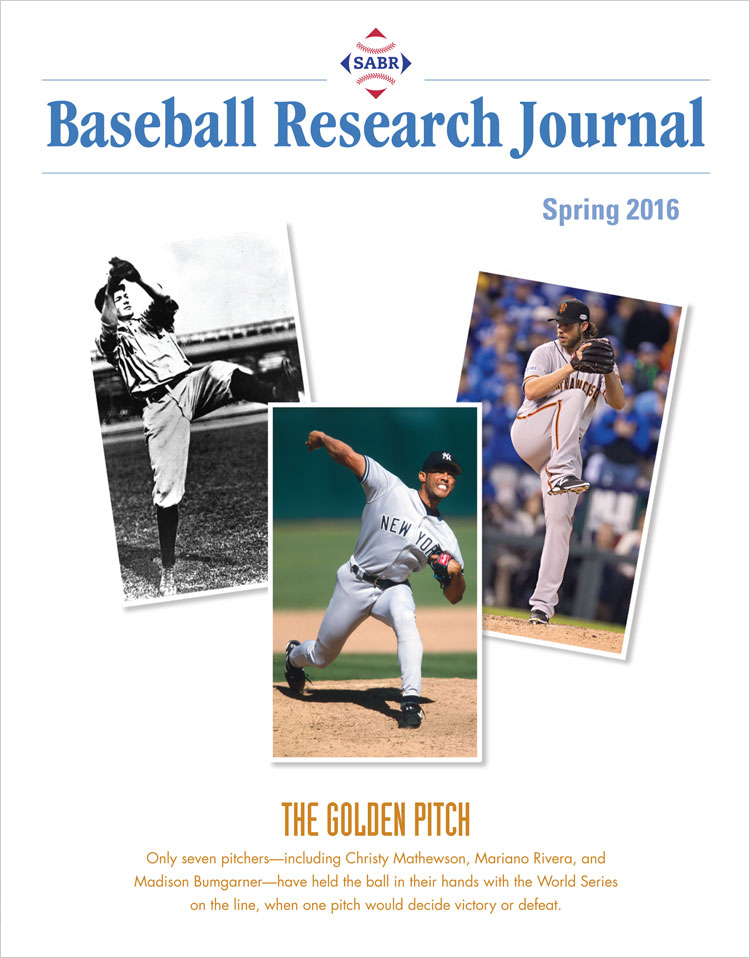 Once again, SABR is offering members the opportunity to opt out of receiving the printed version of the Fall 2016 Baseball Research Journal. We'll deliver the e-book version of the Fall 2016 BRJ in the format of your choice (EPUB, MOBI/Kindle or PDF) straight to your inbox in early November. Click here to learn more about receiving the e-book edition of the BRJ.
Opt out of receiving the printed edition by Saturday, October 1 in order to get early access to all the great content in the BRJ in e-book format and online at SABR.org.
Please note: If you do nothing, you will continue to receive two print editions of the Baseball Research Journal every year by mail.
If you've never read a Baseball Research Journal in e-book form, click here to try it out with the Spring 2015 edition. The Baseball Research Journal, and all SABR e-books, are available in EPUB, MOBI/Kindle or PDF formats.
To read articles from the BRJ archives, click here.
---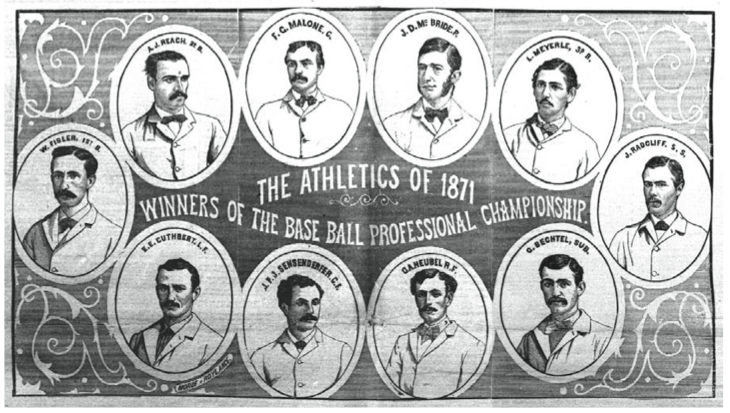 Join us for the Philadelphia 19th Century Baseball Interdisciplinary Symposium, co-hosted by SABR's Nineteenth Century Research Committee and the Connie Mack/Philadelphia Chapter, will take place from 9:00 a.m.-5:00 p.m. on Saturday, November 12, 2016, at Maggiano's Restaurant, 1201 Filbert St. in the Center City of Philadelphia.
We'll have a full day of programming that will include a Welcoming Address by Major League Baseball's Official Historian John Thorn; a Luncheon Keynote presentation by veteran Philadelphia newspaper reporters and editors Daniel R. Biddle and Murray Dubin, co-authors of Tasting Freedom: Octavius Catto and the Battle for Equality in Civil War America; a panel discussion on Philadelphia's 19th Century Baseball's Movers & Shakers, moderated by Dick Rosen; four other Research Presentations devoted to seldom addressed aspects of 19th-century baseball by such experts as Jerrold Casway, Ralph Carhart, Richard Hershberger, John Shiffert, and Matt Albertson.
Space is limited, so reserve your spot today!
For more information, please contact Peter Mancuso at peterplus4@earthlink.net.
---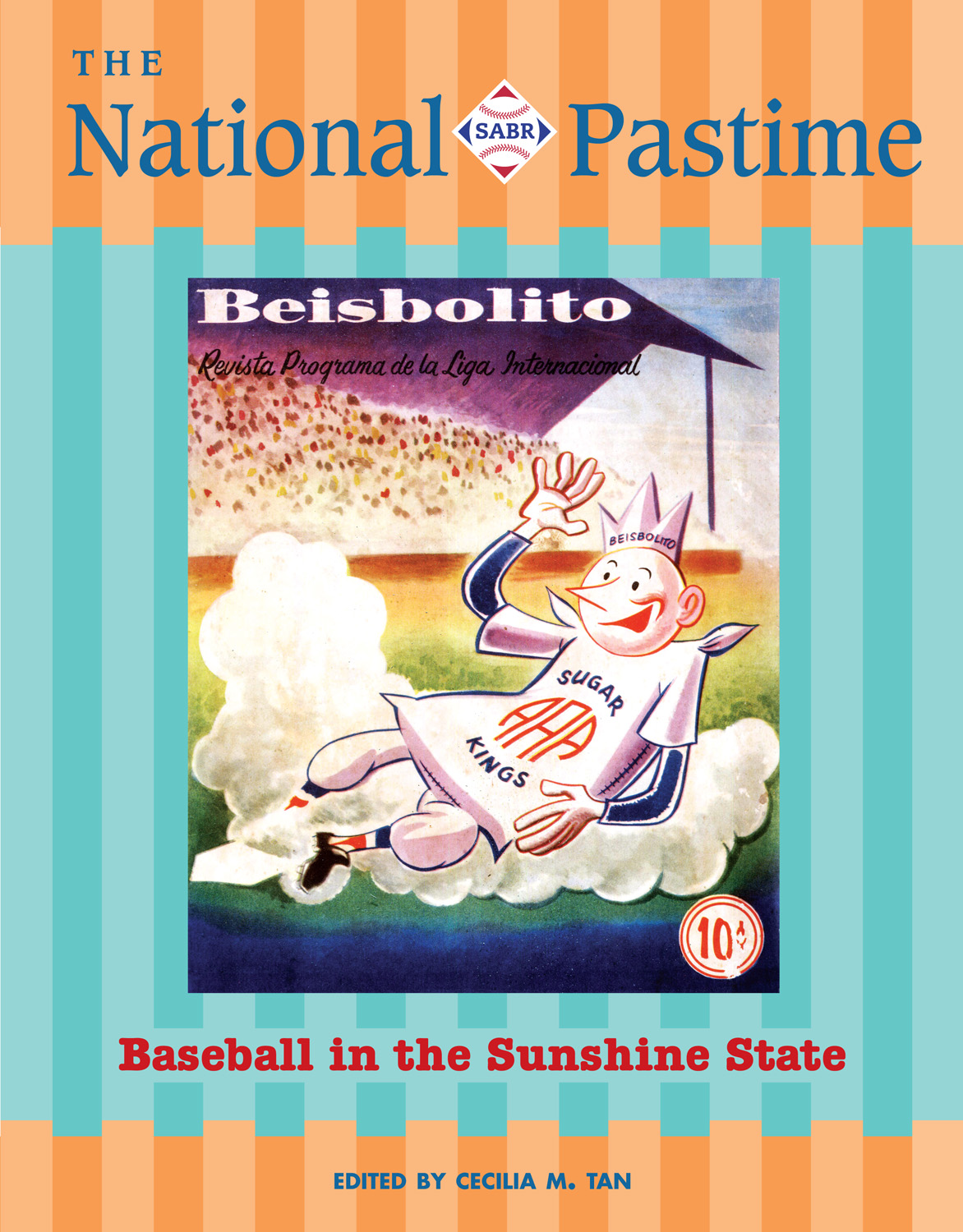 Since 2009, The National Pastime has served as SABR's convention-focused publication. Published annually, this research journal provides in-depth articles focused on the respective geographic region where the national convention is taking place in a given year.
The SABR 46 convention is set to begin this week in Miami, and we have dedicated the theme of The National Pastime to baseball in the Sunshine State. All SABR members receive a free e-book copy of The National Pastime as part of their membership benefits, while attendees of the national convention will also receive a souvenir print edition in their goody bags.
Having trouble downloading our e-books? To view PDF files on your computer, click here to download the free Adobe Reader software. Having trouble downloading e-books to your Kindle, Nook, Sony Reader or iPad? Click here for additional help.
If you aren't able to attend the convention in Miami, please enjoy this issue of The National Pastime as your virtual trip to South Florida. Happy reading!
To learn more about contributing to a future SABR publication, click here.
— Cecilia M. Tan, editor
---
All SABR members are invited and encouraged to submit a Research Presentation Proposal Abstract on any topic of 19th-century baseball for the 2017 Frederick Ivor-Campbell 19th Century Base Ball Conference at the Baseball Hall of Fame in Cooperstown, New York. The ninth annual Ivor-Campbell Conference is scheduled for April 21-22, 2017.
The deadline for proposal Abstracts is October 31, 2016. Your abstract must be between 200-500 words for a 20- to 25-minute presentation. Please include name, title, and contact information and send your proposal as a Microsoft Word or PDF attachment to Peter Mancuso at peterplus4@earthlink.net.
This deadline enables us to publish the complete program and schedule in time for the release of our 2017 Winter Issue of our quarterly newsletter, "Nineteenth Century Notes," in early January, when registration for "The Fred" begins.
For any questions, please contact Peter Mancuso at peterplus4@earthlink.net.
---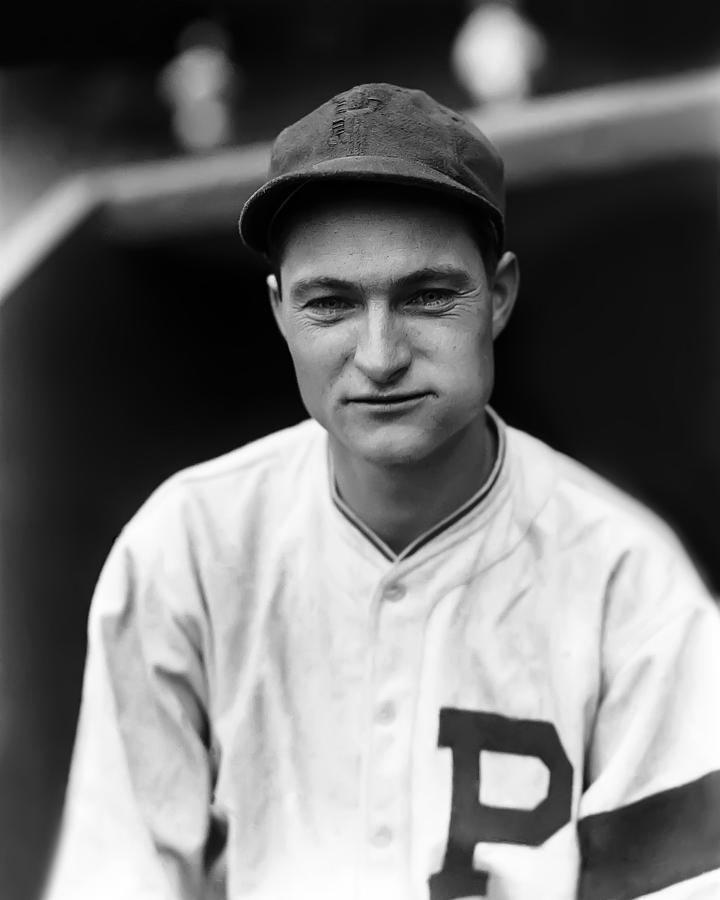 Five new biographies were posted this week as part of the SABR Baseball Biography Project, which brings us to a total of 3,850 published biographies. Here are the new bios published this week:
All new biographies can be found here: http://sabr.org/bioproj/recent
---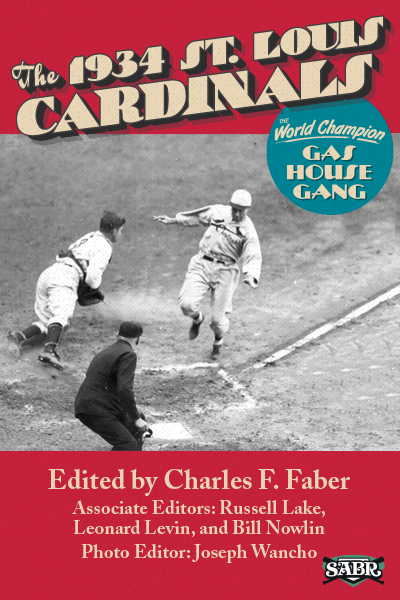 In SABR's The 1934 St. Louis Cardinals: The World Champion Gas House Gang, edited by Charles F. Faber and published in 2014, we highlighted one of the most colorful crews ever to play the National Pastime.
What a cast of characters it was! None was more picturesque than Pepper Martin, the "Wild Horse of the Osage," who ran the bases with reckless abandon. The irrepressible Dizzy Dean delivered on his boasts by winning 30 games in 1934, the last National League hurler to achieve that feat. Dizzy and his brother Paul Dean accounted for all of the Cardinal victories in the 1934 World Series.
The club's hitters were led by the New Jersey strong boy, Joe "Ducky" Medwick, who hated the nickname, preferring to be called "Muscles." Presiding over this aggregation was the "Fordham Flash," Frankie Frisch. Rounding out the club were worthies bearing such nicknames as Ripper, "Leo the Lip," Spud, Kiddo, Pop, Dazzy, Ol' Stubblebeard, Wild Bill, Buster, Chick, Red, and Tex. Some of these were aging stars, past their prime, and others were youngsters, on their way up. Together they comprised a championship ball club.
The SABR BioProject biographies that appeared in the 1934 St. Louis Cardinals book can now be read online at: http://sabr.org/category/completed-book-projects/1934-st-louis-cardinals.
You can also purchase the book or download the e-book by clicking here. SABR members can download all SABR Digital Library e-books for free at SABR.org/ebooks.
---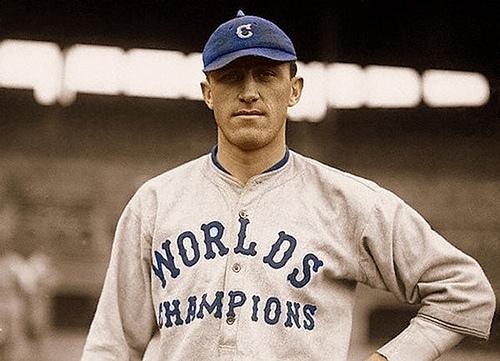 Seven new game stories were posted this week as part of the SABR Games Project. Here are the new game stories:
All new Games Project stories can be found here: http://sabr.org/gamesproject/recent
---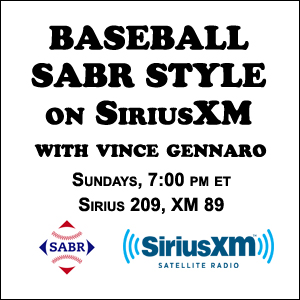 Behind the Numbers: Baseball SABR Style on SiriusXM, a radio show hosted by SABR President Vince Gennaro, will air this weekend at its regular time, 7:00-8:00 p.m. ET on Sundays, on MLB Network Radio.
This week's guests are Arizona Diamondbacks broadcaster Mike Ferrin and Matthew Trueblood of Baseball Prospectus.
Now, you can also watch video highlights of Behind the Numbers: Baseball SABR Style on SiriusXM on MLB.com and you can also listen to all recent episodes on-demand on the SiriusXM Internet Radio App.
Click here to watch more video highlights of Baseball SABR Style from MLB.com.
Behind the Numbers: Baseball SABR Style on SiriusXM focuses on examining and interpreting the statistical analysis that plays a critical role in baseball today. It airs weekly throughout the year on MLB Network Radio, available to subscribers nationwide on XM channel 89, Sirius channel 209, and on the SiriusXM Internet Radio App.
---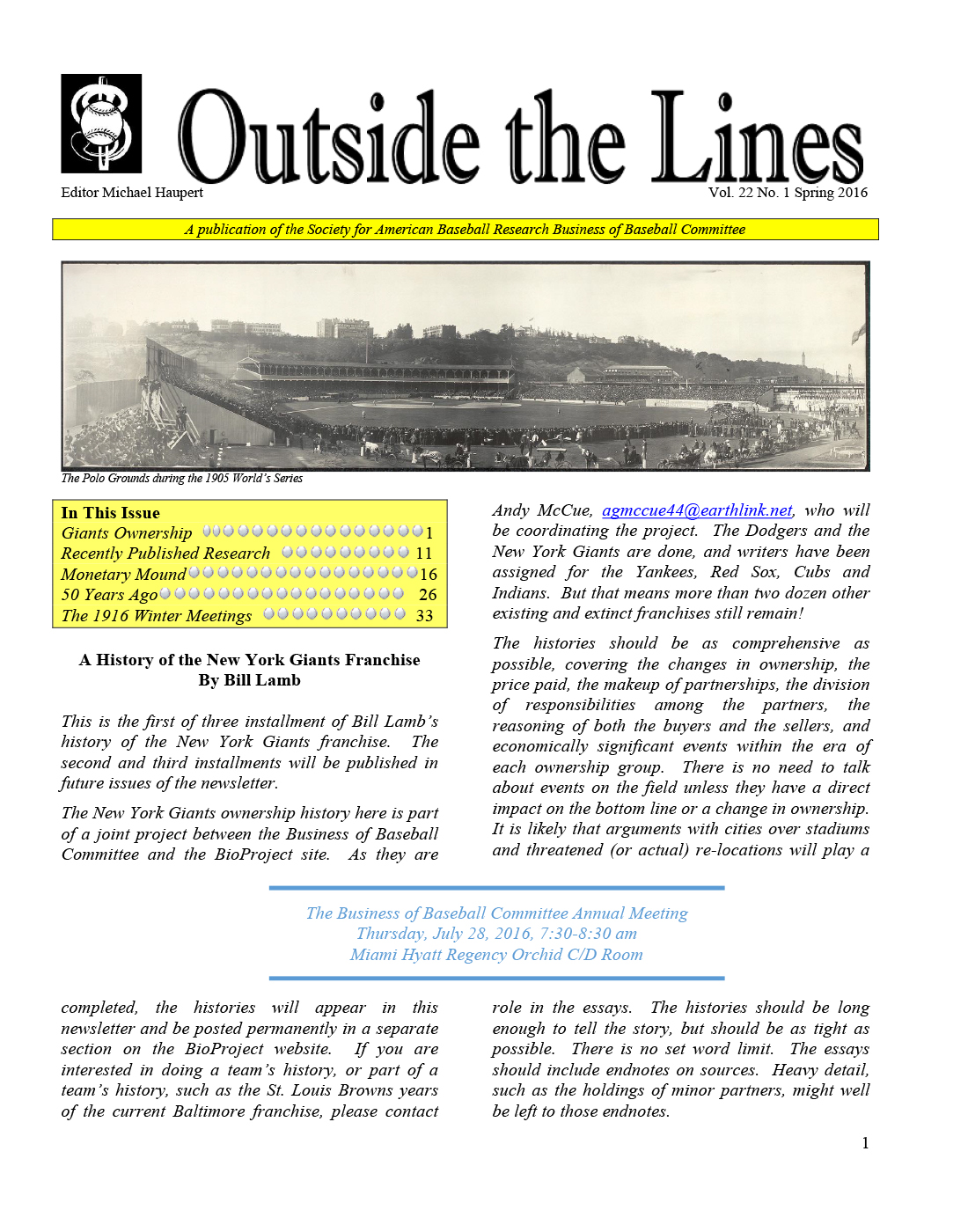 We want to highlight a feature that's one of our favorite benefits of SABR membership: research committee newsletters.
SABR members have a variety of interests, and this is reflected in the diversity of our more than two dozen research committees — from Baseball and the Arts, to Statistical Analysis, to the Deadball Era, to Women in Baseball.
All SABR members are eligible to sign up for — or contribute to — newsletters from any research committee. Committee newsletters are another outlet SABR offers for publication of your research articles, and also a respository for news and notes, pertinent announcements, and updates about committee goings-on.
The publication schedule varies by committee. Some newsletters come out once a month while most are published quarterly or bi-annually. So while you're waiting for the next Baseball Research Journal or SABR Digital Library publication to drop, these newsletters are a great source to read new baseball research from SABR members.
Here are some examples of original articles from our committee newsletters:
You can view all past committee newsletters by going to any Research Committee page here and selecting "Newsletters."
To sign up to receive a committee's newsletter, just go to members.sabr.org and select the "Join a committee" button.
And most importantly: To contribute an article to any committee newsletter, because none of these newsletters could be published without your efforts, contact a committee leader to discuss your ideas and learn how to submit a story.
---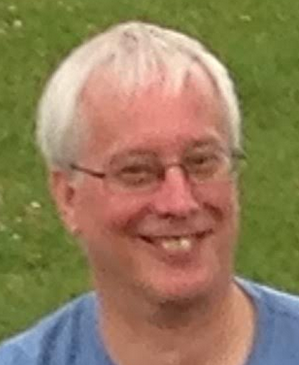 Longtime SABR member Robert E. "Bob" Gregory, 60, died on September 13, 2016, after a battle with cancer.
Bob first joined SABR in 1984. He was a founding member of the Kekionga Chapter of Fort Wayne and active in the Nineteenth Century Committee. He was an original member of the Overlooked 19th Century Baseball Legends Project with Charles Faber and Joe Williams beginning in 2008. The trio created the process to elect a 19th-century baseball great who has yet to be inducted into the National Baseball Hall of Fame. The 2010 Overlooked Legend winner, James "Deacon" White, was inducted into the Hall of Fame in 2013. Bob and Joe attended the ceremony and Bob represented SABR on September 29, 2013, in Aurora, Illinois for James "Deacon" White Day. As part of the celebration, the 200 block of South Calumet Avenue received the honorary designation of "James 'Deacon' White Way" with a street sign unveiling at the corner of Marseillaise and Calumet Avenues.
Bob was passionate about honoring greats of the early game which led him to becoming the original chairman of SABR's 19th Century Grave Marker Project. Bob had to step down when he became too ill to continue as chairman, turning the project over to current chairman Ralph Carhart. The project unveiled its first grave marker on May 14 in Brooklyn's historic Green-Wood Cemetery for New York Knickerbocker pioneer James Whyte Davis.
Bob was a fan of the Kekiongas of Fort Wayne and their star pitcher Bobby Mathews. His love of Fort Wayne led to a contribution to Base Ball Pioneers, 1850-1870 on the Summit City Base Ball Club of Fort Wayne. He also championed election to the Hall of Fame for individuals from baseball's pioneer era and was a contributor to the Doc Adams for the Hall of Fame campaign.
Despite his health issues, Bob was a youthful looking man with an upbeat personality. His sense of humor and positive outlook on life during his courageous battle to survive was truly inspirational to all that knew him. He brought his good spirits to Cooperstown each April to attend the Frederick Ivor-Campbell 19th Century Base Ball Conference ("The Fred") where he would gain pleasure speaking with many of his colleagues.
Bob is survived by his wife, Mindy, and his daughter, Caitlin. In lieu of flowers, Bob wanted people to donate to SABR's 19th Century Grave Marker Project.
— Joe Williams
---
We've heard your feedback: Some of you have said you look forward to "This Week in SABR" every Friday, but sometimes there are just too many compelling articles and announcements to read every week. We're not complaining — hey, keep up the great work! — but we know the feeling. So in an effort to make the length of this newsletter more manageable to read, we'll summarize some of the repeating/recurring announcements in a special "In Case You Missed It (ICYMI)" section of "This Week in SABR".
Here are some major headlines from recent weeks that we don't want you to miss:
All previous editions of This Week in SABR can be found here: http://sabr.org/content/this-week-in-sabr-archives.
For more information, click here.
---
We'd like to welcome all of our new SABR members who have joined this week. You can find all Members-Only resources at members.sabr.org and the Membership Handbook can be downloaded here.
Please give these new members a warm welcome and help them make the most of their membership by giving them the opportunity to get involved in their local chapter or a research committee.
You can find contact information for any SABR member in the online membership directory (SABR.org/directory).
| Name | Hometown | | | Name | Hometown |
| --- | --- | --- | --- | --- | --- |
| Jonas Altman-Kurosaki | Pittsburgh, PA | | | Brian Hirst | Pemberton, NJ |
| Greg Caliri | Bradford, MA | | | Jason L Iwen | Fort Wayne, IN |
| Gareth Christian | Pineville, NC | | | Don Maxwell | Grove City, OH |
| Devon DeRaad | Los Angeles, CA | | | Weston Morrow | Nashville, TN |
| Jeffrey Doruff | Elgin, IL | | | Jim Skelton | Carlsbad, CA |
| Keegan Garza | N. Bethesda, MD | | | Troy Stokes Sr. | Gwynn Oak, MD |
| Sam Gunther | New York, NY | | | Ron Yurko | Irwin, PA |
---
Here are the new SABR research committee updates this week:
Find all SABR research committee newsletters at SABR.org/research.
---
Here are the new regional chapter updates this week:
Visit SABR.org/chapters for more information on SABR regional chapters.
---
Here is a list of upcoming SABR events:
All SABR meetings and events are open to the public. Feel free to bring a baseball-loving friend … and make many new ones! Check out the SABR Events Calendar at SABR.org/events.
---
Here are some recent articles published by and about SABR members:
Read these articles and more at SABR.org/latest.
---
This Week in SABR is compiled by Jacob Pomrenke. If you would like us to include an upcoming event, article or any other information in "This Week in SABR," e-mail jpomrenke@sabr.org.
Have trouble reading this e-mail? Click here to view this week's newsletter on the web.
Are you receiving our e-mails? "This Week in SABR" goes out by e-mail to all members on Friday afternoons. If they're not showing up, try adding "sabr.notes@sabr.org" to your contact list to ensure they show up in your inbox (and not the spam folder.)
---
Originally published: September 16, 2016. Last Updated: April 3, 2020.
https://sabr.org/wp-content/uploads/2020/03/research-collection4_350x300.jpg
300
350
admin
/wp-content/uploads/2020/02/sabr_logo.png
admin
2016-09-16 15:00:00
2020-04-03 14:38:45
This Week in SABR: September 16, 2016