---
SABR Virtual Analytics Conference
March 11-14, 2021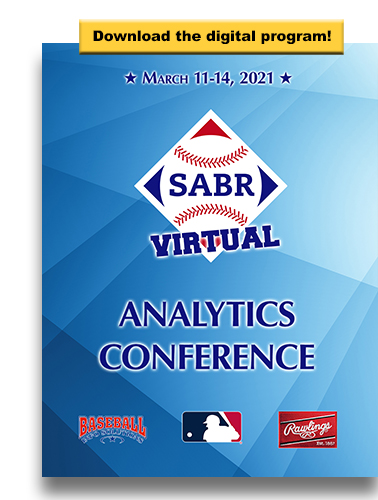 The SABR Virtual Analytics Conference, presented by Major League Baseball, Rawlings, and Sports Info Solutions, was held over four days in online sessions from March 11-14, 2021. We brought together the top minds in the baseball analytics community to discuss, debate, and share insightful ways to analyze and examine the great game of baseball.
The Virtual Analytics Conference schedule consisted of research presentations and guest speakers from throughout the baseball analytics community, career development sessions led by experienced sports professionals, and industry networking opportunities — all available online for any aspiring front office executive or baseball fan to attend from the comfort of home.
Students had opportunities for skill acquisition and development, including sessions on how to work with baseball-related data sets as well as databasing and SQL. Student registration included a one-year SABR membership ($25 value) and a complimentary Rapsodo certification course ($395 value).
We also presented the annual Diamond Dollars Virtual Case Competition, where undergraduate, graduate and professional school students from colleges and universities across the country compete against each other by preparing an analysis and presentation of a baseball operations decision — the type of decision a team's GM and their staff is faced with over the course of a season.
For more highlights and clips from the 2021 SABR Virtual Analytics Conference, click on a link below:
---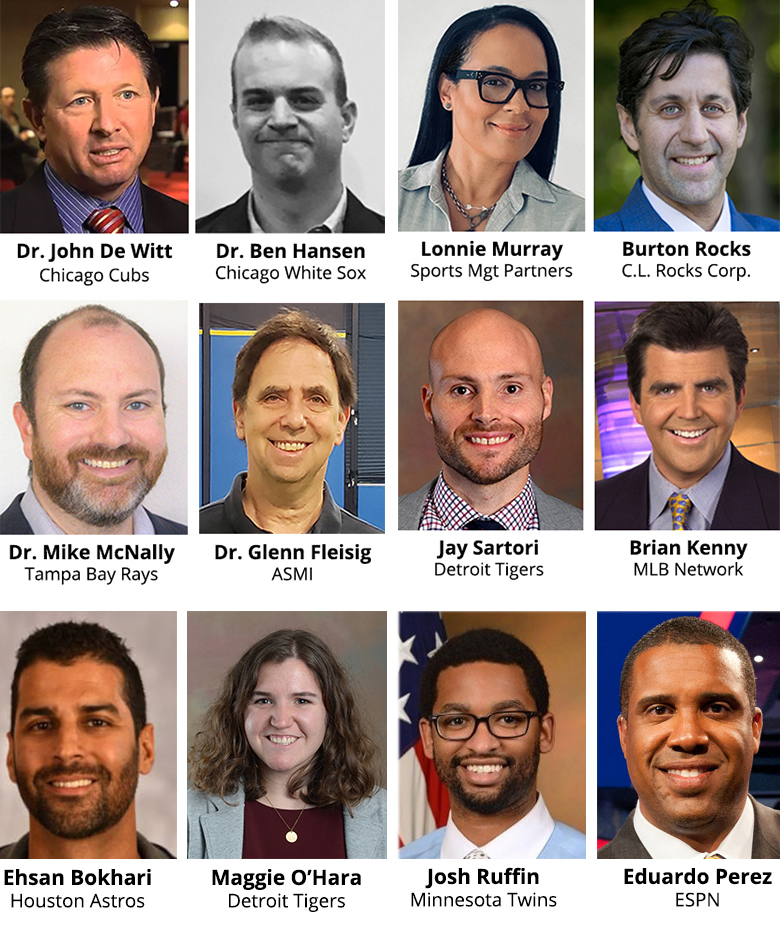 Our featured speakers at the 2021 SABR Virtual Analytics Conference included:
Dr. John De Witt, Senior Biomechanist with the Chicago Cubs
Dr. Glenn Fleisig, Research Director of the American Sports Medicine Institute
Dr. Ben Hansen, Senior Biomechanical Engineer with the Chicago White Sox
Brian Kenny, MLB Network host
Dr. Mike McNally, Biomechanist with the Tampa Bay Rays
Lonnie Murray, President and CEO of Sports Management Partners
Burton Rocks, founder of C.L. Rocks Corporation sports agency, author, social media entrepreneur, and sports attorney
Jay Sartori,

Senior Director of Baseball Analytics & Operations with the Detroit Tigers

Ehsan Bokhari, Senior Director of Player Evaluation, Houston Astros
Maggie O'Hara, Senior Analyst in Baseball Operations, Detroit Tigers
Josh Ruffin, Advanced Scouting Analyst, Minnesota Twins
Eduardo Perez, ESPN analyst and former major-league infielder for 13 seasons
SABR has a long and storied history with baseball statistical analysis, evidenced by the link between our name and sabermetrics. SABR's long history in this area of baseball research, coupled with our mission of advancing the understanding and knowledge of baseball, makes us the perfect choice to coordinate and host this groundbreaking event.