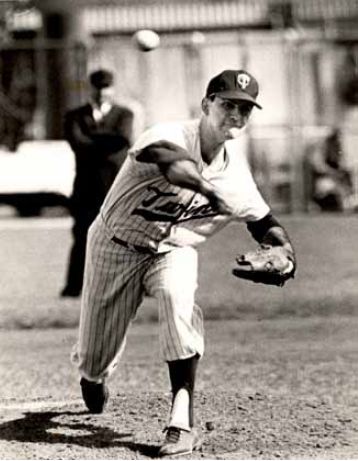 ---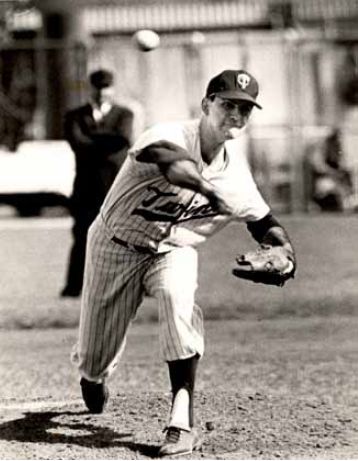 "First in war, first in peace, and last in the American League"1 — Charles Dryden's memorable line was certainly one of the most fitting epigrams ever penned to capture just about any inept big-league baseball team from just about any epoch. Authors Brendan C. Boyd and Fred C. Harris went one hilarious step further when they chose to describe rail-thin Washington infielder Wayne Terwilliger as "the perfect utility man … he played with some of the worst Washington Senator teams of the early fifties, teams consisting of entire rosters of utility men."2 Of course the Boyd and Harris portrait (like the famed "first in peace" aphorism) was a shade over the top, a bit unfair, and chock full of delicious hyperbole. Yet the Washington Senators outfit of the post-World War II era was indeed one of the most lamentable also-ran ballclubs in the sport's long history. The midcentury lackluster "Nats" of penurious owner Clark Griffith indeed perfectly fit the bill of loveable losers and altogether forgettable tail-enders from baseball's reputed "Golden Era."
The team Griffith assembled on a self-imposed shoestring budget during the decade immediately following the war was one that lent itself to such limiting stereotypes, never climbing out of the junior circuit second division between 1947 and 1960, peaking with four fifth-place finishes over that stretch, losing more than 90 games on nine occasions, and only once (1952) finishing fewer than 20 games off the winning pace. The '50s-era Washington club seemingly drew attention for only a single day each year with its traditional role of hosting the American League season opener complete with the presidential first-ball tossing.
And no stereotype belittling the franchise was more exact and defining than the one involving the lengthy roster of Cuban recruits compiled through the scouting efforts of Papa Joe Cambria.3 Most were merely cup-of-coffee fill-ins who didn't hang around very long; Oliverio Ortiz, Moín García, Angel Fleitas, and Armando Roche are four examples from the late 1940s who all lasted but part of a single season and none of whom appeared in more than 15 games. A few were curiosities like ancient rookie hurler Conrad Marrero (39 when he broke in in 1950) who was talented enough to make the 1951 American League All-Star squad and twice won in double figures. And a few more were destined to eventually blossom as league mainstays if not league stars once they shed their Washington uniforms and found more supportive surroundings. The latter group featured Camilo Pascual and Pedro Ramos, a pair of ill-starred hurlers who were among the best ever produced by their baseball-crazed homeland and yet were destined to ring up records for futility throughout their early American League years under Griffith's club ownership.
The Washington ball club of the '50s wasn't exactly a true train wreck despite its string of basement finishes and overload of colorless diamond personalities. At least by decade's end Griffith had assembled a handful of solid, capable big-leaguers. Outfielders Jim Lemon (who twice topped 30 homers, in 1959 and 1960, and led the league in triples in 1956) and Bob Allison (30 home runs and a league-best nine three-baggers in 1959) made some noise in the slugging department, even if they didn't contribute much to pennant races.
And two players in particular stood among the most coveted by other owners around both leagues. It was widely reported in December 1959 that Cincinnati GM Gabe Paul had offered Griffith the then-startling sum of $1 million in cash ($500,000 each) for promising slugger Harmon Killebrew (league home-run pacesetter in his just-completed official rookie campaign) and crafty right-hander Camilo Pascual (fresh off his first season of double figures in the victory column). According to one source, Paul unequivocally stated that he viewed Pascual as the best pitcher in the majors, even if the then 25-year-old had posted but one winning mark in his half-dozen big-league campaigns.4 But Griffith apparently wasn't cash-conscious enough to risk gutting his slowly improving franchise (whose brightening prospects would be confirmed by a jump in the standings from eighth to fifth the following summer) by accepting such a major financial windfall.
By the end of a barren 1950s decade that had produced only two non-losing seasons, Pascual was the best of the crew still residing in Griffith's camp, although that fact didn't become clear exactly overnight. From his rookie season of 1954 onward, Pascual was recognized around the junior circuit as a considerable natural talent who possessed one of the most devastating curveballs ever seen on the professional diamond. By only his third season (as a 22-year-old) he had worked his way into the starting rotation alongside Chuck Stobbs (15-15), Dean Stone (5-7) and Bob Wiesler (3-12). But the understaffed Senators (losers of 99 games) offered little support and Pascual, the team's only right-handed starter, had little to show for his efforts beyond a league second-worst total of 18 losses.
Early on (before 1959), fellow Cuban Pedro Ramos seemed to have the upper hand and offer the greatest promise, winning in double figures on four occasions and outstripping Pascual in the victory column by a wide margin (between 1955 and 1958 Ramos went 43-55, Pascual (24-59). But the long haul would favor Pascual with his tricky curves, more than Ramos with his blazing heater. Ramos would enjoy a short dance with glory a decade later when he donned a Yankees jersey. But it was Pascual who would eventually blossom in new surroundings away from the nation's capital into one of the most dominant hurlers in the junior circuit.
Resituated in Minneapolis in 1961 as one of the biggest beneficiaries of big-league baseball's first major flirtation with coast-to-coast expansion, Camilo Pascual would miraculously transition from one of the league's biggest losers to one of its proudest and most proficient winners. Of course, this all had very much to do with the slowly developing talent on Griffith's roster and not merely with the change in venue from the East Coast to America's northern frontier. But once in Minnesota and surrounded by an upgraded supporting cast — including not only rapidly improving sluggers Killebrew and Allison but also a pair of additional talented Cuban imports named Tony Oliva and Zoilo Versalles — Pascual would enjoy an all-too-brief but not unsubstantial career peak that, had it only started a bit earlier, might have landed him at the doors of Cooperstown.
Pascual's six years on the hill in Minnesota would elevate his victory total substantially, as he won 88 games over that stretch (measured against the seven initial Washington campaigns (where he claimed 57 victories but lost 84). He twice led the league in complete games and twice in shutouts (compared with once each in the nation's capital). He posted a winning record every year he labored for the transplanted Twins with the single exception of his first summer (when he fell a game shy at 15-16), and he twice reached the coveted 20-win mark (1962, 1963). And for four years running he also topped the milepost plateau of 200 strikeouts, reigning for the first three summers as the league leader in that category.  
It all makes a casual observer puzzle over what might have transpired if Camilo Pascual hadn't been forced to labor with such lamentable also-ran ball clubs during his first half-dozen major-league campaigns. The Cuban curveball specialist doesn't stand alone in that department, of course. One also ponders what his contemporary Ned Garver might have accomplished in a Yankees jersey during the century's middle decade; stuck for almost five seasons in St. Louis with the faltering Browns, Garver accomplished the miraculous feat of posting 20 wins on a 1951 team that itself won only 52. Or what accolades might have attached to Virgil "Fire" Trucks had he labored in Cleveland or Chicago at career's height instead of in Detroit, where in 1952 (with a 50-game-winning basement dweller) he won but five and yet tossed two no-hit gems. But Pascual — even with company in this department — can easily stand as the number one poster boy for the archetype of the ill-starred ace saddled with nearly worthless supporting casts.
Yet to measure Pascual's schizophrenic career by only those years in Washington across the latter half of the 1950s and Minneapolis in the first segment of the 1960s is also to miss the full arc of a lengthy and much-accomplished baseball life. After the handful of highlight years falling between 1962 and 1966 there would unfold five more less notable campaigns as a slow-fading journeyman who collected an American League pennant ring for his efforts, made a nostalgic return trip to an expansion club back in Washington where his career had started, enjoyed two short layovers in the National League (where he never collected a single victory), and finally culminated with a final "tip of the cap" in Cleveland. More significant still was the lengthy winter-league career back on his home island of Cuba that stretched out for nearly a full decade. And once he hung up his spikes as an active player, Pascual would hang on to the game that was his very lifeblood for another half-century, serving as pitching coach under Gene Mauch for a few years back in Minnesota before laboring as a highly successful international scout almost until he turned 80.
The future ace big-league pitcher was born in the city of Havana on January 20, 1934, the middle of three children (including an older brother and younger sister) of Camilo Pascual Lopez and Maria Lus. As with several other past and future Cuban-born big leaguers (from Marsans at one end of the twentieth century to Palmeiro at the other), his family name would reveal a Spanish Galician heritage. Baseball was a central passion for the senior Camilo, who regularly took his two sons to La Tropical Stadium to watch games of his favorite Almendares Alacranes and also encouraged their early sandlot play in the capital city's San Miguel del Padrón neighborhood where they were raised. Both youngsters displayed considerable talent when it came to tossing a baseball and the older brother, Carlos, would also eventually make it to the big leagues for a short cup of coffee with the Senators.5
One curiosity early attached to the ballplaying siblings was the odd nicknames they carried along with them to North America and their early professional baseball days in Washington. Numerous standard baseball references would for years refer to them as "Potato" and "Little Potato" and the online source Baseball-Reference.com still repeats this error. The colorful labels (originating from a slang Cuban term loosely equivalent to "Shorty") in fact had a quite different meaning in Havana and the error is the result of a sloppy translation of the Spanish.6
Camilo began his destined baseball career as a teenager with the Club Ferroviario ("Railway Workers") amateur-league club playing in the Havana neighborhood of Lawton. He debuted in the professional Cuban winter league as an 18-year-old with the Marianao team during the 1952-53 winter season and impressed in limited duty, pitching 15 innings of relief in 10 games and winning his only decision. But he was promptly traded to the Cienfuegos Elephants by club owner Alfredo Pequeño at the outset of the following campaign in an exchange that would generate some interesting future press. Journalist Angel Torres would later opine that it was a "ridiculous" exchange of a promising prospect for a handful of bats, while historian Roberto González Echevarría (a youngster in Havana at the time who recalled watching hitters flail hopelessly at the rookie's biting curve) would label the deal "the biggest gaffe of the season."7  The folly of the trade might have also been signaled by the fact that the young right-hander had already posted a solid 18-12 ledger over the previous two summers in combined duty with the Tampa Smokers and Havana Cubans of the Class B Florida International League. The bottom line, however, was that the fateful exchange altered league history throughout much of the following decade as Pascual would quickly emerge as the Cienfuegos ace and would lead the club to a trio of championships in coming winters (1956, 1960, 1961). It was on the Cienfuegos roster of the mid- and late-'50s that Camilo also teamed with Washington big-league teammate Pedro Ramos to form one of the most dominant pitching duos of the final years in professional Cuban League history.
Pascual's half-dozen full seasons with Cienfuegos led to a number of distinctions in the Cuban league record books. He eventually ranked fifth all-time in winning percentage (58-32, .644) in a circuit that lasted in various forms for more than eight decades. His best season was arguably 1956-57 (15-5, 16 complete games), although he also precisely matched that year's ledger four campaigns later (1959-60). A year preceding his initial 15-win season, he was crowned the league MVP with a 12-5 mark and twice he paced the circuit in strikeouts (1959, 1960), in victories (1957, 1960), in winning percentage (also 1957, 1960), and in complete games (the same two seasons). Only Ramos (66-45 over the same stretch and also a two-time league pacesetter in victories, winning percentage, and strikeouts) could rival Pascual when it came to being the most dominant pitching ace of the league's final dozen seasons.
Pascual and Ramos teamed to lead the Elephants to a runaway league title in 1955-56, the first for the team in a decade and only the second in club history. The latter paced the league in victories (13) but the former (with his 12 victories and minuscule 1.91 ERA) earned the MVP plaudits. Between them the two aces walked off with 25 of the club's 40 wins and combined with Sandalio Consuegra to provide manager Oscar Rodríguez with the league's only trio of native-born big-league hurlers. The uptick in the ballclub's fortunes that year had resulted largely from the return of Pascual, who had been held out of winter action a year earlier by the Senators on the heels of his rookie big-league campaign, and the sudden surge by Ramos, who was previously winless in only three league starts.8 The following winter brought more of the same with Camilo sweeping individual pitching honors in seven major categories (including wins, won-lost percentage, strikeouts, and shutouts). But Ramos (8-6) slumped off the pace and the defending champs lost out to Marianao (fronted by its own pair of big-league aces in Cuban Mike Fornieles and American Jim Bunning) in the down-to-the-wire pennant race.
Cuba lost one of its true baseball icons between the 1956-57 and 1957-58 winter seasons with the death of legendary pitcher and manager Adolfo Luque, Cuba's most successful big-league hurler before the arrival of Pascual. It had been Luque — briefly his manager during his initial league season with Marianao — whom Camilo would years later credit for developing his marvelous curveball. Luque remained Pascual's manager for only a few months before being fired by the Marianao club in midstream 1953-54 during a dispute over an American pitcher (Red Barrett) whom the volatile skipper wished to release. But if Luque's career influence as Pascual's mentor was altogether brief it was nonetheless highly significant.9
The grandest "offseason" baseball stage for Camilo Pascual would turn out to be the annual Caribbean Series, launched in 1949 in Havana and traditionally matching the winners of the four wintertime Caribbean Basin circuits. It was an annual affair that Cuban League teams would initially dominate with seven victories across a dozen-year first stage brought to a close by the Castro revolutionary takeover. Camilo appeared on three occasions, twice (1956, 1960) with his own Cienfuegos club and once (1959) as a reinforcement selection with the league champion Almendares team. On all three occasions he claimed victory in both his pitching appearances, tossing five complete games and yielding only 11 earned runs over 52-plus innings. The perfect record in six outings stands to this day as a Caribbean Series record while Pascual's victory total of six has been matched only twice (by Puerto Rico's Rubén Gómez and Venezeula's José "Carracho" Bracho) in the half-century that has followed.10
More than a full year before Camilo made his late-autumn 1952 debut in the Cuban winter circuit, he had already pocketed experience during the summer of 1951 as a 17-year-old minor-league free agent toiling with the Class D Chickasha (Oklahoma) Chicks of the Sooner State League. He also appeared that same year with an additional pair of Class C teams in the Longhorn League and the Border League in New York State and in the process managed to capture five games (and lose four) before summer's end. It was something of a rare irony that Camilo would first pitch professionally outside his homeland before getting his initial crack at domestic league play. He had been inked that previous spring of 1951 to an initial contract by legendary Senators Havana-based bird dog Papa Joe Cambria along with a host of other raw countrymen who would make up a good portion of the 1951 Border League Geneva Robins roster.11 Despite Pascual's moderate stats that first summer, Cambria re-signed him to an amateur free agent contract for Washington in the spring of 1952. The Senators assigned him to the Tampa Smokers and later the Havana Cubans in the Class B Florida International League. Over the course of that split-team 1952 campaign he appeared in 24 games (10 complete-game affairs), logged more than 100 innings, and claimed eight victories. A summer later (his third as a pro) at the ripe age of 20 he worked full time with the Havana Cubans, logging a team second-best 10 victories while his brother Carlos was the club's biggest loser (12).
Pascual quickly made the parent club's roster in spring 1954 and would debut as a largely untested big leaguer on April 15. The initial outing consisted of three innings of mop-up relief at Fenway Park during a 6-1 Washington loss to Boston in the season's third game.12 Two initial American League campaigns with understaffed second-division clubs under managers Bucky Harris and Chuck Dressen didn't involve many boasting points — 6 victories, 19 losses, and an ERA over 6.00 in his 12-loss sophomore campaign. By his third season the rapidly improving Cuban was posting impressive strikeout numbers (162, the club's best by a wide margin and the second best league mark per nine innings behind Cleveland's Herb Score) and also drastically improving his walk-to-strikeout ratio which had been a rookie-year Achilles' heel. But the losses continued to mount — mostly a reflection of lack of offensive support on a league tail-ender — peaking with 18 in 1956 and then 17 a year later. The breakthrough finally came in 1959, the next to last Washington season, when a first-ever winning ledger (17-10) put him among the league's top five in victories despite still laboring for the circuit's most consistent loser. Pascual would later remark that the 1959 campaign was, in his own mind, the best he ever enjoyed in the big leagues.13
A peak career moment in Washington came on Opening Day (April 18) of the 1960 American League season, a 10-1 drubbing of Boston that witnessed the Cuban ace eclipse a pair of long-standing strikeout records. What was fated to be the very last Opening Day in the nation's capital for the original Washington franchise also turned out to be one of the most noteworthy as Pascual mowed down 15 Red Sox batters, surpassing both the single-game franchise mark (14 by Walter Johnson in 1910) and also the league record for an inaugural game. Only months after Griffith had turned down the $500,000 offered tendered by Cincinnati for his top hurler, Pascual validated his owner's decision with arguably the single best outing of his blossoming career. And the performance came on the heels of workmanlike efforts during the previous summer and winter league seasons which saw the Cuban log a remarkable combined 12-month workload of over 400 total innings pitched. The Opening Day record still stood more than a half-century later despite two close challenges (14 Ks twice) by Randy Johnson.
It was the final two Washington campaigns that launched Pascual's five-year peak, a stretch in which he won at a .612 (85-54) clip and laid claim to his ranking among the league's two or three best. He racked up top numbers each year in complete games (a league leader three times) and strikeouts (also a trio of league bests), plus shutouts (again a league pacesetter on three occasions). It can perhaps be argued on numbers alone that his best effort came in 1962 — a 20-11 final mark and the top spot in the league in all three of the above categories. Only Ralph Terry of the world champion Yankees won more that year and Camilo shared the shutout lead (at five) with teammate Jim Kaat and Cleveland's Dick Donovan. Behind Pascual and Kaat (18-14), the transplanted Twins raced home as second-place finishers — five games off the Yankees' pennant-winning pace — the highest franchise finish in 17 years. Camilo was also named to four consecutive All-Star Game rosters over that same stretch, actually appearing in the midsummer classic twice.14
One of the great ironies of Pascual's career would be the overlapping joys and disappointments of the 1965 American League championship season. The previous year had been frustrating enough as the club slipped from third to sixth in the standings and a shoddy supporting cast likely cost the Twins ace a third consecutive 20-win season. Falling five wins short of the coveted 20-win circle, Camilo allowed under three earned runs on 15 different occasions, but a shoddy defense and weak offensive support meant that he would lose five of those stellar outings. But the course was radically reversed a year later as the Twins finally reached paydirt, rolled to 102 victories, and walked off with a runaway league championship. Pascual himself began the year strong enough at 8-2 (winning his first eight decisions). But then the worst dry spell of his career set in during June and July and during the nearly three-month-long winless streak the struggling Cuban had to abandon the hill early on several occasions due to shoulder tightness. He made only nine largely unsuccessful starts during the season's second half and was temporarily shut down in early August for minor surgery to correct a painful torn shoulder muscle. Miraculously, Pascual would recover in time for the stretch run and the pennant celebrations, but the bulk of the championship load had been carried by newcomer Jim "Mudcat" Grant (21-7), Jim Kaat (18-11), and Jim Perry (12-7). And to add to the disappointments spliced between the highs of a stellar team performance, Pascual lost his lone World Series appearance. Starting Game Three at Dodger Stadium, he struggled with a suddenly ineffective curveball and went down to an inglorious 4-0 defeat, allowing three tallies and departing after five innings.
A year later the arm problems continued to plague the fading star. Relegated to the number two starting role behind Grant, he again started well in 1966 with six wins in his first seven outings before the shoulder soreness and a resulting extended slump again threatened to sabotage his summer. He appeared in only 21 games and logged only 103 innings during a second straight frustrating campaign as the ballclub as a whole also slid off the previous year's torrid pace. By July 7 Camilo was back on the disabled list after developing elbow tendinitis during a June 28 outing that turned out to be his final victory of the year. Returning to the active roster  before year's end he saw mostly limited bullpen duty and quietly seethed over what he perceived as manager Sam Mele's loss of faith in his abilities. It was the beginning of the end, at least in Minnesota, and in December Pascual — now a liability with only eight wins and only 103 innings of work the entire year — was traded away along with failed prospect Bernie Allen to the new version of the Washington Senators for 35-year-old relief specialist Ron Kline.
There was a brief renaissance of sorts over the next couple of campaigns as Camilo's trusty arm seemed to heal enough for the then only 33-year-old former ace to lead the new-version Senators in wins (while finishing second in strikeouts and innings pitched) each of the next two summers. Of course the numbers were much more modest on a second-division ballclub — 12 wins in 1967 and 13 a year later. The clock was clearly ticking and to make matters worse, the second-edition Senators teams he labored for under managers Gil Hodges and Jim Lemon were near reprises of the mediocre Washington teams he had been saddled with a decade earlier. On April 7, 1969, Camilo made his fifth and final Opening Day start and departed early as an 8-4 loser to the Yankees. Over the season's first three months, he managed to eke out only a pair of victories and after 13 starts his ERA was only a shade below 7.00. The disastrous 1969 start brought a quick trade to Cincinnati in the Senior Circuit where the rapid slide continued with only five appearances and a single start and an ERA of 8.59 in the closing months of the campaign. Failing to make the Reds roster the following spring, he was peddled off to the Los Angeles Dodgers and fared no better there (10 relief outings without a decision). Another trial in Cleveland in 1971 proved conclusively that Pascual's career had run its course and after a meager 19 appearances that final summer, he was finally forced into retirement long before the campaign rolled to a close.
Away from the playing field the most personally satisfying moments for Camilo came more than five years apart in 1959 and in 1964. On the eve of the 1959 baseball season he married his longtime sweetheart Rachel Ferrero. The couple eventually had four children (sons Camilo III and Adalberto, and daughters Maria Isabela and Sandra), and as of 2015 the marriage had stretched well beyond 50 years. Added joy arose in August 1964 when — with the aid of Minnesota Senator Hubert Humphrey — arrangements were finally made for the exit of his parents and sister from Fidel Castro's Cuba. The trio of long-estranged family members traveled to Mexico City and then arrived in Minnesota barely in time for the birth of Camilo's fourth child, daughter Sandra. That same winter he purchased a house for his clan in Minneapolis before eventually relocating the entire entourage to Miami, where he and his wife still resided in 2015
By the time Camilo Pascual's career had finally wrapped up, his greatest legacy would remain his impressive strikeout totals rather than any numbers in the victory column. Heading into the 2015 big-league season, he still stood number 57 on the all-time list with 2,167 strikeouts — only a handful behind such Hall of Fame luminaries as Pete Alexander and Jim Palmer. At the time of his retirement he was lodged in the Top 20, and among those ahead of him only a few were not already enshrined in Cooperstown. But he also had ranked in the league's Top 10 on four separate occasions in the less laudatory categories of walks and home runs allowed, and at the end of the 2014 season he still ranked in or near the all-time Top 100 for both free passes (85th) and gopher balls (101st).
The Pascual family had been residing in the offseasons in Miami during his waning days with the original Senators in Washington, and it was to South Florida that Pascual relocated after his final release in early summer 1971 by the Cleveland Indians. But the retirement as such lasted only a half-dozen years and by 1978 he was back in uniform as the Twins pitching coach under fiery skipper Gene Mauch. It was a tenure that lasted merely three seasons as the Minnesota club struggled in the middle of the AL West Division pack. Pascual did tutor a few star pupils during the brief tenure including 20-game-winner Jerry Koosman, 30-saves closer Mike Marshall, and durable starters Dave Goltz and Geoff Zahn. After another hiatus from the game, lasting only a handful of months, Pascual signed on as an international scout, first with the Oakland Athletics and later with the Los Angeles Dodgers, where for a number of years he covered the amateur baseball scene in Venezuela. As of early 2014 Pascual was still actively working as a bird dog with the Los Angeles club although his previously extensive international travels had recently been significantly curtailed.
Pascual's scouting activities over the years (1982-1988 with Oakland and since 1989 with the Dodgers) have led to a number of noteworthy signings, the most significant being Cuban-born "bad boy" José Canseco, whom he inked in June 1982. Other noteworthy signings credited to Pascual (all with Los Angeles and all eventual big leaguers) include Puerto Rican infielder Alex Cora (1996), Venezuelan pitcher Omar Daal (1990), Venezuelan infielder Miguel Cairo (1990), and Venezuelan outfielder Franklin Gutiérrez (2000). Brother Carlos Pascual also served briefly as a professional scout with the Yankees, Orioles, and Mets and claimed one jackpot signing (1982) in the person of celebrated Mets hurler Dwight "Doc" Gooden.15
In July 2013 Pascual was still beating the scouting trail for the Dodgers in Omaha, Des Moines, and Durham as he tracked the Cuban national team during its "Friendly Series" with the USA Baseball College All-Stars. The Omaha layover was occasion for a lengthy conversation between the former hurler and this writer in which Camilo asked most of the questions. He was curious about my own experiences and discoveries in Cuba, where I have been traveling and covering the island's national pastime for nearly two decades. It was obvious that his native Havana still held a strong attraction for an estranged exile who had not set foot in his native country in more than a half-century. But like so many who had fled the changing political and social environment of their island home in the early 1960s, Camilo also spoke eloquently about precisely why he had never returned and in fact never would revisit his childhood home without the disappearance of Cuba's long-standing communist government.
Long overdue enshrinement in the Cuban Hall of Fame first loomed on the horizon in 1983 when Pascual was inducted alongside 1950s-era big-league contemporary Orestes Miñoso at a gala banquet ceremony staged in Miami and not in his native Havana. But this was something of tainted honor since the original Cuban shrine had been shut down with the 1961 demise of professional baseball on the island. A replacement had been reactivated on North American shores in 1962 by a Miami exile group known formally as The Federation of Professional Cuban Ballplayers in Exile and carried with it the heavy overtones of anti-Castro Miami politics. The new group had already inducted such lesser postwar-era island stars as Sandy Amoros (1978), Willie Miranda (1979), Zoilo Versalles (1980), Pedro Ramos and Tony Taylor (1981), and Tony Oliva and Cookie Rojas (1982). It was a point of pride of sorts, but it wasn't Cooperstown or even the now moribund original institution once lodged in pre-Castro Havana, and it was a recognition that went largely unrecognized anywhere outside of Miami's "Little Havana" neighborhood.16
Pascual's most recent highly active decades have been spiced with a handful of other prestigious honors as well as filled with endless road trips in search of elusive future big-league stars. In 1996 he was honored more significantly as an inaugural member (alongside Dominican big leaguer Rico Carty, Mexico's Héctor Espino, and American Blackball star Willard Brown) of a newly formed Caribbean Baseball Hall of Fame. In part that latter honor was renewed recognition of his still-standing record as the winningest hurler in Caribbean Series history. When a Latino Baseball Hall of Fame was established in the Dominican Republic in May 2010, the ex-Twin and ex-Senator was again an inaugural class honoree. And two years later (July 2012) he also became only the 24th former Minnesota Twin to be inducted into that big-league club's Hall of Fame.
In the end Pascual's baseball fate would be the exact polar opposite of former teammate and Havana winter league sidekick "Pistol Pete" Ramos. Both were launched on professional careers under quite similar circumstances and both suffered similar record-sapping handicaps during early playing years with the woeful 1950s-era Washington Senators. In the earliest going Ramos seemed to hold the upper hand and enjoy the greatest initial promise. But the switch to Minneapolis which paid such lofty career dividends for Pascual never quite panned out for Ramos, who was the club's biggest loser that first year in the Midwest (dropping a career-high 20 games) and was then promptly dumped off to Cleveland. Ramos would eventually be remembered for his failures (a double-figure loser his first eight big-league seasons) and his post-career debacles (which included a series of arrests and imprisonments). Pistol Pete's MLB career was also marked not by strikeout records but by the penchant for delivering gopher balls in record numbers and of record distances. His run-ins with the law and eventual emigration to Nicaragua would leave him a largely forgotten figure.
Pascual, in stark contrast, flourished in Minnesota as a star hurler and then in later decades as a model baseball citizen. As Roberto González Echevarría emphasizes, Camilo Pascual was the last player to star in both the Cuban winter league and also in the major leagues.17 His long scouting career kept him actively employed in the sport for four additional decades. Few half-century-tenured scouting legends also played the game quite so well in their own youth, or left quite so indelible a mark in the game's record books.
Few men have enjoyed a longer and more fruitful connection with America's national pastime than has Cuban-born Camilo Pascual. Among his island countrymen, only four (Tiant, Luque, Cuéllar, and Liván Hernández) have won more big-league games. No Cuban hurler (with the two possible exceptions of Conrad Marrero and Orlando Hernández) enjoyed a more successful domestic baseball career back on his native Caribbean island. That fact was formally recognized in November of 2014 when the 80-year-old Pascual was selected as one of 10 initial inductees into the newly resurrected Cuban Baseball Hall of Fame in Havana.18 If Pascual had long ago chosen to turn his back on his homeland, he was nonetheless never quite forgotten nor ever unappreciated in the baseball-crazy island nation that has itself so long lived outside the realms of Major League Baseball.
Sources
Bealle, Morris A. The Washington Senators: The Story of an Incurable Fandom (Washington, D.C.: Columbia Publishing Company, 1947).
Bjarkman, Peter C. A History of Cuban Baseball, 1864-2006 (Jefferson, North Carolina: McFarland & Company Publishers, 2007).
Bjarkman, Peter C. Diamonds Around the Globe: The Encyclopedia of International Baseball (Westport, Connecticut: Greenwood press, 2005).
Boyd, Brendan C., and Fred C. Harris. The Great American Baseball Card Flipping, Trading and Bubble Gum Book (Boston: Little, Brown and Company, 1973).
Figueredo, Jorge S. Who's Who in Cuban Baseball, 1878-1961 (Jefferson, North Carolina: McFarland & Company Publishers, 2003).
Figueredo, Jorge S. Cuban Baseball, A Statistical History, 1878-1961 (Jefferson, North Carolina: McFarland & Company Publishers, 2003).
Figueredo, Jorge S. Béisbol Cubano: Un Paso de las Grandes Ligas, 1878-1961 (Jefferson, North Carolina: McFarland & Company Publishers, 2005).
González Echevarría, Roberto. The Pride of Havana: A History of Cuban Baseball (New York: Oxford University Press, 1999).
Hernandez, Lou. Baseball's Great Hispanic Pitchers: Seventeen Aces from the Major, Negro and Latin American Leagues (Jefferson, North Carolina: McFarland & Company Publishers, 2014).
Rucker, Mark, and Peter C. Bjarkman. Smoke: The Romance and Lore of Cuban Baseball (New York: Total Sports Illustrated, 1999).
Torres, Angel. Tres Siglos del Béisbol Cubano, 1878-2006 (Miami: Review Printers [self-published], 1996).
Torres, Angel. La Leyenda del Béisbol Cubano, 1878-1997 (Pico Rivera, California: Best Litho Printers [self-published], 2005).
Walters, Charley. "Shooter Now: Camilo Pascual's Road to Minnesota Twins Hall Filled With Curves," online at twinscities.com (July 10, 2012).
Notes
1 One of the most celebrated scribes of baseball history, Charles Dryden (1860-1931) was the fourth man selected for Cooperstown by the Baseball Writers Association of America and is reputed to have originated such standard baseball terms as "pinch hit," "ball yard," and "old horsehide." He is credited by numerous sources as providing the popular labels for some of the sport's most colorful figures of the first half of the twentieth century: e.g.,  Charles "The Old Roman" Comiskey, Frank "the Peerless Leader" Chance, Fred "Bonehead" Merkle, and the "Hitless Wonders" 1906 Chicago White Sox. His infamous label for the Washington American League franchise was penned on the occasion of the team posting a 42-110 record (56 games off the championship pace set by Detroit) during the 1909 American League pennant chase. The disdainful sobriquet was therefore nearly a half-century old before it was widely reattached to the Washington club during its last decade of its residence in the nation's capital. Clark Griffith did not take ownership of the franchise until a decade (1920) after Dryden's playful slur.
2 Terwilliger is the very first player profiled by Boyd and Harris in their classic and delightfully humorous portrait of baseball cards and baseball culture of the mid-twentieth century decades. Players from the inept Senators of those decades were a frequent target for Boyd and Harris, to wit Cuban Carlos Paula ("Paula's ability to hit a baseball could never quite make up for his inability to catch it"), Clyde Kluttz ("there has never been, nor could there ever be, a major league ballplayer named Clyde Kluttz"), Herb Plews ("there was something almost heroic about the stupefying mediocrity of his play"), Hal Griggs ("Griggs was to pitching what Wayne Causey was to hitting. That is to say — nothing."), Dick Brodowski (who "should never, under any circumstance, be allowed out of the house without his mother"), and Clint Courtney ("who tried to make up for his playing deficiencies with generous doses of what the hard rock disciplinarians in the athletic realm like to refer to as 'leadership qualities'").
3 Of the 56 Cubans to put on big-league uniforms between Roberto Estalella in 1935 and Ossie Alvarez in 1958, 33 of them (almost all signed by Griffith's Havana-based superscout Papa Joe Cambria) debuted with the Washington club. Writing in 1947 in advance of the arrival of more talented imports like Marrero, Pascual, Ramos and Julio Bécquer, club historian Morris Bealle (The Washington Senators, 162-163) compared Washington's "Latin Era" to the Brooklyn Dodgers "Daffiness Era" of the 1930s and suggested that Cambria would serve his employer much better if he only "could get over his predilection for Cubanolas."
4 Shirley Povich, "Reds' Million Offer for Pair Nixed by Nats," The Sporting News, December 23, 1959.
5 Older brother Carlos was born three years earlier (March 13, 1931) and debuted as a pitcher with the same Washington Senators on September 24, 1950. Also signed by Cambria, Carlos also possessed apparent talent and apparently threw harder than his younger sibling before slowed by an arm injury (this being related to Robert González Echevarría — The Pride of Havana, 320 — by Camilo himself. But the pint-sized Carlos only enjoyed the proverbial big-league "cup of coffee" while appearing in a mere two starts (1-1) during his one-month big-league tenure. Carlos pitched seven seasons in the Cuban winter league (mostly with the Havana team), amassed a respectable career 14-5 ledger, and appeared twice in the Caribbean Series, where he won one of three decisions in 1953. He died in Miami  on May 12, 2011, at the age of 80.
6 The colloquial nickname "patato" (Shorty or Runt) was attached to Carlos apparently because of his diminutive stature (5-feet-6 by the time he reached the majors). Thus his more renowned brother would pick up the handle "Patato Pequeño" not so much as an indication of physical stature (he was 5-feet-11 as a big leaguer) but as indication of his junior status. As with so many such linguistics distortions involving Latino ballplayers of the era (e.g., Clemente labeled as Bob instead of Roberto) Americans misheard the name, failed to grasp its colloquial content, and began calling Carlos "Potato" and Camilo "Little Potato."
7 Torres, La Leyenda del Béisbol Cubano, 182; González Echevarría, The Pride of Havana, 320. Pascual immediately moved into the starting rotation for second-place Cienfuegos under American manager Al Campanis, winning four, losing five, hurling four complete games, and posting a club-best 1.95 ERA (second best in the league).
8 Three other Cubans were denied permission to play winter-league games by their big-league owners and the move proved highly unpopular and controversial in Havana, where attendance had recently waned for games at Gran Stadium. The others held out of play (all by the Chicago White Sox) were Orestes "Minnie" Miñoso, Miguel "Mike" Fornieles, and Sandalio "Sandy" Consuegra (who had just posted the American League's best winning percentage). The Senators also attempted to bar Pascual from winter-league action in 1957-58 (citing the need to rest a sore arm) but since the MLB regulation allowing such actions had expired, Commissioner Ford Frick ruled against Washington's effort and cleared the player for the Cienfuegos roster. But after only three games Pascual decided himself to remain on the sidelines, attributing his actions to a weakened physical condition and high blood pressure. Details are reported by Lou Hernandez in Baseball's Great Hispanic Pitchers, 87.
9 The Pride of Havana, 320, 329. A reputedly great teacher and mentor (as well as highly skilled pitcher and manager), Luque is also credited with having taught Sal "The Barber" Maglie how to "shave" hitters with his devastating knockdown pitchers during their time together in the Mexican League (where Luque managed the Puebla club in 1946 and 1947), Cuba (where Luque managed Maglie with Cienfuegos in 1945-46), and the New York Giants (where Luque was Maglie's pitching coach in 1945). In a 2012 interview with twincities.com columnist Charley Walters, Pascual would explain how Luque early on convinced him to abandon his practice of side-arm deliveries and throw "straight over the top" to get full value out of his natural curve. Camilo also admitted in that interview that he suffered control problems with the new delivery initially but eventually so thoroughly mastered the art of "a fast curve with a sharp break" that he had sufficient confidence to throw it with any ball-and-strike count (cf. "Shooter Now: Camilo Pascual's Road to Minnesota Twins Hall Filled with Curves.")  
10 cf. Diamonds Around the Globe, Chapter 11 (for full Caribbean Series details) and pages 520-521 (for Pascual's Caribbean Series record summary).
11 Of a dozen Cubans on the 1951 Geneva roster (baseballreference.com/minors/team.cgi?id=59caa2b5) Pascual was the only one to eventually make it to the major leagues. Stressing the Geneva-Cuba pipeline connection, a Class D club in that city playing under the name of the Geneva Redlegs in the New York-Penn League and affiliated with the Cincinnati Reds would boast a lineup in 1960 featuring rookie-league prospects Pete Rose and Cuban Tony (Tany) Perez playing alongside the son (Martin Jr.) of Cuban Negro league legend and Cooperstown Hall of Famer Martin Dihigo.
12 Pascual was the 58th Cuban native to debut in the big leagues and one of only two (along with Washington's Carlos Paula) to break into the big time in 1954.
13 Personal conversation with the author at Werner Park (Omaha, Nebraska) on July 19, 2013.
14 The major leagues staged two separate All-Star Games during the four-year 1959-1962 stretch and Pascual was named to American League rosters in 1959 (second game), 1960 (both), 1961 (second), and 1962 (both). He was also tabbed again in 1964. His first appearance came on July 31, 1961, in Fenway Park when he hurled the final three hitless innings of a 1-1 deadlock; he suffered the loss in the opening 1962 game at Washington, surrendering four hits and two runs over the middle three frames. In 1964 at Shea Stadium, he worked two additional innings without a decision. When Pascual took the All-Star Game field in 1961 at Fenway Park, he became the fifth Cuban to do so, after Miñoso (eight previous appearances), Consuegra (1954), Tony Taylor (both games in 1960), and Fornieles (1961 first game).
15 Scouting records for Camilo and Carlos Pascual were provided by Rod Nelson of the SABR Scouts Committee.
16 The exile-community Hall of Fame reached its zenith in the mid-1980s and unveiled a small but impressive museum building known as "La Casa del Béisbol Cubano" in 1985. One of the group's central activities was the annual staging throughout most of the 1990s of a Miami-based Cuban "old-timers" game featuring many of the expatriate former Cuban winter league stars. The institution began to experience dwindling financial support that same decade as the original exile community aged and Miami anti-Castro politics began to somewhat erode. As early as the mid-1980s (beginning the year following Pascual induction) the institution began mass inductions of just about every player still living in South Florida (or with surviving family in Miami) with the barely concealed (and illegitimating) purpose of selling hundreds of banquet tickets and raising desperately needed cash. The result was 13 inductees in 1984, 11 in 1985, 12 in 1986, and (after a decade of dormancy) a whopping  60 in 1997 (about half of them not ballplayers but club executives, radio announcers, sportswriters, and even team masseuses). By that time there was virtually no one left to induct and the institution suffered a quiet and barely noticed demise.
17 González Echevarría (The Pride of Havana, 358-59) makes the debatable but not indefensible claim that Pascual was actually better than Luis Tiant Jr., despite the fact that Tiant (often pitching for much better teams) won 55 more big-league games. But the claim of course covers only the pre-Castro "professional" winter league affiliated with Organized Baseball. More recently at least three pitchers were top stars in the contemporary Cuban circuit before defecting to the States and starting in the big leagues. That trio would include Orlando Hernández, Liván Hernández, and José Ariel Contreras; all three compiled significant victory totals despite their late arrivals in the majors and the Hernández half-brothers were both postseason MVP award winners.
18 After 54 years of dormancy, decades of debate over a proper location, and constant setbacks due to lack of financial resources, the Cuban Hall of Fame was formally re-established during a heavily publicized early November weekend convention of Cuban Federation baseball officials and 30-plus specially selected baseball journalists and historians (including this author as the only non-Cuban). The new institution will have a permanent museum location in Havana at the historic site of the original Vedado Tennis Club in what is now known as The Social Club José Antonia Echevarría. The special induction panel (chosen from among the colloquium participants) named 10 new inductees, five from the pre-1961 "professional" era (Estebán Bellán, Camilo Pascual, Orestes Miñoso, umpire Amado Maestri, Conrado Marrero) and five from the post-1961 "Revolutionary Baseball" era (Omar Linares, Luis Giraldo Casanova, Orestés Kindelán, Braudilio Vinent, Antonio Muñoz). This group was formally enshrined alongside the original 68 members at elaborate induction ceremonies held in conjunction with the Cuban League All-Star Game on December 28, 2014, in Granma Province.
Full Name
Camilo Alberto Pascual Lus
Born
January 20, 1934 at La Habana, La Habana (Cuba)
If you can help us improve this player's biography, contact us.
http://sabr.org/sites/default/files/CamiloPascual.JPG
600
800
admin
/wp-content/uploads/2020/02/sabr_logo.png
admin
2012-01-04 20:49:12
2021-08-22 06:02:40
Camilo Pascual