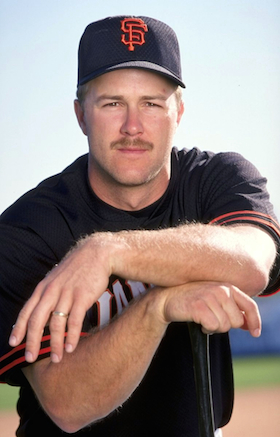 ---
Say the name Jeff Kent to a baseball fan and you'll get a variety of responses, ranging from aloof to egotistical to downright nasty. One of the most polarizing players of the last 30 years, Kent won the 2000 MVP Award but not many fans along the way. While some appreciated his competitive, old-school approach, most were turned off by his what had been described as an arrogant demeanor.
"It's not arrogant; it's confident," Kent once said. "Some people might interpret it that way, but that's OK. If I put up the numbers, bring home my paycheck to my wife to support my family, and help the team win, then that's fine. There are a lot of guys I hate in the big leagues, but I respect them. And that's what is important."1
What was first important to Jeffrey Franklin Kent growing up was not baseball, but motocross. Born March 7, 1968 in Bellflower, Calif., a suburb of Los Angeles, he grew up in Huntington Beach. Although his father, Alan, took Jeff and his two younger brothers, Eric and Adam, to Dodger games, "I never watched baseball on TV," he said. "It's slow and boring. I'm not a fan. Never was."2 Kent followed in the tire tracks of his father, a motorcycle cop, in motocross competitions across California. As Kent has recounted, his father was a demanding parent who had no time for foolishness and small talk.
"Being a perfectionist is an attribute," said Alan Kent. "I don't mind being labeled a perfectionist, and that's what I taught Jeff – do the job right the first time around."3
So the seeds of perfectionism were sown with Kent at a young age, whether motocross racing, surfing, or participating in Little League. By the time Kent graduated from Huntington Beach's Edison High School in 1986, that constant striving for perfection had established him as a powerful hitter as well as a dominating pitcher. But he was asked to leave the team during his senior season for what coach Ron LaRuffa called an "attitude problem." "It was a bad case of senioritis," said LaRuffa. "We just couldn't come to an agreement on what was expected of him and what he expected."4 With no opportunity for a baseball scholarship, Kent was accepted on academics by the University of California at Berkeley.
By the spring of Kent's freshman year, Cal's baseball coach, Bob Milano, offered him a spot on the team as a walk-on. Kent quickly picked up where he left off in high school, ending the season with a school-record 25 doubles. He earned a partial scholarship and helped Cal qualify for the College World Series in 1988, but the 1989 season was a disappointment and once again clashes with his coach caused tension in the clubhouse. Eligible for the major-league draft, Kent left the team and Cal when he was drafted in the 20th round, the 523rd overall pick, by the Toronto Blue Jays.
Kent began his professional career as a third baseman with the St. Catharines Blue Jays of the short season Class-A New York-Pennsylvania League. In 73 games, Kent batted .224 with a league-leading 13 home runs and a team-leading 37 RBIs.
For the Class-A Dunedin Blue Jays in 1990, Kent shone on both offense and defense. In 132 games at second base, he batted .277 with 124 hits, 60 RBIs, 16 home runs, and 17 stolen bases, and led the Florida State League in assists (404) and putouts (261).
Moving up to the Double-A Knoxville Blue Jays in 1991, Kent hit .256 in 139 games and led the team in runs (68), hits (114), RBIs (61), stolen bases (25), and walks (80). He also led both the team and the Southern League in doubles with 34.
Invited to Blue Jays' spring training in 1992, Kent impressed the club with his desire to learn from the veterans, his ability to play all four infield positions, and his big-swinging bat. He started the season with Toronto and in his major-league debut, on April 12, 1992, his first big-league at-bat was a double to left-center in SkyDome. By August he was starting almost every day at third base. Then, on August 27, Kent and Ryan Thompson were traded to the New York Mets for popular pitcher David Cone. Toronto, of course, won the Fall Classic later that season. "Cone helped them win the World Series," Kent has said. "I got a World Series ring, but I wasn't there for it."5
Kent did little to endear himself to the notoriously tough New York fans. On the field, he batted .239 for the last five weeks of the season. In the clubhouse, his teammates decided to haze the rookie by replacing his clothes with those of Mets broadcaster Lindsey Nelson. The Mets learned that day that the rookie didn't see the need to be hazed again, having already endured it in Toronto, and they were introduced to his no-nonsense approach to baseball and to life. They were eventually forced to return Kent's clothes to him when he refused to play along.
In 1993, no longer a rookie, Kent won the starting job at second base coming out of spring training. But he was soon benched after he (and most of the team) got off to a slow start. When manager Jeff Torborg was fired after only 38 games, new manager Dallas Green returned Kent to the starting lineup. He proceeded to bat .270 and set team records for home runs (21) and RBIs (80) by a second baseman. However, he also committed 18 errors, more than any other second baseman that year.
In 1994 Kent saved his job at second base by turning up the heat with his bat. He started the season hitting .315 with 8 home runs and 26 RBIs in April, and finished the strike-shortened season at .292/14/68 but still made 14 errors in 107 games.
When the players reported back to work in 1995, Kent's batting average for that year improved to .278 and his home runs to 20, while his error count decreased to 10 over 122 games – all for naught as the Mets suffered yet another sub-.500 season.
But Kent's time in New York was coming to an end. Shifted to third base for the 1996 season, he was batting a respectable .290 but had only 9 home runs and 39 RBIs at the end of July when he and Jose Vizcaino were traded to the Cleveland Indians for Carlos Baerga. Hitting poorly and replaced at second base by Vizcaino, Kent played only 39 games in Cleveland but did get to experience postseason play, when the Indians lost to the Baltimore Orioles in the American League Divisional Series.6
In November Kent, Vizcaino, Joe Roa, and Julian Tavarez were traded to the San Francisco Giants for yet another fan favorite, this time Matt Williams. But with five years' experience in "The Show," Kent was now a proven veteran, and Giants manager Dusty Baker treated him as such, ensuring that he was the team's starting second baseman and giving him the prime lineup spot after Barry Bonds.
Kent took advantage of his batting position to start the 1997 season. He notched 15 RBIs in the first two weeks of April and, despite leaving a Sunday doubleheader on a stretcher after spraining his neck on a "horrific" headfirst slide into third base, came to the plate the next day to hit a two-run, game-winning homer. More importantly to Kent, the Giants were in first place in the NL West for the first time in two years.
The Giants ended up winning the division, but they were swept in the NLDS by the eventual champion Florida Marlins. In 155 games, the most in his career to date, Kent produced career numbers in home runs (29), RBIs (121), runs (90), hits (145), and doubles (38), while batting .250. He also committed 16 errors, but now no one was talking about his defense.
By May of 1998 the Giants were talking about a three-year contract extension. Kent proved his worth through early June, batting .301 with 49 RBIs and leading the team to a 41-24 record. He returned from the disabled list to be voted NL Player of the Month for August, and the team was good enough to contend for the wild card, only to lose to the Chicago Cubs in a one-game playoff. Kent finished the year batting .297 with 31 home runs and 128 RBIs, while establishing new personal highs in hits (156), runs (94), on-base percentage (.359), and slugging (.555).
The Giants didn't make the postseason, but Kent made a difference by creating – in conjunction with the University of California at Berkeley athletics department – Women Driven, a program promoting the benefits of athletics and academics and providing scholarships for female athletes at Cal. Instrumental in establishing Women Driven were Kent's wife, Dana, an elementary-school teacher, and Lauren, their 2-year-old daughter. "You could say she was a major influence in our decision to focus in this area because I want her to have all the benefits of anyone else," Kent said.7 For every run Kent drove in that season, he donated $500 to Women Driven. Including the contributions of corporate sponsors, he raised almost $114,000 in 1998.
Kent tried to make a difference for the Giants in the 1999 season, as well. In May he became the first San Francisco player in eight years to hit for the cycle, going 5-for-5 with four RBIs. In July Kent was San Francisco's lone representative in the All-Star Game in Boston, his first appearance in the midsummer classic. But the Giants finished a distant second in the NL West to the Arizona Diamondbacks. Kent batted .290 for the 1999 season with 23 home runs and 101 RBIs, joining Barry Bonds, Willie McCovey, and Willie Mays as the only San Francisco players to get more than 100 RBIs for three years in a row. Though his numbers didn't quite reach 1998 levels, his performance in 1999 merely hinted at what he would accomplish in 2000.
The Giants began the season in the new Pacific Bell Park, eager to leave the swirling winds of Candlestick Park behind. Kent also left behind any doubts about his place on the team. At midseason he was voted as a starter in the All-Star Game, and by August had surpassed 100 RBIs, adding his name to the list of Giants – Bonds, Mays, Mel Ott, Bill Terry, Irish Meusel, and George "High Pockets" Kelly – to do so in four straight seasons.
San Francisco won the NL West crown, only to lose to the wild-card Mets in the NLDS. Kent had batted .375 in the playoffs and capped the season with career-high numbers. He batted .334, hit 33 homers, and batted in 125 runs, for a total of 475 RBIs over four years. This surpassed Rogers Hornsby's 75-year-old record for second basemen, and Kent was the only second baseman in 51 years to drive in 120 or more runs in one season, let alone three. He also reduced his error count that season to just 10.
Across the NL, Kent was fourth in RBIs (125), fifth in batting average (.334) and hits (196), sixth in on-base average (.424) and extra base hits (81), seventh in total bases (350) and triples (7), eighth in doubles (41) and runs (114), and 10th in slugging percentage (.596). Kent won the Silver Slugger Award and was voted the NL Most Valuable Player for 2000, receiving 22 of 32 first-place votes and a total of 392 points. He was the first second baseman to be named MVP since Ryne Sandberg in 1984, and just the eighth second baseman in either league to win, a list that includes Joe Morgan, Jackie Robinson, and Nellie Fox.
In the 2001 season, even though the reigning MVP again made the All-Star team, hit a career-high 49 doubles, and drove in more than 100 runs for the fifth straight season with 106 RBIs, he couldn't compete with the aftermath of 9/11 and, closer to home, Bonds' breaking of the single-season home-run record with 73. Kent's season average dipped to .298 and his home-run total to 22, though he did win his second consecutive Silver Slugger Award. The Giants finished two games out of first place in the NL West and watched the Arizona Diamondbacks go on to win the first World Series to be played in November.
The Giants began the 2002 season hoping to be the next ones representing the National League in the World Series, and were immediately faced with the "Wheeliegate" controversy. During spring training in Scottsdale, Kent reported to the facility in early March claiming to have broken his wrist by falling off his truck while washing it. Yet mounting eyewitness evidence indicated that the former motocross racer fell off a motorcycle while popping wheelies, a clear contract violation. Kent never admitted the true cause of the injury and the Giants did not enact any penalties against him, but he did start the season on the 15-day disabled list.
By June Kent was back in the starting lineup, now batting ahead of Bonds. In the dugout in San Diego, Bonds was seen shoving Kent in the chest. Despite any team tension, the Giants maintained their race for the NL West, and by August Kent was leading the NL in hits and ranked in the Top 10 in batting, home runs, RBIs, and runs. The Giants finished the season on a 25-8 run to win the wild card, then beat Atlanta in the NLDS and St. Louis in the NLCS. At last, Kent and the Giants would appear in the World Series, against the AL wild-card winner Anaheim Angels.
The Edison High School grad began his first World Series on Edison Field in Anaheim. Though Kent had had another outstanding individual year, batting .313 with 37 home runs and 108 RBIs (his sixth straight season of 100-plus runs batted in) and winning his third straight Silver Slugger Award, the Giants lost the World Series to the Angels in seven games.
The loss was tough on Kent. "I'd love to be a champion," he later said. "Any athlete wants to be the best. The only way you can do that is having your team pulling on the same side and win." Kent dealt with the loss by "just letting it go and moving on."8
And move on he did. Two days after the Series ended, Kent was granted free agency, and by the end of the year he would no longer be a Giant. With Craig Biggio agreeing to move from second base to the outfield, Kent joined the Killer B's and signed a two-year, $18.2 million deal with the Houston Astros. "I had my best years [as a Giant]," said Kent. But when manager Dusty Baker's contract was not renewed after the Giants lost the World Series, "it just wasn't the same," he said. "It probably was the biggest determining factor why I didn't come back."9
Kent's time in Houston began well; he batted .300 in April with 4 homers and 16 RBIs, though by June he was out for three weeks with a wrist injury. In early August, he was suspended for two games after a vigorous dispute of a check-swing call resulted in his being ejected.
By September the Astros weren't able to maintain their momentum in the NL Central and the Cubs won the division in the infamous Bartman year. The wild card was also out of reach and was captured by the eventual champion Florida Marlins.
Kent's numbers were solid but a decline from the year before; he finished 2003 with a .297 batting average, 22 home runs, and 93 RBIs, breaking his streak of consecutive 100-plus-RBI seasons. He hoped to start a new streak in 2004, and all signs pointed in that direction when the Astros signed free-agent pitcher Andy Pettitte, who persuaded Roger Clemens to sign as well.
Kent heated up in May, hitting .346 with 5 homers and 28 RBIs, and in July he joined teammates Lance Berkman and Clemens to represent the NL in the All-Star Game at home in Minute Maid Park. A few days later, Houston manager Jimy Williams was fired and was replaced by Phil Garner. Soon after, Kent was again suspended for three games for arguing a strike call with the umpire.
Upon his return, Kent was part of a triple play on August 19 against Philadelphia – Houston's first triple play in 13 years. On October 2 he hit his 288th home run, surpassing Ryne Sandberg as the career home-run leader for second basemen. Kent and the Astros finished the 2004 regular season as the NL wild-card winners.
Houston beat Atlanta three games to two in the NLDS, moving on to face the Cardinals in the NLCS in St. Louis. In Game Five, with the series tied 2-2 and the game tied 0-0 in the bottom of the ninth with two men on base, Kent came up to bat in a situation kids have been imagining for generations. And he delivered, hitting a three-run homer over the left-field fence at Minute Maid Park to bring the Astros within one win of the World Series. But back home in St. Louis, the Cardinals tied the series with a 12-inning win in Game Six, and in Game Seven the Cardinals rallied to win both the game and a place in the World Series.
Kent finished 2004 with a .289 batting average, 27 homers, and a team-leading 107 RBIs. But his veteran salary didn't make sense in Houston, and in December he signed with the Giants' archrivals, the Los Angeles Dodgers. The last ones to know were Kent's parents, whom he invited to the press conference but kept the reason why a surprise. "My mom and dad didn't know about this. … That's why I'm emotional," Kent said as he occasionally teared up. "More so, probably because … this might be my last turn … and I'm happy to be part of the organization. I grew up here, my dad taking me to Dodger games. … It's special for me."10
Kent began the season batting .407, and as the season progressed, a variety of team injuries required him to play some games at first base as well as second. August saw an escalation of a season-long feud between Kent and teammate Milton Bradley. When Kent accused Bradley of not hustling around the bases, voices were raised and Bradley knocked over a chair in the clubhouse. Chimed in former Giants manager Dusty Baker, "If that's what you need, it's what you need. … A real leader doesn't really need to let everybody know he's the leader. He needs to do it when he thinks it's right, and that's how Jeff is."11
But Kent wasn't able to lead the Dodgers to the playoffs that season, though individually he notched another All-Star Game appearance and his fourth Silver Slugger Award, and became the first second baseman to hit 300 home runs. He batted .289 with 29 homers and 105 RBIs.
The 2006 team hoped to be better positioned to win, bringing in Ned Colletti from San Francisco as general manager and replacing manager Jim Tracy with Grady Little. Kent was on and off the DL with a sore back and strained abdominal muscles that year. But by October the Dodgers had won their final seven games and nine of their last 10, tying the Padres at the top of the NL West. Given their record against San Diego, they won the wild card, only to get swept by the Mets in the NLDS. Kent batted a strong .292, but had only 14 home runs and 68 RBIs for the year. He was 38, and many questioned whether he would return for the 2007 season.
That question was answered when Kent showed up to spring training, having spent much of the offseason strengthening the oblique muscle that gave him trouble in 2006. The 39-year-old Kent batted .447 in July and reached base safely in 38 straight games, both league bests. He came back from a strained hamstring that sidelined him for a few games in August to try to lead the young team back to the playoffs, but they finished fourth in the NL West and manager Little resigned. Kent batted over .300 for the first time since 2002 (.302) with a team-best 20 home runs and 79 RBIs. He returned for the 2008 season as a 40-year-old with a new manager, Joe Torre.
As the season progressed, the Dodgers would continue to win, but it would have to be without Kent. Hampered by a bad back all season and then forced to undergo arthroscopic knee surgery, he was on the disabled list most of September and then was activated briefly as a pinch-hitter as the Dodgers won the NL West, only to be benched by Torre for the postseason. The Dodgers finished the season losing the NLCS to the Phillies, and Kent finished the year batting .280 with 12 home runs and 59 RBIs.
His official retirement announcement came on January 22, 2009, when his tightly bottled emotions finally came to the surface. With regard to the fans, he said, "I've learned to love and appreciate the fans, and I've learned to love and appreciate the Jeff Kent haters out there, too. I'm thankful for those people even more than the fans who gave me a hug every day, because those people motivate you."12
One motivation for his retirement was his desire to remain home in Austin, Texas, with his wife, Dana, and their children, Lauren, Hunter, Colton, and Kaeden, and pursue his interests in cattle ranching and motorsports. As of 2022, he was the proprietor of the Diamond K Ranch, south of San Antonio, three motorcycle dealerships along the Interstate 35 corridor in south central Texas, and Hill Country Indoor, a 150,000-square-foot family sports complex in the Austin area.
He established the Jeff Kent Women Driven Scholarship Endowment for the University of California at Berkeley, his alma mater, an extension of his Women Driven initiative. Women Driven eventually raised more than $600,000 for scholarships for female walk-on athletes at Cal. Kent's donation of $531,000, plus $100,000 in matching funds, created a fully endowed scholarship for one female student-athlete each year. He also donated $100,000 to help reinstate the Golden Bear baseball program, after it was threatened with discontinuation due to financial constraints. "Having the opportunity to get an education at Cal can make a profound difference in life. I know how much I benefited," Kent said. "Everybody should have a shot, and this is my chance to ensure others have their shot."13
With retirement and a look back on his most successful years in San Francisco also came a renewed focus on the issue of steroid usage in baseball, considering that he played with one of the game's most renowned users, Barry Bonds, and with the publication of the Mitchell Report, the book Game of Shadows, and the BALCO controversy. "I leave this game proud that I have treated it with the utmost respect," Kent said. "I have tried to carry on a legacy of winning wherever I have gone. Any integrity that I have had in this game is something that I'm very, very proud of. I believe I played this game right, and I believe I'm leaving this game right."14
After he left the game, in 2011, Kent joined the Giants for two weeks as spring-training batting instructor. He also spent some time in 2012 competing on the television reality show Survivor. "Going into the game, I didn't think I was going to be that great at the social skills, but I wanted to challenge myself," Kent said. "It was a great opportunity."15
Kent's career numbers include a .290 batting average, 377 home runs, and 1,518 RBIs. In addition to his MVP season and five All-Star Game appearances, Kent is one of just four second basemen to hit 30 or more homers three times, and the only second baseman to drive in 100 runs in eight seasons. Compared with other second basemen previously inducted into the Hall of Fame, Kent has more home runs, more RBIs, a higher batting average, and a higher slugging percentage than Joe Morgan, Ryne Sandberg, Bill Mazeroski, and Nellie Fox. Yet in 2022, he was selected on just 32.7% of Hall of Fame ballots.
Last revised: February 3, 2022
Sources
Besides the sources cited in the Notes, the author also consulted the player file for Jeff Kent from the National Baseball Hall of Fame Library, Baseball-Reference.com, and numerous other sources.
Notes
1 Jennifer Frey, "Offense Is the Best Defense for Mets' Kent," New York Times, March 2, 1994: B15.
2 Franz Lidz, "Cleaning Up," Sports Illustrated, February 15, 1999: 58.
3 Jennifer Frey, "Kent Accepts Nothing but Perfection," New York Times, April 22, 1994: B9.
4 "Jeff Kent Is Dropped From Edison Team," Los Angeles Times, April 15, 1986: OC-B8.
5 Jeff Call, "Jeff Kent's son Colton 'finding his own path' at BYU," Deseret News, June 16, 2018. https://www.deseret.com/2018/6/16/20647181/jeff-kent-s-son-colton-finding-his-own-path-at-byu
6 He had a double in Game One of the ALDS.
7 Claire Smith, "By Driving in Runs, Kent Raises Money for Female Athletes," New York Times, May 14, 1998: C3,
8 Murray Chass, "He Left His Loathing in San Francisco," New York Times, March 10, 2003: D3.
9 Andrew Baggarly, "Giants to Put Kent on Wall of Fame," Monterey County Herald August 25, 2009. https://www.montereyherald.com/2009/08/25/giants-to-put-kent-on-wall-of-fame/
10 John Shea, "Kent Signs Two-Year Deal With Dodgers," San Francisco Chronicle, December 10, 2004: C1.
11 Steve Henson, "Bicker Isn't Better," Los Angeles Times, August 24, 2005: D1.
12 Henson.
13 Bay Area News Group, "Jeff Kent Provides Women's Scholarship Endowment to Cal Athletics," San Jose Mercury News, September 22, 2014.
https://www.mercurynews.com/2014/09/22/jeff-kent-provides-womens-scholarship-endowment-to-cal-athletics/
14 John Shea, "Kent Goes Out Swinging Against Steroids," San Francisco Chronicle, January 23, 2009: D3.
15 Radio interview, "Toucher and Rich," 98.5 The Sports Hub in Boston, September 20, 2012. https://sportsradiointerviews.com/2012/09/20/jeff-kent-barry-bonds-performance-enhancing-drugs-mlb-survivor/
Born
March 7, 1968 at Bellflower, CA (USA)
If you can help us improve this player's biography, contact us.
http://sabr.org/sites/default/files/KentJeff.jpg
600
800
admin
/wp-content/uploads/2020/02/sabr_logo.png
admin
2016-12-15 18:23:45
2022-10-02 09:28:41
Jeff Kent