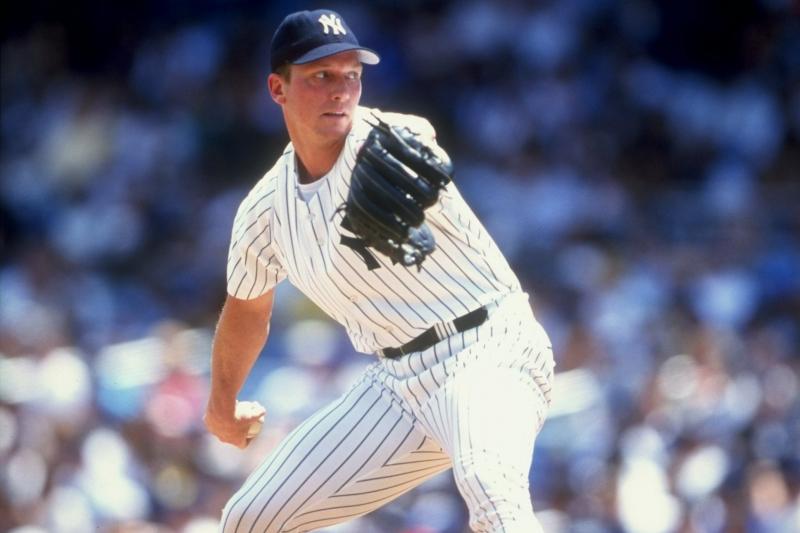 ---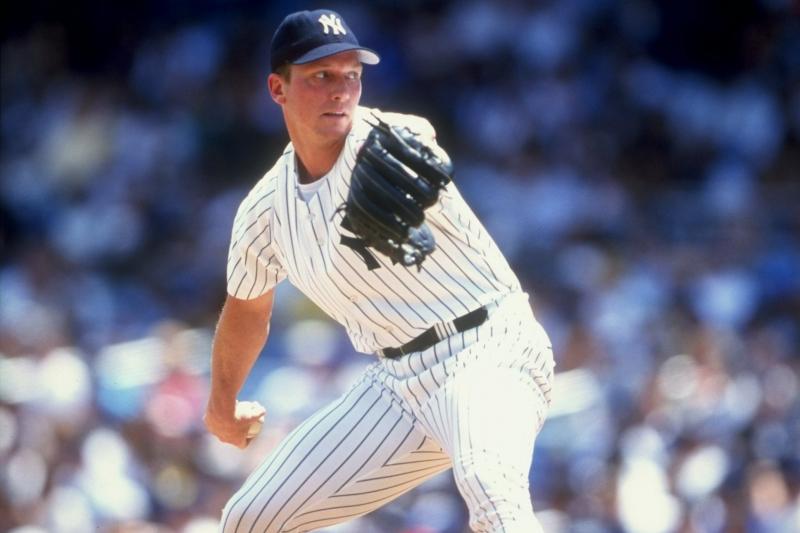 "I like to think of the world's greatest athlete coming up to bat against me – Tiger Woods, Wayne Gretzky, I don't care who it is – and I'm looking at him thinking, 'You have no chance.' "1
There was a moment in the third game of the 1996 World Series that felt eerily familiar for David Cone. Bases loaded, no gas in the tank. He had been burned in that situation a year before.
Game Five, American League Division Series, Seattle, 1995: On his 147th pitch, Cone had walked pinch-hitter Doug Strange in the eighth inning to allow the tying run in the Yankees' eventual 11th-inning postseason exit.
No doubt he had replayed that moment all season. But 1996 had brought its own trials – a life-threatening aneurysm that had sidelined him for four months, so that now his stamina was the equivalent of coming out of spring training.2 The defending champion Atlanta Braves had embarrassed the Yankees at home in the first two World Series games, and now 24 million pairs of eyes were on Cone in Atlanta.3
On the winning side of a 2-0 duel against future Hall of Famer Tom Glavine, a tiring Cone had loaded the bases with one out in the sixth and cleanup hitter Fred McGriff at bat. Yankees manager Joe Torre jogged to the mound.
"David," said Torre, his face inches away from his star right-hander's. "This is really important; I need to know the truth. Are you okay?"
"I'm fine," Cone said, "I can get McGriff."
Torre asked if he was sure.
"I'm losing my splitter a bit, but it's more mechanical than anything."
"I wanted to hear him say it," Torre said afterward. "If he had hesitated, I would have taken him out. But he didn't."4
"I lied," Cone said. "But I had to make him believe my lie."5
McGriff popped up to short, and Cone eventually escaped with a one-run lead. The Yankees ultimately took Game Three, and the next three games, for their first championship in 18 years.
Typical Cone to believe the improbable – he was often at his best when the odds were stacked against him. Despite developing a reputation as a free spirit in his early years with the Mets, and then in midcareer as a hired gun after jumping multiple teams in time for their playoff push, Cone's candor facing the New York media had turned him into a sort of elder spokesman. He was a player representative when team owners threatened to shut the MLB Players Association down. When his fastball began to slow as he hit his 30s, he became, as he often said, "a finesse pitcher without the finesse," adopting new arm angles and sometimes inventing pitches on the spot to compensate for any flaws in his abilities.6
In some ways, David Cone's place among the pitching elite seems improbable – he doesn't look like a prototypical athlete. His baseball cards claim he is 6-feet-1 and 180 pounds,7 but standing next to teammates he often resembled the runt younger brother, what with his slight hunch and a face that sportswriters ad nauseam likened to a "choirboy."8 And his high school didn't have a baseball team.
In fact, ask a teenage Cone where he saw himself as an adult, and he figured he'd follow his fictional hero, Oscar Madison of The Odd Couple, into journalism, complete with the greasy, wrinkled sweatshirt and half-eaten bologna sandwich behind the couch. That was as good a dream as any for a kid growing up in the blue-collar Northeast district of Kansas City.
And yet, in other ways, the youngest of four children – a girl followed by three boys – born to Joan Sylvia Curran, a secretary and travel agent, and Edwin Mack Cone seemed intended to be an athlete from his birth on January 2, 1963. He was almost named Theodore Samuel Cone; Theodore after Ted Williams, Samuel after New York Giants linebacker Sam Huff.9 Instead, he was David Brian Cone.
Ed Cone once had professional dreams as a side-armer, or perhaps going into business like his father and namesake, who managed a hotel chain and knew the local political bosses. Instead, Ed Cone worked as a mechanic, first at a steel plant, then at a meat-packing factory. He rose long before the sun to repair large hunks of metal for over 60 hours a week, often in rooms kept at freezing temperatures.
"There was never a suggestion that my success in sports, if it came along, would be some kind of avenue to financial success for him," David Cone said. "He wasn't proving anything through me. With him, sports was an avenue for his kids to get a better education. We were sports-crazy in my family, but the real obsession was always school. You might say it didn't work out that way with me."10
Fierce Wiffle-Ball games would take place in the Cones' backyard under the floodlights Ed and Joan Cone had installed for evening baseball. The family affectionately called it Conedlestick Park or Coneway Park. Pitching came naturally as soon as David realized the Wiffle Ball could bend and dive depending on his grip.11 Ed Cone helped him fine-tune his mechanics.
Frequently playing alongside boys his older brothers' ages, David got used to fighting for what was his. He was cut from his first little league team at age 7, because he was too small. He made it the next year, with Ed Cone as the new coach. David was also the star shooting guard on Ed Cone's junior-high basketball team.12 Friends recalled the legendary squabbles between father and son – at least one particular temper tantrum ended with David being sent home.13
"He commanded respect, but there was a fear factor, too," David said of his father's coaching style.14
Cone described his parents as "tough, hard-nosed, blue-collar people. They went by the sort of kick-the-bird-out-of-the-nest type of theory. You had to fly or fall to the ground. In some ways, I really appreciate that. In other ways, maybe we both regret that we haven't fostered that close, affectionate relationship that some families have. Part of my resiliency and so-called toughness, emotionally, is due to that background. Part of the problems I have emotionally, too, are due to that background."15
However, the tight-knit Cone clan knew family first. When David's older brother Danny got into a fistfight with a neighbor on their front porch, Joan Cone wrestled her son away from the larger man's blows. The neighbor's ire escalated into weapon-wielding16 death threats, so Ed Cone grabbed a .22 and shot him. (The wound was superficial.) David, 14, learned that day not to "be bullied by anybody. The worst thing you could be called in this world is someone who didn't stand up for his family."17
Such attitude translated to sports. He played basketball with such intensity that he once struck an opponent who had caused him to foul out with a metal protector he had been wearing over an injured finger.18 Another opponent who violently slammed a ball at his chest received it back in the face.19
This isn't to paint Cone as the belligerent sort – he just hated getting beat. At Rockhurst High School,20 the all-boys Jesuit prep he attended as an alternative to the subpar Kansas City public-education system, he was generally an above-average student, charming and well-liked. His senior year, he led the football team, as its starting quarterback, and the basketball team, as a guard, to the district finals.
Rockhurst had no baseball team. His junior year, Cone, also a sportswriter for the school newspaper, had gathered over 700 signatures on a petition, as well as a potential field and coaching staff, but it was a no-go.21 Instead, Cone played summer ball in the Ban Johnson League, a gangly adolescent mowing down college-age men interested in going pro.
At 16, he was called to an invitation-only tryout with his hometown Royals, where the scouts gave him a second look from among a couple of hundred talents.22 He also pitched in an open tryout with the Cardinals. At 17, he hit 88 mph on the radar gun23 and was telling his parents – much to his mother's concern – that he wanted to forgo college for the major leagues.24
Cone was considering a partial scholarship at the University of Missouri (in baseball, with a chance to walk on to the football team). But on June 8, 1981, a Western Union wire announced that the Kansas City Royals selected him in the third round of the free-agent draft.25 It helped that his father and Royals scout Carl Blando had known each other since childhood.
Having grown up idolizing the likes of Dennis Leonard and George Brett, Cone was all too eager to sign on the dotted line for $17,500. Similar draftees were receiving $30,000, but Cone had never seen so much money in his life. He wouldn't be so cavalier about his worth in future negotiations.
Cone immediately reported to Sarasota for rookie ball, where he had a 2.55 ERA in 67 innings pitched, second most on the team. The next year, 1982, Cone split between Class-A Charleston and Fort Myers, going 16-3 with a 2.08 ERA, including seven complete games.
Then, in an exhibition game against the Pirates in March 1983, he tore the ACL in his left knee in a collision at home plate. If the hip-length cast from surgery didn't say it emphatically enough, Cone's season was done. Between the countless hours he spent on an exercise bike rebuilding his strength, he took a minimum-wage job at a conveyor belt company. For four months, he cut and bonded strips of rubber, frequently slicing his hands as an occupational casualty – not the smartest idea for a pitcher. The uncertainty of a comeback plagued him with visions of a future in manual labor, just like his father.26
Cone struggled with his control in 1984 at Double-A Memphis (110 strikeouts, 114 walks), and in 1985 at Triple-A Omaha (115 strikeouts, 93 walks). Such prolonged mediocrity may have prevented a September call-up with the big-league club, which won its first World Series title that fall.
Nor could he manage his money, as notices from the Internal Revenue Service went ignored. His first paycheck in 1985 was for $83; Uncle Sam had taken around 90 percent.27
Moved to the Omaha bullpen to start 1986, Cone rediscovered the strike zone, fanning 63 and walking 25 in 71 innings. The Royals were noticing. On June 8 – five years to the day after his draft – Cone replaced a concussion-suffering Mark Gubicza on the big-league roster. He relieved Bret Saberhagen in the top of the ninth against Minnesota and allowed three singles and a run. Three days later, he was summoned for mop-up work against Seattle (4⅔ innings, five earned runs, four strikeouts). After two more brief, scoreless relief appearances, he was returned to Triple A.
Rejoining the parent club as a September call-up, Cone appeared seven times from the bullpen, including four shutout innings with five strikeouts on September 20. His final line in his first major-league season: no decisions, a 5.56 ERA, 21 strikeouts, and 13 walks in 22⅔ innings.
"David had a fastball and a slider back then," said Jamie Quirk, an Omaha teammate. "He was almost there but he kept trying to strike everybody out. I wanted to persuade him to be in the strike zone more and set the batters up – let them hit the ball now and then but where you wanted them to hit it. He got the idea some days."28
Were there any doubts Cone was ready for "The Show," he spent the offseason helping the Ponce Leones capture the Puerto Rican Winter League pennant and the Caguas Criollos the Caribbean World Series championship.29 Cone went 6-2 in 70 2/3 innings for Ponce, including two shutouts, tied for the league lead in wins, and was second in ERA (2.42) and strikeouts (45).
Cone headed to Royals spring training in 1987 energized with two pitches that would become signatures: a side-arm slider (the "Laredo"), which he learned from Gaylord Perry, and a split-finger fastball. A day after being told he made the team – March 27 – he was traded to the Mets.
Apparently the Royals needed a catcher, and they eyed Ed Hearn. Throw in pitching never-really-weres Rick Anderson and Mauro Gozzo, and Cone was headed to New York with outfield prospect Chris Jelic. Hearn would play a total of 13 more games in his major-league career. It may be the worst trade in Royals history.30
For Cone, the news that he was being ripped from his hometown and sent to some unfamiliar city hit him like a sucker punch to the gut. He had a spot in the Royals rotation, and now he was concerned about starting the season in Triple A if the Mets, the reigning world champions, could not fit him on their roster.
Cone needed not worry about his place in New York. During his first session at the Mets' spring training facility, his pitches moved so much that catcher Barry Lyons could barely hold onto them – Cone said pitching coach Mel Stottlemyre's jaw was "literally dropping."31 Cone would start the season at Shea Stadium.
And players – a roster oozing with as much zany debauchery as raw talent – took swiftly to his congenial, slightly goofy nature. Lyons was lockered next to Cone when he first arrived. "We hit it off," Lyons said.32 And first baseman Keith Hernandez, according to Cone, "made me feel more welcome in one day than the Royals had in six years."33
"[T]he Mets were a perfect fit for me," Cone said. "I'd do anything in the world to fit in with that wild group of guys."34
Injuries (and Dwight Gooden checking into rehab) forced Cone into the rotation. His first start in blue-and-orange, on April 27, was mortification – 10 runs (7 earned) in five innings. Undeterred, two starts later, on May 12, he went the distance for his first big-league win.
Just as Cone's place in the rotation seemed secure, a fastball by the Giants' Atlee Hammaker fractured his pinky as he squared for a bunt on May 27.35 Surgery followed, and Cone would not return until the middle of August, the pinky permanently, grossly misshapen.
Cone finished 5-6 with a 3.71 ERA in 99⅓ innings, as the injury-ravaged Mets, despite the second-best record in the National League, missed the playoffs.
Injuries worked to his advantage – Cone exploded into the rotation permanently in 1988 after Rick Aguilera's elbow went bad. His first start, on May 3, was a complete-game shutout against Atlanta. Two weeks later, he struck out 12 in seven innings of a 1-0 win at San Diego. In fact, Cone won every one of his starts in May, as well as his final eight starts of the season. He recorded double-digit strikeouts seven times that season, averaging almost 7⅔ innings per start, including eight complete games (four shutouts), and another two he went 10 innings. Former President Nixon was waiting in the Shea Stadium dugout to shake Cone's hand upon his 20th win.
Cone's line included a league-best .870 winning percentage (20-3), a 2.22 ERA, 213 strikeouts (both second-best in the NL), a NL All-Star team selection, and third place, behind winner Orel Hershiser and runner-up Danny Jackson, in the NL Cy Young Award voting.
It wasn't hard to be a David Cone fan in the late 1980s.36 A friend of his, Andrew Levy, with a bunch of college pals, started the "Coneheads" (after the Saturday Night Live sketch),37 who wore pointy rubber head coverings and occupied "Cone's Co'ner" in the left-field upper deck. For every strikeout, they'd string orange construction cones from the rafters.
"I can tell you that the Coneheads were a motivating factor whenever I took the mound," Cone said in hindsight. "I didn't want to let them down."38
Candid, articulate, and slightly idiosyncratic, Cone embraced the New York media. He chatted with the writers regularly, sometimes showed up at their pickup basketball games,39 and was one of the few starters who didn't mind being interviewed the day of his turn in the rotation. Reporters lapped up his clubhouse antics, such as when leaving tickets for Wheel of Fortune host Vanna White (a "Total ruse. Just for fun," he said40) became an ongoing spoof. When the Dodgers' Pedro Guerrero hurled his bat at Cone and charged the mound after Cone's slow curve hit him near his head, Cone was readily available after the game to claim the offending pitch was unintentional.
"If I'm going to hit somebody," Cone said, "it'll be a 90 mile-per-hour fastball."41
Another time, after Phillies broadcaster Chris Wheeler lightly criticized his batting average, Cone appeared in the booth in full uniform. "It's a hard .143," he defended himself on air.42
The 1988 Mets won the division by 15 games and were the overwhelming favorite against the Los Angeles Dodgers in the NLCS. Enter Bob Klapisch, writer for the Daily News. Under the guise of Cone realizing his other childhood dream of becoming a sportswriter, Klapisch agreed to turn daily clubhouse interviews into a ghostwritten column.
After the Mets had won the opener with a ninth-inning rally off reliever Jay Howell, Klapisch-as-Cone wrote that Dodgers starter Hershiser "was lucky for eight innings," and that the Mets knew they'd win when he came out: "Seeing Howell and his curveball reminded us of a high school pitcher."43
"Bob Klapisch just kind of asked me some questions in the clubhouse, and things got a little crazy in the aftermath of a big win in Game One of the playoffs," Cone said, "and I never got a chance to read it before it went out, and I got credit for the byline. To this day, I still can't believe I allowed that to happen, that I wouldn't at least see the final copy before I put my name on it."44
The Dodgers passed out copies and pinned it to their bulletin board. And lit up Cone for five runs in two innings that night. He'd only allowed five earned runs once, and he'd never been knocked out of a start before the fourth inning all season.
"It definitely affected how I pitched," Cone said. "It was the first time I felt physically inhibited by nerves. My legs felt heavy from being so nervous."45
Cone apologized to Howell the next day and dropped the column soon afterward. In its final iteration – which Cone wrote himself – the contrite righty admitted he'd said every word, a "feeble attempt at humor" which he was "naïve" to think wouldn't make print.46
"I had a choice to make, either stand up and be honest, or run away and hide," Cone said, "so that was an early hard lesson to learn."47 Klapisch later praised Cone for owning his mistake, when he just as easily could have said he'd been misquoted.48
Cone recovered with a perfect ninth inning in relief in the Mets' Game Three win, and a complete-game victory in Game Six to stave off elimination. But the Mets lost in seven games, and some baseball insiders still believe that Cone's column cost the Mets the pennant.49
Cone wasn't as overpowering in 1989, but still tallied formidable numbers, with 190 strikeouts (fourth in the NL) and a 3.52 ERA. A third-year player ineligible for arbitration, he was a bargain at $332,500. But after that year he commanded $1.3 million in front of the arbitrator – and won.
Cone immediately flew to Kansas City and told his father, whose long hours at the plant had hastened arthritis, to quit his job.
"Nothing I've done in my life has meant more than that moment," Cone said.50 A year later, when his salary nearly doubled to $2.35 million, he bought a condominium for his parents in Florida. Another arbitration win in 1992 yielded a $4.25 million salary.
Armed with the splitter, which teammate Ron Darling helped him perfect,51 and the Laredo, which came from the side and broke six inches off the plate,52 in addition to his usual four-seam fastball and curve, Cone topped the NL in strikeouts in both 1990 (233) and 1991 (241). He averaged more than a strikeout per inning both years, and had mastered pitch control, with a league-high 3.585 strikeout-to-walk ratio in 1990, and a second-best 3.301 in 1991. If sabermetrics were general parlance in 1991, Cone would have been ninth in WAR for pitchers (4.4), and would have led the league in Fielding Independent Pitching (2.52).
"My agent, Steve Fehr, was very progressive with numbers, the early sabermetrics movement," Cone said. "We used some of those numbers in arbitration cases against the Mets in the early '90s, and we actually won those cases. … A lot of it was based on numbers, trying to look inside the numbers, past won-loss record, and trying to get a better look at what the pitcher really did. So I was an early believer, really."53
Perhaps the Mets' sinking fortunes were partially to blame for Cone's underwhelming 14-8, 14-10, and 14-14 records between 1989 and 1991. Frustrated by a 20-22 start in 1990, general manager Frank Cashen replaced manager Davey Johnson with third-base coach Bud Harrelson. The Mets battled back to first place in early September, but couldn't stay ahead of the division-winning Pirates. In 1991 the team finished fifth, and Harrelson was dismissed. By late 1992, the Mets, with one of the game's highest payrolls, were hovering dangerously close to last place. The wild egos that had previously held the team together had given way to infighting, and age and injury had slowly sapped the team of its talent. Daily appearances on Page Six were not as easily ignored.
Cone still loved New York, but was slowly falling from favor with the Mets organization. There were on-field embarrassments, such as on April 30, 1990, when he allowed two Atlanta runs to score while he argued with the umpire over whether he had stepped on first base for the force out. Or on June 4, 1991, when Cone shook off a pitchout from bench coach Doc Edwards, and he and Harrelson erupted in a shouting and poking match in the dugout. The altercation overshadowed a 13-strikeout win in which Cone did not allow an earned run.
Even after these humiliations, Cone was at his locker, answering questions. Fittingly, in 1991 Cone switched his number from 44 to 17, to honor Keith Hernandez, the Mets' previous press point-man.
Still, his off-the-field behavior was a delicate dance. Cone never had the addiction problems of some of his teammates, but he often ran with them – carousing, staying out late, and frequently not going to bed alone.
In September 1991, three women sued Cone and the Mets for $8.1 million, claiming he had made death threats. According to Cone, at least one had been harassing Sid Fernandez's wife in the stands, and although he'd "dropped 90,000 F-bombs," he never threatened their life. "It was a farce of a lawsuit, to get publicity," he said.54
Three weeks later, the phone rang early in the morning in Cone's hotel room in Philadelphia, where he was scheduled to pitch that day. It was the final day of the season, and Cone had staggered in at 6:30 A.M. after another all-nighter with his Mets teammates.
Cashen broke the news: A woman who had been with Cone the night before was accusing him of rape, and police were investigating. He could skip his start if he wanted. Cone refused, despite near-hallucinations of a cop interrupting play at Veterans Stadium to arrest him.55
"If anything, it made me stronger," he says. "It gave me a cause. Either fold or get mentally strong, that's how I was thinking. I chose to get strong."56
Cone was at his best – three hits, one walk, no runs, 19 strikeouts (18 of which were swinging). The last tied an NL record, with Tom Seaver and Steve Carlton.57 Within three days, police had concluded the allegations were "unfounded."58
In February 1992, another woman alleged she was Cone's girlfriend and she had been gang-raped by teammates Dwight Gooden, Daryl Boston, and Vince Coleman. Cone admitted he had been with the woman a few times, but wasn't currently seeing her. The police would drop the investigation.59
Not a month went by when perhaps the juiciest scandal hit the tabloids: WEIRD SEX ACT IN THE BULLPEN, famously howled the New York Post back page on March 26, 1992. The three women from the previous fall had amended their lawsuit to add other lurid claims, including that Cone had masturbated in front of them in the Shea Stadium bullpen in 1989. There was nothing to it – the suit never reached trial60 – but the baseless gossip has become part of Cone lore. Angry fans would taunt, "Masturbation!" or make rude gestures from the stands during the season.
"Even though both cases were cleared up, my name was completely cleared, the damage had been done," Cone reflected years afterward. "I've had to live with that. There was part of me that said, at some point, 'Be more careful, cover your ass a little better, but you can still live, you can still have fun.' I thought there was a lot of reckless journalism, but I sort of came full circle and said, 'Now, wait a minute – you did put yourself in a position to be taken advantage of a couple of times.'"61
A few days later, Cone, fed up with the nosy tabloids, initiated a petition to ban all reporters from the clubhouse; his teammates were happy to oblige.62 The Mets' media boycott lasted until they headed north on April 3.63
"I look back at that, I think we as players probably overreacted during that time," Cone said. "We should've handled that situation better. But we did feel like for the first time we were under attack, and we thought a lot of the stuff that was coming our way was not truthful, it was kind of reckless at times. We all collectively did it, realized we couldn't go on once we got into it, and looking back, probably would've played it differently back then."64
Eventually, Cone had to take it. He fielded lewd questions from Don Imus and Howard Stern on air. He invited cartoonists who'd depicted his "weird act" to send him autographed copies.
However, as the Mets spiraled, even Cone's personality couldn't save him. On August 27, 1992, the Mets, mindful Cone was facing free agency that fall, traded him to Toronto for Jeff Kent and Ryan Thompson. At the time Cone was 13-7 with a 2.88 ERA, and leading the NL in shutouts (5) and strikeouts (214). Had he not been traded to the AL, the Mets' only All-Star Game representative that year would've won his third straight NL strikeout title, as the Braves' John Smoltz only passed him by one (215) in his final start. Cone's season strikeout total was 261.
"The trade was a wake-up call for me," Cone said. "It was time to take a hard look at myself –what am I doing wrong here? Or at least, what are the perceptions of what I'm doing wrong? You're getting a reputation as a kid with great stuff, some of the best stuff in the big leagues as far as pitching goes, and also one of the biggest flakes. I kind of looked at that and said, 'Is this how I want to be remembered?' Not that I had any great revelations or made any great changes in my life, but I certainly looked at it and tried to address it."65
"Excited" was what he told the press. The Blue Jays were hurtling toward a division title. Cone's four wins sealed the deal,66 and Toronto beat the Braves in the World Series to bring a championship to Canada for the first time.
"It was like I was hitchhiking on the side of the road and got a ride to the World Series –unbelievable," Cone told cheering fans at the victory parade.67
It was Cone's first ring, but he felt "rented, like I was hired long enough to ensure the win."68
Toronto wasn't home – rather than find an apartment, Cone stayed in the Skydome Hotel. This impermanence was further emphasized when mere days after the parade, Cone was back in New York, hosting a charity auction and appearing on the David Letterman TV show.
Cone could have returned to New York the next year – he made clear he was interested in signing with the Yankees,69 and he'd maintained his New York apartment. But Cone became disillusioned with the Yankees' disorganized negotiating tactics – which he later learned were because their first choice had been Greg Maddux. When the Royals stepped in with an "unbelievable" three-year, $18 million offer, including a $9 million bonus, the choice was clear. Cone was going home to Kansas City as baseball's highest-paid pitcher.70
According to Cone, Ewing Kauffman, the Royals owner, who was dying of bone cancer, "made the offer with the caveat of, not 'take it or leave it,' but 'you need to decide pretty soon,' especially considering the uneven structure of the contract, the way he presented it. It was, 'Take a little bit of time, but not too much. Make your decision.' He was a good salesman."71
In 1993 Cone finished in the top 10 in the AL in ERA (3.33), strikeouts (191), innings pitched (254), complete games (6), and hits allowed per nine innings (7.264). What stands out is that he went 11-14 – the Royals' weak offense72 barely supported Cone, with 2.93 runs per start.73
The next year, Kansas City gave him the support (5.11 runs per start), and Cone went 16-5 with a 2.94 ERA – including three consecutive shutouts in May – and a selection to the AL All-Star team. The Baseball Writers Association of America bestowed upon him the AL Cy Young Award that fall.
Outside events overshadowed those accolades. The MLB Players Association went on strike August 12, the World Series canceled for the first time since 1904. Cone, encouraged by Steve Fehr, union executive director Donald Fehr's brother, was involved as a player representative with the Mets, but his role grew that fall when players chose him as the AL representative. Cone attributed his leadership role in union negotiations to "timing."
"Sometimes, it's by default," he said. "I was one of the more established pitchers at that time. Some of the players, they get involved, they're worried about angering the owners, or losing their job, or getting labeled. Most of the guys back then, especially, that served on the Players Association boards, they had to be prominent guys or had to be the type of players that felt secure to be able to represent their teams without feeling like they were going to lose their jobs or feeling like there would be repercussions for their involvement."74
Part of Cone's role was to boost morale of those concerned players, so that they would not feel pressure to cross picket lines. At his most grandstanding during a rally, he bent over with his rear end to the crowd to remind players that "the owners are trying to stick it up your ass without Vaseline. That's what this strike is about. This is about your rights, not your money."75
Baseball's antiquated antitrust exemption had opened the door for owner collusion to suppress player salaries in recent collective-bargaining agreements. At the height of the strike, the owners unilaterally imposed a salary cap and made plans to bring in replacement players to start the 1995 season if the MLBPA didn't concede. It threatened the union's existence. Cone spent the winter in Washington, tirelessly lobbying senators and representatives to repeal the antitrust exemption.76
His efforts ultimately resulted in the Curt Flood Act of 1998, a partial repeal, so that players could bring antitrust lawsuits "involving conduct that directly relates to or affects" their employment.77
Cone also was among those urging the National Labor Relations Board to seek an injunction against the owners beginning the season with replacement players. On March 30, 1995, Federal Judge Sonia Sotomayor granted the injunction, and the players returned to work. Cone returned the favor in 2009 when he testified in favor of now-Justice Sotomayor's nomination to the US Supreme Court.78
Cone took at least one day off from his strike activities, November 12, 1994, to marry Lynn DiGioia, an interior designer from Connecticut. They met in Puerto Rico in 1987 and had dated on and off since.
The strike had been over but a week when the Royals traded Cone back to the Blue Jays for rookie Chris Stynes and minor leaguers Tony Medrano and Dave Sinnes.
"I don't blame my union activities for them trading me, but I know it didn't help," Cone said, noting that the $5 million price tag in the last year of his contract probably had something to do with it.79
Cone's second turn in Toronto didn't last much longer than the first. The last-place Blue Jays sent him to the Yankees near the trade deadline, July 28, for prospects Marty Janzen, Jason Jarvis, and Mike Gordon. The Yankees were languishing in mediocrity, but general manager Gene Michael ardently believed Cone was the missing piece to send them to the postseason for the first time since 1981.80 Which he did, going 9-2 as the Yankees captured the AL wild card. It was the textbook definition of a "hired gun."
Cone had now mastered the art of appearing both straightforward and rehearsed with the press. During his first homestand in pinstripes, he reviewed his new team's media guide in full view of reporters, knowing the story would play better than if he had done it privately.81 He also gently alerted a grateful in-game broadcasting team that the clubhouse could hear their between-inning banter, and that they should exercise some discretion before they embarrass themselves.82
Wearing number 36 in honor of Robin Roberts,83 a still-durable Cone led the league with 229 ⅓ innings pitched. He threw 135 pitches in the ALDS opener victory against Seattle. But he blew a 4-2 lead in the eighth inning of Game Five, the tying blow coming on the aforementioned walk to Doug Strange on pitch 147. He still patiently answered reporters' questions afterward, albeit teary-eyed.
A free agent again, Cone almost didn't re-sign after the Yankees retracted their initial offer. He and Fehr had all but reached a deal with Baltimore84 when Yankees owner George Steinbrenner allegedly jumped in from a pay phone and reinstated the bid – a three-year, $18 million deal with an additional $1.5 million in options.85 Cone signed.
Now a seasoned New Yorker, Cone embraced his role as a leader by welcoming newer players. When Joe Girardi's early struggles led to frequent taunting on sports talk radio, Cone advised the first-year Yankees catcher that his critics would "lay off" if Girardi interacted with them rather than hiding from the press.86 Girardi rebounded.
Cone pitched seven shutout innings in the Yankees' Opening Day victory in Cleveland, but coldness, numbness, and blueness persisted in his pitching hand for weeks after he'd left the 38-degree weather. An angiogram showed blood clots, and Cone was prescribed blood thinners. But a second angiogram on May 7 revealed a potentially life-threatening diagnosis: an aneurysm – the weakening and ballooning of an artery – in his right shoulder.
"I didn't even know what it was or what it meant," Cone said. "It was very scary. I just wanted to know if my career was over at that point."87
Vein-graft surgery was scheduled three days later, as doctors replaced the offending section of artery with a piece from Cone's left thigh. How long he would be out was anyone's guess.
The procedure had not left structural damage to his shoulder, and once the graft healed, Cone could throw again. After two rehab starts at Double-A Norwich, Cone boarded a plane to rejoin the Yankees in Oakland on Labor Day.
He walked two batters in the first. Then, no hits for seven innings. But he was being held to a strict pitch count, so manager Joe Torre replaced him with Mariano Rivera after pitch number 85.88
"If they had left the decision up to David, they would have needed a tractor to get him out of there," said Ed Cone, who had watched the game from behind the first-base dugout at the Oakland Coliseum.89
Cone would pick up two more wins and a loss, finishing 7-2 with a 2.88 ERA in 11 starts. He was shelled for six runs against Texas in the ALDS, and he was wild (five walks, six innings, 133 pitches) against the Orioles in the ALCS. But his gritty performance in the third game of the World Series jump-started the Yankees' march to their first championship since 1978.
He was no longer a hired gun.
The first half 1997, Cone showed the devastating promise the Yankees had hoped for when they re-signed him. Named to the AL All-Star team, he had 12 wins and a 2.68 ERA by early August. He'd hit double digits in strikeouts in six games, including June 23, when he fanned 16 Tigers, and averaged over 10 strikeouts per nine innings. Then he spent most of September on the disabled list for right-shoulder tendonitis and inflammation. He was chased from his one postseason start in the fourth inning, allowing six Cleveland runs in the ALDS.
The problem was a bone spur that required offseason arthroscopic shoulder surgery. It wasn't even clear that Cone would be ready to join the Opening Day roster in 1998, but again he flouted expectation. Despite a rocky first two starts, Cone quietly built up his record.
Now 35, Cone was learning to adjust to his own vulnerabilities – in terms of when he could throw (warmer weather suited him), how much he could throw, and the types of pitches he could throw.
"A lot of wear and tear just took its toll and I lost some velocity," Cone said of his later years, when he relied more on finesse, "so I had to adjust, get more creative, probably throw more breaking stuff, less fastballs, change angles a bit more."90
He skipped a start in early June when his mother's Jack Russell terrier, Veronica, nipped at his index finger. It paved the way for Orlando "El Duque" Hernandez, a Cuban defector with a peculiar high leg kick, to make his major-league debut. Cone, who joked about being "Wally Pipped,"91 wasn't slowed in the slightest, striking out 14 Marlins five days later.
A pair of Adidas commercials airing around that time showcased Cone's self-deprecating humor. In one, the advice that he "rest that arm" led a fan entourage to embarrassingly baby him.92 The other, depicting fans at a club doing "The El Duque," ended with Cone awkwardly grinding in the men's room in response to Luis Sojo's suggestion, "Hey, Coney, why don't you have a dance?"93
Cone was also the only player bold enough to sidle up to teammate and drinking buddy David Wells as he was in the middle of throwing a perfect game on May 17. "I think it's time to break out the knuckleball," he said.94 Wells laughed. Tension released.
Despite arm fatigue toward September, Cone won his 20th game in his final start – the decade gap between 20-win seasons still a major-league record. He chugged through the postseason, winning the rubber games of both the ALDS and the ALCS, and starting Game Three of the World Series in San Diego (a cortisone shot to the shoulder helped), as the Yankees capped their incredible 114-48 season with Cone's third ring.
On July 18, 1999, against the Montreal Expos, Cone accomplished what only 15 other pitchers had done in major-league history – he threw a perfect game.95 Cone had come close before – aside from the aneurysm comeback game, he'd also taken a no-hitter into the eighth in 1991 – but this was his first no-hitter. The timing almost seemed contrived: The Yankees honored Yogi Berra prior to the game,96 and Don Larsen, the only man with a World Series perfecto, had thrown out the first pitch and watched the feat unfold at Yankee Stadium.
"It makes you stop and think about the Yankee magic and the mystique of this ballpark," Cone said afterward.97
An All-Star again in 1999, Cone was 10-4 with a 2.65 ERA, averaging 6⅔ innings per start the day he was perfect. Afterward, he was anything but – 2-5 with a 4.82 ERA, averaging 5.46 innings.98 Although he insisted he felt better physically in 1999 than he did the previous season,99 his velocity was down – his fastball topping off in the mid-80s. Nonetheless, Cone's big-game mentality kicked in with two October victories – he struck out nine Red Sox in the ALCS and allowed one Braves hit in seven innings in Game Two of the World Series – as the Yankees won their third championship in four years.
Before 1999, Cone had leveraged his option into a one-year, $8 million salary. Now, the Yankees, concerned about Cone's age, 37, and his tired second half, refused to accommodate his request for a two-year contract before 2000. Instead, the parties agreed to a one-year, $12 million deal.
Then Cone, in his words, "fell on my face,"100 going 4-14 with a 6.91 ERA – or, as fans derided him, $3 million per win. In a Twilight Zonesque twist, the entire debacle was chronicled in Roger Angell's book, A Pitcher's Story, on which Cone had agreed to cooperate before his season went south.101
By early August Cone was 1-10.102 After extended mechanical work at the Yankees' training facility, he won three of five starts. But on September 5, in front of family and friends in Kansas City, he dislocated his left shoulder fielding a bunt. As the injury wasn't to his pitching arm, Cone returned to the rotation after missing one turn, with disastrous results (23 earned runs, 14⅔ innings) in his final four starts.
Perhaps as a nod to Cone's team history, Torre put Cone on the postseason roster. With the Yankees clinging to a 3-2 lead in Game Four of the Subway Series against the Mets, Cone was summoned to face Mike Piazza with two outs in the fifth.103 He popped up the future Hall of Famer on five pitches, and the Yankees won their fourth title in five years the following night.
The Yankees couldn't guarantee Cone a spot in the 2001 rotation, so they parted ways – Cone likened the split to a "divorce."
"I want to go where I'm needed, and there isn't a great need for me here with the Yankees," Cone said then.104
Cone discovered where he was needed when Red Sox pitching coach Joe Kerrigan visited him that offseason and diagnosed flaws in Cone's motion.105 Cone signed with Boston for $1 million, with another million in deferred payments.
New York newspapers called him a traitor – the Yankees' $12 million liability had taken the money and run to their bitter rivals.
Cone shrugged it off. "It's better to be booed than forgotten," he said.106
A sore shoulder delayed Cone's Boston debut until May, but the season was somewhat redemptive – 9-7, 4.31 ERA, in spite of him being kept to low pitch counts and often given an extra day of rest. On September 2 the old Cone resurfaced, as he dueled Mike Mussina, his replacement in the Yankees rotation, over eight scoreless innings. He lost on an unearned run in the ninth – as Mussina came within one strike of a perfect game.107
The Red Sox didn't re-sign him, and Cone spent 2002 as a spectator. He led the Yankee Stadium Bleacher Creatures in their first-inning roll call of the starting lineup on Opening Day ("I've always wanted to watch a game from out here."108) and was pulled into the broadcast booth of the upstart YES Network for a few games.
He claimed he didn't really throw that year,109 though news outlets kept hinting at a comeback. Before the 2003 season, John Franco and Al Leiter talked him into going to spring training. Cone made the Mets as the fourth starter, at age 40.
And for one "magical" night (his word),110 the Coneheads returned to Shea. Wearing Dwight Gooden's old number 16, Cone pitched five shutout innings for his 194th career win. Then reality set in.
Cone said he "gave it a good shot, but just physically couldn't do it anymore. And it wasn't really my arm at that point, it was more my hip. My hip just gave me a bunch of problems that year. All those years of landing on my left hip, as a right-handed pitcher, kind of took its toll."111
He announced his retirement on May 30, six wins shy of 200. His 2,668 strikeouts ranked 18th all-time, then.112 When he became eligible for the Hall of Fame in 2009, only 3.9 percent of the BBWAA voted for him – a player needs 5 percent to remain on the ballot.113
"I think one of the problems for me was the way I finished my career," Cone said. "I didn't finish off my career and get my numbers up there from a quantitative career perspective, just kind of fell a little short." The Hall of Fame Braves trio of Greg Maddux, Tom Glavine, and John Smoltz, for instance, "got started a little younger, and they lasted a little longer," and "they stayed healthy the whole time."114
After spending his entire adult life gripping a baseball, Cone's transition game wasn't seamless. He has always had his charities. His own David Cone Foundation has supported several not-for-profit organizations, including the Ban Johnson League that made him, Joe Torre's Safe at Home Foundation (domestic violence), and various medical causes, in particular the ALS Association and cancer research. He guest-bartended at Foley's New York Pub to raise funds for Hurricane Sandy victims.115 He took a pie to the face to promote gastroparesis awareness.116
But finding his career niche took time. Coaching was always in the back of his mind, but "the window closes for opportunities for pitching coaches. To go back on the road full-time would be a big commitment; you have to be ready for that."117
Cone has two sons now. Brian was born in 2006, though David and Lynn divorced in 2011. Cone and his fiancée, Taja Abitbol, a restaurateur and real estate agent from Queens, have a son, Sammy, born in December 2011. As of 2022, he splits his time between Manhattan and Florida.
Would Cone encourage his boys to follow in his footsteps? "Absolutely – I wouldn't discourage it," Cone said. "Certainly if they showed the interest and the promise and that's what they wanted to try to pursue, I would try to help them in any way I could." But, he cautioned, "It was something I was always worried about as a father. I didn't want to push them or have them feel like they had to compete with their father or feel like they had to be as good as their father. I was always more protective in that regard."118
For a would-be sportswriter-turned-athlete, Cone's second career should have seemed obvious –media. In 2008 he became a part-time color commentator for the YES Network, among a rotating team of announcers providing in-game and studio analysis. His remarks have not always been the most filtered – asides have included recitations of song lyrics ("Rapper's Delight," "Call Me Maybe"), unintentional innuendos (a pitcher asked to warm up but not called upon got "jerked off" in the bullpen), or poking fun at his broadcast colleagues. ("It is high, it is far, it is off my forehead!" he said in John Sterling's voice when a pop foul got too close for comfort in the adjacent radio booth.). Yet Cone has won praise as a perceptive student of sabermetrics, with observations ranging from complicated statistics to a technical examination of how the ball spins across the plate – attention to detail not often found in an ex-ballplayer behind the microphone.
His analytical aptitude has opened more opportunities. In the fall of 2021, he was recruited by two baseball broadcasters with Yankees connections to co-host Toeing the Slab, a new podcast about (what else?) pitching. In January 2022, ESPN announced Cone would be part of their three-man Sunday Night Baseball broadcast team, alongside Karl Ravech and Eduardo Perez.
"Every year it's become a little easier, knowing what the job entails, when to use sabremetrics and when not to," said Cone. "I try to be an easy listen. I try to tell you something you don't know."119
The easy way out would've been to rest on his laurels and regale in tall tales about his days in uniform, as so many ex-players have done. But Cone has always been at his best when challenged to defy conventional expectation.
Last revised: March 9, 2022
Sources
Statistics, unless otherwise noted, are from Baseball-Reference.com or Retrosheet.org. Special thanks to Andrew Levy for putting me in touch with David Cone, and to Thomas Van Hyning for information on the Puerto Rican Winter League.
Notes
1 Roger Angell, A Pitcher's Story (New York: Warner Books, 2001), 29.
2 Announcer Tim McCarver made such an observation in the World Series Game Three broadcast on Fox, October 22, 1996.
3 The attendance at Fulton County Stadium that night was 51,843; another 23.99 million viewers watched the game on television, according to Nielsen ratings. Cone had lost Game One of the ALDS against Texas; he pitched better in Game Two of the ALCS against the Orioles, which the Yankees also eventually lost.
4 John Harper & Bob Klapisch, Champions! The Saga of the 1996 New York Yankees (New York: Villard Books, 1996), 197-98.
5 Angell, 45. Cone has suggested more recently that he was only joking at the time about having "lied" about his ability to finish the inning, but admits that he was "exhausted" and drained from the "pressure of the moment," and that it never really occurred to him that he might not be able to pitch out of the inning. Podcast, "30 With Murti: David Cone and the 1996 Yankees," May 5, 2016, newyork.cbslocal.com/2016/05/05/remembering-the-1996-yankees-david-cone-30-with-murti/.
6 Torre once dubbed Cone "Thomas Edison every day." Craig Wolff, "Uptown Local: David Cone is the toast of New York, but he's still a backyard K.C. boy in a pinch," ESPN the Magazine, October 5, 1998, espn.com/espn/magazine/archives/news/story?page=magazine-19981005-article25.
7 Cone is probably closer to 5-feet-11; he himself has admitted being under 6 feet tall. See, e.g., Bob Klapisch, "Klapisch: Q-and-A with David Cone," North Jersey.com, February 25, 2017, northjersey.com/story/sports/columnists/bob-klapisch/2017/02/25/klapisch-a-q-and-a-with-david-cone/98423578/.
8 See, e.g., Ian O'Connor, "A Pair of Aces Jack, Cone hold Yank Cards," New York Daily News, August 3, 1995, nydailynews.com/archives/sports/pair-aces-jack-cone-hold-yank-cards-article-1.696298; Jennifer Frey, "A Grown-Up David Cone Takes to Life as a Leader," Washington Post, March 24, 1996, washingtonpost.com/archive/sports/1996/03/24/a-grown-up-david-cone-takes-to-life-as-a-leader/20719712-5429-4492-bbbc-dc6f5cdb0a7b/?utm_term=.d476711dd8ff; Chris Smith, "Wild Pitcher," New York Magazine, October 18, 1999, nymag.com/nymetro/news/sports/features/2138/; Angell, 14.
9 Angell, 76.
10 Angell, 80.
11 "I was 12 years old, in 1975, when Luis Tiant was in the World Series with the Red Sox," Cone said. "I just kind of fell in love with him, started copying him in the backyard. He had that kind of style." Interview with author, February 24, 2017.
12 Angell, 79.
13 John Ed Bradley, "The Headliner," Sports Illustrated, April 5, 1993, si.com/vault/1993/04/05/128316/the-headliner-strikeout-king-david-cone-hopes-the-news-he-makes-as-a-kansas-city-royal-will-be-about-baseball-not-off-the-field-shenanigans.
14 Angell, 78.
15 Chris Smith, "Wild Pitcher."
16 The Cones saw the neighbor brandishing something shiny, which could have been a gun. It turned out to be a knife.
17 John Ed Bradley.
18 Angell, 79.
19 John Ed Bradley.
20 Until 2016, Cone might have been Rockhurst's most famous graduate – if not for a suddenly prominent politician from Virginia named Tim Kaine.
21 Angell, 116. Rockhurst restored its baseball program in 1989, and a few years later Cone made a large donation toward the school's athletic programs.
22 Angell, 118-19.
23 John Ed Bradley.
24 Angell, 119.
25 Interestingly, four members of the Mets' 1990 rotation were chosen during that draft: Cone's future roommate Sid Fernandez (73rd overall pick) was chosen immediately ahead of Cone (74th) by the Dodgers; Ron Darling (9th) was selected by the Rangers in the first round; and Frank Viola (37th) was chosen by the Twins in the second round. Longtime Mets closer John Franco was also part of the 1981 draft, selected by the Dodgers in the fifth round.
26 See Angell, 124.
27 John Ed Bradley.
28 Angell, 147.
29 Ponce had the best record in the regular season. However, Caguas won the playoff round-robin to represent Puerto Rico in the Caribbean World Series, taking along several top Puerto Rican League players with it, regardless of whether they played for Caguas during the regular season. According to Thomas VanHyning, this practice of "reinforcement" was common. Other such reinforcements for Caguas in that Series included Bobby Bonilla, Juan Nieves, Luis DeLeon, and Candy Maldonado. See also Thomas Van Hyning, "Caguas Criollos: Five Caribbean Series Crowns and Cooperstown Connections," SABR Baseball Research Journal, Spring 2018, https://sabr.org/journal/article/caguas-criollos-five-caribbean-series-crowns-and-cooperstown-connections/.
30 See, e.g., Peter Botte, "Ed Hearn, known for Mets trade that got David Cone, flopped with Royals but finds success in life," New York Daily News, October 27, 2015, nydailynews.com/sports/baseball/mets/ed-hearn-finds-success-royals-flop-mets-cone-article-1.2412564.
31 Angell, 153.
32 Robert David Jaffee, "Former NY Mets Catcher Barry Lyons Roars Back From Depression," Huffington Post, January 28, 2014, huffingtonpost.com/robert-david-jaffee/former-ny-mets-catcher-ba_b_4681263.html. Years later, after Hurricane Katrina had destroyed Lyons' home, Cone and friend Andrew Levy helped bring Lyons out of a spiral of depression and addiction.
33 Angell, 154.
34 Angell, 149.
35 Cone, a left-handed batter, described the pitch hitting "the bottom hand around the [k]nob of the bat. Like cracking a walnut." Twitter, June 25, 2013, twitter.com/Baldassano/status/349594799944380416.
36 Dashing initial hopes of many New Yorkers, Cone is not Jewish. His last name originates from the Irish "McCone," not "Cohen."
37 Cone hasn't appeared on SNL in a Conehead, but he did show up twice on the late-night sketch comedy. The first time was among a group of players upstaging host Ben Stiller after the Yankees won the World Series in 1998. The second was in drag with pal David Wells and host Derek Jeter in 2001 – he played a "skank" in a leopard-print halter top and metallic black miniskirt who pulled underwear from his bra.
38 Vincent M. Mallozzi, "Live From New York, It's a Conehead," New York Times, October 29, 2006, nytimes.com/2006/10/29/sports/baseball/29cheer.html.
39 John Feinstein, Play Ball: The Life and Troubled Times of Major League Baseball (New York: Villard, 1993). Excerpt available at Google Books.
40 Correspondence with author, March 3, 2017.
41 Sam McManis, "HIT, THROW AND RUN: Guerrero Throws Bat at Pitcher; Dodgers Lose, 5-2," Los Angeles Times, May 23, 1988, articles.latimes.com/1988-05-23/sports/sp-2199_1_dodgers-lose.
42 Paul Hagen, "Now There's No Way Phils Can Lose 100," Philadelphia Daily News, September 28, 1988. Cone batted .234 in 1989, the highest average for any pitcher with more than 35 at-bats.
43 David Cone, "It was justice – not luck," New York Daily News, October 5, 1988.
44 Interview with author, February 24, 2017.
45 Interview with author, February 24, 2017.
46 Sam McManis, "BASEBALL PLAYOFFS: Cone Winds Up Eating His Words: Met Pitcher Apologizes; Career as a Columnist Is Over," Los Angeles Times, October 8, 1988, articles.latimes.com/1988-10-08/sports/sp-3095_1_david-cone; Robbie Andreu, "Cone Writes His Wrong. He Quits," Sun-Sentinel, October 8, 1988, articles.sun-sentinel.com/1988-10-08/sports/8802280502_1_bob-klapisch-column-gag-order (excerpts from column quoted).
47 Interview with author, February 24, 2017.
48 Gerard Cosloy, "Klapisch Recalls Controversial Cone Column," Can't Stop the Bleeding, September 11, 2006, cantstopthebleeding.com/klapisch-recalls-controversial-cone-column (excerpted from the Bergen Record).
49 See, e.g., Murray Chass, "ON BASEBALL: Yankees Must Beware Fate of the 1988 Mets," New York Times, June 25, 1996, nytimes.com/1996/06/25/sports/on-baseball-yankees-must-beware-fate-of-the-1988-mets.html (Joe McIlvaine claimed the column "absolutely" contributed to the Mets' NLCS loss.); Buster Olney, The Last Night of the Yankee Dynasty (New York: HarperCollins, 2004), 166. (Mets manager Davey Johnson "would say his greatest regret of that season was 'David Cone's literary career.'")
50 Angell, 90.
51 David Laurila, "Q&A: David Cone, Stat-head All-Star," FanGraphs, November 20, 2012, fangraphs.com/blogs/qa-david-cone-stat-head-all-star.
52 Joe Sexton, "BASEBALL: Dawson Slaps Laredo Slider and Mets Go South," New York Times, August 10, 1991, nytimes.com/1991/08/10/sports/baseball-dawson-slaps-laredo-slider-and-mets-go-south.html.
53 Interview with author, February 24, 2017.
54 John Ed Bradley.
55 Angell, 175; John Ed Bradley.
56 John Ed Bradley.
57 Kerry Wood (1998) and Max Scherzer (2016) have since surpassed that record, with 20 K's.
58 Allen Barra, "The New Whitey Ford," The Village Voice, October 12, 1999, villagevoice.com/news/the-new-whitey-ford-6420696.
59 Barra; Michael Marriott, "BASEBALL; State Attorney Says 3 Mets Will Not Face Criminal Charges," New York Times, April 10, 1992, nytimes.com/1992/04/10/sports/baseball-state-attorney-says-3-mets-will-not-face-criminal-charges.html.
60 Two of the women dropped out of the suit, and the third woman settled privately over words that were exchanged – the worst thing Cone had apparently done was call her a "groupie." See Angell, 176-77.
61 Chris Smith, "Wild Pitcher."
62 Eric Pooley, "Why Are These Guys Laughing?" New York Magazine, April 13, 1992, 58, 60.
63 Bruce Kauffman, "Battered Mets Banish the Messenger," AJR, May 1992, ajrarchive.org/Article.asp?id=2061.
64 Interview with author, February 24, 2017.
65 Chris Smith, "Wild Pitcher."
66 The Blue Jays won the AL East over Milwaukee by four games.
67 Archived news footage from 1992 Blue Jays victory parade, available at youtube.com/watch?v=F5jxknTz7tI&t=682s (last visited March 11, 2017).
68 Allen Barra, "The New Whitey Ford."
69 Joe Sexton, "BASEBALL; Royals Make Cone Game's Highest-Paid Pitcher," New York Times, December 9, 1992, nytimes.com/1992/12/09/sports/baseball-royals-make-cone-game-s-highest-paid-pitcher.html.
70 Cone clarified that the "highest-paid" label was only "the highest average annual value" – the contract was actually "back-loaded," in that after the bonus, he was to make $2 million the first two years, and $5 million the third year. At least Greg Maddux, when he signed with the Braves a day after Cone did, was making more from a salary standpoint. Interview with author, February 24, 2017.
71 Interview with author, February 24, 2017.
72 Kansas City's offense was last in the AL in runs scored (675) and team on-base percentage (.320).
73 By comparison, the White Sox' Jack McDowell, who won the AL Cy Young Award, had similar numbers to Cone – except that he went 22-10.
74 Interview with author, February 24, 2017.
75 Angell, 247. Former MLBPA head Marvin Miller praised Cone as "one of the most articulate spokesmen for players' rights I've ever seen." Allen Barra, "The New Whitey Ford."
76 Before the Senate Judiciary Subcommittee, Cone forcefully testified that the negotiation process with the owners was "such a joke." See "Kansas City Royals Pitcher David Cone on baseball strike – 1995 Senate Judiciary Subcmte Hearing," C-SPAN.org, February 15, 1995, c-span.org/video/?c4510189/kansas-city-royals-pitcher-david-cone-baseball-strike. Cone has often been asked whether he would consider going into politics. He generally demurs –"too many skeletons."
77 S.53—Curt Flood Act of 1998, 105th Cong., congress.gov/bill/105th-congress/senate-bill/53.
78 See "Sotomayor Confirmation Hearing, Day 4, Legal Issues Panel," C-SPAN.org, c-span.org/video/?c1446191/clip-sotomayor-confirmation-hearing-day-4-legal-issues-panel.
79 Interview with author, February 24, 2017.
80 Andrew Mearns, "This Day in Yankees History: David Cone, Hired Gun – July 28, 1995," Pinstripe Alley, July 28, 2012, pinstripealley.com/2012/7/28/3198562/this-day-in-yankees-history-david-cone-hired-gun-july-28-1995.
81 See Ian O'Connor, "A Pair of Aces Jack, Cone Hold Yank, Cards," New York Daily News, August 3, 1995, nydailynews.com/archives/sports/pair-aces-jack-cone-hold-yank-cards-article-1.696298.
82 George Vecsey, "Sports of the Times; Cone Faces Unfinished Business," New York Times, December 22, 1995, nytimes.com/1995/12/22/sports/sports-of-the-times-cone-faces-unfinished-business.html.
83 Roberts, a Hall of Fame pitcher, had also been active in the early days of the MLBPA, helping persuade the players to hire Marvin Miller as union head.
84 The Orioles attracted Cone, in part, because he'd worked with new general manager Pat Gillick (with the Blue Jays) and new manager Davey Johnson (Mets) before, and he respected owner Peter Angelos for not hiring replacement players during the strike. Harper & Klapisch, 14-15.
85 The Mets also made a last-minute offer, but the money wasn't there.
86 Podcast, "30 With Murti: David Cone and the 1996 Yankees."
87 Podcast, "30 With Murti: David Cone and the 1996 Yankees."
88 Only a controversial ninth-inning single stood between Rivera completing a combined no-hitter.
89 Jack Curry, "Sensational Comeback for Cone: Seven Innings, No Runs, No Hits," New York Times, September 3, 1996, nytimes.com/1996/09/03/sports/sensational-comeback-for-cone-seven-innings-no-runs-no-hits.html.
90 Interview with author, February 24, 2017.
91 Pipp was the Yankees first baseman whose injury contributed to the rise of his replacement, Lou Gehrig.
92 The commercial was one of a series featuring the "ANSKY" boys – five shirtless men wearing the letters Y, A, N, K, and S. https://www.youtube.com/watch?v=mi7dt4gZu64.
93 https://www.youtube.com/watch?v=v9gGWqVoxvU
94 Buster Olney, "BASEBALL; Rarest Gem for Yankees' Wells: A Perfect Game," New York Times, May 18, 1998, nytimes.com/1998/05/18/sports/baseball-rarest-gem-for-yankees-wells-a-perfect-game.html.
95 As of March 2022, 23 pitchers had thrown perfect games – seven since Cone.
96 Berra's number 8 was emblazoned behind home plate throughout the game, and Cone threw 88 pitches.
97 Murray Chass, "BASEBALL; On Day Made for Legends, Cone Pitches Perfect Game," New York Times, July 19, 1999, nytimes.com/1999/07/19/sports/baseball-on-day-made-for-legends-cone-pitches-perfect-game.html?ref=davidcone.
98 Cone still finished with the second-lowest ERA in the AL, at 3.44.
99 Jack Curry, "Baseball: Cone's Velocity Returns, Showing His Arm Is Sound," New York Times, August 17, 1999, nytimes.com/1999/08/17/sports/baseball-cone-s-velocity-returns-showing-his-arm-is-sound.html.
100 Joe DiLessio, "David Cone on Advanced Stats, the End of His Playing Career, and Riding on David Wells's Motorcycle," New York Magazine, May 26, 2011, nymag.com/daily/sports/2011/05/david_cone_on_advanced_stats_t.html. As perceptive triviaheads have indicated, "David Cone" anagrams to "Odd Cave-In."
101 Before his struggles dominated the narrative, Cone had envisioned Angell's book would cover "technical things about what pitchers do and how they take care of themselves, and who owns the pitcher's arm." Angell, 255. Eighteen years later, Cone got a chance to release such a book himself, collaborating with Jack Curry on Full Count; The Education of a Pitcher (New York: Grand Central Publishing, 2019).
102 Cone lasted once beyond the seventh inning all season, in a no-decision on May 9.
103 Cone had pitched a perfect inning of relief against Seattle in the ALCS, and Torre considered starting him in Game Four instead of the struggling Denny Neagle. Cone encouraged Torre to start Neagle over him, because, Cone claimed, he had gotten comfortable coming from the bullpen.
104 Angell, 283.
105 The Mets, Rangers, and Royals (as a closer) also expressed mild interest in Cone that offseason.
106 Joel Sherman, "Cone-Tamination; Is Complete," New York Post, February 19, 2001, nypost.com/2001/02/19/cone-tamination-is-complete/.
107 Cone is also the answer to the trivia question of who threw the final pitch to Cal Ripken, Jr. The Orioles Iron Man went 0-for-3 as Cone hurled another eight innings without allowing an earned run on October 6.
108 Jack Curry, "ON BASEBALL; That Face In a Crowd Is Cone's," New York Times, April 6, 2002, nytimes.com/2002/04/06/sports/on-baseball-that-face-in-a-crowd-is-cone-s.html.
109 News outlets in 2002 claimed that Cone was still throwing regularly. When the author asked Cone if he had been throwing throughout 2002, he replied, "No, not really. I just kind of took the year off." Interview with author, February 24, 2017.
110 "David Cone Announces Retirement," UPI Wire, May 30, 2003, upi.com/David-Cone-announces-retirement/76971054333945/.
111 Interview with author, February 24, 2017.
112 By the end of the 2021 season, Cone had slipped to 27th all-time, surpassed by Pedro Martinez, Curt Schilling, John Smoltz, Mike Mussina, CC Sabathia, Max Scherzer, Justin Verlander, Zack Greinke, and Clayton Kershaw.
113 Cone's career pitching Wins Above Replacement, at 61.6, ranks (after the 2021 season) right between Hall of Famers Juan Marichal and Don Drysdale—57th all-time.
114 Interview with author, February 24, 2017.
115 David G. Palacio, "After Sandy: Baseball's David Cone Serves Beer To Help Victims," The Midtown Gazette, November 17, 2012, themidtowngazette.com/2012/11/after-sandy-local-ball-player-serves-beer-to-help-hurricane-victims/.
116 The video was posted to social media: https://www.facebook.com/gastroparesispiefacechallenge/videos/466237433765594/
117 Interview with author, February 24, 2017.
118 Interview with author, February 24, 2017.
119 Bob Klapisch, "Klapisch: Q-and-A with David Cone," North Jersey.com, February 25, 2017, northjersey.com/story/sports/columnists/bob-klapisch/2017/02/25/klapisch-a-q-and-a-with-david-cone/98423578/.
Born
January 2, 1963 at Kansas City, MO (US)
If you can help us improve this player's biography, contact us.
https://sabr.org/sites/default/files/ConeDavid.jpg
600
800
admin
/wp-content/uploads/2020/02/sabr_logo.png
admin
2016-02-08 12:24:22
2022-08-30 23:39:03
David Cone