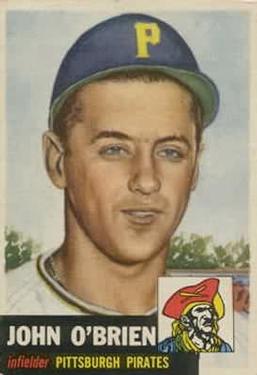 ---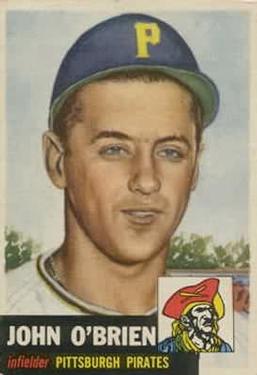 "The bonus rule will ruin baseball if it isn't curtailed," proclaimed Branch Rickey, Pittsburgh Pirates general manager, in August 1952."1 A revised rule was adopted by the major leagues that winter. Clubs were required to carry any player receiving a signing bonus of more than $4,000 on their major-league roster for a minimum of two years.2 The rule aimed to discourage huge bonuses to high-school and collegiate prospects. It failed miserably. Spending on amateur talent continued unabated.
The bonus rule of December 1952, which went into effect during that year's winter meetings and continued through 1957, had unintended consequences: irreparable damage to most of the players it governed. Johnny O'Brien and his identical twin brother, Eddie, were archetypal victims. Prohibited from developing their skills at the start of their pro careers at lower levels, they achieved minimal success in the majors. "[They] would've been fine major league players had they started where they belonged," observed Joe L. Brown, Rickey's successor in Pittsburgh. "They were talented young men but they had to stay in the major leagues. They graduated from college at like 22 and they were over 24 by the time that they could go down. That's a little late to be learning."3
John Thomas O'Brien was born on December 11, 1930, a few minutes before Edward, in South Amboy, New Jersey. They were the eldest of Edward James and Margaret (Smith) O'Brien's four sons and one daughter. Their father was a laborer with the Pennsylvania Railroad. The boys shared bunk beds in one bedroom of the family apartment, their parents had the other, and their sister slept on the living-room sofa.4 "Sports were our life," Johnny recalled of growing up in the Great Depression. "We made our own baseball and we got a brakeman stick (from the railroad). We played night and day because nobody had any money."5
The twins described their father as very loving, but also a taskmaster. "He never patted us on the back, no matter what we did," they said. "He was more likely to point out our mistakes, but we knew — and he knew we knew — he was always in our corner."6 Johnny was an infielder and occasionally pitched. Eddie patrolled the outfield. Both batted and threw right-handed.
The O'Briens attended St. Mary's High School in South Amboy. They graduated in 1948, the same year that Allie Clark, an earlier alumnus of the school, helped the Cleveland Indians win a World Series championship. Future big-league Managers of the Year Tom Kelly and Jack McKeon are also St. Mary's graduates. McKeon was the catcher on the O'Briens' team. His father owned a garage that housed snowplows and other large vehicles. On cold winter nights, the three teenagers transformed the garage into an indoor batting facility. "We moved all the vehicles out, put screens on the windows and lights, and took batting practice for hours," McKeon recalled.7
Despite their small height and slight build, the twins also excelled in basketball. Johnny was chosen to the first team and Eddie the second team on the Middlesex All-County basketball squad.8 In the Catholic Schools Class B Championship game against Holy Family of Union City, Johnny was outstanding. "Racing underneath for twisting, underhanded lay-ups, he constantly outsmarted the Holy Family back line," wrote one reporter. Johnny scored 23 of the Eagles' 47 tallies in a heartbreaking one-point loss.9
According to Johnny, 14 major-league clubs wanted to sign the twins to minor-league contracts after high school. Their father, though, had attended school only through fifth grade and insisted that they get a college education.10 Scholarships would be essential. A physician in South Amboy offered to pay their way at Mount Saint Mary's in Maryland if they promised to become doctors. They respectfully declined. "You can't believe how many lives that saved," Johnny wisecracked years later.11 Seton Hall University, which had future bonus baby Ted Lepcio in its baseball program, rejected the undersized duo. The Brooklyn Dodgers proposed to pay their way to attend St. John's University. In exchange, they would have had to sign contracts with the Dodgers organization and forfeit their collegiate sports eligibility.12 The twins turned down the offer, and spent the winter working in a local factory.
The following summer, they played semipro baseball for various teams. In August 1949, at the National Semi-Pro Baseball tournament in Wichita, Kansas, the teenagers grabbed the attention of a rival player, 26-year-old Al Brightman, who also happened to be the baseball and basketball coach at Seattle University. Brightman arranged for scholarships, and Johnny and Eddie headed west to play both sports for the Chieftains.13
"No one would take Ed and [me] for a basketball scholarship," Johnny recalled much later. "Who's going to go for two 5-foot-9 guys from New Jersey? Seattle U. took a chance on us."14 The duo exceeded all expectations on the hardwood for the tiny Jesuit institution. "Johnny-O" was a scoring machine, "Eddie-O" the playmaker. Over four years, Johnny tallied 3,302 points, more than any other college player at the time, and was the first collegian to top 1,000 points in a season.15 On February 15, 1953, he set a school record with 51 points in a game vs. Gonzaga University, a mark broken a few years later by future NBA star Elgin Baylor.16 In his senior year Johnny was selected first-team All-American by both the Associated Press and United Press.17
His most celebrated game took place in Seattle on January 21, 1952, against the Harlem Globetrotters. The match was a fundraiser for the US Olympic Committee. Known for their entertaining antics on the court, the legendary Globetrotters were also very skilled cagers. They routinely dispatched collegiate foes on national barnstorming tours, and had beaten the Minneapolis Lakers, champions of the fledgling NBA, twice in serious exhibition games.18 Founded in 1926, they arrived in Seattle seeking their 4,000th victory against just 253 losses.
Despite a six-inch height disadvantage, Johnny flummoxed his taller defenders, including the fabulous Reece "Goose" Tatum. "With my first three shots, I hit a right-handed hook, then a left-handed hook, and a jumper," Johnny said. "After that, they didn't know what I was going to do." In one of the biggest upsets in Seattle sports history, Johnny netted 43 points, Eddie chipped in 13, and the Chieftains posted a shocking 84-81 victory.19 This David vs. Goliath-like triumph vaulted Seattle U. to national prominence and the O'Briens to local stardom. Johnny was voted "Man of the Year" at Seattle's prestigious sports banquet.20 Over three years, the tandem led the Chieftains to a 90-17 record and appearances in the 1952 National Invitational Tournament and 1953 National Collegiate Athletic Association Tournament.21
Johnny-O was just as dazzling on the baseball diamond. As a freshman he hit .350; the following year, he averaged .566 with 22 of his 47 hits going for extra bases, and compiled an astounding slugging percentage of 1.110. The infielder also pitched twice in relief, striking out seven in three innings.22 In his junior season, Johnny "cooled off" to a .433 batting average and .784 slugging mark. The cleanup hitter also stole 13 bases.23 Eddie's production during this period was similarly impressive. Over three seasons, the duo led the Chieftains to a 61-14 record and a berth in the 1952 NCAA tournament.
They returned to South Amboy that summer to play for the "Brooklyn Against the World" team sponsored by the Dodgers organization. The program, initiated by then-Brooklyn GM Rickey in 1946, showcased amateur talent from the metropolitan New York area. In its formative years (1946-47), Brooklyn Against the World, co-founded by Rickey and Lou Niss of the Brooklyn Eagle, pitted a team of Brooklyn youth (under age 19) against a group of star players from around the country. By 1952 the Brooklyn team, known as the "Dodger Rookies," dispensed with the age limit and became a barnstorming venture traveling to various locations in the Northeast. The 1952 team won eight of nine contests.24
Although Rickey left Flatbush in 1950 to take the reins of the moribund Pirates, he still kept tabs on the twin prodigies. Pittsburgh majority owner John Galbreath was not averse to spending big bucks for collegiate sports standouts. In June 1952 the Corsairs landed Duke basketball star and shortstop Dick Groat with a sizable bonus before changes to the bonus rules. On December 15, 1952, Heisman Trophy winner Vic Janowicz received a $25,000 bonus, the first contract signed under the new bonus rule.
Rickey hoped to lure the O'Briens to the Steel City as well, but he was not their only suitor. The Seattle Rainiers of the Open Classification Pacific Coast League valued the twins as a potential drawing card, and were willing to offer signing bonuses of up to $15,000 apiece. Several major-league clubs, including the Yankees, Dodgers, and Giants, were also in the hunt. With the help of the Pirates' minority owner, Bing Crosby, Rickey persuaded the O'Briens to pass up their final year of baseball eligibility. On March 19, 1953, in the Seattle U. gymnasium, scout Ed McCarrick signed the young men to a five-figure package deal. "We are mighty happy to have kids like this on our club," McCarrick enthused to the local press. He compared the O'Briens to Rickey's World Series champions from St. Louis two decades earlier. "They are the type of player Mr. Rickey likes — fast and aggressive. They've got the Gashouse Spirit."25 The sizable bonus also dissuaded the twins from pursuing pro basketball, even though they were selected by the Milwaukee Hawks in the 1953 NBA draft.
The bonus babies left Seattle immediately and reported to Rickey at the Bucs' spring camp in Havana. The Mahatma wanted a quick return on the club's investment and decreed that the twins become the Pirates' new keystone combo. Johnny was moved from the left side of the infield, where he'd played in college, to second base. With Groat in military service, Eddie was groomed as a shortstop. "The idea of using the O'Briens at second and short was mine," Rickey declared.26
In a 2018 interview, Johnny humorously described their first workout in Havana:
"So, they start hitting balls (to Eddie), and Rickey's going, 'That's Pee Wee Reese. … Then, he says, let's have a double play. So, I come out and (Eddie) drills me. I said, Ed, you're not a center fielder anymore, you just get the ball (easy) to me. They hit another one, and again, boom, he drills me again. So, I say, 'Mr. Rickey, that might be Pee Wee Reese, but he's killing Jackie Robinson.'"27
The O'Briens were hyped as the Pirates' first brother act since Paul and Lloyd Waner. Manager Fred Haney brought his future double-play tandem along slowly, choosing not to play them together for the first two months of the season. Johnny appeared in several games at second with veteran Dick Cole at short; Eddie was paired with Danny O'Connell. Finally, on June 7, they started together for the first time. The O'Briens were the first twins in major-league history to play for the same team since Red Shannon and Joe Shannon appeared in one game together in 1915. From that day until September 2, they were the Bucs' primary middle infielders.
Haney defended his commitment to the greenhorns. "We have to find out what they can do. We're looking for the future, we are building for a winner," he said.28 A few praised their defensive skills. "Those kids make the double play better than some veterans in the league," umpire Babe Pinelli assessed.29 Others were not as kind. "There are no two players in the game that try harder than these youngsters," wrote one sportswriter after another Bucs loss, "but they repeated their Friday mistake of being in the wrong place, and their inability to get in front of bounding balls also proved costly."30
At second base, Johnny was officially charged with only seven errors for the season. At the plate, he averaged .247 with 13 doubles, 2 triples, 2 home runs, and an on-base plus slugging percentage (OPS) of .639. On August 23 at Forbes Field, the O'Briens put on a tantalizing offensive display in a doubleheader against Cincinnati. The pair scored six runs and drove in eight on seven hits, including Johnny's first big-league home run, off Harry Perkowski.
The twins' rookie season ended on September 10. They were inducted into the US Army and assigned to Aberdeen Proving Ground in Maryland. Despite missing the entire 1954 season, the twins were pictured together on a unique Topps baseball card. It has become one of the most desirable cards in the set.
The Aberdeen base did not have a baseball program at that time. It did have a basketball team, and Johnny excelled in competition against other Army bases. In March 1954 he was named to the Armed Forces Press Service all-star team. The following month, at the All-Army basketball tournament held at Fort Lewis, Washington, the scoring dynamo tallied 103 points in three games, including a tourney-record 41 for a single game.31 Johnny was selected to the tournament's all-star first-team. Fellow All-American and future teammate Groat, stationed at Fort Belvoir, Virginia, was named second-team.32
On October 2 Johnny married Jeanne Kumhera, his college sweetheart and 1951 Homecoming Queen. They had become engaged the previous Christmas.33 The wedding took place 14 weeks after Eddie and another Seattle U. grad were wed. Befitting the O'Briens' celebrity status, both nuptials received prominent coverage in the society pages of the Seattle Sunday Times.34
In 1955 the twins played some games with the Lancaster Red Roses of the Eastern Basketball League until their June discharge from the Army. Since military service time was excluded from the bonus rule, they returned to the Pirates' active roster. Haney inserted Johnny full-time at second base from late June until the end of the season. On July 2 he singled in the game-winning run against the Dodgers. The scrappy spray hitter went 4-for-4 against Brooklyn five days later, and drove in four runs vs. the Cubs on July 24. He batted well over .300 for most of the year before finishing with a .299 batting average, 15 doubles, 2 triples, 1 home run, and a .723 OPS. One of his most memorable hits occurred on July 1 at Ebbets Field. In the top of the second, he lined a double past Carl Furillo off the Abe Stark sign at the base of the right-field scoreboard and earned a free suit from the Brooklyn clothier.35 O'Brien returned to Seattle University in the fall and earned a bachelor's degree in business administration.
"If running and hustle were the only credentials for the Hall of Fame, the O'Briens could dash right from Forbes Field to Cooperstown," opined one sportswriter. "Unfortunately, other essentials are needed."36 Johnny opened 1956 as the starting second baseman, but slumped early at the plate. New Pirates manager Bobby Bragan wasn't as patient as Haney, his predecessor. O'Brien struggled to hit above .200 as Bragan shuffled him in and out of the lineup. When Bill Mazeroski was called up from Hollywood in July, any remaining hope Johnny had of reclaiming the starting job was over. In 104 at-bats for the season, he managed just 18 hits (.173).
Johnny had to remain on the major-league roster under the bonus rules, so Bragan got creative. On June 27, to save an overworked pitching staff in a lopsided loss, he summoned a shocked O'Brien to pitch the ninth inning against the Redlegs. The infielder had thrown some batting practice, but had not pitched competitively since his sophomore year at Seattle U. The first batter he faced was Frank Robinson. Using a fastball and knuckler, Johnny struck out the future Hall of Famer and retired the side unscathed. His next mound appearance was on July 3 vs. the Phillies. Behind 5-3, Bragan brought O'Brien in with two out and the bases loaded in the top of the seventh. The right-hander escaped the jam and shut out the Phils the rest of the way as the Pirates came back to win, 6-5. Johnny pitched six more games in relief and finished the 1956 season with a 1-0 record and a 2.84 earned-run average over 19 innings.
Pittsburgh sought waivers on the twins in late July in order to send them to the minors after their bonus designation expired. Milwaukee put in a claim and the request was withdrawn. The Braves were in pennant contention under former Pirates skipper Haney, who envisaged the O'Briens as pinch-runners and "cheer leaders on the bench."37
Pittsburgh again tried to farm out the twins in spring training 1957. This time, Eddie cleared waivers, but Johnny did not. He stayed on the Pirates roster the entire season as a utility infielder and relief pitcher and appeared in just 34 games. At the plate, he went 11-for-35. On the mound he served up seven home runs over 40 innings and finished 0-3 with a 6.08 ERA.
As the 1958 season began, the veteran (by then 27) was nearly a forgotten man. He appeared in just three of the Pirates' first 55 games, and even worked out as the team's emergency catcher.38 At the June 15 trading deadline, Brown dealt O'Brien and Gene Freese to St. Louis for another former bonus baby, Dick Schofield. Cardinals manager Fred Hutchinson, also a Seattle sports hero, used O'Brien as a pinch-runner, defensive replacement, and mop-up reliever in a dozen games. On July 13 O'Brien was swapped to the Redbirds' Triple-A farm club in Rochester for Rubén Amaro Sr. "No player ever came out of the majors to display more spirit, hustle, fight and drive in his demotion," remarked one Red Wings reporter.39
The peppery middle infielder played errorless ball in 36 games and led the team with a .323 batting average. However, his prior inaction may have taken a toll. O'Brien played through a succession of pulled leg muscles before tearing knee ligaments in a take-out slide in the third game of the International League playoffs.
The St. Louis organization wanted Johnny to play winter ball, but he declined and was dropped from the Cardinals roster. The Rainiers club hoped to finally realize its dream to suit up the O'Brien twins. "I preferred to come back to Seattle," Johnny admitted.40 It was not to be. Philadelphia unexpectedly claimed Johnny in the Rule 5 draft. He signed a five-figure contract, the largest of his career, and reported to the Phillies spring-training camp in Clearwater, Florida.41
Meanwhile, the Milwaukee Braves suffered a severe blow. Second baseman Red Schoendienst contracted tuberculosis, which sidelined the future Hall of Famer for nearly the entire 1959 season. The defending NL champions scrambled to fill the void. On March 31, in a six-player trade with the Phillies, they obtained O'Brien to join the competition. "He's a scrappy little hustler," his former manager Haney beamed. "I like his style of play very much." Braves GM John McHale vowed that "Johnny will be given every opportunity to play second. We think he'll go a long way in solving our infield problem."42
Coming off the bench, O'Brien got off to a good start with his new team. He drove in the game-winning run with an 11th-inning single on Opening Day, and socked a home run off soft-tossing Giants reliever Stu Miller on May 2. The next day, O'Brien joined the starting lineup; he remained the Braves' primary second baseman through mid-July, but struggled at the plate. His batting average stood at .198 on July 21 when McHale, desperate for more offense, claimed veteran Bobby Avila off waivers and returned O'Brien to Triple-A Rochester. Amid a variety of leg and hand injuries, he hit .208 in just 26 games for the Red Wings and finished the season on the disabled list.
Unexpectedly, Johnny's dismal year ended on a positive note. On September 7, Seattle announced that it had purchased O'Brien from Rochester for the 1960 season, ending its six-year quest. The Rainiers had a working agreement with the Cincinnati Reds and couldn't have made the deal without the help of Hutchinson, who had become the Reds manager, and general manager Gabe Paul.43 Johnny welcomed the opportunity to play for Seattle, but apparently wasn't about to give the Rainiers a hometown discount. The Irish-American signed his contract on St. Patrick's Day, one day before spring training started. "I'm satisfied and I'm going to try to do a heck of a job," he declared.44 Rainiers manager Dick Sisler named O'Brien team captain, citing his "ability, hustle, leadership and intelligence."45
Five days before the start of the Pacific Coast League season, the veteran severely sprained his right ankle. The injury kept him out of action for two months. On June 10 O'Brien finally made his Rainiers debut. He was the team's primary third baseman for the remainder of the season. The captain finished the year with a .309 batting average, including 12 doubles and 5 home runs, in 73 games. Nonetheless, O'Brien was not among the 10 players recalled to the Reds' major-league roster in September.
In October the locally owned Rainiers were purchased by the Boston Red Sox. O'Brien's contract was one of nine transferred to the Boston franchise for 1961.46 The one-time bonus baby took stock of his life. He had bounced around six major-league organizations in less than three years. Meanwhile, Groat, Mazeroski, and many of his former Pirates teammates had won the 1960 World Series. During prior offseasons, O'Brien had been employed as a county coroner's deputy and a beverage company salesman. He also did color commentary with play-by-play announcer Keith Jackson on radio broadcasts of Seattle University basketball games. Twin brother Eddie had left professional baseball two years earlier to become athletic director at Seattle U. On February 13, 1961, the 30-year-old father of four children announced his retirement. "I've been thinking about it for quite a while," said Johnny. "Baseball has been very good to me and I've enjoyed it."47 The Red Sox asked him to reconsider, promising a midseason call-up.48 Despite the temptation of Fenway Park's friendly left-field wall, Johnny stood firm.
In the majors, he compiled a .250 batting average in 906 plate appearances, with 35 doubles, 5 triples, 4 home runs, and a .626 OPS. On the mound, he finished with a 1-3 won-lost record and 5.61 ERA in 61 innings.
O'Brien was a scout for the expansion Houston Colt .45s from July 1961 through November 1962. He entered Seattle politics and was elected King County commissioner and councilman, serving from 1962 to 1973. He was a strong advocate of public financing to build an indoor multipurpose facility to attract major-league sports to the Pacific Northwest. Voters approved funding in 1968, but site selection for the Kingdome took four years — too late to save the beleaguered Seattle Pilots from moving to Milwaukee. In 1974 O'Brien was appointed interim stadium manager while the domed ballpark was under construction. He applied for the position of permanent director, but lost out to former big-league pitcher and Anaheim Stadium executive Ted Bowsfield. O'Brien continued working in Kingdome security, sales, and promotion through 1993.
Johnny and his brother formed O'Brien Baseball Services and conducted instructional camps for 6,000 children over the years. The twins were involved in other philanthropic activities, delivering Christmas gifts to families in need through the Forgotten Children's Fund. The O'Briens are enshrined in the Seattle University Hall of Fame, and the athletics administration building is named the Ed and John O'Brien Center.49 Eddie died in 2014.
Over the years, Johnny became a master storyteller who could regale an audience for hours. His quips and sharp wit endeared him to his adopted Seattle hometown. In 2020 the 89-year-old was bestowed the Sports Legend Award from the Seattle Sports Commission.50 Johnny and Jeanne raised seven children and have 11 grandchildren. As of 2021 they were alive and well and resided in Seattle.
Last revised: April 21, 2021
Acknowledgments
Thanks to Dan Raley, who conducted extensive interviews of the O'Brien family, Kevin Ticen, Dave Eskenazi, and Alan Cohen.
This biography was reviewed by Rory Costello and Len Levin and fact-checked by Bill Lamb.
Sources
In addition to the sources shown in the notes, the author used:
www.legacy.com/obituaries/seattletimes/obituary.aspx?n=eddie-obrien&pid=169880924
Seattle Public Library, Seattle www.spl.org
Baseball Guides (St. Louis: The Sporting News, 1954 through 1959).
Bouton, Jim, and Leonard Shecter (ed.). Ball Four (Cleveland: World Publishing Company, 1970).
Mullins, Bill. Becoming Big League: Seattle, the Pilots, and Stadium Politics (Seattle: University of Washington Press, 2013).
Raley, Dan. Pitchers of Beer: The Story of the Seattle Rainiers (Lincoln: University of Nebraska Press, 2011), 251-255.
Notes
1 Les Biederman, "Rickey Heads Probers Into Bonus Curbs," The Sporting News, August 20, 1952: 1.
2 Brent Kelley, Baseball's Biggest Blunder: The Bonus Rule of 1953-1957 (Lanham, Maryland: Scarecrow Press, 1997), ix.
3 Kelley, 25. In fact, Johnny was 27 years old in 1958 and Eddie was 26 years old in 1957 when they were first sent to the minor leagues.
4 Phone interview with Dan Raley, March 4, 2021.
5 Terry Mosher, "Two of a Kind — O'Brien Twins Put Seattle U. Basketball on the Map, Then Went On to Play in MLB," Kitsap Sun (Bremerton, Washington), February 7, 2017: B2.
6 Biederman, "Memory of 'Finest Father' Inspiration for O'Brien Twins," The Sporting News, March 21, 1956: 7.
7 Vincent M. Mallozzi, "One Small Town, Six Big-League Careers," New York Times, October 12, 2010: B4.
8 Gil Geis, "All-County: Sica, Ballou, O'Donnell, O'Brien, Kaskiw," Sunday Times, (New Brunswick, New Jersey), March 14, 1948: 20.
9 Les Shapiro, "St. Mary's Five Bows in Thriller, 48-47; Jackie O'Brien Stars," Sunday Times, March 21, 1948: 22.
10 Comments of Johnny O'Brien, Sports Star of the Year Banquet, February 6, 2020. https://onedrive.live.com/?authkey=%21ANDPTMwSF8GOyzs&cid=9591635355FDDC5D&id=9591635355FDDC5D%21197932&parId=root&o=OneUp.
11 Scott Hanson, "Little Giants," Seattle Times, February 13, 2018: C3.
12 Terry Mosher, "Two of a Kind."
13 Seattle University changed the name of its sports teams from Chieftains to Redhawks in 2000.
14 Mike Vorel, "Ruidiaz, Bates Win Sports Star of Year," Seattle Times, February 7, 2020: B3.
15 "O'Brien Adds to Seattle U. Scoring Marks," Seattle Daily Times, March 23, 1952: 47.
16 Bill Sears, "Johnny-O Hits 51; SU wins 109-68," Seattle Post-Intelligencer, February 16, 1953: 11. Dan Raley, "33-Day Countdown to New Division I Era: Story #3," July 18, 2012, https://goseattleu.com/news/2012/8/14/205584555.aspx
17 Ted Meier, "A.P. All-America Honors O'Brien, Houbregs," Seattle Times, March 1, 1953: 36. "O'Brien, Houbregs Named to U.P. Five," Seattle Times, March 4, 1953: 35.
18 Stew Thornley, "Minneapolis Lakers vs. Harlem Globetrotters," https://stewthornley.net/mplslakers_trotters.html
19 The Globetrotters chalked up their 4,000th victory two nights later in San Francisco. "Globetrotters Finally Score 4,000th Victory," Seattle Times, January 23, 1952: 28.
20 Mike Donohoe, "Johnny O'Brien Chosen Man of Year," Seattle Post-Intelligencer January 7, 1953: 20.
21 Dave Eskenazi and Steve Rudman, "Wayback Machine: Seattle U. Shocks Globetrotters," http://sportspressnw.com/2124463/2011/wayback-machine-seattle-u-shocks-the-globetrotters.
22 "Chieftain Nine Rewrites School's Baseball Records," Seattle Times, June 3, 1951: 42.
23 Ed Donohoe, "'Get O'Briens,' B.R. Told Scout Last Year," The Sporting News, April 1, 1953: 23.
24 "Major Flashes," The Sporting News, July 29, 1953, 21; Roscoe McGowen, "Out-of-Town Games Being Booked for All-Amateur 'Dodger Rookies,'" The Sporting News, February 29, 1956: 10.
25 Mike Donohoe, "Pirates Sign O'Brien Twins," Seattle Post-Intelligencer, March 20, 1953: 18. Various reports pegged the O'Brien bonuses at between $15,000 and $45,000 each. According to Dan Raley, who interviewed Johnny O'Brien, the bonuses were $19,000 each plus the $6,000 minimum major-league salary.
26 George Kiseda, "Rickey Moves Back His Timetable for Pirates," The Sporting News, July 29, 1953: 7.
27 Hanson, "Storytelling with Johnny: It Doesn't Get Much Better," Seattle Times, February13, 2018: C2.
28 Jack Hernon, "Roamin' Around," Pittsburgh Post-Gazette, August 17, 1953: 19.
29 "Hat's Off …!," The Sporting News, September 16, 1953: 16.
30 Charles J. Doyle, "Braves Sink Bucs, 7-4; Mathews, Adcock Homer," Pittsburgh Sun-Telegraph, August 9, 1953: 31.
31 "Johnny O's 41 Points Sets Record, Aberdeen Bows Out of Army Meet," Seattle Times, April 8, 1954: 22.
32 "Major Flashes," The Sporting News, April 28, 1954: 37.
33 "John, Ed Reveal Engagements," Seattle University Spectator, January 8, 1954: 1.
34 "Jeanne Kumhera Is Wed to John O'Brien, Seattle University Basketball Star," Seattle Sunday Times, October 3, 1954: 6-2; "Seattle U. Has Feature Part in O'Brien-McGough Wedding," Seattle Sunday Times, June 27, 1954: 6-3.
35 Hernon, "Law Tames Dodgers with Seven-Hitter, 3-2," Pittsburgh Post-Gazette, July 2, 1955: 10; Biederman, "Law Beats Dodgers (By Inches)," Pittsburgh Press, July 2, 1955: 6.
36 Biederman, "O'Briens Still in Thick of Pennant Race," Pittsburgh Press, August 19, 1955: 25.
37 Oscar Ruhl, "From the Ruhl Book," The Sporting News, August 1, 1956: 14.
38 Biederman, "21 Stitches in Foiles' Chin, but Hank Stands By to Catch," The Sporting News, June 4, 1958: 13.
39 George Beahon, "Browning Nips Herd; Bisons Rout Wings In 2d Game, 11 to 1," Democrat and Chronicle (Rochester, New York), July 21, 1958: 21.
40 Georg N. Meyers, "Rainier Twin Setback Foiled by Phillies," Seattle Times, December 2, 1958: 26.
41 John Lindtwed, "Phils to Give Johnny O Big Boost," Seattle Times, February 4, 1959: 15.
42 "Johnny O to Help Fill Infield Gap," Seattle Times, April 1, 1959: 30.
43 Lenny Anderson, "Rainiers Purchase Johnny O'Brien," Seattle Times, September 7, 1959: 22.
44 "Johnny O' Signs Contract," Seattle Post-Intelligencer, March 18, 1960: 24.
45 Hy Zimmerman, "O'Brien, on Crutches, Named Team Captain," Seattle Times, April 11, 1960: 18.
46 "Johnny O to Stay in Seattle," Seattle Post-Intelligencer, October 23, 1960: 18.
47 Paul Rossi, "John O'Brien Quits Baseball," Seattle Post-Intelligencer, February 14, 1961: 18.
48 Phone interview with Dan Raley, March 4, 2021.
49 https://goseattleu.com/news/2013/5/30/207997630.aspx.
50 Sports Star of the Year Banquet, February 6, 2020.
Born
December 11, 1930 at South Amboy, NJ (USA)
If you can help us improve this player's biography, contact us.
https://sabr.org/wp-content/uploads/2012/01/OBrienJohn.jpg
375
257
admin
/wp-content/uploads/2020/02/sabr_logo.png
admin
2021-04-20 01:16:12
2021-10-05 15:27:36
Johnny O'Brien