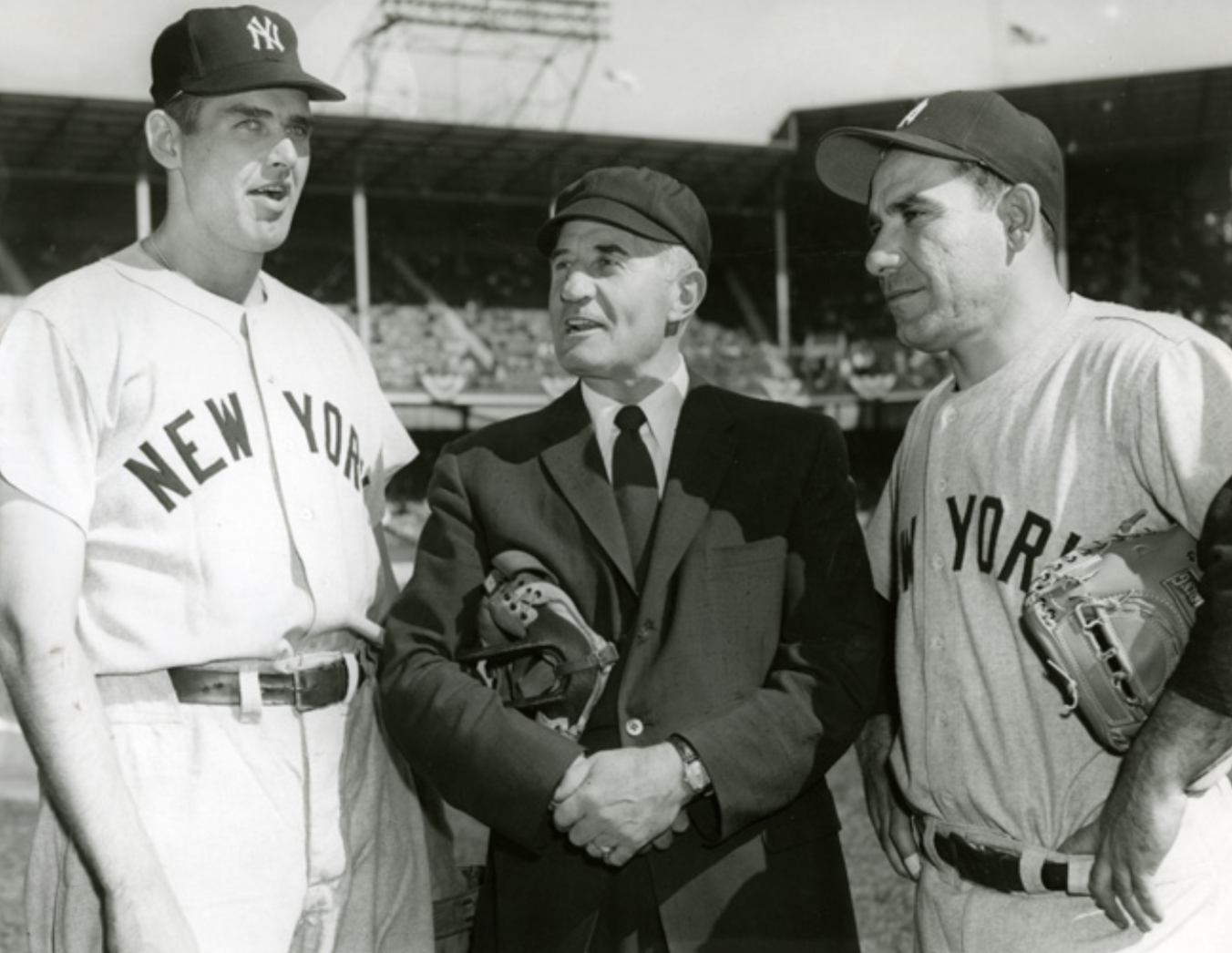 ---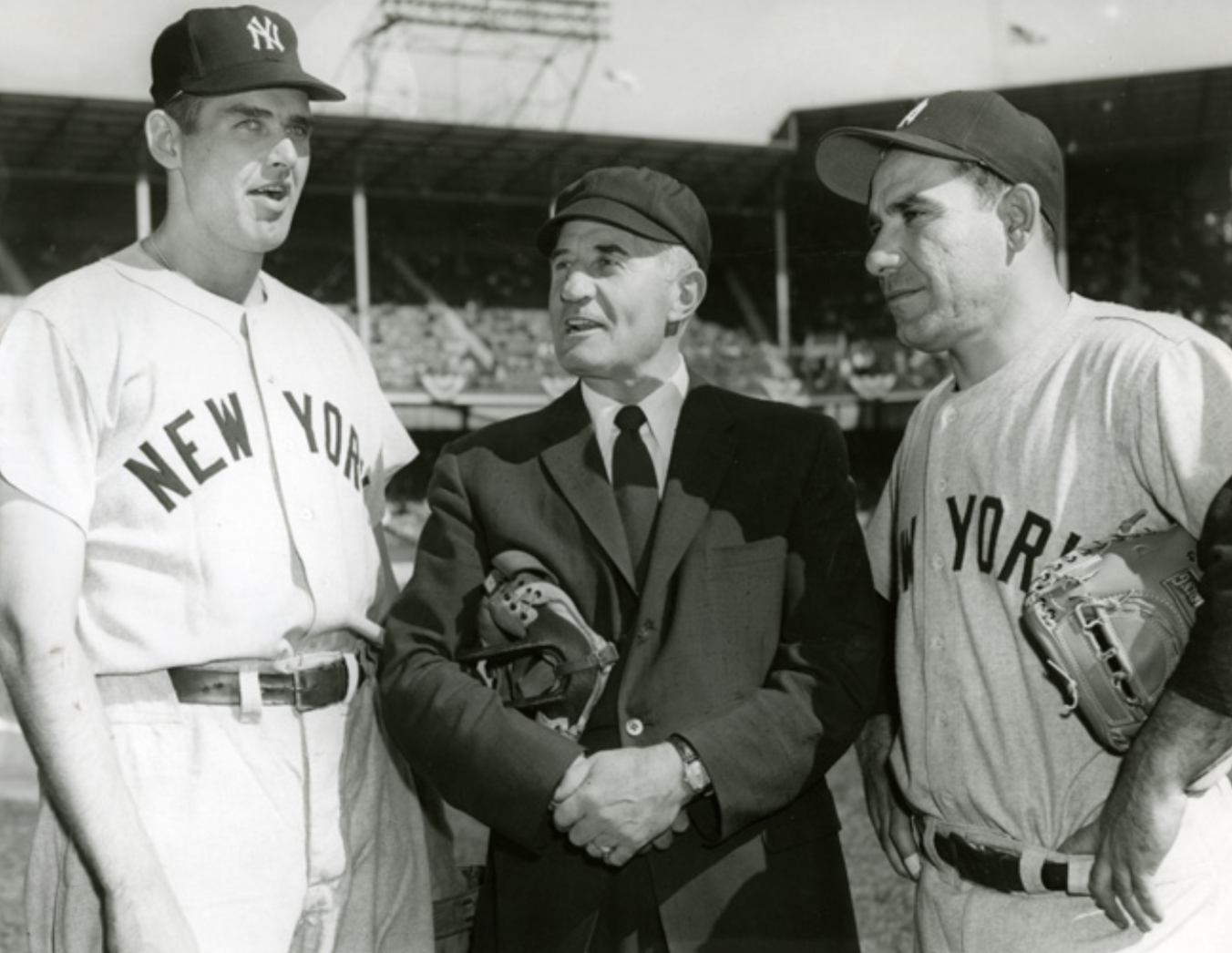 At approximately 3:15 P.M. on Monday, October 8, 1956, Babe Pinelli's right arm shot upward, ending Game Five of the World Series. Pinelli did more than punch out Brooklyn Dodgers pinch-hitter Dale Mitchell to conclude a 2-0 New York Yankees victory; his called third strike completed Don Larsen's perfect game, the only one in World Series history. It was also the culmination of Pinelli's umpiring career and a moment that fixed his – and Larsen's – place in baseball history. After the game the 61-year-old Pinelli sat in the umpires' dressing room tearfully reflecting upon both his career and the magnitude of the historic last game that he regarded "my greatest thrill in 40 years of baseball."1 But not a single reporter or baseball official appeared to ask his thoughts about the game or to congratulate him on his 22 years as a highly respected National League umpire. Crew member Tom Gorman later recalled: "Nobody showed, not the commissioner [Ford Frick], not the president of the National League [Warren Giles]. I thought it was a disgrace."2 Regarding the historic game as the capstone of his career, Pinelli retired after the final two games of the Series: "Why go on? I won't see a better pitched game. It's a perfect time to retire."3
Sports officials normally fade into historical oblivion, but Pinelli remains widely known because of the belief that he kicked the call. Second-guessers continue to contend that Larsen's final pitch was really low and outside the strike zone. Babe, whose vision tested 20/20 immediately after the Series, later recalled that Larsen had "the greatest pin-point control I've ever seen" and that "there was no doubt in my mind" about the pitch: "Larsen hit the corner of the plate with a beautiful fast ball" that was "just high enough. It was easy to call – and I called it."4
If "just high enough" is taken as the operative phrase implying that the pitch may have been beyond the precise parameters of the official strike zone, then Pinelli's call was both correct and courageous. Aware since the sixth inning that no Dodger had reached base, he knew the unwritten rules of the game held that a batter shall not take a close pitch with two strikes in the bottom of the ninth with a perfect game on the line. Babe Pinelli made the right call, a gutsy call, just as he had done throughout his life.
Rinaldo Angelo Paolinelli debuted in the Western Addition section of San Francisco on October 18, 1895, the second of four children born to Rafael and Ermida Silvestri Paolinelli, immigrants from Lucca, Italy. When his father, who owned a produce market, was killed by a falling telephone pole during the devastating 1906 earthquake, Pinelli, age 10, left the fourth grade to help support the family. He sold newspapers until he was old enough at 12 to get a regular job, first separating nuts and bolts at Dyer Brothers' Steel Works, then as an errand boy, and finally as a commercial sign painter. (Inexplicably, he painted with his left hand but was right-handed in all other activities.)
Pinelli, who said he was "born with firecrackers in my blood," used his fiery temper and fistic prowess to survive on the mean streets around Bush and Steiner. Hauled to the police station at least seven times for fighting, the brash and belligerent, yet likable, youngster was a West Coast version of a Dead End Kid. "He'd take no lip from anybody," a childhood pal recalled. "He'd fight at the drop of a hat if he thought he was right."5 Pinelli loved sports, especially baseball. Initially, the older kids chased him away when he wanted to play ball and called him "Baby" when he cried; however, his skills soon brought notoriety on the Hamilton Park diamonds and his nickname became "Babe" as he played with older boys. Pinelli briefly thought about becoming a professional boxer after winning (as Battling Joe Welch) a two-round amateur bout in his late teens, but Spike Hennessy, the legendary high-school and sandlot baseball coach who served as Babe's surrogate father, encouraged him to give up boxing and concentrate on baseball, starring on the aptly named North Beach Outlaws. Along with eight other youths, he played as a member of the Boston Bloomer Girls in 1912 after shaving his head and donning a wig; they defeated the Oakland Oaks of the Pacific Coast League, 3-2.
By 1916 Pinelli had demonstrated sufficient skills as a third baseman in semipro leagues in Oregon (1913), Utah (1915), and San Francisco to earn a trial with Portland of the Pacific Coast League. Released by the Beavers before the season began, he signed that summer to play the following year with the Salt Lake City Bees of the PCL. With a professional career in the offing, he married his childhood sweetheart, Mabel "Mae" Genevieve McKee, on December 2, 1916.
Following the advice of San Francisco News sportswriter Tommy Laird, Pinelli signed a second contract to play with Portland in 1917, disingenuously obtained his release from the Bees, anglicized his name to Ralph Arthur Pinelli, and joined the Beavers. Despite hitting a meager .199 in 79 games, the 5-foot-9, 165-pound Pinelli impressed manager Wilbur "Raw Meat" Rodgers with his scrappy style of play and remained with the club when it moved the next season to Sacramento. As a former teammate noted: "Babe was a hustler. He couldn't tolerate anybody who didn't go 100 percent."6
When the PCL suspended play on July 14, 1918, because of World War I, Pinelli, who had hit .267 in 94 contests with the Solons, was sold to the Chicago White Sox as a wartime replacement. He debuted on August 3 against the Philadelphia Athletics, playing third base and hitting 1-for-3 in the cleanup slot. He was used sparingly thereafter, and his first tour in the majors was unimpressive as he hit a mere .231 and committed 11 errors (.847) in 24 games at third base.
Back with Sacramento in 1919, Pinelli hit a modest .252 but stole 51 bases, 22 percent of the team's total. He also continued to display a combative attitude and hair-trigger temper. Angered when Rodgers docked him $50 for not playing him while recovering from a foot injury, Pinelli on August 1 badly beat the skipper in a closed-door clubhouse fight. Both men considered the incident a "family feud," and Babe got his money back.7
Acquired by the Detroit Tigers in 1920 to shore up their leaky infield, Pinelli displayed versatility by playing third base (74 games), shortstop (18), and second (1). He also revealed mastery of the hidden-ball trick, pulling it off twice in four days by catching Stuffy McInnis of the Boston Red Sox on June 19 and Sam Rice of the Washington Senators on June 22. His cockiness and resentment of the ethnic taunts directed to the second Italian-American in the league produced frequent "flare-ups," and a misinterpreted clubhouse comment led to a prolonged falling-out with Ty Cobb. Sold to Oakland after the season, he blamed, mistakenly, the Georgia Peach in the press for his departure; it was instead due to his hitting .229 with no home runs in 102 games.
Thanks to batting tips from teammate and former major leaguer Denney Wilie, Pinelli enjoyed a banner year with the Oaks in 1921, batting .339, scoring 127 runs, and pilfering 47 hassocks. But the "firecrackers" again threatened his career. On May 21 in Sacramento, ex-National League umpire Bill Byron, the so-called "Singing Umpire," ejected Babe for protesting a called strike. During the ensuing argument, Byron ripped off his mask, accidentally hitting Pinelli on the jaw. Babe forthwith punched "Lord Byron" in the eye, knocking him to the ground. When Byron (and Al Jolson who was in the stands) described Pinelli's action as "instinctive," PCL President William McCarthy imposed a $50 fine and a five-day suspension instead of banishment.8
The Cincinnati Reds then purchased Pinelli for $350,000 and three players to replace Heinie Groh in 1922. (Ever cocky, Babe returned his first contract for $10,500 unsigned, as he did each year of his major-league playing career.) On Opening Day against Grover Cleveland Alexander of the Chicago Cubs, he went 2-for-4 with a triple and stole a base; he also struck out twice with men on base and made "a serious error." In his first full major-league season, he led the league's third basemen in putouts (204), assists (350), and errors (32).
A fixture at third base during the next three seasons, Pinelli was part of the Reds' all-Bay Area infield with fellow San Franciscans Ike Caveney at short and Sammy Bohne at second and Oakland-born Lou Fonseca at first base. A good contact hitter with little power, he hit .305 in 1922, slipped to .277 in 1923, but rebounded in 1924 to enjoy his finest season hitting .306 with 70 RBIs, stealing 23 bases, posting a .956 fielding average – all personal bests in the majors – and again led third sackers in in putouts (182) and assists (318).
The "firecrackers" kept exploding as he admittedly had "no trouble finding trouble." Numerous fights with opponents stemmed from their resentment at his "bush-league" needling and use of the hidden-ball trick (he hid the ball in his right armpit), and Babe's "fist cocked" response to the bench-jockeying directed at the first Italian-American in the league. The most ignominious incident occurred on July 25, 1926. Boston Braves coach Art Devlin and Pinelli had been jawing for weeks, and as the Reds left the field in the third inning, Babe recalled: "I bumped into Devlin on the coaching lines – and stepped all over his feet with my spikes. He howled like a coyote – and of, of course, started swinging."9 One of the greatest bench-clearing brawls in baseball history ensued with order restored only by police intervention. Pinelli was ejected, fined $100, and sat out the next day's game because of a sore hand.
He also fought with teammates. His criticism of Rube Bressler led to a clubhouse fight, and Dolf Luque, also a hothead, chased after Pinelli once with a baseball bat and again with an ice pick. Another time Luque shouted: "We go outside. We get two taxicabs. You get in one, I get in one. We get guns. We go away. We fight duel." 10
In 1924 Pinelli began thinking about umpiring as a way to stay in baseball. Unable to play in spring training because of injury, he volunteered to umpire an intrasquad game. He had always considered the umpire "as a necessary evil, possibly as a natural enemy," but confessed that "before the day was over, I'd changed my mind. The umpire was as necessary a part of baseball as the players."11 Senior National League umpire Bill Klem and George Moriarty, the American League umpire who had been Babe's teammate in Detroit, encouraged his interest, but both advised him to learn to control his temper. In preparation for a post-playing career, he studied umpires, talked with them about their work, and continued to umpire intrasquad games. He also greatly reduced his umpire-baiting and was infrequently thumbed for arguing with an arbiter.
Babe's fielding and batting dropped off badly after 1925, and he became a utility player. In late June 1927 the Reds sold Pinelli, then hitting a paltry .197 in 30 games, to San Francisco for $17,500. He did not go quietly. Upon being told the news, he attempted to kill the messenger by charging after manager Jack Hendricks, who locked himself in his room while an irate Pinelli pounded on the door.
His major-league playing days were over. In eight seasons, Pinelli appeared in 774 games, batted .276, hit 5 homers, drove in 298 runs, and swiped 71 bases. A bit error-prone but with above-average range, he posted a good career .947 fielding average.
Pinelli flourished upon returning to the PCL. He hit .324 in 49 games for Nick Williams's Seals in 1927, and during next three years batted .310, .311, and .313 as San Francisco, led by the likes of Ike Boone, Smead Jolley, Lefty O'Doul, and Earl Sheely, pounded PCL pitching. He had learned to curb his fiery temper on the field, although a Seals teammate recalled: "When the fans would get on him at old Recreation Park, he had to be restrained from going into the stands after them."12
On July 4, 1929, Babe displayed fireworks of a different kind against the Seattle Indians at Recreation Park. Exploding for the best offensive game of his playing career, he went 6-for-6, hit three home runs (two grand slams, one inside-the-park), and drove in 12 runs to tie the minor-league record. He said: "It wasn't that I'd improved as a hitter. I was stealing the signals of the Seattle catcher." Alertly noticing that Seattle's catcher, Charlie Borreani, held his glove straight up for fastballs and down in a scoop position for curves, Pinelli recalled he was "never fooled by a pitch."13
Released by the Seals in midseason 1931, Pinelli, then 35, signed with the Oakland Oaks. He hit .307 in 1932 but was released after the season due to declining fielding skills and an absence of power (no homers in 554 at-bats). During 10 PCL seasons he had batted a respectable .295, but hit only 13 homers. Babe went out on a low note: On September 30 he called umpire Forrest Cady a "blind bat" while arguing a strike call and was tossed from his final game. (Babe later said the umpire was Bill Burnside, but the box score lists Cady as the plate ump.)
An unceremonious departure as a player notwithstanding, Pinelli, armed with recommendations from sportswriters Tom Laird and Abe Kemp and several PCL club officials, after the season asked league President Hiland L. "Hi" Baggerly for a job as an umpire. Advised to get experience, Babe bought an umpiring outfit and during the winter and early spring worked college, semipro, and major-league exhibition games in the Bay Area. To the great surprise of many, he was hired in 1933 as a PCL umpire without any professional experience and despite a deserved reputation as a hothead. "I'll be a credit to you in a couple of months," Babe told Baggerly, and predicted: "I'll be with one of the major leagues inside of two years."14
Thus Pinelli began his professional umpiring career, as he had his professional playing career, in the Pacific Coast League, the "third major league." He worked in 1933 with veteran arbiter Perle Casey, who Pinelli thought was "the best at handling players I've ever seen." The consummate diplomat, Casey advised: "I don't want to see you get mad, Babe, until I do. When I burn up, you come over and cool me down." Once a two-fisted hothead, Pinelli learned an important lesson: "The toughest battle anyone can fight is the silent one he fights within himself."15 In 1934 he teamed with ex-major-league umpire Bill Guthrie, an aggressive arbiter who taught him how to take charge of ballgames.
The National League bought Pinelli's contract for $1,500, and in 1935 he became the first Italian-American hired as a regular umpire in the major leagues. Assigned to work with veterans Albert "Dolly" Stark and crew chief Charles "Cy" Rigler, he debuted at third base on April 16 in Boston as the Braves won the season opener, 4-2, over the New York Giants. Three days later he worked the plate for the first time, proving his mettle by twice calling third strikes on the legendary Babe Ruth and not backing down from the Bambino's beefing. Ruth complained: "There's forty thousand people in this park that know that was a ball, tomato-head!" Pinelli confidently replied: "Perhaps – but mine is the only opinion that counts."16
A dapper dresser, Pinelli soon became one of the most respected umpires in the senior circuit. Unlike his behavior as a player, his deportment as an umpire was even-handed and even-tempered. In an August 1955 Sport magazine article, "The Press Box Rates the Umpires," National League beat writers identified Pinelli as the arbiter who was "coolest in crisis" and "most cooperative with writers." Ironically, he enjoyed a better reputation with players and managers than with some umpires who felt he went too far in placating players and readily admitting wrong calls.
Nicknamed "The Soft Thumb" because of his reluctance to eject players and managers, perhaps because of his own feistiness, he averaged about three ejections per season during the heyday of Frankie Frisch's St. Louis Gas House Gang and Leo Durocher's Dodgers. Leo the Lip, a notorious umpire baiter, said "Pinelli never took me seriously. There were times when he knew I would be out there complaining, so he always stood there and let me have my say."17 Babe and Leo clashed a number of times, and on September 6, 1953, when Carl Furillo of the Dodgers and Durocher, then manager of the Giants, were grappling on the ground, Pinelli could be heard yelling: "Kill him, Carl, kill him!"18
During 22 years in the majors Pinelli, who became a crew chief in 1950, umpired four All-Star games (1937, 1941, 1950, 1956) and six World Series (1939, 1941, 1947, 1948, 1952, 1956), and called four no-hitters (Ed Head, 1946; Rex Barney, 1948; Jimmy Wilson, 1954; and Larsen).
He also umpired numerous historic games. Pinelli was at third base at Crosley Field in Cincinnati on May 24, 1935, for the first night game in major-league history, and at Forbes Field on June 4, 1940, for the first night game in Pittsburgh. He was at second base on October 5, 1941, when Mickey Owen of the Dodgers dropped the third strike on Tommy Henrich with two outs in the ninth inning, thereby sparking a game-winning Yankees rally, and on October 3, 1947, when Dodgers pinch-hitter Cookie Lavagetto doubled home two runs with two out in the bottom of the ninth to ruin Yankee Bill Bevens's no-hitter and give Brooklyn a 3-2 victory. Assigned in 1946 to the first playoff in National League history, he was the home-plate umpire for the second and concluding game of the Cardinals' sweep of the Dodgers. And on April 15, 1947, he was behind the plate at Ebbets Field when Jackie Robinson broke the color barrier with the Brooklyn Dodgers.
When St. Louis manager Eddie Stanky engaged in obvious stalling tactics hoping to reach the hometown curfew on July 18, 1954, Pinelli as crew chief demonstrated his courage and respect for the integrity of the game by awarding the game to the visiting Phillies – the last National League forfeit until August 10, 1995.
On May 8, 1948, at Sportsman's Park in St. Louis, a moment of umpiring irony occurred as Harry "The Cat" Brecheen of the Cardinals lost a perfect game when Johnny Blatnik, the Phillies' lone baserunner, was called safe on a bang-bang play at first – by Babe Pinelli.
As a former player, Pinelli appreciated the performances of outstanding players. From his perspective behind the plate, Stan Musial, Willie Mays, and Ted Kluszewski were the best hitters; Don Newcombe, Bob Friend, Robin Roberts, and Ewell Blackwell were the best pitchers. But Ty Cobb, he maintained, was the greatest player he ever saw.
Called "the Lou Gehrig of the umpires, our Iron Man" by Tom Gorman, Pinelli claimed he never missed a game in 22 seasons, a span of some 3,400 games. Luck preserved the skein on two occasions. On April 17, 1945, he was bedridden with the flu when rain washed out the season opener in Brooklyn. On June 28, 1941, Pinelli radioed Boston manager Casey Stengel that the boat his umpiring crew was taking from New York to Boston had become fogbound off Cape Cod; Babe, Al Barlick, and Lee Ballanfant arrived in the second inning and replaced the two players (Johnny Cooney and Freddie Fitzsimmons) chosen to call the game. Thereafter, whenever Stengel thought Pinelli missed a call, he'd shout: "You're still fogbound."19
Mae Pinelli never missed a game during Babe's playing career, but refused to watch him umpire regular-season games. She did, however, attend World Series games and root for the National League. Once, when asked if she ever got angry when people disputed Babe's decisions, she replied like an umpire's wife: "No, I don't get angry. I just figure, well, they saw it that way and Babe saw it right!"20
Babe Pinelli retired in 1956 after 22 years of callin' 'em with a pre-union pension of $187 a month. He and Mae moved from San Francisco to Sonoma County, and for several years Babe was a scout for the Cincinnati Reds. Reflecting upon his career, he said: "All told I was in baseball 40 [42] years, 16 [18] as a player. If I had to do it all over again, I'd concentrate on umpiring. It's the best job in baseball. You have no worries about streaks or slumps. You don't care who wins. I worried much more as a player than as an umpire."21
In 1953 Pinelli published with Joe King Mr. Ump, the first commercially published umpire's autobiography. He hoped the book, aimed at young teenagers, would "show youngsters interested in sports that their ambitions can be fulfilled regardless of obstacles."22 Babe Pinelli, whose life was a testimonial to determination, died on October 22, 1984, at age 89 in a convalescent home in Daly City, California. He is buried in Holy Cross Cemetery in San Francisco beside his beloved wife of 67 years, with whom he had two sons.
This biography is included in "The SABR Book on Umpires and Umpiring" (SABR, 2017), edited by Larry Gerlach and Bill Nowlin.
Sources
Portions of this essay are drawn from Larry R. Gerlach,  "Ralph Arthur 'Babe' Pinelli" in David L. Porter, ed., Biographical Dictionary of American Sports: 1992-1994 Supplement (Westport, Connecticut: Greenwood Press, 1995), 168-169, and "Babe Pinelli: Mr. Ump" in Doug McWilliams, ed., Northern California Baseball History (Cleveland: Society for American Baseball Research, 1998), 43-45.
Notes                                                                                     
1 San Francisco Examiner, October 23, 1984.
2 Tom Gorman, Three and Two! (New York: Charles Scribner's, 1979), 2.
3 San Francisco Examiner, October 24, 1984; Babe Pinelli, "I Umpired Baseball's Greatest Game," This Week Magazine, April 14, 1957: 45-47.
4 Unidentified newspaper clipping, Babe Pinelli file, National Baseball Library, Cooperstown, New York.
5 San Francisco Examiner, October 23, 1984.
6 Unidentified clipping, Pinelli file.
7 Babe Pinelli as told to Joe King, Mr. Ump (Philadelphia: Westminster Press, 1953), 42-44.
8 Mr. Ump, 45-49.
9 Unidentified clipping, Pinelli file.
10 Mr. Ump, 65-66.
11 Mr. Ump, 72.
12 San Francisco Examiner, October 25, 1984.
13 San Francisco Examiner, October 24, 1984. 
14. Unidentified clipping, Pinelli file.
15  Mr. Ump, 98.
16 Babe Pinelli, "Kill the Umpire? Don't Make Me Laugh!" This Week Magazine , April 7, 1957: 10, 12, 15-16, 17.
17 The Sporting News, November 5, 1984.
18 Carl Prince, Brooklyn's Dodgers: The Bums, the Borough, and the Best of Baseball, 1947-1957 (New York: Oxford University Press, 1996), 45.
19 "Babe Pinelli" in John E. Spalding, Pacific Coast League Stars, Vol. II (Manhattan, Kansas: Ag Press, 1994), 70.
20 Unidentified clipping, Pinelli file.
21 Ibid.
22 Mr. Ump, endpaper comment.
Born
October 18, 1895 at San Francisco, CA (USA)
Died
October 22, 1984 at Daly City, CA (USA)
If you can help us improve this player's biography, contact us.
https://sabr.org/sites/default/files/PinelliBabe.png
600
800
admin
/wp-content/uploads/2020/02/sabr_logo.png
admin
2012-01-04 20:33:46
2020-09-17 15:49:25
Babe Pinelli