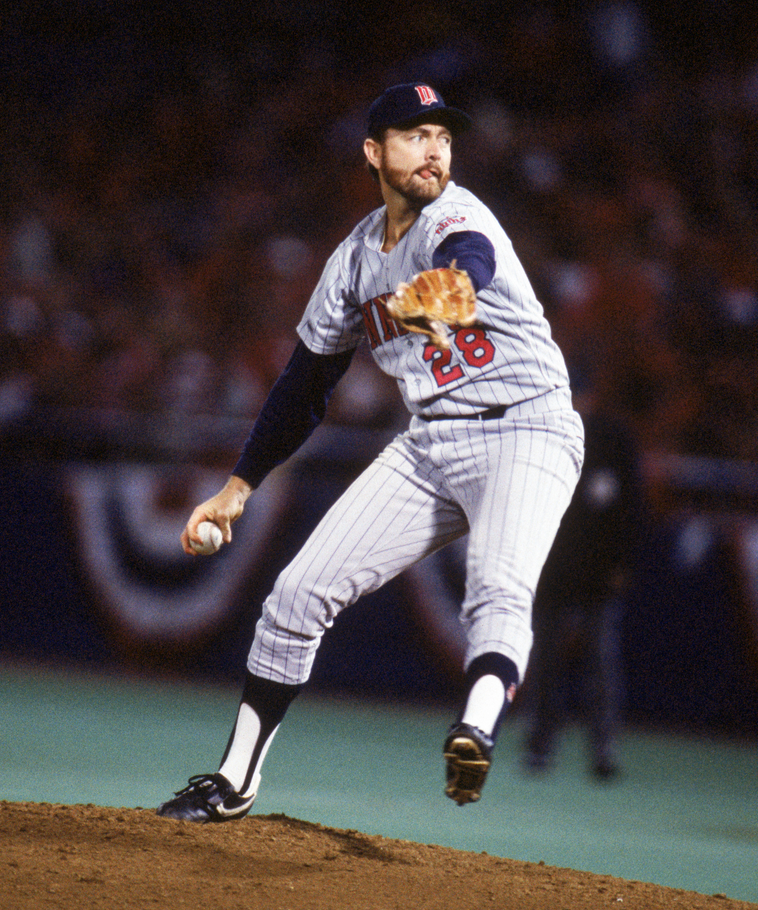 ---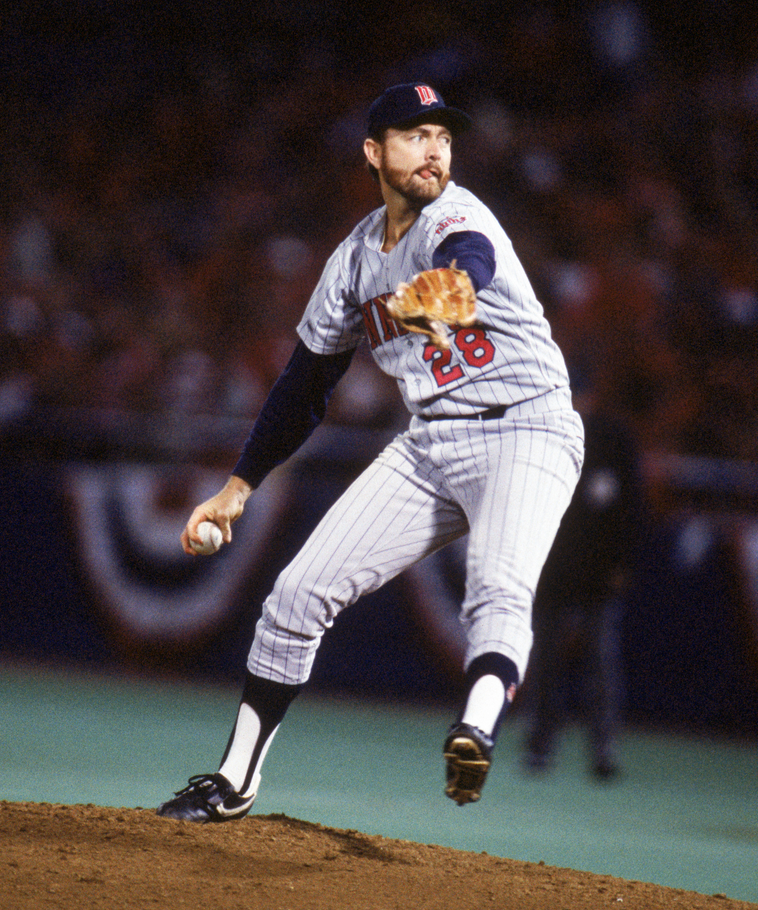 Bert Blyleven's career statistics speak for themselves: 287 victories, 4,970 innings pitched, 3,701 strikeouts, and 60 shutouts accumulated over the course of 22 seasons in the big leagues (1970-1990, 1992). However, some sportswriters questioned whether the Dutch-born right-hander, whose curveball was regarded as the era's finest, was Hall of Fame material when he retired.
In his most productive campaigns, Blyleven was overshadowed by Jim Palmer, Tom Seaver, Catfish Hunter, and Nolan Ryan while toiling for small-market and primarily mediocre teams in Minnesota, Pittsburgh, and Cleveland. Critics pointed unfairly to Blyleven's 250 losses and an unfounded reputation for losing big games as reasons for his Hall-unworthiness, while overlooking his championship with the Pirates in 1979 and the Twins in 1987. Blyleven's oft-times prickly relationship with his teammates, managers, and sportswriters didn't help his cause.
In his first year of eligibility for the Hall of Fame, in 1998, Blyleven garnered only 17.5 percent of the necessary 75 percent of the vote required for enshrinement. Over the course of the next 13 years the case for Blyleven grew, as advanced statistical metrics, such as WAR (wins above replacement), ERA+ (ERA adjusted to a player's ballpark and league), FIP (fielding independent pitching), and a rejection of won-loss records in favor of hits, strikeouts, and walks per nine innings, offered new lenses to analyze a pitcher's effectiveness.1 These modern metrics revealed Blyleven as not just one of the best pitchers of his generation, but also one of the best in baseball history. In 2011 Blyleven was elected to the Hall of Fame with 79.7 percent of the vote.
In his Hall of Fame induction speech, Blyleven attributed his "stubbornness and determination" throughout his big-league career to his immigrant parents, who fled war-torn Europe in search of a better life.2 Netherlands natives Johannes Cornelius and Jannigje Blijleven married when the country was under Nazi occupation. Three years after the birth of their third child, Rik Aalbert, on April 6, 1951, the Blijlevens emigrated from Zeist, Netherlands, to Saskatoon, (Saskatchewan) Canada, and eventually settled in Garden Grove in Southern California in 1957. With their names anglicized, Joe and Jenny Blyleven raised their family which grew to seven children (four girls and three boys) with Dutch values of diligence, integrity, and commitment in a household of limited means.
Bert began playing baseball at the age of 9, having been introduced to the game by his father, a carpenter by trade, who became a fan of the American pastime by listening to Dodgers games on the radio. The youngster was quickly converted from catcher to pitcher when the coach discovered the strength of the right-hander's arm. After that conversion, Blyleven's father built a pitcher's mound in their backyard so Bert could practice. Bert described his parents as his "mentors," who were regulars at his games, where the elder Blyleven often drew the ire of umpires and spectators for his constant arguing of balls and strikes.3 Well aware of Sandy Koufax's chronic arm pain, Joe forbade Bert to throw the curveball until he was about 14 years old, leaving his son to envision Dodgers broadcaster Vin Scully vividly describe Koufax's devastating pitch.
The 6-foot-3, 160-pound Blyleven began to attract big-league scouts by the end of his junior year at Santiago High School in Garden Grove and in the local American Legion league. The author of at least two no-hitters and a 21-strikeout performance in his prep career, Blyleven earned all-league honors as a senior in 1969, and participated in several contests showcasing promising prospects in Southern California. The Minnesota Twins selected Blyleven in the third round with the 55th overall pick in the 1969 amateur draft. Team scouts Jesse Flores Sr. and Dick Wiencek offered an estimated $15,000 bonus and signed the 18-year-old hurler at the Blyleven residence.
According to Blyleven, Flores told the elder Blyleven that Bert would be in the majors in less than two years. Flores's bold prediction was off by about a year. Just weeks after graduating from high school, Bert commenced his 24-year career in professional baseball by progressing rapidly through the Twins' affiliate in the Rookie Gulf Coast League and wining all five of his decisions for the Orlando Twins in the Class A Florida State League. That fall he exceeded expectations by emerging as the best pitcher (7-0, 1.50 ERA) in the Florida Instructional League, where he was selected as an all-star by both scouts and managers.
Just 18 years old, Blyleven participated in the Twins' spring training as a nonroster invitee in Orlando in 1970. "I fell in love with him right away," said Minnesota skipper Bill Rigney, who recognized that the youngster with just 25 starts in his first season of pro ball needed more seasoning.4 Blyleven was assigned to the Evansville (Indiana) Triplets in the Triple-A American Association, but his tenure in Triple A lasted only seven starts, one of which was a sparkling 10-inning complete-game shutout with 17 strikeouts against Iowa on May 15, 1970.
When their right-handed starter Luis Tiant, who was 6-0 at the time, was sidelined with a fractured right shoulder in late May, the Twins promoted Blyleven. Team scout Early Wynn thought the teenager was ready for prime time. "With his live fastball and marvelous coordination," said the former 300-game winner, "[Blyleven] reminds me of Herb Score."5 On June 5, 1970, Blyleven debuted against the Washington Senators at RFK Stadium. The youngest player in the majors, as well as the first in major-league history to be born in the Netherlands, the 19-year-old hurler surrendered a home run on a 3-and-2 fastball to the first batter he faced, Lee Maye, but settled down to yield just five hits while striking out seven in seven innings to earn the victory, 2-1. Pitching consistently for the AL West Division champions, Blyleven fanned 12 in a complete-game victory over the Milwaukee Brewers on August 4 to set a new Twins record for strikeouts by a rookie, and tied an AL record by whiffing the first six California Angels batters he faced in a 5-1 loss on September. "His curveball," said Blyleven's batterymate George Mitterwald, "is, well, fantastic."6
Blyleven finished with a 10-9 record, becoming just the 25th pitcher to reach double digits in victories as a teenager, and posted a 3.18 ERA in 164 innings. The Sporting News named him the AL Rookie Pitcher of the Year. Despite AP reports that Blyleven would start in the best-of-five ALCS versus the Baltimore Orioles, Rigney chose a different young hurler, Tom Hall (11-6), with only 11 starting assignments for the season, to make a crucial postseason start after Cy Young Award winner Jim Perry (24-12) lost Game One.7 In relief of veteran starter Jim Kaat, who was on the ropes in the third inning of Game Three, Blyleven tossed two innings in Baltimore, yielding two hits and an unearned run in the Twins' third straight loss, which eliminated Minnesota from the postseason.
Essentially a two-pitch hurler (curveball and fastball) thus far in his career, Blyleven developed an offspeed pitch during spring training in 1971, and the results were immediate. He blanked Milwaukee on four hits in his first start, followed by a three-hit shutout at Kansas City five days later. "I'm holding the ball differently and it's moving in on the hitters," said Blyleven. "When I throw the fastball I hold the ball the same way I do on a changeup."8 Minnesota beat reporter Bob Fowler also noticed another change in the 20-year-old "man-child."9 Blyleven had packed on an estimated 20 pounds to his frame; at 210 pounds Blyleven seemed stronger and more durable. "He's the most coachable pitcher I've ever handled," said pitching coach Marv Grissom, who lauded Blyleven's unparalleled work ethic.10
On a staff that finished 11th of the 12 teams in ERA (3.81) in 1971, Blyleven emerged as the club's best pitcher, overtaking graybeards Perry (35 years old) and Kaat (32), yet his record stood at a misleading 10-15 after a 6-3 loss in Baltimore on August 22. In 12 of those losses, Blyleven received only three or fewer runs of support from an otherwise above-average offense, and thus acquired the reputation as a tough-luck loser that stuck with him for the remainder of his career.
While the Twins stumbled to a disappointing fifth-place finish (74-86), Blyleven concluded his first full campaign on a tear, winning six straight decisions, including two shutouts and a 10-inning scoreless no-decision, and carving out a 1.69 ERA in 69⅓ innings. He finished fourth in the AL in strikeouts (224) and fifth in ERA (2.81), and led the circuit in strikeouts-to-walks ratio (3.80).
Blyleven's biggest moment of 1971 was probably when he married Patricia Ann Whitehead in July. They had four children, Todd, Tim, Kimberly, and Tom. Todd followed his father's footsteps. In 1990 he was drafted out of Villa Park High School by the California Angels in the 39th round, and in 1991 he was selected out of Cypress College by the Los Angeles Dodgers in the 90th round. The big (6-foot-5) right-handed pitcher spent his five-year professional career primarily in the low minors for three organizations.
In 1972 Blyleven picked up where he had left off the previous season, winning his first four decisions to set a new Twins record with 10 consecutive victories, as the club got off to a hot start and occupied first place as late as May 20. But those successes proved to be short-lived. The team took a nosedive in June. Rigney was fired on July 5 and postseason aspirations faded quickly. Blyleven slumped, too, losing 12 of 15 decisions to fall to 10-15 on August 19. "I was throwing across my body," said Blyleven of his pitching woes. "I was landing on the heel on my left foot."11 Working closely with new skipper Frank Quilici and pitching coach Al Worthington to improve his mechanics, Blyleven found his groove over the last five weeks of the season, posting a 1.45 ERA in his final nine starts covering 74⅔ innings. Despite a team-record 2.84 ERA, the Twins finished in third place (77-77). Blyleven's 17-17 record failed to tell the story of his success. The Twins scored three runs or less in all but one of his losses. He posted a robust 2.73 ERA in 287⅓ innings, and once again ranked fourth in punchouts (228).
The unequivocal ace of the staff, Blyleven got off to a rough start in 1973, losing six of his first eight decisions with an ERA north of 4.00 as he struggled once again with pitching mechanics. "He wasn't following through," said pitching coach Worthington. "He was releasing the ball too soon."12 With the aid of film (a novelty at the time), Blyleven adjusted, and subsequently won 10 of his next 14 starts and posted a 1.48 ERA in 121 innings in one of the most dominating stretches in his career. Seven of those victories were shutouts, including the first of his five career one-hitters, against Kansas City on May 24. The spree of whitewashes cast the 22-year-old hurler with his trademark pronounced high leg lick and his tongue sticking out of his mouth into the national spotlight. "[Blyleven] makes the baseball dance and twist on the way to the plate," wrote the AP after his 4-0 victory over the Angels and their speedballer, Nolan Ryan, on June 29.13 "He is the best curveball pitcher I've ever seen," said Boston's DH, Orlando Cepeda, who had battled Koufax as a member of the Giants in the 1960s.14
Blyleven fashioned the best season ever by a Twins hurler, setting team records in shutouts (a major-league-leading 9), complete games (25), innings (325), and strikeouts (258), while winning 20 games and posting a career-low 2.52 ERA. Despite those gaudy numbers, he finished a distant seventh in Cy Young Award voting, hurt by his 17 losses and playing for a third-place team that finished at 81-81, 13 games behind first-place Oakland. Sportswriters might have overlooked Blyleven, whose teammates scored three runs or fewer in 16 of his losses (28 total runs), but fellow pitchers did not. "The best pitcher in the league is Bert Blyleven," said Oakland ace Catfish Hunter. "He's got the best stuff."15 By one contemporary metric (WAR), Blyleven was not just the best pitcher in the league, but the most valuable player.16 His only blemish was his performance in the All-Star game in Kansas City, where he yielded two hits and walked two in just one inning and was charged with the loss.
Emboldened by his success, Blyleven demanded that the Twins double his salary in 1974, leading to tensions with club owner Calvin Griffith, who was notoriously tight-fisted and the last major-league owner who derived his income solely from the team. Though he received a substantial raise to a reported $55,000, Blyleven's relationship with the front office was in a free-fall. Playing through occasional lower back pain, Blyleven split his 34 decisions, finished a distant second once again to Ryan in strikeouts (249 to 367) and posted a stellar 2.66 ERA, but few saw him as the Twins finished last in attendance. Griffith rejected Kansas City's offer to buy the hurler for a million dollars, but Blyleven's days with the Twins nonetheless seemed numbered.
After losing a contentious salary arbitration, Blyleven received another blow when he came down with a sore shoulder to start the 1975 season. Eventually diagnosed with a torn muscle, the 24-year-old hurler landed on the 21-day DL in early June. Blyleven seemed as strong as ever upon his return, completing 15 of 22 starts with a sturdy 2.62 ERA. He pitched at least 10 innings on three occasions, including an 11-inning shutout with 13 strikeouts against Milwaukee at County Stadium on August 27. It was his 24th career shutout, breaking Kaat's team record. Described as "enigmatic" by the AP, Blyleven's stellar season (15-10, 3.00 ERA, 20 complete games, and 233 strikeouts) barely registered on the national radar for the fourth-place Twins, who once again finished last in attendance.17 And for the second straight season, Blyleven failed to receive even one vote for the Cy Young Award.
With his frustrations mounting, Blyleven formally asked for a trade after the 1975 season. Firebrand Gene Mauch, hired to replace Quilici, did not take kindly to his outspoken hurler, deriding him as a "pattern pitcher" whom batters had long figured out.18 Despite desperately needing a cash infusion for his club, Griffith refused to sell Blyleven and rejected multiple trade offers. It was a contentious time in baseball. Under the leadership of Marvin Miller, executive director of the Major League Baseball Players Association, pitchers Andy Messersmith of the Los Angeles Dodgers and Dave McNally of the Montreal Expos successfully challenged baseball's century-old reserve clause, effectively ushering in free agency with arbitrator Peter Seitz's ruling in December. Armed with this freedom, Blyleven, as well as many other big leaguers, decided to play out their option by not signing a contract for the 1976 season in order to become free agents.
With trade rumors swirling, Blyleven's seven-year tenure with the Twins came to a close after a forgettable outing on May 31 in front of 8,379 at Metropolitan Stadium. As Blyleven left the mound in the ninth inning of an eventual complete-game 3-2 loss to California, he gave the jeering and booing crowd a three-finger salute. "I couldn't care less about the fans," he said after the game.19 AL President Lee MacPhail subsequently fined the hurler and ordered him to issue a public apology.20 One day after his unsportsmanlike exit, Blyleven was traded along with infielder Danny Thompson to the Texas Rangers for shortstop Roy Smalley III (nephew of Mauch), pitchers Bill Singer and Jim Gideon, infielder Mike Cubbage, and an estimated $250,000. (Thompson, battling leukemia, died that December.)
In his debut with the Rangers on June 5 at Arlington Stadium, Blyleven tossed an 11-inning complete game with 10 punchouts, but lost 3-2 to Detroit's Mark "The Bird" Fidrych. After Blyleven was clobbered for 14 earned runs on 19 hits (including four home runs) in 15⅓ innings during his next two outings, critics lampooned the trade for a hurler who was not under contract and who was widely expected to play elsewhere the next season. Turning a deaf ear to criticism, Blyleven worked out his kinks with Texas pitching coach Sid Hudson, who suggested that he throw a sinker. On June 21 Blyleven tossed a sparkling 10-inning, one-hit shutout to beat Oakland, 1-0, pick up his first win with his new club, and reach the 100-victory plateau for his career. Five days later Blyleven hurled another 10-inning, 1-0 shutout, scattering 10 hits against Chicago. In his return to Minnesota on July 26, Blyleven took no pity on his former teammates and a small weeknight crowd at Metropolitan Stadium, blanking them on two hits. While Texas finished in fourth place in the AL West (76-86), Blyleven's cumulative 13-16 record overshadowed his 2.87 ERA in 297⅔ innings and 219 strikeouts.
Blyleven returned to the Rangers in 1977 on a one-year-contract in an injury-plagued season. A groin pull forced the 26-year-old pitcher to miss starts on at least three occasions, and Blyleven's campaign seemed to be over on September 6 after a "roughed-up" loss (five runs, six hits, three walks in 3⅔ innings) at Minnesota. Defying odds, he returned on September 22 to toss what proved to be his only no-hitter, a 6-0 victory with seven strikeouts and one walk over the Angels at Anaheim Stadium while facing just 28 batters. "I wasn't coming out," said the pitcher, whose groin tightened in the first inning, "even if I had to throw it underhanded."21 In 30 starts, Blyleven (14-12) had a 2.72 ERA in 234⅔ innings.
Just about a month after Blyleven signed a six-year deal with the Rangers in the offseason, he was shipped on December 8 to the Pittsburgh Pirates in a rare four-team trade that also involved the New York Mets and Atlanta Braves.22 Overall, 11 players (including Blyleven) changed addresses during the deal, which was consummated near the end of the winter meetings in Hawaii. Disappointed that he was not sent to a team in Southern California, where he and his family lived in the offseason, Blyleven did not seem overly excited to be headed to Pittsburgh, whose manager, Chuck Tanner, was known for having a quick hook with his starters. "I really don't care where I play," he said. "I'll pitch for Bert Blyleven and do the best I can."23 Such comments did not endear the hurler to Pirates fans, who lost longtime favorite and All-Star outfielder Al Oliver to Texas in the swap. The optimistic Tanner waxed excitedly about Blyleven's pitching attributes and exclaimed, "Bert Blyleven is capable of winning 25 games!"24
In the context of his career, Blyleven's three-year tenure in Pittsburgh was underwhelming and marked by an increasingly acrimonious relationship with Tanner. Blyleven's first victory as a Pirate (an 11-inning, six-hit, 1-0 shutout of the Mets on April 26) was probably the highlight of the 1978 season, during which he went 14-10 (3.03 ERA) in 34 starts and was bothered by persistent shoulder pain.
No longer mentioned among the best pitchers in baseball, Blyleven got off to a horrendous beginning in 1979, winless in his first nine starts with an ERA of 5.17. Requiring regular cortisone shots in his ailing shoulder, Blyleven called the period the "most frustrating" in his life.25 While the "We Are Family" Pirates coalesced into one of the most memorable and tight-knit teams in club history to win 98 games and capture the NL East Division crown, Blyleven was portrayed in the press as a "mystery man" who was more concerned with his own statistics than team success.26 "It's tough pitching for Tanner," said Blyleven (12-5), who led the staff in starts (37) and innings (237⅓), but completed only four games. "[He] goes to the bullpen so often. … I'm a competitor. I don't like to be taken out of the game."27 Blyleven looked back on 20 no-decisions that he had when the regular season ended.
As the Pirates beat the Cincinnati Reds during a pair of anxious extra-inning affairs at Riverfront Stadium in the first two games of the best-of-five NLCS, Blyleven seemed frustrated with years of criticism that he lacked concentration and couldn't win the big game, calling his reputation a "bad rap."28 He secured the Pirates' berth in the World Series and quieted critics, at least temporarily, with an eight-hit, complete-game victory, 7-1, on October 5 at Three Rivers Stadium.
With the Pirates down after they lost Game One of the World Series, Blyleven started Game Two against the Baltimore Orioles, scattering five hits and two runs in a six-inning no-decision in the Pirates' eventual 3-2 victory at Memorial Stadium. Blyleven's most important outing of the season, and of his career thus far, came in Game Five on October 14 in Pittsburgh, ironically in his first relief stint since his rookie season. With the Pirates facing a three-games-to-one disadvantage and trailing 1-0 in an elimination game, Blyleven took over for Jim Rooker to begin the sixth frame and tossed four scoreless innings, yielding three hits. The Pirates exploded for seven unanswered runs, making Blyleven the victor. Pittsburgh won the final two games in Baltimore to complete their comeback and win a dramatic World Series.
The nadir of Blyleven's career came the following spring when he walked out on the Pirates after an outing on April 29 versus Montreal when he was yanked with two on and two out during a shaky sixth inning. "It wasn't a snap decision," said Blyleven, who returned to California and demanded a trade. "I've been thinking about it for more than a year."29 The hurler cited "nonsupport and lack of confidence from my manager" as reasons for his self-imposed retirement.30 "I may seem strange, but for the first time in a long, long time, I feel happy."31 While Blyleven was vilified nationally as an entitled millionaire who symbolized the fan's perception of all-that-was-wrong with the skyrocketing salaries in professional sports, his teammates were shocked. "I can't understand why he left," said Bill Madlock. I would respect him more if he left for personal reasons."32 Blyleven ultimately returned, was reinstated on May 11, and was in the starting rotation two days later in San Francisco, where Tanner left him in for the whole contest of a 5-0 defeat. But the damage had been done. A pariah in the clubhouse, Blyleven lashed out at the media for what he perceived as unfair treatment, and went on a "silence kick," refusing to grant interviews to reporters.33 The Pirates finally traded their disgruntled hurler (8-13, 3.82 ERA in 32 starts) along with Manny Sanguillen on December 9 to the Cleveland Indians for four marginal players (utilityman Gary Alexander and pitchers Victor Cruz, Bob Owchinko, and Rafael Vasquez. The "checklist" end results from this transaction proved that "addition by subtraction" does not always work. In 1981 Alexander batted .213 in 51 plate appearances; Cruz was 1-1 in 22 relief outings; Owchinko was traded at the end of spring training to the Oakland A's for reliever Ernie Camacho; Vasquez, who was a highly thought of prospect within the Pirates organization in the late '70's, ended up 4-8 after being dispatched to Double-A Buffalo.34
Blyleven immediately propped up Cleveland's staff, which had produced the worst team ERA (4.68) among all 26 big-league teams in 1980. After losing on Opening Day, the 30-year-old hurler tossed six consecutive complete-game victories en route to a 7-4 record and 2.83 ERA before the 1981 season was interrupted for nearly two months by the players' strike. Snubbed for the All-Star Game, which kicked off the so-called second half of the season, on August 9 in Cleveland, Blyleven was widely praised by Indians skipper Dave Garcia as the "leader of the staff."35 Known throughout his career for his offseason exercise regimen and stamina, Blyleven developed a sore elbow in September, prematurely ending his season with an 11-7 record and a sparkling 2.88 ERA in 159⅓ innings. Few outside of Cleveland took note of Blyleven's stunning renaissance. While Milwaukee's newly acquired reliever Rollie Fingers won the Cy Young Award, Blyleven was the easily the most valuable pitcher in the AL, according to one contemporary metric (WAR), but did not receive a single vote for the coveted award.
After he missed most of spring training in 1982, Blyleven's career seemed in jeopardy when he was diagnosed with a torn muscle in his right elbow after making just four starts. He underwent surgery performed by renowned surgeon Dr. Frank Jobe, and missed the rest of the season.
According to Cleveland sportswriter Terry Pluto, many wondered if Blyleven would ever pitch again. His return in 1983 was further complicated by a fracture of his left elbow suffered in an apparent fall at his home in California.36 But with Dutch perseverance, Blyleven, described as the "most encouraging development" of spring training, made an unexpected recovery.37 He pitched steadily yet unspectacularly in the first half of the season before shoulder and elbow miseries landed him on the DL three separate times in the second half of the season, once again raising doubts about his future.38
Blyleven's return to pitching prominence was one of the feel-good stories of the 1984 season. He did not make a start for almost four weeks after he stepped on a ball in the outfield while shagging batting-practice flies in Milwaukee in mid-May and fractured his foot. Still, Blyleven went 19-7 and posted a stellar 2.87 ERA in 245 innings for the last-place Indians and new manager Pat Corrales. In Blyleven's seven losses, his teammates managed to score a total of six runs. Praised by The Sporting News as the "best pitcher in the American League," Blyleven increasingly relied on his curveball, sinker, slider, and changeup to augment his fastball.39 "I think all the injuries in the last two years have forced me to become a better pitcher," said Blyleven, who finished third in voting for the Cy Young Award.40 The 15-year veteran had lost none of his competitive spirit. "I get enjoyment from striking out a guy and making him look bad," admitted Blyleven bluntly. He then added, in sabermetric-like language, "I've always been a strikeout pitcher. It's the best way to get rid of the hitter. If he doesn't make contact, there can be no chance for a mistake."41
But by his fifth start in 1985, Blyleven was at a boiling point. Frustrated that he had not been traded despite his public demands since the previous spring, Blyleven was struggling with an ERA just over 5.00. He blew his top on April 28 after allowing three home runs in an exasperating outing at Baltimore by making an obscene gesture to the jeering crowd at Memorial Stadium when he was removed from the game in the bottom of the eighth. Reprimanded by AL President Bobby Brown, Blyleven subsequently reeled off three shutouts in his next six starts, then commenced a string of 10 consecutive complete games from June 6 through July 24. Named to the AL All-Star team for the second and last time, Blyleven struggled (three hits and two earned runs in two innings), but received a hearty welcome on July 16 from the sellout crowd at the Metrodome, the Twins' domed stadium in downtown Minneapolis. Blyleven, whom Cleveland had placed on waivers after the June 15 trading deadline, was later claimed by Minnesota, which acquired the 34-year-old hurler on August 1, along with a player to be named later (pitcher Rich Yett), in exchange for three prospects, infielder Jay Bell, pitcher Curt Wardle, and minor-league outfielder Jim Weaver. Blyleven made a smooth transition to the Twins, posting an 8-5 record and completing nine of his 14 starts. Finishing a distant third once again in the Cy Young Award voting, Blyleven (17-16 record, 3.16 ERA) led the AL in starts (37), shutouts (5), and strikeouts (206), while pacing the majors in complete games (24) and innings (293⅔). As of 2015, the latter two figures have not been matched by any big leaguer.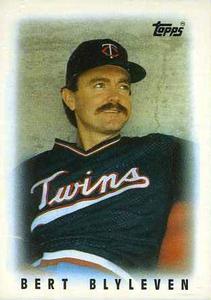 Blyleven's post-surgery renaissance continued in his first full season in 1986 after his return to the Twins. "Bert's delivery always has been smooth, loose, a lot of leg drive, everything going forward at the same time," said skipper Ray Miller.42 On August 1 Blyleven tossed an overpowering two-hitter against the Oakland A's, striking out a career-high 15, including the 3,000th in his career, to become the 10th major leaguer to reach that milestone.43 He reached another, albeit infamous milestone on September 29 when he yielded his 47th home run of the season, to Jay Bell (who was making his major-league debut and hit the first pitch Blyleven threw to him) in a victory over Cleveland at the Metrodome to break Robin Roberts' record set in 1956 for the most gopher balls in a season. "I don't like this ballpark," said Blyleven, who ultimately surrendered 50 round-trippers in '86 with 31 of those blasts coming at the Metrodome. "I'm a fastball pitcher and the ball carries here."44 The baseball really carried in the Metrodome on September 13 when Blyleven allowed five home runs in 5⅓ innings to Texas. Blyleven (17-14, 4.01 ERA) fanned 215 and led the AL in innings (271⅔).
Led by a quartet of young sluggers (Kirby Puckett, Kent Hrbek, Gary Gaetti, and Tom Brunansky), the Twins (85-77) captured the AL West crown in 1987. In the postseason, Blyleven (15-12, 4.01 ERA in 267 innings) put to rest any suggestion that he could not win the big game. In the best-of-seven ALCS he defeated the heavily favored Detroit Tigers (98-64) twice, including the Game Five clincher in Tiger Stadium. He ran his postseason winning streak to five games in Game Two of the World Series against the St. Louis Cardinals, scattering six hits and yielding two runs in seven innings in an 8-4 victory at the Metrodome with the partisan home crowd cheering loudly while waving "Homer Hankies." "When you put fifty-five thousand screaming people in here, it's something," said Blyleven, soaking in every moment. "The best thing to do is just not think."45 Though he picked up the loss, 4-2, in Game Five at Busch Stadium in St. Louis (seven hits, three runs, two earned in six innings), the Twins defeated the Cardinals in Games Six and Seven when they returned to the fever-pitched decibels of the Metrodome to capture their first championship since the franchise relocated from Washington, DC, after the 1960 season.
Blyleven's second stint with the Twins ended after the 1988 season when he was traded to the California Angels for two prospects (first baseman Paul Sorrento and reliever Mike Cook) with limited big-league experience; both teams also tossed in a minor leaguer. Blyleven had struggled in 1988, notching just 10 victories and was bothered by a bruised right thumb. He also led the majors in two dubious categories: the highest ERA among starters (5.43) and losses (17, tied with Atlanta's Tom Glavine).
"I've dreamt about this since I was growing up," said Blyleven about pitching in Anaheim in front of friends and family in 1989.46 In what sportswriter Tim Harrigan of the AP called a "brilliant year," the 38-year-old Blyleven resurrected yet again his career, posting a 17-5 record with a 2.73 ERA in 241 innings to finish fourth in the Cy Young Award balloting for the third-place Angels.47 In his last start of the campaign, he tossed his AL-best fifth shutout, and the 60th of his career, blanking Kansas City on seven hits. Blyleven attributed his success to his slider, which tended to ride in on left-handed hitters, as well as excellent command of his low-and-outside fastball.48 He walked a career-low 1.6 batters per nine innings.
Plagued by shoulder pain in 1990, Blyleven (8-7, 5.24 ERA) was forced to end his season prematurely when he was diagnosed with a torn muscle after a start on August 10. After an arthroscopic procedure in October, Blyleven reported to spring training in 1991. But when his pain resurfaced, he was once again examined by the Angels' orthopedic surgeon, Dr. Lewis Slocum, who discovered a serious tear in his rotator cuff.49 Ten days after his 40th birthday, Blyleven had his second shoulder operation in less than eight months, and subsequently missed the entire 1991 season.
Few sportswriters thought the 41-year-old hurler could return to baseball in 1992. But as he had done so many times in his career, Blyleven proved his critics wrong. On May 19 he took the mound for the first time in more than 21 months and tossed six innings, yielding eight hits and three runs to the New York Yankees. Granted free agency after the 1992 season, Blyleven had no plans to retire. Despite losing seven of his last eight decisions, he pitched noticeably better over his final 12 starts with the Angels, finishing with an 8-12 record.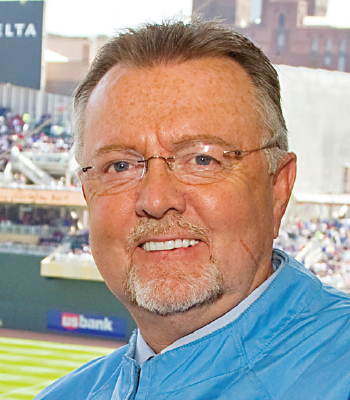 Only 13 victories shy of the magical 300 mark, Blyleven signed an incentive-laden contact with the Twins in 1993. He was roughed up in spring training and did not make the Opening Day roster. He subsequently announced his retirement, bringing his big-league career to an end. His name is displayed prominently among the career leaders in many pitching categories, including wins (287, 27th), losses (250, 10th), starts (685, 11th), innings (4,970, 14th), strikeouts (3,701, 5th), and shutouts (60, 9th). Blyleven accumulated 96.5 WAR (11th among pitchers), ahead of Christy Mathewson, Gaylord Perry, Warren Spahn, Steve Carlton, and Nolan Ryan.
Blyleven was also considered one of the baseball's best and most notorious pranksters, famous for his "hot foot."
Blyleven's name is synonymous with Twins baseball even though he played half of his career with other teams. In 1996 he was named color commentator for Twins television broadcasts, developing a style that matched his personality on the field. Known for his insightful analysis, occasional controversial comments, and unequivocal "homer" support of the club, the still brash Blyleven began his 21st season as commentator in 2016. Blyleven was elected to the Twins Hall of Fame in 2002, and had his number 28 retired by the club in 2011. His close association with the Twins was forever cemented when he chose to be portrayed wearing a Twins cap on his Hall of Fame plaque upon his election to that shrine in 2011. He also served as pitching coach for the Dutch national baseball team in 2009 and 2013 in the World Baseball Classic.
As of 2016, Blyleven lived with his second wife, Gayle, in Fort Myers, Florida, and the Twin Cities.
Last revised: September 1, 2016
Sources
In addition to the sources cited in the Notes, the author also accessed Blyleven's player file and questionnaire from the National Baseball Hall of Fame, the Encyclopedia of Minor League Baseball, Retrosheet.org, Baseball-Reference.com, Bill Lee's The Baseball Necrology, the SABR Minor Leagues Database, accessed online at Baseball-Reference.com, The Sporting News archive via Paper of Record, and Ancestry.com.
Notes
1 With the rise of sabermetric analysis, WAR, ERA+ and FIP have become three of the most compelling metrics used to analyze a pitcher's value and effectiveness. WAR (Wins Above Replacement) attempts to measure a player's value in wins he provides the team in comparison to a replacement-level player. ERA+ (Adjusted ERA) adjusts a pitcher's ERA according to ballpark factors and the league average. FIP (Fielding Independent Pitching) attempts to measure a pitcher's effectiveness by removing fielding variables.
2 Bert Blyleven's Hall of Fame induction speech, July 24, 2011. Player's Hall of Fame file, Cooperstown, New York.
3 Ibid.
4 The Sporting News, July 4, 1970: 10.
5 The Sporting News, June 13, 1970: 39.
6 The Sporting News July 4, 1970: 10.
7 AP, "Blyleven earns playoff start," Winona (Minnesota) Daily News, October 1, 1970: 22.
8 Pat Thompson, "Blyleven 4 hits Brewers," Winona (Minnesota) Daily News, April 8, 1971: 2.
9 The Sporting News, May 1, 1971: 9.
10 Ibid.
11 The Sporting News, August 19, 1972: 15.
12 The Sporting News, June 9, 1973: 3.
13 AP, "Darwin's slam boosts Twins Over Angels, 4-0," Winona (Minnesota) Daily News, July 1, 1973: 18.
14 AP, "Blyleven logs 7th shutout, 12th win," Winona (Minnesota) Daily News, July 12, 1973: 16.
15 The Sporting News, December 8, 1973: 52.
16 Blyleven achieved a 9.9 WAR.
17 AP, "Blyleven, Twins Zip Yanks, 3-0," Daily Journal (Fergus Falls, Minnesota), July 22, 1975: 12.
18 AP, "Rangers Offer Three Players for Blyleven," Daily Journal (Fergus Falls, Minnesota), December 31, 1975: 13.
19 AP, "Blyleven Booed After 3-2 loss," Daily Journal (Fergus Falls, Minnesota), June 1, 1976: 9.
20 AP, "MacPhail Orders Public Apology by Blyleven," Winona (Minnesota) Daily News, June 3, 1976: 17.
21 The Sporting News, October 8, 1977:12.
22 A scorecard might have been needed to keep track of the 11 players who were involved in the rare four-team trade involving the Texas Rangers, Pittsburgh Pirates, Atlanta Braves, and New York Mets. Atlanta sent Willie Montañez to New York. Texas shipped Tommy Boggs, Adrian Devine, and Eddie Miller to Atlanta, and a player to be named later (Ken Henderson) and Tom Grieve to New York. Pittsburgh sent Nelson Norman and Al Oliver to Texas. New York sent Jon Matlack to Texas. New York sent John Milner to Pittsburgh. Blyleven was sent to Pittsburgh.
23 The Sporting News, December 24, 1977: 51.
24 The Sporting News, December 24, 1977: 51.
25 Charley Feeney, "Blyleven Not Happy About Winless Start," Pittsburgh Post Gazette, May 15, 1979: 13.
26 The Sporting News, June 30, 1979: 24.
27 Charley Feeney, "It's Blyleven vs. LaCoss in Game 3," Pittsburgh Post Gazette, October 5, 1979: 9.
28 Ibid.
29 Charley Feeney, "Blyleven Walks Out, Wants Trade," Pittsburgh Post-Gazette, May 1, 1980: 9.
30 The Sporting News, May 17, 1980: 5.
31 Ibid.
32 Phil Axelrod, "Madlock Baffled by Blyleven's Departure," Pittsburgh Post-Gazette, May 2, 1980: 16.
33 The Sporting News, June 21, 1980: 33.
34 One of the worst trades in Pirates history.
35 The Sporting News, September 19, 1981: 21.
36 The Sporting News, April 4, 1983: 26.
37 Ibid.
38Ibid.
39 The Sporting News, October 22, 1984: 14.
40 AP, "Cleveland's Blyleven Pushes for a Trade," Des Moines (Iowa) Register, September 11, 1984: 18.
41 AP, "Indians Hurler Blyleven focuses on Strikeouts at Expense of Shutouts," Arizona Republic (Phoenix), April 10, 1984: 44.
42 The Sporting News, March 31, 1986: 32.
43 Blyleven joined the following members of the 3,000-strikeout club with the date of their entry in parentheses: Walter Johnson (1923), Bob Gibson (1974), Gaylord Perry (1978), Nolan Ryan (1980), Tom Seaver (1981), Steve Carlton (1981), Ferguson Jenkins (1982), Don Sutton (1983), and Phil Niekro 1984.
44 AP, "Cleveland Rookie Helps Blyleven Secure Record," Star-Democrat (Easton, Maryland), October 1, 1986: 26.
45 AP, 'Blyleven returns to roots, wins for Twins," The Tennessean (Nashville), October 19, 1987: 18.
46 AP, "Twins Deal Blyleven to California," Star-Democrat (Easton, Maryland), November 4, 1988: 9.
47 Tim Harrigan, AP, "The Big A. Blyleven back among best in the league," Arizona Republic (Phoenix), September 30, 1989: 38.
48 Dave Luecking, "His Biggest Prank. Blyleven Proves He's not Washed Up," St. Louis Post-Dispatch, August 27, 1989: 66.
49 Robyn Norwood, "Tour de Pain: At 40, Angels' Blyleven Is Given Little Chance to Pitch Again After Major Surgery — but He Has Pedaled that Route Before," Los Angeles Times, July 14, 1991.
Born
April 6, 1951 at Zeist, (Netherlands)
If you can help us improve this player's biography, contact us.
https://sabr.org/sites/default/files/Blyleven-Bert.png
600
800
admin
/wp-content/uploads/2020/02/sabr_logo.png
admin
2012-01-04 20:32:57
2021-04-14 16:37:00
Bert Blyleven