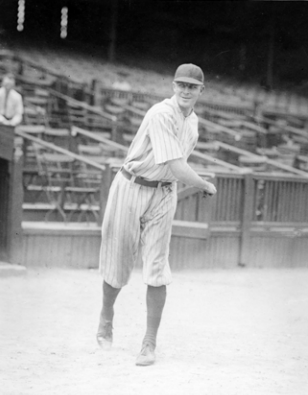 August 12, 1921: George Smith scatters 12 hits in record shutout victory as Phillies sweep doubleheader
---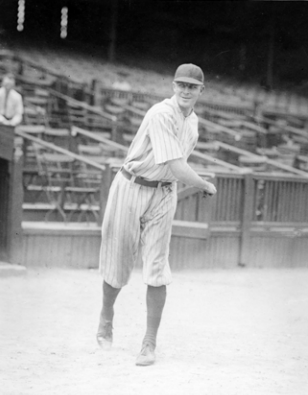 Going into the 1921 season, the Philadelphia Phillies knew their pitching rotation needed some improvement. But with a handful of promising returning starters to lead the way, there was hope that the Phillies would inch their way closer to respectability after three straight years of sub-.500 baseball.
George Smith was among the starters manager Bill Donovan — an outstanding pitcher himself for many years with the Brooklyn Superbas and Detroit Tigers — was relying upon. After Smith posted a 13-18 mark in 1920, Donovan was hopeful that he could improve upon that record.
To help get out of the National League's basement — the Phillies finished last in both 1919 and '20 — Donovan was also counting on ace Lee Meadows, new acquisition Jimmy Ring, Red Causey, and Bill Hubbell in a rotation that could use "much strengthening."1 But Donovan also drew from a slew of young, unproven pitchers whom he hoped to develop.2
Smith was expected to be one of the players who would lead the Phillies and, according to a preseason analysis by the Philadelphia Inquirer, he was among the best bets to remain in the rotation all season. But it was also noted that Smith "has little other than an impressive look and a serious mien, but you cannot make faces only at a wielder of the ash and pine and scare him out of his hit. You must put the nawsty look on the ball."3
As it turned out, there weren't a lot of days in 1921 when Smith's pitches had that "nawsty look." And even though he wasn't exceptionally sharp in the second game of a doubleheader at Braves Field on August 12, he worked his way out of plenty of jams to give the Phillies a 4-0 victory over the Boston Braves.
The 28-year-old Smith surrendered 12 hits but didn't allow more than two in any inning. As of 2021, no Phillies pitcher since 1900 has given up more hits in a complete-game shutout.4 Boston put a runner on base in every frame, but Smith always found a way to dance out of trouble and earn his fourth career shutout.
Smith and Boston's Jack Scott each started both games of the August 12 doubleheader5 and struggled in the first game. That's when the Phillies recorded seven hits and scored six runs off Scott in the first 2⅓ innings of a 10-5 victory.6 Smith had left the opener after allowing three runs on four hits in 1⅓ innings.
In the second game, the Braves had scoring chances in the second and fourth innings snuffed out by the Phillies. In the second, Boston's Walter Holke reached on a two-out single, but he was thrown out at the plate when he tried to score from first after left fielder Russ Wrightstone made an error on Hod Ford's drive. In the fourth, Walton Cruise and Tony Boeckel had back-to-back two-out singles to put runners on the corners, but Holke grounded to second to end the inning.
After being held scoreless for the first three innings, Philadelphia broke through against Scott in the fourth. Jimmy Smith opened the inning with a single and went to second on Bevo LeBourveau's sacrifice. Third baseman Tony Boeckel barehanded Russ Wrightstone's sharp grounder7 and Smith was caught in a rundown between second and third. But he slipped by the defense and reached third despite several back-and-forth throws among the infielders; Wrightstone made it to second during the play.8 Lee's double to right scored Smith and Wrightstone for all the runs the Phillies would need.
Smith led off Philadelphia's half of the sixth with a single to left-center and continued to third when Ray Powell mishandled the ball in center field.9 LeBourveau struck out, but Wrightstone banged out a single to bring Smith home for a 3-0 lead. Scott was relieved by Garland Braxton in the eighth inning, having allowed three earned runs on seven hits and a walk. Scott took his second loss of the day and fell to 12-8.10
George Smith's luck was most evident in the sixth and seventh innings. Walter Barbare and Billy Southworth opened the sixth with back-to-back singles for the Braves, and Philadelphia first baseman Cliff Lee moved onto the infield grass in anticipation of Cruise following with a sacrifice bunt attempt. Cruise instead hit a weaker grounder to Lee, who threw to second to start a timely double play. Boeckel grounded out to third to end the inning, preserving Philadelphia's 3-0 lead.11
One inning later, Hank Gowdy attempted to start a Boston rally with a two-out single. Pinch-hitter Lloyd Christenbury followed with a double, and Ray Powell walked to load the bases. Smith induced a popout in foul territory off the bat of Barbare to end the threat.
In the top of the ninth, Smith helped himself with some unexpected offensive punch. Cy Williams hit a one-out double to left. With two outs the Braves intentionally walked Butch Henline, bringing Smith to the plate. Smith had only two hits in 57 plate appearances coming into the game, but he broke a 0-for-37 drought with a single that drove in Williams.12 That insurance run was Smith's third RBI of the season, which tied his career high.
Powell hit a harmless two-out single in the bottom of the ninth, but Smith retired Barbare to finish off his 11th complete game of the season.
Smith improved his season's ledger to 4-15 but wouldn't win again until 1922. He finished the 1921 season at 4-20, becoming the fourth Philadelphia pitcher since 1900 to lose at least 20 games in a season.13
For the Braves, the back-to-back losses came at a pivotal point in the season. Boston was still contending for the National League pennant but dropped 8½ games behind the first-place Pittsburgh Pirates. That was the furthest out of the first place the Braves had been since July 12, and they finished the season fourth in the NL at 79-74.14
The sweep of the doubleheader was the first of the season for Philadelphia in 11 tries, and helped make August the team's best month of the season. The Phillies went 13-19 in August (.406), as they struggled to a 51-103 overall record (.331) — the worst season in team history since it debuted in 1883 as the Philadelphia Quakers and finished 17-81-1 (.173).
Sources
In addition to the sources cited in the Notes, I used the Baseball-Reference.com and Retrosheet.org websites for statistics and team information.
https://www.retrosheet.org/boxesetc/1921/B08122BSN1921.htm
https://www.baseball-reference.com/boxes/BSN/BSN192108122.shtml
Notes
1 Joe Vila, "Donovan's Pitching Staff Needs Much Strengthening," Philadelphia Inquirer, February 7, 1921: 12.
2 Gordon Mackay, "Rickey Sorry He Let Meadows Go," Philadelphia Inquirer, March 24, 1921: 14.
3 Mackay.
4 Smith won three other games during his career while giving up at least 12 hits, but none was a shutout.
5 The doubleheader was played after a May 5 game between the teams was rained out. For the Phillies, it was the first of five doubleheaders they would play in an eight-day span. Boston swept a doubleheader against Philadelphia the next day.
6 It was the second time in Scott's career that he started both games of a doubleheader. On July 5, 1920, he had no decision in the first game and took the loss in the second game of a doubleheader against the Brooklyn Dodgers. Scott pitched for the Phillies in 1927 and lost 21 games.
7 Frank Gaffney, "Braves beaten twice by Phils," Boston Post, August 13, 1921: 4.
8 James C. O'Leary, "Even 12 Hits Prove Useless to Braves," Boston Globe, August 13, 1921: 5
9 Gaffney.
10 Scott finished the season at 15-13. He was one of three Boston pitchers to win at least 15 games.
11 Gaffney.
12 Smith got another hit later in the season, and closed the year with a .056 batting average (4-for-72). He was a career .097 hitter.
13 Philadelphia's 20-game losers from 1900 to '20 were Chick Fraser (24 in 1904), Eppa Rixey (21 in 1917 and 22 in 1920), and Doc White (20 in 1902). Eight pitchers lost at least 20 games in a season during the 1800s.
14 Later in August, the Braves lost seven in a row to fall 10½ games out of first place, and a 12-16 mark in September doomed their chances of a pennant. In August and September, Boston went 26-35 to put a damper on a 53-38 start to the year.
Additional Stats
Philadelphia Phillies 4
Boston Braves 0
Game 2, DH
---
Braves Field
Boston, MA
Box Score + PBP:
Corrections? Additions?
If you can help us improve this game story, contact us.
Tags
https://sabr.org/sites/default/files/AllenSmithGeorge.png
600
800
sabr
/wp-content/uploads/2020/02/sabr_logo.png
sabr
2021-07-15 18:43:28
2021-07-15 18:43:28
August 12, 1921: George Smith scatters 12 hits in record shutout victory as Phillies sweep doubleheader