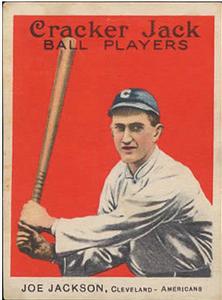 May 7, 1911: Cleveland's Shoeless Joe Jackson beats Browns in 12th inning with grand slam
---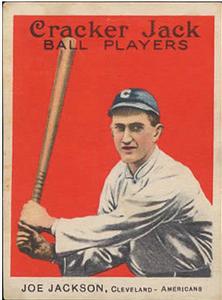 Shoeless Joe Jackson had gotten off to a hot start in 1911. By the first week of May, the 23-year-old was batting .408, setting up a long-anticipated batting-title showdown with fellow Southerner Ty Cobb. Jackson's major-league playing career had begun inauspiciously, but by May of 1911 he finally seemed ready to unleash his full capabilities.
On May 7 Jackson and his Cleveland Naps teammates traveled to St. Louis to battle the Browns. Despite Jackson's torrid hitting, the Naps had started the season an anemic 7-13. And the Browns were the only team with a worse record. At 4-15, they were at the bottom of the American League. Jackson was poised for a heroic moment that would solidify his place as one of the game's most fearsome hitters.
The lefty-hitting Jackson was discovered in 1908 by Philadelphia Athletics scout Al Maul, who called him "the sweetest hitter I have ever seen."1 Athletics owner-manager Connie Mack purchased Jackson's contract from the Class D Greenville Spinners in July 1908 and recruited him to come north. Jackson led the South Carolina team in 1908 with a .346 average and debuted for the Athletics in late August.
In an era when most players hailed from the North, Jackson was mercilessly hazed by teammates. The hazing, mixed with Jackson's eccentricities, his dislike of Northern cities, and his general homesickness, created a lot of personal drama that was enormously distracting and negatively affected his play. Jackson had even run off a few times on train trips north, prompting Mack to enlist a chaperone to accompany him.2 During spring training in 1909, Mack worked closely with Jackson and hoped he was ready for the majors. He ultimately decided to send Jackson to Class C Savannah for more seasoning in minor-league ball. The youngster responded well, batting .358 for Savannah, resulting in a late-season call-up. But in the majors, Jackson experienced the same poor results as he did in 1908 and again was sent south.
In 1910 Joe stayed south and continued his dominance of the minor leagues. He was the Class A Southern League's best player, leading the league in hitting and his New Orleans Pelicans to a title. Southern newspaper sports pages consistently covered Jackson and reported his exploits. Headlines played up an inevitable return to the majors and the prospect of a battle with the South's other favorite son, Georgia's Cobb. Only seven months older than Jackson, Cobb led the AL in batting for the fourth season in a row in 1910. The Greenville (South Carolina) News, Jackson's hometown newspaper, carried a headline that squawked, "Joe Jackson Destined to Become Rival of Cobb," under which was written, "Baseball experts of this section in which Jackson was raised and where he began his career believe him to be one of the wonders of the age and that under careful development he ought to rival the genius from Georgia as the greatest player ever produced."3
Despite Jackson's obvious abilities and consistent minor-league success, Mack included him in a trade to the Cleveland Naps in July 1910. Although Jackson's minor-league record suggested a promising future, he had mustered a less-than-sterling .150 average over 40 at-bats in his first two major-league stints. Mack was after 26-year-old Bris Lord, a player he had coached previously. He coveted Lord's defense and "deadly arm" to solidify his outfield for a run at the 1910 pennant and championship.4 In return, Cleveland initially got reserve infielder Maurice Rath. It was then announced that Jackson's rights had also been transferred from Philadelphia to Cleveland as part of the trade.5
Jackson arrived in Cleveland in September 1910 and got right to work. He performed solidly for the final 20 games of the season, batting .387. In his second game, he also belted what was called "the longest home run" at Cleveland's League Park.6
By May 1911 and the matchup against the St. Louis Browns, the consensus was that Shoeless Joe was the real deal and finally in the majors to stay. After throwing batting practice to the young hitter, legendary pitcher Cy Young had said, "If there's any kind of ball this Jackson can't hit, I couldn't find it."7 While the May 7 matchup against the Browns wasn't particularly notable or critical, Jackson's individual efforts, coupled with his hot start, garnered headlines and further embellished his reputation outside of the South.
On the mound for Cleveland was 22-year-old rookie southpaw Earl Yingling, starting his third major-league game. By contrast, St. Louis started a pitcher on the other end of his career, 36-year-old Jack Powell, who was playing in his 520th career game. He had started his career in Cleveland in 1897 (for the NL Spiders) and in 1911 was destined to lead the league in pitching losses, though his 8-19 record was amassed for a team that went 45-107. Despite the lackluster pitching matchup, the game turned into a low-scoring pitchers' duel at Sportsman's Park.
In the second inning, the Browns were prevented from scoring when Cleveland's superstar second baseman Nap Lajoie turned a lucky bounce into a double play. St. Louis second baseman Frank LaPorte had led off the inning with a double but was thrown out at third after a failed sacrifice by center fielder Al Schweitzer. After reaching on the fielder's choice, Schweitzer stole second, and catcher Nig Clarke walked. Aging shortstop Bobby Wallace, who had started his career in 1894, hit a shot back at Yingling. The ball eluded him but bounced to Lajoie, who corralled it, stepped on second, and tossed to first to get the Browns' 37-year-old player-manager and complete the double play.8
In the third, Browns first baseman Dode Criss started the inning with a first-pitch single to center off Yingling that led to the game's first run. Infield outs by pitcher Powell and left fielder Burt Shotton moved Criss to third. Third baseman Jimmy Austin's single to center scored Criss.9
The Naps tied things 1-1 in the top of the fifth inning. Powell hit first baseman George Stovall, who moved to second on a groundout by third baseman Terry Turner to LaPorte. Yingling helped his own cause with a single to center that scored Stovall with the tying run.10
Cleveland and St. Louis traded runs in the sixth. Jackson tripled to center in the top of the inning and came home on another hit to center, this time by Lajoie. The lead didn't last because in the bottom of the inning, LaPorte's grounder to third was followed by Turner's errant throw, which allowed the Browns second baseman to hustle all the way to third. Wallace hit a two-out single to center to drive in LaPorte and tie the score, 2-2. Wallace successfully swiped second but was left stranded by a Criss fly out to left.11
Powell and Yingling battled for five more scoreless innings, each pitcher backed by fine defensive plays. A Lajoie hit to center in the eighth that was fumbled by Schweitzer seemed destined to score Naps shortstop Ivy Olson, but Wallace snared the relay throw from center and cut down Olson at the plate. A sharp liner by Jackson in the 10th was snagged by the Browns' Shotton in left, preventing an extra-base hit. And a possible Browns rally in the 11th was cut short when Lajoie helped turn another double play.12
The score remained 2-2 as the Naps headed to bat in the 12th. Turner hit a liner to right for a single. Catcher Grover Land struck out, but Yingling got his second single. Veteran pitcher Powell seemed tired, and he hit left fielder and leadoff man Jack Graney, allowing him to reach base for the first time, loading the bases. But Powell bounced back and fanned Olson.
With two outs and the bases loaded, Shoeless Joe stepped into the box.13 He got a pitch he liked from Powell and drove the ball to deep left-center field. Dead center at Sportsman's Park in 1911 was 445 feet,14 and the ball reached the fence as Turner, Yingling, and Graney scored. There was no chance to catch Jackson as he rounded third, so no throw was made, and he crossed the plate standing up.
The grand slam gave the Naps a 6-2 lead, and the Browns failed to answer Jackson's heroics in their half of the inning. A headline in the next day's Cleveland Plain Dealer cried, "Jackson's Home Run Drive in the Twelfth Inning Wins for Naps."15 A game-winning home run was a unique accomplishment during the Deadball Era, and a grand slam even rarer.
Jackson's 1911 season presented a real challenge to Ty Cobb and his offensive dominance in the American League. Jackson garnered headlines and attention that helped vault him into the class of elite players. He ended the season with the same average as he had at the beginning of May: .408. Cobb, though, responded to the new challenger and batted .419, a personal best in his 24-year career.
Sources
In addition to the Sources cited in the Notes, the author consulted the Baseball-Reference.com and Retrosheet.org websites for pertinent material and the box scores noted below:
https://www.baseball-reference.com/boxes/SLA/SLA191105070.shtml
https://www.retrosheet.org/boxesetc/1911/B05070SLA1911.htm
Notes
1 "Joe Jackson to Go Back to Athletics," Greenville (South Carolina) News, June 18, 1910: 2.
2 "Shoeless Joe Jackson Took Three Train Rides Before Joining Mack," Indianapolis Star, August 6, 1911: 4.
3 "Joe Jackson Destined to Become Rival of Cobb," Greenville News, August 12, 1910: 2.
4 "Athletics Get Lord," Washington Evening Star, July 24, 1910: 49.
5 "Joe Jackson Sold to Cleveland Club," Charlotte Daily Observer, August 2, 1910: 3.
6 "Joe Jackson Drives Ball to the Tall and Uncut," Greenville News, September 19, 1910: 2.
7 "New 'Ty Cobb' to Be Made or Exploded in Season of 1911," Chattanooga Daily Times, April 3, 1911: 2.
8 "Powell's Error in Letting Jackson Hit Ball Loses Game for Browns," St. Louis Dispatch, May 8, 1911: 12.
9 "Powell's Error."
10 "Joe Jackson Makes Home Run with Bases Full, Beating Browns," Cleveland Plain Dealer, May 8, 1911: 7.
11 "Joe Jackson Makes Home Run."
12 "Joe Jackson Makes Home Run."
13 "Powell's Error."
14 Clem's Baseball Blog, http://www.andrewclem.com/Baseball/SportsmansPark.html (accessed December 24, 2021).
15 "Joe Jackson Makes Home Run."
Additional Stats
Cleveland Naps 6
St. Louis Browns 2
12 innings
---
Sportsman's Park
St. Louis, MO
Box Score + PBP:
Corrections? Additions?
If you can help us improve this game story, contact us.
Tags
https://sabr.org/wp-content/uploads/2021/05/Jackson-Shoeless-Joe-1914-CLE.jpg
300
222
Thomas Brown
/wp-content/uploads/2020/02/sabr_logo.png
Thomas Brown
2021-05-04 01:09:48
2021-05-06 06:38:47
May 7, 1911: Cleveland's Shoeless Joe Jackson beats Browns in 12th inning with grand slam