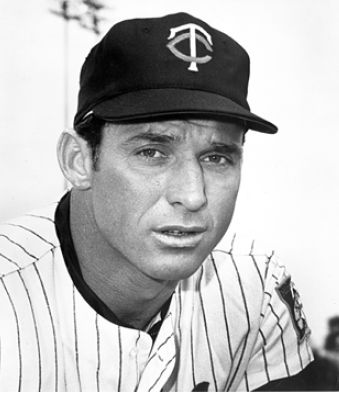 ---
Three-time All-Star and 1959 Rookie of the Year Bob Allison was a feared slugger, an aggressive, daring baserunner, a versatile outfielder and first baseman with a powerful arm, and, above all, a competitive team player. He played his entire 13-year career (1958-1970) with the Washington Senators/Minnesota Twins, helping transform a moribund franchise into a consistent winner and pennant contender. "Anyone can be successful in baseball if he follows the path of Bob Allison," wrote Leonard Schechter in Sport in 1964. "All you have to do is be 6'4", strong as a weightlifter, handsome as a shirt model, have the personality of an honor graduate of Dale Carnegie, and also work your head off."1
William Robert Allison was born on July 11, 1934, in Raytown, Missouri, located about 10 miles southeast of Kansas City. His parents, Robert "Lou" and Frances (Witte) Allison, were hard-working, industrious people who provided Bob and his two younger siblings, Jim and Frances (known as Frankie), a solid, middle-class life. Bob got his first lesson in baseball from his father, a construction worker and former semipro catcher. He began playing organized baseball by the time he was 11 years old and attending Chapel Elementary School. He was a big, rugged, and agile youth, and his favorite sport was football. At Raytown High School he was a standout in multiple sports, starring at quarterback and fullback on the gridiron, playing in the front court in basketball, and running track. He was "something of a legend around Raytown," read one report.2 Although his school did not have a baseball team, Bob played in the highly competitive Ban Johnson League in the Kansas City metro area.
After graduating from high school in 1952, Allison enrolled on a football scholarship at the University of Kansas, about 50 miles from home in Lawrence. He was a fullback on the Jayhawks football team in 1952 and 1953, and played baseball in 1954 for legendary coach, Floyd Temple, in his first of 28 years guiding Kansas. At 6-feet-3 and weighing 200 pounds, the right-handed Allison might have had the prototypical build for a professional fullback, but he garnered more attention as a hard-hitting, rough-and-tumble infielder-outfielder for Milgram in the Ban Johnson League in the summers of 1952-1954. "At 18, he could out throw most big leaguers I saw," said one of his former coaches.3 Scouts from the New York Yankees, Chicago White Sox, St. Louis Cardinals, Milwaukee Braves, New York Giants, Cleveland Indians, and Washington Senators were on his trail in Kansas City and Lawrence. "Tom Greenwade, who discovered Mickey Mantle, came to the university to see me," said Allison. "He gave me all the sweet talk about the Yankees, and I must admit that I was surprised. [Senators scout] Ray Baker had told me that it was easier to make it in the Washington organization than with some of the richer clubs."4 The decision to pursue a career in baseball became more immediate when Allison lost his athletic eligibility for the fall of 1954 due to poor grades. According to the Associated Press, the Senators signed Allison on Baker's recommendation on January 24, 1955.5
With a bonus of $4,000 in hand, the 20-year-old Allison reported to the Class B Hagerstown (Maryland) Packets of the Piedmont League in 1955. He batted .256, but showed little power, slugging just .332. The Senators invited him to spring training in 1956 for a look-see. Although Washington sportswriter Shirley Povich praised him for his "big swing and determination,"6 Allison was over his head and was subsequently assigned to the Charlotte (North Carolina) Hornets in the Class A South Atlantic League, where his average dipped to .233.
In Charlotte Allison roomed with 20-year-old Harmon Killebrew, in his first year in the minors. Killebrew had signed with the Senators two years earlier for a reported $30,000 bonus; because of the bonus rule in effect at the time, he was required to spend his first two (agonizing) seasons on the big-league squad. The two prospects became lifelong friends and accompanied each other on their arduous journey to the big leagues. The following season, with the Double-A Chattanooga Lookouts, Killebrew developed into a slugging sensation, belting 29 home runs to lead the Southern Association, while Allison batted just .246 and hit only two home runs, though his 11 triples tied for the league lead. Despite his weak hitting, Allison had established a reputation as good center fielder with excellent range and a rifle arm.
Back with Chattanooga in 1958 after another trial with Washington in spring training, Allison blossomed, batting .307 and slugging .446, and earned a call-up to the Senators when the rosters expanded in September. On September 16 he made his major-league debut, playing center field and batting leadoff, and going 1-for-4 in a loss to the Cleveland Indians. Allison appeared overmatched at the plate (7-for-35), but according to The Sporting News "can handle centerfield."7 Allison honed his skills in the Cuban Winter League, leading Almendares to the league championship and earning a berth on the all-star team while experiencing a front-row view of the Cuban Revolution.8
Allison's rookie season with the Senators in 1959 defied all expectations. His size, speed, strength, and athleticism inspired awe. Team trainer George "Doc" Lentz, who had worked for the Senators for 31 years and also for the Washington Redskins, called the now 220-pound, muscular Allison "the strongest man I ever handled."9 Club owner Calvin Griffith praised him as having "the best arm that has come to our outfield since Jackie Jensen."10 Said coach Ellis Clary, "I know he'll scare the daylights out of the opposition. Man, when he runs down the line from home plate I can hear the ground shake."11 But despite this praise, many felt that Allison would not even make the team because of his poor hitting. Boston sportswriter Hy Hurwitz wrote that Allison "should be shipped out" during camp while Senators beat reporter Bob Addie noted that "none of the scribes covering the team in training camp thought much of Allison."12 Shirley Povich cautioned, "[Allison's] not a power hitter."13 His manager, Cookie Lavagetto, was even more direct in his evaluation, "He was the worst you ever saw at the plate. He chopped at the ball like he had an axe in his hand."14
Dubbed the "hardest worker in camp," Allison recognized that his future in the big leagues rested on improved hitting.15 Roy Sievers, renowned for his graceful swing, proved to be most influential on the youngster. "He had me move closer to the plate so I could reach the pitches," said Allison. "He also taught me not to lunge."16 A classic line-drive hitter, Allison's new approach helped him temper the tendency to pull the ball. He impressed Lavagetto with his work ethic, "He's a curious kid. If he makes a mistake, he'll talk about it. Bob studies pitchers," said his skipper.17
Allison made an immediate impression on fans with his energetic style of play. He opened the 1959 season with a nine-game hitting streak, including his first home run. He began in right field, moved to left, and then took over center field in the 12th game of the season, making Albie Pearson, the 1958 Rookie of the Year, expendable. (He was traded on May 26.)
With only 28 home runs in four years in the minors, no one expected Allison to develop into a home-run threat. But he surprised everyone. On June 5 Allison collected a career-best five hits (in five at-bats) and walloped two home runs for the first of 16 times in his career, yet the Senators lost to the Detroit Tigers, 7-6. By the end of July, Allison had clouted 27 round-trippers, and was named to the AL All-Star team for the second of two games scheduled that season, although did not play. "He can run, he can throw, he swings a good bat," wrote Bob Addie.18 Allison intimidated baserunners with his accurate arm, but also tested Lavagetto's patience for occasionally showboating and overthrowing the cutoff man to show off his arm strength, thereby permitting runners to advance.
Despite slumping the final two months of the season, Allison finished with 30 home runs and batted .261; he also knocked in 85 runs despite hitting in the two-hole for just over half of his at-bats. More than a slugger, he led the AL in triples (9) and finished fifth in stolen bases (13). He topped off the season by winning the Rookie of the Year award. The Senators were accustomed to losing, and finished in last place in 1959, but they treated their fans to a home-run barrage. En route to a new team-record 163 home runs, Allison, Killebrew (42), and Jim Lemon (33) became just the seventh trio of teammates to blast 30 round-trippers in one season, and the first in the AL since the 1941 New York Yankees with Joe DiMaggio, Charlie Keller, and Tommy Henrich.
After another offseason playing winter ball in Cuba, Allison reported to spring training in 1960 with high expectations. Calvin Griffith, the perpetually cash-strapped owner of the club, pronounced him an untouchable and rebuffed offers to sell the young star. Moved to right field, Allison got off to a torrid start. In his first seven games he collected 17 hits in 30 at-bats and drove in 12 runs. He caught President Dwight Eisenhower's pitch on what turned out to be the last home opener for the Senators in Washington. Batting primarily in the third spot, usually in front of Lemon, Allison hit .328, scored 35 runs and knocked in 33 through the first 50 games, and seemed destined for stardom. But just as the Senators were putting together a winning record for three consecutive months (June, July, and August) for the first time since 1952 to begin September with a winning record, Allison commenced a prolonged sophomore slump, batting just .205 in his last 95 games. More disconcerting to the Senators was Allison's loss of power –  just 15 home runs for the season. One of those, however, was a dramatic two-run walk-off blast in the 10th inning to defeat the New York Yankees on July 5. While the Senators floundered in September to finish in fifth place, Griffith became willing to listen to trade offers for Allison.
It was not a surprise when the Senators moved to Minnesota in the offseason. Griffith, the adopted son of former owner Clark Griffith, had begun exploring relocation options soon after taking control of the team in 1955. Since breaking the one-million mark in 1946, the club had struggled mightily at the gate, finishing last in attendance every year since 1955. Griffith, whose primary source of income was the baseball club, also complained that the location of Griffith Stadium, in the historically black neighborhood of Shaw, kept fans from the games. In the Minneapolis-St. Paul metropolitan area, he hoped to reap the same kinds of financial rewards that the Boston Braves, Brooklyn Dodgers, and New York Giants did after relocating in the 1950s.
Ignoring trade rumors, Allison got off to another hot start in 1961 as the Minnesota Twins played their first six games on the road. In their season opener, he walloped the first home run in Twins history,  a deep line-drive blast to left field off Whitey Ford in the club's convincing 6-0 victory over the New York Yankees. Three games later, he blasted two round-trippers and drove in a career-high seven runs in a Twins' victory over the Baltimore Orioles. Two more games of two home runs followed in mid-May at Metropolitan Stadium, located in Bloomington, about 11 miles due south of downtown Minneapolis. Though the Twins finished in seventh place (70-90) in the year the AL expanded to 10 teams, the club finished third in attendance, proving that major-league baseball could succeed in the Upper Midwest where cool, indeed cold, temperatures in April, May, and September were the norm. Allison placed seventh in home runs (29) and RBIs (105) while drawing a career-high 103 free passes (fifth best in the AL).
Allison was an immediate favorite in Minnesota. As the first player to establish year-round, permanent residence in Minnesota, he helped Minnesotans forge a strong bond with their recently relocated team. He, his wife (his high-school sweetheart, Betty Shearer, whom he had married in 1956), and their three children, Mark, Kirk, and Kyle, were fixtures at the ballpark and in the community. Allison had matinee-idol good looks – tall, dark, and handsome with brownish black hair and hazel-green eyes – and played with an ethos that endeared him to fans and the media. He had all sorts of nicknames, from Paul Bunyan and Mr. America to Muscles, all which played on his Herculean physique. "He plays hard and he plays every second of every game," commented The Sporting News.19 Called a "throw back to the old times," Allison was "Old School" when it meant playing an all-out style like the 1920s or 1930s.20  He crashed into outfield fences going after balls and made daring, diving catches. Though not conventionally fast like Mickey Mantle or a great basestealer like Luis Aparicio, Allison was an excellent and fearless baserunner. His specialty was breaking up double plays, barreling over shortstops, many of whom he outweighed by 50 to 60 pounds.
In 1962 the Twins were the youngest team in the AL and had assembled a nucleus of players who helped transform the club to a pennant winner in 1965, and laid the foundations for the team's success throughout the decade. Killebrew (age 26) and Allison (27) in the outfield, Zoilo Versalles (22) at shortstop, Rich Rollins (24) at third base, and catcher Earl Battey (27) were All-Star selections in the 1960s. The Twins farm system produced other future All-Stars who joined them: outfielders Jimmie Hall in 1963 and Tony Oliva in 1964, and second baseman Rod Carew in 1967.
Allison was hampered by several early-season injuries in 1962, including a pulled rib muscle and spiked fingers, and experienced a drop in his power numbers through early June. Nonetheless, the Twins briefly took over the top spot in the AL that month. "I've never seen the kind of spirit we've got on the club," said Allison.21 Manager Sam Mele, who had replaced Cookie Lavagetto during the previous season, relied on the long ball; all eight position players swatted at least 11 home runs as the club set a new team record with 185. Allison regained his power in June and put together one of the most productive stretches in his career, hitting 27 round-trippers and knocking in 86 runs in 108 games from June 9 through the end of the season. On July 18 Allison and Killebrew became the first set of teammates in big-league history to wallop grand slams in the same inning when they accomplished the feat in the first frame of a 14-3 laugher against the Cleveland Indians at the Met. Minnesota finished with 91 victories, five behind the New York Yankees. In an era when high batting averages and low strikeout totals were the signs of good hitters, Allison – who struck out a lot and seldom hit for a high average – did not receive as much credit for his production as he probably should have. He finished third in runs (102) and seventh in RBIs (102), joining Norm Siebern of the Kansas City Athletics as the only AL players in triple digits in both departments; he also finished eighth in home runs (29) and fifth in slugging (.511).
Sluggers Killebrew and Allison were affectionately known as "Mr. Upstairs and Mr. Downstairs." Whereas the "Killer" clouted legendary arcing homers, Allison ripped bullets that cleared the fences. The ever modest Allison claimed, "I've never been much of a long-ball hitter," and added, "I swing down at the ball and I'm more of a line-drive hitter."22
Using a wider batting stance and a heavier bat, Allison enjoyed arguably his best season in 1963 in an offensively depressed era. He was named Player of the Month by Fleer in April (five home runs and 18 RBIs in 19 games) while his teammates struggled and the club dropped into last place. "Allison is only doing what comes naturally when he plays Paul Bunyan so it is no surprise that he's trying singlehandedly to carry the Twins," wrote UPI after the slugger connected for three home runs for the first and only time in his career, against the Indians on May 17.23 On the strength of his league-leading 21 home runs, Allison was named a backup on the AL All-Star squad. (He struck out against Houston's Hal Woodeshick in his only at-bat.) Despite being briefly sidelined in August when a pitch from Dean Chance of the Los Angeles Angels broke a bone in his right hand, Allison finished third in the AL in home runs (a career-best 35), fourth in RBIs (91), third in walks (90), and second in slugging (.533). He paced the circuit with 99 runs scored, marking the first time that the AL leader failed to reach 100 in a full season since Elmer Flick in 1906. The Twins proved to be a streaky team, winning 91 games, but finishing in a distant third place, 13 games behind the Yankees. They also established a new team record with 225 home runs – 113 of them from Allison, Killebrew (45), and Hall (33).
Twins beat reporter Arno Goethel once referred to Allison as the "unknown outfielder."24 Soft-spoken off the field, yet articulate, Allison shunned the spotlight, played in the shadows of Killebrew and Oliva, and was rarely mentioned in discussions about the best outfielders in the early to mid-1960s. He played any position the team asked, moving from center field to right field, to first base in 1964, and then to left field in 1965 to accommodate younger players or improve the team. "I don't care where I play," he told sportswriter Dick Gordon. "I don't think moving around affects my play and I like being able to play more than one position."25 On the field Allison exhibited a completely different persona. Managers and teammates acknowledged him as the vocal team leader. Minneapolis sports reporter Max Nichols praised his "take charge instincts" and noted that he's the "holler guy" on a team filled with "silent types."26
The Twins fell to sixth place in 1964 with a 79-83 record despite a league-leading 221 home runs. Four of those home runs came consecutively against the Kansas City A's when Oliva, Allison, Hall, and Killebrew connected in the 11th inning of a 7-3 victory. Allison was a jack-of-all-trades, starting 90 games at first base and 45 in the outfield (at all three positions). He was a starter in his third and final All-Star appearance (he went 0-for-3 with a walk). Allison's season ended about a week early when he was hit by a pitch from Lew Krausse of the Kansas City A's and broke a knuckle. With 32 home runs, 86 RBIs, and a career-best .287 average, Allison set career-best marks in slugging (.553) and on-base percentage (.404).
The 1965 Twins were an unusually deep team, with seven legitimate All-Star position players, and two more on the pitching staff. Three new coaches, Johnny Sain, Jim Lemon, and Billy Martin, helped forge them into a mentally tough and fundamentally sound team. In first place for the overwhelming majority of the season, the Twins overcame injuries to key players to pull away from the pack in August and September and cruise to their first pennant, seven games ahead of the Chicago White Sox, with a record of 102-60.
Allison started out the 1965 season in left field, his third different position in as many years. He put up typical numbers (.267, 12 HRs, 34 RBIs) until he was hit on the right wrist by a pitch from Boston's Jerry Stephenson on July 6. Diagnosed with a fractured wrist, Allison missed 10 days. He struggled after his return (batting just .199, though he hit 11 homers and knocked in 44 runs in 68 games) and was often platooned with Sandy Valdespino, a speedy, left-handed-hitting rookie. About four weeks after Allison's injury, Killebrew suffered what appeared to be a season-ending elbow injury in a collision at first base with Baltimore's Russ Snyder on August 2.
The Twins' pennant was a testimony to the team's depth and team-oriented attitude. "We find a different way to win every day," said Allison. "This team is a bunch of fighters."27 With Allison bothered by a sore wrist and Killebrew out seven weeks, the Twins relied on a collective effort. "No player on this club has dominated the clutch hitting role," wrote Max Nichols.28 Don Mincher belted 22 home runs and replaced Killebrew at first base, Oliva batted .321 to capture his second successive batting crown, and Versalles led the league in runs scored (126) and extra-base hits (76) and won the AL MVP award.
The Twins lost the 1965 World Series to the Los Angeles Dodgers, whose other-worldly ace, Sandy Koufax, hurled shutouts in Game Five and Game Seven (on two days' rest), but Allison's remarkable catch in Game Two has endured as one of the most memorable in Series history. In the fifth inning of a scoreless game, with a man on first and no one out, Allison made a diving backhanded grab of Jim Lefebvre's sinking line drive to left field. He caught the ball with his glove just off the ground in fair territory and skidded on the soggy field across the foul line. "It was the greatest catch I've ever seen," said Killebrew.29 The Twins went on to win the game, 5-1, to take a two-games-to-none lead in the Series. Like his teammates, Allison struggled against Dodgers pitching. In five games (he did not start Games One or Four against Don Drysdale), Allison went 2-for-16. One of those hits was a two-run homer in Game Six off Claude Osteen. The last of his nine strikeouts accounted for the final out in Game Seven.
In 1966, Allison, now 31 years old, lost his position in left field to Valdespino and saw only limited action in an injury-plagued season. On July 23 he suffered his fourth hand/wrist injury in as many years when a pitch from Boston's Jim Lonborg fractured his left wrist. "You can't blame the pitchers for pitching me tight," said a philosophical Allison. "That's part of the game."30
In light of a miserable campaign (8 homers and 19 RBIs) Allison endured an offseason filled with trade rumors, but the Twins had no viable options in left field. Two of his supposed replacements, Valdespino and Andy Kosco, had failed to lived up to their hype. Allison reclaimed his position as the everyday left fielder, though he was often replaced for defensive purposes late in games. With the Twins floundering in sixth place (25-25), Cal Ermer replaced Mele as skipper and ignited the team. They won 24 of their next 36 games, culminating in a doubleheader sweep of the California Angels on July 16 to pull to within a half-game of first place. In that twin bill, Allison went 3-for-5 with two home runs (one as a pinch-hitter) with five RBIs and three runs scored. Throughout August and September, Minnesota battled Boston, Chicago, and Detroit in one of the most exciting pennant races in league history. In first place entering the final weekend of the season and with just 1½ games separating four teams, the Twins were swept by Boston in a two-game series to finish in second place. Allison finished with a .258/24/75 line.
Collectively, the Twins struggled in 1968, the "Year of the Pitcher," and fell to seventh place, their worst finish since their inaugural season in Minnesota. The players failed to respond to skipper Cal Ermer, whose authority players openly challenged, leading to some high-profile confrontations, such as one with Carew. Owner Calvin Griffith conceded that Ermer had lost control of the club. Allison, who had hurt his right knee the previous season, needed regular cortisone shots to play in the field. In his last season as an everyday starter, Allison was still an offensive threat, clouting 22 home runs (tied for eighth in the AL) and slugging .456 (sixth).
Although he was reduced to a role player in 1969, Allison looked forward to playing for Billy Martin, whose aggressive, daring style he appreciated. Martin considered Allison excellent coaching material (Allison turned down Martin's offer to join his staff in Detroit in 1971).  In his autobiography (with Peter Golenbock), Number 1, Martin called Allison "my leader behind the leader on the bench."31
En route to the AL West crown in the first year of realignment, Allison was involved in an ugly scene with Martin and pitcher Dave Boswell in August. At a local watering hole in Detroit, the Lindell Athletic Club, Boswell began arguing with pitching coach Art Fowler. Allison intervened as peacemaker and took Boswell outside to cool off. Boswell took out his frustration on Allison, knocking him out (with a sucker punch, according to some reports), whereupon Martin rushed outside. In the now infamous fight, Martin beat up his pitcher, who was subsequently hospitalized.32
Allison was placed on waivers during spring training in 1970, but there were no claims on the 35-year-old with creaky knees. Relegated to an occasional start and pinch-hitting duties, Allison saw sporadic action for manager Bill Rigney, who had replaced Martin and led the Twins to their second consecutive AL West crown. For the second year in a row, the club lost to the Baltimore Orioles in the ALCS and Allison went hitless in a combined 10 at-bats, both series sweeps. At the conclusion of the season, he announced his retirement. In his 13 years with the Senators-Twins, Allison hit 256 home runs, knocked in 756 runs, and batted .255.
On September 9, 1971, the Twins celebrated B.A.T. Day (Bob Allison Tribute Day), marking the first time a professional athlete had ever been feted with his own day in Minneapolis-St. Paul. The broad-shouldered, down-to-earth Allison was wildly popular as much for what he did off the field as for his accomplishments on the diamond. "[Allison] has been unmatched in the team's history as a tireless good-will ambassador in Twinsland," wrote Arno Goethel.33 Long associated with the Easter Seals, Allison worked tirelessly on behalf of sick children, visiting hospitals and raising money.
Allison was well positioned for his post-baseball career. Since his early days in Minnesota, he had worked in the offseason for Coca-Cola, and began working for the company full-time in 1971, moving into sales. His association with the soft-drink company gave rise to one of his funniest monikers, "Bubble-Up." Allison maintained close ties to the Twins and former teammates, and participated in reunions and special events with the club. In 1989 he retired with his wife to a resort community north of Fountain Hills, in the desert of Arizona. An avid outdoorsman, Allison anticipated playing golf, hunting, hiking, and traveling.
Not long after retiring from Coca-Cola, Allison was tragically diagnosed with ataxia, a rare, incurable disease that affects nerve cells in the brain and gradually impairs coordination. As the disease progressed and his health began to fail, Allison and his family established the Bob Allison Ataxia Research Center at the University of Minnesota.
Bob Allison died at the age of 60 on April 9, 1995, from the effects of ataxia. He was buried in Rio Verde Memorial Gardens, in Rio Verde, Arizona. Said close friend Jim Kaat, "This guy had the ideal body. Very durable. He was a hard-nosed player, and played every day. He was always so fit. Everyone marveled at his condition."34 "When I think of Bob Allison," remarked former Twins owner Calvin Griffith upon learning of Allison's death, "I think of brute strength."35 
Sources                                                                                                                                 
Bob Allison player file at the National Baseball Hall of Fame, Cooperstown, New York.
Ancestry.com
BaseballLibrary.com
Baseball-Reference.com
Retrosheet.com
SABR.org
The Sporting News
Notes
1 Leonard Shechter, "A Hitter Has to Have a Killing Desire," in Sport, September 1964, quoted from Bill James, The New Bill James Historical Abstract (New York: Free Press, 2001), 825.
2 The Sporting News, September 23, 1959, 3.
3 Ibid.
4 Ibid.
5 Associated Press, "A Boy Here to the Senators," Kansas City Times, January 25, 1955, 16.
6 The Sporting News, March 14, 1956, 4.
7 The Sporting News, October 8, 1958, 26.
8 The Sporting News, January 28, 1959, 8.
9 The Sporting News, September 23, 1959, 3.
10 The Sporting News, April 1, 1959, 18.
11 The Sporting News, November 25, 1959, 3.
12 The Sporting News, February 3, 1960, 6; The Sporting News, September 23, 1959, 3.
13 The Sporting News, April 1, 1959, 18.
14 Whitney Shoemaker (Associated Press), "Bob Allison Crowds Ted's Frosh Record," Gastonia (North Carolina) Gazette, August 5, 1959, 24.
15 The Sporting News, April 8, 1959, 32.
16 The Sporting News, November 25, 1959, 3.
17 The Sporting News, September 23, 1959, 3.
18 Ibid.
19 The Sporting News, June 29, 1960, 21.
20 Ibid.
21 The Sporting News, June 16, 1962, 16.
22 The Sporting News, August 29, 1964, 3.
23 United Press International, "Bob Allison's Three Homers Spark Twins," Pittsburgh Post-Gazette, May 18, 1963, 6.
24 The Sporting News, January 22, 1965, 8.
25 The Sporting News, January 16, 1965, 20.
26 The Sporting News, July 11, 1964, 11.
27 The Sporting News, August 21, 1965, 13.
28 Ibid.
29 The Sporting News, October 23, 1965, 6.
30 The Sporting News, January 21, 1967, 25.
31 Billy Martin with Peter Golenbock, Number 1. Billy Martin (New York: Dell, 1981), quoted in Bill James, 826.
32 Myron Cope, "A Little Love, A Few Lunches, Make a Team," Life, September 19, 1969, 79-82.
33 Arno Goethel, "The Citizen Who Never Whiffs," St. Paul (Minnesota) Pioneer Press, August 2, 1970.
34 Bob Cohn, "Rare Illness dims life for ex-Twins slugger," Arizona Republic (Phoenix), October 27, 1991. articles.chicagotribune.com/1991-10-27/sports/9104070130_1_earl-battey-mudcat-grant-watches.
35  Phil Pepe, "Star-Crossed Twin," New York Daily News, October, 14, 1990, C46.
Born
July 11, 1934 at Raytown, MO (USA)
Died
April 9, 1995 at Rio Verde, AZ (USA)
If you can help us improve this player's biography, contact us.
http://sabr.org/sites/default/files/BobAllison.JPG
600
800
admin
/wp-content/uploads/2020/02/sabr_logo.png
admin
2012-01-04 20:18:57
2021-07-11 17:17:26
Bob Allison