This Week in SABR: April 11, 2014

Welcome to "This Week in SABR!" Here's what we've been up to as of April 11, 2014:
---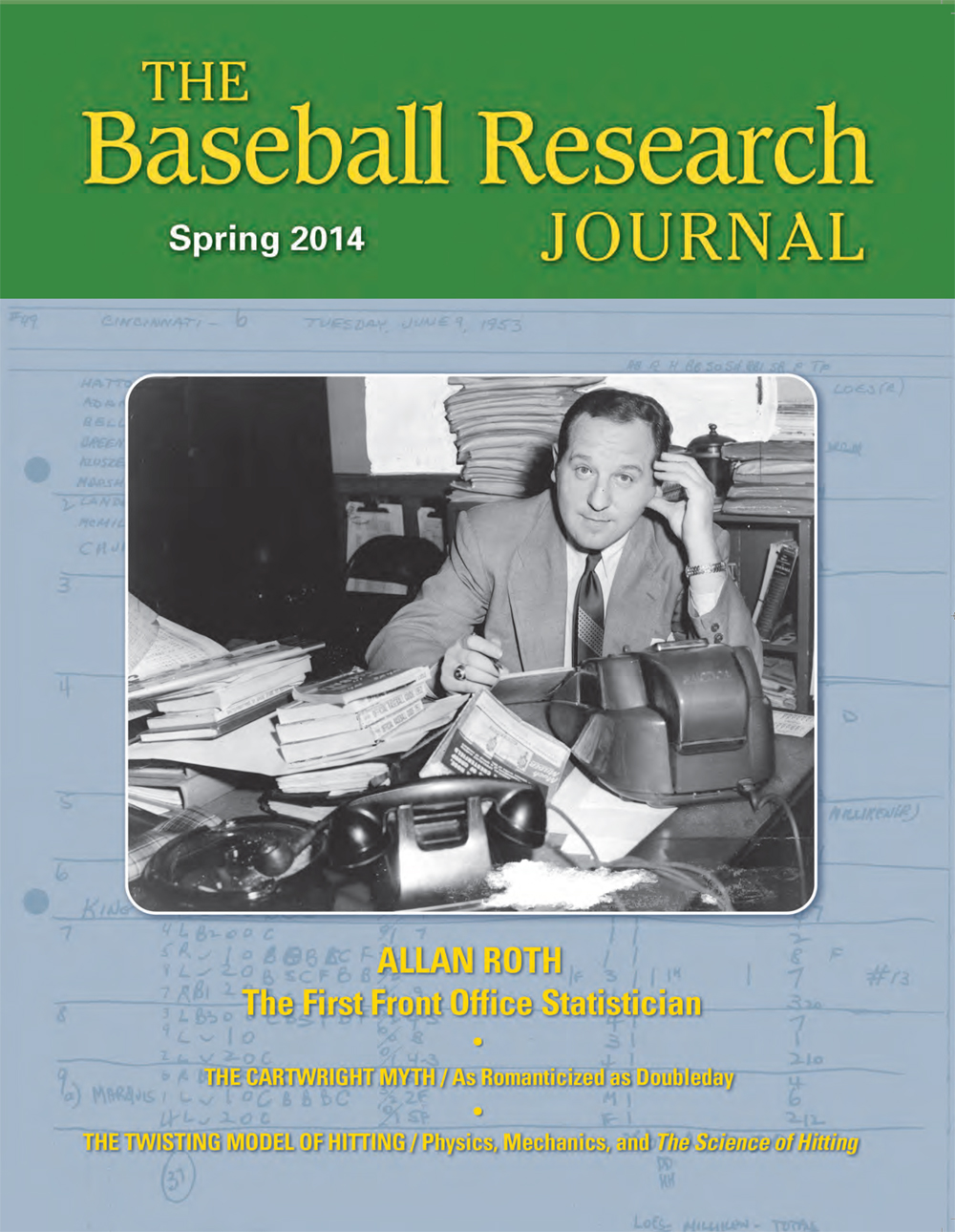 SABR members, you can now read articles from the Spring 2014 edition of the Baseball Research Journal online at SABR.org:
http://sabr.org/research/spring-2014-baseball-research-journal
Those of you who receive the print edition should find your BRJ arriving in the next two to three weeks. For digital subscribers, the e-book edition was delivered to your inboxes last week.
Here's a note from Publications Editor Cecilia Tan about the Spring 2014 BRJ:
I often hear baseball called "the most individual of team sports." Each player's interactions with the ball are largely discrete, and yet it is the sum of these interactions that makes up the team effort. Each batter in the lineup takes a turn, no fielder can turn to a teammate for help except in a few specific situations. And yet team chemistry is cited as a crucial element in success. Baseball, for all its emphasis on the individual, is still a team sport.

It struck me while editing this issue of the journal that SABR is a bit like that, too. It's teamwork that creates the fantastic book projects we've seen coming from committees and chapters recently. Every team has — and needs — its stars, workhorses, and utility players. So if you've been thinking about joining one of these efforts, I encourage you to do so. You might just have a cup of coffee, or you might end up in a long and varied career.

In my lineup card this time around, I get to write in the names of veterans like Pete Palmer and Andy McCue, and newcomers making their rookie debuts like Paul Hertz and Russell Ormiston. Every team needs a hot prospect from Japan: meet Takeyuki Inohiza from our Tokyo Chapter. This issue has history, sociology, physiology, memorabilia, major leagues, minor leagues, and good-ol'-fashioned stats. I also note several stories with a New York connection of one kind or another, which is not uncommon. But I would like to encourage diversity, both among the contributors and the topics of study. Open tryouts are always on, you know: submit your queries and ideas to me at PubDir@sabr.org and I'll send you the details.
To learn more about contributing to a future SABR publication, click here.
We hope you enjoy reading the Spring 2014 Baseball Research Journal!
---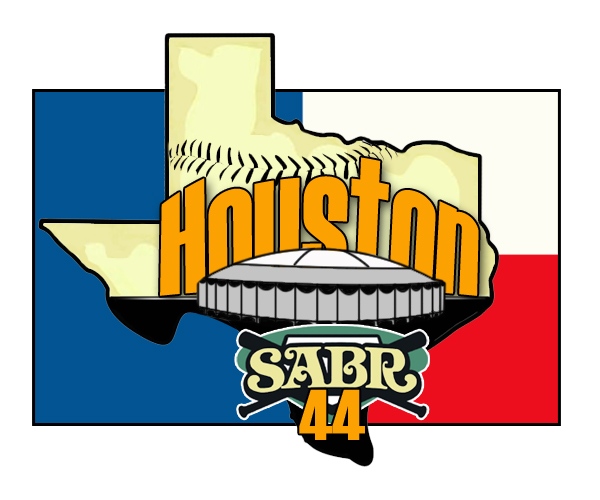 We hope you'll join us for what promises to be a spectacular SABR 44 convention in the summer of 2014 in Houston, Texas. The 44th annual SABR convention, which is open to all baseball fans, is scheduled for July 30-August 3, 2014, at the Royal Sonesta Houston.
Hotel: Click here to book your room at the Royal Sonesta online. The deadline to book your room at the SABR group rate of $129/night (plus tax) is Monday, July 14, 2014. The Royal Sonesta is at 2222 W Loop S Fwy., Houston, TX 77027, in the heart of the Galleria, just minutes from downtown and Minute Maid Park. If you have any questions about your reservation, please call the hotel at (713) 627-7600.
Conference registration: Click here for complete information on SABR 44 registration rates. Once again, we're offering an all-inclusive rate for the annual SABR convention. SABR members can pay $234 for an all-inclusive package with a Field Box ticket to the Astros game (and access to the special SABR 44 ballpark panels) on Saturday evening or $214 for an all-inclusive package with a Mezzanine Level ticket — each package is a savings of $30 off the regular rate. Non-members can pay $299 (Field Box) or $279 (Mezzanine Level) for the all-inclusive rate.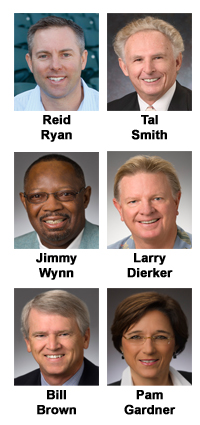 SABR 44 will include top featured speakers from around the baseball world — front office executives, players, managers, scouts, writers and analysts — innovative panel discussions, groundbreaking research presentations, major and minor league games, tours of historic ballparks, the SABR Trivia Contest, the Awards Luncheon, and most of all, the opportunity to make and renew baseball friendships over the course of this spectacular and memorable event.
We'll attend a game at the downtown Minute Maid Ballpark, which is one of the best in the majors, and we'll visit a brand-new independent league park in nearby Sugar Land, too.
Guest speakers at SABR 44 are expected to include:
Reid Ryan, President of Business Operations for the Houston Astros
Tal Smith, former Astros President and former SABR Director
Jimmy Wynn, original Colt .45 whose number has been retired by the Astros
Larry Dierker, longtime Astros player, broadcaster and manager
Bill Brown, current Astros television broadcaster
Pam Gardner, former Astros President of Business Operations
Eddie Robinson, longtime player, general manager and baseball executive
Bob Aspromonte, original Colt .45 and former Brooklyn Dodger
Mickey Herskowitz, noted baseball author and sportswriter
Experience SABR 44 at the ballpark: A special treat is in store for SABR 44 attendees this summer. On Saturday, August 2, SABR convention attendees will have the opportunity to visit Minute Maid Park for an exclusive ballpark session with Houston Astros executives and players. Before the Astros' 6:05 p.m. game against the Toronto Blue Jays, two SABR 44 panel discussions will take place inside the ballpark's Champions Pavilion, just above center field on the Mezzanine Level at Minute Maid Park.
Get your copy of Houston Baseball: The Early Years 1861-1961: All SABR 44 convention attendees will receive a free copy of Houston Baseball: The Early Years 1861-1961, edited by Mike Vance and produced by SABR's Larry Dierker Chapter, as part of their registration goody bag. Richly illustrated and expertly told, Houston Baseball: The Early Years 1861-1961 is a story for all fans of Houston baseball and Houston history. Learn more about the book at houstonbaseball.org.
Souvenir edition of The National Pastime: SABR 44 attendees will also receive a souvenir print edition of The National Pastime, our annual convention journal, focusing on baseball teams, players and events in the Houston area. All SABR members, whether you attend the convention or not, will receive the expanded e-book edition of The National Pastime in their inboxes later this summer.
We hope to see you in Houston this summer! For more information or to register, visit SABR.org/convention.
---
With generous funding from The Anthony A. Yoseloff Foundation, Inc., SABR will award up to four scholarships to high school or college students to attend SABR 44 on July 30-August 3, 2014, in Houston, Texas. This scholarship will pay for registration, transportation and lodging up to a total value of $1,250.
The objective of this scholarship fund is to encourage high school and college-level student engagement with baseball research and to engender an active interest in baseball and SABR. The Yoseloff scholarship is to assist young researchers who want to attend SABR's annual convention and to introduce them to fellow SABR members. Through this fund, SABR hopes to inspire future baseball research, expose students to high-quality research and build the research capability of interested students.
Students must be currently enrolled in a high school, college undergraduate or graduate program, and be between 18 and 29 years of age at the time of the conference. All applications must be postmarked or e-mailed to Jeff Schatzki at jschatzki@sabr.org no later than June 6, 2014.
For more information on the SABR 44 Yoseloff Scholarships, along with eligibility requirements, click here.
---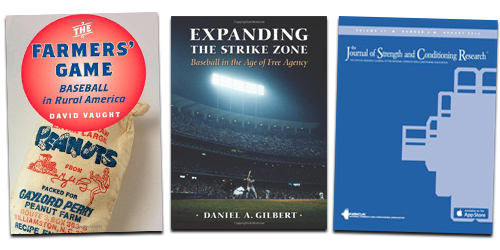 The 2014 SABR Baseball Research Awards, which honor outstanding research projects completed during the preceding calendar year which have significantly expanded our knowledge or understanding of baseball, have been awarded to:
The authors will receive their awards at the SABR 44 national convention, July 30-August 3, 2014, in Houston, Texas.
The SABR Baseball Research Award, formerly known as the Sporting News-SABR Baseball Research Award, is designed to honor projects that do not fit the criteria for the Seymour Medal or the McFarland-SABR Baseball Research Award.
The selection committee consists of: Bill Felber (chair), Andrew Goldblatt, and Marlene Vogelsang.
To see a complete list of SABR Baseball Research Award winners, click here.
---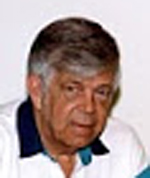 The inaugural George Michael SABR Pictorial History Award, which was established by SABR's Pictorial History Research Committee to honor significant contributions to the knowledge and understanding of historical baseball imagery, has been awarded to baseball historian Marc Okkonen, a retired public relations consultant, freelance artist and writer who lives in Muskegon, Michigan.
The SABR Pictorial History Research Committee has released the following statement:
No one has published a body of historical image related research for baseball that comes close to that of Marc Okkonen. His unique masterworks, Baseball Memories 1900–1909 and Baseball Uniforms of the 20th Century, as well as his subsequent publications, The Federal League of 1914-1915 and 2,000 Cups of Coffee , represent simply amazing research efforts.

What makes this unparalleled body of work even more astounding is that so much of it was done before the advent of the internet as we now know it. This work exemplifies incredible dogged digging for details and a supreme effort to get things right. This should be what people think of when they think of SABR.

Most importantly, this work has proven to be highly useful to other researchers who try to identify baseball personalities, teams, stadiums, and dates in early baseball related photos. His uniforms work has led to a permanent online database maintained by HoF.

It should be added that Minor League Baseball Towns of Michigan and the later Baseball Memories books are also excellent. While publishers did not always appreciate the importance of Marc's work, SABR members who value serious research do understand its significance. Therefore, we hereby present the first George Michael SABR Pictorial History Committee Award to Marc Okkonen.
Okkonen was also the recipient of SABR's Henry Chadwick Award in 2014. He is a retired public relations consultant, freelance artist and writer who lives in Muskegon, Michigan.
To learn more about the George Michael SABR Pictorial History Award, click here.
Click here to download the Pictorial History Committee's April 2014 newsletter.
---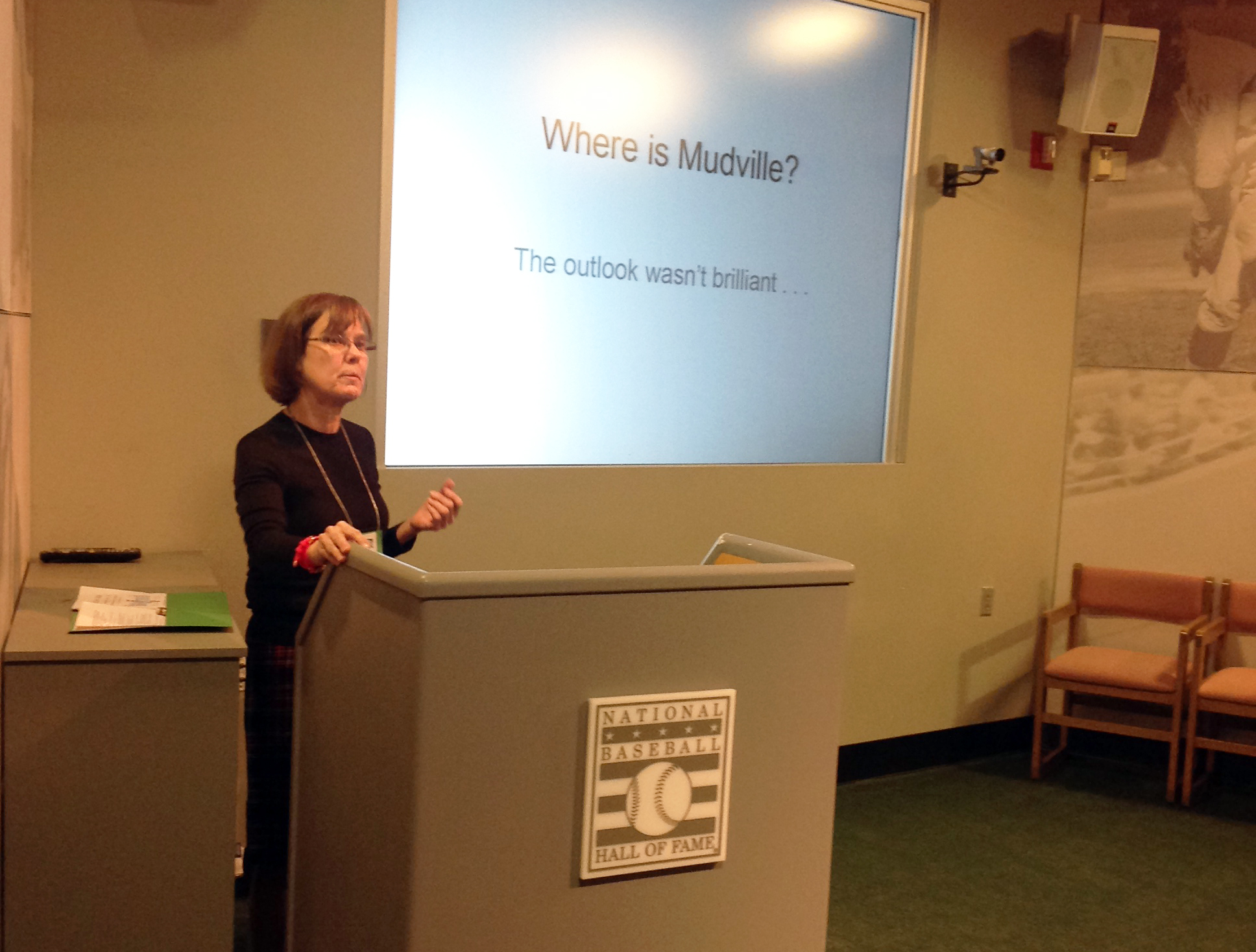 The sixth annual Frederick Ivor-Campbell 19th Century Base Ball Conference opened today at the Baseball Hall of Fame in Cooperstown, New York. Click here to download the full program and schedule details (PDF). The conference continues through Saturday, April 12.
The 2014 conference is highlighted by a keynote address from baseball historian Dorothy Seymour Mills, a SABR Henry Chadwick Award recipient and co-author of the legendary three-volume Baseball series. The conference will also feature special presentations by Hall of Fame librarian Jim Gates and Bob Mayer; a 19th Century "Outsider Baseball" panel discussion with Scott Simkus, Gary Ashwill, James E. Brunson III and moderator John Thorn; a Member Spotlight interview of Alma Ivor-Campbell by Tom Simon; book signings, research presentations, and a lot more.
For more information, visit SABR.org/ivor-campbell19c.
---
SABR members, the 2014 Board of Directors election beginning on May 1 will include five ballot items: the election of the SABR Vice President, Treasurer, one Director's position, and two By-Laws amendment changes.
The candidates up for election are:
For Vice President
For Treasurer

For Director
Chris Dial
Mike Dugan
Emily Hawks (incumbent)
George R. Skornickel
Bryan Soderholm-Difatte
You can read the proposed By-Laws changes, candidate biographies, along with full descriptions of the positions and responses the candidates made to a series of questions, in the 2014 SABR Election Guide below:
You will receive an e-mail on Thursday, May 1 with a link to vote online in the 2014 SABR Board of Directors election. The poll will close at 11:59 p.m. Mountain Standard Time on Thursday, May 15, 2014. The only way to vote online is through the link you will receive by e-mail. All e-mails will come from the address tellers@sabr.org; if you wish to add it to a whitelist in your e-mail client, that may help ensure that you will receive the e-mails.
For more information on the 2014 SABR election, click here.

---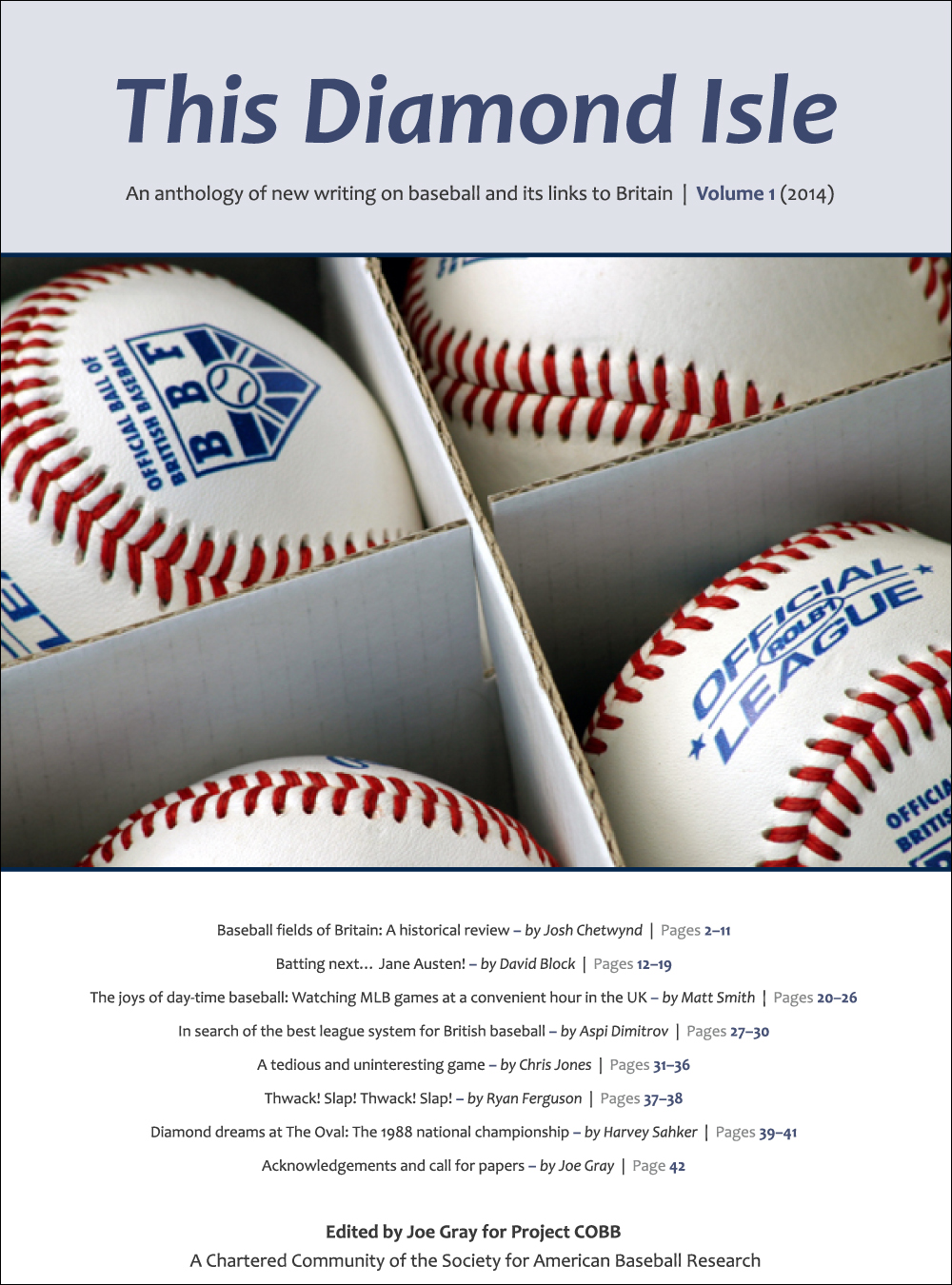 Project COBB, a SABR Chartered Community, has released "This Diamond Isle," an anthology of new writing on baseball and its links to Britain.
"This Diamond Isle, Vol. 1," edited by Joe Gray, includes articles by SABR members David Block, Josh Chetwynd, Aspi Dimitrove, Ryan Ferguson, Gray, Chris Jones, Harvey Sahker, and Matt Smith. Subjects range from a review of British baseball fields and the 1988 national championship to author Jane Austen's contribution to baseball literature and how to watch MLB games at a convenient hour in the United Kingdom.
"This Diamond Isle" can be downloaded for free by clicking on the PDF link here.
Project COBB — The Project for the Chronicling of British Baseball — is an online collaboration coordinated by British Baseball Federation life member Joe Gray, who founded the organization in 2008. The SABR Board of Directors approved Project COBB as a Chartered Community in 2010.
For more information or to submit an article for the next volume of "This Diamond Isle," visit projectcobb.org.uk or contact Joe Gray at joe@projectcobb.org.uk.
---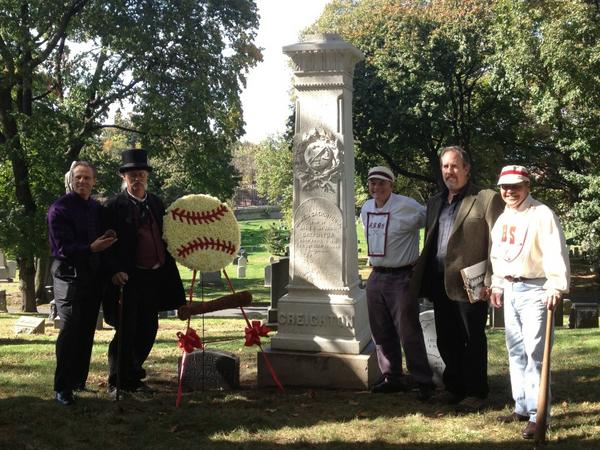 James Creighton was baseball's first megastar. Revolutionizing the pitcher's role and changing the game forever, his shocking death at the age of 21 made him baseball's first martyr. Buried at Brooklyn's historic Green-Wood Cemetery in 1862, Creighton's grave quickly took its place in the pantheon of baseball meccas — his obelisk, topped with an iconic lemon-peel baseball (in marble), became a place of pilgrimage. However, that charming marble baseball disappeared long ago.
Now, thanks to the work of Green-Wood historian Jeff Richman, baseball historian and SABR member Tom Gilbert and an impressive lineup of loyal baseball fans, the marble top is back. Join us from 1-4 p.m. on Tuesday, April 15, 2014, on our trolley as we drive out to Jim Creighton's final resting place — with a guided tour by Richman and Gilbert of baseball sites along the way — for a celebration of this 19th-century phenom and the rededication of his monument.
This is a free event, but registration is required. We encourage you to consider making an optional donation with your reservation, to ensure our ability to continue to offer these events free of charge.
For more information or to register, click here.
---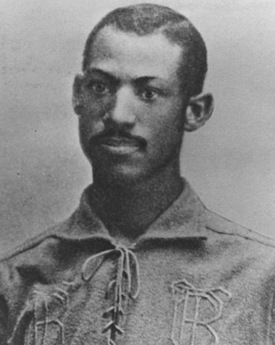 Eight new biographies were posted as part of the SABR Baseball Biography Project, which brings us to a total of 2,761 published biographies. Here are the new bios:
All new biographies can be found here: http://sabr.org/bioproj/recent
You can find the SABR BioProject at SABR.org/BioProject.
Bios on more than just ballplayers: The ambitious goal of the SABR Baseball Biography Project is to publish a full-life biography of every major league player in history. But SABR members write about a lot more than just ballplayers. In addition, we have pages for Ballparks, Broadcasters, Executives, Games, Managers, Scouts, Spouses, Umpires and a lot more on the BioProject website. You can browse all of these categories at http://sabr.org/bioproj/browse. So if you've ever thought, "Hey, that person (or ballpark) should get the full BioProject treatment" — write the story and we'll publish it!
Get involved! If you'd like to help contribute to the SABR BioProject, visit our BioProject Resources page or read the FAQs section to get started. We're also looking to expand the BioProject to include all "encyclopedic" articles on baseball-related subjects from past SABR publications or committee newsletters. If you come across an article you think should be included in the SABR "baseball repository" at the BioProject, send a copy or link to markarmour04@gmail.com or jpomrenke@sabr.org.
---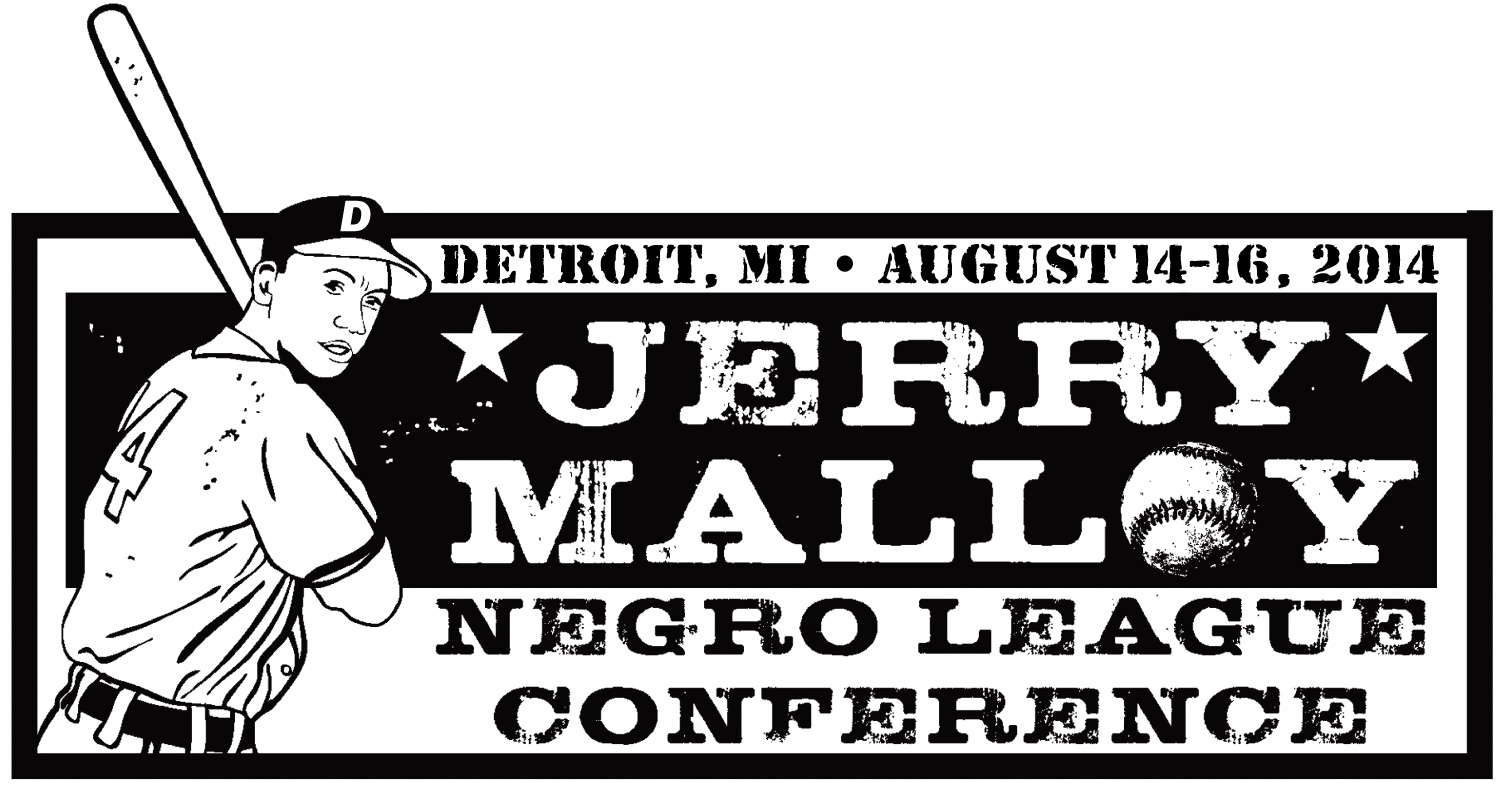 The 2014 Jerry Malloy Negro League Conference will be held August 14-16, 2014, at the Marriott Courtyard Downtown (333 E. Jefferson Avenue) in Detroit, Michigan. The conference is open to all baseball, history and sports fans of all ages.
The conference theme is "Turkey Stearnes and Black Baseball in Michigan." Black baseball has a long history in Michigan, especially centered in the Motor City. Among the original entrants to the Negro National League in 1920 was Tenny Blount's Detroit Stars, managed by Pete Hill and anchored by Big Bill Gatewood on the mound. The Detroit Wolves and Motor City Giants also played in Mack Park and Hamtramck stadium. In addition to the well-known Turkey Stearnes other star players included catcher Bruce Petway, the speedy Jimmie Lyons and the powerful Edgar Wesley.
The 17th annual Jerry Malloy Negro League Conference will celebrate this rich baseball history. In addition to two days of research presentations and player/author panels, attendees will also enjoy special presentations about local parks as well as a Tigers game against the Seattle Mariners.
To learn more, visit SABR.org/malloy.
---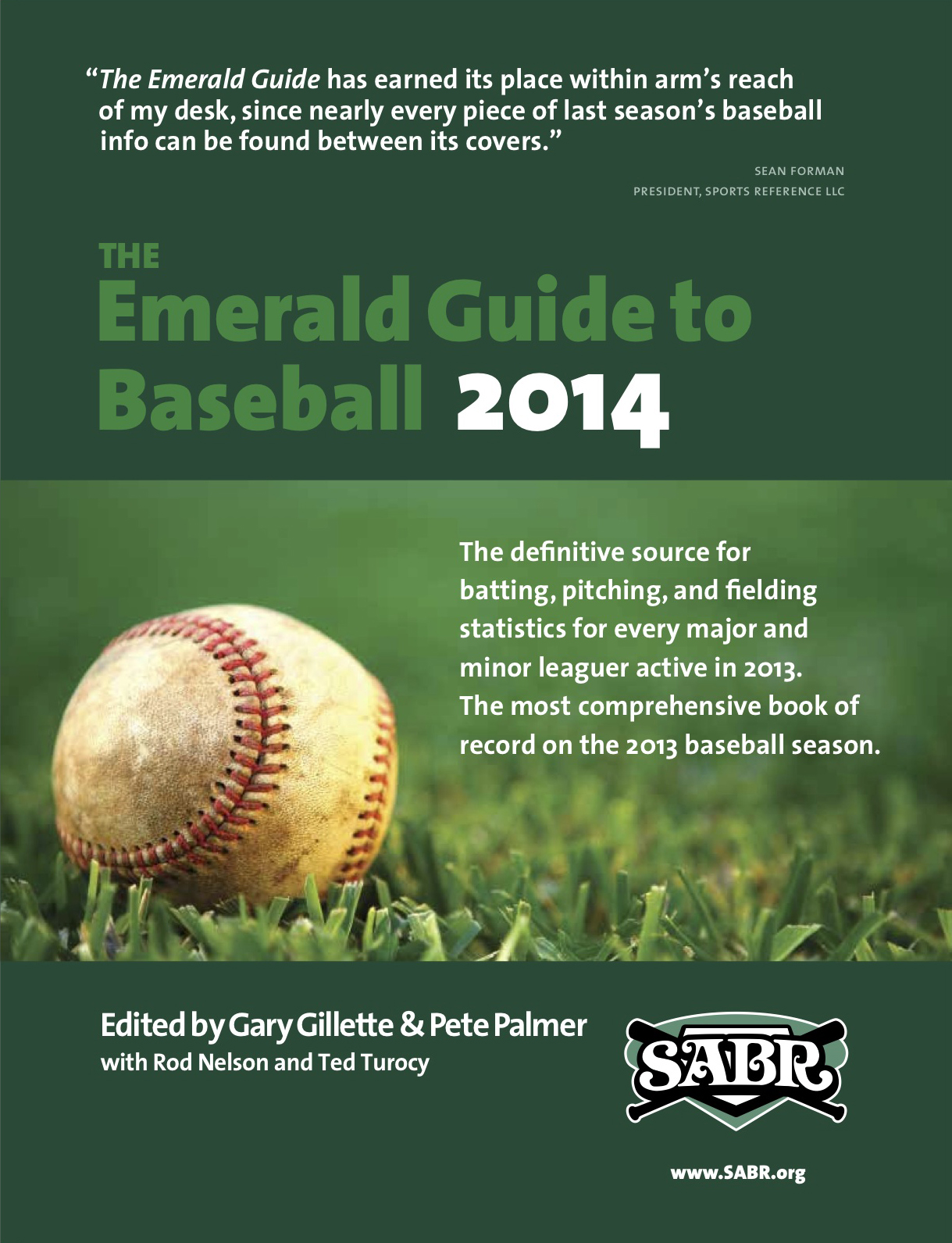 The Emerald Guide to Baseball, edited by Gary Gillette and Pete Palmer with Rod Nelson and Ted Turocy, is the most comprehensive record of the previous baseball season.
Historically, the primary purpose of annual baseball guides has been the publication of the official league standings plus the official team and individual statistics for both Major League Baseball and Minor League Baseball. Our new Emerald Guide follows faithfully in that tradition, containing the official batting, pitching, and fielding statistics for every team and every player in the Major Leagues plus extensive lists of league leaders.
The Emerald Guide to Baseball is our attempt to fill the gap in the historical record created by the recent demise of The Sporting News Baseball Guide. First published in 1942, The Sporting News Guide was truly the annual book of record for our National Pastime. It is our great privilege to document for posterity a slice of recent baseball history in our new book.
The 2014 edition of the Emerald Guide runs more than 600 pages and covers the 2013 season; it also includes a 2014 Major League Season Preview with Franchise Directories, Schedules, Spring Training Rosters, Minor League Affiliates, Broadcasting Information, and Career Leaders in 26 Categories for All Major League Teams.
The Emerald Guide is available in both a printed version and in a downloadable PDF format. The printed version will be available soon.
To learn more about other SABR research resources, visit SABR.org/research.
---
Editor's note: This game summary is from the Retroactive All-Star Game Project. Voting was conducted to select retroactive MLB All-Star teams from the 1930 season and the games were simulated using Out of the Park 14.
The National League slugged its way to a victory in the 1930 Retroactive All-Star Game at Ebbets Field in Brooklyn, defeating the Americans by a score of 8-6 thanks to two home runs off the bat of Phillies slugger Chuck Klein and one by Babe Herman that eclipsed four-baggers by Al Simmons and Carl Reynolds.
Lefty O'Doul continued to dominate junior circuit pitching, going 3 for 3 in this year's tilt after going 3 for 5 last year. On the mound, Dazzy Vance and Bill Walker combined for six hitless innings and needed only 57 pitches between them.
Simmons was the only American Leaguer with more than one hit and he and Reynolds drove in all of their league's runs. Once again the series is tied up (7-7) and is heading to Navin Field in Detroit in 1931.
Highlights and outstanding players from this year's game include:
Chuck Klein, 2 for 3 with two home runs, four RBIs, two runs and a walk.
Lefty O'Doul, 3 for 3 with a double, run, RBI and walk.
Bill Walker tossing three hitless innings and striking out two.
Al Simmons, 2 for 4 with a homer, a double, three RBIs and two runs.
Dazzy Vance throwing three innings of no-hit ball, including one in which he used only eight pitches.
You can find a full account of the game, box score, game log and stats here.
Learn more about the Retroactive All-Star Game Project by clicking here.
---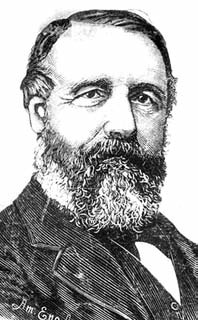 On Thursday, SABR member John Thorn, the Official Historian of Major League Baseball, announced the creation of the Henry Chadwick Archives, housed at the Baseball Memory Lab on MLB.com.
The archival material on the page represents items of a personal nature from the life of Henry Chadwick (1824-1908). Chadwick wrote prolifically about baseball from its earliest years in the mid 1800s.
Most of his baseball writings were bequeathed to Albert Spalding who gave them as part of his sports collection to the New York Public Library. The remaining poetry, writing and memorabilia were inherited by his wife Jane Botts Chadwick, then his granddaughter, and finally his great-great-granddaughter.
The family sold the material to a private individual in 2002 as a single collection intended for museum display. The collector gave a photocopy of each item to the family and it is these copies which comprise the archive.
To view the Henry Chadwick Archives, visit MLB.com/memorylab/origins/chadwick.jsp.
The Baseball Memory Lab also hosts a list of Early Baseball Milestones, an extensive gathering of early materials documenting the origins of baseball back to 2,500 B.C.E., compiled by SABR Origins Committee members at Protoball.org.
SABR maintains a comprehensive list of Research Resources available to members and the general public. For more information, click here.
---
We've heard your feedback: Some of you have said you look forward to "This Week in SABR" every Friday, but sometimes there are just too many compelling articles and announcements to read every week. We're not complaining — hey, keep up the great work! — but we know the feeling. So in an effort to make the length of this newsletter more manageable to read, we'll summarize some of the repeating/recurring announcements in a special "In Case You Missed It (ICYMI)" section of "This Week in SABR".
Here are some major headlines from recent weeks that we don't want you to miss:
All previous editions of This Week in SABR can be found here: http://sabr.org/content/this-week-in-sabr-archives.
---
We'd like to welcome all of our new SABR members who have joined this week. You can find all Members-Only resources at members.sabr.org and the New Member Handbook can be downloaded here.
Please give these new members a warm welcome and help them make the most of their membership by giving them the opportunity to get involved in their local chapter or a research committee.
| Name | Hometown | | | Name | Hometown |
| --- | --- | --- | --- | --- | --- |
| Nick Andreano | Cumming, GA | | | Ben Jacobson | El Cajon, CA |
| Nola Gene Straughn | Choctaw, OK | | | Justin Mattingly | Philadelphia, NY |
| Andy Bennett | Hermitage, TN | | | Josh Murphy | Cedar Rapids, IA |
| Scott Berkhimer | Frisco, TX | | | Dan O'Brien | Cincinnati, OH |
| Jeffrey Bobeck | Washington, DC | | | Albert Preciado | San Diego, CA |
| MJ Burns | Sugar Land, TX | | | Chris Schuette | Los Angeles, CA |
| Bob Condotta | Auburn, WA | | | Doug Welch | Milton, WI |
| Colin Dew-Becker | Santa Monica, CA | | | | |
---
Here are the new SABR research committee newsletters published this week:
Find all SABR research committee newsletters at SABR.org/research.
---
There were no new chapter meeting recaps published this week.
Visit SABR.org/chapters for more information on SABR regional chapters.
---
Here is a list of upcoming SABR events:
All SABR meetings and events are open to the public. Feel free to bring a baseball-loving friend … and make many new ones! Check out the SABR Events Calendar at SABR.org/events.
---
Here are some recent articles published by and about SABR members:
Read these articles and more at SABR.org/latest.
---
This Week in SABR is compiled by Jacob Pomrenke. If you would like us to include an upcoming event, article or any other information in "This Week in SABR," e-mail jpomrenke@sabr.org.
Are you receiving our e-mails? "This Week in SABR" goes out by e-mail to all members on Friday afternoons. If they're not showing up, try adding "sabr.notes@sabr.org" to your contact list to ensure they show up in your inbox (and not the spam folder.)
---
Originally published: April 11, 2014. Last Updated: April 3, 2020.
https://sabr.org/wp-content/uploads/2020/03/research-collection4_350x300.jpg
300
350
jpomrenke
/wp-content/uploads/2020/02/sabr_logo.png
jpomrenke
2014-04-11 13:00:22
2020-04-03 14:39:36
This Week in SABR: April 11, 2014