This Week in SABR: February 21, 2014
Welcome to "This Week in SABR!" Here's what we've been up to as of February 21, 2014:
---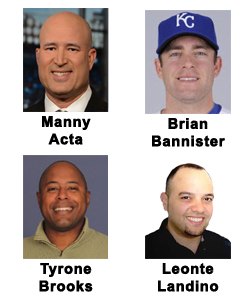 We are pleased to announce two more featured panels at the 2014 SABR Analytics Conference:
The International Baseball Landscape, scheduled for 10 a.m. on Saturday, March 15, will discuss how analytics have changed the landscape of international scouting and player development in baseball.
The scheduled panelists for The International Baseball Landscape are: Tyrone Brooks, Director of Player Personnel, Pittsburgh Pirates; Leonte Landino, ESPN Deportes; and moderator Rob Neyer, Senior Baseball Editor, FoxSports.com.
Analytics From the Players' View, scheduled for 6:30 p.m. on Thursday, March 13, will offer insight from MLB players on how they use analytics to help their performance on and off the field.
The scheduled panelists for Analytics From the Players' View are: Brian Bannister, former major league pitcher with the New York Mets and Kansas City Royals; moderator Jon "Boog" Sciambi; and more to be announced soon.
Also, ESPN baseball analyst Manny Acta, former manager of the Cleveland Indians and Washington Nationals, has been added to the Which Numbers Athletes Love, Which Numbers Athletes Hate panel, which is scheduled for 4:30 p.m. on Thursday, March 13. He will join ESPN analysts Aaron Boone, Eduardo Perez and moderator John Walsh on that panel.

Please note: All speakers are subject to change due to availability.
The SABR Analytics Conference will be held March 13-15, 2014, at the Hyatt Regency Phoenix in downtown Phoenix, Arizona. Register today at SABR.org/analytics.
For more information or to register for the 2014 SABR Analytics Conference, visit SABR.org/analytics.
---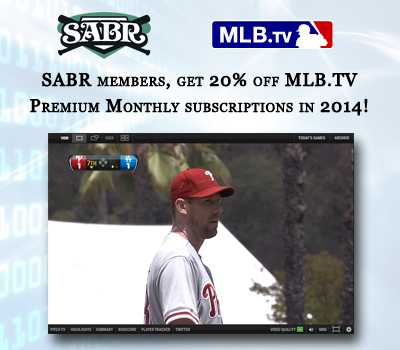 SABR members, you have the opportunity to take advantage of a special offer from MLB Advanced Media for the 2014 season:
The link above allows you access to purchase a 2014 MLB.TV monthly subscription at a special price for SABR members only.

This 20% discount is valid for each month of the 2014 season. Please note: This subscription DOES NOT automatically renew each month.

If you already have an MLB.com account, please sign in on the next page. If you do not, you will create a new MLB.com account as you purchase.
Watch every 2014 Regular Season out-of-market game LIVE or on-demand in HD Quality. Choose home or away broadcasts. MLB.TV is on your favorite devices, including iPhone, iPad, Android phones, Xbox 360, Sony PlayStation and more. Watch up to four games at once with Mosaic. DVR functionality lets you pause or rewind live games. PLUS, watch select 2014 Spring Training games LIVE online.
For any questions about your subscription, please contact MLB.TV Customer Service.
---
Once again, SABR is offering its members the opportunity to opt out of receiving the printed version of the Spring 2014 Baseball Research Journal. We'll deliver the e-book version of the BRJ in the format of your choice (EPUB, MOBI/Kindle or PDF) straight to your inbox around Opening Day 2014. Click here to learn more about receiving the e-book edition of the BRJ.
Opt out of receiving the printed edition by February 28, 2014, in order to get early access to all the great content in the BRJ in e-book format and online at SABR.org.
To opt out of receiving the printed version of the Baseball Research Journal: Click here to edit your membership profile. Scroll to the bottom and select "Receive publications electronically." Then save your changes.
Please note: If you do nothing, you will continue to receive two print editions of the Baseball Research Journal every year by mail.
If you've never read a Baseball Research Journal in e-book form, click here to try it out with the Fall 2013 edition. The Baseball Research Journal, and all SABR e-books, are available in EPUB, MOBI/Kindle or PDF formats.
---
You won't want to miss this championship book just published by the SABR Digital Library: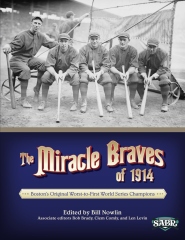 The Miracle Braves of 1914: Boston's Original Worst-to-First World Series Champions
Edited by Bill Nowlin
Associate Editors: Bob Brady, Clem Comly, and Len Levin
ISBN (paperback): 978-1-933599-67-0
ISBN (e-book): 978-1-933599-68-7
392 pages, 100+ photos
Long before the Red Sox "Impossible Dream" season, Boston's now nearly forgotten "other" team, the 1914 Boston Braves, performed a baseball "miracle" that resounds to this very day. The "Miracle Braves" were Boston's first "worst-to-first" winners of the World Series.
Shortly after the turn of the previous century, the once mighty Braves had become a perennial member of the National League's second division. Preseason pundits didn't believe the 1914 team posed a meaningful threat to John McGraw's powerful New York Giants. During the first half of that campaign, Boston lived down to such expectations, taking up residence in the league's basement.
Refusing to throw in the towel at the midseason mark, their leader, the pugnacious George Stallings, deftly manipulated his daily lineup and pitching staff to engineer a remarkable second-half climb in the standings all the way to first place. The team's winning momentum carried into the postseason, where the Braves swept Connie Mack's heralded Athletics and claimed the only World Championship ever won by Boston's National League entry. And for 100 years, the management, players, and fans of under-performing ball clubs have turned to the Miracle Braves to catch a glimmer of hope that such a midseason turnaround could be repeated.
Through the collaborative efforts of a band of dedicated members of the Society for American Baseball Research, this benchmark accomplishment is richly revealed to the reader in The Miracle Braves of 1914: Boston's Original Worst-to-First World Series Champions. The essence of the "miracle" is captured through a comprehensive compendium of incisive biographies of the players and other figures associated with the team, with additional relevant research pieces on the season. After a journey through the pages of this book, the die-hard baseball fan will better understand why the call to "Wait Until Next Year" should never be voiced prematurely.
SABR members, get your FREE copy of our new e-book here:
To view all books in the SABR Digital Library, visit SABR.org/ebooks.
Having trouble downloading our e-books? To view PDF files on your computer, click here to download the free Adobe Reader software. Having trouble downloading e-books to your Kindle, Nook, Sony Reader or iPad? Click here for additional help.
---
Also just released this week, add a classic baseball book from the SABR Digital Library to your collection:
Base-Ball: How to Become a Player
By John Montgomery Ward
ISBN (e-book) 978-1-933599-61-8
150 pages
Hall of Famer John Montgomery Ward (1860-1925) tossed the second perfect game in major league history and later became the game's best shortstop and a great, inventive manager. He led the players into their own league in 1890 and came within a hair's breadth of changing the structure of baseball forever. Two years before that, however, in 1888, he published the book Base-Ball: How to Become a Player. The book is one of the game's early classics, and should be in every serious baseball library.
"The author ventures to present this book to the public because he believes there are many points in the game of base-ball which can be told only by a player," Ward wrote in his preface to the book. "He has given some space to a consideration of the origin and early history of the game, because they are subjects deserving of more attention than is generally accorded them. His principal aim, however, has been to produce a hand-book of the game, a picture of the plays seen by a player."
Illustrated with woodcuts, the book is divided into chapters for each position on the field as well as chapters on the origin of the game, theory and strategy, training, base-running, and batting.
SABR previously published this book under the title Ward's Baseball Book in 1993. This is the first SABR e-book edition.
SABR members, get your FREE copy of this classic e-book:
To view all books in the SABR Digital Library, visit SABR.org/ebooks.
---
The Next Frontier of Baseball Analytics, presented by SABR, will be the 2014 baseball analytics panel at the eighth annual MIT Sloan Sports Analytics Conference.
The panel will take place at 9 a.m. EST on Saturday, March 1, 2014, at the Hynes Convention Center in Boston, Massachusetts. For more information, visit sloansportsconference.com.
"With our experience in bringing together the top minds of the baseball analytics community, we're excited to be presenting The Next Frontier of Baseball Analytics at the MIT Sloan Conference this year," SABR Executive Director Marc Appleman said. "It's a great opportunity for baseball fans to experience a taste of the insightful panel discussions that we present every year at the SABR Analytics Conference."
The 2014 SABR Analytics Conference will take place March 13-15 at the Hyatt Regency Phoenix in Phoenix, Arizona. Find a complete schedule and registration information at SABR.org/analytics.
Here are the scheduled speakers for The Next Frontier of Baseball Analytics, presented by SABR, on March 1: Vince Gennaro, President, SABR; Brian Kenny, Host, MLB Network; Jeff Luhnow, General Manager, Houston Astros; Rob Neyer, Senior Baseball Editor, FoxSports.com; Nate Silver, Founder, FiveThirtyEight; and Bill Squadron, Head of Bloomberg Sports.
For more information on the Next Frontier of Baseball Analytics panel, click here.
To learn more about the MIT Sloan Sports Analytics Conference, visit sloansportsconference.com.
---

Periodically throughout the year, SABR.org publishes listings of new books that are received at the SABR office. This feature is called The SABR Bookshelf, continuing a popular section from the old SABR Bulletin.
Here are The SABR Bookshelf listings for Winter 2014:
http://sabr.org/content/sabr-bookshelf-winter-2014
Click the link above for more detailed information on each of these books:
The Forgotten History of African American Baseball, by Lawrence Hogan
Curse of the Black Bambino: Baseball's Failure to Attract African-American Athletes, by Anup Sinha
Ball Nuts: A Mad 1977 Baseball Replay Odyssey, by Jeff Polman
Babe Ruth's Called Shot: The Myth and Mystery of Baseball's Greatest Home Run, by Ed Sherman
Gib Bodet, Major League Scout: Twelve Thousand Baseball Games and Six Million Miles, by Gib Bodet as told to P.J. Dragseth
Vaudeville on the Diamond: Minor League Baseball in Today's Entertainment World, by David M. Sutera
The Sabermetric Revolution: Assessing the Growth of Analytics in Baseball, by Benjamin Baumer and Andrew Zimbalist
Ecstasy to Agony: The 1994 Montreal Expos: How the Best Team in Baseball Ended up in Washington 10 Years Later, by Danny Gallagher and Bill Young
Analyzing Baseball Data with R, by Max Marchi and Jim Albert
521: The Story of Ted Williams' Home Runs, by Bill Nowlin
Tales from the Deadball Era: Ty Cobb, Home Run Baker, Shoeless Joe Jackson and the Wildest Times in Baseball History, by Mark Halfon
Turning the Black Sox White: The Misunderstood Legacy of Charles A. Comiskey, by Tim Hornbaker
Great Stuff: Baseball's Most Amazing Pitching Feats, by Rich Westcott
The Closer: A Baseball Love Story, by Alan Mindell
Base-Ball: How to Become a Player, by John Montgomery Ward
The Miracle Braves of 1914: Boston's Original Worst-to-First World Series Champions, edited by Bill Nowlin
New Century, New Team: The 1901 Boston Americans, edited by Bill Nowlin
Angels in the Ozarks: Professional Baseball in Fayetteville and the Arkansas State/Arkansas-Missouri League 1934-1940, by J.B. Hogan
White Elephant: The Rise and Fall of Miami Baseball Stadium, by Rolando Llanes
Outsider Baseball: The Weird World of Hardball on the Fringe, 1876–1950, by Scott Simkus
Up, Up, and Away: The Kid, the Hawk, Rock, Vladi, Pedro, le Grand Orange, Youppi!, the Crazy Business of Baseball, and the Ill-fated but Unforgettable Montreal Expos, by Jonah Keri
Hits and Misses in the Baseball Draft: What the Top Picks Teach Us About Selecting Tomorrow's Major League Stars, by Alan Maimon and Chuck Myron
The A's: A Baseball History, by David M. Jordan
The Irish and the Making of American Sport, 1835-1920, by Patrick R. Redmond
Bolded names indicates that the author(s) is a SABR member. Click here for a list of publishers found in the SABR Bookshelf, along with their contact information.
All new SABR Bookshelf listings can be purchased at the SABR Bookstore, powered by Amazon.com. In addition, check out new books published by SABR at SABR.org/ebooks (free for SABR members!)
To see previous listings in the SABR Bookshelf, click here.
---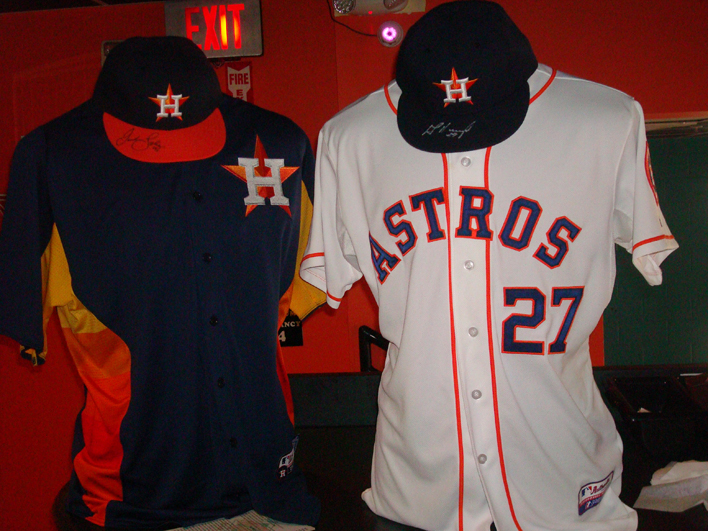 The due date to submit your research presentation abstracts for SABR 44 in Houston has been revised. The new deadline is 12 a.m. PST on SUNDAY, MARCH 2.
In addition, we are issuing a Call for Reviewers. These volunteers will read and evaluate approximately 10 de-identified abstracts during March. Members who submit abstracts may also act as reviewers (you won't review your own submissions). To volunteer as a reviewer, send a note to either of the email addresses below.
SABR invites all members to present their research findings to their colleagues attending SABR 44, the 2014 annual convention in Houston, Texas. Oral presentations are expected to last 20 minutes, followed by a five minute question-and-answer period. Posters will be presented, with the author on-hand to discuss the work, during a poster session of 90 or so minutes, and will probably remain on display throughout the convention.
For more details on submission criteria and guidelines, click here.
Submit abstracts to sabr2014-presentations@comcast.net, the research presentations address for SABR 44. You may also use the alternate address sabr44-presentations@comcast.net.
Questions regarding the submission, review, and evaluation procedures should also be sent to the sabr2014-presentations@comcast.net address.
SABR 44 will be held at the Royal Sonesta in Houston, Texas, from July 30-August 3, 2014. (Registration and hotel information will be available soon at SABR.org/convention.)
---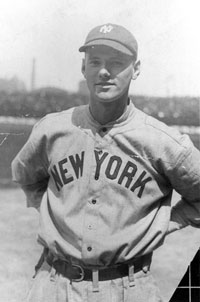 Four new biographies were posted as part of the SABR Baseball Biography Project, which brings us to a total of 2,672 published biographies. Here are the new bios:
All new biographies can be found here: http://sabr.org/bioproj/recent
You can find the SABR BioProject at SABR.org/BioProject.
Bios on more than just ballplayers: The ambitious goal of the SABR Baseball Biography Project is to publish a full-life biography of every major league player in history. But SABR members write about a lot more than just ballplayers. In addition, we have pages for Ballparks, Broadcasters, Executives, Games, Managers, Scouts, Spouses, Umpires and a lot more on the BioProject website. You can browse all of these categories at http://sabr.org/bioproj/browse. So if you've ever thought, "Hey, that person (or ballpark) should get the full BioProject treatment" — write the story and we'll publish it!
Get involved! If you'd like to help contribute to the SABR BioProject, visit our BioProject Resources page or read the FAQs section to get started. We're also looking to expand the BioProject to include all "encyclopedic" articles on baseball-related subjects from past SABR publications or committee newsletters. If you come across an article you think should be included in the SABR "baseball repository" at the BioProject, send a copy or link to markarmour04@gmail.com or jpomrenke@sabr.org.
---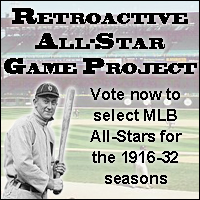 Editor's note: This game summary is from the Retroactive All-Star Game Project. Voting was conducted to select retroactive MLB All-Star teams from the 1927 season and the games were simulated using Out of the Park 14.
In a game that boasted two of the game's greatest sluggers anchoring the American League's lineup it was the stadium and National League slabmen that took center stage in yesterday's All-Star Game won by the 1927 National League stars by a count of 4-2. Babe Ruth and Lou Gehrig contributed one hit each and the latter scored one of the AL's two runs, but they also fanned three times between them and neither could reach the nether regions of Griffith Stadium's parlor.
Jesse Haines and Dazzy Vance made the junior circuit batters look like bushers, keeping them from crossing the plate through the first six innings, and Vance personally provided a nice summer breeze in the way of swings and misses by the mighty bats of Miller Huggins' swatsmiths.
The Waner bothers, Paul and Lloyd, paced the Nationals with two hits each, and shortstop Travis Jackson spelled starter Doc Farrell in grand fashion, poling out two hits in two at-bats.
The senior circuit has regained control of the series and has a 6-5 advantage and a fantastic opportunity to push their lead to two when they host the 1928 contest at Cincinnati's Redland Field.
Highlights and outstanding players from this year's game include:
Dazzy Vance fanning five of the 12 batters he faced, and five of the nine outs he recorded.
Lloyd Waner going 2 for 5 in his All-Star game debut as a rookie.
Jesse Haines throwing three perfect innings in his All-Star game debut.
Travis Jackson going 2 for 2 with a run and an RBI coming off the bench for the National League.
Jack Warner recording three of the AL's seven hits and one of its two doubles.
Ted Lyons tossing three innings of shutout ball in his first All-Star start.
You can find a full account of the game, box score, game log and stats here.
Learn more about the Retroactive All-Star Game Project by clicking here.
---
We are saddened to pass along the news that SABR member Tom Garrett, 63, of Suffolk, Virginia, died on February 18, 2014 after a courageous battle with cancer and a stroke. Tom was a SABR member since 1990 and a longtime supporter of the Negro Leagues Research Committee and the Jerry Malloy Negro League Conference. He touched the lives of many people with his smile and kindness and maintained his trademark sense of humor all the way to the end.
A celebration of his life will be held at 11 a.m. Saturday, February 22, at Community Church at Western Branch. Sturtevant Funeral Home, Portsmouth Blvd. Chapel is handling arrangements. In lieu of flowers, memorial donations may be made to Hope Unleashed Fund of Community Church at Western Branch.
Click here to read the full obituary at Legacy.com.
---
The SABR Nominating Committee seeks nominations for candidates for the Spring 2014 elections. All candidates for the Board of Directors must have been members of the Society for at least the preceding four years to be eligible for election. Deadline for nominations is February 28, 2014. Nominees must prepare a Candidate Statement Form following guidelines that will be available from any Nominating Committee member.
The Candidate Statement Form must be received by the Nominating Committee chair no later than March 15, 2014.
The offices to be filled:
Vice-President (2-year term; currently Bill Nowlin)
Treasurer (3-year term; currently F.X. Flinn)
Director (3-year term; currently Emily Hawks)
The Nominating Committee also seeks your input. Members are asked to submit office-specific questions for each of the offices open in this election. We also seek input on general questions for every nominee. Candidates will answer selected questions on the Candidate Statement Form. Regional Chapter leaders and Research Committee Chairs are especially encouraged to pass on this request to their respective members to better address member needs.
Self-nominations are welcome. If you would like to nominate yourself or another candidate or suggest a question for the candidates, contact a member of the Nominating Committee: chair R.J. Lesch (rjlofiowa@gmail.com), Rick Schabowski (rickiu76@aol.com), or Barry Deutsch (barryid@pobox.com).
---
For those of you whose memberships expired recently, there's still a little time left to renew and be a part of the SABR community again in 2014. If you've already renewed, we thank you for your support and look forward to another exciting year ahead.
Renew now to receive the Spring 2014 edition of the Baseball Research Journal, plus discounts on registration to the 2014 SABR Analytics Conference and SABR 44 in Houston, and a lot more!
We MUST receive your dues by February 28, 2014, in order for you to receive the upcoming Spring 2014 BRJ.
Renew your membership for 1 year or 3 years online — or select our new 5-year, digital-only membership rate — at the SABR Store; by phone at (602) 343-6450; or by mailing this downloadable PDF form and your payment to the SABR office at 4455 E. Camelback Road, Ste. D-140, Phoenix, AZ 85018.
We're excited about the upcoming year ahead of us and we hope you'll take advantage of all the membership benefits offered to SABR members in 2014 and beyond.
---
Ron Gabriel Award, due 3/1/2014: The Ron Gabriel Award honors the author(s) of the best research, published or unpublished, on the subject of the Brooklyn Dodgers completed during the preceding calendar year. Nominations should be sent to a member of the nominating candidate no later than March 1, 2014: Paul Hirsch (chair), Craig Murden, or Gary Sarnoff.
---
We're glad to pass along this special offer for SABR members from our friends at Baseball America:
The Baseball America Prospect Handbook is the definitive source on prospects. Order it directly from Baseball America and you will also get an exclusive supplement with 30 more scouting reports — one for every team — absolutely FREE!
Click here to order or call (800) 845-2726, Mon-Fri from 9 a.m.-5 p.m. ET.
---
We've heard your feedback: Some of you have said you look forward to "This Week in SABR" every Friday, but sometimes there are just too many compelling articles and announcements to read every week. We're not complaining — hey, keep up the great work! — but we know the feeling. So in an effort to make the length of this newsletter more manageable to read, we'll summarize some of the repeating/recurring announcements in a special "In Case You Missed It (ICYMI)" section of "This Week in SABR".
Here are some major headlines from recent weeks that we don't want you to miss:
All previous editions of This Week in SABR can be found here: http://sabr.org/content/this-week-in-sabr-archives.
---
We'd like to welcome all of our new SABR members who have joined this week. You can find all Members-Only resources at members.sabr.org and the New Member Handbook can be downloaded here.
Please give these new members a warm welcome and help them make the most of their membership by giving them the opportunity to get involved in their local chapter or a research committee.
| Name | Hometown | | | Name | Hometown |
| --- | --- | --- | --- | --- | --- |
| Audrey Apfel | Stamford, CT | | | Orry Night | Fullerton, CA |
| Jack Bendon | Blakeslee, PA | | | Jaz Ramos | San Antonio, TX |
| Richard Bergstrom | Englewood, CO | | | Mike Richardson | Vancouver, BC |
| Erich Blair | Bourbonnais, IL | | | Jesse Rojko | Prescott, AZ |
| Jack Foster | Falls Church, VA | | | Dave Schmidt | Athens, GA |
| Ted Gibson | Wakefield, RI | | | Kevin Slack | New York, NY |
| Peter Gigliotti | Trophy Club, TX | | | Joe Stanek | Hartville, OH |
| John Harrell | Montgomery, AL | | | Joe Vigil | Hernandez, NM |
| Mark Hoose | Houston, TX | | | John Wakelin | Payson, AZ |
| John Lippincott | Easton, PA | | | Ryan Whirty | Gretna, LA |
| Bob McKenzie | Coronado, CA | | | | |
---
There were no new SABR research committee newsletters published this week:
Find all SABR research committee newsletters at SABR.org/research.
---
Here are the new chapter meeting recaps published this week:
Visit SABR.org/chapters for more information on SABR regional chapters.
---
Here is a list of upcoming SABR events:
All SABR meetings and events are open to the public. Feel free to bring a baseball-loving friend … and make many new ones! Check out the SABR Events Calendar at SABR.org/events.
---
Here are some recent articles published by and about SABR members:
Read these articles and more at SABR.org/latest.
---
This Week in SABR is compiled by Jacob Pomrenke, and sent out to all SABR members on Fridays. All previous editions of This Week in SABR can be found here: http://sabr.org/content/this-week-in-sabr-archives. If you would like us to include an upcoming event, article or any other information in "This Week in SABR", e-mail jpomrenke@sabr.org.
Find exclusive Members' Only resources and information here: http://members.sabr.org
Did you know you can renew your membership at any time? 1- and 3-year SABR memberships are available by clicking "Renew" at http://members.sabr.org. Please also consider a donation to SABR to support baseball research at SABR.org/donate.

Are you following us on Twitter or Facebook? Get SABR updates every day at @SABR or by searching "SABR" on Facebook.

Replying to this e-mail goes to an undeliverable address. If you would like to contact the SABR office, please visit: http://sabr.org/about/contact-sabr
---
Originally published: February 21, 2014. Last Updated: April 3, 2020.
https://sabr.org/wp-content/uploads/2020/03/research-collection4_350x300.jpg
300
350
jpomrenke
/wp-content/uploads/2020/02/sabr_logo.png
jpomrenke
2014-02-21 15:35:55
2020-04-03 14:39:36
This Week in SABR: February 21, 2014