This Week in SABR: January 31, 2014
Welcome to "This Week in SABR!" Here's what we've been up to as of January 31, 2014:
---
We've got an All-Star lineup of speakers, presenters and special guests in store for the third annual SABR Analytics Conference, and you won't want to miss it! The full conference schedule is now available online by clicking here:
http://sabr.org/analytics/schedule
Check out more information on our featured panels at the 2014 SABR Analytics Conference:
One on One: Mark Attanasio – an exclusive session with the Milwaukee Brewers Chairman and Principal Owner.
Decision Making in the Front Office – on how analytics shapes front-office decisions. With Jack Zduriencik (Seattle Mariners), Bill Geivett (Colorado Rockies), Bobby Evans (San Francisco Giants), moderator Ken Rosenthal (MLB Network/FoxSports.com.)
Which Numbers Athletes Love, Which Numbers Athletes Hate – baseball players-turned-broadcast analysts explain how they use analytics to cover baseball from the booth. With Curt Schilling (ESPN), Aaron Boone (ESPN), moderator John Walsh (ESPN.) NEW!
Medical Analysis and Injury Prevention – on how Major League Baseball and its teams are working to better diagnose, track and prevent injuries in the future. With Dr. Stan Conte (Los Angeles Dodgers), Dr. Glenn Fleisig (American Sports Medicine Institute), Chris Marinak (MLB), moderator Buster Olney (ESPN.com.) NEW!
Clubhouse Confidential – with panelists from MLB Network's signature sabermetrics program. With Dave Cameron (FanGraphs), Vince Gennaro (SABR), Ben Lindbergh (Baseball Prospectus), Rob Neyer.
Prospect Analysis and Evaluation – on using analytics to evaluate prospects. With Jim Callis (MLB.com), Jonathan Mayo (MLB.com), Bernie Pleskoff (MLB.com, Rotowire), moderator Barry M. Bloom (MLB.com.) NEW!
Telling Stories in the Age of Sabermetrics – on how sabermetrics has changed coverage of games, and the very nature of what readers have come to expect from, and writers must be able to bring to, the daily sports press. With Howard Megdal (Sports on Earth), Emma Span (Sports on Earth), Mike Tanier (Sports on Earth), moderator Steve Madden (Sports on Earth.) NEW!
SABR Defensive Index – insights and updates from members of the SABR Defensive Committee who helped add a sabermeric component to the Rawlings Gold Glove Awards. With Vince Gennaro (SABR), Kurt Hunzeker (Rawlings), Sean Forman (Sports Reference), John Dewan (Baseball Info Solutions), moderator Jon Sciambi (ESPN.) NEW!
The International Baseball Landscape – on the changing environment of baseball around the globe. With Leonte Landino (ESPN Deportes), Tyrone Brooks (Pittsburgh Pirates), moderator Rob Neyer. NEW!
Analytics From the Players' View – how current major league players are taking advantage of analytics. Speakers: TBA. Moderator: Jon Sciambi (ESPN.)
How Fans Consume Baseball in the Digital Age (TBA) – the perspective of fans on new developments in consuming baseball media. Speakers: TBA. NEW!
More speakers, panelists and presenters will be announced soon! Visit SABR.org/analytics/speakers for more information.
Please note: Early registration rates will expire at 12:00 a.m. MST on Monday, February 10, so reserve your spot today. Early registration rates are $395 for SABR members, $495 for non-members. Students who are currently enrolled in high school or college can register for $350. Click here to register for the 2014 SABR Analytics Conference.
The 2014 SABR Analytics Conference will be held March 13-15, 2014, at the Hyatt Regency Phoenix, 122 N. 2nd St., Phoenix, AZ 85004. Click here to book your hotel room at the special SABR group rate of $169/night (plus tax.) Or call (602) 252-1234 and mention that you're with the SABR Analytics Conference.
We hope to see you in March for the SABR Analytics Conference. For more information or to register, visit SABR.org/analytics.
---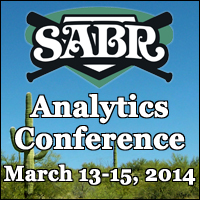 Here's your chance to vote for the 2014 SABR Analytics Conference Research Awards winners:
http://sabr.org/latest/vote-2014-sabr-analytics-conference-research-award-winners
The SABR Analytics Conference Research Awards will recognize baseball researchers who have completed the best work of original analysis or commentary during the preceding calendar year. Nominations were solicited by representatives from SABR, Baseball Prospectus, FanGraphs, The Hardball Times, and Beyond the Box Score.
To read any of the 2014 finalists in the Historical Analysis/Commentary, Contemporary Commentary, or Contemporary Analysis categories, click here. Then cast your vote for the winners!
Voting will remain open until 12:00 a.m. on Monday, February 17, 2014. Details and criteria for each category can be found here. Only one work per author was considered as a finalist.
Results will be announced and presented at the third annual SABR Analytics Conference, March 13-15, 2014, at the Hyatt Regency Phoenix in Phoenix, Arizona. Learn more or register for the conference at SABR.org/analytics.
---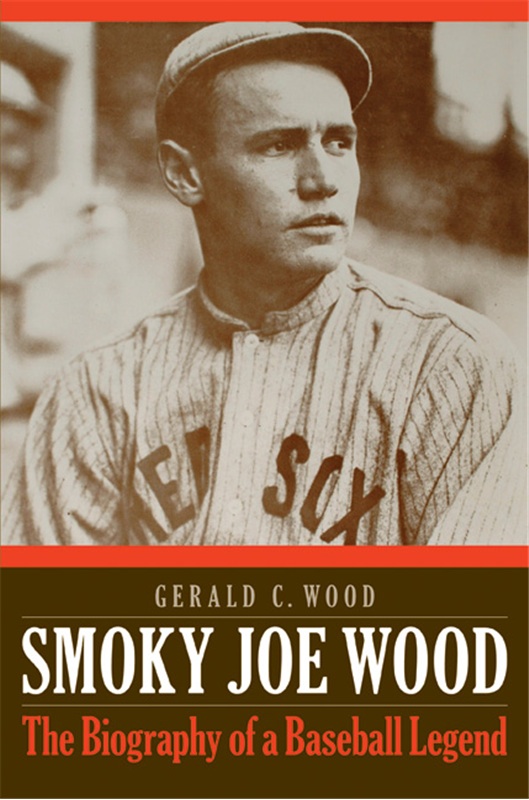 Smoky Joe Wood: The Biography of a Baseball Legend, written by Gerald C. Wood and published by the University of Nebraska Press, is the winner of the 2014 Dr. Harold and Dorothy Seymour Medal, which honors the best book of baseball history or biography published during the preceding calendar year.
Gerald Wood, a retired English professor from New Market, Tennessee — and no relation to Smoky Joe Wood — will receive his award at the banquet of the 21st annual NINE Spring Training Conference on Saturday, March 15, 2014, at the DoubleTree by Hilton Hotel in Tempe, Arizona (formerly the Fiesta Inn and Resort.)
The banquet includes the Seymour Medal ceremony with Dorothy Seymour Mills, dinner and the NINE Keynote address by George Gmelch, a professor of anthropology at the University of San Francisco and the author of a dozen books, including several on baseball: In the Ballpark; Inside Pitch; and Baseball Without Borders. To register for the NINE conference, visit http://nineregistration.com.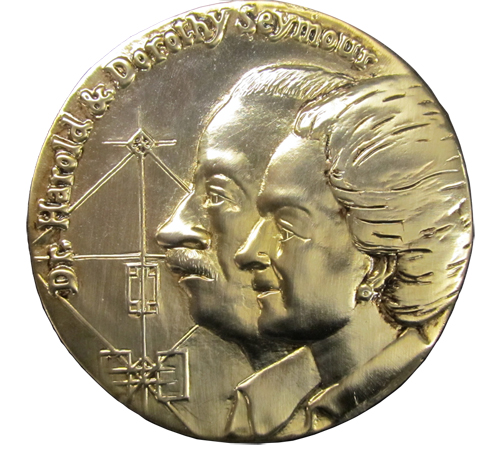 "I'm very honored. This is quite a thrill," said Wood, a Distinguished Professor of English Emeritus at Carson-Newman College and co-author of Northsiders: Essays on the History and Culture of the Chicago Cubs.
The other finalists for the 2014 Seymour Medal were:
The Baseball Trust: A History of Baseball's Antitrust Exemption, by Stuart Banner (Oxford University Press)
The Bird: The Life and Legacy of Mark Fidrych, by Doug Wilson (Thomas Dunne Books/St.Martin's Press)
Color Blind: The Forgotten Team That Broke Baseball's Color Line, by Tom Dunkel (Atlantic Monthly Press)
The Seymour Medal, named in honor of Dr. Harold Seymour and Mrs. Dorothy (Seymour) Mills, was first awarded by SABR in 1996. To be considered for the medal, a work must be the product of original research or analysis. The winning book shall significantly advance our knowledge of baseball and shall be characterized by understanding, factual accuracy, profound insight and distinguished writing.
To read our full interview with Seymour Medal winner Gerald C. Wood, click here.
---

On Saturday, January 25, hundreds of SABR members and friends gathered at more than 30 Hot Stove events around the U.S. and Canada to talk baseball, share their research and discuss the upcoming season on the fifth annual SABR Day.
SABR Day is our annual Hot Stove gathering to celebrate the beginning of a new baseball season. It's always held on the weekend between the NFL championship games and the Super Bowl. On that day, SABR's regional chapters organize baseball events around the globe, and you're all invited to attend.
SABR Day meetings in 2014 included premier guest speakers such as National Baseball Hall of Fame President Jeff Idelson, who spoke at our New York City SABR Day meeting, and former Pirates pitcher and World Series champion Bob Friend, who spoke at our Pittsburgh SABR Day event.
Other guest speakers for SABR Day included former major league player Johnny Antonelli and manager Joe Altobelli (in Rochester, N.Y.); front office executives John Vuch (St. Louis), John Dittrich (Phoenix), and Ned Rice (Washington, D.C.); and authors Ed Achorn (Philadelphia), Jane Leavy (New York), Josh Suchon (Albuquerque), J.B. Hogan (Little Rock), and Danny Gallagher (Toronto.)
Some SABR chapters, such as those in Austin, Des Moines, Indianapolis, Montreal and Victoria, met informally at a restaurant or library just to talk baseball or present their new research. Other chapters, such as Houston, Minneapolis and Dallas-Fort Worth, participated in their local MLB team FanFests on Saturday.
The Lefty O'Doul Chapter in San Francisco met on Sunday, January 26 for a special Line Drives and Lipstick panel discussion with baseball historians Dorothy Seymour Mills, Jean Ardell, Leslie Heaphy, Monica Nucciarone, and David Block. The Line Drives and Lipsticks exhibit at the San Francisco Main Library, honoring the All-American Girls Professional Baseball League, opened last weekend.
The Northwest Chapter also met for SABR Day on Sunday at the Seattle Mariners FanFest at Safeco Field, and heard from Mariners executives Jack Zduriencik and Chuck Armstrong, among others.
Find more recaps and photos from all SABR Day 2014 meetings at SABR.org/sabrday.
---
The SABR Nominating Committee seeks nominations for candidates for the Spring 2014 elections. All candidates for the Board of Directors must have been members of the Society for at least the preceding four years to be eligible for election. Deadline for nominations is February 28, 2014. Nominees must prepare a Candidate Statement Form following guidelines that will be available from any Nominating Committee member.
The Candidate Statement Form must be received by the Nominating Committee chair no later than March 15, 2014.
The offices to be filled:
Vice-President (2-year term; currently Bill Nowlin)
Treasurer (3-year term; currently F.X. Flinn)
Director (3-year term; currently Emily Hawks)
The Nominating Committee also seeks your input. Members are asked to submit office-specific questions for each of the offices open in this election. We also seek input on general questions for every nominee. Candidates will answer selected questions on the Candidate Statement Form. Regional Chapter leaders and Research Committee Chairs are especially encouraged to pass on this request to their respective members to better address member needs.
Self-nominations are welcome. If you would like to nominate yourself or another candidate or suggest a question for the candidates, contact a member of the Nominating Committee: chair R.J. Lesch (rjlofiowa@gmail.com), Rick Schabowski (rickiu76@aol.com), or Barry Deutsch (barryid@pobox.com).
---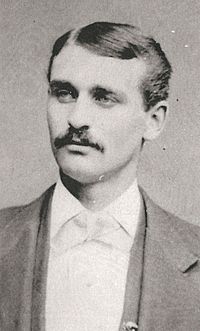 The time has come to begin the process of choosing our Overlooked 19th Century Baseball Legend for 2014.
Last year, we selected Ross Barnes, adding him to a roster that already includes Pete Browning (2009), Hall of Famer Deacon White (2010), Harry Stovey (2011), and Bill Dahlen (2012). I'm particularly excited about this election, as it is my first since succeeding Joe Williams as the project chair.
Once again, the Nineteenth Century Research Committee will select 10 individuals from 25 preliminary candidates to create the final ballot for the 2014 Overlooked Legend. The 10 finalists will be presented to the entire SABR community, giving all of SABR a chance to vote for our next Overlooked Legend.
The preliminary voting process, which we call the Overlooked Primary Election, will consist of each voter selecting 10 names from the ballot of 25. (If a voter doesn't select 10 names, the votes will not count in the final tally.) The top 10 will be presented to the SABR membership for a vote in June 2014, and the winner will be announced at the SABR 44 convention in Houston this summer.
Below is a PDF with the 25 candidates for 2014 and a brief explanation of their baseball accomplishments and/or contributions to our national pastime. You can download the PDF with biographies for the 25 candidates by clicking on the link below:
http://sabr.org/sites/default/files/SABR-19th-Century-Overlooked-Legend-Preliminary-Candiates-2014.pdf
The voting in the Overlooked Primary Election begins today and will end on February 17, 2014.
For more information on the Overlooked 19th Century Baseball Legends Project, click here.
— Adam Darowski
---
The SABR Minor League Statistics Project has recently completed its 1,500th league-season in electronic format.

The intent of the Project is to have a valuable source of Minor League data available.
As a result of these efforts, the statistical record for minor leagues are complete from the current year back to 1960 with nearly 200 additional league-seasons from 1877 to 1909 and a scattering of other league-seasons. Much of this data already appears on Baseball-Reference.com, while there remains much more to be developed and integrated.
Among the most recently completed leagues are:
1958 Illinois-Indiana-Iowa League, by Jim Sarrantonio
Frank Howard was immediately promoted to the Major Leagues after he led the league in three major categories: Runs, Home Runs and RBI.
1905 North Texas League, by Cliff Blau
Jack Love of Texarkana, starting a long career, was batting champion at .327.
1955 Pioneer League, by Art Cantu
Arnold Hallgren of Boise and Jess Duran of Pocatello battled for the batting championship, Hallgren edging out Duran .348 to .346. Hallgren also led league in hits and RBI. James Reggie Lee of Pocatello struck out 223 batters but also walked 200.
Members have been active on this Project since about 2006. The most prolific volunteers have been:
Jim Sarrantonio, 241 league-seasons
Cliff Blau, 240 league-seasons
Art Cantu, 209 league-seasons
Bob Kistler, 141 league-seasons
Ted Turocy, 122 league-seasons
Mike Hothan, 74 league-seasons
Frank Hamilton, 46 league-seasons
Tom O'Toole, 39 league-seasons
There is room for other SABR members to participate, and we encourage your inquiries. For more information, contact Frank Hamilton at fehamilton@aol.com.
---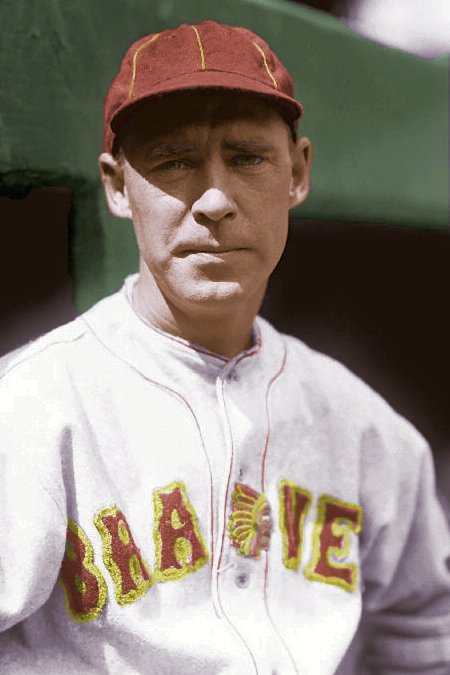 Two new biographies were posted as part of the SABR Baseball Biography Project, which brings us to a total of 2,630 published biographies. Here are the new bios:
All new biographies can be found here: http://sabr.org/bioproj/recent
You can find the SABR BioProject at SABR.org/BioProject.
Bios on more than just ballplayers: The ambitious goal of the SABR Baseball Biography Project is to publish a full-life biography of every major league player in history. But SABR members write about a lot more than just ballplayers. In addition, we have pages for Ballparks, Broadcasters, Executives, Games, Managers, Scouts, Spouses, Umpires and a lot more on the BioProject website. You can browse all of these categories at http://sabr.org/bioproj/browse. So if you've ever thought, "Hey, that person (or ballpark) should get the full BioProject treatment" — write the story and we'll publish it!
Get involved! If you'd like to help contribute to the SABR BioProject, visit our BioProject Resources page or read the FAQs section to get started. We're also looking to expand the BioProject to include all "encyclopedic" articles on baseball-related subjects from past SABR publications or committee newsletters. If you come across an article you think should be included in the SABR "baseball repository" at the BioProject, send a copy or link to markarmour04@gmail.com or jpomrenke@sabr.org.
---
Editor's note: This game summary is from the Retroactive All-Star Game Project. Voting was conducted to select retroactive MLB All-Star teams from the 1925 season and the games were simulated using Out of the Park 14.
The 1925 American League All-Stars exacted sweet revenge at Philadelphia's Shibe Park by slaughtering the Nationals by a count of 19-5 in the ninth All-Star game played between the two leagues. It was a sloppy affair that saw each squad commit three errors, but some outstanding plays were turned in over the final three innings. By then, however, the AL already boasted a lead of 18-4 and no amount of fancy glovework was going to pull the NL out of its deep hole.
The third frame proved to be the death knell as Bucky Harris' men plated eight runs to push their advantage from 5-2 to 13-2. Harry Heilmann continued to boast a powerful All-Star stick, going 4 for 4 and driving in four runs, and boosting his average to a healthy .533 since the Retroactive All-Star series went to a one-game format in 1919. Stan Coveleski was solid on the mound, allowing one earned run and fanning three in three innings, and Red Faber capped off the win with two hitless innings.
The series is back in the AL's favor at 5-4 heading to Sportman's Park in St. Louis next year, home to both the Cardinals and Browns. Neither team draws well, so there should be an equal amount of rooters for both leagues, and, as has been the custom over the last few years, the stadium will boast more seats to accommodate the larger crowd.
Highlights and outstanding players from this year's game include:
Heilmann rapping out four hits, including a double and a homer, and driving in four runs.
Sammy Hale belting a home run in his first All-Star at-bat and driving in four runs.
Ty Cobb reaching base four times and scoring three runs.
Rogers Hornsby recording two hits, a run and an RBI.
Eddie Collins poling out three more All-Star hits and scoring four times.
Lee Meadows surviving an inning against the AL without allowing a run.
You can find a full account of the game, box score, game log and stats at Seamheads.com.
Learn more about the Retroactive All-Star Game Project by clicking here.
— Mike Lynch
---
For those of you whose memberships expired recently, there's still a little time left to renew and be a part of the SABR community again in 2014. If you've already renewed, we thank you for your support and look forward to another exciting year ahead.
Renew now to receive the Spring 2014 edition of the Baseball Research Journal, plus discounts on registration to the 2014 SABR Analytics Conference and SABR 44 in Houston, and a lot more!
We MUST receive your dues by February 28, 2014, in order for you to receive the upcoming Spring 2014 BRJ.
Renew your membership for 1 year or 3 years online — or select our new 5-year, digital-only membership rate — at the SABR Store; by phone at (602) 343-6450; or by mailing this downloadable PDF form and your payment to the SABR office at 4455 E. Camelback Road, Ste. D-140, Phoenix, AZ 85018.
We're excited about the upcoming year ahead of us and we hope you'll take advantage of all the membership benefits offered to SABR members in 2014 and beyond.
---
SABR Baseball Research Award, due 1/31/2014: The SABR Baseball Research Award (formerly the Sporting News-SABR Baseball Research Award) honors those whose outstanding research projects completed during the preceding calendar year have significantly expanded our knowledge or understanding of baseball. To submit a nomination for the 2013 awards, please contact Bill Felber at bfelber@att.net.
McFarland-SABR Baseball Research Award, due 2/15/2014: The McFarland-SABR Baseball Research Award honors the authors of the best articles on baseball history or biography completed or published during the preceding calendar year. To submit a nomination for the 2013 awards, please contact Len Levin at lenlevin5@hotmail.com.
Ron Gabriel Award selection committee chair needed: We are seeking a new chair for the Ron Gabriel Award selection committee. If you are interested in serving on the selection committee for the 2014 Ron Gabriel Award, please contact Leslie Heaphy at Lheaphy@kent.edu. The Ron Gabriel Award honors the author(s) of the best research, published or unpublished, on the subject of the Brooklyn Dodgers completed during the preceding calendar year. For more information, click here.
---
We are saddened to report that SABR member Robert George Knebel, 77, of Cliffside Park, New Jersey, died on Wednesday, December 4, 2013. He was a SABR member since 2004 and active in the Elysian Fields Chapter of New Jersey.
Robert was the beloved son of the late Mae (Stehr) and Albert Knebel, the brother of Norman Knebel, and nephew of Ruth Behsman.
A funeral was held December 10 at the Church of the Epiphany in Cliffside Park, with interment at Madonna Cemetery in Fort Lee, New Jersey.
---
We've heard your feedback: Some of you have said you look forward to "This Week in SABR" every Friday, but sometimes there are just too many compelling articles and announcements to read every week. We're not complaining — hey, keep up the great work! — but we know the feeling. So in an effort to make the length of this newsletter more manageable to read, we'll summarize some of the repeating/recurring announcements in a special "In Case You Missed It (ICYMI)" section of "This Week in SABR".
Here are some major headlines from recent weeks that we don't want you to miss:
All previous editions of This Week in SABR can be found here: http://sabr.org/content/this-week-in-sabr-archives.
---
We'd like to welcome all of our new SABR members who have joined this week. You can find all Members-Only resources at members.sabr.org and the New Member Handbook can be downloaded here.
Please give these new members a warm welcome and help them make the most of their membership by giving them the opportunity to get involved in their local chapter or a research committee.
| Name | Hometown | | | Name | Hometown |
| --- | --- | --- | --- | --- | --- |
| Rob Bauer | Kalispell, MT | | | William Myers | Stillwater, MN |
| Gregg Bernstein | Oakland, CA | | | Stan Osowiecki | Orange, CT |
| Johnny Boggs | Santa Fe, NM | | | Richard Paczkowski | South Bend, IN |
| Dana Burton | Germantown, MD | | | Cody Poage | Dickinson, TX |
| John Camp | Catonsville, MD | | | Michael Remillard | Harrisburg, PA |
| Greg Czamara | Pittsburgh, PA | | | Adam Reynolds | Torrance, CA |
| Michael Forsythe | Roseville, MN | | | Kenneth Roberts | Somerville, AL |
| David Hill | Golden Valley, MN | | | Josh Rodgers | Weatherford, TX |
| Mark Hunter | Germantown, TN | | | J. Brian Ross | Richmond, VA |
| Michael Iveson | Barnegat, NJ | | | Nicholas Roznovsky | San Francisco, CA |
| Gary Lubin | Colorado Springs, CO | | | Austin Smith | Austin, TX |
| Vernon Marshall | San Francisco, CA | | | Bob Snyder | Mesa, AZ |
| Micki Maynard | Phoenix, AZ | | | Eric Sorlie | Great Falls, MT |
| George Miner | Crestview Hills, KY | | | Zach Swalley | Greenwood, MO |
| Mike Murphy | Morris, IL | | | Byron Vance | Cullman, AL |
---
Here are the new SABR research committee newsletters published this week:
Find all SABR research committee newsletters at SABR.org/research.
---
Here are the new chapter meeting recaps published this week:
Visit SABR.org/chapters for more information on SABR regional chapters.
---
Here is a list of upcoming SABR events:
February 1: Halsey Hall Chapter book club (Roseville, MN)
February 1: Talkin' Baseball: Mark Hyman (Columbia, MD)
February 1: Jack Graney Chapter meeting (Cleveland, OH)
February 1: ParanoidFan.com baseball meetup with Ken Rosenthal (Dallas, TX)
February 1: The Detroit Chapter meeting has been postponed due to a forecast of inclement weather.
February 8: Hank Gowdy Columbus Chapter book club (Columbus, OH)
February 8: Magnolia Chapter Hot Stove meeting (Kennesaw, GA)
February 11: Rob Weintraub: "Victory Season: Baseball, World War II, and the Jewish Experience" (Kennesaw, GA)
February 12: Bob Davids Chapter monthly Hot Stove dinner (Arlington, VA)
February 15: Ted Williams Chapter meeting (San Diego, CA)
February 15: Smoky Joe Wood Chapter meeting (Hamden, CT)
February 15: Kekionga Chapter meeting (Fort Wayne, IN)

All SABR meetings and events are open to the public. Feel free to bring a baseball-loving friend … and make many new ones! Check out the SABR Events Calendar at SABR.org/events.
---
Here are some recent articles published by and about SABR members:
Read these articles and more at SABR.org/latest.
---
This Week in SABR is compiled by Jacob Pomrenke, and sent out to all SABR members on Fridays. All previous editions of This Week in SABR can be found here: http://sabr.org/content/this-week-in-sabr-archives. If you would like us to include an upcoming event, article or any other information in "This Week in SABR", e-mail jpomrenke@sabr.org.
Find exclusive Members' Only resources and information here: http://members.sabr.org
Did you know you can renew your membership at any time? 1- and 3-year SABR memberships are available by clicking "Renew" at http://members.sabr.org. Please also consider a donation to SABR to support baseball research at SABR.org/donate.

Are you following us on Twitter or Facebook? Get SABR updates every day at @SABR or by searching "SABR" on Facebook.

Replying to this e-mail goes to an undeliverable address. If you would like to contact the SABR office, please visit: http://sabr.org/about/contact-sabr
---
Originally published: January 31, 2014. Last Updated: April 3, 2020.
https://sabr.org/wp-content/uploads/2020/03/research-collection4_350x300.jpg
300
350
jpomrenke
/wp-content/uploads/2020/02/sabr_logo.png
jpomrenke
2014-01-31 15:00:00
2020-04-03 14:39:36
This Week in SABR: January 31, 2014