This Week in SABR: May 13, 2016

Welcome to "This Week in SABR!" Click here to view this week's newsletter on the web. Here's what we've been up to as of May 13, 2016:
---

We hope you'll join us for what promises to be a spectacular SABR 46 convention, July 27-31, 2016, at the Hyatt Regency Miami in downtown Miami, Florida.
Registration: Click here for complete information on SABR 46 registration rates, all-inclusive packages, and optional sessions. Or click here to register for SABR 46! More details on guest speakers, panelists, and presenters will be announced soon. We're again offering a special all-inclusive rate for the annual SABR convention. SABR members can pay $269 for an all-inclusive package that includes full registration to SABR 46, a premium Home Plate Box ticket to the Miami Marlins game on Friday, July 29 (includes special pregame ballpark session/tour and roundtrip bus transportation), and one ticket to the Awards Luncheon — the package is a savings of $40 off the regular rate. Non-members can pay $299 for the all-inclusive rate. The deadline to register at the all-inclusive rate is Monday, June 13, 2016.
Hotel: Don't forget to book your hotel room at the Hyatt Regency Miami; our room block usually goes quickly. Click here to book your room online. The deadline to book your room at the SABR group rate of $129/night (plus tax) is Monday, June 13, 2016. If you have any questions about your reservation, please call the hotel at (305) 358-1234.
Pregame ballpark session/tour: SABR 46 attendees will have a special opportunity to visit Marlins Park for an exclusive pregame ballpark session with Miami Marlins executives and players. Before the Marlins 7:10 p.m. game against the St. Louis Cardinals on Friday, July 29, a special SABR 46 ballpark session with guests Barry Bonds, Don Mattingly, and more speakers will take place at Marlins Park followed by a ballpark tour for convention attendees. Purchase of SABR 46 conference registration AND a game ticket will be required to attend this special session. A SABR 46 Marlins game ticket also includes roundtrip bus transportation. Click here to learn more.
Pre-order your SABR logo shirts, caps, or souvenir baseballs: Avoid the rush at registration, and pre-order your SABR logo polo shirt, T-shirt, baseball caps, or souvenir crystal baseball online when you register for SABR 46

. Please indicate shirt size (adult S to XXXL) when you register. Caps are one-size-fit-most. Your items will be available to be picked up when you arrive at the SABR convention.

The souvenir baseballs are crystal paperweights measuring about 3 inches around, with an embossed SABR logo in the center.

Deadline to pre-order: Monday, June 13, 2016.
Featured speakers: The SABR 46 convention will include top featured speakers from around the baseball world — front office executives, players, managers, scouts, writers and analysts — including former MLB All-Stars Barry Bonds and Don Mattingly, Miami Marlins President of Baseball Operations Michael Hill, World Series-winning manager Ozzie Guillen, Emmy Award-winning broadcaster Ernesto Jerez, ESPN Deportes' Enrique Rojas, author/historians Adrian Burgos Jr., Cesar Brioso, Peter C. Bjarkman, and many more.
View a special screening of Fastball documentary: Attendees at SABR 46 this summer will have a chance to see a special screening of the new Fastball documentary film, directed by the Emmy Award-winning Jonathan Hock and narrated by Kevin Costner, on Thursday, July 28 at the Hyatt Regency Miami. Click here to learn more.
All SABR 46 attendees will also receive a souvenir print edition of The National Pastime, our annual convention journal, focusing on baseball teams, players and events in the Miami area. All SABR members, whether you attend the convention or not, will receive the expanded e-book edition of The National Pastime in their inboxes later this summer. Visit SABR.org/convention to register for SABR 46.
---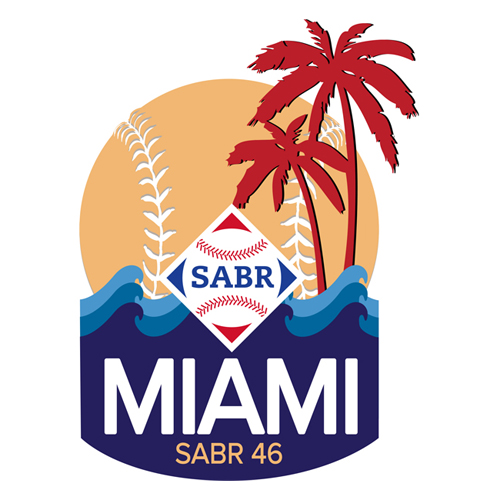 Want to throw out the first pitch at SABR 46?
Thanks to the generosity of the Miami Marlins, anyone who makes a donation of $1,000 or more to the SABR General Fund between May 1 and June 15, 2016, will have the opportunity to go on the field for batting practice before the Marlins game vs. the St. Louis Cardinals on Friday, July 29 at Marlins Park.
Participating donors will also be entered into a drawing to throw out the first pitch at the Marlins game on July 29. The drawing will be held during the Ross Adell Welcome Reception during SABR 46.
This special opportunity is only available for up to six SABR donors (or a guest of your choosing.) Following our SABR 46 ballpark session — highlighted by guest speakers Barry Bonds and Don Mattingly — SABR donors will be able to go on to the field during batting practice before the game. Each one-time donation is good for one on-field ticket.
In addition to the on-field opportunity at Marlins Park and the chance to throw out the first pitch, the SABR 46 donation package also includes two tickets to the SABR 46 Donors Breakfast, a SABR logo commemorative crystal baseball, and a one-year membership to SABR.
SABR is a 501(c)(3) organization and all donations are tax-deductible to the extent allowed by law.
If you are interested in the SABR 46 donation package, please contact Jeff Schatzki at jschatzki@sabr.org.
---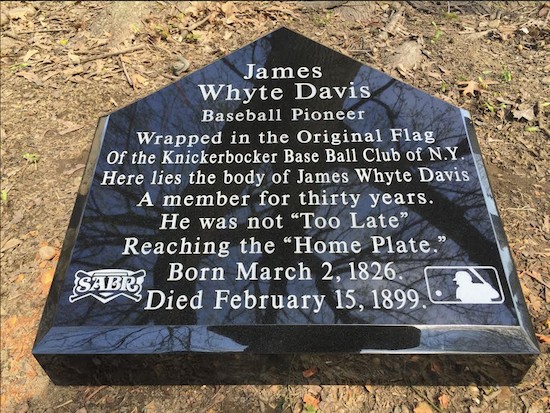 SABR's 19th Century Baseball Grave Marker Project is pleased to announce a special ceremony to dedicate the newly installed marker for New York Knickerbocker pioneer James Whyte Davis.
Join us tomorrow at 10:00 am on Saturday, May 14, 2016, at the main entrance of Brooklyn's historic Green-Wood Cemetery (500 25th Street, Brooklyn, NY 11232) as celebrants take a trolley tour, hosted by historian Tom Gilbert, through the story of early baseball. The journey will begin at the burial site of "Too Late" Davis, where the first marker installed by the young Project will be unveiled.
The grave marker unveiling is free and open to all cemetery visitors. A ticket for the trolley tour is $20 and must be purchased in advance.
Inspired by an idea proposed by official Major League Baseball historian John Thorn at SABR's 2015 Frederick Ivor-Campbell 19th Century Base Ball Conference, the committee was formed last year in an effort to correct some of the slights of history. The game's pioneers spent their early working lives dedicated to a sport that, even at the highest level, had not yet become the lucrative opportunity we think of today. Many of them died without the funds to mark the ground where they were laid to rest. With the help of donations from SABR members as well as a generous grant from Major League Baseball, the Project intends that James Whyte Davis — pictured at right, with Doc Adams — is just the first of many afforded the honor they were denied at the times of their deaths.
To learn more about James Whyte Davis at John Thorn's "Our Game" blog, click here.
Before the ceremony, guests will take a tour of the most famous final resting place in New York City. Through the Gothic spires of Green-Wood Cemetery lie more than 200 of the game's early players, managers, executives, and notables. Hall of Famer Henry Chadwick and baseball's first superstar, Jim Creighton, spend eternity not far from Davis, as do other former Knick teammates Louis F. Wadsworth, Duncan Curry, and William Tucker. The history of the early game is told in the stone of Green-Wood.
Graveside speeches by noted baseball historians will tell the story of Davis, a man that Doc Adams referred to as baseball's first "fiend." Please be a part of this historic event and celebrate the life of one of the men whose largely unknown history played such an important role in America's Pastime.
For more information, please contact Ralph Carhart at thehallballproject@gmail.com.
---

Periodically throughout the year, SABR.org publishes The SABR Bookshelf, a listing of new books that are received at the SABR office.
Here are The SABR Bookshelf listings for Spring 2016: http://sabr.org/content/sabr-bookshelf-spring-2016
Click on the link above for more detailed information on each of these books:
Au jeu/Play Ball: The 50 Greatest Games in the History of the Montreal Expos, edited by Norm King
The 1986 Boston Red Sox: There Was More Than Game Six, edited by Bill Nowlin and Leslie Heaphy
The 1986 New York Mets: There Was More Than Game Six, edited by Leslie Heaphy and Bill Nowlin
100: The 100 Year Journey of a Baseball Journeyman, Mike Sandlock, edited by Karl Cicitto
Down on the Korner: Ralph Kiner and Kiner's Korner, by Mark Rosenman and Howie Karpin
The Yankees Index: Every Number Tells a Story, by Mark Simon
The Only Rule Is It Has To Work: Our Wild Experiment Building a New Kind of Baseball Team, by Ben Lindbergh and Sam Miller
The Arm: Inside the Billion-Dollar Mystery of the Most Valuable Commodity in Sports, by Jeff Passan
Amazin' Again: How the 2015 New York Mets Brought the Magic Back to Queens, by Greg W. Prince
When Shea Was Home: The Story of the 1975 Mets, Yankees, Giants, and Jets, by Brett Topel
When the Braves Ruled the Diamond: Fourteen Flags over Atlanta, by Dan Schlossberg
Pirates By the Numbers: A Complete Team History of the Bucs By Uniform Number, by David Finoli
Tales from the Atlanta Braves Dugout: A Collection of the Greatest Braves Stories Ever Told, by Cory McCartney
Incredible Baseball Stats: The Coolest, Strangest Stats and Facts in Baseball History, by Kevin Reavy and Ryan Spaeder
Skipper Supreme: Buck Showalter and the Baltimore Orioles, by Todd Karpovich and Jeff Seidel
Dingers: The 101 Most Memorable Home Runs in Baseball History, by Joshua Shifrin and Tommy Shea
Another Time … Another Place — Baseball Reflections, by Stu Rossman
The Boy Who Would Not Play Ball, by Robert Brewer
For the Love of Baseball: A Celebration of the Game That Connects Us All, edited by Lee Butkind and Andrew Blauner
Ahead of the Curve: Inside the Baseball Revolution, by Brian Kenny
Fantasy Sports and the Changing Sports Media Industry: Media, Players, and Society, edited by Nicholas David Bowman, John S.W. Spinda, and Jimmy Sanderson
50 Moments That Defined Major League Baseball, by Rocco Constantino
The 50 Greatest Players in Pittsburgh Pirates History, by David Finoli
Characters from the Diamond: Wild Events, Crazy Antics, and Unique Tales from Early Baseball, by Ronald T. Waldo
Jackie Robinson: An Integrated Life, by J. Christopher Schutz
Game 7, 1986: Failure and Triumph in the Biggest Game of My Life, by Ron Darling and Daniel Paisner
Lawyerball: The Courtroom Battle of the Orioles Against the Nationals and MLB For The Future of Baseball, by Charles H. Martin
When Baseball Was King: The History of Semi-pro Baseball in Dunsmuir, California (1895-1970), by John David Fischer
Baseball in Territorial Arizona: A History, 1863-1912, by John Darrin Tenney
The Baseball Whisperer: A Small-Town Coach Who Shaped Big League Dreams, by Michael Tackett
Kings of Queens: Life Beyond Baseball with '86 Mets, by Erik Sherman
Blackguards and Red Stockings: A History of Baseball's National Association, 1871-1875, by William J. Ryczek
Ralph Kiner: A Baseball Biography, by Robert P. Broadwater
Happy Felsch: Banished Black Sox Center Fielder, by Thomas Rathkamp
The Tigers and Yankees in '61: A Pennant Race for the Ages, the Babe's Record Broken and Stormin' Norman's Greatest Season, by Jim Sargent
The Prehistories of Baseball, by Seelochan Beharry
Hairs vs. Squares: The Mustache Gang, the Big Red Machine, and the Tumultuous Summer of '72, by Ed Gruver
Dodgerland: Decadent Los Angeles and the 1977-78 Dodgers, by Michael Fallon
Bolded names indicates that the author(s) is a SABR member. Click here for a list of publishers found in the SABR Bookshelf, along with their contact information.
All new SABR Bookshelf listings can be purchased at the SABR Bookstore, powered by Amazon.com. In addition, check out new books published by SABR at SABR.org/ebooks (free for SABR members!)
To view previous listings in The SABR Bookshelf, or to learn how to have a new baseball book included in future editions, click here.
---
The 19th annual Jerry Malloy Negro League Conference will be held July 7-9, 2016, in Kansas City. The conference is open to all baseball, history and sports fans of all ages. Registration is now available.
To register: Click here to register online at the SABR Store. Or click here to download a printable registration form and information packet (PDF); you can mail your check or money order before June 20 to SABR Malloy Conference, Cronkite School at ASU, 555 N. Central Ave. #416, Phoenix, AZ 85004. The early registration rate for SABR members is $165 for adults (includes all activities) or $120 for students. (Non-members: $200 adults/$150 students). Single-day registration for Friday or Saturday is $75 for SABR members, $95 non-members. The Thursday education forum only is $15 for SABR members, $30 non-members. Optional sessions or guest tickets are also available. Please note: The early registration rate expired on May 10, 2016.

Book your hotel room: The Malloy Conference will be held at the Sheraton Overland Park Hotel at the Convention Center, 6100 College Boulevard, Overland Park, KS 66211. Limited rooms are available at a special discounted rate of $119/night (plus tax) for singles/doubles or $129/night (plus tax) for triples. Click here to reserve your room today or call (866) 837-4214 and mention the Jerry Malloy Conference. Please note: The cutoff date to book your room at the SABR discounted rate is June 13, 2016.
The 2016 Jerry Malloy Negro League Conference will celebrate "Barnstorming in the Negro Baseball Leagues." Barnstorming has always been a central part of the life of Negro League ballplayers. All Negro Leaguers took part in barnstorming games across the country and in cities like Kansas City. Monarchs great Satchel Paige, whose 110th birthday is being celebrated during this conference, did his fair share of barnstorming. Presentations may focus on any topic related to the theme, or other Negro Leagues issues.
Visit SABR.org/malloy for information on the 2016 Call for Papers, Essay Contest, Art Contest, and Library Grant Program.
---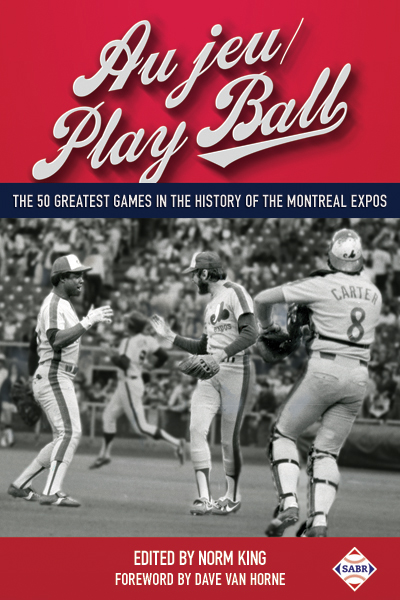 Add a championship book to your collection with the newest e-book from SABR Digital Library:
Au jeu/Play Ball: The 50 Greatest Games in the History of the Montreal Expos
Edited by Norm King
Foreword by Dave Van Horne
ISBN (paperback): 978-1-9438-1615-6, $12.95
ISBN (ebook): 978-1-9438-1614-9, $5.99
149 pages, 8.5″ x 11″

This volume by members of the Society for American Baseball Research (SABR) presents the 50 greatest games in Montreal Expos history. The games described here recount the exploits of the many great players who wore Expos uniforms over the years — Bill Stoneman, Gary Carter, Andre Dawson, Steve Rogers, Pedro Martinez, and others.
The book details games from the earliest days of the franchise, to the glory years of 1979-81, the what-might-have-been years of the early 1990s, and the sad, final days. It describes the famous first game at Shea Stadium on April 8, 1969, when the Expos defeated that year's eventual world champion New York Mets. It also details the first regular season major league game ever played outside the United States, when fans jammed little Jarry Park and began a love affair with the team.
These game summaries don't just retell the runs, hits, and errors. They give a context to the times and individuals involved. The article about Dennis Martinez's perfect game also describes how he overcame his struggle with alcohol to resurrect his career. The piece about Curtis Pride recounts how he reached the major leagues despite the disadvantages of deafness, and what it felt like when 45,000 fans cheered as Expos coach Jerry Manuel spurred him through gestures to acknowledge the crowd.
SABR members, get this e-book for FREE!
Having trouble downloading our e-books? To view PDF files on your computer, click here to download the free Adobe Reader software. Having trouble downloading e-books to your Kindle, Nook, Sony Reader or iPad? Click here for additional help.
SABR members will get discounted rates for all Digital Library publications, including many for free. To download all past titles, visit SABR.org/ebooks.
---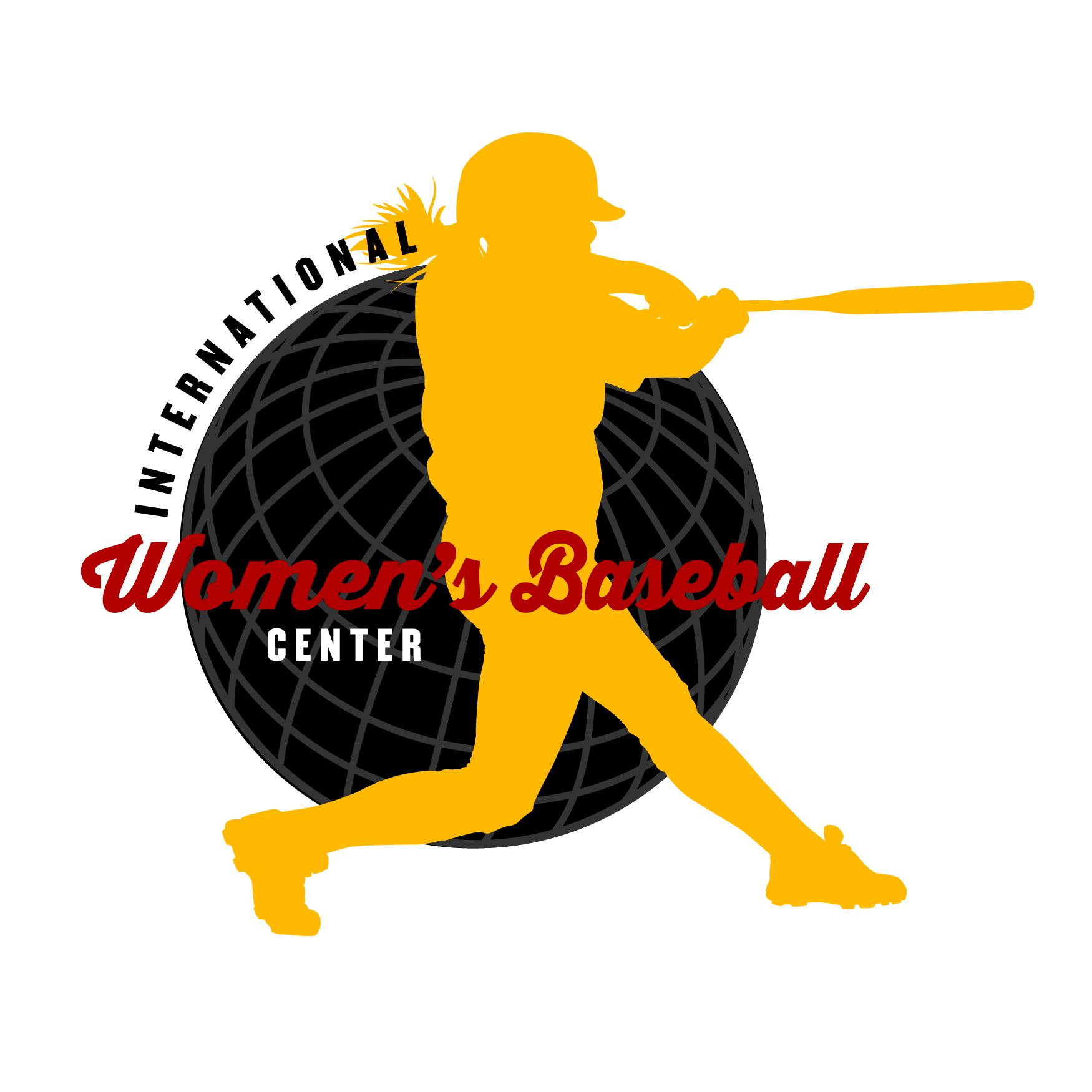 SABR's Women in Baseball Research Committee is teaming up with the International Women's Baseball Center to sponsor the 2016 Women on the Diamond art competition.
The winning entry and runner-up in each category, professional and amateur, will have their art displayed during the third annual Women's Baseball Symposium in September 2016 at the Louisville Slugger Museum in Louisville, Kentucky. The winning entry in the professional and amateur category will also receive a $200 prize. Photos of the winning entries and runners-up will also be included in an upcoming issue of SABR's Women in Baseball newsletter.
Deadline for all entries to be received is May 23, 2016. Entry fee: $30 (includes up to three entires per category); make all checks out to "International Women's Baseball Center." JPG images may be e-mailed to Lheaphy@kent.edu or photocopies/entry fees mailed to: Dr. Leslie Heaphy, Kent State University at Stark, 6000 Frank Rd., No. Canton, OH 44720. For sculptural works, multiple pictures in jpeg format may be entered. All entries must be "by the hand of the artist." For complete criteria, click here to download the application form.
A Youth Art Contest is also being held, with an entry fee of $10. The winner will receive a $150 prize. All schools that enter students will have their name placed in a drawing and two winners will be chosen. The winning schools will each receive $250 worth of age-appropriate books about women's baseball for their libraries. Click here to download the Youth Art Contest application form.
Judges include graphic designers and artists Miranda Bowman, Gary Cieradkowski, James Fiorentino, and Debbie Sampson.
For more information on the Women in Baseball Research Committee, click here.
---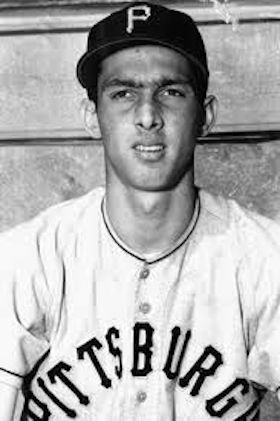 It's been quite a week for record-setting strikeout performances. On Wednesday, Max Scherzer of the Washington Nationals tied a major-league record with 20 strikeouts against the Detroit Tigers. His performance equalled the high mark for a nine-inning game first set by Roger Clemens in 1986. Since then, Clemens tied his own record in 1996 and so did Kerry Wood in 1998 and Randy Johnson in 2001. (Tom Cheney holds the overall record for most strikeouts in an MLB game with 21 — in 16 innings pitched — in 1962.)
But did you know that today is also the 64th anniversary of the most prolific strikeout performance in Organized Baseball history? On May 13, 1952, Pittsburgh Pirates minor-leaguer Ron Necciai, pitching for the Class D Bristol Twins of the Appalachian League, struck out 27 batters in a nine-inning game.
As Warren Corbett writes in a new SABR biography published this week, "Ron Necciai is the real-life Sidd Finch, the greatest pitcher who never was. The right-hander struck out 27 batters in a nine-inning game when he was 19. Instead of walking away like the mythical Finch, Necciai was forced out by injury and illness. He retired at 22. But Necciai was no one-game wonder. His 1952 minor-league season stands as one of the most dominant ever."
The SABR Games Project features articles on Clemens' first 20-K game and Kerry Wood's most famous day, but the other games mentioned above are still up for grabs. If you're interested in writing about Johnson, Cheney, Scherzer, or any other high-strikeout games for the SABR Games Project, let us know.
---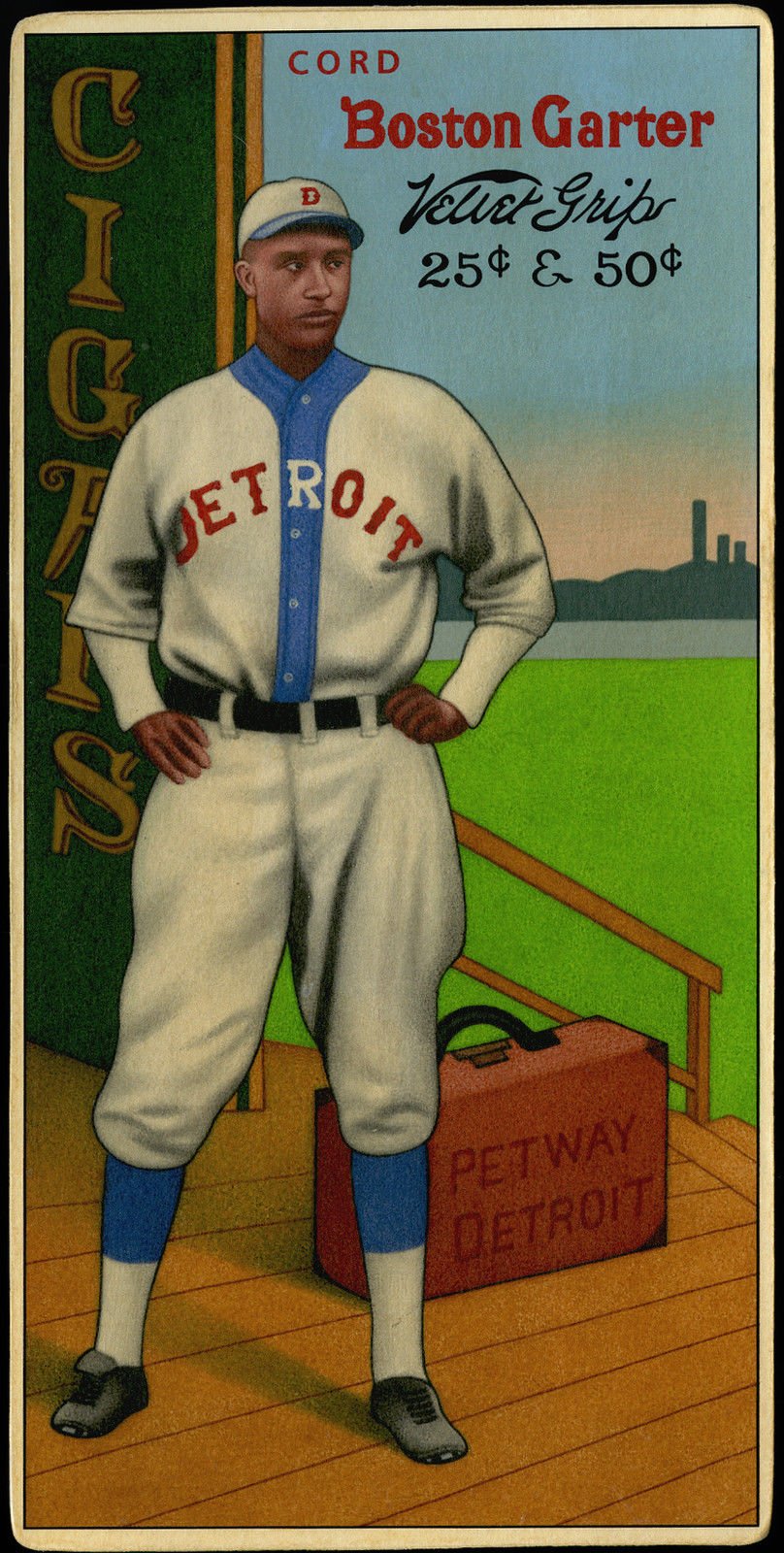 Twelve new biographies were posted this week as part of the SABR Baseball Biography Project, which brings us to a total of 3,762 published biographies. Here are the new bios published this week:
All new biographies can be found here: http://sabr.org/bioproj/recent
Search for any SABR biography: You can now visit sabr.org/bioproj_search to search for any player — or manager, executive, scout, spouse, broadcaster, or umpire — who appears in the SABR BioProject. You can also browse all of these BioProject categories and a lot more, including 300-game winners, Hall of Famers, 1960s All-Stars, or Negro Leaguers, at our Browse page: sabr.org/bioproj/browse.
1954 Cleveland Indians biographies now posted online: In SABR's Pitching to the Pennant: The 1954 Cleveland Indians, edited by Joseph Wancho and published by University of Nebraska Press in 2014, we celebrated the record-setting Tribe, one of the most memorable teams in baseball history. Their mark for most wins (111) fell only when the baseball schedule expanded, and their winning percentage, an astounding .721, is still unsurpassed in the American League. Though the season ended with a heartbreaking loss to the New York Giants in the World Series, the 1954 team remains a favorite among Cleveland fans and beyond. The SABR BioProject biographies that appeared in Pitching to the Pennant can now be read online at: http://sabr.org/category/completed-book-projects/1954-cleveland-indians. You can also purchase the book from University of Nebraska Press by clicking here.
---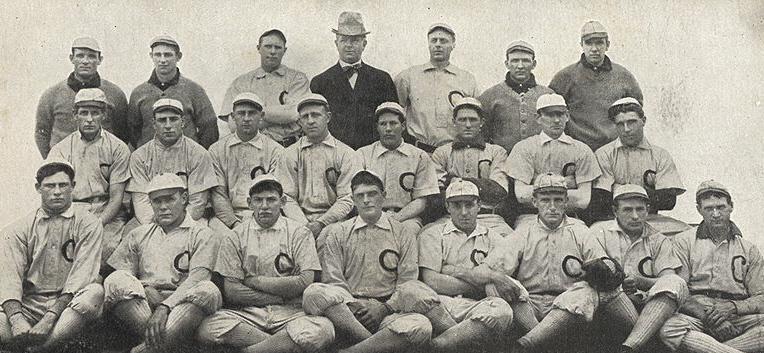 One new game story was posted this week as part of the SABR Games Project. Here is the new game story:
All new Games Project stories can be found here: http://sabr.org/gamesproject/recent
---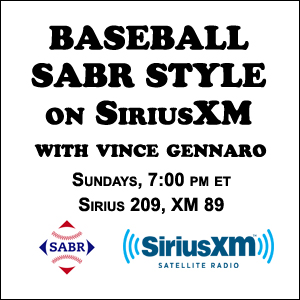 Behind the Numbers: Baseball SABR Style on SiriusXM, a radio show hosted by SABR President Vince Gennaro, will air this weekend at its regular time, 7:00-8:00 p.m. ET on Sundays, on MLB Network Radio.
This week's guests are Howard Megdal, author of The Cardinals Way, and Mark Simon, author of The Yankees Index.
Now, you can also watch video highlights of Behind the Numbers: Baseball SABR Style on SiriusXM on MLB.com and you can also listen to all recent episodes on-demand on the SiriusXM Internet Radio App.
Click here to watch more video highlights of Baseball SABR Style from MLB.com.
Behind the Numbers: Baseball SABR Style on SiriusXM focuses on examining and interpreting the statistical analysis that plays a critical role in baseball today. It airs weekly throughout the year on MLB Network Radio, available to subscribers nationwide on XM channel 89, Sirius channel 209, and on the SiriusXM Internet Radio App.
For more information, click here.
---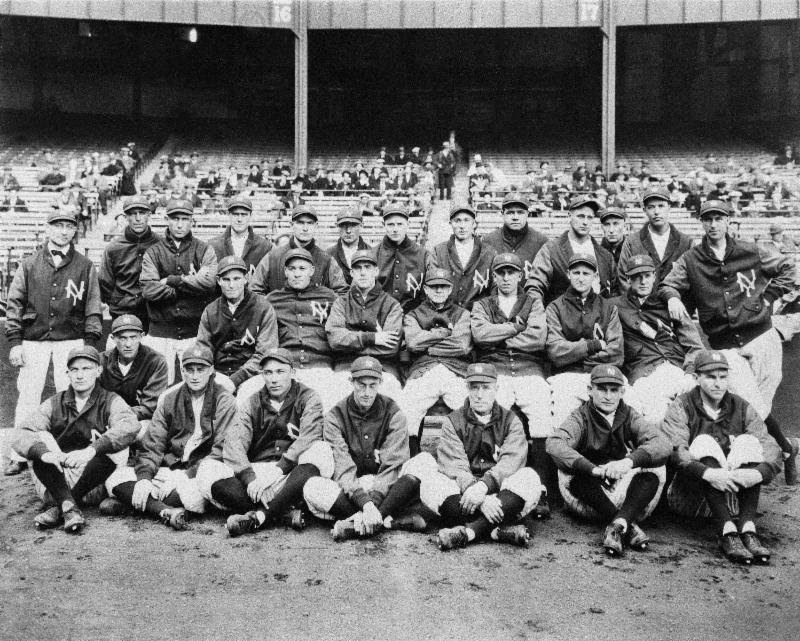 It's been almost a year since John Thorn, Steve Wulf, and I had the honor of presenting our vision for "1927: The Diary of Myles Thomas" at the SABR 45 convention in Chicago — finally, last month our project launched on ESPN.com.
"1927: The Diary of Myles Thomas" is a novel written in the form of a diary by a pitcher who really did play for the legendary '27 Yankees team, which starred Babe Ruth, Lou Gehrig and the rest of Murderers' Row. Almost all of the action in the diary takes place off the field—in speakeasies, brothels and gambling dens, in Harlem night clubs and rent parties, and on the Long Island estates of Wall Street and entertainment tycoons.
Set in the height of the Roaring Twenties, it chronicles the adventures of white and black baseball immortals, Jazz pioneers, Prohibition entertainers, bootleggers, gamblers and swindlers—all part of Myles's exploration of youth, greatness, morality, sex, race, and the meaning of heroes. Most of all, it's a deeply intimate journey through the worlds of Baseball, Jazz and Prohibition—three worlds that really did come together in 1927.
In addition to the Myles Thomas diary, the project also includes wonderful letters written by Steve Wulf, under the name of Ford Frick, who was a Yankees beat writer that season (as well as Babe Ruth's ghostwriter), and historical essays about baseball in the Roaring Twenties by John Thorn. Visit medium.com/1927-the-diary-of-myles-thomas to check out the full project.
SABR has been a big part of our project, especially the SABR BioProject, which has been a tremendous source for our research. We hope to continue our conversation with SABR members over the course of the summer. In fact, we're hosting the project on a platform (Medium.com) that easily enables online conversations. Additionally, we also have set up an ESPN 1927 Google Group exclusively for SABR members to contribute to the conversation. If you'd like to sign up, please contact Jacob Pomrenke.
Finally, our team is in a permanent state of research — so if there are any new facts, stories, or discoveries, including images of ephemera of the Yankees of that era that you would like to share with us, please don't hesitate to send it to us at Douglas.Alden@espn.com or ping our Facebook page.
— Douglas Alden
---
Each year, the SABR Board of Directors appoints more than a dozen members to small committees that choose our research award winners.
Now is the time to let us know if you would like to be considered for one of these positions. To apply, please send an e-mail to SABR Director Ty Waterman indicating which award you would like to judge, and providing answers to these questions: (1) why you are interested in serving (2) any relevant experience (3) what your research interests are. If you choose to weave these questions into one answer, you may do so.
For a complete list of SABR research awards, click here.
---
Calling all User Interaction and Big Data Geeks
Perhaps a camel is a horse designed by committee, but small groups can deliver outstanding apps in short order with the right combination of people. Imagine you could sit in front of the 120,000 index cards The Sporting News kept on every player who signed a professional baseball contract during the 20th century and use them to complete the information missing from the master database of major and minor league players.
Soon, SABR members will be able to do this — if we build them a great app. In conjunction with the LA84 Foundation, SABR is imaging the cards and digitizing the contents into full text records with integrated image mapping in XML files.
If this intrigues you and you think you may have expertise to bring to the table, please contact SABR Treasurer F.X. Flinn, who is coordinating the project.
---
We've heard your feedback: Some of you have said you look forward to "This Week in SABR" every Friday, but sometimes there are just too many compelling articles and announcements to read every week. We're not complaining — hey, keep up the great work! — but we know the feeling. So in an effort to make the length of this newsletter more manageable to read, we'll summarize some of the repeating/recurring announcements in a special "In Case You Missed It (ICYMI)" section of "This Week in SABR".
Here are some major headlines from recent weeks that we don't want you to miss:
All previous editions of This Week in SABR can be found here: http://sabr.org/content/this-week-in-sabr-archives.
---
We'd like to welcome all of our new SABR members who have joined this week. You can find all Members-Only resources at members.sabr.org and the Membership Handbook can be downloaded here.
Please give these new members a warm welcome and help them make the most of their membership by giving them the opportunity to get involved in their local chapter or a research committee.
You can find contact information for any SABR member in the online membership directory (SABR.org/directory).
| Name | Hometown | | | Name | Hometown |
| --- | --- | --- | --- | --- | --- |
| Michael Ackerman | Morris Plains, NJ | | | Jeanine Lussier | Rancho Cucamonga, CA |
| E. Philip Bush | Dallas, TX | | | Francis Martinez | Rockford, IL |
| Thomas Corcoran | Manasquan, NJ | | | Ryan Morris | Whitesboro, NY |
| Melvin Cruger | Denver, CO | | | Shane Piesik | Portsmouth, NH |
| Chris Deraitus | Seattle, WA | | | Russell Pollock | Colorado Springs, CO |
| Edward Fisher | East Rockaway, NY | | | Bill Schwartz | Mt. Pleasant, SC |
| Patrick Johnston | Vancouver, BC | | | Matthew Szewczyk | Warwick, RI |
| Anson Justi | Columbia, MD | | | | |
---
Here are the new SABR research committee updates this week:
Find all SABR research committee newsletters at SABR.org/research.
---
Here are the new regional chapter updates this week:
Best Practices handbook: Chapter leaders, download the new Chapter Leaders Best Practices Handbook, compiled by SABR staffer Marisa Elliot, on the Admin Tools page at admin.sabr.org. The handbook offers suggestions and guidelines for meetings, speakers, revitalizing a chapter, and getting publicity for SABR and chapter events.
Visit SABR.org/chapters for more information on SABR regional chapters.
---
Here is a list of upcoming SABR events:
All SABR meetings and events are open to the public. Feel free to bring a baseball-loving friend … and make many new ones! Check out the SABR Events Calendar at SABR.org/events.
---
Here are some recent articles published by and about SABR members:
Read these articles and more at SABR.org/latest.
---
This Week in SABR is compiled by Jacob Pomrenke. If you would like us to include an upcoming event, article or any other information in "This Week in SABR," e-mail jpomrenke@sabr.org.
Have trouble reading this e-mail? Click here to view this week's newsletter on the web.
Are you receiving our e-mails? "This Week in SABR" goes out by e-mail to all members on Friday afternoons. If they're not showing up, try adding "sabr.notes@sabr.org" to your contact list to ensure they show up in your inbox (and not the spam folder.)
---
Originally published: May 13, 2016. Last Updated: April 3, 2020.
https://sabr.org/wp-content/uploads/2020/03/research-collection4_350x300.jpg
300
350
admin
/wp-content/uploads/2020/02/sabr_logo.png
admin
2016-05-13 15:00:00
2020-04-03 14:38:46
This Week in SABR: May 13, 2016