This Week in SABR: November 22, 2019

Welcome to "This Week in SABR!" Click here to view this week's newsletter on the web. Here's what we've been up to as of November 22, 2019:
---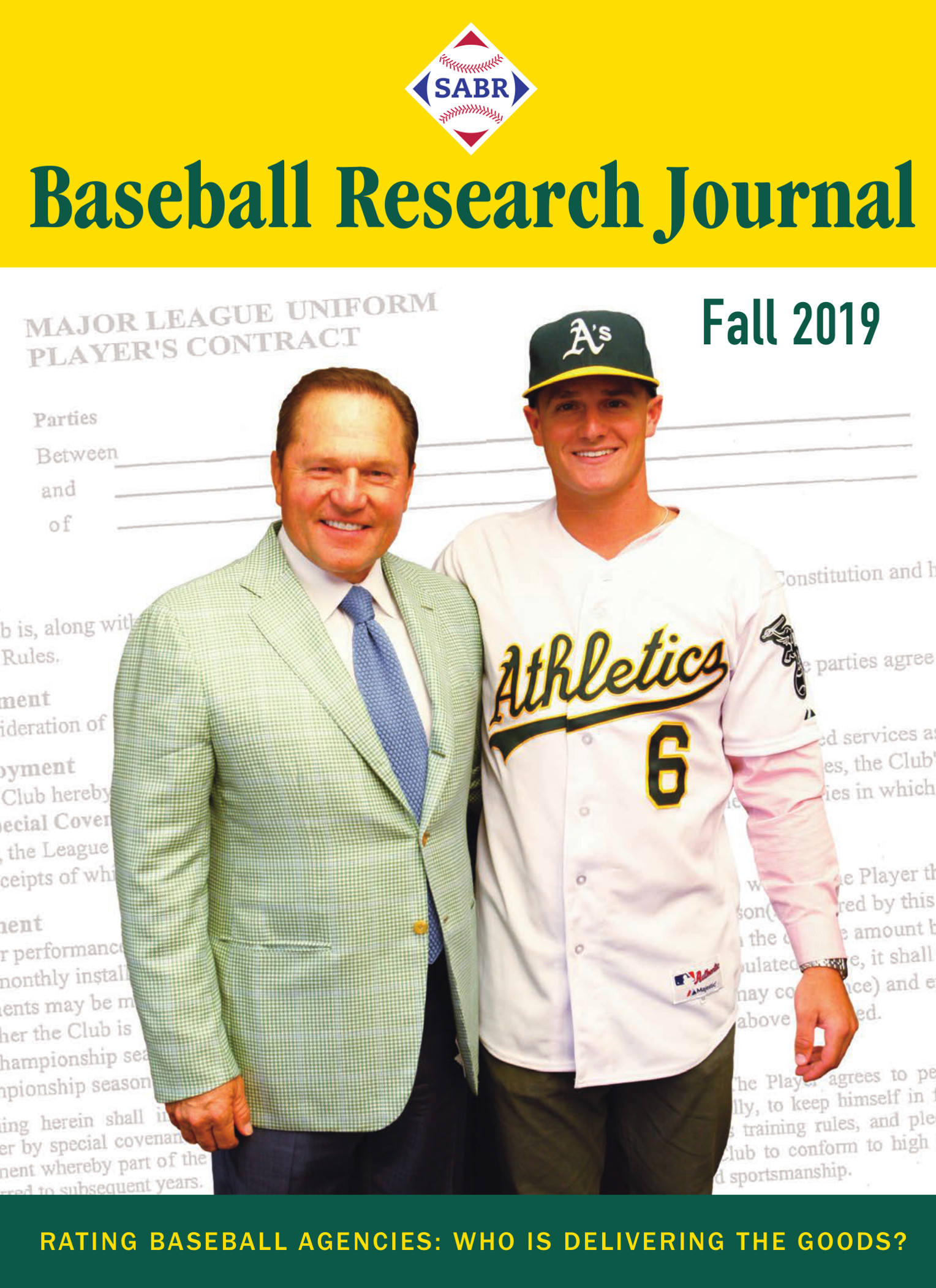 Good news! The Fall 2019 edition of the Baseball Research Journal has been mailed out to all SABR members.
Those of you who receive the print edition should find your BRJ arriving in the next two to four weeks. For digital subscribers, the e-book edition was delivered on November 18.
To read more articles from the BRJ archives, click here.
To learn more about contributing to a future SABR publication, click here.
We hope you enjoy reading the Fall 2019 Baseball Research Journal!
---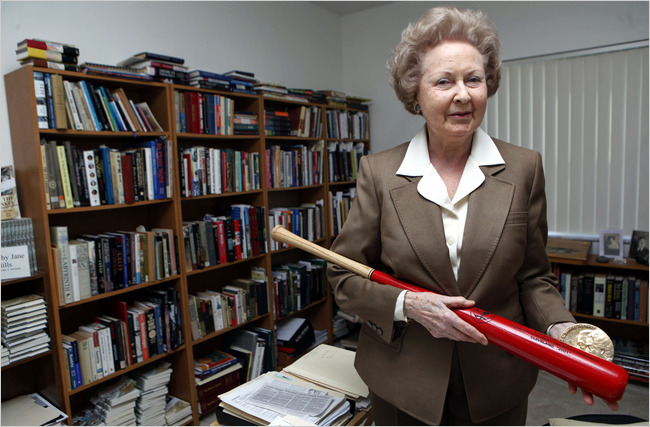 Dorothy Seymour Mills's interest in baseball was "purely academic," she liked to say, but her contributions to the sport as its first female historian were groundbreaking and influential.
She was recognized in the inaugural class of recipients for SABR's Henry Chadwick Award, honoring baseball's greatest researchers, and two other awards in her name, the Seymour Medal and a lifetime achievement award for women in baseball, were established by SABR. She died of complications from an ulcer at the age of 91 on Sunday, November 17 at St. Joseph's Hospital and Medical Center in Tucson, Arizona.
For most of Dorothy's life, her efforts to advance our collective understanding about baseball went unrecognized and underappreciated. It was not until the death of her first husband, Dr. Harold Seymour, in 1992 that Dorothy's work finally began to emerge from the shadows. For nearly a half-century, she partnered with Seymour in the research, writing, and editing of the classic three-volume series called Baseball, published by Oxford University Press.
"No one may call himself a student of baseball history without having read these indispensable works," wrote John Thorn, Major League Baseball's Official Historian.
Click here to read the full announcement at SABR.org.
---
SABR's 50th national convention will take place on July 15-19, 2020, in Baltimore. To coincide with the convention, the summer 2020 issue of The National Pastime will focus on baseball in the Charm City and around the state of Maryland. Research articles may be historical, biographical, or analytical (stats welcome), but please avoid personal narrative.
Publications director Cecilia Tan will be taking queries and abstracts until December 10, 2019, and will make assignments no later than January 1, 2020. First drafts of articles will be due no later than March 1 and rewrites (if needed) will be due by April 15.
To query, email ctan@sabr.org with the subject line "TNP Query:" and a key word or two about your subject.
Click here to read the full announcement at SABR.org.
---
Early registration is now open for the ninth annual SABR Analytics Conference on March 13-15, 2020, at the Renaissance Phoenix Downtown in Arizona, where we'll bring together the top minds in the baseball analytics community to discuss, debate and share insightful ways to analyze and examine the great game of baseball. Register today to join us!
The Analytics Conference schedule consists of a combination of Guest Speakers, Panels, and Research Presentations — plus the unique Diamond Dollars Case Competition, in which undergraduate, graduate and law school students from across the country analyze and present a real baseball operations decision.
Programming will begin on the afternoon of Friday, March 13 and will run through Sunday afternoon on March 15. A large block of rooms for SABR Analytics Conference attendees is available on Friday, Saturday, and Sunday nights. Click here for highlights of the high-quality content from the 2019 conference.
SABR has a long and storied history with baseball statistical analysis, evidenced by the link between our name and sabermetrics. SABR's long history in this area of baseball research, coupled with our mission of advancing the understanding and knowledge of baseball, makes us the perfect choice to coordinate and host this ground-breaking event.
For more information on the 2020 SABR Analytics Conference, or to register, visit SABR.org/analytics.
---
SABR and Baseball Info Solutions are excited to announce the call for presentations for the ninth annual SABR Analytics Conference.
Abstracts of proposed research presentations should be no more than 500 words in length, and must include the abstract's title, review of previous work on the subject, a summary of the research methodology and anticipated results, and the expected contribution to the field of baseball analytics offered by this work. Submissions are open to the general public, with student presenters considered in a separate track.
Please send all abstracts to this e-mail address: analytics@baseballinfosolutions.com. The submission deadline for 2020 SABR Analytics Conference presentation abstracts is 11:59 p.m. MST, Wednesday, November 27, 2019. Note: If your presentation abstract is selected as a semi-finalist, you will be required to register for the conference in order to be eligible for a presentation slot.
Click here for complete details and criteria at SABR.org.
---
SABR is looking for volunteers to serve on the Nominating Committee in 2020. This committee is entrusted with soliciting candidates for our annual elections to the Board of Directors. In addition to preparing the slate of candidates, the committee also prepares a list of questions for the candidates, the answers to which will be distributed to voters prior to the election.
The committee consists of three SABR members. If you wish to serve, please contact Mark Armour at markarmour04@gmail.com for details.
---
The 11th annual SABR Day will be held Saturday, January 25, 2020. We're starting to compile details now on 2020 SABR Day chapter meetings around the country. We'll post them as soon as we get them at SABR.org/sabrday.
Regional SABR meetings are open to all baseball fans and are usually free to attend, so bring a friend! Guest speakers often include current and former baseball players, managers, umpires, executives, scouts, writers and authors.
Chapter leaders, please be sure to send any details on your SABR meeting to Jacob Pomrenke at jpomrenke@sabr.org so we can update our SABR Day map.
Visit SABR.org/sabrday to learn more.
---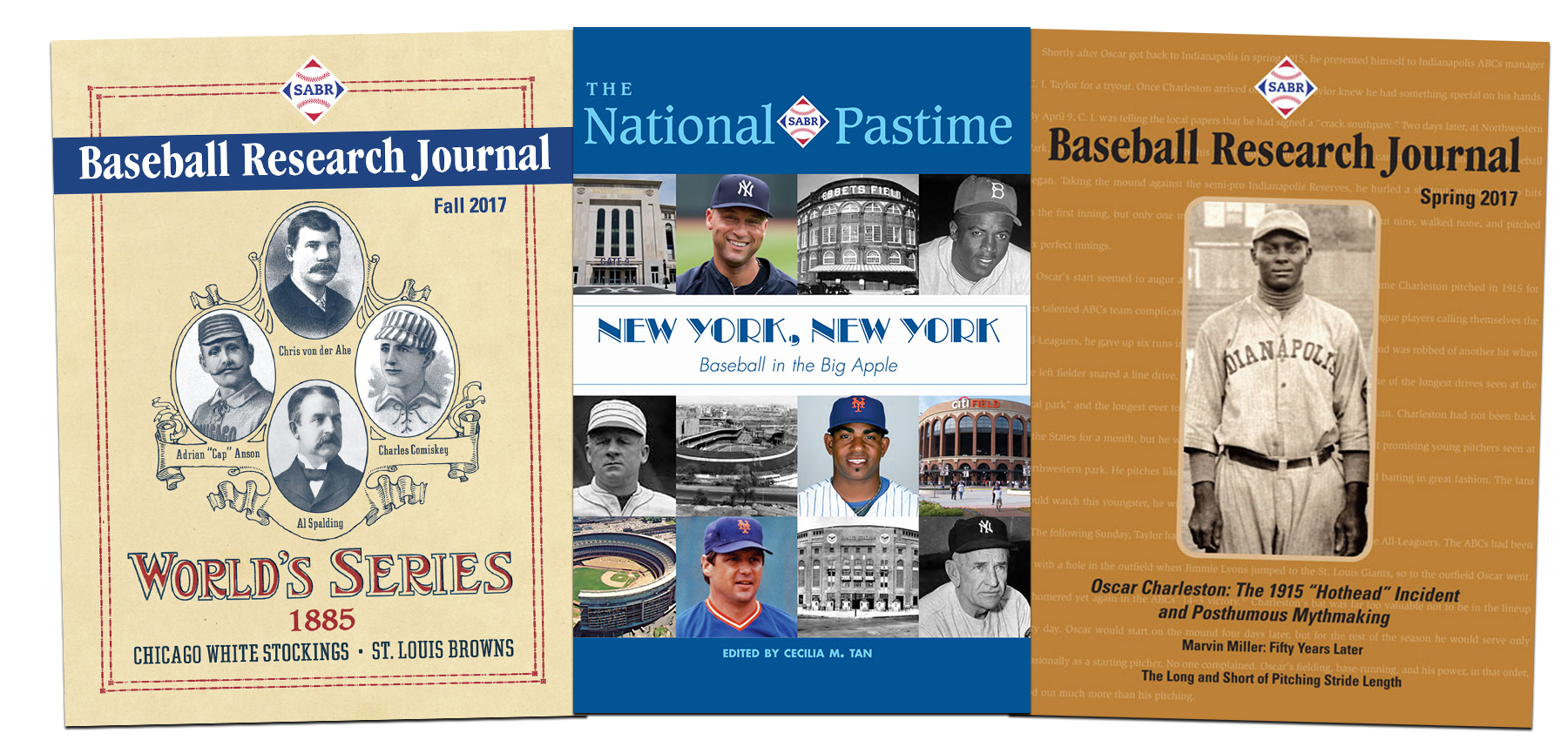 For those of you whose SABR memberships expire by December 31 — you can check your current membership status here — it's time for you to renew!
From the Baseball Research Journal and the SABR Digital Library to "This Week in SABR" and our extensive list of research resources — and, of course, all the memorable conferences, chapter meetings, and events — we hope you enjoyed the many benefits of SABR membership this past year.
We hope you please continue your support by renewing your SABR membership today.
Thank you for your support of SABR as we continue to strive to make SABR membership a great experience and a great value!
---
As we wrap up 2019, we want to thank you for your continuing support of SABR. Thanks to your dedication and generosity, SABR is stronger today than ever, with a vast array of capabilities.
We also want to invite you to join the Friends of SABR, a circle of members who are committed to using their financial support to improve our baseball community and our efforts to increase the understanding of the game we love. None of these accomplishments would have been possible without your generosity — which is why we hope you will continue and even increase your support today!
We have been busy in the last year at SABR HQ and will continue to pour our energy into notable projects in 2020. Members like you are helping us turn our shared vision into a reality.
You can join the Friends of SABR by making a gift of at least $100 at SABR.org/donate. We will use your best gift of $100, $250, $500, or $1,000 to bring more young people into the world of baseball; to publish groundbreaking books and articles; and to promote research, preservation, and scholarship. In addition, SABR HQ will also donate 10% of all member gifts back to the chapters each donor is affiliated with.
Baseball makes the world better! Thank you so much for believing that and for joining us in this endeavor.
— Scott Bush, SABR CEO
---

This holiday season, AmazonSmile is an easy way to give back to SABR through online purchases made on Amazon.com. AmazonSmile will donate a portion of the purchase price of your eligible Amazon purchases to SABR.
Click here to learn more about supporting SABR through AmazonSmile.
Millions of Amazon products are eligible for donations and are marked "Eligible for AmazonSmile" on their product detail page. Remember, you must visit the AmazonSmile site (smile.amazon.com) first in order for your purchases to be eligible for donations.
---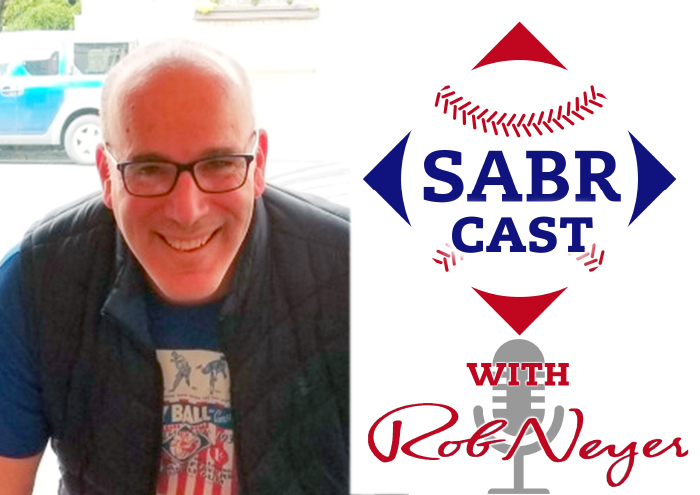 Listen to a new episode of SABRcast with Rob Neyer, a new weekly podcast hosted by award-winning author and longtime SABR member Rob Neyer — which is now available on your favorite podcast streaming services!
Visit SABR.org/sabrcast to listen to Episode #34 — our guest this week is Jason Schwartz, co-chair of the SABR Baseball Cards Research Committee and curator of its popular Twitter account, @SABRbbcards.
Subscribe to SABRcast on your favorite podcast networks, including Apple Podcasts, Spotify, Stitcher, or Google Play, and listen to each episode as soon as it's released on Mondays. Every week, SABRcast will feature insights and analysis of what's happening in modern baseball on and off the field, plus compelling interviews with figures from around the game — and music from The Baseball Project.
To learn more, visit SABR.org/sabrcast.
---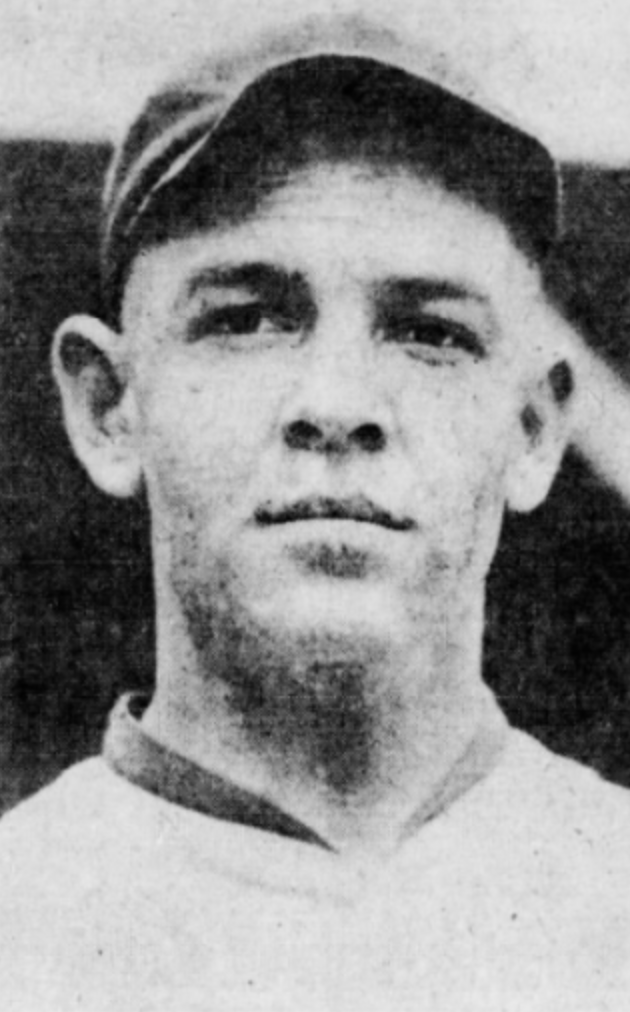 One new biography was posted this week as part of the SABR Baseball Biography Project, which brings us to a total of 5,027 published biographies. Here is the new bio published this week:
All new biographies can be found here: SABR.org/bioproj/recent
---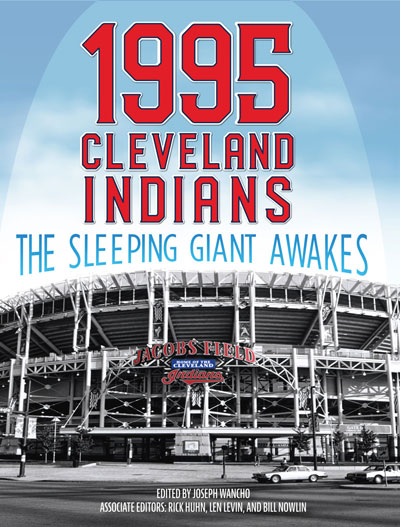 In 1995 Cleveland Indians: The Sleeping Giant Awakes, published by SABR in 2019 and edited by Joseph Wancho, we told the story of a beloved Cleveland team that shattered a four-decade postseason drought by winning the American League pennant.
They had an All-Star seemingly at every position, including Jim Thome, Eddie Murray, Manny Ramirez, Kenny Lofton, Orel Hershiser, and Sandy Alomar Jr. The biographies of all the players, coaches, and broadcasters will evoke that glorious era once again for Tribe fans. The volume is also sprinkled with personal perspectives, as well as game stores from key matchups during the 1995 season, information about Jacobs Field, and other writing of interest on the historic season.
You can now read every biography from 1995 Cleveland Indians online at the SABR BioProject.
Click here to download your free e-book or get 50% off the paperback edition at SABR.org.
Visit SABR.org/ebooks to find all titles from the SABR Digital Library.
---
Behind the Numbers: Baseball SABR Style on SiriusXM, a radio show hosted by former SABR Board President Vince Gennaro, is back for the Hot Stove offseason at a new time! Listen to a new episode at 4:00-5:00 p.m. ET on Saturdays on MLB Network Radio.
This week's guests are Zach Crizer of Baseball Prospectus and David Epstein, author of Range: Why Generalists Triumph in a Specialized World and The Sports Gene.
You can also listen to archives of recent episodes on-demand on the SiriusXM Internet Radio app. Click here to learn more.
Behind the Numbers: Baseball SABR Style on SiriusXM focuses on examining and interpreting the statistical analysis that plays a critical role in baseball today. It airs weekly throughout the year on MLB Network Radio, available to subscribers nationwide on XM channel 89, Sirius channel 209, and on the SiriusXM Internet Radio App.
---
Please note: Only ONE entry per nomination will be considered (do not submit multiple nominations for the same award). For more information on SABR Awards, click here.
---
We've heard your feedback: Some of you have said you look forward to "This Week in SABR" every Friday, but sometimes there are just too many compelling articles and announcements to read every week. We're not complaining — hey, keep up the great work! — but we know the feeling. So in an effort to make the length of this newsletter more manageable to read, we'll summarize some of the repeating/recurring announcements in a special "In Case You Missed It (ICYMI)" section of "This Week in SABR".
Here are some major headlines from recent weeks that we don't want you to miss:
All previous editions of This Week in SABR can be found here: https://sabr.org/content/this-week-in-sabr-archives.
---
We'd like to welcome all of our new SABR members who have joined this week. You can find all Members-Only resources at members.sabr.org and the Membership Handbook can be downloaded here.
Please give these new members a warm welcome and help them make the most of their membership by giving them the opportunity to get involved in their local chapter or a research committee.
You can find contact information for any SABR member in the online membership directory (SABR.org/directory).
| Name | Hometown | | | Name | Hometown |
| --- | --- | --- | --- | --- | --- |
| Arturo Aguero | Houston, TX | | | Matthew King | San Jose, CA |
| Richard Blick | San Diego, CA | | | Bobby Knowles | Fulshear, TX |
| T. Christopher Bond | Eastampton, NJ | | | Robert Kravetz | Pittsford, NY |
| Howie Burgess | Wallington, NJ | | | Dan Lee | Pickerington, OH |
| Jim Chakulski | Columbia, CT | | | John Metzler | Ottawa, ON |
| Dave Cotterman | New Lexington, OH | | | Amane Murai | Ishikawa-ken, JPN |
| Steve Dugan | Mobile, AL | | | Matt Nussbaum | Dalton, OH |
| Anthony Fox | Madison, TN | | | Dakota Olson | Minneapolis, MN |
| Lori Gabay | Los Angeles, CA | | | Alexander Rude | Buffalo Grove, IL |
| Anthony Giove | Troy, MI | | | James Schapiro | New York, NY |
| W. James Hadden | Austin, TX | | | Mark Zeigler | Kearneysville, WV |
| Brendan Huerta | Chicago, IL | | | | |
---
Here are the new research committee updates this week:
Find all SABR research committee newsletters at SABR.org/research.
---
Here are the new regional chapter updates this week:
Visit SABR.org/chapters for more information on SABR regional chapters.
---
Here is a list of upcoming events on the SABR calendar:
All SABR meetings and events are open to the public. Feel free to bring a baseball-loving friend … and make many new ones! Check out the SABR Events Calendar at SABR.org/events.
---
Here are some recent articles published by and about SABR members:
Read these articles and more at SABR.org/latest.
---
This Week in SABR is compiled by Jacob Pomrenke. If you would like us to include an upcoming event, article or any other information in "This Week in SABR," e-mail jpomrenke@sabr.org.
Have trouble reading this e-mail? Click here to view this week's newsletter on the web.
Are you receiving our e-mails? "This Week in SABR" goes out by e-mail to all members on Friday afternoons. If they're not showing up, try adding "sabr.notes@sabr.org" to your contact list to ensure they show up in your inbox (and not the spam folder.)
---
Originally published: November 22, 2019. Last Updated: April 3, 2020.
https://sabr.org/wp-content/uploads/2020/03/research-collection4_350x300.jpg
300
350
admin
/wp-content/uploads/2020/02/sabr_logo.png
admin
2019-11-22 15:01:12
2020-04-03 14:38:15
This Week in SABR: November 22, 2019