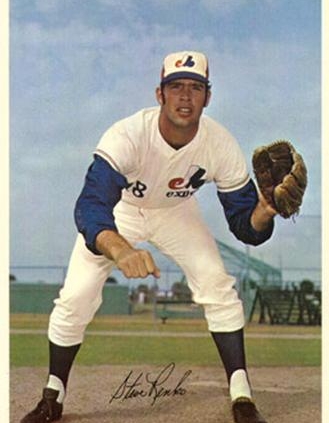 ---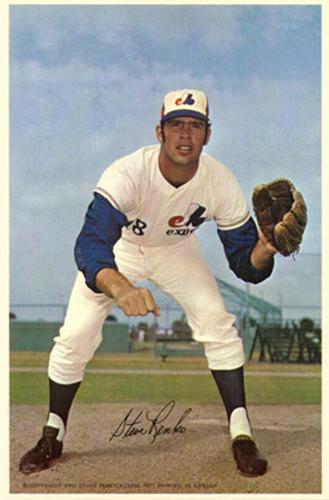 Professional football or professional baseball?
That was the choice for pitcher Steve Renko. At 6-foot-5 and 230 pounds, Renko also starred as a basketball player at the University of Kansas. He was the school's last three-sport letterman. The big right-hander ultimately chose baseball. Renko had an up-and-down career in the major leagues from 1969 to 1983 with the Montreal Expos, Chicago Cubs, Chicago White Sox, Oakland A's, Boston Red Sox, California Angels and Kansas City Royals.
Steven Renko Jr. was born on December 10, 1944 in Kansas City, Kansas. His parents, Steven Sr. and Nettie (née Etzler), had four other children: John, Richard, Janet, and Patti. Steve Sr. also played football for the Jayhawks. He lettered in 1939 and then was involved in a serious car accident in 1940 from which he nearly lost his left arm. He made a remarkable comeback years later and was a member of Kansas'1948 Orange Bowl team. The elder Steve went on to a career in banking while Nettie worked for the Kansas City Police Department before entering the insurance business. Steve Jr. was a three-sport star at Kansas City's Wyandotte High School and led his school's baseball team to the state title in his senior year of 1962.
Renko attended Kansas from 1963 to 1965, majoring in industrial management. By his sophomore year, he was a starter at all three sports and married his high school sweetheart, the former Sandra Lorton. On the baseball diamond, Renko split his time between pitching and the outfield. On the gridiron, he played quarterback in the same backfield as Gale Sayers and was selected in the 15th round of the 1966 AFL draft.
"I was drafted by the Oakland Raiders in 1966 and went out and worked for Mr. (Al) Davis," Renko later recalled. "(Davis) offered me a three-year contract, guaranteed, but not for what I wanted. He said he would make up the difference if I made the traveling squad. So, football was there as an opportunity. But all you have to do is to watch on Sunday afternoons to see that those guys get hurt. Baseball was it, because I was drafted in 1965 (24th round of the inaugural amateur draft) for the major leagues and in 1966 for the NFL, so I had already played a year in the minor leagues."1
Renko signed with the Mets in 1965 as a pitcher-first baseman while playing in the Basin League, an independent collegiate circuit in South Dakota. However, he did not pitch professionally until 1967.2 Steve began his minor league maturation playing solely as a position player for the Marion (VA) Mets in the rookie league and in the Florida Instructional League in the fall. Renko hit .290 with seven homers and 32 RBIs at Marion and .192 with three homers and 22 RBIs in the Florida Instructional League.
In 1966, Steve was assigned to Auburn (NY), the Mets' Single-A club in the New York-Penn League, where he hit 10 homers, had 42 RBIs and batted .232. In July, he was promoted to the Double-A Williamsport (PA) Mets of the Eastern League.3 At Williamsport, Renko hit .169 with seven homers and 18 RBIs. He turned to pitching the following year at Single-A Winter Haven in the Florida State League. Renko tossed three straight shutouts in amassing an 8-1 record, 1.61 ERA and 0.988 WHIP.4 When Renko returned to the Florida State League in the fall, he impressed new Mets manager Gil Hodges before suffering a shoulder separation and was promoted to the 40-man major-league roster for the first time.5 6 7
After participating in 1968 spring training with the Mets, Steve was sent to the Double-A Memphis Blues in the Texas League. He hurled a 1-0 no-hitter on July 21 against the Albuquerque Dukes, striking out 13 and walking two.8 He was promoted to the Triple-A Jacksonville Mets in August.9
Renko started the 1969 season with the Triple-A Tidewater Tides of the International League before getting the big break that hastened his promotion to the major leagues. Just hours prior to the June 15 trading deadline, the improving hurler was swapped to the expansion Expos with infielder Kevin Collins, fellow minor league hurlers Jay Carden and Dave Colon and a player to be named later for Donn Clendenon.10 Suddenly, Renko went from a team with a talented young pitching staff destined to win the 1969 World Series to one which had the worst ERA (4.36) in the National League. He was recalled by the Expos at the end of June and immediately inserted into the starting rotation. In his first major league start, at Montreal against the Phillies, he was knocked out of the game in the third inning after surrendering four hits and five runs. He was charged with the loss in a game that the Expos lost 8-7. His second start came at Montreal's Jarry Park on July 1 against the Chicago Cubs. Renko picked up his first major league win defeating Ken Holtzman and the Cubs 11-4.11 12 He pitched his first complete game victory, 8-3, over the Cincinnati Reds August 12 in the opener of a Jarry Park doubleheader. The imposing right-hander impressed the Expos with his eagerness to improve.
"Did you notice the difference between the Renko of today and the Renko of a month ago?" Expos trainer Joe Liscio queried. "He's a sturdier ballplayer, does everything you asked. He's a great kid, and I say these things only because he deserves a big pat on the back. He works with the weights, the punching bag, the Exer-Genie, and he runs and listens. Most importantly, he listens to (manager) Gene (Mauch) and (pitching coach) Cal McLish. He's learning. One day soon, I think Steve Renko's going to be a big winner in this league."13
Renko finished his rookie season with a 6-7 record, including four straight wins in September. He totaled a 4.01 ERA in 103 1/3 innings for a team that ended up last in the NL East with a 52-110 record. Renko opened the 1970 season in a three-man starting rotation with Joe Sparma and Bill Stoneman, but after seven weeks, a 1-3 record and 6.09 ERA, Renko was dispatched to the bullpen.14 Upon returning to the rotation on June 26, the pitcher responded with three straight triumphs.
"At first, I thought Gene Mauch might have given up on me as a starter, and I was down," Renko admitted. "But I got to like relieving, and I surprised myself to find that I could pitch three or four days in a row. It gave me an opportunity to work on my delivery and improve my control."15
In helping Mauch exceed his pre-season catch phrase, "shooting for 70 in 70" (Montreal finished 73-89 and a half-game behind fifth-place Philadelphia), Steve was runner-up on the Expos to NL Rookie of the Year Carl Morton in most pitching areas including games started (33), complete games (seven), wins (13) and innings pitched (222 2/3). The hurler, who finished 13-11 with a 4.32 ERA, said poor control plagued him early in the season, and he began winning when he regrooved his delivery. After a 1-4 start, Renko was 8-4 in August and September and reduced his ERA by 1.23 to reach his final mark. He also surrendered 27 home runs, tying him for the team lead with Morton, who had pitched 62 more innings. 16 17
"He's a control pitcher," McLish said of Renko. "He has two different fastballs, and the ball is lively. His slider is his best pitch. He throws the slider as hard as he throws the fastball. Control of these pitches is his secret." 18
According to The Sporting News columnist Ian McDonald, Steve had to get off to a fast start in 1971 if the Expos were to make Mauch's latest catch phrase, "we'll make a run at 81," a reality. McDonald noted that in 1969 Renko did not pitch well until he was traded to Montreal in July and, in 1970, he did not approach winning form until June.19 Encouragingly, Renko came through by winning his first three 1971decisions with a 2.03 ERA.20 He finished 15-14 with a 3.75 ERA in 275 2/3 innings. The Expos fell short of .500, finishing 71-90, in fifth place ahead of only Philadelphia. Renko, whose season was highlighted by one-hit shutouts over the San Francisco Giants and Phillies, again ranked second on the team in wins, ERA and innings pitched. Stoneman set the pace in those categories for Montreal, which ranked last in the league in team ERA (4.12) for the third consecutive year.21
Following the baseball strike at the start of the 1972 season, Steve almost found himself in a Giant uniform. San Francisco offered outfielder Garry Maddox for Renko, but when they routed the hurler in their first two series, the Giants cancelled the deal.22 Later in the year, San Francisco was willing to part with third baseman Al Gallagher for Renko. Again, this trade never materialized.23 Plagued by control problems, Renko struggled with a 1-3 record and a rotation-worst 6.48 ERA through May 18. He lost his starting spot to Mike Torrez.24 25 Renko ended up walking 67 batters in 97 innings and going 1-10 with a 5.20 ERA. The Expos finished fifth again with a 70-86 record. He also did not pitch a complete game in what was the worst year of his career.
"It's just something you have to forget about," Renko said of his disappointing season. "I think I'd approach things the same way if I had to start last season all over again. There's a lot of luck involved in this game. I always start a season hoping to do better than the last. Of course, in this case, I'll start in the spring hoping to do better than I did in '71. All I have to do to be better than last season is — show up."26
Due to his off year, Renko's 1973 salary was reduced 17 percent.27 He bounced back from his worst year to have the best season of his career in 1973, helping Montreal challenge for the NL East title into the final week of the season. The Expos settled for fourth place with a 79-83 record, 3 1/2 games behind the pace-setting Mets. Renko led the team with 15 victories, nine complete games, 164 strikeouts and 249 2/3 innings in amassing a 15-11 record, a 2.81 ERA (seventh in the NL), and 108 walks. He also hit .273 in 88 at bats.
"I'm getting my fastballs, curveballs and sliders across the plate," Renko explained in the 1974 Expos media guide. "That's the only thing I'm doing differently from last year. Last year, I couldn't get the ball over. This year, I'm pitching strikes."
After the season, Steve announced he wanted out of Montreal because he could not come to terms over pay. "For the third consecutive year, the Expos management has offered me a salary that I believe is inappropriate with my contribution to the team," explained Renko through his representative, RDS Sports of Montreal. "I do not feel it is in my best interest nor the team's to become embroiled in prolonged negotiations again. I believe that my salary demands are reasonable and are consistent with salaries being paid by other major league clubs.
"I'm not backing down this time," he emphasized. "There is no negotiating to be done. It's either pay me what I asked for, trade me to someone who will, or I'll play out my option."28
Renko, the Expos' player representative, seemed more than willing to submit to salary arbitration, which became available for the first time following the 1973 season for players unable to come to terms with their teams. According to TSN correspondent Ian McDonald, the pitcher probably earned about $30,000 in 1973 and wanted to double that figure for 1974.29
After finally signing for about $54,000, Steve unfortunately started 1974 in a similar fashion to the way he began 1972. He beat the Mets on April 16 in the Jarry Park opener, but then due to control issues, he lost his next three outings. Through May 2, Renko was 1-3 with a 6.65 ERA. He walked 15 in 23 innings. "I can't explain it," he said. "The breaking stuff was high, and the fastballs were low. But I'm not worried, because I feel good." 30 31 32
On June 25, the big pitcher hurled the third one-hit shutout of his career, downing the Phillies 5-0. Dave Cash ruined the no-hitter by singling with one out in the sixth. "He got a breaking ball in on me, and I hit it off my fists just over the infield," Cash recalled afterwards. Dick Dietz (Giants) and Willie Montanez (Phillies) ruined previous Renko no-hit bids in 1971. 33
Steve posted a 12-16 record and with a 4.03 ERA in 227 2/3 innings in 1974. The 79-82 Expos finished in fourth place. Renko placed third on the team in wins behind Steve Rogers and Torrez (15 wins each) and second in innings pitched and complete games (eight) behind Rogers. Renko also led the league with 19 wild pitches.
Shoulder soreness and stiffness dampened 1975 for the hurler. He missed a start and performed at less than 100 percent for many weeks. He compiled a 6-12 mark and 4.07 ERA in 170 1/3 innings, but had a productive season at the plate, hitting .278 in 54 at bats. Montreal finished fifth with a 75-87 record.34 35
A season highlight came on June 29th when Renko hit two singles and a double and drove in two runs while beating the St. Louis Cardinals, 7-3, in his first complete game of the year.36
When the Expos decided to fire Mauch at the beginning of October, Steve's reaction did not endear himself to management. "It was the worst thing they could do," the outspoken player emphasized. "Gene is a super man and a super manager. I think they fired him to cover up for themselves. What did they expect us to do this year with all the young guys? We won 75 games with them and the most we ever won with experienced players was 79."37
Renko, expecting to be traded after his outburst, was surprised to start the 1976 season with Montreal.38 However, on May 17, the inevitable transaction transpired when the 31-year-old hurler departed to the Cubs with Larry Biittner for Andre Thornton. At the time of the trade, Steve was unhappy that new Expos manager Karl Kuehl was not using him in the starting rotation. He pitched just 13 innings and had a 5.54 ERA. As the last remaining 1969 Expo, Renko left Montreal as the team's winningest pitcher with a 68-82 record.39 40 41
The swap marked the beginning of the journeyman phase of the pitcher's career. He played for six teams in his last seven years. Steve started 27 games for the Cubs in 1976 and finished with an 8-11 record and 3.86 ERA in 163 1/3 innings. The club amassed a 75-87 record and wound up fourth in the NL East, 20 games ahead of the last-place Expos.
The hurler started the 1977 season as a secondary starter and middle reliever for the Cubs. He went on the 21-day disabled list April 28 after being hospitalized for the removal of a thyroid gland nodule.42 He returned to action June 21 with three innings of scoreless relief in the Cubs' 8-2 win over the Giants.43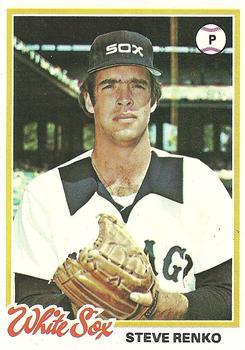 With a 2-2 record and 4.56 ERA in 51 1/3 innings, Renko was traded across town to the White Sox on August 18 for minor league pitcher Larry Anderson and cash.44
"I don't have to move, and I'm picking up 5 1/2 games in the standings," Steve rationalized. "But I don't see how the Cubs helped themselves by trading me. In fact, I think they hurt themselves. I could have helped them if they'd have let me."45
The pitcher found the American League to his liking. He posted a 5-0 mark with a 3.54 ERA in 53 1/3 innings. In finishing 90-72, the White Sox were Renko's first major league team to finish with a winning record. Unfortunately, Steve's stay with the White Sox was a brief one. Just prior to the opening of the 1978 season, he was swapped with catcher Jim Essian to the Oakland A's for pitcher Pablo Torrealba. The righthander ended the season with a 6-12 record and a 4.29 ERA in 151 innings. The 69-93 Athletics finished a dismal sixth in the AL West. Following the season, Renko became a free agent.46
For 1979, Renko signed a one-year contract for about $120,000 per Baseball Reference.com to pitch with the Red Sox. "He's just another starter," Boston manager Don Zimmer said of his new acquisition, "like the kids. But I know this. He's the type of pitcher who always gives you five, six or seven innings and keeps you in the game."47
Steve initially exceeded expectations. With a regular spot in the starting rotation, he posted an 8-3 record and 2.97 ERA in 118 1/3 innings through July 15. In beating Oakland 2-0 on July 13, he had a no-hitter for 8 1/3 innings before rookie Rickey Henderson blooped a single past first base.48 The big right-hander tailed off in the second half of the season. He finished 11-9 with a 4.11 ERA in 171 innings for Boston. The 91-69 Red Sox finished third in the AL East.
In 1980, for the third straight year, Renko pitched better ball in the first half of the season. He went 5-2 with a 3.51 ERA in 82 innings through July 10, but ended up 9-9 with a 4.19 ERA in 165 1/3 innings.49 The Red Sox finished fifth with an 83-77 mark.
On January 23, 1981, the 36-year-old pitcher was dealt with Fred Lynn to the Angels for Joe Rudi, Frank Tanana and minor leaguer Jim Dorsey. Renko, starting and relieving in a strike-shortened season divided in two halves, finished 8-4 overall with a 3.44 ERA in 102 innings. California placed fourth in the AL West in the first half with a 31-29 record and sixth in the second half with a 20-30 mark.
Renko got off to his usual fast start the following season. On June 6, John Strege in The Sporting News named Renko the Angels' best pitcher. Through nine appearances, four of which were starts, the righthander tossed two complete games, boasted a 5-1 record and 1.70 ERA. He allowed 37 hits in 47 2/3 innings.50
"I've had pretty good control," explained the hurler, who started 1982 in middle and long relief. "Bob Boone (catcher) may have been a big help. But I feel the same way as before. I'm getting up in age and probably have just two or three years left. I'll help the club any way I can."51
Renko, 7-1 and sixth in the AL with a 2.66 ERA in 84 2/3 innings through June 24, again slumped in the second half to finish 11-6 with a 4.44 ERA in 156 innings.52
He asked for $380,000 in 1983. The Angels countered with an offer of $225,000 and promptly released him so he could become a free agent.53 The venerable hurler then signed with the Royals for $350,000 in what turned out to be his final major league season. Renko did not see action after August 28 because of a pulled leg muscle. He was released at the beginning of October after fashioning a 6-11 record and 4.30 ERA in 121 1/3 innings for a 79-83 team.54 Renko finished his 15-year big-league career with a record of 134-146 and a 3.99 ERA.
In the winter of 1989, the ex-pitcher joined Bill Lee and former Expos teammates Ron Hunt, Dan McGinn and Rogers in Quebec as part of the Montreal team's annual goodwill preseason caravan.55
Six years later, Renko began a 12-year career as a minor league pitching coach. Among the future major leaguers he worked with included Hideo Nomo and Cal Eldred (1999 at the Milwaukee Brewers' Huntsville, AL Double-A affiliate); Joe Nathan (2000 at the San Francisco Giants' Bakersfield, CA Single-A affiliate); Tyler Clippard (2003 and 2004 at the New York Yankees' Battle Creek, MI Single-A affiliate); Phil Coke and Phil Hughes (2005 at the Yankees' Charleston, SC Single-A team) and Billy Buckner (2006 at the Royals' High Desert Advanced-A affiliate in Adelanto, CA).
Retiring after the 2006 season, Renko enjoys playing golf, taking vacations and spending time with his grandchildren. Steve and wife Sandra have two sons, Steve III and Todd, and four grandchildren. Steve III followed his grandfather and father to the University of Kansas, and both sons played in the minor leagues.56
Last revised: March 7, 2021 (ghw)
Acknowledgments
This biography was reviewed by Eric Vickrey and Bruce Harris and fact-checked by Paul Proia.
Sources
In addition to the sources cited in the notes, the author relied on information from Baseball-reference.com, Baseball Almanac, 1971 Montreal Expos yearbook, Kuathletics.com, and 1971 and 1974 Montreal Expos media guides.
Notes
1 "Throwback Thursday: Steve Renko Jr.," KUAthletics.com, published May 24, 2012, https://kuathletics.com/052412aaa-189/, accessed February 6, 2021.
2 Don Lindner, "Brooklyn Cowboy Corrals Base-Hits," The Sporting News, July 24, 1965: 47. Renko appeared as a pitcher in one game with Williamsport of the Class AA Eastern League in 1966, pitching two scoreless innings. He didn't pitch regularly until 1967.
3 "Deals of the Week," The Sporting News, July 23, 1966: 33.
4 "Class A Highlights," The Sporting News, July 8, 1967: 43.
5 Jack Lang, "A Jolt for Mets' Playboys: Gil will be Whip-Cracker," The Sporting News, October 28, 1967: 26.
6 Jack Ellison, "Staff ERAs Dive — Mets Gain Altitude," The Sporting News, November 4, 1967: 47.
7 "Mets Juggle 40-Man List Right Up to the Deadline," The Sporting News, November 4, 1967: 42.
8 Vince Thillen, "Renko Unfurls Memphis No-Hitter," The Sporting News, August 3, 1968: 35.
9 Elias Sports Bureau, "International League, Monday, August 5," The Sporting News, August 17, 1968: 32.
10 Ted Blackman, "Super Swappers — Expos Are Collecting Blue Chippers," The Sporting News, June 28, 1969: 20.
11 "Deals of the Week," The Sporting News, July 12, 1969: 49.
12 "National League, Games of Tuesday, July 1," The Sporting News, July 19, 1969: 27.
13 Ted Blackman, "Renko a Star Pupil In Mauch's School of Hill Knowledge," The Sporting News, August 30, 1969: 12.
14 Ted Blackman, "Expos Gain Altitude Along With Mercury," The Sporting News, June 6, 1970: 12.
15 Ted Blackman, "Bullpen stint Sends Renko on Win Kick; Expos Excite Fans," The Sporting News, July 18, 1970: 34.
16 Ted Blackman, "Expos Expect Big Things of Renko," The Sporting News, November 21, 1970: 51.
17 Ted Blackman, "Clutch Hits, Fewer Errors Lifted Expos," The Sporting News, November 28, 1970: 50.
18 Ian MacDonald, "Control Secret of Renko's Fast Start," The Sporting News, May 15, 1971: 3.
19 Ian MacDonald, "So-So Expos Need Early 'Go' by Renko," The Sporting News, February 27, 1971: 25.
20 Larry Wigge, "Pitching Averages, Including Games of April 29," The Sporting News, May 15, 1971: 26.
21 The Giants tied the Expos for highest team ERA (4.50) in 1970.
22 Ian MacDonald, "Expos Refuse to Part With Cream of Talent," The Sporting News, December 23, 1972: 47.
23 "Major flashes," The Sporting News, May 20, 1972: 31.
24 Ian MacDonald, "Jorgensen Adds Wallop to Weak-Hitting Expos," The Sporting News," May 27, 1972: 11.
25 Larry Wigge, "Pitching Averages, Including Games of May 18," The Sporting News, June 3, 1972: 32.
26 Ian MacDonald, "Renko Writes Off 1972 Horror, Pens Bright 1973 Plans," The Sporting News, February 3, 1973: 45.
27 A 20-percent salary reduction was the maximum allowed by baseball rules
28 Ian McDonald, "Renko Throws Heat at Expo Bosses," The Sporting News, November 10, 1973: 29.
29 Ian McDonald, "Renko Throws Heat at Expo Bosses."
30 Bob Dunn, "Expos Get 'Autographs' From Singleton, Renko," The Sporting News, February 23, 1974: 37.
31 Bob Dunn, "Renko Puzzled by His Failures in Early Outings," The Sporting News, May 18, 1974: 29.
32 Larry Wigge, "Pitching Averages, Including Games of May 2," The Sporting News, May 18, 1974: 33.
33 Bob Dunn, "Renko Fails for Third Time in No-Hitter Bid," The Sporting News, July 13, 1974: 17.
34 Bob Dunn, "Carter Proving King-Sized Pill to Expo Rivals," The Sporting News, July 12, 1975: 18.
35 Bob Dunn, "Hot Expo Bats Fail to Offset Awful Pitching," The Sporting News, August 30, 1975:13.
36 Bob Dunn, "Warthen Earning Keep as Expos Lefty Relief Ace," The Sporting News, July 19, 1975: 33.
37 Bob Dunn, "Expo Players Regret Firing of Manager Mauch," The Sporting News, October 25, 1975: 19.
38 Bob Dunn, "Renko, Quick to Criticize Expos, Also Quick to Sign," The Sporting News, February 21, 1976: 42.
39 Bob Dunn, "Tim and Pete Flick Switch As Expos' New Power Pair," The Sporting News, May 29, 1976: 18.
40 Bob Dunn, "Renko Wanted Off Relief, So Expos Make Him a Cub," The Sporting News, June 5, 1976: 41.
41 Larry Wigge, "Pitching Averages, Including Games of May 20," The Sporting News, June 5, 1976: 22.
42 Jerome Holtzman, "Krukow an Early Cub Failure," The Sporting News, May 14, 1977: 18.
43 "N.L. Flashes," The Sporting News, July 9, 1977: 30.
44 Jerome Holtzman, "Slipping Chisox Call on Renko For Aid," The Sporting News, September 3, 1977: 5.
45 Richard Dozer, "Cubs Hitch Their Dimming Star to Rookie Lamp," The Sporting News, September 3, 1977: 10.
46 Carl Clark, "Pitching Averages, Including Games of July 19," The Sporting News, August 5, 1978: 24.
47 Larry Whiteside, "Renko Fills Boston Need for Extra Starter," The Sporting News, February 3, 1979: 33.
48 Larry Whiteside, "Bosox Bust Buttons Over Bargain Beaut Renko," The Sporting News, August 4, 1979: 20.
49 Carl Clark, "A.L. Pitching, Including Games of July 17," The Sporting News, August 2, 1980: 24.
50 Carl Clark, "A.L. Pitching, Including Games of May 27," The Sporting News, June 6, 1982: 18.
51 John Strege, "Renko, 37, Reborn as Angel," The Sporting News, June 6, 1982: 22.
52 Carl Clark, "A.L. Pitching, Including Games of June 24," The Sporting News, July 5, 1982: 20.
53 John Strege, "Bavasi Calls Goltz' Pay Bid 'Unethical,'" The Sporting News, February 14, 1983: 52.
54 Mike McKenzie, "Gaylord Bids Adieu With 'Dry' Humor," The Sporting News, October 3, 1983: 21.
55 "Notebook, N.L. East, Expos," The Sporting News, January 23, 1989: 36.
56 Steve Renko interview with Bob Trostler, February 20, 2021.
Born
December 10, 1944 at Kansas City, KS (USA)
If you can help us improve this player's biography, contact us.
https://sabr.org/wp-content/uploads/2021/03/RenkoSteve.jpg
500
329
admin
/wp-content/uploads/2020/02/sabr_logo.png
admin
2021-03-02 02:32:19
2021-03-07 06:55:08
Steve Renko