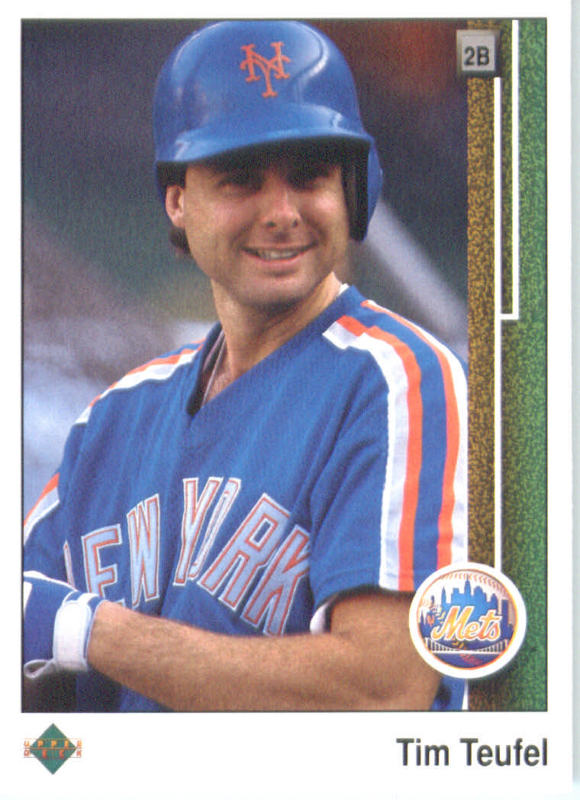 ---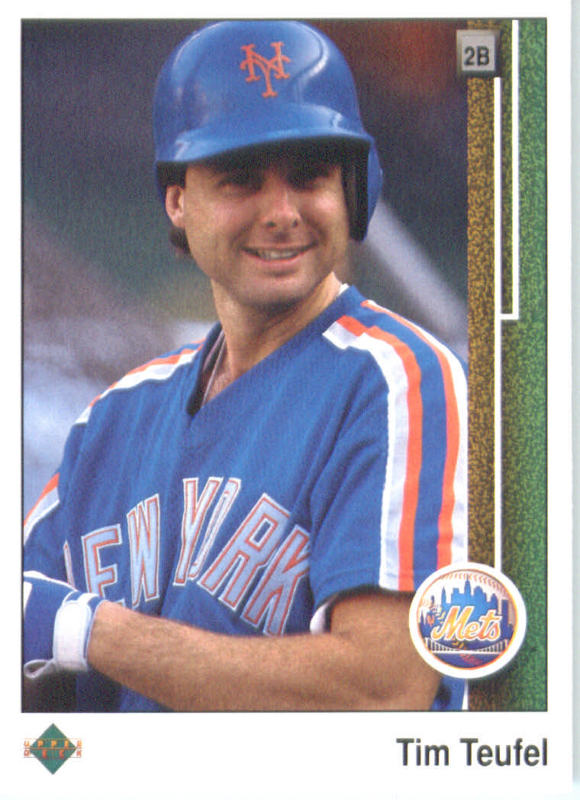 Tim Teufel, who played mostly at second base but filled in at all three other infield positions, had good line-drive power, with 86 home runs in the majors. After breaking in with the Minnesota Twins in September 1983, he went on to play 10 full seasons. He spent a little over half that time with the New York Mets, platooning with Wally Backman on the 1986 world champions. Mets fans remember him as a mild-mannered member of that hard-partying crew. Yet Tim had a scrappy side too, as he showed when he got the better of hulking reliever Rob Dibble after the flamethrower drilled him with a pitch in 1989. The lasting visual image of Teufel as a player is the "Teufel Shuffle" hip movement as he settled into the batter's box.
Timothy Shawn Teufel was born on July 7, 1958, in Greenwich, Connecticut. Fairfield County is known for affluence, but the Teufel family was working class. Tim's father, William Teufel Jr., was a carpenter. His mother, Marjorie McKenzie Teufel, had two other boys before Tim.1
In his youth Tim was a Yankees fan. He played Little League and then Babe Ruth ball, with the Knights of Columbus team in Greenwich. It helped that his father, who had played baseball in the Army, was a local youth coach. So was his uncle Robert, for whom a field in Greenwich is named.2 Teufel attended the Catholic Middle School and St. Mary's High School. At that time, he was a third baseman.3 In 1990 his middle-school coach in baseball and basketball, Peter Borchetta, remembered the youngster as intelligent and hard-working: "He used to like to come to practice early and leave late and have me throw to him for hours on end. I always felt he had the potential because he had the stick-to-itiveness."4
Teufel's coach at St. Mary's, Bill Bergeron, said he was a fine high-school ballplayer, but that he developed into a pro player in college. "He was a later bloomer," Bergeron said.5 Tim himself pointed to the short schedule in Connecticut – "we only played 15-16 games a season" – as another factor. He went south to St. Petersburg Junior College to attract more attention from scouts.6 However, he was a walk-on with the baseball team in 1977, and "He garnered playing time only after injuries shelved the two third basemen in front of him."7
The Milwaukee Brewers drafted Teufel in the 16th round of the 1978 amateur draft, but he did not sign. Instead, he transferred to Clemson University in South Carolina; a friend named Steve Gordon recalled, "He was discovered by the Clemson coach at a summer league game at Cubeta Stadium" in nearby Stamford. Teufel was playing for the Greenwich Collegiate baseball team.8
In the 1979 draft, the Chicago White Sox wanted Teufel – by then a second baseman – in the third round of the draft's secondary phase (since he had gone unsigned the previous year). Again, however, he chose to stay in school. That summer, he played in the Cape Cod League for the Cotuit Kettleers. He set league records (all since broken) with 16 home runs, 52 runs batted in, and 48 runs scored. His stock continued to rise. Teufel was Clemson's MVP in 1980; in 46 games he hit 11 homers (tied for the lead in the Atlantic Coast Conference) and had 66 RBIs (sole leader). He made the NCAA's Division I All-America team. The Tigers – also featuring freshman lefty Jimmy Key, who won 186 games in the majors – went to the College World Series, though they were knocked out early.
Shortly thereafter, the Twins selected Teufel in the second round of the regular phase of the draft (for which he was again eligible). Having graduated, this time he decided to sign. The new pro was placed in Double-A ball but was not out of his depth, batting .265 with 11 homers and 47 RBIs in 86 games with Orlando of the Southern League. Back in Orlando for 1981, his batting was not as strong (.248-17-60 in 128 games), and so the Twins started him off in the same place in 1982. After a solid 100 games, making the first-half All-Star team in the Southern League, Teufel earned promotion to Triple-A Toledo in late July. He batted .282 in both places and finished with combined totals of 15 home runs and 76 RBIs. Minnesota added him to its 40-man roster.
With Toledo in 1983, Teufel reached a new level, becoming International League MVP. He hit .323 for the Mud Hens, with 27 homers and 100 RBIs in 136 games, and his batting eye went from good to superior. He drew 102 walks, lifting his on-base percentage to .437. The Twins called him up in September, and he would never play another game in the minors.
On September 16, at the Metrodome in Minneapolis, Teufel had his first of two five-hit games in the majors, which included his first two big-league homers. Number one came off Jim Gott, then with the Toronto Blue Jays. That matchup tickled many broadcasters over the years. Teufel's surname means devil in German, while Gott's means God. It was hardly a biblical struggle, but over their careers, Tim came to the plate 10 more times against Gott. Overall, he was 2-for-9 with two walks.
John Castino had been the Twins' regular second baseman in 1983, but he graciously recognized that Tim was going to be taking his place.9 Plagued by a bad back, Castino played his final eight games in the majors in 1984. Meanwhile, coming off a season of winter ball in Colombia, Teufel finished fourth in the voting for American League Rookie of the Year with a batting line of .262-14-61.
Tim's 1985 season was generally similar (.260-10-50), but while he was hitting over .300 in May, he cooled off after that. Toward the end of the season, manager Ray Miller wanted to look at another young second baseman, Steve Lombardozzi, whom he considered better defensively. The Associated Press wrote, "Teufel, knowing Miller's leaning toward Lombardozzi, asked to be traded during the offseason. And when the Twins were unable to deal him during the winter meetings … he repeated his request."10
On January 16, 1986, Minnesota obliged, trading Teufel and minor leaguer Pat Crosby to the Mets. In return, they received Billy Beane – the former top draft pick who attained fame as the general manager of the Oakland A's – plus Joe Klink and Bill Latham. The deal worked out well for the Mets. Beane hit .213 in 80 games for Minnesota in 1986 and played only 55 more games in the majors after that. Tony La Russa got the best out of Klink as a situational lefty reliever for Oakland in 1990 and 1991. Latham pitched in seven games for the Twins in '86 and that was all for his big-league career.
At the time Teufel said, "I think the Twins were looking for more speed … and I didn't give them that. I've got a positive attitude. The main thing is to play on a team that has reasons for you being there."11 That was certainly the case in New York. Marty Noble in Newsday wrote, "The Mets achieved what manager Dave Johnson identified as 'my No. 1 priority' when they obtained Teufel. … 'We made a great deal today,' Johnson said."12 The Mets' incumbent second baseman, Wally Backman, was a speedy, gritty sparkplug – but the switch-hitter never did hit lefties well. The 1985 season was the only time Backman got to face southpaws frequently, and he hit just .122 against them. He even temporarily abandoned batting righty.
Teufel became a contributor to the Mets – but it took time. As author Jeff Pearlman portrayed it in his book about the '86 champs, The Bad Guys Won, it didn't help Teufel that he "was taking away at-bats from the beloved Wally Backman." According to pitcher Ron Darling, being the new guy and having a quiet, humble nature also made Tim "the foil for a lot of jokes."13
The teammate who rode Teufel the most was Darryl Strawberry, at least after the outfielder had taken a few drinks on a plane flight. Teufel let it go by until August, when he finally confronted Strawberry. Pearlman quoted Tim himself: "There's a breaking point to every person in their pride and character and who they are. No man is going to just sit there and be a marshmallow." Pitcher Bob Ojeda said, "From that day forward Teuf became a better ballplayer. He was just pushed and pushed and pushed, and he was tired of it. It woke something up in him."14
Pearlman's book also devotes as much space as anyone could possibly need to the club's most infamous off-the-field episode that year: the July 19 altercation at a Houston bar called Cooter's, and the subsequent arrest of four Mets, including Teufel. It started innocently enough, as a celebration of the birth of Tim's first child, a boy named Shawn. It was also ironic, since Teufel was a loyal husband and good Christian who only went out with the boys on occasion for a beer or two in the spirit of team solidarity.
That night, however, he went over his limit. According to Houston police, Teufel began to cause a disturbance inside the bar around 2 A.M. and was asked to leave. He tried to exit with a bottle of beer, which would have been illegal, and a scuffle ensued. Teufel and Ron Darling each wound up being charged with aggravated assault on a police officer. They, Bob Ojeda, and Rick Aguilera all spent 11 hours in jail before posting bond. According to Teufel, who was badly shaken by the episode, he was severely beaten.15 Eventually, in January 1987, Teufel and Darling both got a year's probation and a $200 fine after a plea bargain reduced their third-degree felony charges to the misdemeanor of resisting arrest.16
Tim finished the regular season hitting just .247, with 4 homers and 31 RBIs. One of those round-trippers was a pinch-hit grand slam off Philadelphia's Tom Hume to end a game at Shea Stadium on June 10.
Teufel started twice in the National League Championship Series, both times against Astros lefty Bob Knepper, and went 1-for-6. He wasn't around for the end of either dramatic comeback victory. Len Dykstra won Game Three with a homer off Dave Smith in the ninth inning, and Game Six was the incredibly suspenseful 16-inning affair at the Astrodome.
Tim got three more starts in the World Series against the Boston Red Sox, each against lefty Bruce Hurst, going 4-for-9. The only run of Game One scored when the second baseman let Rich Gedman's grounder get through his legs in the seventh inning. Although Tim was not known for his defense, this related more to his range and turning the double play. Third baseman Ray Knight said, "He had the softest hands on our team."17 Yet to his credit, Teufel stood up and faced the media's questions until they were all done.
Tim was 2-for-4 with a homer in Game Five as the Mets lost, 4-2. The Mets pulled off another exciting comeback in Game Seven, but again Teufel was not on the field as the game ended. Even just 10 years later, he told Mets beat writer John Harper of the New York Daily News, "It feels like a lifetime ago." Harper wrote, "They quickly became the team everybody loved to hate, and that, said Teufel, 'brought us even closer together. We would do anything for each other.' " Tim further observed, "In baseball, and especially in that clubhouse in '86, there was an old-school way. You needed to do things a certain way to be part of the team. … As far as off the field, there were two or three different groups of guys on that team. But they all mixed well in the clubhouse, on the plane. That was the chemistry. You could go whichever direction you wanted."18
The 1987 season was Teufel's most productive. Despite getting just 351 plate appearances in 97 games, he exactly matched his career highs in homers with 14 and RBIs with 61. His batting average of .308 was easily his best. One standout performance came at Cincinnati's Riverfront Stadium on July 5, 1987. In a 7-5 loss to the Reds, Teufel homered twice against Tom Browning. He did better during his career against the lefty than any other mound opponent: 22-for-48 (.458) with five home runs. After that game Teufel said modestly, "I've got a hot bat right now. He threw me a good variety of pitches, but they were all over the plate. Next time it might not be the same story."19
The Backman-Teufel platoon remained in effect through 1988. Unfortunately for Tim, he reverted to 1986 levels with the bat; his home run and RBI totals were identical (4 and 31), while his average was even lower at .234. Teufel had gotten into Tom Browning's head, though. After singling twice in three at-bats on April 30, 1988, he annoyed the pitcher by stepping out of the batter's box as Browning started his windup. Browning stopped and plate umpire Eric Gregg called a balk; Teufel then got plunked in the back with the next pitch. Darryl Strawberry ran out of the dugout and charged the mound, sparking a bench-clearing fight.
When the Los Angeles Dodgers beat the Mets in the 1988 NLCS, they used just one left-handed starter: John Tudor in Game Four. Teufel went 0-for-3 before leaving in the ninth inning of what proved to be a deflating loss. That was the last time his team reached the postseason.
In September 1988 the Mets had brought up their most prized prospect of the time, infielder Gregg Jefferies. That December they traded away Backman and gave the second base job to Jefferies for 1989, disbanding the platoon. As a result, Teufel started just 30 games at second that year – plus 28 more at first base, a position he had played just seven times before in the majors. He hit a career-low two homers and drove in just 15 runs in 83 games and 254 plate appearances.
The most notable incident of Teufel's '89 season came on July 8 against Cincinnati at Shea Stadium. He went 4-for-4 that day, with the first three hits against (who else?) Reds starter Tom Browning. In the eighth inning, with the Mets up 8-0, hot-tempered Rob Dibble nailed Tim in the back with one of his 100-mph fastballs. "I looked up," Teufel recalled, "and there he was, spittin' and grinnin'."20 Tim charged the mound, and a brawl erupted, in which he bloodied Dibble's lip. "Order was restored, but only briefly. After Dibble was ejected, he began yelling at Teufel and the whole mess erupted anew. 'He came out of the dugout and started pointing at me,' Teufel said. 'Am I going to start backing down then? That's not going to happen.'"21
Although Teufel still got into 80 games for the Mets in 1990, his plate appearances tailed off further to 192, with a batting line of .246-10-24. He saw even less action in the early going in 1991. On May 31, feeling the need for a backup shortstop, the Mets traded Tim to the San Diego Padres for Garry Templeton. He spent the rest of that year in San Diego – even turning down a trade to his former club, the Twins, who wanted him during the pennant race. Though it would have meant another World Series ring, what meant more to him was the gesture by Padres general manager Joe McIlvaine to let the decision be Tim's.22
Teufel could have signed with the Reds or the Giants that offseason, but he returned to San Diego, where he spent two more seasons. During his time with the Padres, he appeared in 294 games, starting 202, mainly at second base, but also a good few at third and a handful at first. He batted .232 with 24 homers and 98 RBIs. STATS Inc.'s 1994 Scouting Report nicely summed up Tim's contribution the previous year: "As usual, the solid veteran did a productive job. With so many young players on the roster and so much turmoil generated by the dumping of salaries, manager Jim Riggleman appreciated that Teufel set an example of how to conduct oneself as a professional."23
The Padres chose not to re-sign free agent Teufel heading into the 1994 season, and he did not get any other offers. After retiring, he worked as an investment banker in the San Diego area for the next several years.24 He then got back into baseball, rejoining the Mets organization as a scout in November 1998. In 2001 and 2002, he was their minor-league infield coordinator. He also managed the Mets' Instructional League teams.25
Teufel became a regular-season manager for the first time in 2003. He started with the Brooklyn Cyclones in the short-season New York-Penn League. He then led the St. Lucie Mets (Florida State League, high Class A) in 2004 and 2005. Former Mets teammate Gary Carter took over at St. Lucie in 2006, and so Tim took a break from baseball for a year. He owned a tile establishment in Port St. Lucie, but he dissolved that partnership when he got a chance to manage a new Mets farm club, the Savannah Sand Gnats, in 2007. "I love coaching," he said. "I love being around the game. You get the itch. You love the game. It's easy to come back. It wasn't a hard decision."26
Teufel returned to St. Lucie for the 2008 and 2009 seasons. Perhaps the biggest news from this period came off the field, though. In February 2009, it was revealed that Tim and his wife, Valerie, were among those holding accounts with Ponzi schemer Bernard L. Madoff. Mets owner Fred Wilpon was among the most prominent figures – especially in terms of financial exposure – on the "Madoff List," but other famous names included Wilpon's friend Sandy Koufax and actor John Malkovich.
Teufel received a promotion to Double-A Binghamton in the Eastern League for the 2010 season. That fall there was talk that he might interview for the open position with the big club that eventually went to Terry Collins. The interview did not take place, and shortly thereafter more unpleasant news came on the Bernie Madoff front. On behalf of the investors who had been duped, in an effort to make good their losses, court-appointed trustee Irving Picard filed a "clawback" suit against Tim (among various other former Madoff clients) for $1.2 million. Things looked up in January 2011, though, as Teufel took over for Ken Oberkfell as manager of Triple-A Buffalo, while old platoon partner Wally Backman stepped into the job at Binghamton.
As a skipper, Teufel knew the value of hard work and perseverance from his own example as a player. He also drew from the approach of the '86 Mets, who were known for making comeback after comeback. "I think that's where I got some of my attitude," he said in 2010. "You always feel like you're in the game no matter what the score is. You're always fighting to claw your way back. That's part of the spirit of the game."27
Teufel returned to the majors for the 2012 season, becoming the Mets' third-base coach. He also worked with the team's infielders. After the 2014 season, there was some talk that he could become hitting coach in New York, but his role remained the same for the 2015 season.
Tim and Valerie Scheidt Teufel were married in 1981. After Shawn, they had three daughters, Kenley, Kelly, and Amber Grace. The Teufels settled in Jupiter, Florida, but Tim maintained strong ties to his native Connecticut. Among other good works, starting in 1991 he hosted the Tim Teufel Celebrity Golf Tournament at Tamarack Country Club in Greenwich, for the benefit of various charities. The 24th edition was held in 2014. "Greenwich will always be a special place for me," he said in 2006. "It was a great place to grow up and play baseball. Greenwich was the beginning of my baseball career. It was my foundation."28
This biography is included in the book "The 1986 New York Mets: There Was More Than Game Six" (SABR, 2016), edited by Leslie Heaphy and Bill Nowlin.
Sources
In addition to the sources cited in the Notes, the author also consulted:
baseball-reference.com
retrosheet.org
thebaseballcube.com
kettleers.org
Notes
Born
July 7, 1958 at Greenwich, CT (USA)
If you can help us improve this player's biography, contact us.
http://bioproj.sabr.org/bp_ftp/images5/TeufelTim.jpg
600
800
admin
/wp-content/uploads/2020/02/sabr_logo.png
admin
2012-01-04 20:38:09
2021-04-09 06:26:43
Tim Teufel