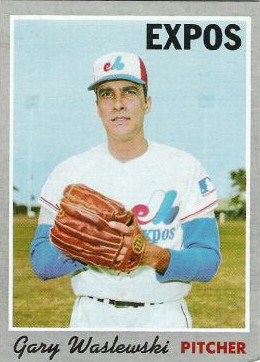 ---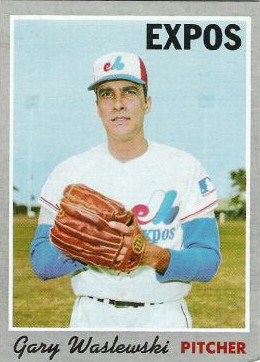 Gary Waslewski woke in his Peabody, Massachusetts apartment on the morning of October 11, 1967 as the starting pitcher in Game Six of the World Series. "I was reading the papers that morning, and one guy wrote that Gary Waslewski has as much chance of winning as Custer had of beating the Indians," Waslewski said. "But it didn't bother me. I just went out and tried to do my job."1 His major-league experience to that point consisted of 12 games, 8 starts, a 2-2 record, and a 3.21 ERA. He had made his major-league debut exactly four months earlier. Hadn't won a game since July 2, and hadn't started one since July 29. He had never pitched a major-league complete game, and was declared eligible for the World Series only two days before Game One, when Darrell Brandon was placed on the injured list.
Gary Lee Waslewski was born on July 21, 1941 in Meriden, Connecticut, the first child of Michael Waslewski and the former Adelaide Lee. The family lived in the Kensington section of Berlin, Connecticut, and Michael Waslewski was employed as a master tool and die maker at a silversmith plant in Wallingford. Adelaide didn't work. "Being a tool and die maker my father didn't make a lot of money," Gary remembers. "So we only had one car, and if he took the car and went off to work my mother was basically stuck at home all day. So she, like most of the other women on the street at that point, they were all stay-at-home moms." Adelaide passed away in early 1970, a cancer victim at the age of 51.
The family heritage was pure Polish on Dad's side, and a mixture of German and Cherokee Indian on Mom's. "We were shown pictures way back when of my…great, great grandmother, and she was in a headdress," Waslewski recalls. "I've never tried to follow back a family tree or anything like that; it's just never appealed to me." His ethnic mix led writer Dick Young to call him "[A]lmost pretty," in a 1967 article. "His perfectly chiseled Polish features blend [with] the Cherokee on his mother's side, giving him dark, sinister good looks."2 "People were always trying to get you into a controversy about it," Gary remembers. "'You're an Indian, aren't you?' Or 'you're Polish,' or 'you're German.' No, I'm an American — I was born here. Oh, you're not proud of your…heritage? Yes, but I'm an American. This went on and on looking for controversy."
Gary's younger brother, Michael Robert Waslewski was born in 1943. "We spent all of our time running around in the woods out there playing cowboys and Indians," Gary says. "And we played a lot of baseball in the open fields around [here] because there was nothing much else to do. There were only about seven kids within a few miles of each other that we could get together and play, and we'd play in somebody's driveway, or in the cow fields across the street, and use cow flops for bases." Not having a full team wasn't a problem. "We learned bat control, because if you had a guy out in left field, and you hit the ball to right field, it was an automatic out. So we had to learn how to pull the ball." The Waslewskis lived on a dirt road, which limited some sporting opportunities. "We couldn't play basketball, because you were bouncing balls off rocks." The brothers would swim, fish, and camp out at night with their neighbors.
There was a big pond in the back yard, about 15 feet from the house. In the winter, it was perfect for skating. In the summer, it became Ebbets Field. "The Dodgers — that was my ball club!" Waslewski says. "I would stand out there and hit…I had a board that I used as a bat…and I would throw up rocks and try to whack them across the water, and if I hit it into the trees it was a home run. I'd be hitting left-handed like Duke Snider, and maybe Gilliam if he was switch-hitting, and right-handed like Hodges and Campanella and the rest of them. I used to go out there and just fantasize playing ball." Why the Dodgers? "I used to listen to the radio at night, and…I just didn't like the Yankees for some reason, maybe because they were winning and I was always an underdog type person," Gary remembers. "When the radio went on at night it went on to the Dodgers station. The announcer for the Dodgers back then was very good at relaying what was happening at the game, so maybe he made it so interesting that I would be listening to him all the time."
The backyard pond almost led to a disaster. "When I was younger I fell through [the ice] and ended up with possibly heart damage," says Waslewski. "They weren't quite sure whether my heart murmur was caused by that or something I was born with. Luckily the pond wasn't deep so I just fell in, got wet, and didn't drown!"
There was no Little League in Berlin when Gary was younger, so childhood baseball consisted simply of those games in the cow fields, and games of catch with Mom and Dad. "I would sometimes go out and have a catch with my mother," Gary recalls. "She was pretty athletic; she rode horses when she was back in high school. My father would come home from work at six at night and he'd catch for a while if I wanted to pitch, until it got to the point where I was throwing too hard and he couldn't handle me anymore. I used to beat the poor guy up — typical kid throwing hard not knowing where the ball's going!" Finally, around age 13, there was an organized league in Berlin. "Most of the kids on the team were like 13, 14," says Waslewski. "And we played New Britain, Durham, all the towns around there that had Little Leagues since, like, eight years old. Needless to say, our record was usually 0-12, 0-14, something like that. I pitched a lot of the games, and sometimes you'd strike out 6-7 guys an inning — the catcher couldn't hang onto the ball. And if a guy was stealing second base, we used to use the relay, where the catcher would throw it to me because he couldn't reach second base. I had some long innings out there!" Waslewski always remembers being a pitcher. "Maybe because all the other kids either just couldn't get the ball over the plate, and we didn't have that many kids playing. It seemed like we only had the nine guys on the field and maybe a couple extra."
Berlin's Little League ended at age 15, and without some motherly intervention, Gary's career might have ended there. "My mother had grown up in Meriden," Waslewski says. "And she went down to some friends of hers, some guys she had gone to school with, who were running the Meriden Intermediate League, and asked them to make an exception to let me play there. They had never let an outsider play in town before. So they let me come in and pitch for the Gardner-Kirby team there. I think I got the MVP for hitting and pitching." While playing in the Meriden league, Gary was also recruited by the semipro Meriden Knights. "These were all older guys, some who had played minor-league ball, some were like 25, 30, 40 years of age," he remembers. "I learned a lot playing with older guys who had been through the minor leagues, college ball and everything." He pitched a lot during this period, usually throwing one game of a doubleheader for the Knights on Sunday, one or two games with the Intermediate League during the week, and maybe an American Legion game on Friday.
In 1956, it was off to Berlin High School. "I don't know what my record was altogether," says Gary, "Somebody said it was like 24-1, 25-1 or something, I remember that [my junior year] it was 10-0." Berlin won the State Class-C Championship that year. In his senior year, the team reached the championships again, but without their star pitcher. "I went to school that day, and I was walking down the hall," Waslewski remembers. "I don't know what happened, I passed out. When I came to I was laying on the floor. So they took me to the nurse's office and I was just very light-headed, and they sent me home and I didn't get to pitch. And they ended up getting beat that day in the State tournament." He remembers pitching against another Connecticut legend during his high school days, New Britain High's Steve Dalkowski. "I don't think we got a hit off him that day, but we beat him because he walked about 15 guys in seven innings."
Waslewski tried a new sport in high school as well. "I never played basketball in my life until I got to Berlin High School," the pitcher says. "I remember my freshman year we were playing in a gym class, and I didn't know what was going on. Things were happening so fast! I had heard about the game, and I saw it on television a little bit. They'd throw the ball to me and they'd say 'throw it here' and I'd throw it there. By the time my senior year came around I was co-captain of the team. I had a good jump shot."
After high school, University of Connecticut coach J.O. Christian offered Waslewski a partial scholarship. "My grandfather had died a couple of years before, and left each of the grandchildren some money, a thousand dollars," says Gary. "And so that was enough with the partial scholarship to get me through the first year." The freshman pitcher was a physical education major, with a minor in American History. "I was something like 2-3 for the freshman team. In college, I was maybe 6-3, 145 or 150 pounds. I mean, I was scrawny!" The scrawny pitcher earned a letter for his efforts in 1960.
After his freshman year, it was back to playing ball for the Knights of Columbus. "We played [a game] against a bunch of college all-stars that were barnstorming around," Waslewski recalls. "And there were a couple of good players on the team I was told that were being scouted by some local scouts. I beat them 9-0, struck out 13, 14 guys, got four hits myself, and after the game [Pittsburgh Pirates scout] Milt Rosner, who was there to watch somebody else, came down and said, 'gee, would you consider playing ball?' And I said, yeah, why not? I don't have anything else to do! I probably wasn't going to go back [to UConn] because I just wasn't into the schooling and stuff." Bird-dog scout Rosner contacted his superiors, and Chick Whelan came down to sign Waslewski.
"I was going to a senior prom that night with a girl I had met in Meriden. So [the scout] was over at the house, and he offered me, I think it was a $4,000 bonus and $350 a month salary. And my father was working like 50-60 hours a week and making $100 a week, or $400 a month, I mean, that's what they were paying back then, typical for factory work, and I'm thinking, I'm going to be making almost as much as Dad and I'm only going to be playing once, twice a week! I think I'll give it a try, what the heck! So I remember going to the prom that night and telling this young lady and her mother that I just signed a contract, I won't be around next week, I'll be leaving for Kingsport, Tennessee in the Rookie League."
The right-hander was off to the Rookie Class-D Appalachian League Kingsport Pirates, managed by James Gibbons. "As I was arriving at the Kingsport airport, I threw up all over the place," says Waslewski. "I believe that was my first air flight, and I'd [flown] out of Hartford, I don't know where it landed, but from there I got on another plane, and they were little puddle-jumpers from one town to the next. And every time the plane went up and came down…it was really tight in there, and there weren't very many people in the plane, and it was getting hotter and I was getting sicker! And I finally ended up filling up that bag on the last landing at Kingsport." Gary has good memories of his first minor-league stop:
"You come into this rookie camp, and there's 164 guys pouring into this place. There's got to be about 60 or 70 pitchers, from all over the country. There are infielders, outfielders, a ton of people they're trying to work into practices and games and stuff. And sometimes it was like nobody would deal with you for a couple of days and it was…standing around, playing a little ball, and finally they started playing games. I pitched a couple of times; I think I won a couple of games."
Of the 164 players in that camp, only four survived the minor leagues. One other was familiar to Gary, Falls Village, Connecticut native Steve Blass. "I had just seen him pitch against my brother at an all-star game," Waslewski recalls. "He was playing for Housatonic High…and my brother was pitching for Wilcox Tech in the State tournament just before I left to go to the rookie camp. And he beat my brother 1-0 in the game."
With about a month to go in the season, Waslewski was 4-2 with a 2.86 ERA. He was called up to Nevada to play for the Class-D Hobbs Pirates in the Sophomore League just in time to beat the Red Sox affiliated Alpine Cowboys two games to one in the playoffs. Gary went 0-1 with a 7.36 ERA. It was back to the desert in 1961. Al Kubski was the manager, and the Pirates went 77-48 to lead the league. "That was the last year of that league, it folded after that," Gary remembers. "That was a hitter's league. There were 50 guys that hit over .300, and I was [in the top 10] in the league with an ERA of [4.10.]" He went 12-7 for Hobbs that year, but his career almost ended:
"I was pitching against [the Albuquerque Dukes] a Kansas City ball club, and Mike Maloney kept fouling off pitch after pitch. He was a good fastball hitter, and I just kept firing them in and he kept fouling them off. I tried to really jack up one pitch and throw it even harder, and I didn't follow through. I heard a snap and [had] searing pain in my elbow. And I went to [pitch] again, and I walked off the mound and told the manager I just tore my elbow up, I'm done. And for about a week, nobody's doing anything, because the manager's by himself. He didn't have a trainer, not even a doctor working with the ball club. So they said, put some ice on it, put some heat on it, and I could not straighten out my arm. About a day or two later, a fellow from the University of Pittsburgh who was studying to be…in the sports medicine area came to town. I guess it was as a summer project to work with any injured players there. He worked with me for the next two weeks. At the end he had my arm straightened out again and about a week later I was pitching again and finished the season. If it wasn't for that guy, I was done right there."
The all-star shortstop on that Hobbs team would go on to some major-league success of his own. "Gene Michael was a pretty good basketball player," says Waslewski. "A scrawny kid like the rest of us. He had a powerful arm, but couldn't hit the curveball. They tried to make a pitcher out of him, and then he started to hurt his arm." Michael became a switch-hitter, and eventually the Yankees shortstop. He was one of the survivors of that rookie camp at Kingsport.
In 1962, Gary headed to North Carolina and the Class-B Kinston Eagles. Teammate Steve Blass was an all-star, and the team won the league championship. They drew 141,227 fans, to lead the league by a huge margin. "There was nothing else to do there at night," Waslewski remembers. "The ball club did a good job of promoting, and Pittsburgh sent down a couple of guys on rehab, so there was always the chance of seeing a major-league pitcher down [there] on rehab. We had a great relationship with a lot of the people there, and we had a damn good ball club there, too!" Gary was 7-8, with a 3.76 ERA in 1962.
The start of the 1963 season saw Waslewski back in Kinston, where he went 1-1 with a 4.13 ERA before being called up to the Class-A Reno Silver Sox of the California League. "At night they almost had to ban you from going downtown," he says of Reno. "Guys were going who were only getting paid $275-300 a month and they'd wipe you out in one night. I used to go down and just eat because it was cheap at the casinos, and watch people lose their money." From a baseball standpoint, Reno was a big change from Kinston. The team went 71-69, finished fifth, and drew only 17,182 fans. "We had a couple good ballplayers on that club," Waslewski says, remembering his teammates. "Jose Vidal…won the Triple Crown; we had a fellow named George Spriggs who I believe came up for a while with Pittsburgh, who…was the fastest guy I'd ever seen. I saw him score from second base on double plays! Crossed the plate without even a throw. He could fly." Gary went 13-5 for the Silver Sox, with a 3.83 ERA.
In the winter of 1963-64, the young pitcher enlisted, and was sent to Fort Dix in New Jersey. "I was in the Army, I was an infantryman," Waslewski says. "I had signed up for a short stint, twenty weeks, and I went through basic training, training leadership school, advanced infantry training. I was a squad leader in a mortar group, a recoilless rifle group; I was an infantry squad leader. I had a great time — I loved to shoot guns!" While at Fort Dix, Gary contracted pneumonia that led to a collapsed lung. "Being in the infantry, you're crawling all over New Jersey in the wintertime. They diagnosed it as a pulled muscle in my chest and thought I was trying to get out of duty!" It wasn't until spring training that the collapsed lung was diagnosed. "I spent a month laying in bed blowing on my thumb," Waslewski remembers. "[That's] how they got me to blow the lung back out. Loading me up on antibiotics, and trying to force the air from one lung into the other."
It was back to Kinston and manager Pete Peterson for the 1964 season. It was not a demotion — the Carolina League had become a Class-A minor league by that time. Kinston was again a first-place team, going 79-59 in front of 101,915 fans. Waslewski was 12-1 with a stellar 1.64 ERA. The Eagles lost in the first round of the playoffs, but Gary wasn't around for the playoffs, he had been promoted to the AA Asheville Tourists in the Southern League with around a month to go in the season. He joined a last-place team that would end up 52-86, 28 games out of first place. He went 5-5 for the Tourists, with an ERA of 3.84. He almost didn't go. "They didn't want to give me any [more] money, so I told them I'm not going," he says, "Pete Peterson was the manager, who eventually came up to the Pirates as the general manager later on. And he finally called Pittsburgh and they argued for a while." He got a $50 a month raise, but would have to pay it back if he didn't do well.
During the offseason, the Pirates left Waslewski unprotected, and he was taken in the minor-league draft by the Boston Red Sox. "I thought, 'Oh, that's great!'" Gary remembers. "The Brooklyn Dodgers are gone, I'm kind of a Red Sox fan now. The Red Sox were a great organization. The front office personnel were just above reproach. Whatever they said to you on the phone you got it in writing, not a word was changed. Really good to deal with." Before the season, it became clear that Waslewski would not make the Sox roster, and they had to offer him back to the Pirates. "Luckily, the Pirates said 'we don't want him' or my career might have ended right there," Waslewski told author Jack Lautier in his book Fenway Voices in 1990.3
The Sox sent Waslewski to manager Eddie Popowski and his AA Eastern League Pittsfield Red Sox to start the 1965 season. The Sox beat out Earl Weaver's Elmira Pioneers to win the league title by one game. Their star was third baseman George Scott, who won the Triple Crown with 25 HR, 94 RBIs, and a .319 batting average. Waslewski went 6-2 with a 2.65 ERA, but again was called up before season's end. Dick Williams was managing the Toronto Maple Leafs in the AAA International League, and needed another starter. "He was a bit of a jerk," Waslewski says of his former manager. "But he was also a believer [in,] you're only out here a couple of hours — can't you at least put out? Can't you know how many outs there are? And if you really look at it, a ballgame back then was going 2 ½ hours. He was really tough on guys that were screwing up…on basic fundamentals. He had a bit of an ego problem in that…he told us many times 'I'm the Chief and you're the Indians. The Chief is in charge.' He used to tell us 'if you've got a problem about anything, come see me in my office and we'll fight it out like men — no hard feelings.' One guy took him up on it…and a big fight started. Dick got nicked up in the face…and right after that he ran [the guy] off. He lost a bit of luster in my eyes [after] that." Playing in front of 118,310 Canadian fans, the Maple Leafs won the I.L. Championship, beating Columbus four games to one.
Waslewski won only five games for that Toronto team, but his biggest win came off the field. "I went to a party…I think it was [with] two stewardesses from Air Canada." One of his teammates went with a girl named Nancy. "[He] kind of ignored her, and the two girls I was with ignored me, so we were just kind of sitting there, started talking, and started going out!" Nancy was a big baseball fan, and often attended Leafs games with her brother. She became Mrs. Gary Waslewski in September, 1966. They honeymooned in Caracas, Venezuela, where Gary played winter ball.
In 1966, the Red Sox faith in their lanky right-hander paid off. "It started off pretty good there, I was like 8-2, 8-3, something like that," Waslewski remembers. "Then I hit a period where I lost five games in a row. Two of them were two-hitters I lost." The Maple Leafs were in a dogfight with Earl Weaver's Rochester Red Wings and the Pirates' Triple-A club in Columbus for the league lead. "All of a sudden Dick or somebody came in and told me I'd been traded to Kansas City's AAA team." The Vancouver Mounties were across Canada in the Pacific Coast League. But on July 8 of that summer, the airlines went on strike. It didn't end until August 19. "All the trains were booked…all the bus lines were booked, [and] I wasn't about to drive across country. The train [people] told me they could probably get me a seat on the train in a week. I was dating my wife at the time, so we said, let's go up north. A friend of ours had a cabin up there [on] Lake Balsam, and so we went north and went water skiing for a week!"
Back in Toronto, Waslewski had a visitor. "The clubhouse guy, Smitty, is banging on the door when I came back and saying 'Where were you?'" Gary told him about the trip to the lake. "He said, 'Well, everybody's looking for you! Boston just found out Dick made the trade and they didn't know anything about it! You're back on the team'." Waslewski found out that Williams had traded him for pitcher Guido Grilli, a former Leaf who wasn't happy on Canada's other coast. "So I'm back on the team, we go off on a road trip playing the teams that we need to beat to win the Governor's Cup, and we're losing. We get beat in Buffalo, we're getting beat in Syracuse, we're headed down to Richmond," the top four teams in the league would qualify for the playoffs. "All of a sudden I get the word [in] a roundabout way [I'm] pitching tonight in Richmond." The Leafs finished third in the I.L., a game behind Richmond. Reggie Smith was their star at the plate, batting .320. The International League Pitcher of the Year was 25-year-old Gary Waslewski. "That was an unusual year," Gary says. "I had 30 starts, and 29 decisions." He went 18-11 to lead the league, with a 2.52 ERA. He threw 200 innings, gave up only 143 hits, walked 84 and struck out 165.
After the season, it was off to Caracas for the newly-married Waslewskis. "A lot of the…Spanish ballplayers when they went back home they played like Babe Ruth in front of their own people," Gary remembers. "Here, they're in a foreign country, they're not eating well, not sleeping well. They're subject to all the discrimination that was going on, and they didn't speak English. They'd go home and it was like pitching against Babe Ruth! Plus, there were a lot of major leaguers who went back home who were playing winter ball down there." That winter took a lot out of him. "I pitched a 16-inning ballgame, I won 3-2," A feat that would be unheard of today. "I remember walking out there for the 14th, 15th and 16th inning. I walked out to the mound, picked up the ball, threw it to the catcher, and said 'second base!' That was my warm-up pitch! I pitched a lot down there." With winter ball, and the 200 innings for Toronto, by spring training in 1967 Gary had thrown more innings than he was used to.
"I remember I was throwing batting practice about the second time out, and Ted Williams was standing there in the cage watching the guys hit. And I was popping the ball by people, and he was getting on them that they couldn't hit me. 'You can't hit that skinny-ass kid out there!' And they were swinging hard, and the more he was getting on them, the harder I was throwing. I think I was out there for 20 or 25 minutes. You're only supposed to be out there 10 minutes, and it was only the second time I threw. I ended up with tendonitis, inflammation in the shoulder."
So, Waslewski had to stay behind with the Toronto club as spring training ended. "Billy Rohr got off to a good start [against] New York." Gary says of his teammate. Rohr was also taken from the Pirates in the minor league draft, and won 14 games for Toronto in 1966. "He threw that one hitter [at Yankee Stadium] and he had a couple more starts after that, and [then] just didn't have it." And in June, Rohr had to do a two-week stint for Uncle Sam as Tony Conigliaro returned from his. "When he came back, they sent him to Toronto…and then called me up."
The 26-year-old's first start would come in the second game of a doubleheader against the Washington Senators on Sunday, June 11, 1967. The first hitter he faced was fellow Connecticut native Bobby Saverine of Norwalk. "He hit the ball to the best shortstop in the league, and he boots it!" Waslewski exclaimed. Rico Petrocelli's error was an inauspicious beginning. "I used to tell people when I talked on the circuit after [my career] that I started out in a slump and tailed off from there!" Two errors in the inning led to three unearned runs and a trip to the showers after three innings. According to Larry Claflin writing in The Sporting News, Gary's second start was a big improvement. "For nine innings he shut out Chicago before he had to leave in the 10th with a muscle pull behind his left shoulder," Claflin reported. "A crowd of 16,775 at Fenway gave the rookie a standing ovation when he left the field."4
The muscle strain caused the righty to miss a start, but he was back on the hill in Minnesota on June 27, facing off against the Twins' Dean Chance. "I remember he used to throw that tailing fastball in on the hands of the right-handers, just smash their bat." Waslewski kept that in mind as he led off the third inning. "So I stood up there figuring as soon as his arm comes around I'm bailing out and I'm gonna take him to left field. I bailed out and he still jammed me, and I hit a fly ball to left and good old Bobby Allison's out there. He ran back to the fence and the ball came down right where he started from! Misplayed it for a single, and that was my first hit." An RBI single by Reggie Smith in the eighth off Chance gave Waslewski his first major-league win. He would win his next start against Kansas City as well, throwing a 2-1 three-hitter with "nothing but a high school curveball." In the sixth inning, he picked off American League stolen base leader Bert Campaneris with his 10th throw to first. "I showed Campy a different move on that tenth time," Waslewski told the Associated Press.5 A's manager Alvin Dark insisted it was a balk move, but Dick Williams felt differently. "It was a great move," the manager praised his rookie pitcher. "He learned it in the Pittsburgh organization, before we drafted him. He bends his front knee and pivots on his back foot, all in one motion. It isn't a balk. Hoyt Wilhelm does it, but not as well."6 In 26 1/3 innings, Waslewski had allowed only three earned runs, and was 2-0.
The 1967 Red Sox were not quite a 25-guys, 25-cabs ball club, but it was close. "Some of the old guys that had been there hung together, some of the younger guys hung together, and it wasn't really cohesive off the field," Waslewski says of his teammates. "During the game everybody would pull it together, but the main thing in our offense was Carl Yastrzemski. It was like — let's get on base so Yaz can knock us in. He was just incredible. There was nobody but Jim Kaat who could get him out!" Gary was impressed by another young outfielder, a former teammate at Toronto, Reggie Smith. "He threw the ball so hard he could throw about two feet off the ground and the ball would rise up. He's the only guy I ever saw stand flatfooted in Fenway Park, from dead center field, and throw a guy out at the plate." The legendary Sal Maglie was the Sox pitching coach. But not a lot of help, according to Waslewski. "Yeah, Sal was useless. Jim Lonborg and I one day asked him about how to pitch to the Twins and he told us how to pitch to the Dodgers! 'Well you know, Campy was kinda like Killebrew, and I would do this with Campy…' and he was telling us about throwing a slow curveball, and Lonborg and I were saying, 'we're just trying to get the curveball to break, never mind different speeds!' Sal was just…he was just there."
Gary had four more starts and a relief appearance in July, none worth writing home about. "Again my arm started bothering me," he says. "And my shoulder was hurting." He had back problems as well. When his record fell to 2-2 after a one-inning start against the Twins on July 29, he was sent back to Toronto. After a September 3 start for the Maple Leafs, and Bill Landis' departure for military service, it was back to Boston as the Red Sox purchased his contract from Toronto. He would make three relief appearances the rest of the season, pitching a total of only eight innings as the Red Sox held on to win their first pennant since 1946. They were headed to the World Series to face the only team that had beaten them in the Fall Classic — the St. Louis Cardinals. Waslewski assumed his season was over, as he was not originally placed on the Series eligibility roster. Then on the day before Game One in Boston, he was added to replace injured pitcher Darrell Brandon.
Game Three of the 1967 World Series started badly for the Red Sox. Gary Bell started the Saturday afternoon affair at Busch Stadium, and immediately gave up a Lou Brock triple and a Curt Flood RBI single. In the second, Tim McCarver led off with a single to center, and Mike Shannon followed with a home run. Bell got out of the inning, but George Thomas batted for him in the Sox third. Dick Williams called on his rookie to stop the bleeding. "I remember walking in from the bullpen in that one," Waslewski says. "And I felt like the matador walking into the ring to fight the bull because that stadium had 55,000 people, and round like that, and you just walk in and look up and all you see is people yelling and hollering and stuff. So that pretty much gets you pumped up." The first batter he would face was the speedy Lou Brock, who struck out. "I got Brock…I remember saying to myself if I screw up, everybody in the world is going to see it! You screw up, it's not just a local thing anymore! Everybody around the world is watching…or hearing about the game." Curt Flood grounded out, Roger Maris flied to right, and the rookie from Connecticut had a perfect inning. He would follow it with a perfect fourth, striking out Orlando Cepeda, and a perfect fifth, fanning Julian Javier. Leonard Koppett of the New York Times wrote, "He looked remarkably like Lonborg the way he threw."7 "I can't throw as hard as Lonborg," Waslewski told another scribe. "At least, I haven't been able to throw that hard lately. When I'm right I'm as fast as Jim, but not now."8
The Red Sox lost Game Three 5-2, but Waslewski had impressed his manager. "I think it was after that game that Dick came and said something about you're starting the sixth game if we have a sixth game. And I said, 'OK.'" Williams hoped to save his ace, Jim Lonborg, for a seventh game appearance against Bob Gibson. "I'm not even going to think about it until tomorrow," Waslewski told Dave Anderson of the New York Times the day before Game Six.9 "I have a good idea of what I want to do but that doesn't mean I can always do it," he was quoted as saying by Bob Addie of the Washington Post. "I've been observing from the bullpen and I've been talking to Lonborg and the other pitchers a lot about how to handle the Cardinals. I'll have Elston Howard back of the plate and that's all I need. I hope my elbow and my back don't act up but I think I'll be too excited for that."10 In a conversation with syndicated columnist Dick Young, Williams talked about his young starter and his various ailments:
"'He has had everything but the galloping dandruff,' says Dick Williams. 'He had rheumatic fever when he was a kid, and then his lung collapsed. I wouldn't be surprised if his eyesight started to go out on the mound tomorrow. He's developing into a hypochondriac, but he has a good arm, a great arm.'"11
Waslewski was getting his shot, according to Williams, because of the failures of Jose Santiago and Gary Bell as starters in the series. Fellow rookie Dick Hughes, loser of Game Two, would start for St. Louis. "Trailing three games to two," Leonard Koppett said in the Times, "the Boston Red Sox will rely on the least experienced pitcher ever to start a World Series game…" "So what?" said Dick Williams.12 The media scrutiny was intense. "The day of the game," Gary recalls, "somebody was up at the apartment in Peabody at about six o' clock in the morning. They wanted to come in, watch you shower, what are you eating, this and that. For me it was just another day, go to the ballpark. Bigger crowd, that's all. More reporters. I remember answering the same questions over and over and over and over again!"
October 11, 1967 was a Wednesday, and Game Six would be an afternoon affair. Waslewski put on his number 19 jersey and headed out to the Fenway Park mound. The Cardinals couldn't touch him in the first, as Lou Brock struck out, Curt Flood grounded out, and Roger Maris went down swinging. In the second, Gary got Cepeda, McCarver, and Shannon for another perfect inning. Rico Petrocelli's home run made it 1-0 after two. Julian Javier doubled to lead off the Cardinal third. Lou Brock drove him in with a single, and stole second. Curt Flood drove in Brock with a base hit, and at the end of three, the Sox trailed 2-1. Boston took the lead with a record-breaking fourth inning, as three Sox (Yastrzemski, Smith, and Petrocelli) homered in the frame. The offensive explosion made it 4-2 Red Sox. Nelson Briles replaced reliever Ron Willis to start the fifth inning to boos from the Fenway crowd, who remembered Briles hitting Yaz with a pitch in Game Three. He drilled Waslewski in the arm. "He threw me a fastball and I hit it…foul off the left field wall," Gary remembers. "I'm just looking for [that] ball again, and he threw a slider. I saw it coming out of his hand and he put spin on it. And so I'm getting ready to step in because I could see the spin, and the ball went the other way, it caught me right on the funny bone here." The Sox didn't score in the inning, Waslewski was stranded on second.
Roger Maris stepped into the box to start the Cardinals sixth. He walked on four pitches. "Williams came out after I walked [Maris] and he said, 'How're you feeling?'" Gary says. "And I told him, I'm starting to lose [my] concentration a little, my legs are feeling a little wobbly. And he says, 'alright, do the best you can.'" Orlando Cepeda flied out to right, and Tim McCarver also walked on four pitches. The tying runs were on base. "I didn't have a problem with Cepeda," Waslewski explains. "Because the way you pitched him was up and in. And because I was starting to lose it, that's where I was throwing the ball on a right-hander, up and in. So that was perfect for him. But it was not good that I couldn't get the ball in the strike zone for the left-handers, both of whom were looking for balls inside."
John Wyatt came in and retired Mike Shannon and Julian Javier to get out of the inning. "They had a good ball club, no question about it," Waslewski says of the Cardinals. St. Louis tied the game in the seventh to take the win away from the starter, but Boston prevailed 8-4 to force a seventh game. "Waslewski did one heck of a job," Williams told the media. "He had no starting jobs for quite a while, but he did it today. He was marvelous. I told him that when I went out there to take him out. He had thrown his best for as long as he could. I wanted six innings out of him and he came pretty close."13 Williams said, "I wish 'Waz' would have gotten the victory."14 "I just ran out of gas," Waslewski said. "I'm not especially proud of my performance. I'm glad we won, but I'd rather pitch nine innings. I was boiling inside because I was so nervous."15
Life was a little different after the 1967 World Series. "Everybody wants a piece of you for talking," Waslewski remembers. "And it was an opportunity to make some money in the off-season, because we didn't make enough during the season! I was making $8,500 that first year, I think the minimum was $7,000. So you had to make some money. And the Red Sox actually hired Gary Bell and I to go around and shake hands with the group sales guy who was trying to get all these companies to sign up and buy group tickets. I met a lot of people, shook hands with a lot of people, which I think helped later on. Because when I came in as an opposing player later on, they still applauded for me rather than boo and throw things!" Larry Claflin reported in The Sporting News that "Red Sox execs are very pleased with the work Gary Waslewski is doing with season ticket customers and prospects. Waslewski, whose wife gave birth to their first child (a boy) recently, is working for the Bosox in the offseason."16 Dick Williams promised that Gary would get "every opportunity to pitch for this club next spring."
It was a good spring for Waslewski. Darrell Johnson was his new pitching coach, and an unexpected spot was open in the rotation because of Jim Lonborg's offseason skiing accident. In his first 20 spring innings, Waslewski's ERA was 1.80. Dick Williams penciled him in as the Sox number four starter. He ended the spring with a string of 18 shutout innings and a 1.13 ERA. Joining him on the big club and replacing the injured Tony Conigliaro was a rookie from Danbury, Connecticut, Joe Lahoud. Waslewski won his first game of the '68 season in Cleveland 3-1, and had a big lead against the Tribe back in Boston during his second start. "I probably should have pitched a shutout, but Tony Horton was at the plate," Gary recalls. "Tony couldn't hit me if I told him what was coming! We had a little personal battle going back to Toronto when we played together and I finally got to a point where I said, 'Ah, I'll throw him a fastball.' And he ends up hitting a high fly to left field for a home run off of it." The Sox won 9-2, and Gary pitched his first major league complete game. "And then I think I lost five in a row after that."
Throw in one no-decision, and Waslewski actually lost seven in a row. On April 27, he was the Red Sox starter when the Orioles' Tom Phoebus tossed a no-hitter at Memorial Stadium. On May 5, he lost a 3-2 decision to Oakland. On May 10, he lost a complete game, 3-2, to the Yankees on an Andy Kosco sacrifice fly. His record fell to 2-6 on May 28 when the A's beat him, 3-1. On June 4, he held the powerful Tigers to two runs over 6 2/3 innings, but the Red Sox couldn't score against Pat Dobson. "Darrell Johnson came to me one day," Waslewski says. "And he says, 'Waz, we're gonna take you out of the rotation. We gotta get somebody in there who the team is scoring runs for.' He said the team was scoring less than one run per nine innings [when I was] out there. And so they put somebody else in there to start." He stayed with the Sox all year appearing mainly out of the bullpen, and wound up 4-7 with a decent 3.67 ERA. On June 15 at Cleveland, he picked up his first major-league save, mopping up for Ray Culp with 3 1/3 innings of scoreless relief in a 9-3 Boston win.
On December 2, 1968, Waslewski received a call from Red Sox general manager Haywood Sullivan. It wasn't good news. "The Red Sox had lost all of their infielders and some other people to the expansion teams," it was the year Kansas City and Seattle joined the American League. "He said, 'We had to make a trade to get a utility infielder, we have no backups for our infield. And we got Dick Schofield, who can play second, short, and third…and you were the only guy the Cardinals would accept." Gary would be heading west to join the team he pitched so well against in the 1967 World Series. "That was a shocker," he says of the trade. "That was like having your wife come up and say 'I want a divorce.' The shock at first is…quite a bit. Because you figure you're going to be around for a while." Once the initial shock wore off, the trade didn't seem so bad.
"Those guys won the World Series two years ago," Waslewski remembers. "They've got a lot of good ballplayers on that club. Maybe I got a shot of winning another World Series with them. So that's the attitude we took. Packed up all our stuff in the apartment, went to spring training, and shipped all the stuff to St. Louis." The 1969 Cardinals had a surplus of starting pitchers. Bob Gibson, Steve Carlton and Nelson Briles anchored the rotation. "They had also picked up Dave Giusti that spring from Houston," Gary recalls. "At the end of spring training they said the fifth starter was between [me] and Giusti." A one-on-one pitching matchup at the end of the spring would decide the job. "He beat me 1-0. I got a base hit off him, he didn't get any hits off me. So he got to be the fifth starter." On April 14, Waslewski became the answer to a trivia question. On a chilly Monday afternoon at Parc Jarry in Montreal, he relieved Nelson Briles in the fourth inning, with the Cards up 7-6. An inherited runner scored to tie the game. In the Expos seventh, catcher John Bateman struck out, Coco Laboy doubled, and pitcher Dan McGinn drove him home, giving the Expos an 8-7 lead. The score held up, and Gary Waslewski became the first pitcher to lose a major-league game played outside the United States.
By June 2, Gary had appeared in 12 games for St. Louis, with an 0-2 record and a 3.92 ERA. On June 3, he was traded to the Expos for veteran Jim "Mudcat" Grant. "He could throw good, get warm quick," Waslewski says. "St. Louis needed somebody who could do what I couldn't do — get warm fast and come in and give them a quick inning or two. I started out in the bullpen for Montreal." He was reunited with former manager Dick Williams, an Expos coach. Waslewski's first start of the 1969 season came on June 22 at Wrigley Field, a no-decision in a 7-6 loss to the Cubs. After a string of 10 scoreless innings out of the pen, manager Gene Mauch tabbed him to start the second game of a twi-night doubleheader at Connie Mack Stadium.
"We got killed in the first game of the doubleheader," by a 13-2 margin. "Grant Jackson was the other pitcher. We were throwing strikes, and people were up there swinging. I had a good sinker that day, the bottom was dropping out of it, and the only guy that got a hit was Ricardo Joseph. He hit a dribbler past me, and [shortstop] Bobby Wine just couldn't get to it. It was a 50-hopper and it just got through." Deron Johnson hit into a double play to erase Joseph. Waslewski won the game 5-0, a complete game shutout where he faced the minimum 27 batters. At one hour and thirty-six minutes, it was the fastest major-league game since July 1965. "That could have been probably an hour and 20 minute game," Gary says of his best major-league performance. "But during the course of the game…Gene Mauch's in an argument with the umpire about something for about ten minutes! And we were winning 5-0! He was a real raving maniac out there!"
His next start was at Forbes Field against the Pittsburgh Pirates. Gary led 1-0 with one out the ninth inning. "Somebody hit a ground ball to Bobby Wine the shortstop for an error," it was first baseman Carl Taylor. "Then they were bunting the guy to second base…and I come flying off the mound ready to throw to second. And Ronnie Brand the catcher was yelling 'First base, first base!' And I'm thinking, jeez, did he get a hell of a jump? I came up to throw to first and the guy was halfway to second base, and before I could double pump, at that point…I end up throwing to first."
Taylor scored on a Jose Pagan single, ending Waslewski's scoreless inning streak at 25, an Expos record that would stand until 1975. He came out after the 10th inning, and the Expos fell 2-1. Four days later, the Pirates visited Parc Jarry and pounded Waslewski for five hits, two walks, and eight runs. Carl Taylor and Richie Hebner both homered. Two Expo errors hurt Waslewski, and only three of the Pirate runs were earned. He would bounce between the rotation and the bullpen for the rest of the season, winding up 3-7 with the Expos, with a 3.29 ERA. Don Drysdale was his pitching coach in Montreal. "Don Drysdale's philosophy of pitching was 'if the SOB is too close to the plate, hit him in the frickin' head,'" Gary remembers. "He says, 'I'll be the first guy out there to protect you.'"
Peanuts Lowrey was another Expos coach. "He was a great stealer of signs," Waslewski says. "Peanuts, he'd just watch the third base [coach] after two innings and say 'I've got all their signs.' Now we know when they're going to steal, what their hit and run [sign is.]"
During that offseason, Waslewski was elected player rep by his Expos teammates, replacing catcher Ronnie Brand. "Gary should be able to do a better job than I did," Brand told The Sporting News. "It's difficult for a fellow who plays every day because there was so much involved."17 "It was the same old stuff," Waslewski says of the labor situation at the time. "The players trying to get some laxity from the owners, and the owners not wanting to give an inch. [We] were trying to get rid of the reserve clause…keep guys from being owned for life. But the owners didn't want to give on anything. The money wasn't very good, but then they didn't have cable either. They had to really depend upon the people coming into the ballpark, local television, local radio." Waslewski began the 1970 season in the Expos bullpen, but moved to the rotation in late April. Following three mediocre starts and an 0-1 record, he went to the hill to face the Padres in San Diego on May 8. "This left-handed batter was up, I think he was their third baseman," it was Van Kelly, about a month from his last appearance in the majors.
"I threw him a breaking ball down and in, and I went to yell 'Look out!' because I thought it was going to hit him in the leg. And he swung at it…maybe defensively, to get out of the way, and he hit a high fly ball up over second base. And [Marv Staehle] starts running back, Rusty Staub starts coming in…and all of a sudden Staub goes 'Whoa!' and he starts running back — they had a wind blowing real hard to right field in Jarry Park. He starts running back, running back… [and] the ball drops over the fence for a home run! On what started out as a high popup behind second base! And then I hear this voice from the dugout 'I'm gonna send you so far down Western Union can't find you!' It was Mauch screaming down there. Then I find out the next day I'm on waivers."
Advice from an old battery-mate of Waslewski's convinced the Yankees to pick him up. Elston Howard had returned to the Yankees as a coach.
Gary wasn't unhappy to be leaving the Expos. "It was so cold playing that first couple of years the baseball felt like a frozen cue ball," the pitcher remembers. "At the start of the [1970] season, I think it was May…it snowed so hard they had to cancel [a] game. We had a crappy little clubhouse there, and they attached a trailer to it that they turned into a sauna. When the game was over, people just ran in the saunas with their clothes on trying to warm up. It wasn't an easy place to play in because of the weather a lot of times."
The Yankees optioned pitcher Joe Verbanic to Syracuse to make room for Waslewski. "That was strange, coming into the clubhouse over there," Waslewski says. "It was nice saying you're still in the big leagues, you didn't have to go to the minor leagues. I was replacing [Verbanic] there, and the guy — he didn't even know he had been sent down! Finally the clubhouse guy calls this fella in and tells him that Ralph Houk wants to talk to [him.]" He was joining a staff that included Mel Stottlemyre, 20-game winner Fritz Peterson, and closer Lindy McDaniel. "All he had to do was walk out there and throw his glove out on the mound in the ninth inning and the game was over. He had a forkball, a good fastball, and a curve. They just could not hit him," Gary recalls.
That Yankee team won 93 games, but finished second to the Baltimore Orioles. "They played well, surprised a lot of people," Gary says. "They were not expected to, because when I came over everybody was talking about…a five-year rebuilding program. They got all these young guys in here, and they're trying to build a new pitching staff again, around Stottlemyre and Peterson. And we played pretty good." American League Rookie of the Year Thurman Munson was his catcher. John Ellis, a product of New London, Connecticut, was another Yankee rookie. Waslewski appeared in 26 games for New York, five of them starts. His ERA was again good at 3.11, and his record was 2-2. His last career start came on Sunday, July 5 at Yankee Stadium, and he didn't survive the first inning, giving up two walks, a hit batsman, and a Del Unser home run. His last career victory was in a relief outing against the Tigers at Yankee Stadium on August 7.
For the 1971 season, Gary and Nancy rented a house in New Jersey. His first appearance was against the Senators at R.F.K. Stadium on April 9, coming in to relieve Fritz Peterson with the Yankees trailing. The Bombers picked up the lead with Waslewski in there, but Lindy McDaniel blew the lead and the game in the tenth. "In '70, Lindy…came in and he saved everything," Gary remembers. "In '71 he couldn't get anybody out. He came in, followed me…five games, and it was almost like five games in a row where I'd come in in long relief, I was the winning pitcher going into the ninth inning, and he blew all five wins I could have had." It did happen again on May 4 in Minnesota, May 25 in Detroit, and June 5 in New York. Gary got his final major-league save on June 19, 1971 at Memorial Stadium in Baltimore with a perfect 11th inning. As the season rolled into July, Waslewski was 0-1, with a 3.28 ERA.
On July 6, Gary came into a game in Detroit replacing Gary Jones with the Yankees trailing the Tigers 10-7 in the fifth inning. He was still in there to start the seventh. "I had gotten into a groove coming in…in long relief," Waslewski says. "Ralph was bringing me in later and later as the game was getting more on the line." Willie Horton and Jim Northrop hit back-to-back singles. Another Connecticut native – Tiger second baseman Dick McAuliffe — stepped to the plate. "I remember throwing a ground ball to the left-hander to hit to first," Gary remembers. Felipe Alou was the Yankee first baseman that day.
"So I had to get over to cover first base. [Felipe] threw it to [shortstop] Gene Michael at second for one out, and Gene…threw me one of those sinkers down…and I'm running to the bag. And I hit the bag and turn to go get his throw, and it's going to short-hop me. And I'm thinking, if I don't block this ball, it bounces right into the stands because the stands are close, and the guy on second scores. So if I can at least block the ball and keep it in play, we're going to have first and third and I can get the next guy and we'll be out of the inning. And as I went down, as I hit the ground and tried to turn to block it, my leg started to turn, and then something locked in my knee, and I heard POP! And the ball went off my chest and laid there. And I went to get up and I couldn't get up. Even the first base coach for the Tigers said he thought someone had shot a gun at us! I finally got up and tried to hobble to the mound. There was no way I could throw, so they took me out of the game."
His season was over. "I qualified for the pension plan at Lenox Hill Hospital," Waslewski joked. "I got my four years in." He underwent surgery the day of the All-Star Game in Detroit, and spent his 31st birthday at Lenox Hill. The Yankees placed him on the 21-day disabled list. "It was done the old way," Gary says of the operation. "Where they cut you up…big scar…and you lay in bed for a week in a cast. Which they don't do anymore." Rehabilitating an injury was a little different in 1971 as well. "There was absolutely nobody working with you at that point," Waslewski recalls. "And you had to do pretty much everything on your own. They just said try to walk, and tighten up the leg muscle while you're walking. Do a lot of walking." The Yankees had him pitch some batting practice near the end of the season, but manager Houk didn't want him injuring the knee again in game play. The 1971 Yankees finished in fourth place at 82-80, 21 games behind the A.L. East-leading Orioles.
In his offseason wish list for Yankee players, beat writer Jim Ogle hoped for "A couple of teaspoonfuls of mean and a brush for the hitters," for the Connecticut right-hander. "Nice guys don't keep hitters honest."18 "That's just not me," Gary says. "I wasn't brought up that way. I wasn't the type to come in and throw things all over the place. I thought that was stupid. How many guys have you seen…pitchers whack a wall with their hands? And I did hit a few guys on purpose in the big leagues, Ron Hunt being one of them!"
The Waslewskis returned to Massachusetts during the 1971 offseason. "I got pneumonia again," Gary says. "And had a fever and everything for about four days of 103, 104. My wife finally called the doctor. I was laying on my right side, which I never do because it was my pitching arm…and the doctor came in the room…and he said 'I want to check you.' So I pushed myself…to turn over…and I heard POP! And I separated my shoulder." He went to spring training with his arm still weak, and didn't see a lot of game action. "Freddy Beene had a pretty decent year in AAA," Waslewski recalls. "And so Ralph called me in right near the end of spring training just before the players went out on strike and said 'Freddy out pitched you in the spring.' And I said, 'Out pitched me? He pitched in 7, 8, 9 games I only got in one for a couple of innings!'" Waslewski offered to go to Syracuse, and be ready when the strike ended. "Had it gone on for another week or two, I think I could have gotten back with the Yankees at that point," Gary says. "But the guys came back about two weeks too soon! They weren't out of shape that much. But partway through the season…my former roommate Ron Klimkowski, was playing with the Oakland A's. And they had sent him to AAA in Des Moines, Iowa. He wanted to come back to New York because he lived in New York. So they made a trade." Waslewski had no decisions with Syracuse, and a lofty 8.18 ERA.
The AAA Iowa Oaks were hoping to get the ineffective Denny McLain from the A's, but instead got Waslewski for Klimkowski when McLain was instead shipped to AA Birmingham. Gary pitched well for Iowa, putting together a 2-0 record with a 3.21 ERA. In August, he was reunited for a third time with Dick Williams, this time as an Oakland Athletic. "My wife…had come out there…and she had both of our boys," Waslewski remembers the call-up. "And she got very sick and was in the hospital, and they're calling me up and we've got no one to watch the kids or I've got to say I can't go. So our best friend told her boss 'my friend's in trouble, I'm leaving,' she jumped on a plane, flew out to Des Moines, got my wife out of the hospital, got everything together, and they went back east." And Gary joined the 1972 Oakland A's. "That was a wild bunch of guys," he remembers. "They were together, but they were always fighting. There were a lot of egos on that team, and Reggie Jackson leading the pack of egos. He was Mr. Mouth, always shooting his mouth off. But they had a lot of good ballplayers out there. Ken Holtzman…Catfish and Vida Blue, Johnny "Blue Moon" Odom, and they had a whole host of young guys and they were going in and out trying to figure who was going to do what. They had a lot of good hitters — Sal Bando, Gene Tenace, Dave Duncan." No mustache or silly nickname for Waslewski, though. "I had to go to Minnesota to join them," he says. "I remember seeing all these guys coming in with long hair, long mustaches, and saddlebags instead of regular luggage. Really dressed funky. But that's what Charlie [Finley] wanted."
Playing for Finley could be an adventure. "He had this secretary…and she would sit up there with binoculars during batting practice…and if they were giving away autographs, or throwing a ball in batting practice up into the stands — you'd get a note in your locker saying 'you owe me five bucks. You don't do anything without my permission because I own you.' You couldn't do anything without his say so, otherwise you'd get yourself in deep trouble." His first appearance for the A's would be in — of all places — Boston on July 21. "The Boston writers said it looks like you have a different motion now," Gary told Ron Bergman of The Sporting News. "The only reason they say that is that I got someone out."19 He was the losing pitcher in a 14-inning marathon when the A's ran out of second basemen, had to play Sal Bando there, and he booted a ball that allowed the winning run to score.
When September first came, Dick Williams had to decide on his post-season roster. "They had to take somebody off to put Reggie Jackson back on — he was on the disabled list," Waslewski recalls. "So they had to send me back to Des Moines for 10 days, the minimum you had to stay, to get Jackson back on the list." He came back up for the end of the season, but didn't get to see the A's win the 1972 World Series in person. He did get a $1,500 World Series share. His last major league appearance was in Oakland-Alameda County Coliseum in a September 28 game against the Minnesota Twins. The last batter he faced, Cesar Tovar, grounded to third.
In 1973, the A's moved their AAA team to Phoenix, Arizona. Gary spent the entire season in the desert. Not a good place for pitchers, because the air is very light," He says. "But the people were nice, the weather. The sun was shining every day, we had a nice apartment complex we stayed at. Every night we'd be out by the pool after the game, until two, three in the morning." Waslewski pitched well in relief for the Toros, helping them to the Eastern Division pennant under manager Sherm Lollar. They drew 233,004 fans, and lost to Spokane in the P.C.L. playoffs.
Near the end of spring training in 1974, Waslewski fell victim to Finley's penny-pinching ways. The word came down that Finley's wife had just served him with divorce papers, and he wanted everyone making more than $2,000 a month released. "There's only four months in the minor-league season," Gary says. "So you're only going to make eight grand. And we were leaving by the busloads. They fired players, they fired coaches, they just cleaned out spring training down there." He asked Sherm Lollar if it was the end for him, but his manager thought he could still pitch in the majors. "So I called around to several clubs," Waslewski remembers. "But the problem is, it's the end of spring training. Everybody is trying to cut off the big league team to the AAA team, so they're overloaded. The AAA team's got guys that they've got to cut. So the Dodgers said 'jeez, yeah, we'd love to have you, but can you go someplace until we get through, say, the first 30 days? Because there are some kids we've got to give a shot to, we don't think they're going to make it.' So they said, 'would you go to the Mexican League?' For no guarantee that these kids don't do good. So that's when I decided to go back and find something else to do."
If this was the end, it had been a good run: 152 major-league games, 42 starts, 11 wins, 26 losses, 5 saves, a 3.44 ERA and one of the most memorable starts in World Series history. He played with and against many Hall-of Famers. "I played against Willie [Mays], Hank Aaron…Clemente," Waslewski reminisces. "Clemente was a tough out for a lot of people, he never got a hit off me. I think with Hank Aaron I only gave up one hit and it was a home run. I just didn't have trouble, consistently, with the big hitters. Like most of the pitchers it was the guy that didn't strike out, who'd dink the ball, hit it someplace, and you've got a chance to get a base hit. The guys who took a cut you could pitch to."
Back in Connecticut, Gary pitched for the Moriarty Brothers team in the Hartford Twilight League. The pitcher had gotten his securities and insurance licenses during his tenure in Boston, and he began to look for work in that field. "I went over and took a test with John Hancock," he recalls. "And they said, 'No, I don't think you'll make it in the insurance business, you're not enough of an S.O.B.!'" The career decisions were postponed when the Red Sox came calling. They signed Waslewski to a minor-league contract to replace some injured prospects at AAA Pawtucket. "The problem was, right after I joined them I stepped off a curb and my foot landed wrong, I ended up with a stress fracture, and I couldn't run much. That delayed my getting in shape faster." Gary then ran into a dead-arm period similar to what pitchers face every year in spring training. "The brass was down watching…and my arm was dead. I had nothing. After the game [manager] Joe Morgan came in, and he says, 'well, they've made a decision, they're putting so-and-so back on the roster, and we're gonna have to let you go.'" Waslewski had no decisions, a 3.32 ERA, and knew the end had come:
"I don't know what it is. I still don't know to this day, it was something that happened, where maybe the competitiveness just…hey, it's time. Your body just saying you can't do this anymore. And it's just time to go. And it was almost like you're letting it go. All of a sudden it's like, a relief. That you're not in there, you're not fighting all the time, trying to get on another club. I don't know what it was, but it was a feeling, just a feeling that came over you. It's time to go."
Time to go back to the job search. Royal Globe Insurance was looking for a marketing representative. "It was a salary job, company car, so I went in and interviewed with them," Gary remembers. "The guy said, you're overqualified for what I need, you know too much." But the interviewer had a friend at The Hartford who was leaving a position he thought Gary would be perfect for. "I was talking to this guy Tuesday, and Friday at 10:00 I was at The Hartford asking about a position. 'It just so happens we had a guy leave today…' They put me through a very extensive learning program on estate planning, business insurance, retirement, all that kind of stuff." Waslewski would stay with The Hartford for 24 years. "I covered Connecticut, Rhode Island, and Southern Massachusetts, working with independent agents, banks, brokerage outfits, independent life operators…it was a lot of fun. One day you're working with Joey Lunchpail…the next day you're sitting down with somebody who's talking a premium of $20,000 a month and thinking nothing of it!"
There were thoughts of staying in the game, but it didn't make a lot of sense financially. Former teammate Pete Ward called with a chance to be his pitching coach at AA West Haven in the Yankee system. "He called me right after, about a year after I had the job at The Hartford," Waslewski recalls. "And I was making $11,000 my first year with The Hartford, that was my base pay there, and I said, well what are they paying, and he says something like $8,000. And it would have been for only about four months. If I was financially independent I'd take it in a minute. But financially I just couldn't do it. I think it turned out to be a good decision, because I made good money with The Hartford, had a good career there, met a lot of great people, and things worked out."
The urge to pitch hadn't left completely. "They formed this over-30 league, and most of us were over 50 that were on [my] team," says Waslewski. It looked like it'd be fun. We were only going to play a doubleheader every Sunday. Our catcher was 54 years old, at the time I was like 51." He played for a while longer "And then I was starting to get hurt, and it was taking a week to heal. I was warming up for a game over at Legion Park in Meriden. And I pulled a hamstring warming up to pitch to the first batter! You know when I'm still hurting from the week before, and I'm tearing a muscle warming up to start the game…time to go home."
When he retired from the Hartford, Gary took up golf to keep the competitive juices flowing. "For the first couple of years, for the life of me I couldn't believe that people could shoot par," Waslewski jokes. "I'm going, 'How in the world did they come up with par on this? Four? There's no way you can get this ball off the tee and in that hole 350 yards away in four strokes!' I'd be on four strokes already and only halfway down the fairway, or over in the rough." As of 2005, he was a 13 handicap, and had many opportunities to play good courses. His son Daniel is a scratch golfer, and Director of Food and Beverage for the Tournament Players Club of Boston. "I usually call ahead and say, 'Hey Dave, can you get me on the TPC at Sawgrass, or Myrtle Beach?'" Waslewski says. "I'm a lousy golfer who plays a lot of good golf courses!" Dan was a good hitter at Southington High School, went to UConn, but had to leave school because of mononucleosis and never went back. Gary plays 10 to 12 charity tournaments a year, for Major League Baseball Alumni and other organizations.
The Waslewskis' elder son Gary was a fine pitcher at Princeton, whose career was derailed by a drunk driver. "He was graduating cum laude from Princeton, and he had already been accepted into medical school," Waslewski remembers. "He was coming home, just at the start of the school year, to talk to some scouts…he was going to give up going to medical school — figured he could always get back in — and sign. He was down at the bottom of the hill here [in Southington,] and some drunk hit him head on, totaled his car, got his legs all banged up. He was on crutches for the summer." Nothing was broken, but the scouts lost interest. Gary is now a successful orthopedic surgeon in Arizona, specializing in sports medicine.
The starting pitcher in Game Six of the 1967 World Series remains a Boston Red Sox fan to this day. "Yeah, because again, the organization was so good, and they bring us back every year for at least one or two games," Waslewski says. "They've got Autograph Alley…sit there for an hour or so, sign autographs for everybody, people take pictures. Most of the kids who come for autographs…they don't have a clue! But sometimes the parents will say, 'my Dad remembers you!' So that's nice." Not that he's completely anti-Yankee. "George Steinbrenner has offered all former players…four free tickets to come back to Yankee Stadium anytime, or anywhere the Yankees are playing on the road," Waslewski says it's been a while since he's been back. "I haven't been back to Yankee Stadium in fifteen years or so…I haven't been to [an Old Timers Game] in a long time. They've got too many big names still alive." The 2004 postseason was a pleasure for the former Sox hurler. "I think what I enjoyed [most] was the spectacular way they did it. I don't care what the Yankee fans say now about how many World Series they won, all you've got to do is throw 2004 in their face! How many games were you up at the time? The biggest choke in the history of playoff baseball." He told the Hartford Courant in 2004, "I don't think anyone anywhere, no matter how drunk they were, would have said they were going to win eight straight games."20
History has treated the former pitcher kindly. "It's what, 37 years since then, and I'll be out playing golf or something and my name will come up," he told the Courant. "People come up to me and say, 'Aren't you the guy who pitched in the World Series?' They still remember."
Last revised: August 1, 2016
An updated version of this biography appears in "The 1967 Impossible Dream Red Sox: Pandemonium on the Field" (SABR, 2017), edited by Bill Nowlin and Dan Desrochers.
Sources
In addition to the sources cited in the Notes, the author also consulted:

Newspapers 
Claflin, Larry. "Only Hub Question Marks Center on Lon and Con," The Sporting News, March 2, 1968: 4.
Claflin, Larry. "Those 6-1 Odds Don't Scare Bosox," The Sporting News, April 13, 1968: 12.
Dunn, Bob. "Woodie Wonder: Expo Lefty Ace," The Sporting News, May 17, 1975: 20.
"Gary, Not Denny," The Sporting News, June 3, 1972: 38.
Kahan, Oscar. "Red Sox Come Alive, Bury Cards Under 4-HR Salvo," The Sporting News, October 28, 1967: 7.
Ogle, Jim. "Munson Makes Hit With Yankees Despite Slump," The Sporting News, June 6, 1970: 17.
Ogle, Jim. "Cater Edges Toward Yank Auction Block," The Sporting News, October 2, 1971: 22.
Powers, John. "Former Players Felt A Kinship," Boston Globe, October 31, 2004.
Prell, Edward. "Boston Banks on Waslewski Today," Chicago Tribune, October 11, 1967.
"Red Sox Lose Rohr; Conigliaro Returns," Washington Post, June 2, 1967.
Reidenbaugh, Lowell. "Gibson, Redbirds – – Second to None!" The Sporting News, October 28, 1967: 5.
"Waslewski Picks Up Red Sox," Washington Post, July 4, 1967: D2.
"Waslewski Sure to Pitch: Almost," New York Times, October 10, 1967: 59.
"Williams: 'Waz' Should Have Victory," Chicago Tribune, October 12, 1967: C1.
Books 
Buckley, Steve. Red Sox: Where Have You Gone? (Champaign, Illinois: Sports Publishing, LLC, 2005), 28-31.
Johnson, Lloyd and Wolff, Miles, Eds. The Encyclopedia of Minor League Baseball, 2nd ed. (Durham, North Carolina: Baseball America, 1997).
Websites 
Armour, Mark. "The Impossible Dream: How the 1967 Red Sox Won the Pennant." http://baseball-analysis.com/article.php?articleid=1711, March 17, 2003.
www.nmb.gov/publicinfo/airline-strikes.html
Other
University of Connecticut 2005 Media Guide
Obituaries, The Sporting News, March 14, 1970: 32.
DVD: St. Louis Cardinals Vintage World Series Film, Major League Baseball Properties, Inc. 2002.
Notes
Born
July 21, 1941 at Meriden, CT (USA)
If you can help us improve this player's biography, contact us.
http://bioproj.sabr.org/bp_ftp/images2/WaslewskiGary.jpg
600
800
admin
/wp-content/uploads/2020/02/sabr_logo.png
admin
2012-01-04 20:47:05
2020-12-19 12:51:29
Gary Waslewski