---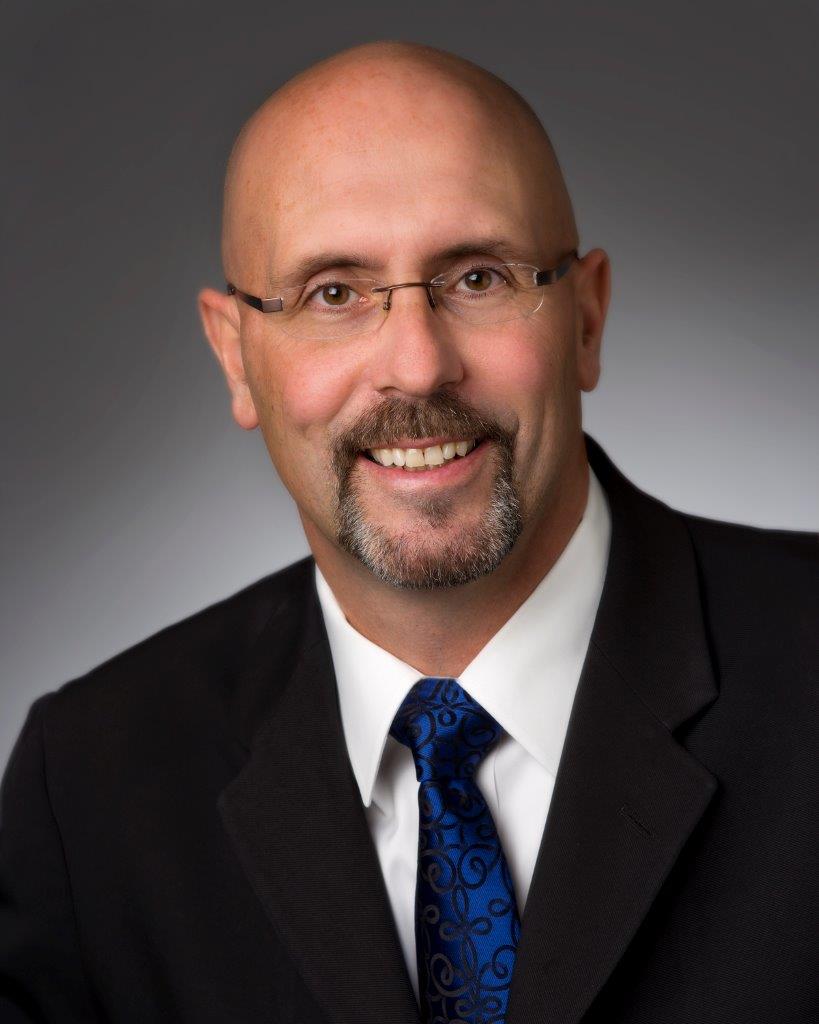 Jim "JD" Deshaies had a journeyman career as a left-handed pitcher for 12 years in the majors. At times he outshined some of his legendary rotation mates, but at others he suffered from shoulder injuries hampering his sneaky-fast velocity. Those injuries ultimately ended his playing days but paved the way for a second act as one of the best sneaky-funny color commentators in baseball. You cannot listen to JD in his second career as a broadcaster for the Astros and Cubs for very long without realizing his appreciation for a good, deadpan Seinfeld reference (not that there is anything wrong with that, as one well-known episode puts it) and his great storytelling ability.
Upstate New York is where this story begins. Born June 23, 1960, in the town of Massena, to Albert "Herb" and Sheila (Fox) Deshaies, James Joseph Deshaies was the second of five children. Massena is near the Canadian border, and Sheila was originally from Ontario, where she had worked as an operator for Bell Canada before getting married. His dad also worked for the phone company. "It was a solid, blue-collar upbringing," he said. His mom died in 1986, during his first full year in Houston. Baseball was a big part of the family's summers. His dad was a big baseball fan and his uncle, Barney Deshaies, played ball in college and even had a tryout with the Yankees.1
Self-deprecating humor comes through as Deshaies tells the story of his start in organized baseball. Massena had a summer youth program which included baseball, and Jim tagged along with his older brother, Mike. "The kids from all over the little village would just descend on this park and we'd all climb up on these bleachers and the guy that ran the program would pick four or five of the older kids to pick teams. The first year I ever went, I think I was maybe four or five, and every single kid in the bleachers got picked except for me. I remember the story goes I was up there crying and the guy that ran the program, his name was Jim Long, he brought me down and he gave me a bag of potato chips and a T-shirt and said, 'Come back when you're older.'"2
Luckily, Deshaies didn't give up on baseball, thanks to his big brother. "I chased him around, playing with the older guys. I think that really fueled my passion. But summertime, it was an almost daily event on some level whether it was in an organized Little League game or just a pickup game in the park somewhere or playing softball, whatever, we were throwing and swinging and it was kind of life." The first time Deshaies had an inkling that professional baseball was on the radar was his sophomore year in high school. Elmer Valo, a scout for the Phillies, came to watch him pitch. "That created a decent amount of buzz." Also that summer, Deshaies found himself on the Montreal Expos' radar. "The Expos used to hold these open tryout camps, and I'm not sure how much of it was actually looking for talent or how much of it was just being a good neighbor and a public relations event. But a few of us drove to Ottawa from my hometown — it was about an 80-mile drive — to do this group tryout. There were hundreds of kids there. I waited around all day and I think I was one of the last kids to throw in this scrimmage they put together. A couple weeks after that I got a letter from the Expos inviting me to a camp in Montreal for kids that they considered prospects. You can imagine just seeing that Expos logo on the return part of the envelope."
"The one memory I have of that was the instructor who was reading a roll call and I didn't hear my name called. I thought: oh, no. I'm just kind of this young naive kid and I was kind of intimidated and I finally went up to him and I go, 'I don't think you called my name.' He shows me the list and I point out my name and of course, my name has been Americanized to De-SHAYS, but up in Canada there's a bunch of us up there, so when he read it, he read it in French (as 'DeHay') and it went over my head. Other than that, I don't remember how the tryout went but they ended up drafting me a couple years later out of high school."
Deshaies didn't sign with Montreal in 1978, but enrolled and played baseball at Le Moyne College in Syracuse, New York. "At Le Moyne, we made it to the Division 2 College World Series twice. My freshman year we finished third in the nation; junior year we were eliminated in two games. Tom Browning was a teammate on both those teams. We were high school rivals and college teammates and remain good friends."
Deshaies was taken by the Yankees in the 21st round of the 1982 amateur draft. He impressed early in Class A ball with Oneonta. On August 26, 1982, he struck out 20 batters in an 11-inning outing against Little Falls, bringing his strikeout total to a league-leading 126.3 Deshaies progressed through the Yankees' minor league system, posting an 11-3 record with a 2.52 ERA in Class A ball in 1983 and a 13-7 record in Class AA and AAA with a 2.49 ERA in 1984. He threw a seven-inning no-hitter for Nashville in 1984 against a Houston Astros' affiliate.
He was called up to make his major league debut on August 7, 1984. "We were in Syracuse, which is three hours from my hometown, so my girlfriend (now wife) and parents were in town. Stump Merrill was the manager and he had me come to his hotel room where he broke the news. I remember Lori and I scrambling to contact my folks, who had gone to a local mall to kill some time. Obviously, this was pre-cell phone days, so I think we ended up calling the mall and having them paged."4
The most memorable thing about JD's debut was that he was the 1,000th player to play in an official game for the Yankees.5 Starting against the White Sox, he pitched four scoreless innings before yielding four straight hits in the fifth and being touched up for four runs. He was charged with the loss as Chicago won, 6-3. Deshaies was the starting pitcher in each of his two major league appearances that season and spent 1985 at Class AAA before the Yankees traded him to Houston as part of a three-player deal for Joe Niekro on September 15, 1985. He made two late season appearances with Houston.
In 1986, Deshaies won the fourth spot in the Astros' rotation based on his strong spring training performance, but after a shoulder injury, he got off to a slow start in the regular season. He did not notch his first win until May 26, against the struggling Cardinals. As noted in The Sporting News, "Despite not throwing any pitches above 86 mph, Deshaies struck out 10 in 7 innings. Asked if Deshaies was that good or the Cardinals that bad, Cardinals manager Whitey Herzog said, 'I'd rather not comment on that.'"6 "It was a long time coming. I was beginning to think the only time I could win was in exhibitions," Deshaies said.7 The Sporting News called Deshaies "the season's most pleasant surprise for the Houston Astros" after he'd won five of six decisions (dating back to June 9) following a July 30 win over Atlanta.8
"Maybe in the eyes of some people I was supposed to be the guy who replaced Joe Niekro, but I never felt that way," Deshaies told The Sporting News. "I knew I couldn't replace him. I just looked at it as a chance to go somewhere where I could pitch. I came in here in the spring just trying to make the club. I figured it wasn't a straight up trade (the Astros also got two minor league players) and there was also quite a big difference in our contracts. I knew there was some pressure because I'm sure they didn't want to have to send the guy they traded Niekro for back to the minors. … I've always been a strikeout pitcher because of my high fastball. I've got average velocity, but I'm what they call 'sneaky fast'. I short-arm the ball a little I guess. When hitters see that high fastball, they say happy birthday and start hacking. I'm told my fastball gets there quicker than they think. The main thing I have to do is keep the ball out of the middle range. I can throw high or low, but not in the middle."9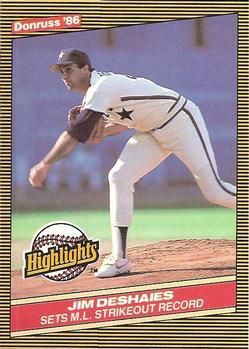 Deshaies wasn't known for having strong first innings, but he must have had his sneaky-fast stuff working early on September 23, 1986. He had missed his previous start and remembers feeling pretty strong as he warmed up for a home start against the Dodgers. The Astrodome held a decent crowd (27,734) that night. "We were just a couple of days away from clinching the division, so people in Houston were pretty fired up about the '86 Astros, so there was a good lively crowd there."
He had a pretty good fastball that night, striking out Steve Sax, Reggie Williams, and Enos Cabell in the first inning. Pedro Guerrero led off the second inning with what Deshaies recalls as a 16- or 17-pitch at-bat. "He just kept fouling balls off, fouling balls off. They were mostly fastballs. Alan Ashby was catching and he called for a changeup." Guerrero was called out on what Deshaies recalls as "a very borderline pitch. It wasn't a strike, but I got the benefit of the doubt." He finished off Alex Treviño and Jeff Hamilton to end the second.
After Dave Anderson struck out to start the third, "There was a big ovation and then I got the ball back and I was getting ready to step back on the mound, and then there was a secondary ovation, so I stepped off and I looked up at the big board and they put an announcement that I had tied the modern record by striking out seven in a row to start a game," Deshaies said. "It's not a record that people really pay attention to or are aware of, so that kind of got my attention. So when I got the eighth one, I knew I had the modern record." The record-breaking strikeout victim was José Gonzalez, who swung at a high fastball on a 1-2 pitch. Seeing where this was going, Dodgers skipper Tommy Lasorda pinch-hit Larry See for pitcher Dennis Powell, who had already given up two runs in the first inning. While See didn't strike out, he did pop out to second. Deshaies would go on to pitch a complete game, giving up just two hits, no runs, and one walk, while striking out 10, winning 4-0.
"The irony in all this is that traditionally, I was a terrible first-inning pitcher. I mean it took me a while to get up to full speed for whatever reason. And I tried a billion different things to do better, to have my best stuff when I left the bullpen, but it just never, ever, or rarely seemed to materialize, so it's kind of ironic that I ended up setting a record relating to getting off to a great start." Deshaies now shares the record with Jacob deGrom of the New York Mets, who tied it in 2014, and German Marquez of the Colorado Rockies, who joined them in 2018. The all-time record is held by Hall-of-Famer Mickey Welch, who, pitching for the New York Gothams, began a game against Cleveland by striking out the first nine batters who faced him on August 28, 1884.10
"That was really a big moment, being my first full year in the big leagues and to be part of a team that was chasing down the division title," Deshaies said. "The great story associated with that is … I only struck out two more the rest of the game. I had a complete game, two-hitter, and the next night Nolan Ryan goes eight innings of one-hit ball and struck out 14. After that game, I was in the clubhouse and I was talking to Alan Ashby and I just made some crack about, 'You'd think Nolan would let me have the limelight for more than a day.' This is true, I know it's one of those stories that people say it's just a myth that makes for a good story, but Alan goes, 'I got a feeling Scotty's going to come out here tomorrow and show you both up.'"
Indeed, Mike Scott pitched a no-hitter to clinch the division on September 25. "So, we went two-hitter, one-hitter, no-hitter those three days leading into the clinch." That season, Deshaies went 12-5 with a 3.25 ERA and 128 strikeouts in 144 innings. He tied for seventh in N.L. Rookie of the Year voting with one vote, right behind Barry Bonds, who got just four. The Astros lost the NLCS to the New York Mets, four games to two. Deshaies did not pitch in any games, despite being available out of the bullpen in Game Six. "Hal Lanier [then the Astros' manager] takes a fair bit of heat for that, but I get it," Deshaies said. "I was supposed to start Game Five and got rained out. I was up in the extra innings of Game Six, but he went in a different direction. I had no experience pitching out of the bullpen and that probably drove his decision. One of those 'we'll never know' what might have been questions for sure." None of his subsequent teams made it to the postseason.
Deshaies went into the 1987 season looking to diversify his pitch arsenal. He sought to add a split-finger fastball to make his high-rising fastball more effective.11 In his first start on April 22, he pitched seven strong innings against Atlanta, giving up four hits and no runs while ringing up 11 strikeouts, which tied a career high. "That's as good a game as he's pitched since he's been here. He struck out 11 and threw only 94. That's pretty amazing," said Lanier.12
That season, JD also entered popular culture by earning a nickname from ESPN's Chris Berman: Jim "Two Silhouettes on" Deshaies.13 And, he backed it up with consistent pitching, earning six consecutive wins and ranking among the top 10 in ERA in the N.L. by late June. The Sporting News said that he had "quietly become one of the most effective pitchers in the best starting rotation in the league."14 However, by the end of July, Deshaies was on the DL with tendinitis in his left shoulder. After 20 days of rest, he wasn't his former self, allowing 20 hits, 11 runs and five homers in 13 innings in his first three starts back. "You can't go out there with the velocity he's got and expect to win," Lanier said. Deshaies agreed, saying, "It hurts, but there's no reason I can't pitch with it and win. What I'll have to do is alter my way of pitching. I can't throw subpar fastballs in the same place I did before. I really can't remember the last time I had my good fastball. It hasn't been since the All-Star break, I know that. What I'll have to do is throw more changeups and breaking balls and throw my fastball differently." 15
Deshaies finished the season 11-6 with a 4.62 ERA; he'd started out 9-4 before going on the DL. A postseason arthroscopic examination found a slight tear in his left rotator cuff, from which Dr. Bill Bryan chipped and scraped some flaps before telling Deshaies further surgery would be unnecessary if he rested his arm in the offseason. "Guess that means no snowball throwing. Going to Massena, NY, and not being able to throw a snowball in winter is kind of like being in Houston in the summer and not being able to sweat," JD quipped.16
As in 1987, Deshaies got off to a good start in 1988, beginning with a two-hit shutout of Atlanta, but he and the team would run into problems as the season wore on. Before that happened, though, The Sporting News' Peter Pascarelli noted that JD and his teammate Bob Knepper were among the N.L.'s leaders in ERA, rather than Nolan Ryan and Mike Scott. "You start to understand why a lot of people think the Astros are the team to beat in the West," Pascarelli wrote.17 By early August, however, the Astros were on an 11-game losing streak. Deshaies took matters into his own hands, buying a book with a chapter on breaking curses. "Following the directions, he gathered wood from four varieties of trees then, at the stadium, he broke up the pieces, spit on them, and threw them into a fire. As they burned, he chanted seven times: 'Turner be turned; Burner be burned. Let only good come from this wood.' Sure enough, the Astros won that night. Two days later, Deshaies was listed in USA Today as one of the five worst hitters among N.L. pitchers. 'What they didn't know is that my book has a curse for those who slander,' says Deshaies. 'If you see someone from that paper in a cast, you will know why.'"18
The 1989 season also started well for Deshaies: 5-3 with a 2.73 ERA. He attributed his success to his previous injury and surgery forcing him to use his changeup and slider more often. Teammate Bill Doran told The Sporting News, "In his first year, hitters were swinging at that fastball that was up. Now if they lay off that, he'll put his other pitches where he needs to. He's become the kind of pitcher I wouldn't want to face."19 After the season, The Sporting News said Deshaies exceeded expectations with a 15-10 record and 2.91 ERA. Houston was 22-12 in games he started.20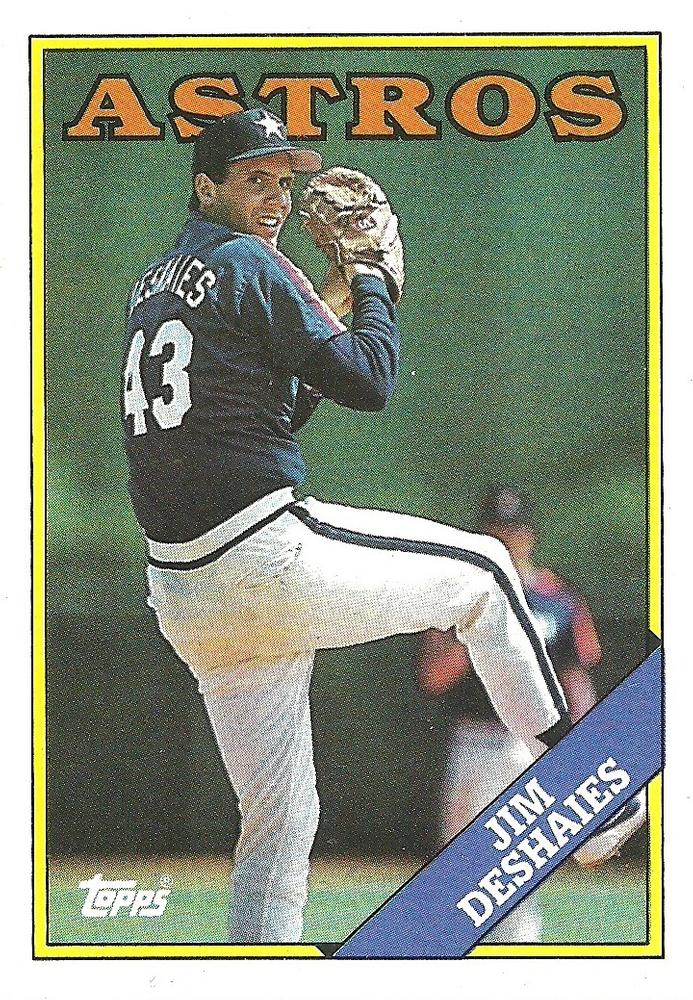 Things went downhill for Deshaies in 1990 and 1991, with records of 7-12 and 5-12, respectively. In July 1991, The Sporting News noted that he had gone 319 at bats without an extra-base hit, the second longest streak behind pitcher Virgil Barnes from the 1920s, who had gone without an extra-base hit for 371 at bats (his entire career). Deshaies said he would consider joining an A.L. team the next year to avoid breaking the record.21 In any event, despite spending most of his time in the American League during the 1993 and 1994 seasons, he finished his career in the National League, and when he batted for the last time on July 25, 1995, he had set a record of 373 at bats without an extra-base hit. Despite the bad year, JD kept things fun, taking the opportunity on a road trip to Los Angeles to have lunch with a fellow Massena native, actor Hal Smith, who played Otis the town drunk on The Andy Griffith Show. "People always ask if I am the famous person from Massena," JD said. "No way. More people know about Otis than me. Hands down."22 By the end of 1991, Deshaies was out of the rotation and he was so sure he wouldn't be back with the Astros in 1992 that he put his house up for sale the week after the season ended.23 That December, the Astros declined arbitration and cut ties with him.
Deshaies spent the beginning of the 1992 season in the minors with Las Vegas, the Triple A affiliate of the San Diego Padres, before getting into 15 games with the Padres after being called up in early July. The Minnesota Twins signed him to a one-year contract prior to the 1993 season.24 He struggled in spring training, but when the season started, he became the third big league pitcher (and the first lefty) to win three games. At one point in early April, he had half the club's victories, with a 1.74 ERA. He'd also avoided giving up the long ball.25 "At this point, I'm not going to even predict four wins," said Deshaies, who made around $800,000 in 1993. By contrast, David Cone, whom Deshaies beat for his third win, had a three-year contract for $18 million. "I can't compare myself to Cone," Deshaies said. "He's got seven pitches from six different angles and throws 90 MPH. I have three pitches from one angle and who knows what they're going to do?"26
JD's performance resulted in a trade to San Francisco on August 28 as the Giants bolstered their pitching staff for a playoff run with the Atlanta Braves.27 At the time of the trade, he was 11-13 with a 4.41 ERA. He ended up being a rental; he went 2-2 with the Giants. The Twins re-signed him for 1994, but after he went 6-12 with a 7.39 ERA and a league-worst 30 home runs in 130 innings, they released him.28
In 1995, Deshaies spent most of the season with Philadelphia's Class AAA Scranton. "Jimmy Fregosi was the manager and he didn't really want me [in Philadelphia], but what happened was I had an out clause where I could leave to go to another big league club from Triple A. The Reds expressed interest, but the Phillies had right of first refusal. So Lee Thomas was the general manager and he said, 'Well, you might as well bring him up.' I had been in Scranton for most of the year, so I came up and I made two starts, one in Philly that didn't go well and then that final one [in Chicago]. It was during that brutal heat wave of '95 and I was a fly ball pitcher, and I knew as I was heading to the ballpark that this is not going to go well today. And it didn't. That was kind of the end of the line."
That last game for Deshaies came at Wrigley Field on July 30, 1995. Brian McRae doubled to lead off and, one out later, scored on Mark Grace's RBI single. With two outs, Todd Zeile hit a two-run homer on a full count for a 3-0 Cubs lead. José Hernandez led off the Chicago second with a home run; one out later, opposing pitcher Jim Bullinger walked. When McRae singled to left, Deshaies was pulled after 1 1/3 innings. Asked whether he calmed himself with choleric Seinfeld character Frank Costanza's mantra, Deshaies said, "That day it was like, 'Get me out of here.' I wish I was aware of 'serenity now,' that might have helped."
In all, Deshaies spent 12 years in the majors, finishing with an overall record of 84-95 with a 4.14 ERA and WAR of 11.9. Two years after retiring, he moved to the broadcast booth for the Houston Astros, partnering with Bill Brown until 2012. JD quickly endeared himself to Astros fans by injecting fun into his color commentary, regularly drawing on Seinfeld references. "I love to quote the show because I think the characters are so funny. I think it resonates with a lot of people. There's a lot of people that are plugged in way more than I am on it and they can quote entire episodes almost. I just have a soft spot for the characters who are so quirky."
Deshaies says he doesn't have a favorite character, but many of his favorite scenes involve Kramer and his schemes. "Those story lines always cracked me up. Some of the really absurd stuff where he's Kramerica and he's got an intern. That stuff probably hits me the hardest. There's the whole thing where he gets the meat slicer and he's got the whole thing in the shower, MovieFone and all the goofy stuff. And then the other stuff with [George] Steinbrenner and [Keith] Hernandez and the second spitter and all that." 29Even though he was a Yankee, Deshaies never met one-on-one with Steinbrenner.
In 1998, Deshaies called Cubs Kerry Wood's 20-strikeout game against the Astros. "The thing that stands out to me was his stuff was so good and that was a really good Astros team. I mean really good. They won 100-and-some ballgames that year, probably should have gone to the World Series. You knew right from the jump that they had no chance. The way he pitched that first inning, he throws a ball and hits the home-plate umpire in the mask because the catcher whiffed on it. I don't know if it was Craig [Biggio] or Jeff [Bagwell], one of them walked back and said, 'Don't get upset, but boys, we've got no chance today.' Coming from Houston, being in Texas, I was aware of Kerry Wood and the whole Houston fireballer lineage of [Nolan] Ryan and [Roger] Clemens and so on, so I was aware of him, but I had no idea that he had the kind of stuff that he did. I didn't realize it was that good."
Deshaies said it can be hard for broadcasters to maintain allegiance to their team when an opposing pitcher is doing something special on the mound. "And then what happens too is when you're doing that game, the broadcaster that works for the opposing team, at some point you get caught up in it, you want him to strike everybody out. You're like, 'this is amazing.' You start pulling for him just like you would if somebody was throwing a perfect game. I worked Matt Cain's perfect game against the Astros out in San Francisco and by the eighth inning, you're kind of hoping he gets it. It's bad for our guys, but I want to witness it. When a guy gets a chance to make history, you're all in."
In 2001, Deshaies became eligible for election to the Baseball Hall of Fame. Knowing that he didn't exactly have a Cooperstown-worthy career, but not wanting the BBWA to echo Seinfeld's surly Soup Nazi — "No soup for you" — he wryly commented that he hoped he'd get one vote. That was enough to inspire the Astros media relations department to launch a tongue-in-cheek Hall of Fame campaign.
"I said, 'I'm not going to really be involved too much. If you guys want to have fun with it, do it. Make sure that everybody knows this is tongue in cheek, that I have no business going into the Hall of Fame or even getting votes for the Hall of Fame, so we're having fun with this.' And so they started this whole campaign, One Man, One Vote, and set up a website. It was kind of cool because people came onto the website and chimed in that I hadn't seen in years and years. Guys I'd played summer ball with when I was in college jumped on and had comments. I would say 90% of the people knew what it was all about, that it was just having fun. Some people got a little worked up about it like that I had been promoting myself and that I had no business, that the Hall of Fame is a shrine. That wasn't the point at all. But we had fun and then John Lopez, a columnist for the [Houston] Chronicle, he's the guy that voted for me. He got a column out of it and he just said that 'I'm voting for Deshaies because he represents so many players that go through baseball that are big-league players but they're not star players and they play hard and they try hard. They're part of the fabric of it all, but they're not Hall of Famers.' So he cast a vote for me."
In 2012, Chicago Cubs color analyst Bob Brenly decided to leave for Arizona, creating an opening in the broadcast booth with Len Kasper.30 "Chicago was always my favorite road city during my playing career or my broadcasting career in Houston. Chicago was always my favorite place to come to. I wasn't anxious to leave Houston. I loved my time down there. But I was of the mind that change sometimes just for the sake of change can be really good and just a whole new life experience. The idea of coming to Chicago, Wrigley Field as your home office 81 dates out of the year, it was too hard to pass up. This is too much fun. Plus, it's a challenge. I was pretty well locked in in Houston and I could have stayed there my entire career, but I viewed it as here is an opportunity to go in. It's a little bit of a challenge because as an outsider coming in, I'd never played for the Cubs, I had no ties to the organization, so it was realistic to expect that there would be some pushback in some quarters and you'd have to earn the trust of the fans. So there was a certain amount of risk in doing it, but it was a great decision. It's been a lot of fun. And it's been great for my family too."
Deshaies is known for hilarious comments during games. On August 3, 2020, during a game between the Chicago Cubs and the Kansas City Royals, KC reliever Josh Staumont was on the mound lighting up the radar gun. JD, who doesn't have as much hair as he once did, quipped, "Man, what I wouldn't give to have a man-bun and 99-mile-per-hour fastball. Wow, that's a combo right there, baby. I'm so jealous. I'd have to get struck by lightning for either to happen."31 Fans appreciate his clever comments so much that one created a Twitter account (@DeshaiesQuotes) to catalog some of his best quips. As of early 2021, it has nearly 6,000 followers. "If I don't feel like I got off a couple of good one-liners in the course of a game, I'm a little disappointed. I wanna make people laugh."
"There's nothing you can't throw at him that he can't give you a pithy answer," Kasper said. "And I've never worked with anybody quite like him in that regard."32 In 2021, he was joined in Chicago's broadcast booth by Jon "Boog" Sciambi.
Deshaies married his high school sweetheart, Lori, in October 1985. They have three daughters, Libby, Molly, and Kelly. "They've been kind of on this long journey with us through our baseball lives, which creates challenges of its own with the scheduling and everything, but it's what we've always known and done and it's been a fun ride. I've just thoroughly enjoyed the entire run, both playing and in the broadcasting career and all the different people that you cross paths with, scouts, and the other broadcasters and all the minor league players. It's quite a fraternity."33
Last revised: June 24, 2021 (zp)

Acknowledgments
Special thanks to Jim Deshaies for his input. In addition to a phone interview on July 20, 2020, there was email correspondence on July 20, 2020 and February 16, 2021.
This biography was reviewed by Rory Costello and Norman Macht and checked for accuracy by SABR's fact-checking team.
Notes
1 Jim Deshaies phone interview with the authors, July 21, 2020 (hereafter Deshaies phone interview).
2 Deshaies phone interview.
3 "Class A Notes," The Sporting News, September 13, 1982: 35.
4 Deshaies email correspondence February 16, 2021.
5 Mark Gallagher, The Yankee Encyclopedia, (Champaign, Illinois: Sports Publishing LLC, 2003), 243.
6 "Notebook — N.L. East," The Sporting News, June 9, 1986: 13.
7 "N.L. West — Astros," The Sporting News, June 9, 1986: 16.
8 "N.L. West — Astros," The Sporting News, August 11, 1986: 26.
9 "Sneaky Fast Deshaies Proves He Can Pitch," The Sporting News, August 18, 1986: 18.
10 Ibid.
11 "Notebook — N.L. West — Astros," The Sporting News, February 2, 1987: 41.
12 "N.L. West — Astros," The Sporting News, May 4, 1987: 23.
13 Bob McCoy, "The Boomer and Bermantics," The Sporting News, June 1, 1987: 10.
14 Neil Hohlfeld, "Deshaies Displays Stamina," The Sporting News, July 6, 1987: 16.
15 "N.L. West — Astros," The Sporting News, September 7, 1987: 18.
16 "N.L. West — Astros," The Sporting News, October 26, 1987: 27.
17 Peter Pascarelli, "NL Beat," The Sporting News, May 30, 1988: 22.
18 Ibid.
19 Neil Hohlfeld, "Surgery Helps Deshaies Mix It Up," The Sporting News, June 5, 1989: 18.
20 "N.L. West — Astros," The Sporting News, October 16, 1989: 38.
21 "N.L. West — Astros," The Sporting News, July 1, 1991: 17.
22 "N.L. West — Astros," The Sporting News, August 26, 1991: 18.
23 "N.L. West — Astros," The Sporting News, October 28, 1991: 23.
24 "A.L. Central — Twins," The Sporting News, December 21, 1992: 32.
25 "Deshaies Gets a Hat Trick," The Sporting News, April 26, 1993: 27.
26 "Deshaies Gets a Hat Trick."
27 "N.L. West — Giants," The Sporting News, September 6, 1993: 15.
28 "A.L. Central — Twins," The Sporting News, November 7, 1994: 46.
29 Deshaies phone interview.
30 ESPNChicago.com, "Bob Brenly won't return to Cubs", https://www.espn.com/chicago/mlb/story/_/id/8517366/bob-brenly-return-chicago-cubs-booth
31 Marquee Sports Network broadcast, August 3, 2020.
32 Agrest, "Jim Deshaies Expects Smooth Transition."
33 Deshaies phone interview.
Born
June 23, 1960 at Massena, NY (USA)
If you can help us improve this player's biography, contact us.
https://sabr.org/wp-content/uploads/2012/01/DeshaiesJim-original.jpg
1024
819
admin
/wp-content/uploads/2020/02/sabr_logo.png
admin
2021-04-14 01:02:00
2021-06-24 13:19:14
Jim Deshaies