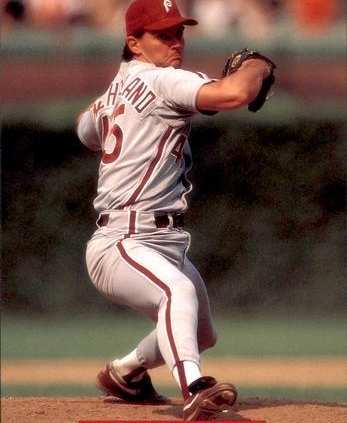 August 15, 1990: Terry Mulholland hurls Phillies' first no-hitter at Veterans Stadium
---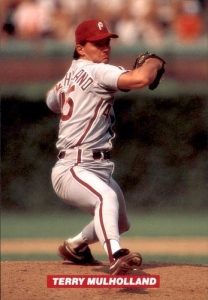 The Philadelphia Phillies' modern, circular, multipurpose, Astroturfed playing field, Veterans Stadium, 19 years old in 1990, had at least one thing in common with Connie Mack Stadium, the more traditional grass and grandstand ballpark where they played from 1938 to 1970.1 Neither ballpark had ever seen a no-hitter by a Phillies pitcher.
In fact, no Phillies pitcher had pitched a no-hitter at home in the twentieth century. Before 1990, the last Phillies no-hitter in Philadelphia was pitched by Red Donahue, who beat the Boston Beaneaters, 5-0, at the Baker Bowl in 1898.2 (Both Jim Bunning's 1964 perfect game and Rick Wise's unique two-homer no-hitter in 1971 were accomplished on the road.)
Through the first 1,549 games played at Veterans Stadium, before the Phillies hosted the San Francisco Giants on August 15, 1990, none had been a nine-inning no-hitter. The only no-hitter ever pitched at "The Vet" during that time had an asterisk. On September 24, 1988, Pascual Perez of the Montreal Expos pitched a rain-shortened five-inning no-hitter against the Phillies.3
Into this no-hitter void stepped an unlikely candidate: left-hander Terry Mulholland. The 27-year-old Mulholland took the ball against the Giants with a lifetime record of 13-21 in three major-league seasons. A Pennsylvania native and a first-round selection of the San Francisco Giants in 1984, Mulholland had moved to Philadelphia along with third baseman Charlie Hayes and pitcher Dennis Cook in a 1989 trade that sent reliever Steve Bedrosian and Rick Parker to the Giants. Mulholland had yet to fully establish himself as a part of the Phillies' starting rotation and began the August 15 game with a season record of 6-6 and a 4.34 ERA. In his previous five starts, he had given up a total of 46 hits in 33 innings pitched.
Mulholland's opponents were his former San Francisco teammates, the defending National League pennant winners.4 Hitters like 1989 National League MVP Kevin Mitchell, 1989 batting average runner-up Will Clark, and Matt Williams, on his way to the National League's 1990 RBI crown, provided formidable competition for Mulholland. He was particularly concerned about Williams, who Mulholland said "always seems to hit the ball hard off me."5
Opposing Mulholland was veteran right-hander Don Robinson, who had lost his previous two starts after starting the season 8-1. Robinson provided an additional challenge as one of the better hitting pitchers in baseball.6
The Phillies came into the game in fifth place in the National League East with a record of 53-60. The Giants were 60-55 in the National League West Division, at 7½ games back, still entertaining hopes of overtaking the division-leading Dodgers. The game was played at night under near ideal weather conditions, dry and 76 degrees.
Mulholland began the game briskly, striking out Rick Parker, getting Dave Anderson on a groundout, and striking out Clark in the first inning. In the bottom of the inning, the Phillies got him an early lead. Robinson walked Darren Daulton and Von Hayes, and John Kruk's two-out groundball single to center field drove in Daulton.
Mulholland was hit hard in the second but escaped unscathed. Mitchell lined out to Dickie Thon at shortstop and Williams lined out to Hayes in left. Greg Litton scorched a long drive to deep center that Lenny Dykstra tracked down.
The Giants continued the line-drive barrage in the third. Terry Kennedy sent Dykstra into left-center to flag his liner, and after Jose Uribe fanned, Dykstra went deep into right-center to haul down Robinson's drive.
By the top of the fourth, Mulholland appeared to be settling in and getting stronger. Catcher Daulton explained: "Early on he had good stuff, but he didn't have his good slider, so we relied a lot more on offspeed pitches. Later, we started using the hard slider a lot more."7
Over the next three innings, Mulholland struck out five Giants. Only the pesky Matt Williams got good wood on the ball, sending a screamer to left that Von Hayes snagged after losing the ball momentarily in the setting sun. Clark strode to the plate in the fourth inning and told home-plate umpire Eric Gregg, "This guy's throwing the hell out of the ball, isn't he?" Gregg replied, "He sure is."8
Meanwhile the Phillies were adding to their lead, scoring three runs in the fifth inning and two in the sixth. Thon singled with one out in the fifth; one out later, Dykstra doubled to center, scoring Thon. Daulton followed with his 10th home run of the season, a drive to deep right.
In the sixth, Kruk doubled with one out. Tommy Herr was intentionally walked to bring Charlie Hayes to the plate. Hayes singled to plate Kruk, and after Thon flied out to center, Mulholland (sporting a career batting average below .100) drove in Herr with a line single to right. At the end of six innings, the Phillies led 6-0, and Mulholland was tossing a perfect game.
Parker led off the seventh with a grounder in the hole between short and third. Charlie Hayes cut the ball off, bobbled it, and then threw wide of first, pulling Kruk off the bag for an error and giving the Giants their first baserunner. After the game Hayes said, "I'm not making excuses or anything, but that throw wasn't that bad. I think John [Kruk] kinda stretched too early."9 With Parker on first, Mulholland induced Anderson to ground to short, where Thon started a 6-4-3 double play. Clark grounded out to first, Kruk to Mulholland covering, and the no-hitter was intact, even if the perfect game was not.
San Francisco manager Roger Craig made several changes to start the bottom of the seventh. Kelly Downs came on to pitch, Mike Kingery was inserted in center field with Parker moving to right, and Litton moved from right field to second, replacing Anderson. Downs set the Phillies down in order.
In the eighth, Mitchell flied out weakly to center and that brought to the plate Mulholland's nemesis Williams. With the count 2-and-0, Williams lofted a foul popup near the stands down the right-field line. Kruk ran over to the railing, braced himself, leaned into the stands, and made a fine catch. After the game Kruk said, "The only lucky thing was the fans backed off. I think they kind of knew that if they reached over, I might not have been able to make the play."10 Mulholland was relieved: "When Kruk was able to pull the ball out of the stands, I thought, 'Maybe I'll be OK.'"11 Litton again lined out to Dykstra.
In the bottom of the eighth, a nervous bunch of Phillies players went to the plate with a six-run lead and Mulholland's gem on their minds. "It was difficult to go up and hit," said Herr. "Your mind was so focused on one portion of the game."12 Herr singled in the eighth, but the other Phillies hitters went out weakly. The Phillies then took their jitters out to the field for the bottom of the ninth.
"I was nervous as hell," said Kruk. "I'm not gonna lie. I was scared to death. My first and second thoughts were, 'Don't hit the ball to me.'"13 Von Hayes, shifting nervously from his right foot to his left, had a different take. "You want the ball hit to you. You want to make diving catches. You'd break your neck to catch a ball in a game like this."14 Herr added, "You're so hepped up, you're so tense with every pitch. You just hope you don't miss a ball."15
Pinch-hitter Bill Bathe, a right-handed batter, led off the ninth for the Giants. His average against left-handers was over .300. Mulholland got him to ground routinely to Charlie Hayes. Uribe then grounded out weakly to Thon, and Mulholland was one out away.
Craig sent veteran Gary Carter up to hit for Kingery. The 36-year-old Carter was near the end of his career but still a dangerous hitter. He said, "That was the ultimate high for me, I was pumped. I was going to do everything I could to break that no-hitter up."16
With the count at 1-and-2, Mulholland took a brief stroll off the mound. "My right leg was feeling kinda wobbly," he confessed. "I'm gonna step off and calm myself down."17 Climbing back onto the mound, he delivered. Carter swung and lashed a blue darter18 down the third-base line as the crowd of 32,000 held their collective breath. Charlie Hayes lunged to his right, snaring the ball in the air. "The guy was playing me on the line," lamented Carter. "I have no idea why."19
His masterpiece completed, Mulholland threw his glove into the air and embraced Daulton, who was first to the mound to congratulate him. Kruk was the next to join the celebration, followed by the entire Phillies team. Mulholland had thrown 105 pitches, 75 for strikes. He faced the minimum of 27 batters.
In the locker room, sipping on champagne, Mulholland took a phone call from President George H.W. Bush, and then told reporters, "It was just great. I can't really explain what was going through my mind when Charlie Hayes snapped that line drive. It was like a ton of bricks had fallen off my shoulders."20
Hayes, whose error had spoiled the perfect game, was glad to get a chance at redeeming himself. "I'll take the error," he said.21 "… I'm just glad I caught that last ball."22
Mulholland went on to a solid 20-year career, six with the Phillies, five with the Giants, and the rest with nine other major-league teams.23 He was a reliable starter for the Phillies over the next three seasons and made his only All-Star Game appearance in 1993, a year the Phillies won the National League pennant. Later in his career, Mulholland made a successful conversion to being a relief pitcher.
Sources
In addition to the Sources cited in the Notes, the author consulted the Baseball-Reference.com and Retrosheet.org websites for pertinent material and the box scores noted below. 
https://www.baseball-reference.com/boxes/PHI/PHI199008150.shtml
https://www.retrosheet.org/boxesetc/1990/B08150PHI1990.htm
https://www.youtube.com/watch?v=2CBguleFR3w
Notes
1 Connie Mack Stadium, opened in 1909 as Shibe Park, named after the original owner of the Philadelphia Athletics of the American League. The Phillies began to share Shibe Park with the A's in 1938. In 1953 the ballpark was renamed for Connie Mack, the part-owner/manager of the A's from 1901 to 1950.
2 Before Bunning's perfect game in 1964, other Phillies pitchers who pitched no-hitters in games away from Philadelphia were Chick Fraser (1903 in Chicago) and John Lush (1908 in Brooklyn).
3 Just 12 days before Mulholland's feat, on August 3, 1990, Doug Drabek of the Pittsburgh Pirates came within one out of a nine-inning no-hitter against the Phillies at Veterans Stadium. His bid was spoiled by a line single off the bat of Sil Campusano.
4 Mulholland still had many friends on the Giants, and with the Phillies well out of the race in the NL East Division, said he was rooting for the second-place Giants to overtake the Cincinnati Reds in the West Division. Paul Hagen, "On This Night, Terry's a Giant," Philadelphia Daily News, August 16, 1990: 78.
5 Frank Dolson, "One More Burst of Excitement," Philadelphia Inquirer, August 16, 1990: 47.
6 Robinson hit .282 with 16 RBIs in 1982 with the Pirates; his career numbers were very respectable for a pitcher: .231 with 23 doubles, 13 home runs, and 69 RBIs in 665 plate appearances.
7 Hagen, "On This Night, Terry's a Giant."
8 Edvin Beitiks, "He Had the Best Seat in the House," San Francisco Examiner, August 16, 1990: 31. It was umpire Gregg's first no-hitter, too. He marveled at Mulholland's control, saying, "He never put [the ball] down the middle of the plate and he never missed in and out the whole game."
9 Mike Jensen, "Worthy Souvenir for Hayes," Philadelphia Inquirer, August 16, 1990: 43.
10 Hagen
11 Edvin Beitiks, "All of a Sudden …Wow," San Francisco Examiner, August 16, 1990: 31.
12 Jayson Stark, "A Tense but Magic Night for the Phils," Philadelphia Inquirer, August 16, 1990: 43.
13 Stark.
14 Stark.
15 Stark.
16 Bill Fleischman, "For SF, It's Bittersweet," Philadelphia Daily News, August 16, 1990: 79.
17 Dolson, "One More Burst of Excitement."
18 Richie Ashburn, "Terry Gets It Under Control," Philadelphia Daily News, August 16, 1990: 79.
19 Fleischman.
20 Hagen.
21 Jensen, "Worthy Souvenir for Hayes."
22 Beitiks, "All of a Sudden …Wow." Mulholland's no-hitter was a then record-tying eighth of the 1990 major-league season. (There were also eight no-hitters pitched in 1884.) The record was broken in 2021 when Corbin Burns and Josh Hader of the Brewers combined to no-hit the Cleveland Indians for the ninth no-hitter of the season.
23 One month after his gem, on September 25, Mulholland gave up a triple to Bernard Gilkey of the St. Louis Cardinals leading off the first inning of a game at Veterans Stadium and then retired 26 consecutive batters until Gilkey doubled with two out in the ninth. He won that two-hitter, 1-0.
Additional Stats
Philadelphia Phillies 6
San Francisco Giants 0
---
Veterans Stadium
Philadelphia, PA
Box Score + PBP:
Corrections? Additions?
If you can help us improve this game story, contact us.
Tags
https://sabr.org/wp-content/uploads/2021/12/MulhollandTerry.jpg
500
347
Laura Peebles
/wp-content/uploads/2020/02/sabr_logo.png
Laura Peebles
2021-12-02 01:08:01
2021-12-02 01:08:01
August 15, 1990: Terry Mulholland hurls Phillies' first no-hitter at Veterans Stadium